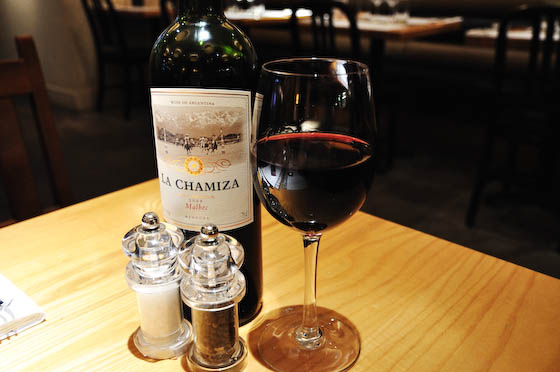 Sam's Brasserie Official Site
11 Barley Mow Passage W4 4PH 020 8987 0555
£35pp ala carte ; £17pp set – 3 courses.
I have never been to Chiswick before. Some say it's a budget version of the Kensington Boroughs – all the creature comforts sans the hefty price tag. And down we go into a narrow alley passage dubbed the Barley Mow in search of Sam's Brasserie. My mate, Sam is with me for this meal, namesake but not the owner.
The Brasserie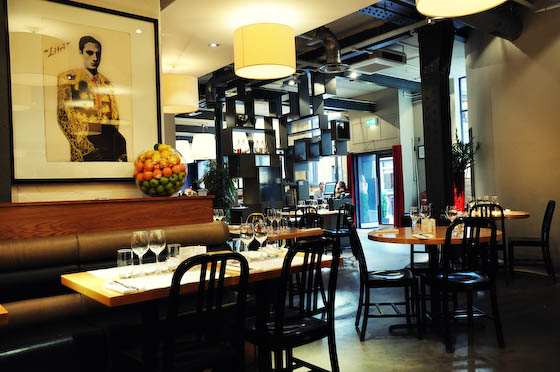 I have a thing about exposed ceilings – or lack of one – what with all the pipes running around and the ventilation and all that, it gives a place a kinda stripped down look. Especially if it were 2001, what with the whole 'You are the One' phase we were all going through, Belgo's underground cave style look was much admired for. Sam's looks quite a large space, with the front bar bit, a further posher dining area bit – with a ceiling – and then a sort of mezzanine bit as well. It's comfy, and it's chilled out and it definitely is a million miles away from the pumping buzz from Central London. We are in Zone 3 after all.
Alot of Menus
There are something like nine menus listed on the Sam's website – one for each meal of the day, and time of week it seems; Though I note a set lunch/dinner menu which is pretty much available everyday, even if there are several iterations of it. The 'master' menu (I think) is the Brasserie Menu, which amazingly 'changes twice a day' , says the website. Hmm, that's alot of wasted ink. Anyway, it's abit of a remixed Brit food fest here, nothing particularly outstanding and safe choices such as New Season English Asparagus, Poached Egg, Hollandaise or Leek and Potato Soup, Truffle Oil for starters and Seared Salmon, Roast Mediterranean Vegetables, Gremolata Oil and oh, a Garderner's Pie for Mains.
If this were a creative menu writing competition, they would have ended up last, against some of the London restaurant contemporaries – but we're here to eat.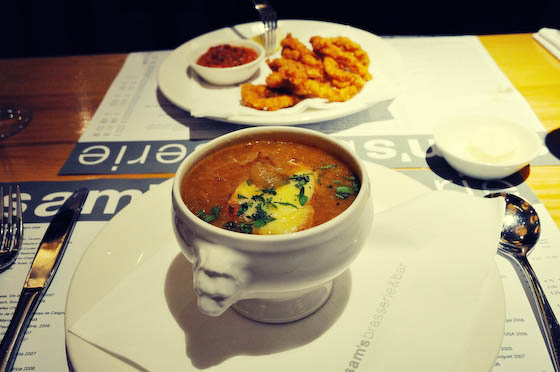 French onion soup (£7) for me – one of my favourite soups and also a recipe that's about two decades out of fashion. Thankfully the version here is quite a solid one. The creamy broth is not an onion overload and it's just sweet enough to go down smooth. I prefer my soups a little cooler than they are usually served and the only criticism I have is to have them prep a denser cheese crouton. Otherwise, this reminded me of the days when Gary Lineker still wore the number 10 for England, and when we still qualified for major tournaments.
Deep fried calamaries were a much lesser dish as Sam (mate not owner) found it just abit too overfried. The breadcrumbs were so tough that it felt like peebles grinding down my molars.
Steak.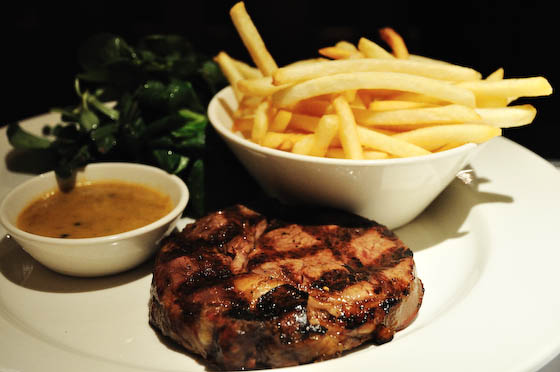 Sam is a big guy, he's a lean mean basketball machine, and he's totally into Carmelo Anthony. Any NBA fans reading this? At time of writing, 8th of May 2009, Kobe Bryant is my pick for Finals MVP – What say you?
So the boy needs his meat, and duly ordered the rib eye and frites (£17). We asked for it to be cooked medium rare, but found the steak closer to medium well. Looking rather impressive, what with the grill lines and all, sadly it did quite match up in taste. A tad too dry on the outside, it wasnt until we cut right into the centre had we found a hint of pinkness in the meat. Too far in to get the moist soft meat, and by then Sam had already lost Sam's attention. For the price, yeah it was ok – not bad, but nothing special either. Like Lebron – it looks a good package, but it's no Michael Jordan. Just not quite memorable.
Steve 'Reading' Coppell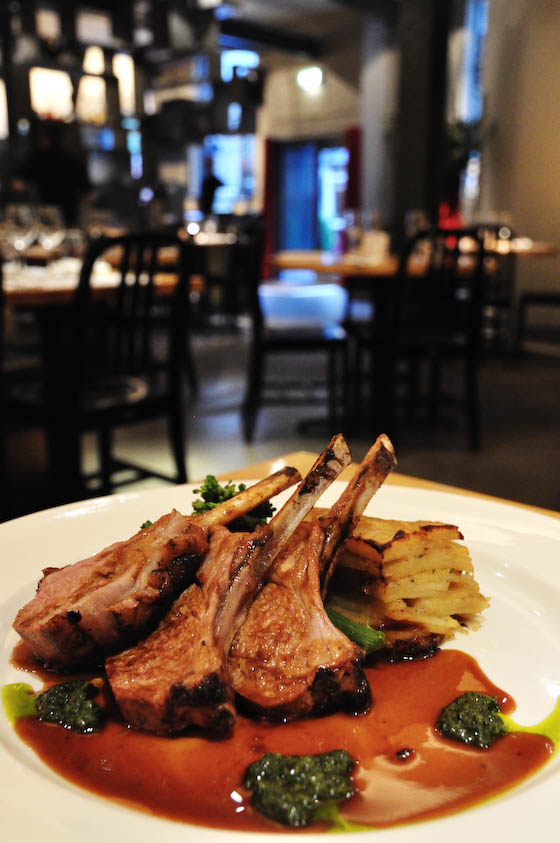 The highlight of the evening, folks was bumping into Steve Coppell. Steve who? Steve the Reading Manager. Of course, we did the whole starstruck thing quizzing each other, and questioning our judgement "Is that him?" , "No can't be him, he looks too good.", "But it is him..".
Rack of Lamb, pesto  and potato dauphinoise (£16). Now this was a perfect medium rare – pink, succulent and full of flavour – just what you'd expect from a perfectly roasted lamb rack. The pesto was quite intense and it complimented the lamb rather well. There wasn't much I could add to the potatoes on the side, except that they were quite creamy. I enjoyed the gravy that's been smothered all over the dish as it gave it a very nice moist tenderness, indeed. All in all, quite a robust dish.
And last but not least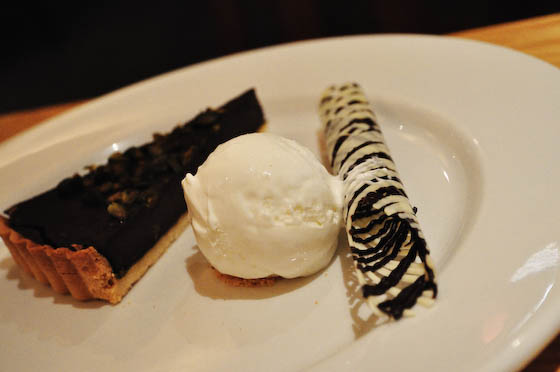 There is free wi-fi at Sam's. Personally, I wouldn't feel that comfortable sitting in Sam's to surf the web, or even read the paper – the dining space just feels a little confused to me. On one hand, it sells itself as a kind of gastro-cafe, but the decor is far too formal (if that's the correct word for it) to be chilled out (its the high ceiling effect). On the otherhand, I can't quite take it seriously as a proper restaurant because it seems to want to play down the fact it is a restaurant; so I guess what I'm trying to say is that it feels like Sam Harrison is a pretty ambitious fellow wanting his gastrobar/pub/restaurant to morph into whatever it needs to be, at whichever time of day – kind of like it's extensive set of menus.
But that's just me and my insecurities.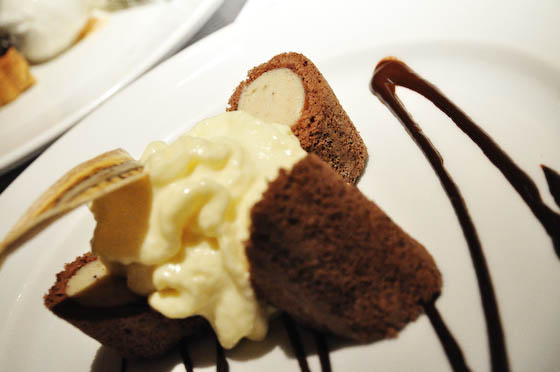 Sam's is a good local eatery in the Chiswick area. It has a relaxed enough atmosphere and I feel it caters to a crowd who would like to eat straightforward food which are simply well cooked. In that regard, it's actually not too shabby at all.
The chocolate and pistachio tart is rich and does its job rather well but the best dish of the night was the Banana and White Chocolate Arctic Roll, Chocolate Sauce, Banana custard. The custard was a liquid meringue, infused with banana, it was sugary sweet, but the soft and spongy roll was a real delight, just that hint of fruitiness bringing out a kind of liviness to the dish. Banana is abit of a lost ingredient, but in this one, it was well executed. Baked alaska! Another great recipe lost to the ages – that's what the custard reminded me of. Distinctive and a pleasant ending.
Would I make the trek out to Chiswick to celebrate something? No. I did however have a good meal here – no fireworks, but nothing wrong with it either, just so safe and Steve Coppell hangs out here with his family.
The Gist of It.
Sam's Brasserie Official Site
11 Barley Mow Passage W4 4PH 020 8987 0555
£35pp ala carte ; £17pp set – 3 courses.
Verdict: Nothing particularly outstanding, nothing particularly wrong either, well cooked, well priced food and overall a safe bet. Order the banana and white chocolate artic roll.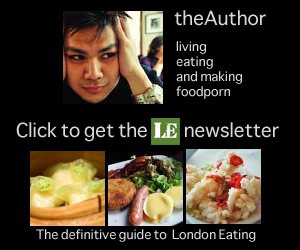 Did you enjoy reading this post? Why not subscribe to my feed updates for free. Alternatively, You can subscribe via email.