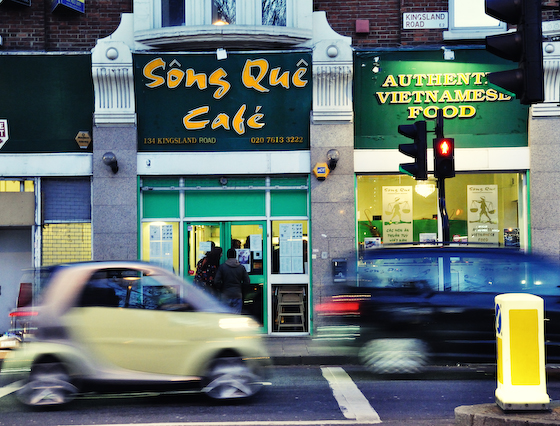 Song Que £15 pp , plus imported lager.
134 Kingsland Road E2 8DY 020 7613 3222
There is a whole street of Vietnamese restaurants in Shoreditch, otherwise affectionately as 'The Pho Mile'. My knowledge of the London Vietnamese food scene is murky at best, but I was pushed by my Vietnamese colleague – who frequents for the spicy squid – to give this a try.
And so I did.
Imported from Vietnam
This place has proper buzz, it was completely packed out on a Sunday night. There was a huge queue as well although I noted a quick turnover with the noticeably zippy service and flash speed food flying out of the kitchen. There were also huge print out posters of the Timeout review, proudly plastered across the large windows, probably in an effort to emphasize their Pho-cred.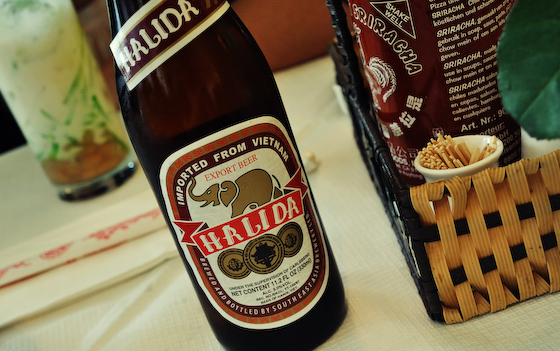 Positioned next to Song Que was a rather posh looking wood laden Viet restaurant (I forget the name). My mate told me to keep walking till I saw some really garish forest greens. Oh yeah, atmosphere, I've never been to Vietnam but I'd like to feel like I was submersing myself in Vietnam, in London and drinking Halida, imported from Vietnam.
Paper Rolls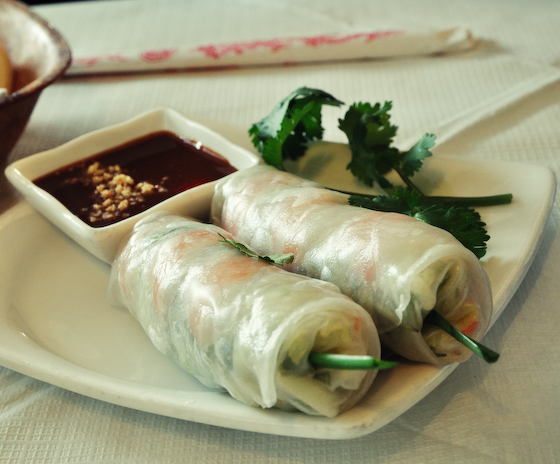 The laminated menu is huge and the long list of dishes got me a little cross eyed. Not a bad thing, I'm sure. Everything looked very affordable, ranging from £4 to £8 (I think) and there were a few seafood dishes that were just above the double digit mark. The waiters wrote our order down on the paper table covering (cloth? I don't know.), maybe it's just me, but I kinda find the whole write on the table thing quite a cool feature, they do it in Alan Yau's fast food oriental chains, and I'm always intrigued with the flick of the pen. Flick.
The first dish to land on our table were the rice paper rolls, with a kind of thickish (thickish??) sweet chili nut sauce on the side. The coriander and chive wrap was rolled with some juicy prawns and dipping the sticky and bouncy dough into the sweet sauce produced a refreshingly appetising crunch to get the juices flowing. Not bad, not bad at all.
Mum knows Squid
This reminds me of the time when my Mum's cooking reached a zenith. She reads this blog occasionally and she doesn't always appreciate the name dropping. I persist in any case. My dear ol mum and me (no. I won't use I) love deep-fried squid, and she was spurred on to find the perfect recipe after I'd told her I wanted to eat squid forever… when I was twelve (and I still want to). And so the story goes, about how a young madre tried out lots of different recipes then one day she discovered the perfect mix of salt, egg white (the secret is in the egg white) and baking powder which produced crispy, umami rich and powdery egg crumbs enveloping bouncy squids. And then her kids went off to Uni and she stopped making them.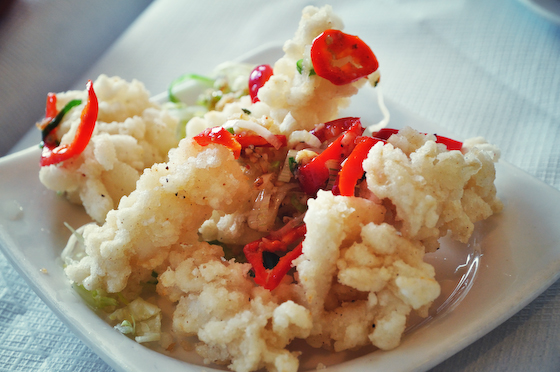 Spicy deep fried squid. Simply seasoned with cut chilli (no noticeable seeds), pepper and a tinge of saltiness. It was a little tough but it went down with much moistness. There is just a little bit of heat in my throat and the fried spring onion bits were the best parts of the dish. Personally, and my mum would agree, it would be better fried crispier and more crumbly as opposed to the tough and crunchy. While this was good, but hey, no one does fried squid like my mum.
A star in the midst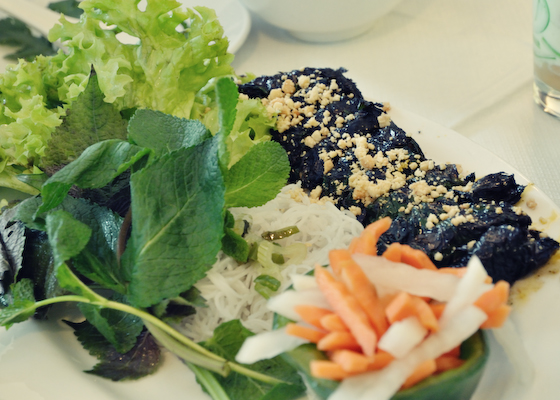 Mince beef in Betel leaf wrap. I am convinced that this is one of the to-eat dishes on the menu. This dish resides in the starters section, and for about £5, the portions are pretty generous. Each wrapper hides chargrilled mince beef, bit like a doner kebab. There is alot of juice from the mince beef, accompanied by distinctive charcoal flavours and the fragrant aromas of shiso leaves. The cold noodles were great for dunking in the sweet sauce and the peanutty sauce went amazingly well with the beef rolls. All in all, a lively dish and a wonderful experience. Best of the lot.
Bring on the chops!
Suitably impressed. By this stage of the meal, I was really enjoying Song Que and all the tangy, zingy flavours swirling around made me hungrier than ever, ohh bring on the mains, indeed.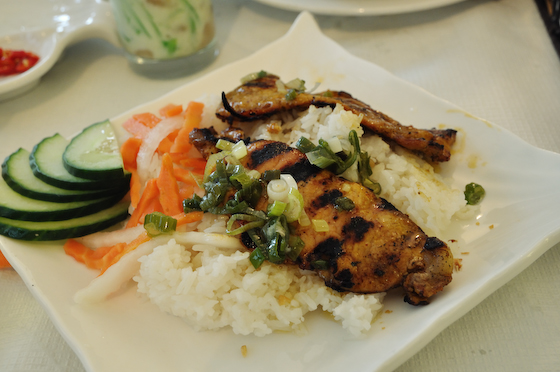 Grilled Pork Chop on Rice. I can't remember the price exactly, but I think it was about £8 for this. Yeah, honestly though it looked abit of a sad dish – at least they could have layered the chops more evenly, absolutely zero marks for presentation. At first, I was a little skeptical as the meat looked to be sliced a tad too thin for my liking. It did look more like a veal escalope than a pork chop. On tasting I changed my mind, it was really soft and bouncy, lots of nicely grilled sensations. A little on the dry side but the flavour was spot on. I detected hits of sweet soya sauce to go with really fragrant jasmine rice. Im still uncomfortable with it being a tad dry, but overall the tastiness of the meat won me over. I like it, I want to love it, but something is holding it back.
The Pho.
And so we finally come to the hearty comforts that is the Pho. While I'm a big noodle boy, I rather prefer them dry, as opposed to a broth, but the Taiwanese part of me still appreciates a good bowl of noodle soup, every now and again.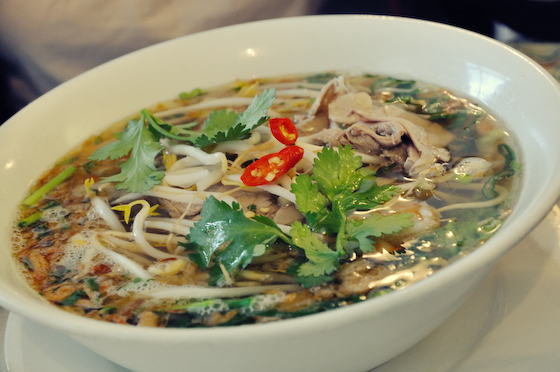 I believe this is the Chicken and Pork Pho. Its a citrusy, hot and sour soup; a brothy delight with just a slight slick of oil on the top layer. There are good springs in the noodles and I felt like I was in South East Asia once again. A sizzly sensation on my palette led me to take a guess at the stock that was used to make the soup, erm… beef perhaps? It was lively as it hit my tongue and overall, I enjoyed this more than the pork chops.
'Nam 2009.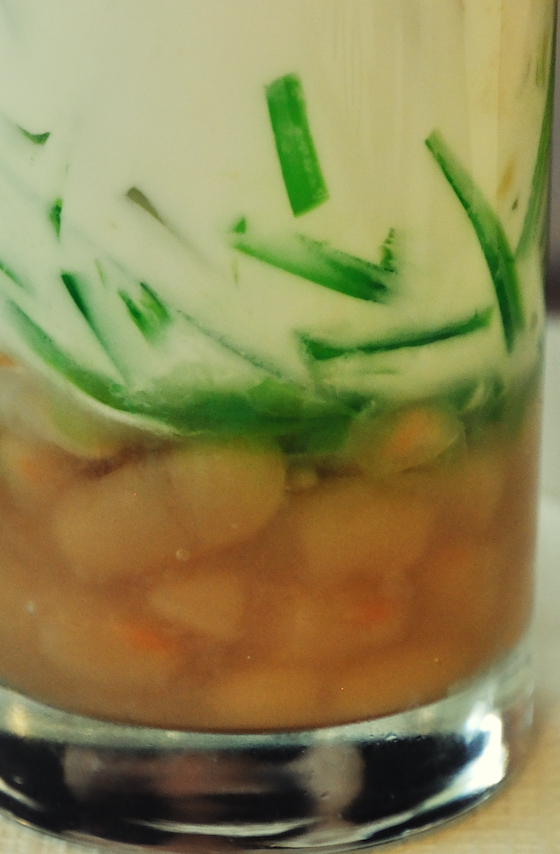 I urge you to order this sweet liquid pudding with bits aptly named the 'Three Colour Drink'. Consisting of mung beans, pandan jelly (my best guess) and finished with loving cream de la coconut. I had two, you can have two more.
All in all, the bill was no more than £30 for this spread of food, for two and I was impressed and walked away wanting to come back to try some other dishes I spotted on the menu – in particular, the grilled monk fish. I must say, I'm not the biggest Vietnamese eater (perhaps it shows) , my best experiences were years ago in the open air stalls behind Singapore's Centrepoint, in tourist heaven, Orchard Road. Holiday Inn Park View is still my hotel of choice when I'm in S'pore; While I can't be the best judge of how well Song Que compares with the rest of Little Vietnam in Shoreditch, I can confidently say that I had a good experience and was a little blown away by the mince beef rolls. For sheer atmosphere alone, and if you like buzzy and chatty restaurants, you'll jive with the noise at Song Que; As for me, I'm looking into my calendar to squeeze in another visit in the near future.
The Gist of It.
Song Que £15 pp , plus imported lager.
134 Kingsland Road E2 8DY 020 7613 3222
Verdict: Great food, affordable prices and they have stuff like 'three colour drink' on their menu. While I can't compare it to the other Vietnamese restaurants in the neighbourhood – it was still a heatwave of an experience.
Did you enjoy reading this post? Why not subscribe to my feed updates for free. Alternatively, You can subscribe via email.