I really like the way 2017 is shaping up for new London openings as there have been more than a handful of bright sparks that strike a good balance between casual ambiance without having to dilute substance on the plate. I certainly think Lorne is a leading light in this category and one of the best new openings so far.
The restaurant is co-owned by Peter Hall and Katie Exton, who are Chef and Sommelier/FOH respectively. Peter and Katie had previously worked together at The Square during Howard/Platts-Martin days. Other notable stints includes a year each at Benu and Brawn for Pete, while Katie has Chez Bruce and The River Cafe sandwiched between her time at The Square. I am of the generation that reveres the Phil Howard 'gene pool' (for want of a better term) and I think most who pass through The Square are smart professionals and usually go on to build their own successful restaurants. In this case Phil himself also has a stake in the restaurant.
And so A.Wong (still IMO the best Chinese restaurant in town) isn't so lonely now in gastro-lean Victoria, with Lorne a couple of doors down, and I love everything about this place. Everything looks measured in the right proportions, with the feel of an independent, small, owner-run bistro putting out conventional and solid cooking. This is exactly what restaurants ought to be, pure cooking and in an environment that is conducive to eating.
There is a touch of Kinfolk in its decor, a longish, shotgun room. Mostly neutral colours, bleached parquet floors, lime green walls, spotlights. A short marble counter with high stools at the front of the restaurant, with a roof skylight all the way in the back.
There are 2 ALC menus during lunch when we visited last Friday. The set is 2 courses for £22 whilst the ALC averages £35 – £40 for 3 courses, all charmingly understated and sensibly priced. We were a table of 2 and ordered from both the set lunch and the ALC.
STARTERS
Veal sweetbreads, borlotti beans, browned shallot and cauliflower puree £11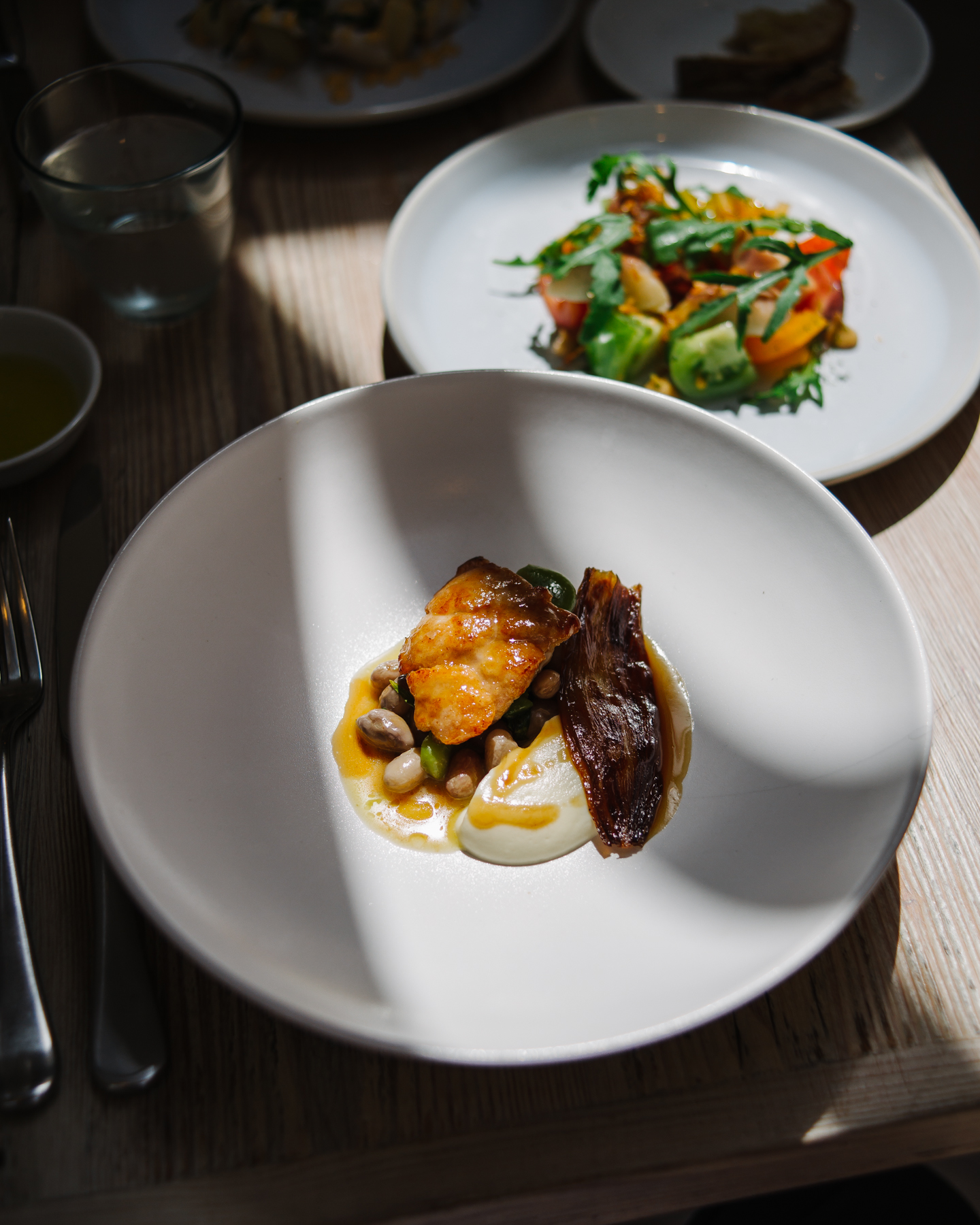 Perfectly creamy white centre, a lightly coated and crispy crust that has the look and taste of a textbook butter baste pan roast, generous ladle of delicious jus all over it. Cooked well and incredibly balanced. I greatly enjoyed how the beans and cauliflower knit together to harmonise with the offal.
Cod, jersey royals, samphire, bisque mayonnaise (Set Lunch)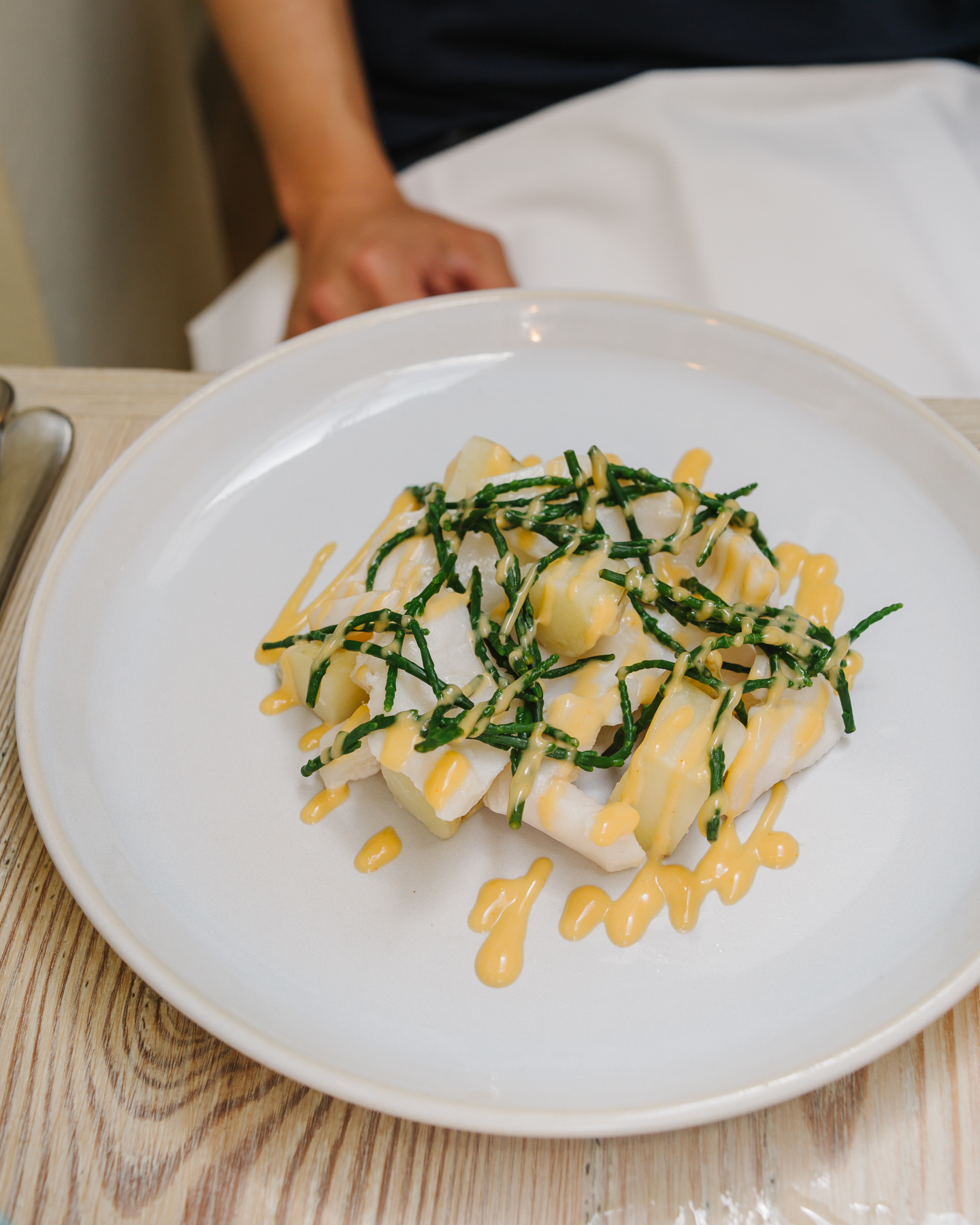 My brother ordered this, and by the looks of it also really enjoyed it. A rather simple dish, a sort of reconstructed brandade, I had a small spoonful and thought it was pretty good. Fantastic value for money considering a £22 set lunch.
Smoked eel, heritage tomatoes,roast onion, shrimp, seaweed and basil £10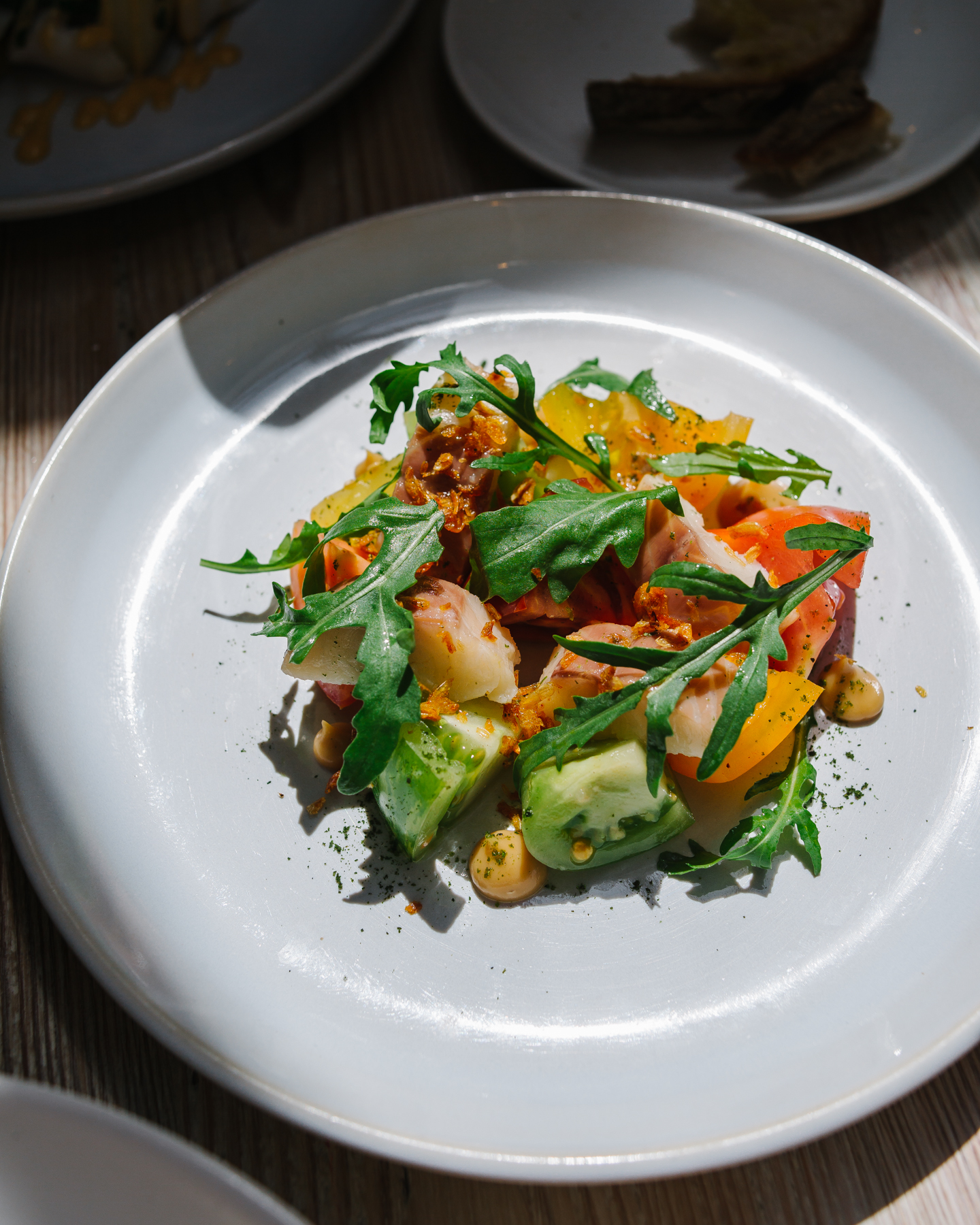 A third starter to share between us. Dutch Eel Company of course, so you know this is the stuff. Top notch product. Smartly nestled in a light summery salad, each known for its high umami content. Well put together and is delicious.
MAINS
Spring lamb, black garlic, ratatouille, shavings of Le Caussenard and a tomato tart, £23
Flashes of Phil Howard tarte fines, you smell the hot tomatoes first, gorgeously aromatic, puff is steaming and crispy, so delicious. It eats as it looks, wholesome, hearty but not overly heavy and is joyous cooking.
Pink lamb served as it should be. Rump and also a rack that has been roasted entirely, and portioned to order, therefore retaining all of its moist qualities and paired with a perfectly well cooked ratatouille. Fantastic dish, best lamb in the summer so far.
Pork chop, green beans, apple puree and a classy version of a satay sauce (Set lunch)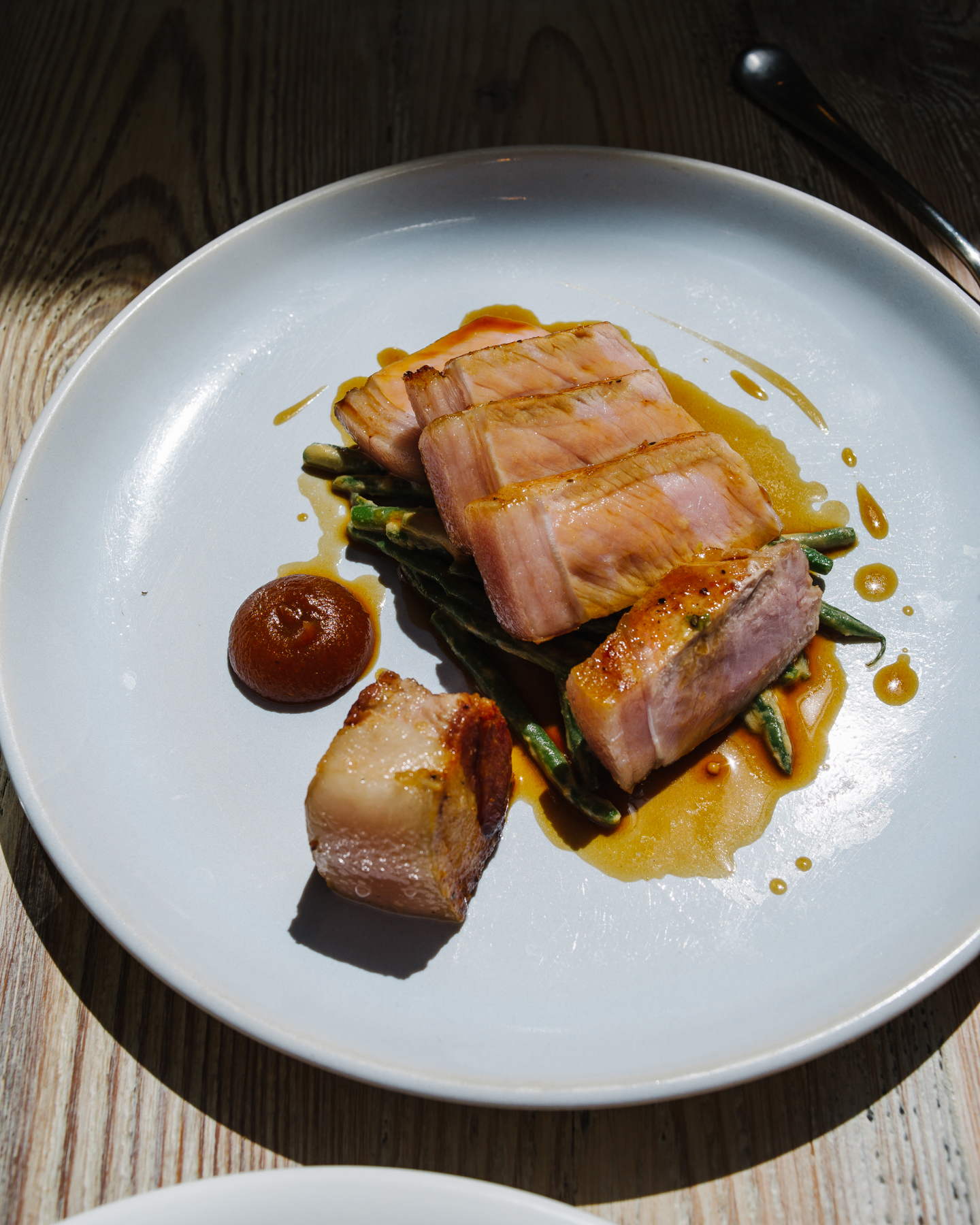 Old spot, and top cooking on the pork taken to just the right temperature, a slight blush of pink. Absolutely fantastic QPR here for the set lunch.
PUDDING
Charentais melon, white peach, coconut sorbet, lemon verbena £7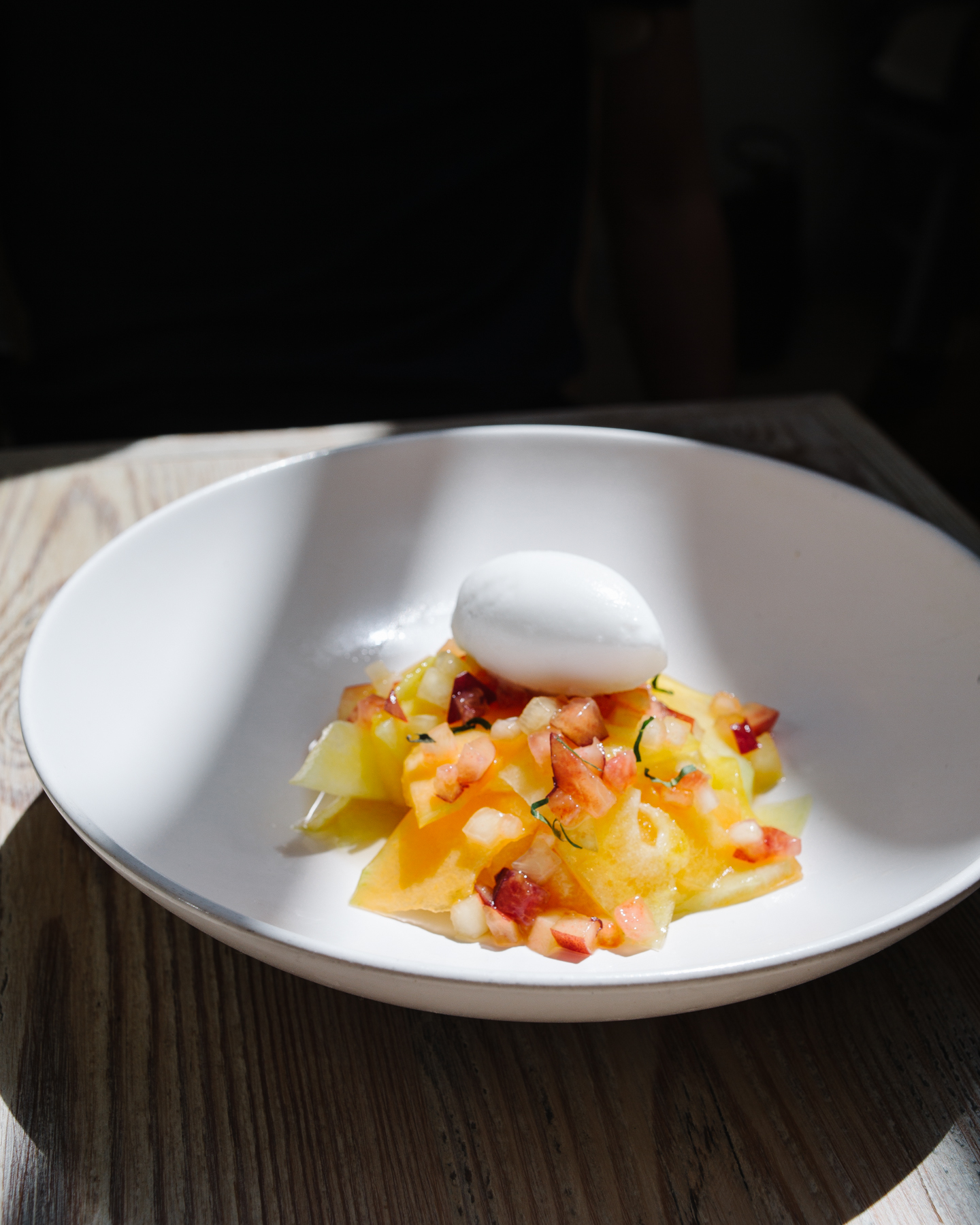 Another well balanced dish, a salad of summer fruits.
Rhum baba, raspberries, honey £7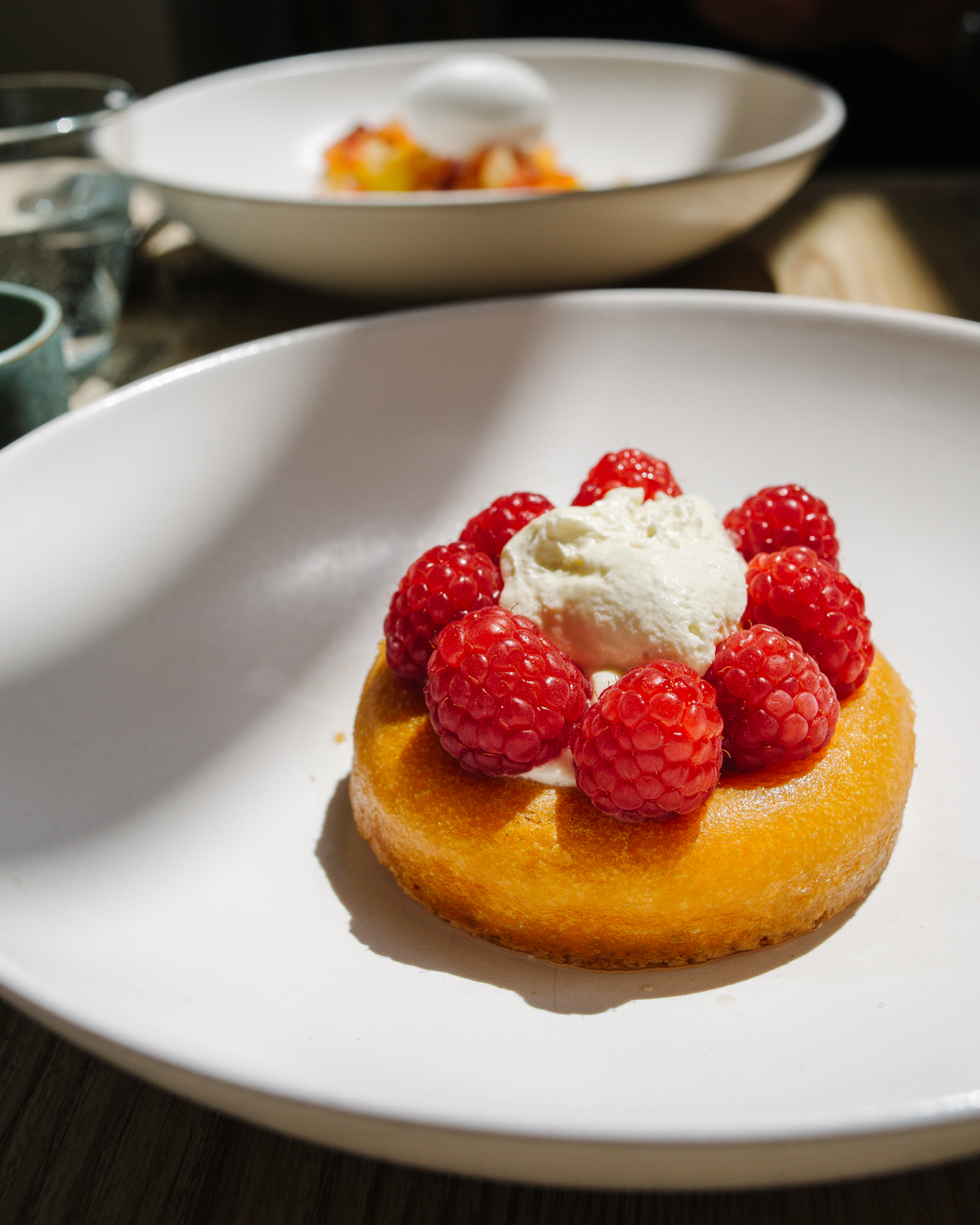 Aside from a slightly stiff whipped cream, this is a very nice take on the classic pudding. Cake is moist, light and sufficiently boozy.
We paid £97.50 for all food above, 1 cider, 1 glass of Pinot Bianco, 2 dbl espressos (£2.5 each, woo) and service.
Well-priced, good portions, solid service and top cooking. I really enjoyed this first visit to Lorne, its straightforwardness and convention is refreshing to see in 2017. This is a restaurant built around proper plates of food, delivered by a kitchen which seems to be in full control of their abilities. I didn't have the chance to peruse Katie's wine list on this visit – all the more reason to return again soon. Three thumbs up and highly recommended from me, if that means anything these days.
Details
Lorne Restaurant
Modern British
Set Lunch £22 for 2 courses + drinks + service
ALC £35 to £40 for 3 courses + drinks + service
Lorne Restaurant
76 Wilton Road, London, SW1V 1DE
Tel: 020 3327 0210
Tube: Victoria