Ollie Dabbous does comforting bar snacks in garage-like (or iron smith-like?) surroundings. Dusty, home-style goodliness. I've lost track of trends these days, every new London restaurant looks similar anyway (can I say it is American food?) and like Polpo, I suppose you'd have to expect to queue or get there before the doors open. I did the latter back in April when Barnyard first opened arriving at 11.30am on a Saturday – with bated breath – to sample another dabble of Dabbous's precise flair again in the form of …perfect junk food?
Once again, I have stepped out from seclusion to update my beloved blog… some pictures from my trip to Rome – PIZZARIUM, ROSCIOLI, Heaven.. – , Momofuku NYC and a belated posts singing the praises of Maria…let's hope I get there before 2014 is over.
I recall the loud music, faux cracked paint, rusting corrugated roofing panels and have read that young Mr. Joseph Woodland runs the kitchen having previously worked in the very slick The Square and Launceston Place.
BROKEN EGGS WITH MUSHROOMS, GARLIC & PARSLEY, £6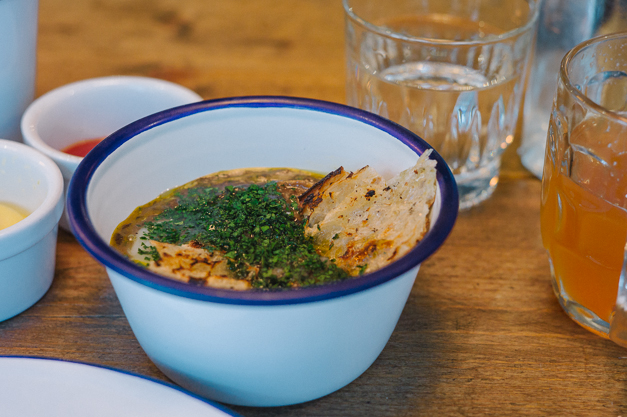 What can I say? Meets expectations obviously, miraculously delicious I suppose. The balance of flavour is top notch, deservedly of Dabbous' highly praised reputation.
It's like the casual version of his vaunted coddled eggs dish, which I suppose, is breakfast, perfected. Runny egg yolk, properly poached with a heavy mushroom broth with lots of bits. Perfect dipping for toasted sourdough (with lardo! Yikes, heaven!). Oh my god, so fucking good. I think I like this because it reminds me of soft-boiled eggs and kaya toast and milk tea. Ah, nostalgia. You already know this of course, but I think this is a solid recipe. I would eat this all day long, or every Friday afternoon to be exact.
CRISPY CHICKEN WINGS WITH SMOKED PAPRIKA, GARLIC & LEMON (4 PIECES) , £4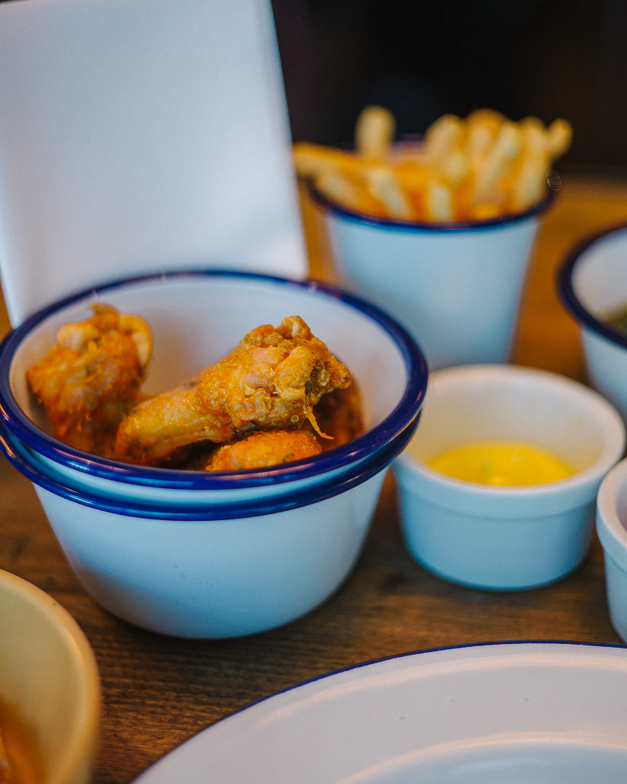 Proper spices, rich and precise, crispy, bony, the chicken tastes fresh and fleshy but overall, I don't know, maybe it's not dirty enough?
BARBECUED GRAIN-FED SHORT RIB, HOMEMADE DILL PICKLE, MUSTARD & BLACK TREACLE, £12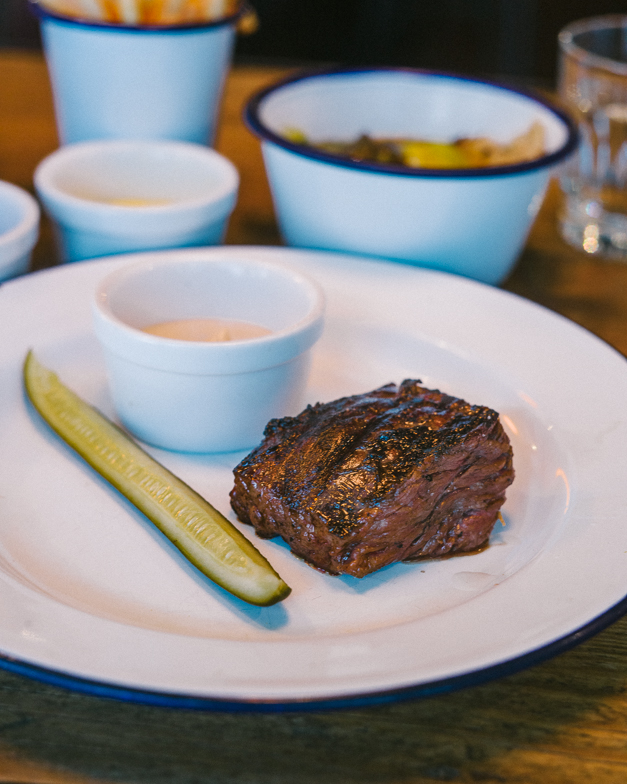 This reminds me of Dabbous' BBQ iberico loin sans pralines. Beautiful too no? Awesome smoking, perfect smoking even, retaining perfect pinkness inside, but maybe my cut wasnt the best? It was a little too sinewy and very chewy. Rich rib and fat flavours but…I think I'd struggle to pick this over Foxlow's version of this dish. In my humblest opinion, this is a long way from Rankin's tour-de-force shortrib at The Smokehouse.
Perfectly edible of course, but there are lots of places in town for smoked meat, so on the basis of competition, I'd say this was only above average.
POPCORN SHAKE WITH BOURBON, £6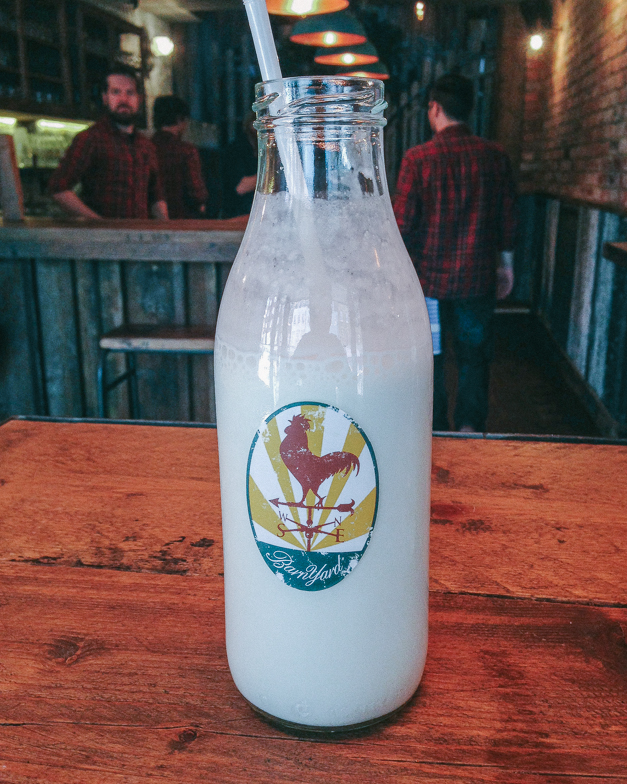 As advertised. This is really good spiked (er..?) milk. Could have another or maybe two. I also had a couple of their shandies, the hedgerow shandy in particular, made with grapefruit, sloe gin and cider, which was bloody refreshing.
I paid £44 in total for one person for food, coffee, drinks …hmm.
I guess it doesn't have the original feel and is definitely not an offshoot of the flagship restaurant. Although, the food here does seem to have the imprint of the house skills. Akin to the second wine of a Bordeaux Chateau, or something.
Saying that, it's still magic, precise home-style bar snacks where the standard of cooking is assured. You should expect no less from the Dabbous stable. The best thing about this place is that it is open all day, which means you should pop in after the lunch crowd has died down to pick and choose whichever order you like. Coffee followed by shandy and eggs. Simple pleasures right? Back to bated breath until the next Dabbous restaurant opening then…
Barnyard London
Easy cooking £35pp
18 CHARLOTTE STREET
LONDON
W1T 2LZ
Tube: Goodge Street or Totenham Court Road