The room is somewhere between a Vietnamese restaurant (like those in Kingsland Road) and St John, it also feels like something that could fit in Kyoto. Very pretty, graceful, fine and approaching modern efficiency. OK maybe not Kyoto, rather a post-diner, a caff for the initiated, something that is proper London. Rochelle canteen then, with a touch of Japanese minimalism.
This project is a joint effort by Claire Robertson (of Shacklewell Nights) and Borough Wines, located just a stone's throw from the restaurant. Head Chef is one Matthew Young whose experience includes stints at the Anchor & Hope, Gramercy Tavern in NYC and more recently was head chef of Wapping Food at the Wapping Project.
Mackerel Sashimi, £4.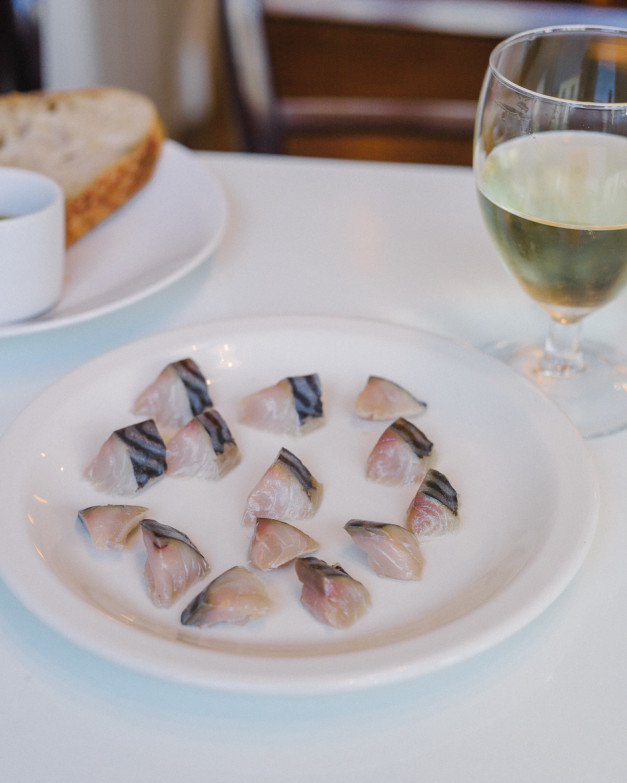 It's oddly presented, unadorned from the chopping board but it tasted wonderful. Sweet, pickled, fresh tasting diced bone-free mackerel fillet. It easily matches my most memorable experiences of Kyoto saba.
Black Ink Risotto & Bottarga, £8.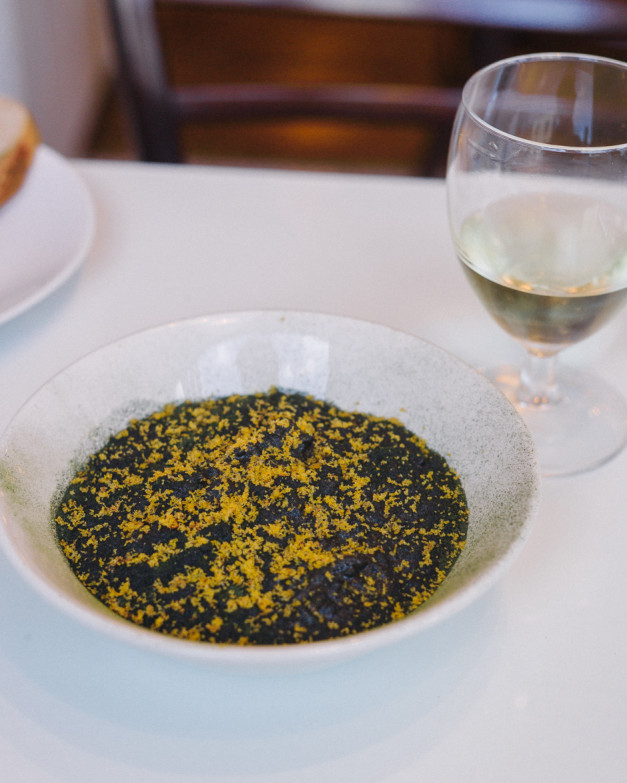 Wow, this smells good. Presumably from the Bottarga – shaved dried mullet roe and it is aromatic like billowing warm shavings of bonito, over a greenish black pool of risotto that's concentrated with nori. It almost tasted cheesy and somehow perfumed, a little fishy, rich and briny on the palate. Smooth porridge texture and served piping hot. A nice early Spring dish. Very accomplished. This sort of easy-flair laced with simple complexity seems to be what a lot of chefs set out to do and this is perfect. Monocle perfect. A bowl of good risotto. Nice.
Guinea Fowl, Raddichio, Carrot & Cauliflower, £13.2.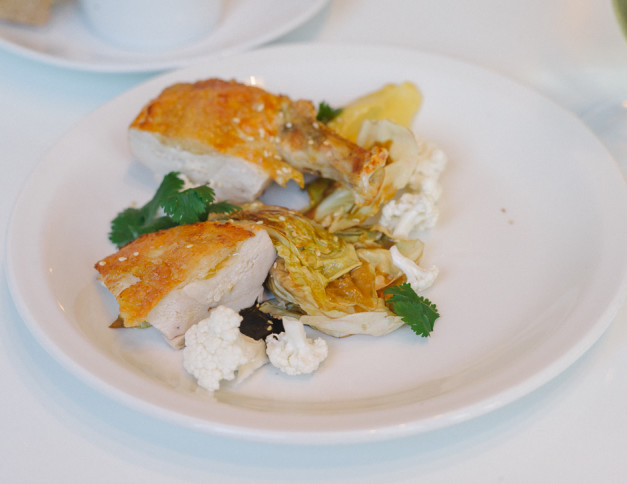 Very fresh tasting guinea fowl. The flesh is juicy and vibrant, freshly flash fried spring chicken-like aromas. The plating seems a little odd to me, visually disjointed but everything tastes good. It also seems to have a bit of everytihg for the senses. Salt on the meat. Sour from the pickled cauliflower. Bitter from the radicchio. Sweet from the carrot purée. All encompassing. This is some sort of subtle genius on a plate.
Chocolate Mousse & Kaffir Lime Ice Cream, £6.5.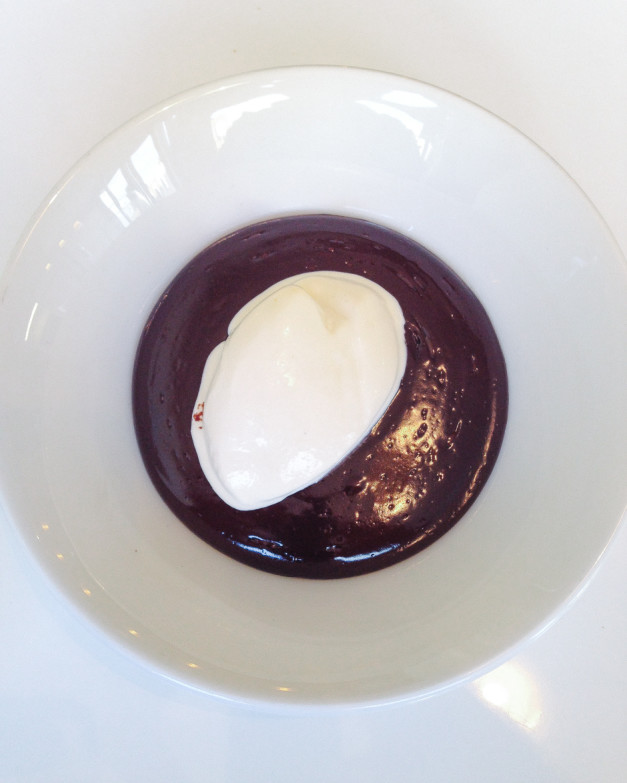 My favourite dish of this lunch however was the pudding. A dollop of cool pacojet-smooth kaffir lime ice cream slowly melting into a warm soup of liquid chocolate. That the herby fragrance from the kaffir lime is magically balanced against the chocolate. Wowsers. I think Mikael Jonsson might be proud of this too. Pudding in its purest form.
Efficient, effective thinking-man recipes. There's only few on the menu and they change regularly but there is such control and such delicacy. I don't know why but I think this could totally exist in the equivalent Hackney neighbourhood in Kyoto and be a big big hit. No hard edges, everything is soft, round, complete and balanced.
For wine, I drank a glass of Rhone syrah and a gluggable Chenin Blanc from Saumur in Loire. I paid £48.18 for everything. Seems a little pricier than I expected for this tiny setup, but I think it's well worth it.
All rhythm and blues. Picture a sunny Saturday afternoon stroll with the better half and accidentally stumbling in here. It's like a sweetness kind of thing like that 500 days of Zooey Deschanel movie. I adore it to bits and wish I could call it my local favourite neighbourhood gem.
Details
Mayfields , @MayfieldsWW
British
£40pp
52 Wilton Way, London, E8 1BG, UK
Tel : 0207 254 8311
Tube : Dalston Junction
Did you enjoy reading this? You can subscribe to the Newsletter. AAlternatively, you can subscribe to the RSS feed.