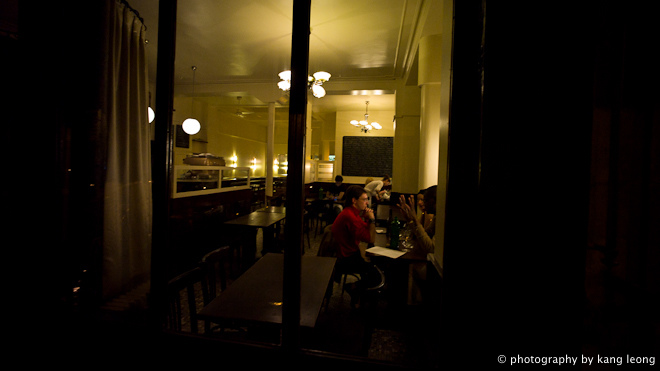 Wet, hot, late in the night, an empty street and a full restaurant, ah… bonjour Paris. We arrived in Gare du Nord just after nine at night, taking the Eurostar from St Pancras. It took us a while to find our hotel in Madeleine ( The Le Vignon, a delightful getaway, which I highly commend) but as soon as we dropped our bags, we were back on the Metro again. Our destination was Goncourt, we were out to find the 9th best restaurant in the world. It's quite impossible to book a table over the phone, so I didn't bother trying. I opted to turn up with a hope of getting a table for the 2nd sitting after 10pm, and in my opinion, the more appropriate way to eat supper in Paris. We were in luck, a Thursday night, there were only 3 tables ahead of us in the queue, and those from the earlier sitting were just starting to leave. So it appears that getting a table at one of the hottest restaurants in Paris wasn't so difficult after all.
As I stood in line, I got started with two glasses of whatever was available that night – a white and a red Languedoc – while the missus scoped out Le Dauphin next door, surveying its respective queue. We were hedging our bets in deciding which two of Paris' most famous restaurants turned tables quicker. Eventually, we decided that our first experience of cuisine de Iñaki Aizpitarte should be at his more storied bistro.
As the queue shortened, the man himself, Iñaki Aizpitarte, appeared from behind the stove to greet those waiting in line for a seat at his edgy neo-classical bistro. On the surface, Cool was a deafening wail percolating from every porous hole in the restaurant. Everything that was romantic about a darkly lit Parisian bistro fronted by a rock star chef, was present. There was no doubt in either of our minds: This was the coolest bistro in Paris. We sat down at 10.30pm.
This feeling extends to its creator, Iñaki is the very embodiment of the bistronomique culture. He is a tall slender frame, tussled dark hair, Liam Gallagher eyebrows, and a Jesus beard. Dressed in chefs robes, he was also a brooding vision of a rock and roll star. Few chefs really look as badass as this guy, even fewer have a cultish following and only an exceptionally defiant handful manage to command respect from stakeholders of hospitality by garnering a reputation of dishing out magnificent and utterly terrible cooking at the very same time. After all, there is a very fine line between those who have the ability to shape the future and those who are just plain bonkers.
As he looked out onto his patrons, I wonder what his thoughts were, my best guess would be "Fucking hell, I did alright.".
The restaurant is rather run down, really, it's so 1920s bistrot, it may as well be a working set as part of a period film. Tables were shaky and wooden, chairs were wooden but still sturdy, forget about table cloths and the smoky incandescence made you wish there were candles instead. The food is anything but vintage, it borrows from so much forward thinking concepts, it could represent the very resurrection of the Parisian surrealist movement. Everything about this restaurant is oxymoronic, its old-school decor is a facade, the cuisine appears to pioneer, yet feels like an afterthought. The restaurant's sole menu doesn't give diners a choice – the 'menu unique' – ironically utilitarian for a democratic restaurant. Everybody eats the same five courses, the same five amuse bouches and pay the same €55 for it. Wines by the glass were €5 each.
Five amuse bouches to start.
One, cheese puffs.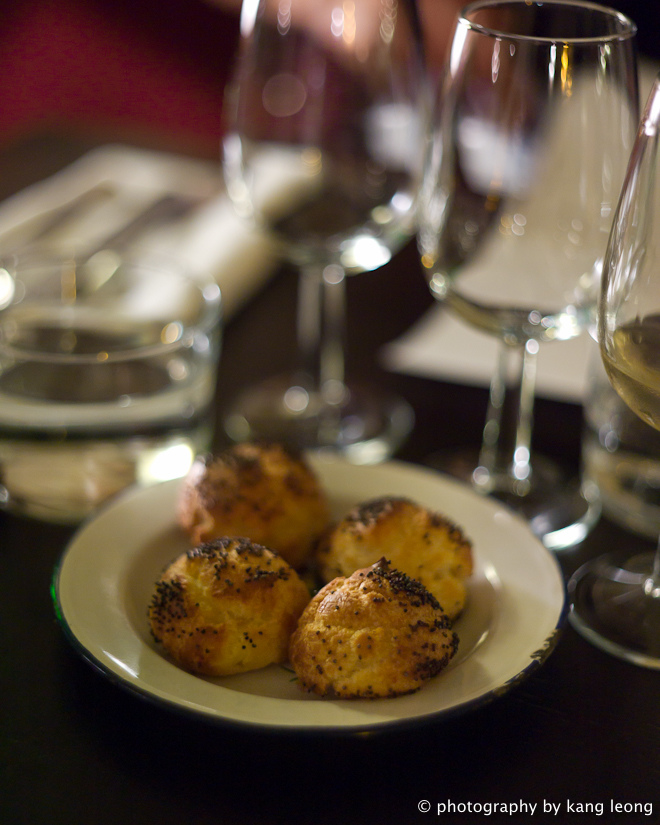 Nothing out of the ordinary here.
Two, ceviche of lime and fish.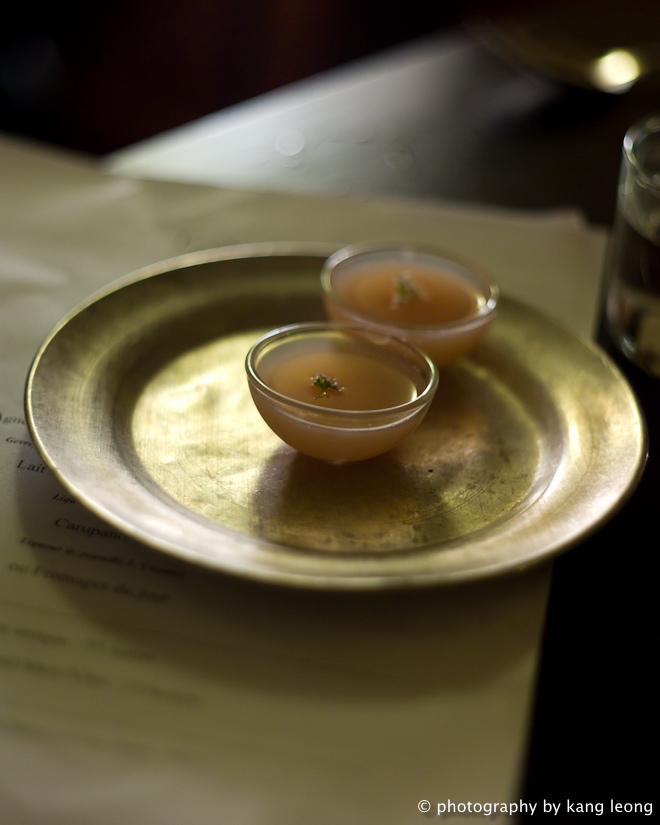 Down that bad boy. A small wedge of fish drowning in lime juice and alcohol made this throat clearer feel like slurping a spoonful of goldfish from an aquarium.
Three, shrimp tempura.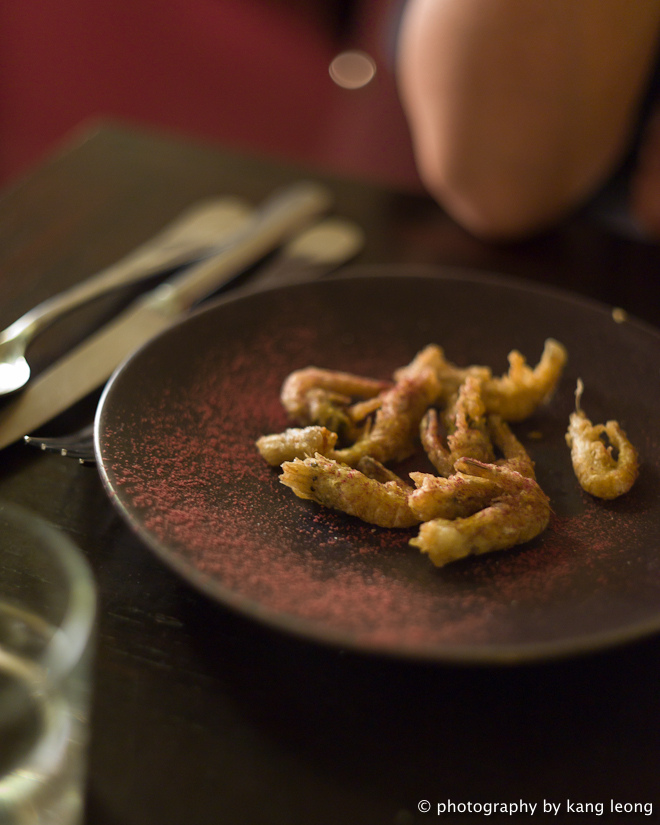 Crunchy, with salty, purple powder. This was actually nice, but seriously, stop teasing, where's the real food? We noticed how half the restaurant spoke English, in fact, the waiters had explained the choiceless menu to us in perfect English. It must be attributed to that World top 50 list, a lot of gastro-tourists here. What seemed intriguing was how Japanese the amuse bouches felt. Tempura, dashi… no Frenchness here.
Four, black pudding, pickled onion.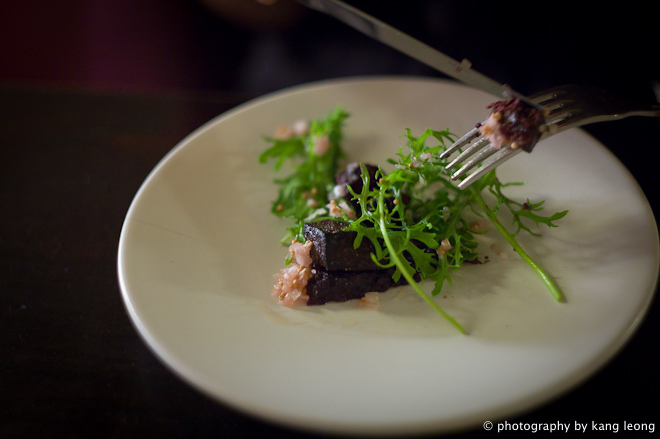 Warm, muddy, smooth, like a cafe au lait but mildly spiced with a sweetness that was chocolate-like. Not bad.
Five, dashi with shittake and lettuce..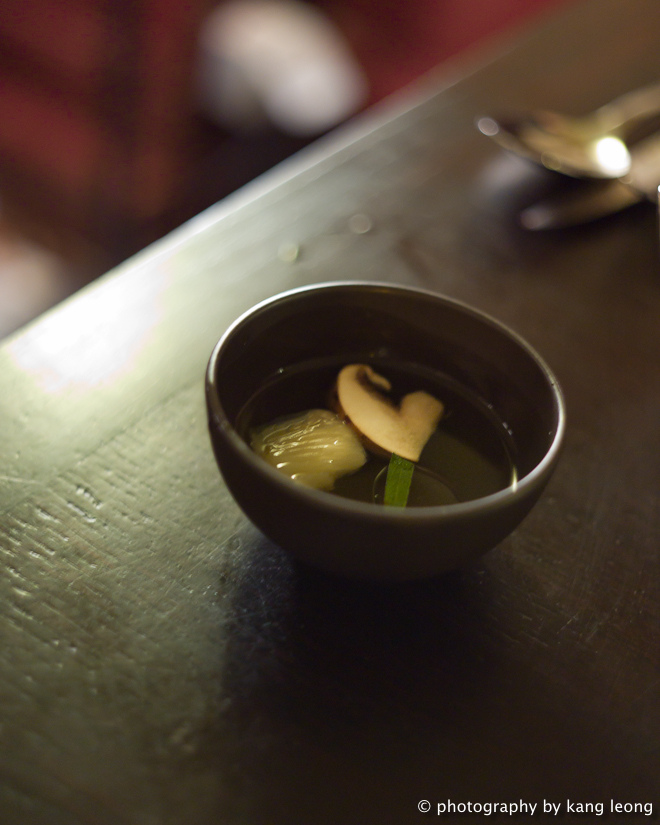 …fishy oil. No it was umamilicious. Truly, but this initially prologue of simplification, distillation and examination of the essence of flavour was ironically tiresome. My brain was deteriorating under the second glass of anonymous wine. I searched for reasons why the beginnings of this menu was so Japanese-centric. It was mildly entertaining up to this point, but I also felt empty too. The bread basket came sans butter.
Never had I longed so much for a dollop of bearnaise and bowl of frites.
Course 1: Huitre, bar, concombre.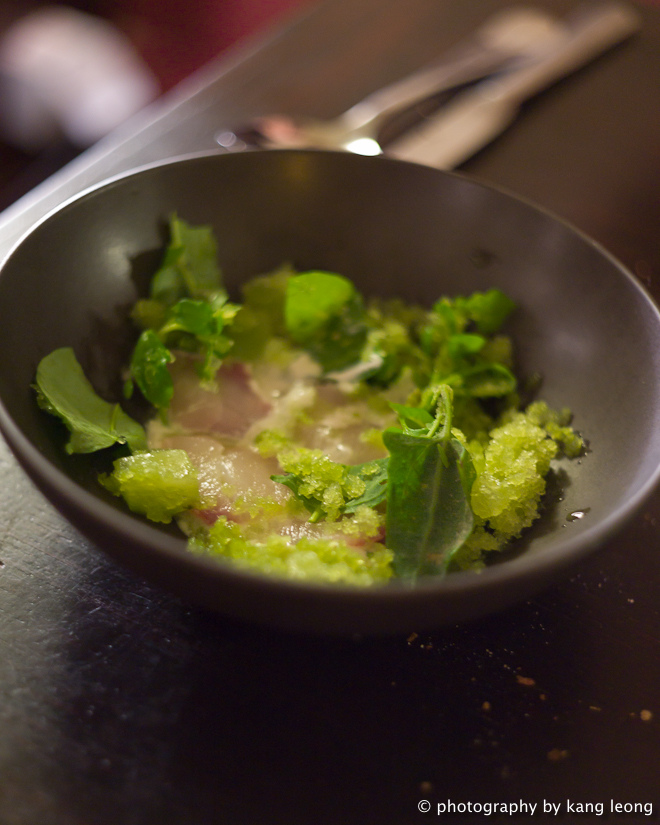 "Fish tataki, with poached oyster and cucumber" as the waiter quickly explained. So I scrape away the ice chips to find the oyster.
No physical oyster, but in its place a milky, ice cold sauce, which I assumed was made from the elusive oyster. The cutting crispness of cucumber brought a sense of liveliness, the low temperatures forced the texture of the fish (mackerel judging from colour) to tighten up and each bite was met with a forceful bounce. I was rather suspicious of the milky oyster sauce, it was a reminder of eating natives toward the end of April. It was nice, but one dimensional, and redolent of Viajante.
Fashion – it can become terribly cliched as it ages. Shaved ice, cucumber (and while we are at it, beetroot) feature on far too many 'cutting edge' restaurant menus, in my opinion. The Nordic thing may be in vogue and simplification may be an exhilarating experience for the cook, but I personally despise eating these things. They are so prevalent that they are hardly innovative anymore. It screams cop-out every time the chef pulls this trick. Cold cucumber, cold beetroot, with oh let me guess, goat's curd, whipped. Fucking hell. Chefs – please let this obsession stop.
Course 2: Cabillaud, navet, radish, manzanilla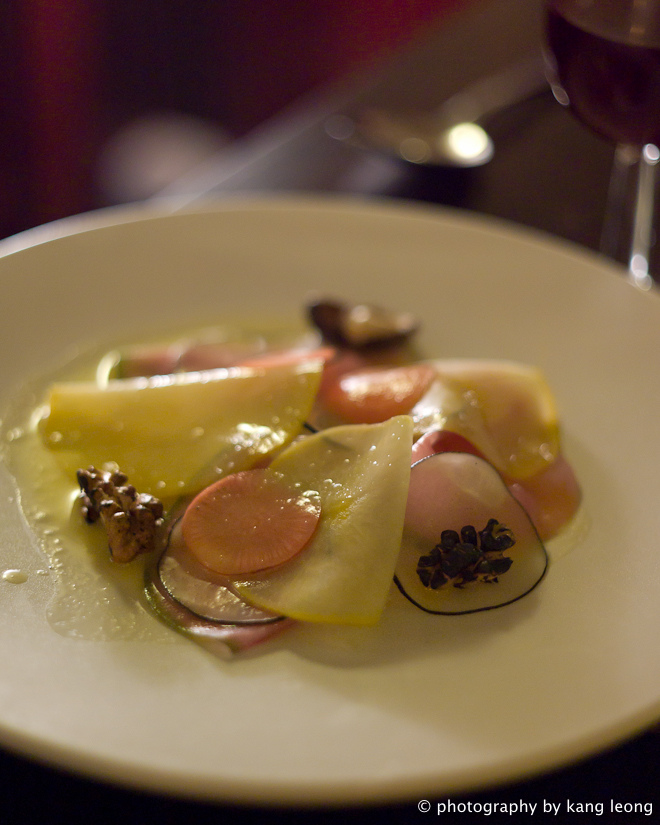 Dastardly simple, but one in which the genius came out to play – this was a lovely dish. Deft slices of turnip and radish layered atop beautiful nuggets of cod. I stuck my nose in there before I ate, mmm, the smell of white radish and white fish. Eating this was like making love underwater, every mouthful was smooth texture running across more smooth texture, the fish was so tender, mermaids were weeping. I'm sure the fish was sous-vided and I assume cooked with the lovely butter and manzanilla sauce, the fish was smothered in. That sauce… oh it was utterly sublime. It was heartbreaking eating such a fine example of cod.
Course 4: Agneau de lait, poireau, oignon, cresson, anchois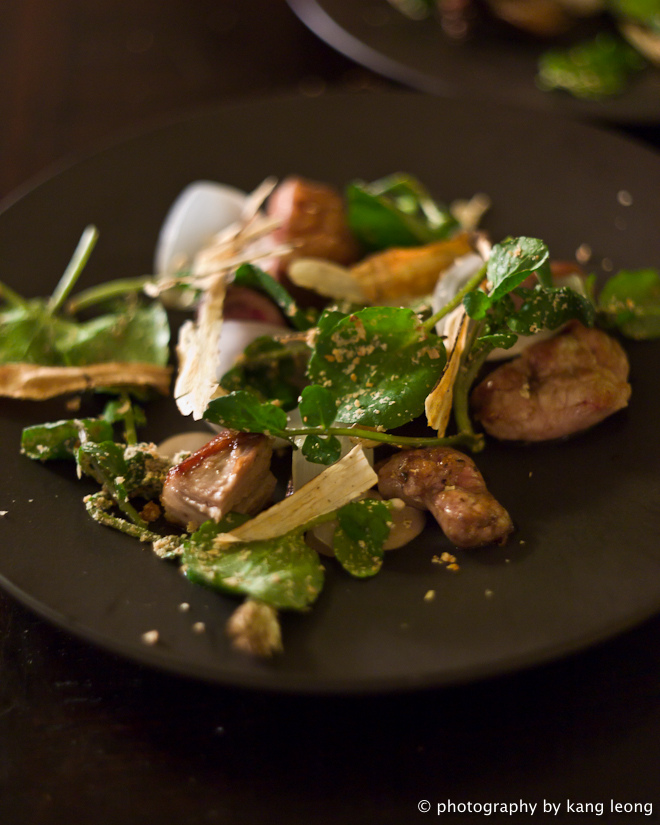 Presented as 'Lamb five ways' with leek, onion, watercress, anchovy. Let's see now, there's loin, liver, testicles, and some sort of dehydrated salty powder. Was it powdered onion or powered anchovy? Who knows. This lamb salad was chaotic, there was so little meat, it may as well be vegetarian. For what it's worth, it was a delicious plate of foraged ingredients. I appreciated the no bullshit approach, but it was a complete anti-climax of a main course. So it appears, this is all there is to it.
Course 5 (alternate) : Fromages du jour.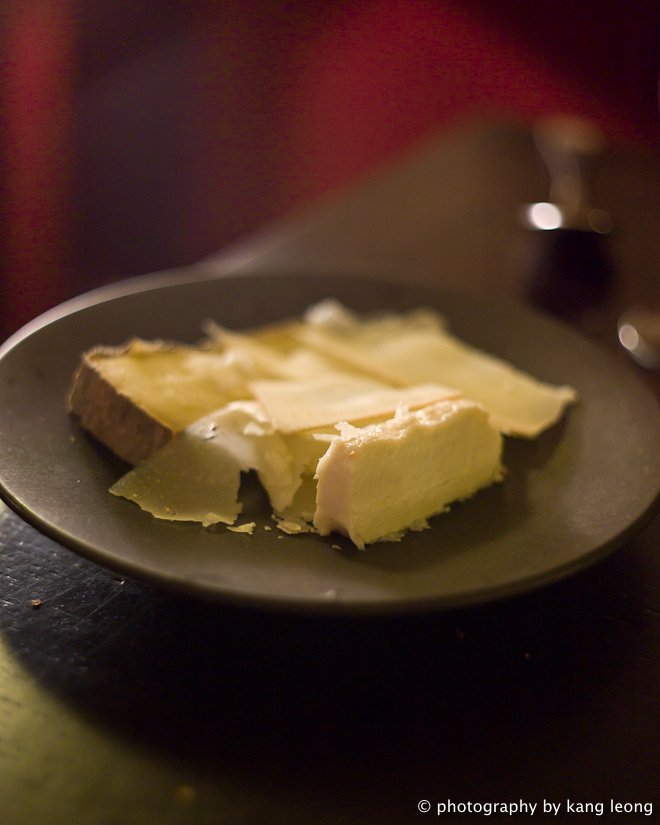 I don't know what the cheeses were. Something fresh, perhaps a goat's cheese, something shaved, perhaps a comte and something soft, like a morbier but without the ash.
Course 5 (Sweet) : Lait ribot, herbs, beurre noisette.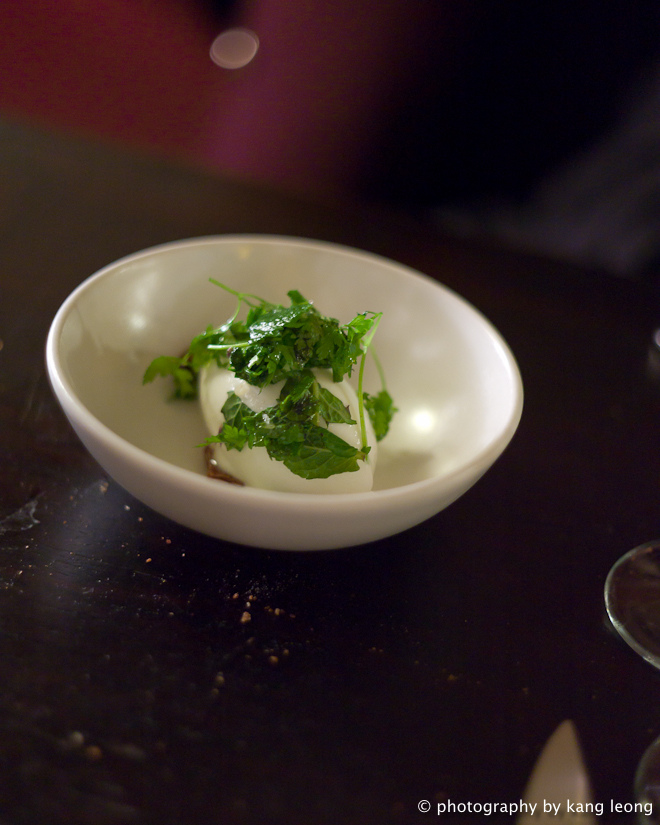 Buttermilk, herbs, and brown butter candied caramel. Soured milk ice cream, little else to report really.
Course 6: Carupano, poire.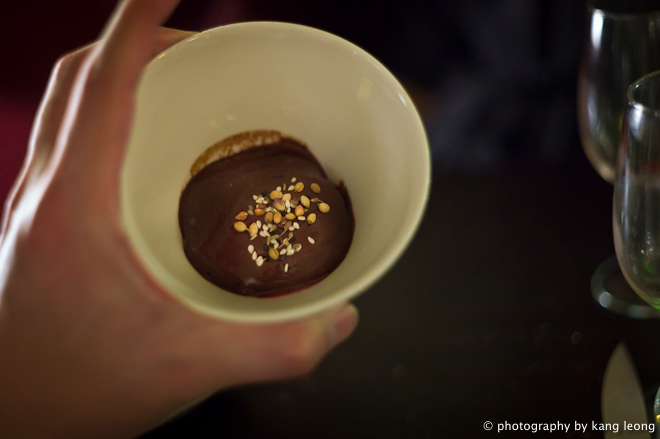 I surmised that Carupano referred to the provenance of chocolate, liquified to conceal cubes of poached pears. Well what can I say? It's chocolate and pear, you know what they taste like when you put them together. It was a pleasant finish.
Modern Euro with a touch of the Orient, but I think this particular meal was probably French-Japanese with a touch of Nordic frost. It's magnificently confusing, the cooking was so completely self-indulgent, it's hard to pin down what the chef was trying to achieve. Was he bored with success perhaps? Or could it be completely expected, that this was the work of a defiant rockstar artist who had attained his cult status by not giving a fuck what the world thinks of his cooking. There is no question of ability. Iñaki's kitchen is capable of great things, reading his canvas of dishes in totality, I can see it all hanging together very well, truly the mark of a culinary wizard.
On the other hand, this meal is also the culinary equivalent of a cocktease. The kitchen shows you just enough to tickle your fancy, but you never get to see more than just a peek, flirting with your palate, leaving you panting for very much more. It's exhilarating and frustrating. Perhaps we all love abit of toying with our emotions (or maybe I do) and in a way, the competitive pricing helps to soften the blow of a night of contrasts of stunning and terrible cooking. Perhaps less really is more, I was hard pressed to find better value for entertainment at €55 in the city.
Factor in the dimly-lit effervescent ambiance, the charming service, the chaotic supper-club like gastronomy, the rockstar chef watching you eat and of course the anonymous glasses of wine, I found a grander picture in which the summation of parts equated to a rather exquisite experience of a restaurant.
I couldn't put my finger on it, but I came away with a strange affection toward the meal. One might say that Le Chateaubriand possesses the certain je ne sais quo which encapsulates the very glamour of eating out. At midnight, the restaurant was still buzzing with so much energy that I couldn't care less of what I was eating. I was totally in love with the idea that I was celebrating Life in a true Parisian Bistro. The restaurant is a very cool place to eat. So cool in fact, it has the power to transform merely ordinary plates of food into something worthy of far too much adulation.
I think Iñaki knows this and I think it's always been part of his plan to created such a restaurant that purposely avoids a nerdist cross examination of provenance and technique. In that sense, Le C is so carefree that it is truly unpretentious. Instead, it delivers what is most important: A bloody good night out. And it surely was for us, it was an evening that produced all the sense of mystery and convivial adventure one could hope for. There's enough substance to sustain a reputation, but its the overly stylish ambiance that ultimately won us over.
For the same reason however, it's hard to predict a good meal here. Every other review describes a completely different cuisine, giving the impression that Le Chateaubriand is a kind of thematic and seasonal supper-club. If anything, this type of trend setting nomadic cooking is probably inspiring the next generation of chefs to push the boundaries of highly stylised anti-conceptual food freed from the shackles of defined regional cuisines. Roving chefs who frequent at the Loft Project come to mind.
At the end, we ate from a unique menu as described. If ratings start and end in circles, then Le C would lie somewhere in the nether-regions between 10 and 0 and 10, if that makes any sense. It was definitely not the best food I'd ever ate, but it was illuminating, terrible and memorable. Perhaps that's why Iñaki has opened Le Dauphin next door, the princely tapas bar that is the Ying to the Yang of LeC. For starters, LeD is brightly lit with modern interior designs. At the very least, it lets you choose what you want to eat. I think he knows those who were led on by a meal at LeC, would want a full undressing of his recipe book. By all accounts, this is where the real cooking actually happens, and a pressure relief for us gastro-tourist who love nothing more than to pretend to pontificate as if we are paid to do it like the esteemed dead tree hacks we worship. This must all be just a humorous game to Iñaki.
I didn't make it that far on this trip however, but I suspect I will be gravitating toward Goncourt again, the next time I am in Paris.
The Deets.
Le Chateaubriand
New Bistro, €55 set menu.
129 Avenue Parmentier
75011 Paris, France
Tel. +331 4357 4595
Metro: Goncourt
Illuminati: SmokySweet ; Nico ; Meg Zimbeck ; AGHT ; Food Snob ; foodtourist ; GT ; TEJC ; Skinny
Did you enjoy reading this? You can subscribe to the Newsletter. Alternatively, you can subscribe to the RSS feed.