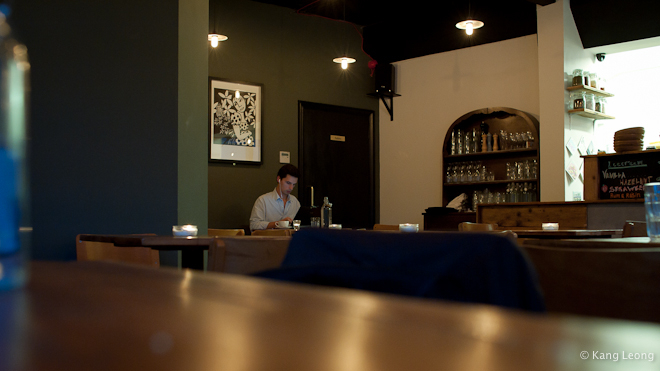 And so the legend came to pass, that Otto would become the very first pizzeria in London to crust with cornmeal. Purists (and Italians) will balk at the mention of this heretical abomination, even though the cornmeal base (polenta) is more Chicagoland than Neopolitan. There is no oily, tear resistance, wood-fired sponge in this pizza, rather, one will find that the base takes on a buttery crumble, having more in common with a tart or a quiche than a bona fide DOP.
I like the little corner restaurant, the interior is resourceful, down to their choice of decorative photographs, mere 4x6s rather than eye popping 12x18s. Painted green. It is off the noisier end of Notting Hill Gate, and on the convenient bus route – 328 and 31 – that runs from Kilburn/Camden to High St Ken.
Tom and Rich, the owners, are two ex-city types who decided to swap suits for aprons, becoming inspired after visits to Dove Vivi, a cornmeal pizzeria in Portland, so the story goes. Eventually, they would return to good ol Columbia to learn how to make them, and before long, they were back in London, taking over a closing cafe, install an oven, whip on a fresh lick of paint and call Otto their own.
The better half and yours truly had spent the entire Sunday afternoon cleaning out my old flat in Gloucester Road (Byron, sob, I shall miss you, till you open the next in leafy Queen's Park) and decided to drop into Otto to give these pioneering pies a try.
The menu is slightly different to the aspiring DOP pizzeria, as a first, they offer pizzas by the slice for £3.50; staff actually warn against ordering a whole one per average human, as it'll fill you up proper. A half goes for £10, a whole for £18 and this place possesses the most vegan friendly pizza menu I've yet encountered. The Aubergine comes with basil, tomato and blue cheese; Balsamic Red Onions and Sweetcorn are garnished with chives and mozzarella; Cashew Cheese with red peppers, in fact the only meat option on the regular menu is the home-made fennel sausage.
We were feeling peckish, so opted for the £18 taster which comes with six different toppings on the same baked crust.
Wait for it …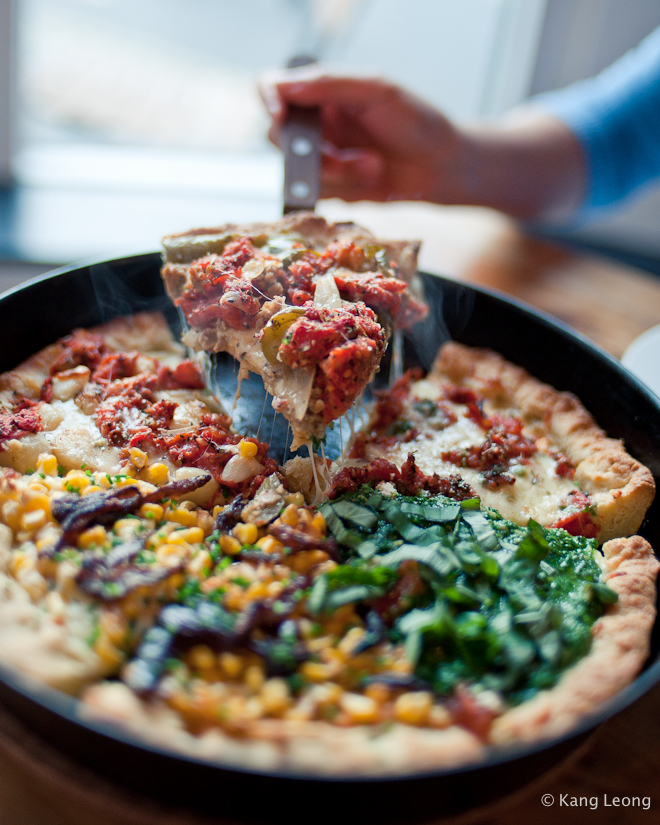 ….and we have lift off..!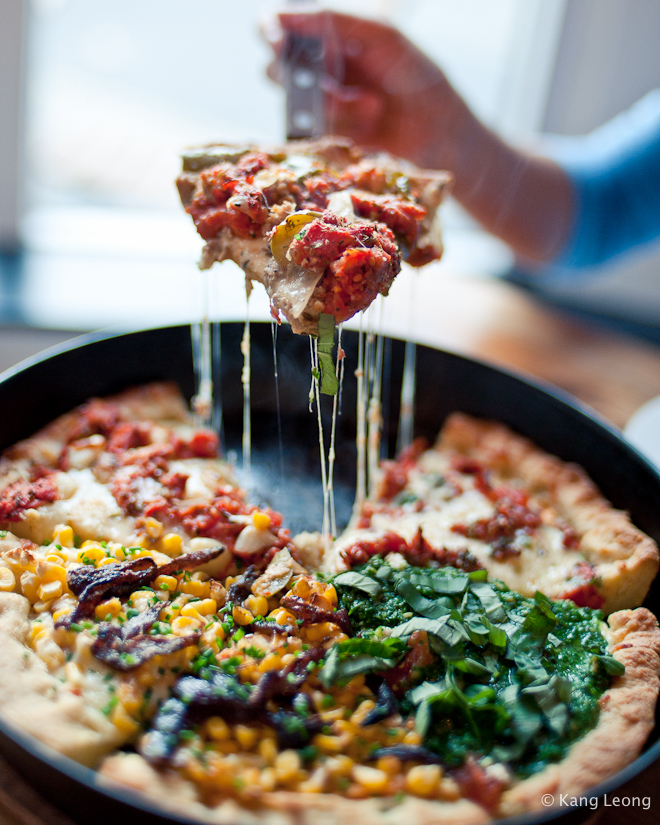 Well now, the overly vegetarian-friendly pies have an utter freshness about it; In the place of quesy oiliness is a powdery, cakey and corn-like base that was a welcomed change. It was easy to eat, but man did the crust fill me up quick! Apparently, this is due to the higher fibre content. Zero doughiness, in fact, it is anti-doughy.
I gotta say, I was loving the colourful toppings. The cashew cheese has a spike of spice with the excellently sweet balsamic onions; the pesto and ricotta was pure freshness, but our favourite had to be the home-made fennel sausages. And the roasted cherry tomatoes too… hey I felt 'healthy' eating this kind of non-pizza. It's definitely a refreshing change.
Broccoli, black beans, mushrooms with dijon balsamic vinaigrette , £6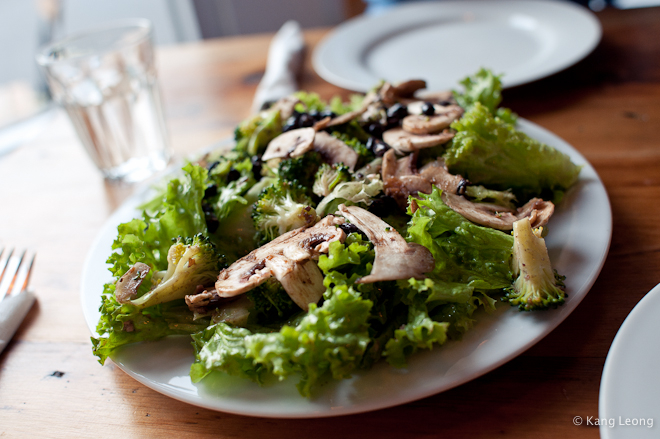 We also ordered the broccoli salad which was excellent too. Fresh.
I didn't think it tasted like pizza actually, I thought it was more like an oversized tart. Gimmicks aside, the deep-dish pizza has made a wonderful debut in the Big Smoke, it is my first time, and probably a first for you as well. I think it tastes great and it is an intriguing alternative to that Italian stuff we are so used to. I also ordered an affrogato that came with a nutty dollop of hazelnut ice cream to finish. The bill was £28, service not included, and at the discretion of the diner. I think Otto is a great little space, the service is charming, Tom and Rich check back with diners frequently, anxious I suppose, about how their cornmeal pizzas are performing. I think they have little to worry about, the pizzas are great, the atmosphere excels at being laid back and modest, and service is warm as toast.
…I am convinced this stuff is healthier too, but I'm also one of these weirdos who subscribe to the view that a hamburger is a completely balanced diet….
It is probably good to know that the restaurant doesn't serve alcohol after 6pm on Sundays (so I didn't get to try their special beers listed on the board), and they seem to be BYO too, but do call to double check.
Great addition, cheap and worth a visit if you're in the area.
The Gist of It
Otto
Pizza, £10pp
6 Chepstow Road, W2 5BH
Tel: (020) 7792 4088
Tube: Nottinghill Gate
Polenta Express : Laissez Fare ; Gourmet Chick ; Gourmet Traveller ; Young and Foodish ; Guy Dimond for Timeout ; Victoria Stewart for The Evening Standard
Did you enjoy reading this? You can subscribe to the Newsletter. Alternatively, you can subscribe to the RSS feed.
All text and photography on this blogpost is copyright and belongs to Kang Leong, LondonEater.com. If you repost this without my permission, bad things will happen. So please don't do it.