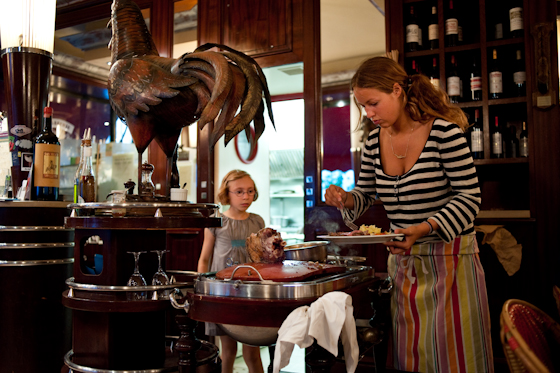 Negotiating tight side streets past the imposing museums of Les Invalides, I finally found this traditional restaurant with no official website, or little mention elsewhere… oh and it starts at 8pm. Half an hour till eating time, will it be worth the trek?
Invalidated.
The valley of heroes. Military might. The iconic golden dome of the church of Invalides.
Les invalides is also the place where many a tourist can pay their respects to famous French heroes, such as Mr Bonaparte for example. Ah, I could go on about Parisian history and culture, but that's not why I've chanced upon the grandeur of this area; I'm here to find a local French restaurant, buried within the heart of the city, and one that is named after the most royal of herbs: The Basil.
It was not an easy find, but after walking past many official looking structures, protected by guards who carry Jack Bauer style side arms (not to mention the fancy caps), Le Kang successfully navigated the complicated Parisian urban jungle to land at the front door of Le Basilic. One knew that he had chanced upon a gem of a restaurant, as the staff hardly spoke any English. Ok, maybe that's just the excited tourist in me, but I was totally under the illusion that I found myself at a restaurant that served truly authentic French food which Parisians could be proud of. The language barrier was rewarding, but it was quickly overcome as I glanced at the A4 menu printed on both sides, in French.
Experience with French/French inspired restaurants around London meant that I magically understood the language… well parts of the menu at least. For instance, I could make out that Comte was a cheese, poulet was chicken, boeuf.. beef….. yeah, at least that's what I think. Guesstimating.
Booth and Lamps
Since we were one of their first patrons to arrive, the restaurant was relatively empty and it meant that I could take in the details of the interior.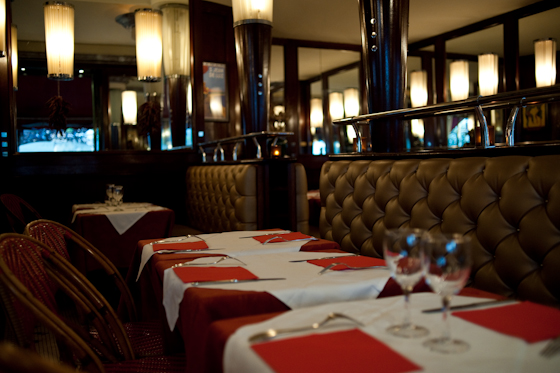 And what an evocative restaurant. 1930's art deco side lamps, leathery booth seatings and creaky wooden floors, the sun was just setting and one could feel the dim lights slowly filling the room with atmosphere. Soon, the restaurant also filled up, and with it flamboyant French whispers took over the airwaves, exuding a dream-like quality. I love dim lights and chatty atmosphere, it's soulful & so alive, the restaurant had its kitchen doors wide open, so you could smell the cooking and hear the crackling hot oil… it even had a carvery as a centrepiece.
Yes. A carvery in the middle of the room, behind a huge wooden cock. How ironic eh.
Le Kang eats.
The first dish the waitress recommended were ravioli with basil and comte; I'm a big fan of comte.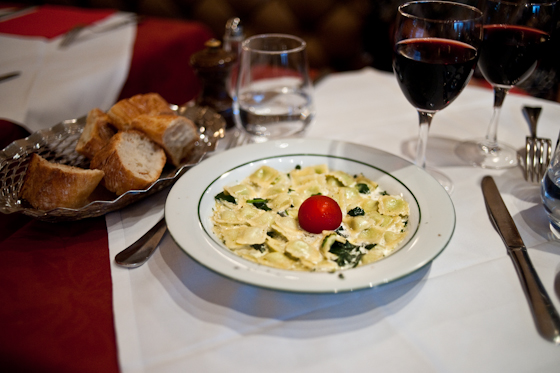 Is it just me, or are cherry tomatoes in France a lot sweeter than what one can find in England? A little awkward to be starting with pasta for a 'truly authentic' French meal. The warming milky basil infused soup was pleasantly scented, the mellowness helped to highlight the crumbly savouriness of the comte filling. Elegantly simple and just simply delicious; not spectacular, and it was abit like eating a cheese flavoured cereal breakfast, for dinner.
Might I just add that the sourdough poilane was excellent. One of the things I really wanted to try in Paris was to indulge in amazing steak, and I was satisfied when the waitress recommended the fillet of beef to us. We opted for it with mushroom sauce.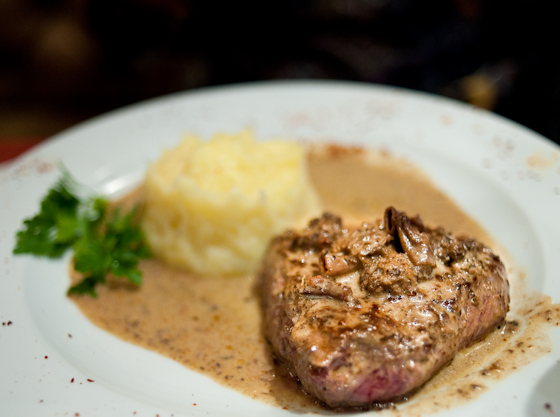 I don't know what it is, but French sauces on steak just taste so good. The first bite of this steak…. And I let out a quiet moan, bloody hell it was obscenely tasty. Yes, that's right, it was 'tasty' because it made my tummy rumble like Rocky, it was phantasmagorically remarkable. I could not make out the type of mushroom they used, it looked fungus like and carried a sour juiciness. The runny sauce was richly infused with fragrant butter, shallots and complex red wine flavours, all of which was seeped into the meat and – here's the best part – all these dominating flavours were complimenting one another and artificially adding to the natural beefiness. Very simply, it was one of the best steaks I've ever had. My mouth was experiencing a rainbow of flavours, and the slightly sugary and vanilla perfumed mash, smooth in texture and creamy in taste was able company to the steak. The steak was cooked rare, but it was so delicately soft, it was like eating silk.
Why can't we can't get glorious steak like this in Britain (open to raging debate, I'm sure, somebody start please?) – it was a classical French steak that was executed with brilliance. An easily understood recipe, and an easy eating dish, whole and hearty, I wiped the plate clean with the sourdough baguette and asked for more bread. It wasn't cheap at 30 euros, but it was the best 30 euros I had ever spent.
I didn't order the fillet, but I did eat a lot of it, as it was much too rich for the other half. Up till now, I had never tried the Onglet before, also known as Hanger's steak or more affectionately referred to as 'the butcher's fillet'. Correct me if I'm wrong, but this supposed cheap cut produces interesting flavours not akin to the traditional beefiness of other cuts since it is quite close to the kidneys. An exciting first; a true commitment to gastronomy, trying it was absolute requirement.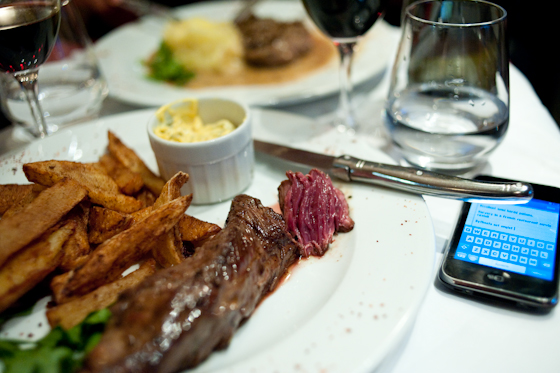 This steak was also cooked rare, and I should actually mention that the waitress didn't ask us how we'd like it cooked. But I didn't mind, in my limited experience with French Charlorais, it is typically tougher than other breeds. Besides, French restaurants tend to char the exterior quite abit, which means that medium rare is closer to medium what with all the heat. Oh gosh, this is again beef heaven. The meat is completely silky, it was indeed a different sort of softness to traditional cuts. The softness was a sort of bouncy mushiness, one that was more associated with kidney or even liver, or as my notes indicate: a cross between raw chicken and tofu, or maybe 'corrugated bouncy jelly'(… yeah my notes are a little hard to decipher sometimes). The flavour carried hints of chocolate, there was a slight gaminess as well. Juicy, chewy it was just very different; like a fillet that's been blanched in foie gras juice. The steak came with béarnaise and it was excellent. It was chunky and it had crunchy pickle bits, and I even detected some chilli in the mix, perhaps due to dried chilli flakes(?). The flavours were certainly dominant, it was more complex and quite unlike anything I had tried before. Of course, I was happy to find that the steak was cooked to perfection, with the juices sealed into the meat and the charred smokiness emanating from the surface. It was yet another amazing steak that was stunning on first bite. If we hadn't ordered the fillet, this would have been one of the best steaks I'd ever had, but that fillet was just ethereal.
Classeat.
What more can I say? The portions looked tiny, but we were both so stuffed, we didn't have room for pudding (then again, I had just gobbled up ten macarons a couple of hours before this meal..). It was a great meal, the location was great and service was superb. I enjoyed this restaurant, and I have to thank Epicurienne  for recommending it to me once again. I haven't a clue where this restaurant lies in the Parisian premier league of restaurants, but if this was a London restaurant, I would make this my local for steaks.
Like this blog? Why not subscribe to the email newsletter ; alternatively you can subcribe to the RSS feed.
The Gist of It
Le Basilic
2, Rue Casimir Périer
75007 Paris, France
Tel: +33 1 44 18 94 64
Metro: Invalides or Solferino
Verdict: The best fillet steak with sauce and mash I have ever had, period.