Wet fish cafe Offical site
242 West End Lane NW6 1LG 020 7443 9222
Food £10 Coffee £2.50
"Fell in love with the idea of transforming a rundown site into a London cafe with soul and character" – Andre, A Wet Fish Tale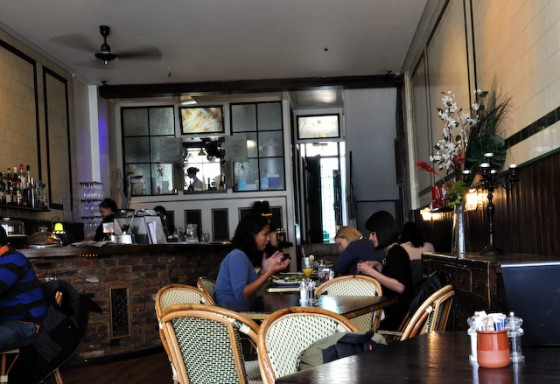 Everything seems more vibrant in Spring. Gentle breezes send cherry blossoms into a balletic flutter in the air, the green grass sway with Hula, the buzz of scooters seemingly transforming from noise to character, and baby cries, make you feel glad to be alive. On the same site in 242 West End Lane, eighty years of at least four fishmongers, it has now been lovingly transformed into a characterful cafe.
Here comes the Sun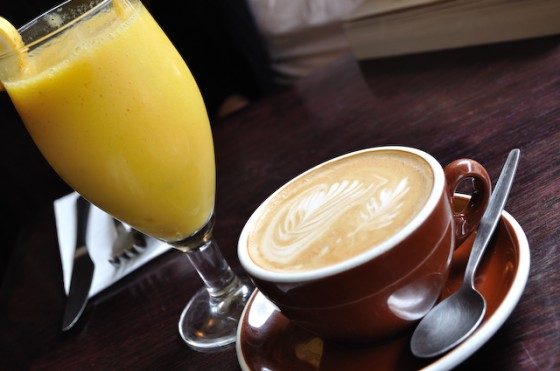 Great cafes are difficult to come by in London, well at least they don't tend to get written about quite as frequently as high profile michelin restaurants, but we can all appreciate a laid back atmosphere, buzziness and just straightforward good food… to go with your copy of the Times or perhaps the Conjurer's Bird. London's independent cafe is not as cool as their European cousin, though the Wet Fish is different. It really does have a kind of old school charm about the place, what with the tile walls, cushioned wood seats and a brick laden bar, it feels so real you know, not the sort of modern authentic recreation way, but the kind where one feels as if it were built from ground up with two bare hands.
Spanish infusion
I have been wanting to pop in for a breakfast brunch for quite a while now. The menu is actually divided by time slots, in brunch, lunch, maritime and dinner. There are lots of comfy classics which make you sigh gently while smiling such as a steak sandwich, a sweet potato and ricota back, and a choc-orange bread and butter pudding… with vanilla ice cream. Ahh…
We wanted a hearty broth so we chose the Spanish stew with chorizo, veges and chunky bread. It was simply tasty, with rich tangy flavours, supported by the savouriness and slight fishiness of the chorizo. The soup was not complicated, but rather it tasted so lovingly rustic that it almost felt like I was eating in someone's home, at the risk of coming across too mushy – one can feel the love in the cooking.
Bubble and Squeak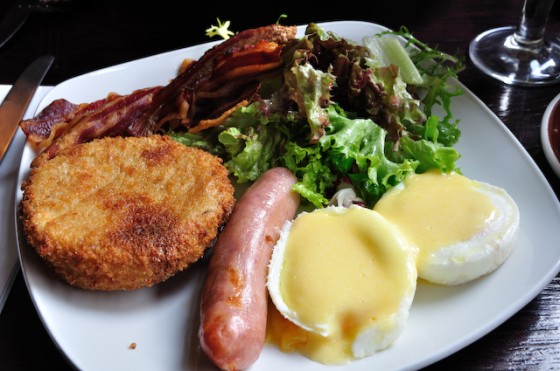 I set off from Earl's Court and felt like a tourist with my little camera around my neck as I made my toward West Hampstead. The highstreet is littered with so many cafes, restaurants that I was contemplating uprooting my West London nest to become North London's latest occupant. Wossy lives close by right?
Anyway, I wanted something other than a fry-up but was still hungry for some good eggs, especially good poached eggs so I plonked for the bubble and squeak. Poached eggs with hollandaise sauce, a sort of fried potato mash, wild boar sausage, crispy bacon and some greens on the side. It was a gorgeous looking plate and I just couldn't wait to dig into it. Oh dear, the eggs are hugely satisfying. They are delicately poached, not just moist but they were of a fluffy texture much like a soft boiled egg. I am a fan of poached eggs and was impressed by the silky mild hollandaise sauce, which finely balanced the tangy against the buttery – it was good, very good indeed. Accompanying the baby smooth eggs were a creamy potato cake, with an almost vanilla like fragrance and huge bags of umami mildness. Similarly, the sausages were just as smooth and easy to cut into, and in totality, it was just a melt in your mouth tender breakfast. For £9, not the cheapest, but certainly one of the best breakfasts I've had in recent memory.
Cheesiness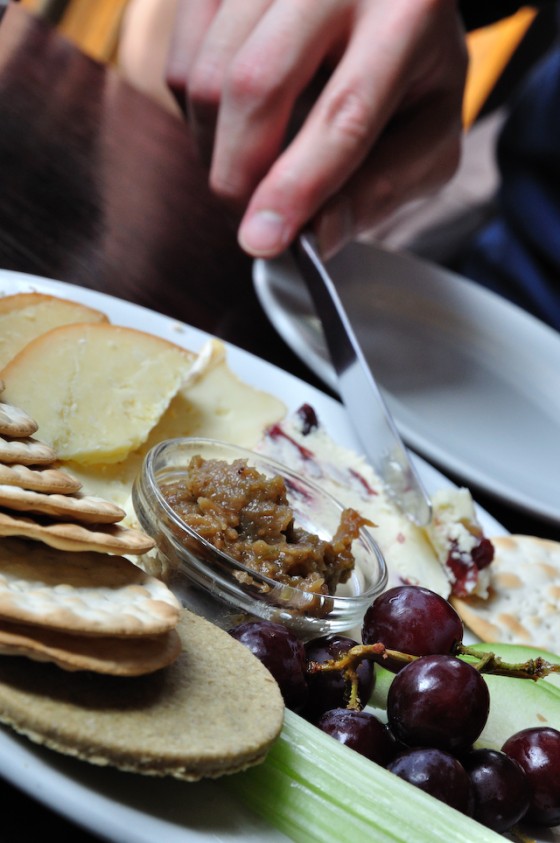 I decided to end my breakfast with a three cheese platter of a cranberry wensleydale, a mild brie and a rather intense smoked one, which I'd like to think hails from Bavaria (though I could be wrong). All in all, it was a great experience. I settled back into my seat to take in the cool waves playing in the background and couldn't help but be mesmerised watching the spinning ceiling fan do it's thing. Food is rather good – rustic and uncomplicated – sometimes when all we are after is a good cuppa (and it's a pretty good cuppa) and a comfy place for reading, or perhaps for a first date (this wasn't a first date) then I suspect that The Wet Fish Cafe is one of the few places in town, which is just perfect for when we are yearning for simple pleasures.
The Gist of It.
Wet fish cafe Offical site
242 West End Lane NW6 1LG 020 7443 9222
Food £10 Coffee £2.50
Verdict: Characterful cafe in a charming postcode. Food is rustic and simply good, and if you're hunting for a relaxing place to settle down, you might like to try this one.
Did you enjoy reading this post? Why not subscribe to my feed updates for free. Alternatively, You can subscribe via email.