You might recall my previous write-ups of L'Arpege here and there. As I finished my meal last summer at Alain Passard's landmark restaurant in the 7th Arrondissement, I was filled with disappointment and dread, his improvised cuisine of vegetables spectacularly crashing, making the Lunch menu really quite the expensive gamble (Believe me, unless you're a regular, the Lunch surprise menu won't feature any proteins, despite what the FOH will say to you).
This is why we chose to do a la Carte during this visit – it is the best option here at L'Arpege. Hélène Cousins manages the FOH at L'Arpege, and she does let diners know that Passard's troops are more than willing to whip up bespoke taster menus, consisting of half portion ALC dishes, charged at half the ALC price. We went as a table of 2, so basically split the courses between us.
And it sure was a fantastic meal. In fact, it was one of the best meals I can remember. With 2 glasses of wine and a bottle of water, the bill came to 425euroes per head, inclusive of the amuse bouches of vegetable tartelettes, hot-cold egg and the tray of petit fours, not pictured below.
I also think ALC would be a better experience than the full taster menu, which weighs in at 390EUR per person, as much as L'Arpege's grand cru vegetables are of superior quality, sitting through 6 courses of them before seeing protein is quite the challenge. If you are eyeing Passard's low and slow grand rotisserie, then ALC is the way to go. We pre-ordered the langoustine carpaccio with our booking, about 2 months ahead – A mythic dish, one of his oldest dishes and worth every penny.
(PS: There is also a Carte Blanche, but I've not done that yet..)
Pictures and notes below.
1. Carpaccio of langoustines with caviar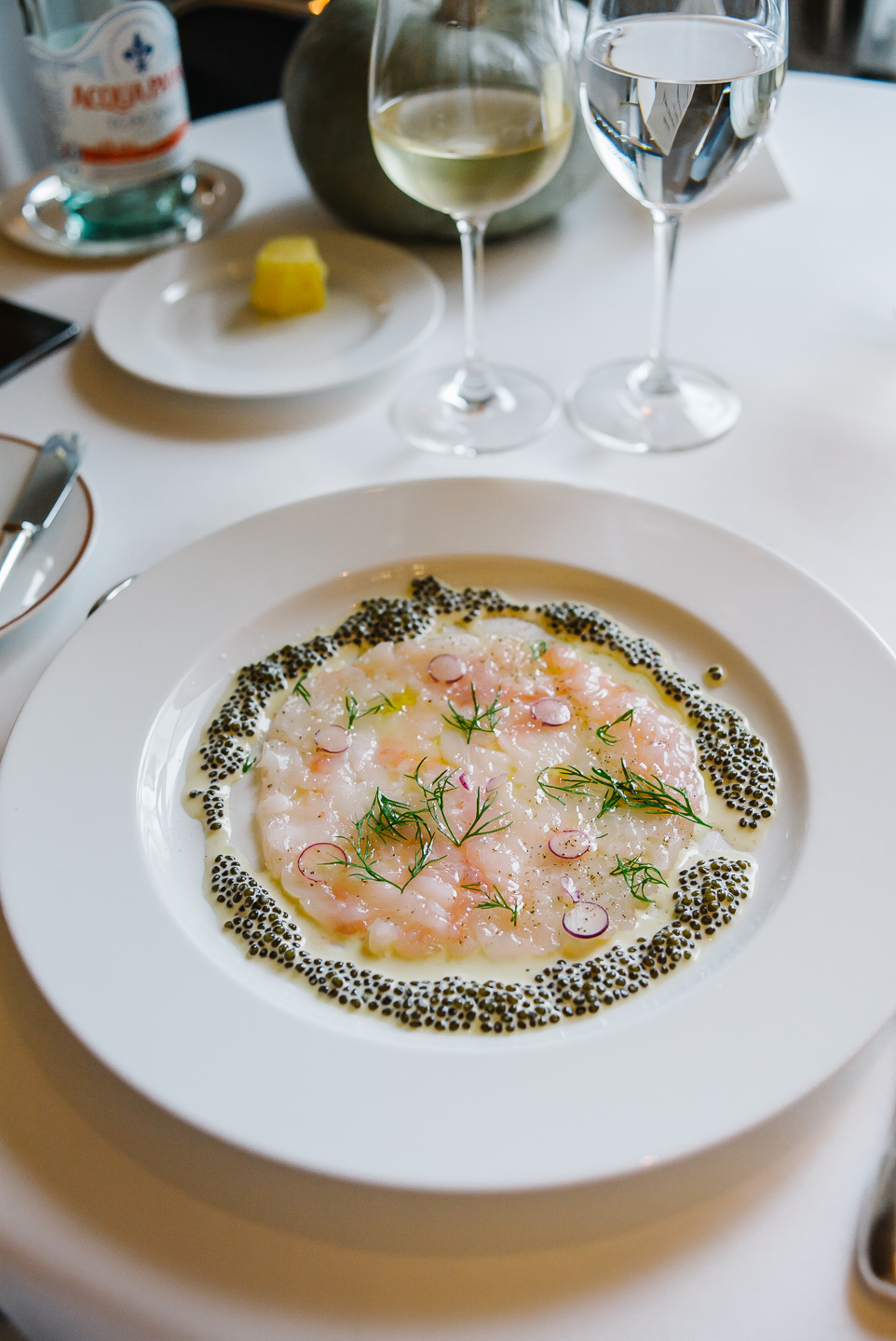 The Grail dish, the ultimate Classic, generous portion (30g?) filling the plate, and it was absolutely stunning.
Immaculate shelled and gently pressed live langos, they shimmer on the plate, and greet the palate with a rush of pure sweet ocean. I speculate the caviar is quality oscietra (due to the black & gold) from Qiandao lake, smooth and clean in flavour, a superb product. The oils, the cream, the acidity, the perfect seasoning, fennel(?), radish, pepper, fleur de sel.. it looks so simple, but there are no hard edges, the combination is a harmonious one and resulting the eating experience is incredibly profound. Put another way, the craftsmanship here is top notch.
I've been fortunate enough to taste different versions by others, but this is by far the best. I suppose in some ways it is the original, conceived in the 1980s at Le Duc d'Enghien, predating L'Arpege's opening (86), to an earlier point in the great Chef's career. A great dish, one I am unlikely to ever forget… La beauté du geste.
2. Fines raviolies potagères multicolores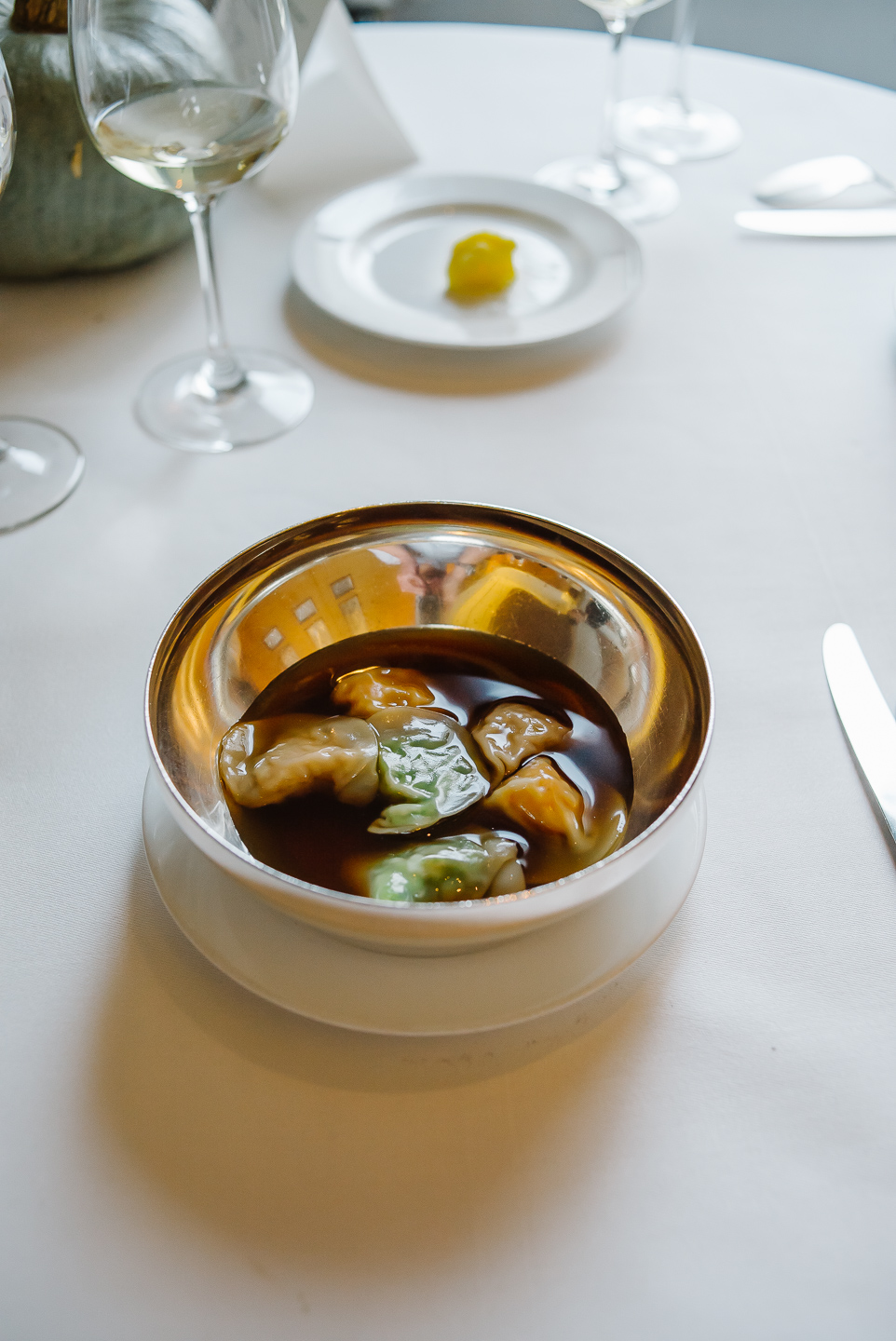 This is my favourite from the myriad of Passard's vegetable dishes. 3rd time having this, and it still floors me. It looks so simple, and for me it pulls up childhood memories of wonton soups, yet there is depth and clarity from simply vegetables. This is the sort of dish that resets your mind about the potential of vegetables. Analogous to the power of a great Tokyo based sushi ya, there is so much more to neta-shari than meets the eye. Minimalism implies the craftsmanship need be spot on, and its that which cannot be easily replicated.
The vegetables used obviously change with the seasons, on this visit we're told the consomme is based on leek and celery. Ive always wondered if a standard mirepoix forms the basis, yet it does also taste like a pure extraction of a specific vegetable in liquid form. The depth and sweetness ( not to mention the visual clarity of the stock) is simple yet complex at the same time. Perhaps there is also a tipple of sherry vinegar, honey, argan oil and other things in here too, as the consomme gives off this floral, subtly spiced quality. And then to the incredibly fine dough holding the filling. Melts on the palate with zero resistance. The epitome of 3 star vegetable cooking.
3. Bouquet of Chausey lobster, honey from their apiary and translucent globe turnip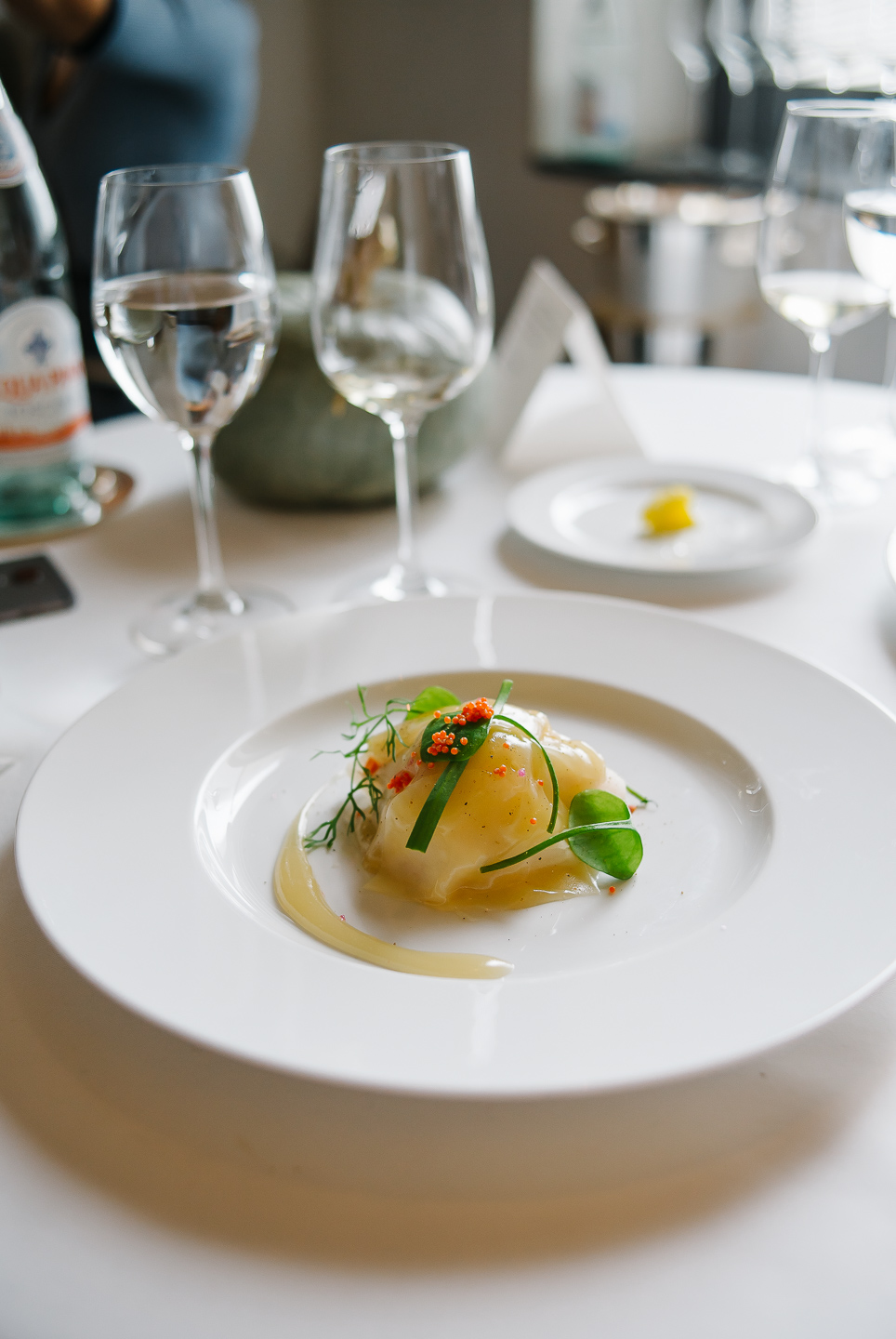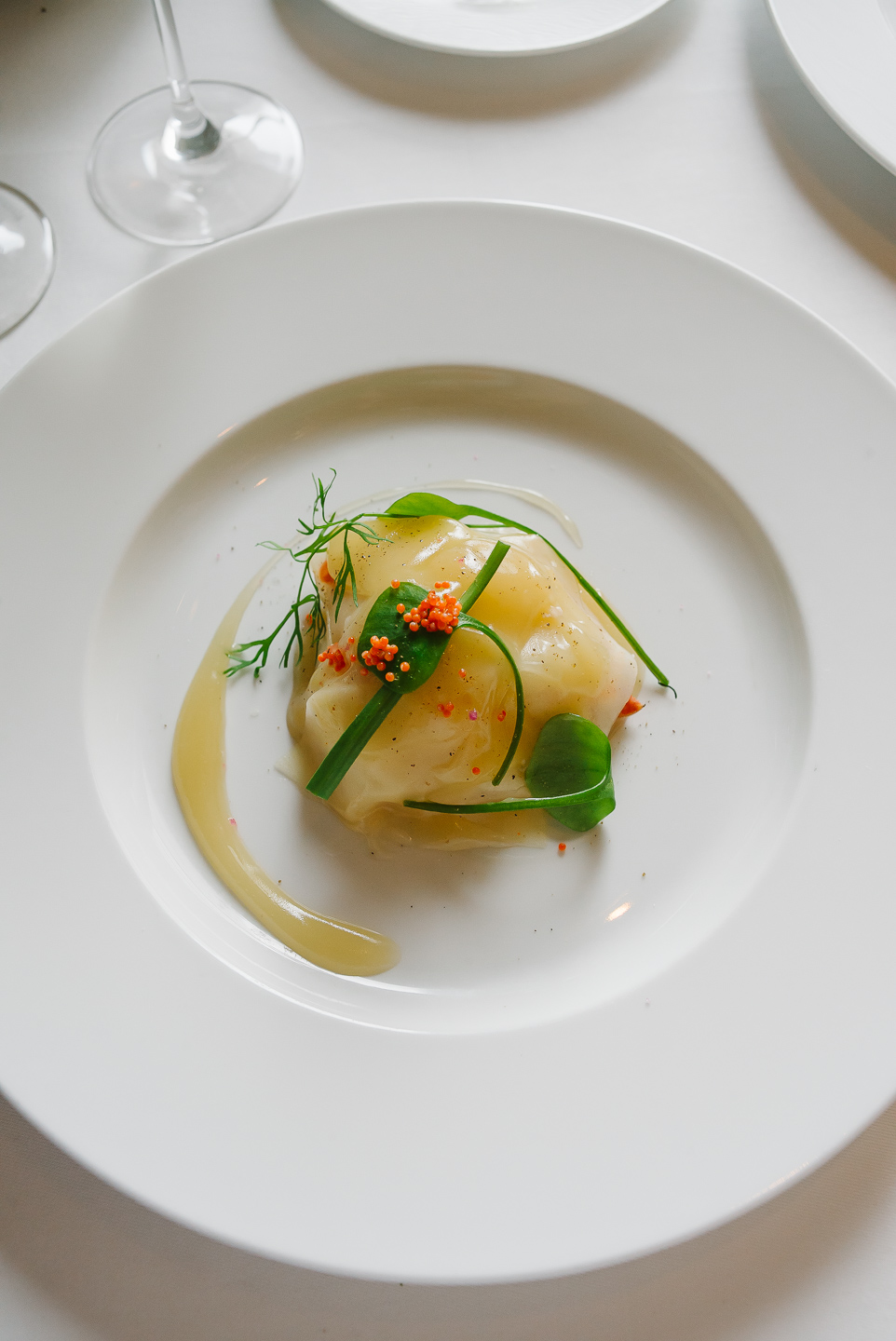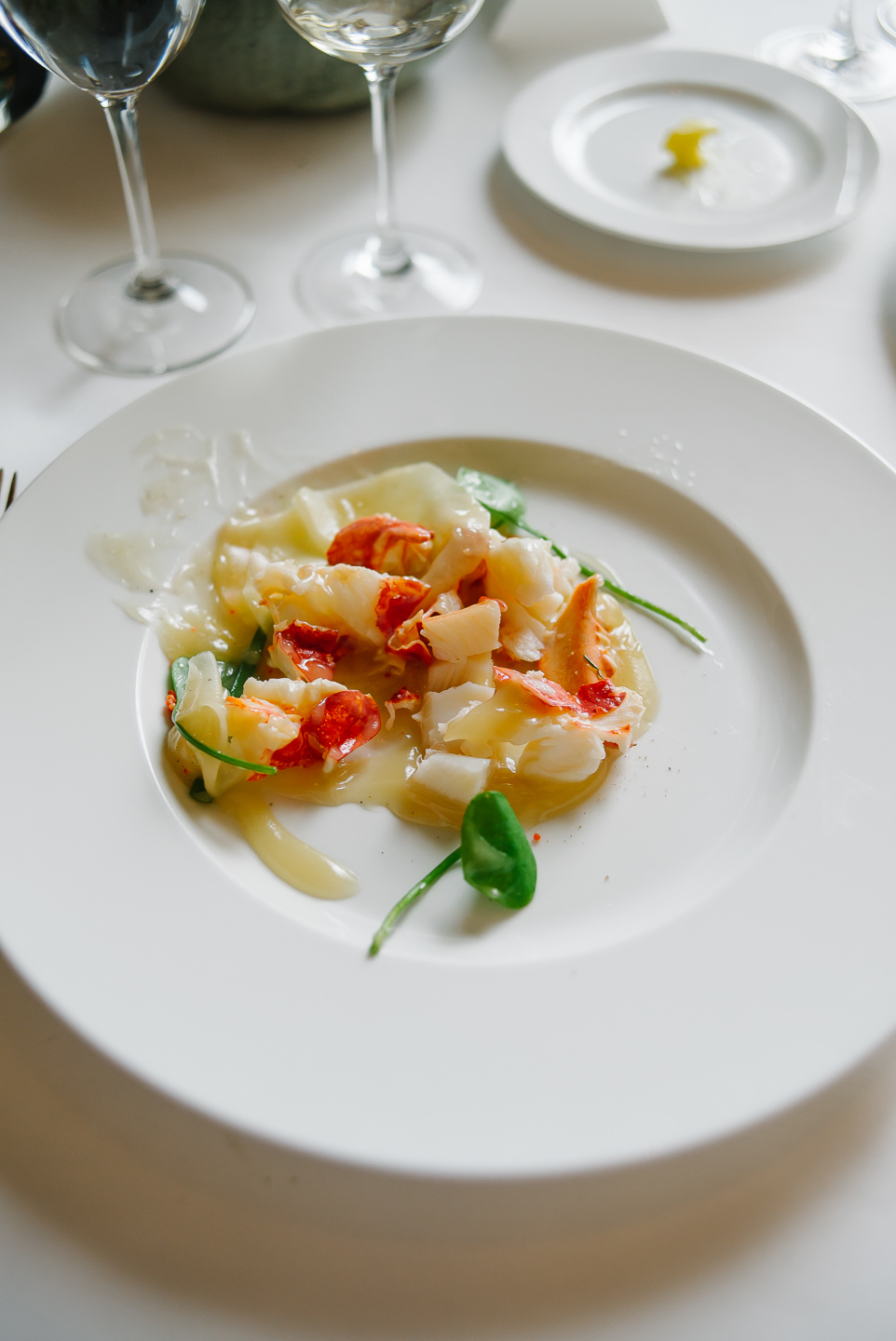 We actually asked for the ALC whole lobster (with vin jaune) but they couldn't do it, and instead offered this which was part of the taster menu, and I wondered if perhaps they didn't have any ideal sized ones in the 700-800g range.
With cooked lobster roe picked off the swimmerets as a visual garnish more than anything. The honey sauce is spiked with healthy dose of acidity, with a pronounced citrus element ,rather than sherry vinegar.
The turnip beautifully cooked, the texture is softened, and hangs together like film, redolent of Brett Graham's clay baked beetroot where moisture is fully retained. Amazing, and the star on this plate.
However the lobster itself (precooked and served cold) was a little too firm, more langouste than homard, or bouncy rather i should say, in which the Chinese in me finds very appealing, but it lacks the delicate sweetness which I associate with a perfectly cooked European lobster. Perhaps it was was a big old girl, but also density is also characteristic of Breton lobsters and how they they compare to British counterparts. In terms of colour, the flesh had a touch of translucence, so there's nothing wrong with the cuisson.
As noted by others over the years, the honey sauce is both too sweet and too sour for the lobster, in fact it can do with much less of it. I fall in the camp that believes less is more with this noble crustacean. Less time out of water, cooking a la minute, and less adornments, all result in a greater experience.
4. Gratin of young Sturon and Red Baron onions, with parmesan and chestnuts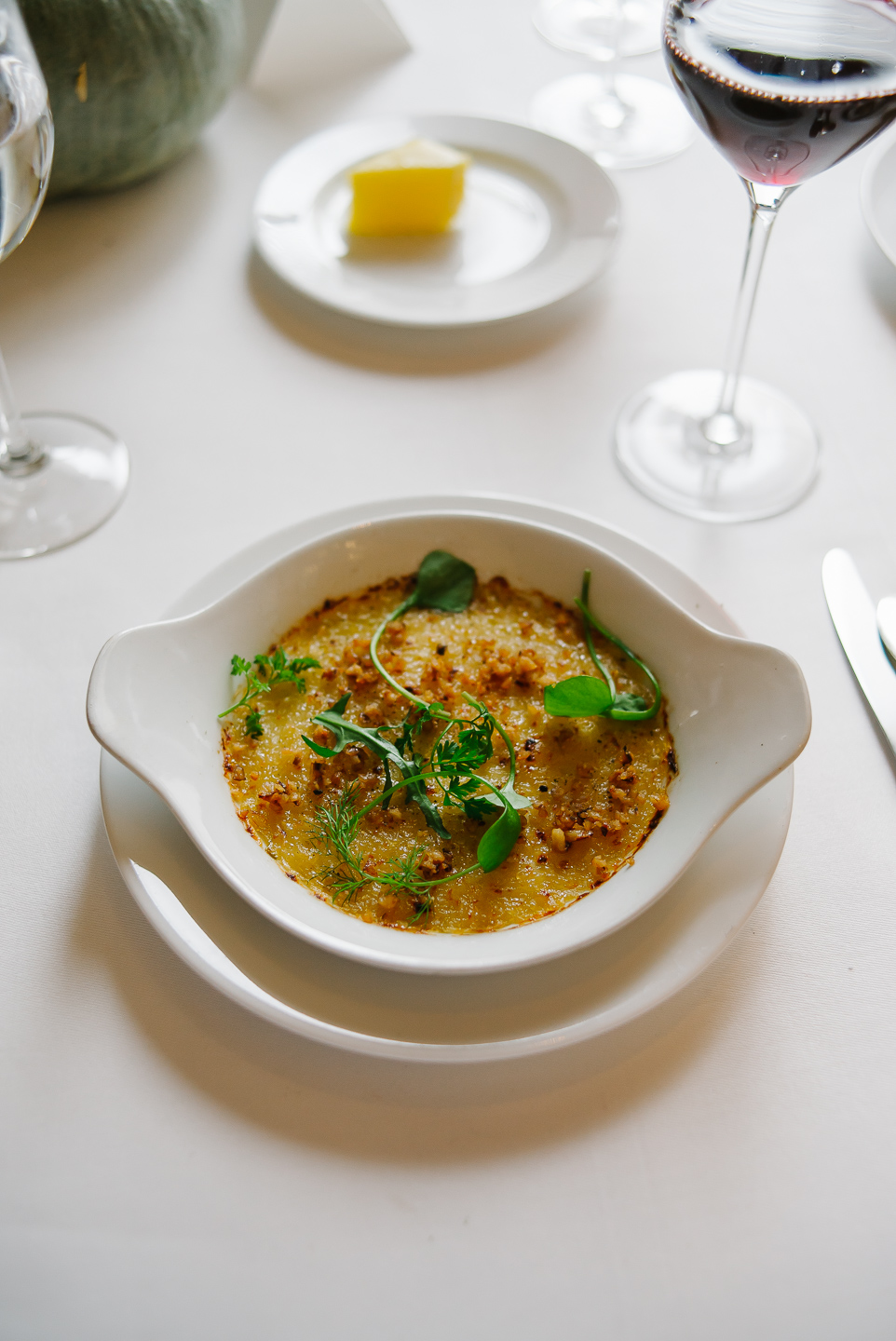 It's as you expect, sweet onion, a caramlised crust, nuttiness, it's comfort food, but then I saw documentary (Video, at 21:04) in which Passard was eating this with perigord truffle and cannot unsee it. Melanasporum season is weeks away, so if you're there in the next couple of months, winter black + onion gratin may be that epiphany moment…
5. Roast leg of Mont St Michel Lamb, oyster emulsion, grand cru vegetables, and potato puree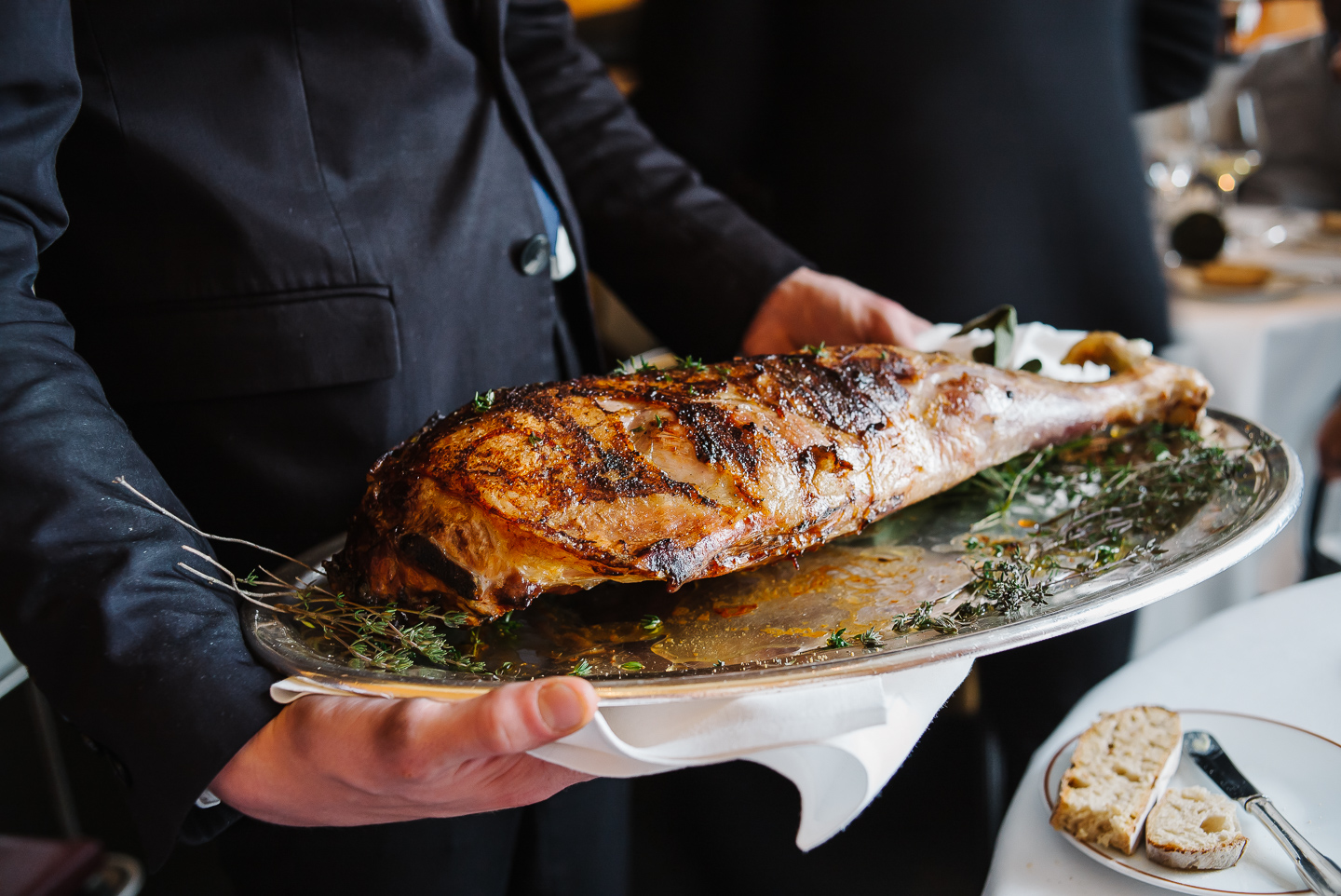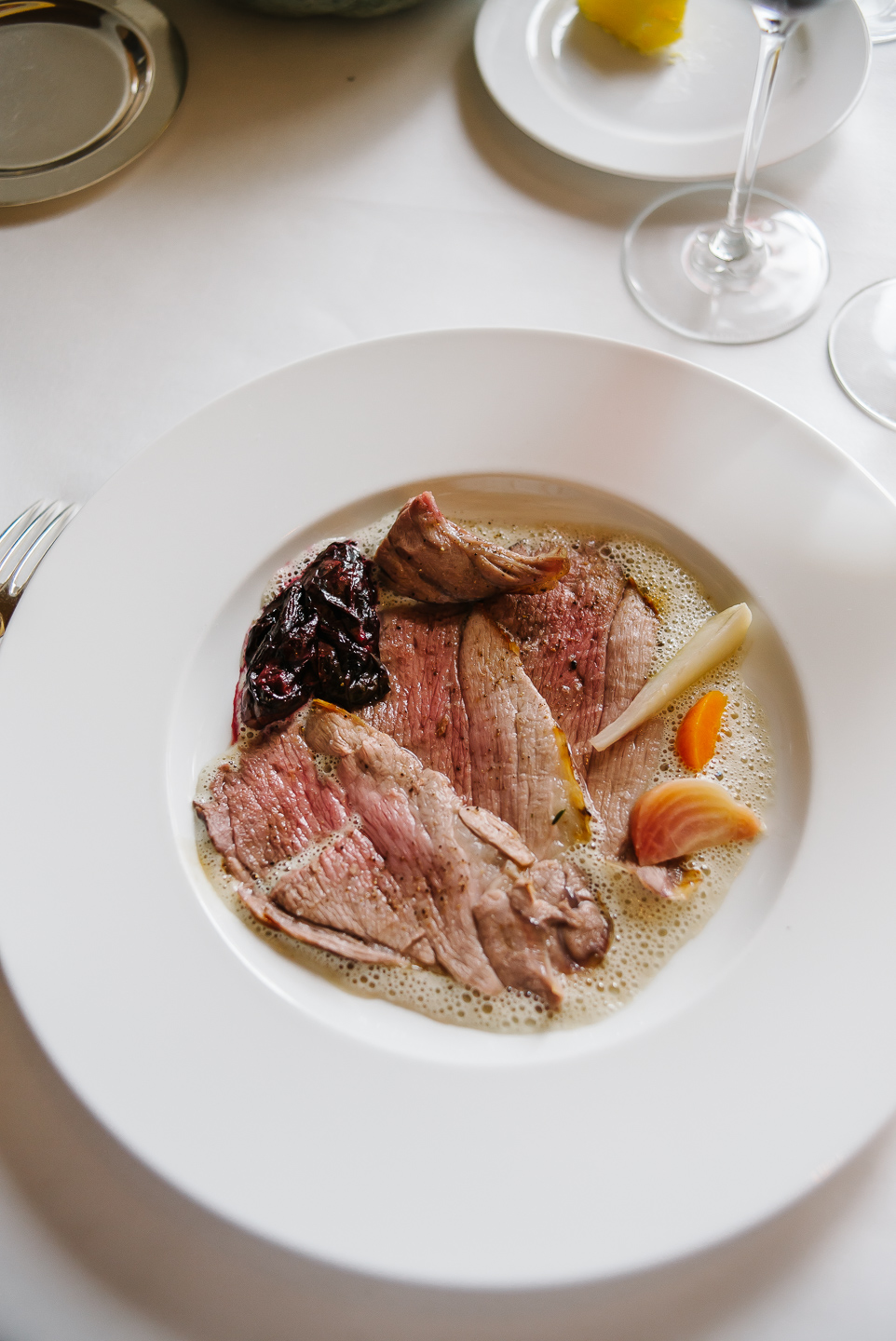 When I asked Helene about the roast of the day, she casually mentioned lamb and oyster sauce. Seemed like a quirky pairing, so we ordered it.
Only when they presented the leg, did they say it's Mont st Michel, which drew a gasp from me, and I thought was a really nice way for them to keep the low profile on the prized lamb.
Anyway, the natural flavours of the salt marsh lamb was in perfect harmony with the minerality of the oyster beurre blanc,. Natural being sea greens, purslane, samphire and whatever else they graze on during the low tide.
I'm a huge fan of salt marsh lamb, love the Welsh stuff from Rhug, but Mont St Michel, especially late in season, is next level. Blooming gorgeous. The depth of flavour is incredible, long yet subtle and simply delicious. Wonder if it is Le Grevin, or the other 3…and also wonder how close they graze to his gardens over there.
Cooked to a touch of pink (needed for leg), juicy and unsurprisingly, the cuisson is perfect.
6. Bouquet of Roses ®️ , aka the Apple Tart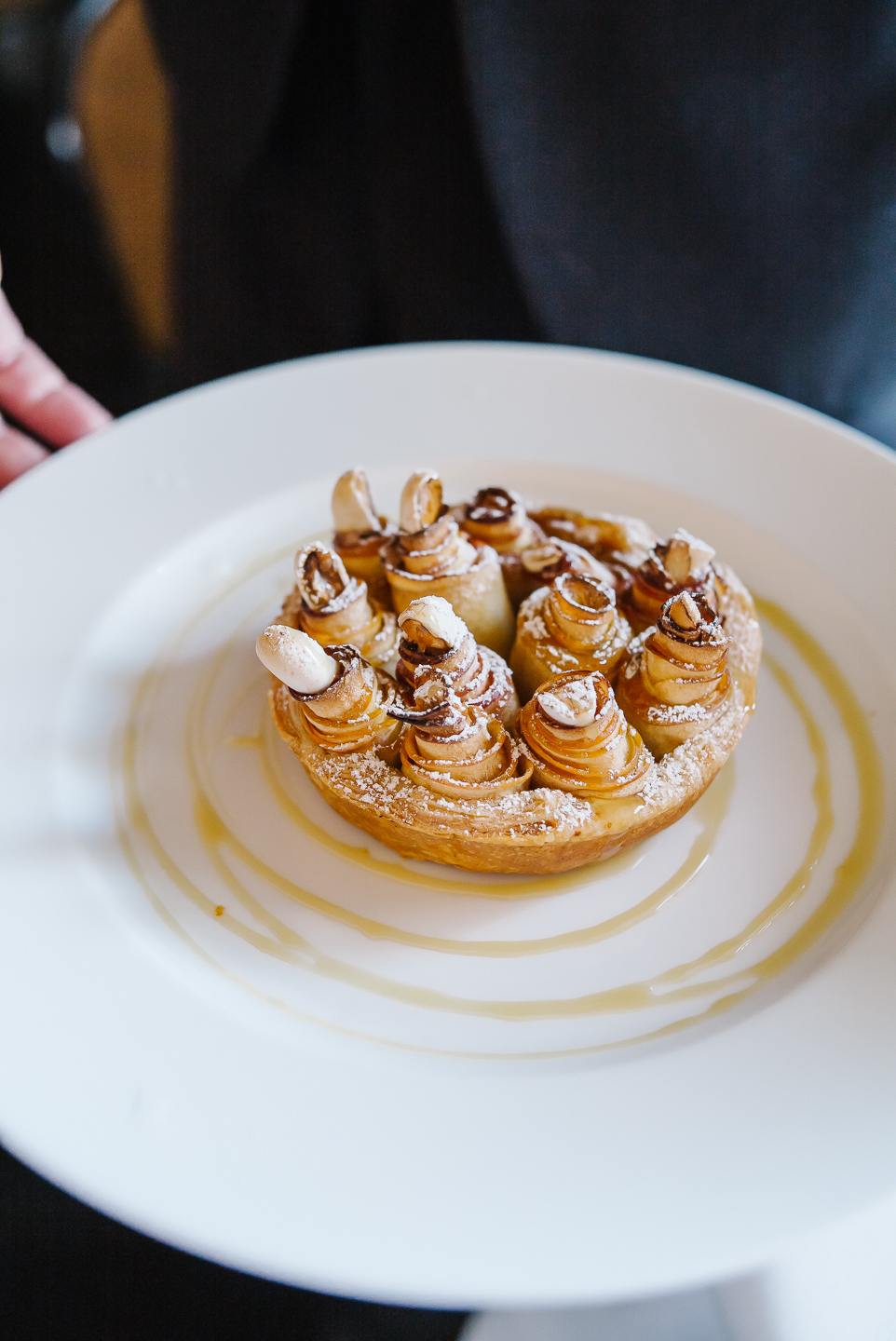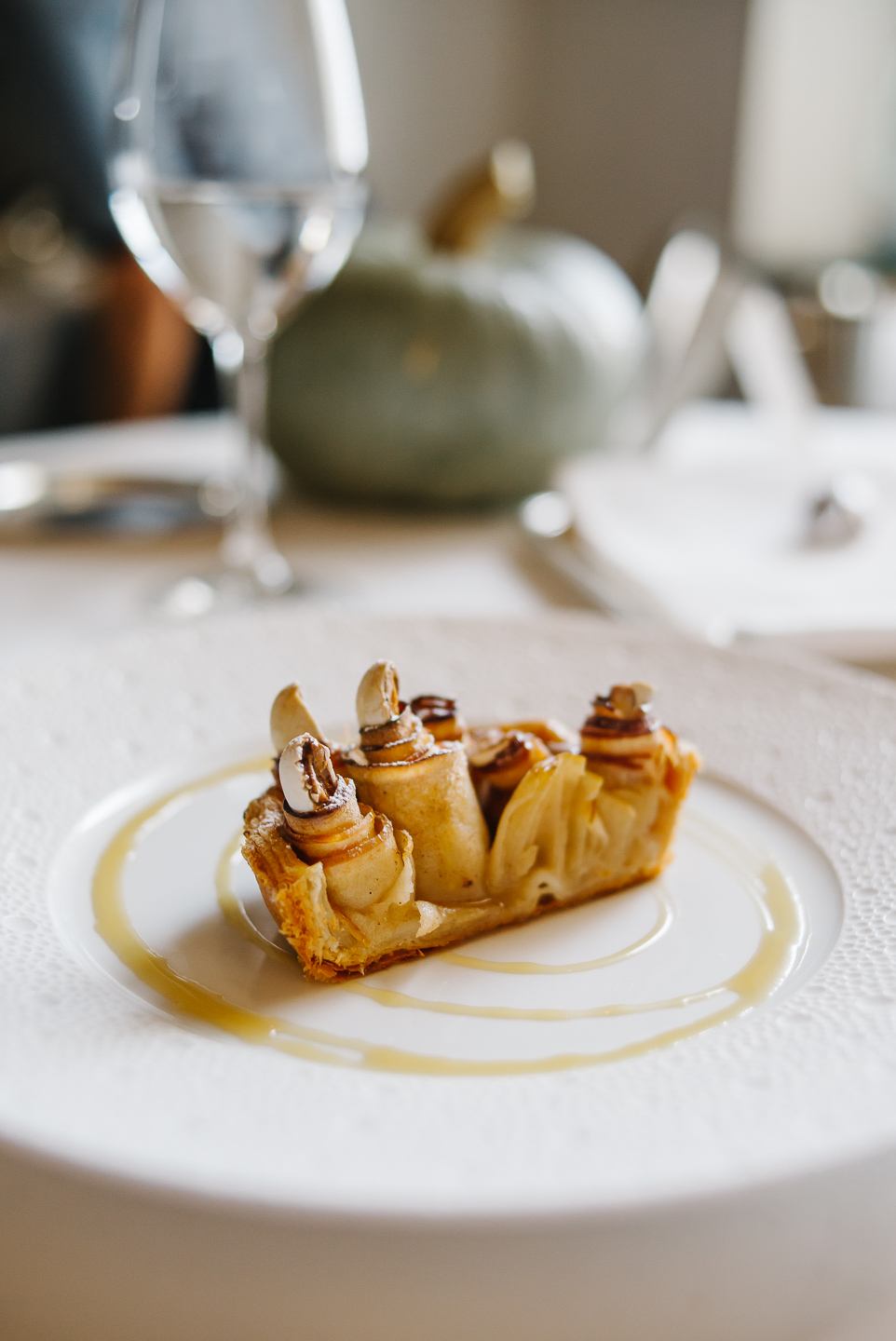 It is more tarte fine than tarte Tatin, the apples retaining a little crunch being rolled up like this, and overall the pudding is very light on the palate, considering the amount of butter in it. I cannot say it is my preference when it comes to apple tarts as I think a classic tarte Tatin done right (simple as it is) is a perfect pudding.
7. Chocolate Millefeuille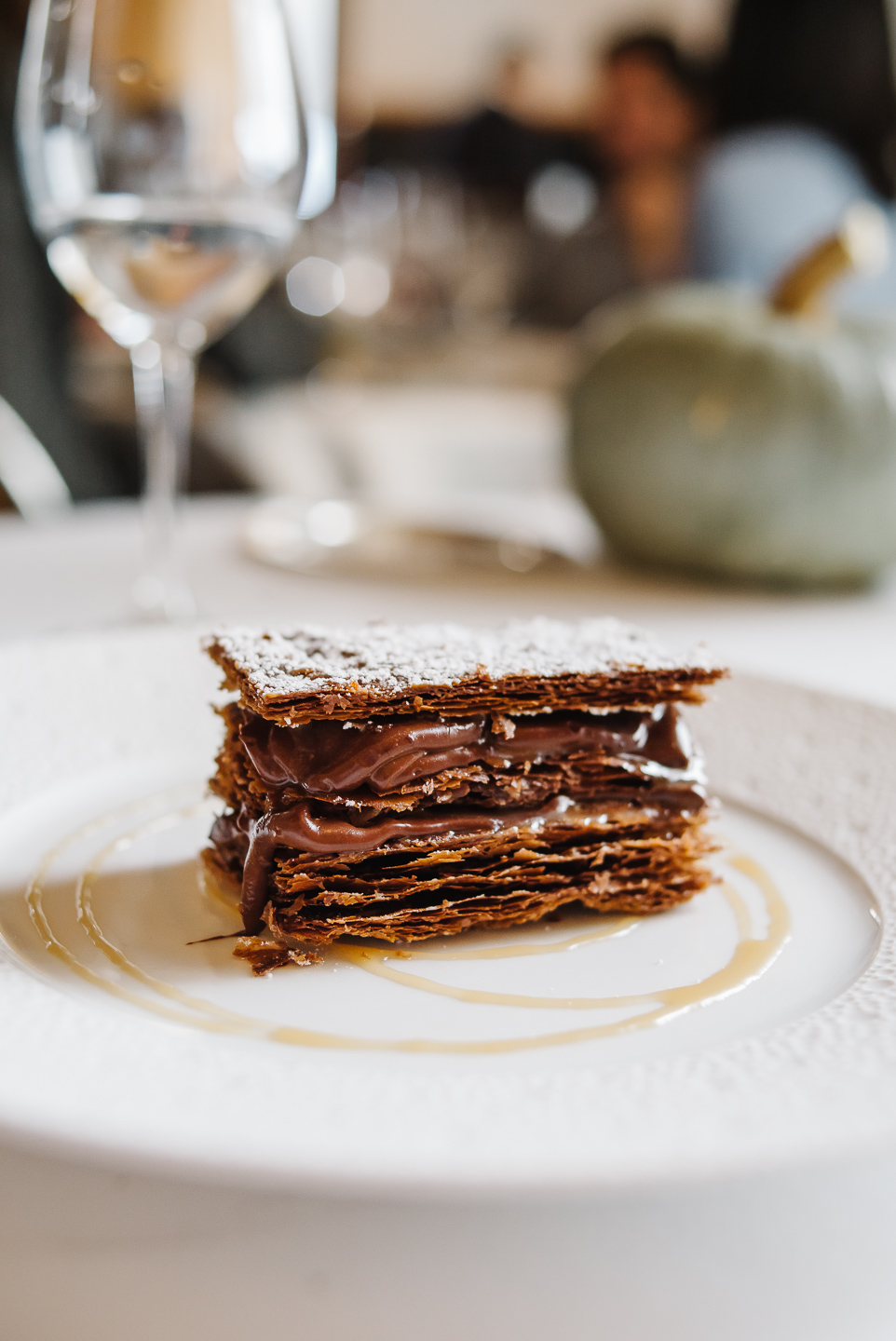 Finally, we ended on the lamination supreme. Its incredibly soft, fluffy, and the way it shatters into little fine flakes is one of life's great pleasures. Incredible puff pastry (Video here). Haven't been to Guy Savoy, thankful London has CB, TK and MJ puff pastry, but this is still pretty epic.