SEPT 2017 UPDATE: Yu san has left The Square. The restaurant is undergoing refurbishments and will re-open with a new Chef, Clément Leroy.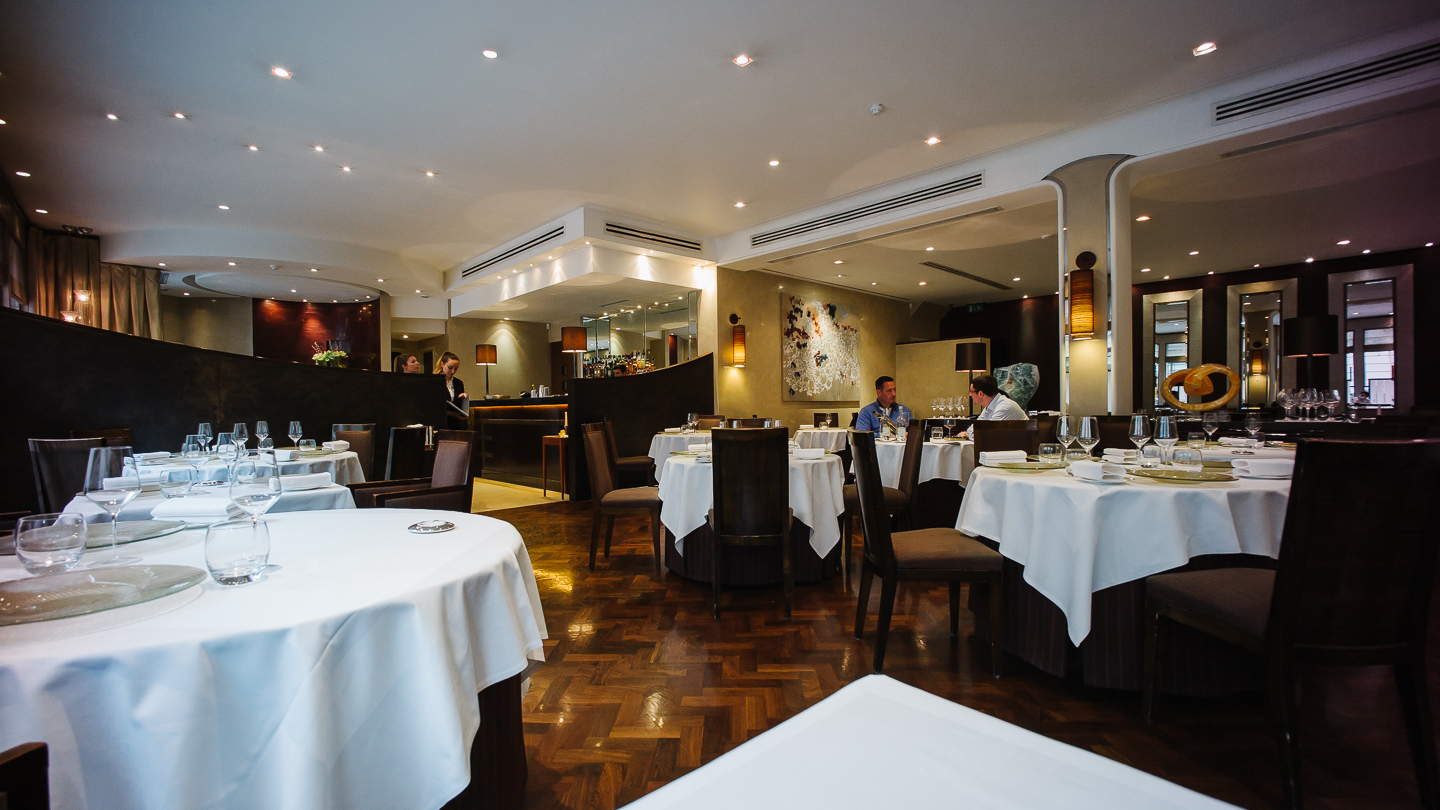 Phil Howard is a tough act to follow, probably the toughest, especially in today's London but that is what the new owners of The Square have set on themselves. After more or less a year post-Phil Howard (now settling quite comfortably into his new digs), I thought to finally make the visit to the new Square. Mainly after seeing Kian's pictures of his meal there, as well as Andy's review of new directions. By all accounts, it looks like the new team are trying hard.
Enter Yu Sugimoto, mid-thirties by my count, the new Chef tasked by the new owner, Marlon Abela, with taking The Square to brand new heights (and perhaps to recapture the ** glory). Abela owns the MARC group and is a name you would likely be familiar with as he also happens to own two other London jewels, Umu and Greenhouse, both currently two star restaurants. Sugimoto san has quite the CV, mainly spent cooking in France, and it is his time at Le Meurice that stands out. He was Yannick Alleno's (who won 3 fresh *** for the great right bank estate's Le 1947 this year) head chef for 6 years, up till when the Frenchman left in 2013. From there, he went on to L'Espérance in Saint-Père (now closed) as Chef de Cuisine, before finding himself in Mayfair last year. His right hand men in the brigade are Marco Tozzi, Exec sous and Richard Galli, Snr sous. FOH is led by GM Charles Peto, with Sommelier Stephen Nisbets looking after the labels.
There aren't many Japanese cooks running classical restaurants in London, Yu who is from the Chiba Prefecture is probably the only one today. I enjoy French restaurants owned/run by Japanese chefs (vice versa works too), I think the two cuisines come together very well, as I written on this blog in the past, I think you'll find there have been many Japanese stagiaires in French kitchens over the years (a few coming through Barbot's kitchen) and this has eventually led to the creation of many successful restaurants over in Paris (Neige d'Ete is superb, Passage 53, still on my list) and in Japan (Bras Toya, Quintessence, L'Effervescence, Abysse, and so goes the endless list).
The room …looks unchanged. Nothing new to report, if you remember your last visit there, its bigger on the inside, a little intimidating but it is much the muchness. I spot new paintings (I was last here in 2014), a pretty large private dining room, that's about it.
The ALC is 4 courses for £105, the taster is £125 for 6, and lunch concessions are 3 courses for £40 or 6 for £65. Taken at face value, they have maintained the 'two star' pricing, so yes it is not inexpensive, but overheads do have to pay for a full suite of hands on deck.
I was feeling excited, so I opted for the full taster plus a couple of supplement dishes.
And so.
Canapes L-R: Duck ham with pomelo; Whipped foie gras cornet; Mini pitta filled with ricotta and topped with roscoff onion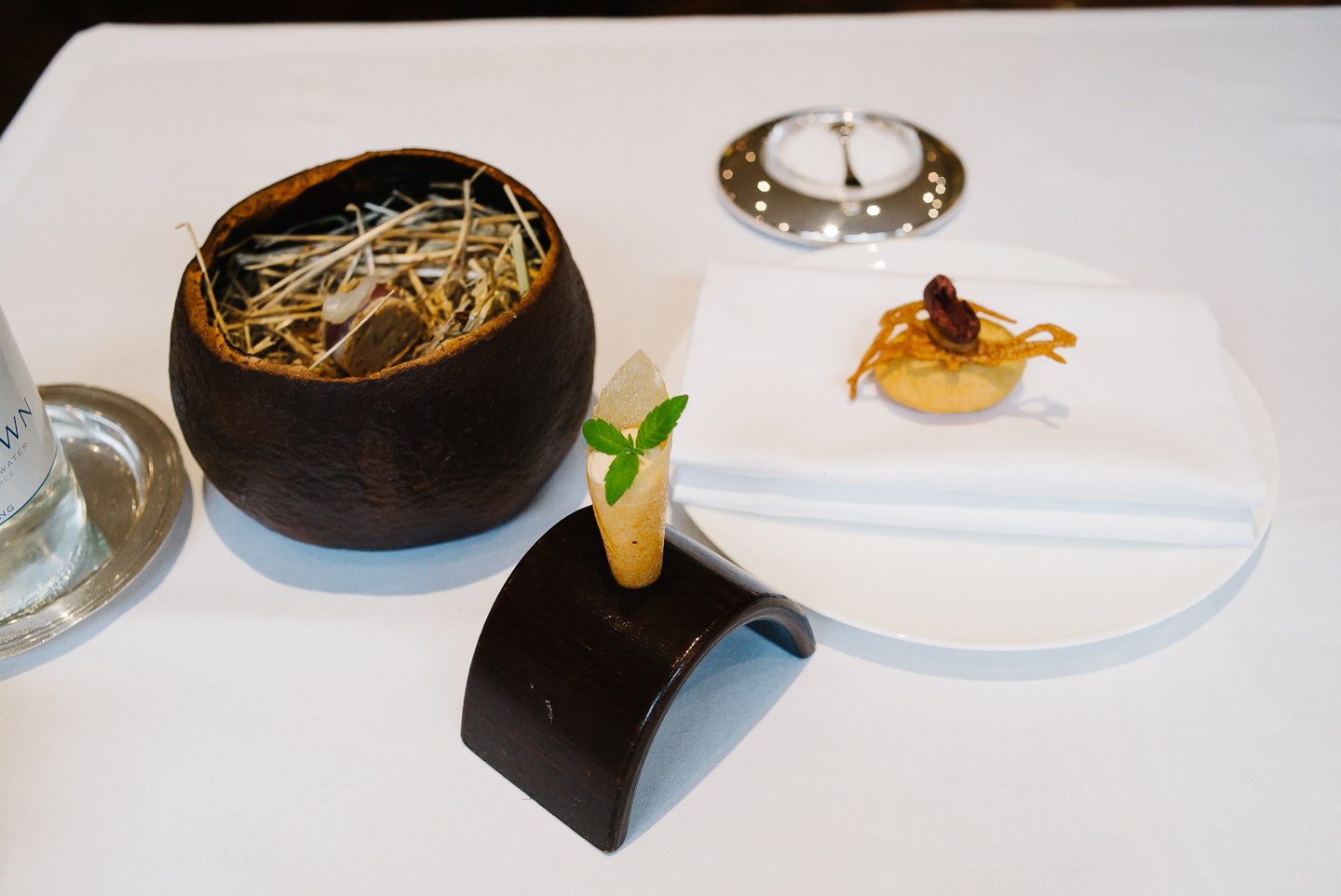 They taste as you expect for this sort of shindig, but not spectacular. I do however love little cornettos, little flavour bombs, that was my favourite.
Amuse: New season French peas in various guises. Fresh with soya sauce and mint, a foam, pannacotta, granita. With apple and pineapple and…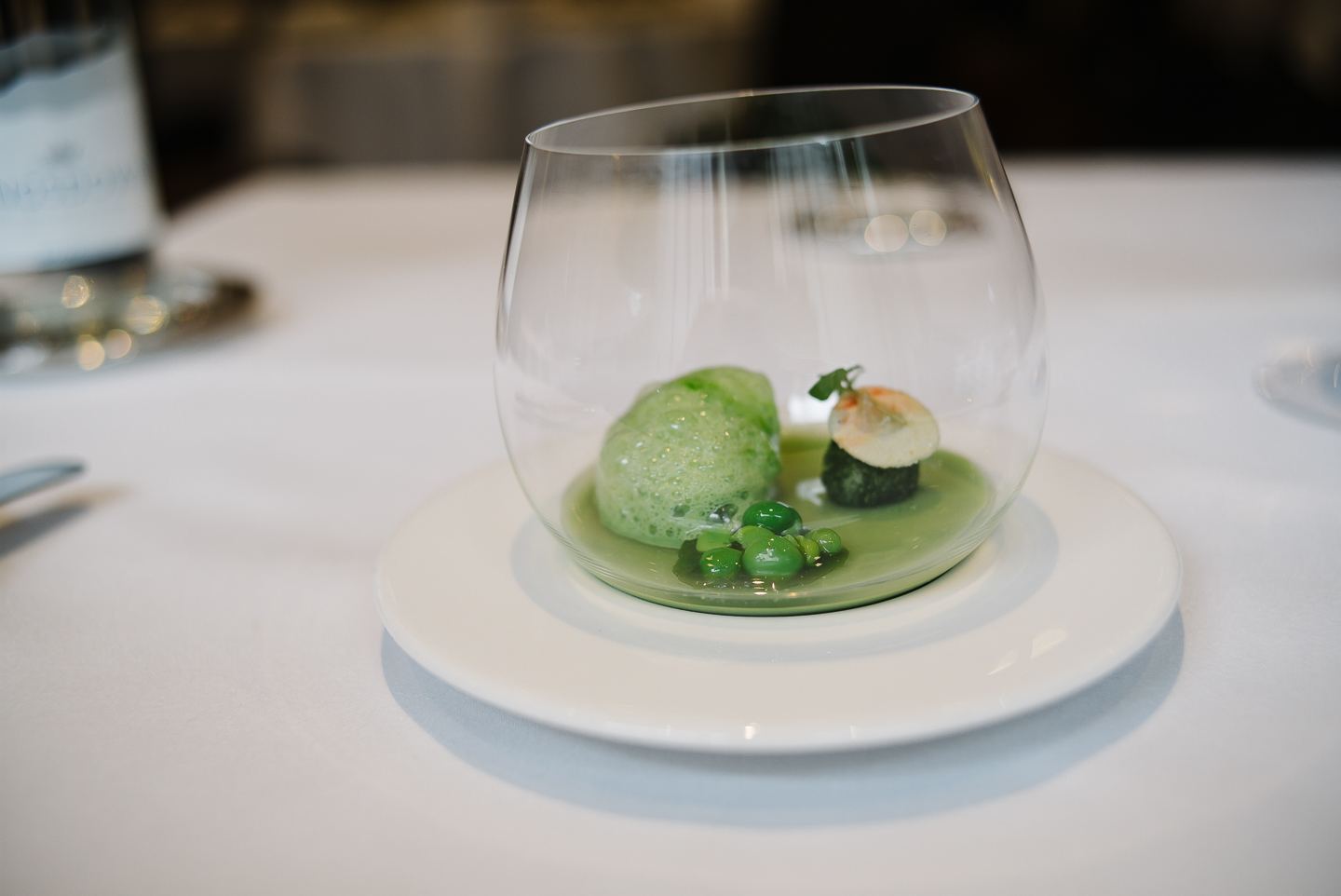 ..and a layer of jelly on the panacotta either of mint, apple or both.
This on the other hand was superb. Quite a bit of work just for the amuse and it is clear that the kitchen is working hard to prove its ability. Importantly I think, this has resulted in a fantastic eating experience. Freshness abound, and they've done justice to respect one of the Season's prides. Peas sourced from Rungis.
Bread: Abela's own bakery, with salted and unsalted butter, bon-bons of saffron butter and oyster leaf butter.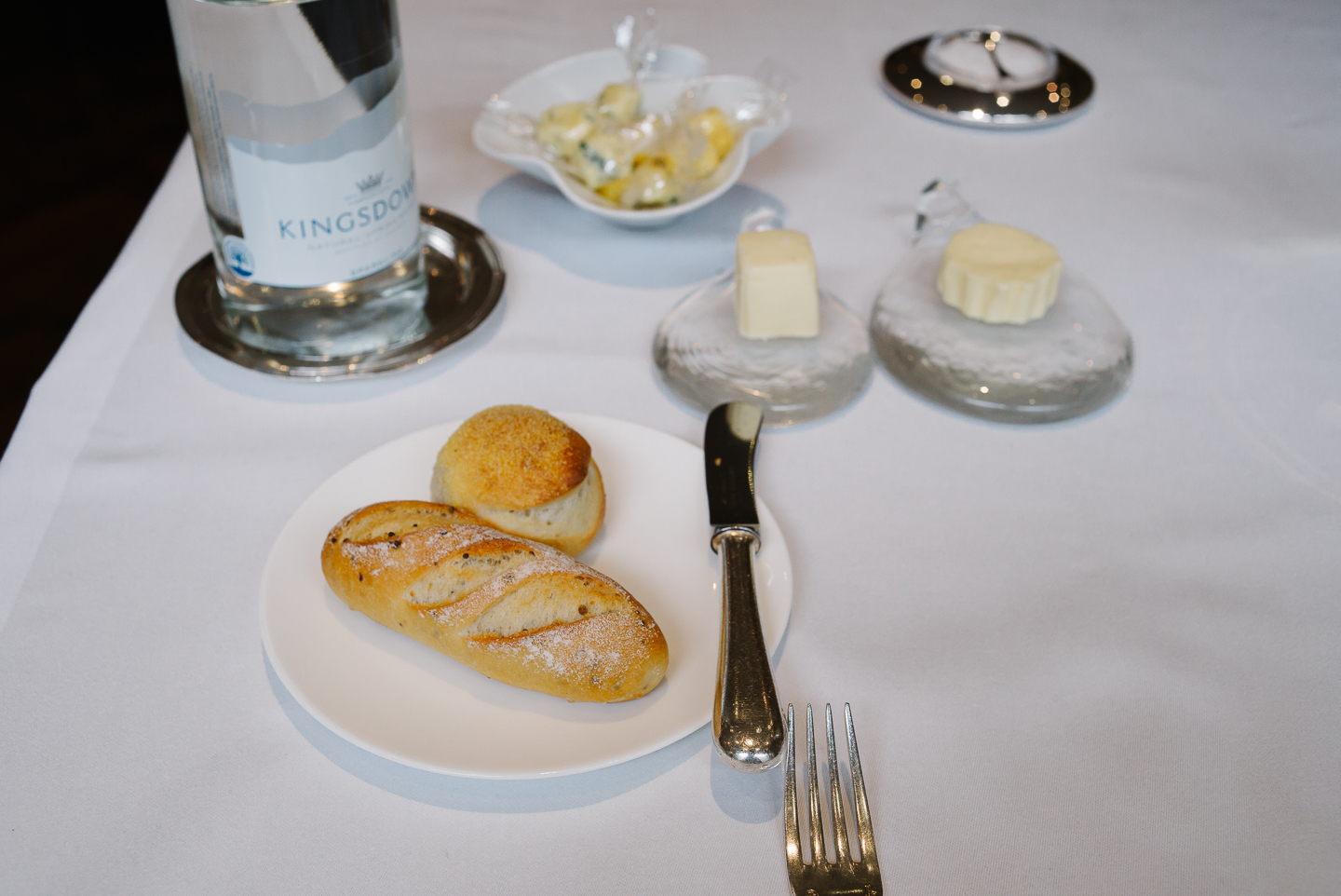 I thought the bread selection was generally good, I didn't take notes and have no recollection of what stood out (I suppose, that is telling?). I do however recall the bon-bon butter – each one tuned to one of the selection of bread. I liked the saffron one (when softened in room temperature).
1. Smoked Linconshire eel, muscat grape, red wine, pickled cucumber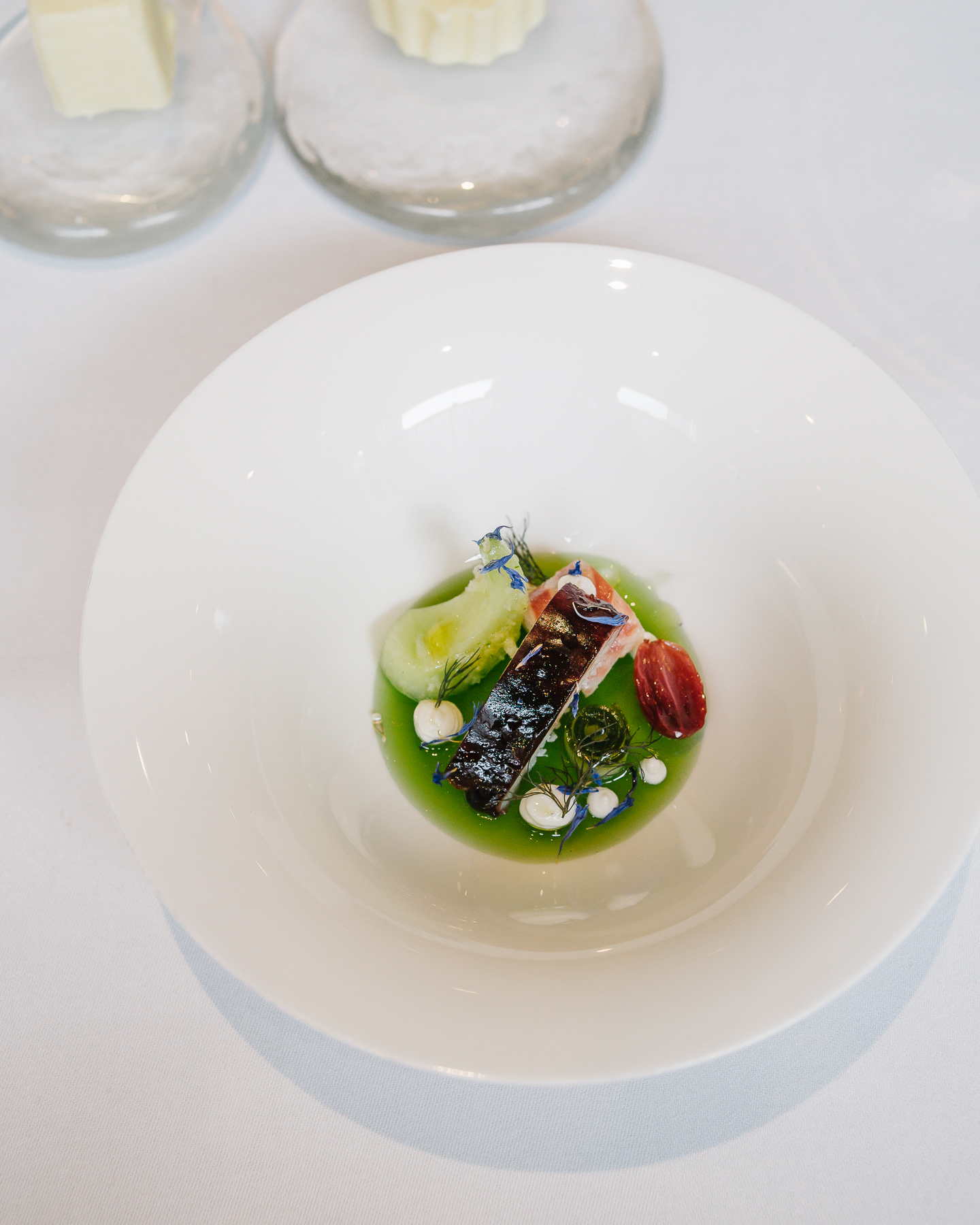 Cucumber presented a few ways, as a clean jelly, pickled and simply fresh.
I liked the red wine jelly pressed onto the smoked eel. Also with what looks like confit muscat grape, skins peeled off. Garlic cream lending savoury fat.
A simple dish in essence as these are ingredients that work well together – a little acidity jousting with the smoked eel – and I think the handiwork is incredibly fine, a continuing theme from the amuse.
-Supplement- Marinated Scottish langoustine sandwich, mushroom, apple, coral mayonnaise (+£20)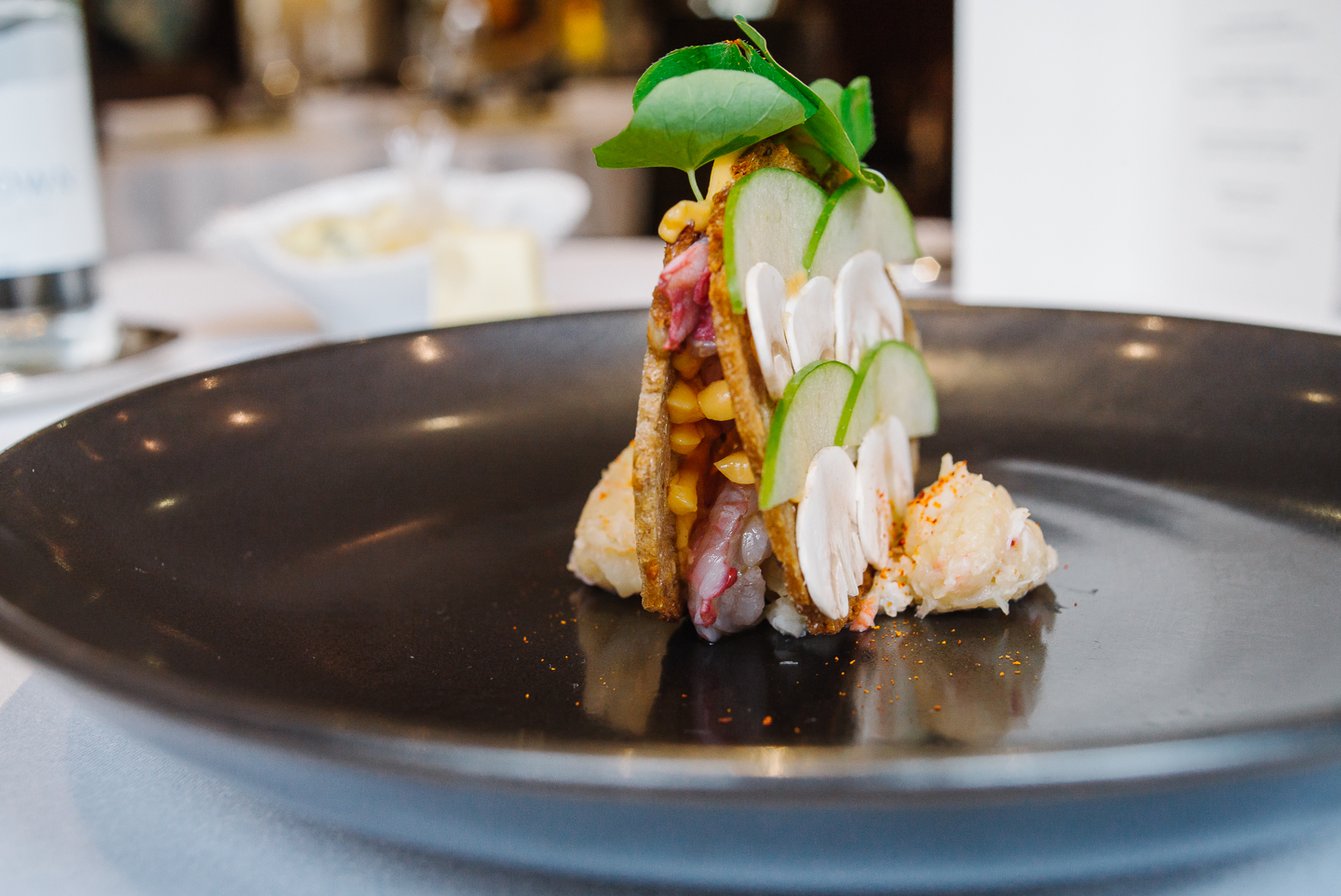 This to me seems to be Sugimoto san's take on lango tartare, with extra effort to turn into a mini architectural project. It looks fantastic, and eats even better, in fact a highlight of the meal, if not the year so far.
It looks a simple thing, but the balance of flavours were superb, and reminds me of the elegance of Barbot's millefeuille of marinated raw foie and buttons.
The oils seeped in the raw lango, the sweet creaminess of the tails and for me it is best eaten raw , not unlike say botan ebi in sushi-yas, as you know, it is a pure rush!
Then to the texture of the raw and humble buttons, acidity from the granny smiths, and the best is the coral mayo that (in flavour and literally) holds it all together, bursting with fat and sweet flavour. I wonder if he mixes some lobster roe in, rather than that of just langoustine.
Symbolic to see a strong (and new) lango dish at The Square, a hat-tip to Phil's legacy here.
2. Raw Orkney Scallop, beetroot many ways, 20 year old Xerez vinegar, coriander, nori butter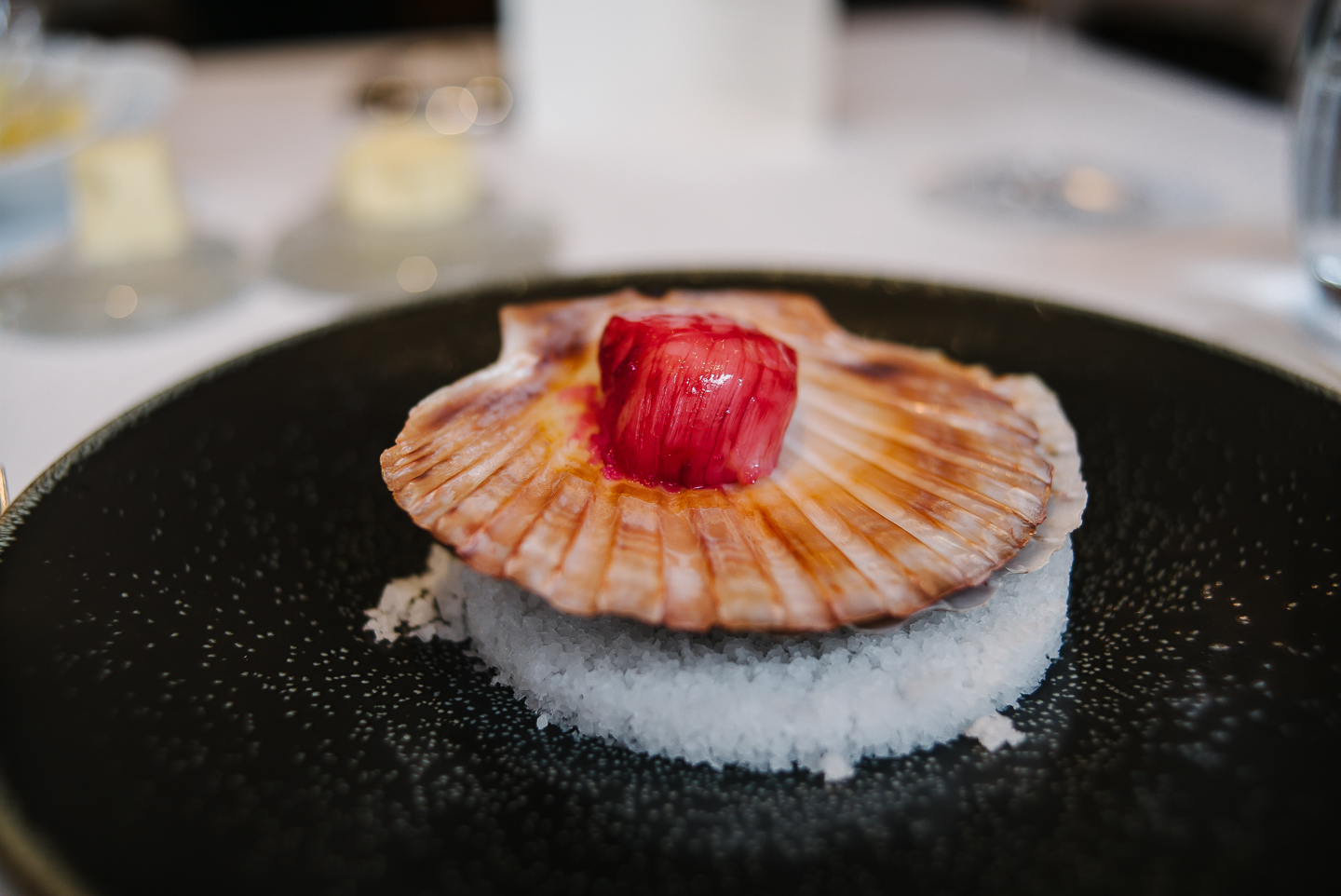 I was wondering why this was shown at the table, and perhaps it is proof of respect of produce, that the scallop is shucked a la minute. Presented upside down, that is to say scallop still stuck on shell. If I have paid attention to Mikael's lessons, then the way you tell (aside from a quivering live one) how fresh it is, is the way it stands upright on the shell. This should pass the test for Jonssonites.
After the show and tell, the shellfish disappeared into the kitchen to be plated up.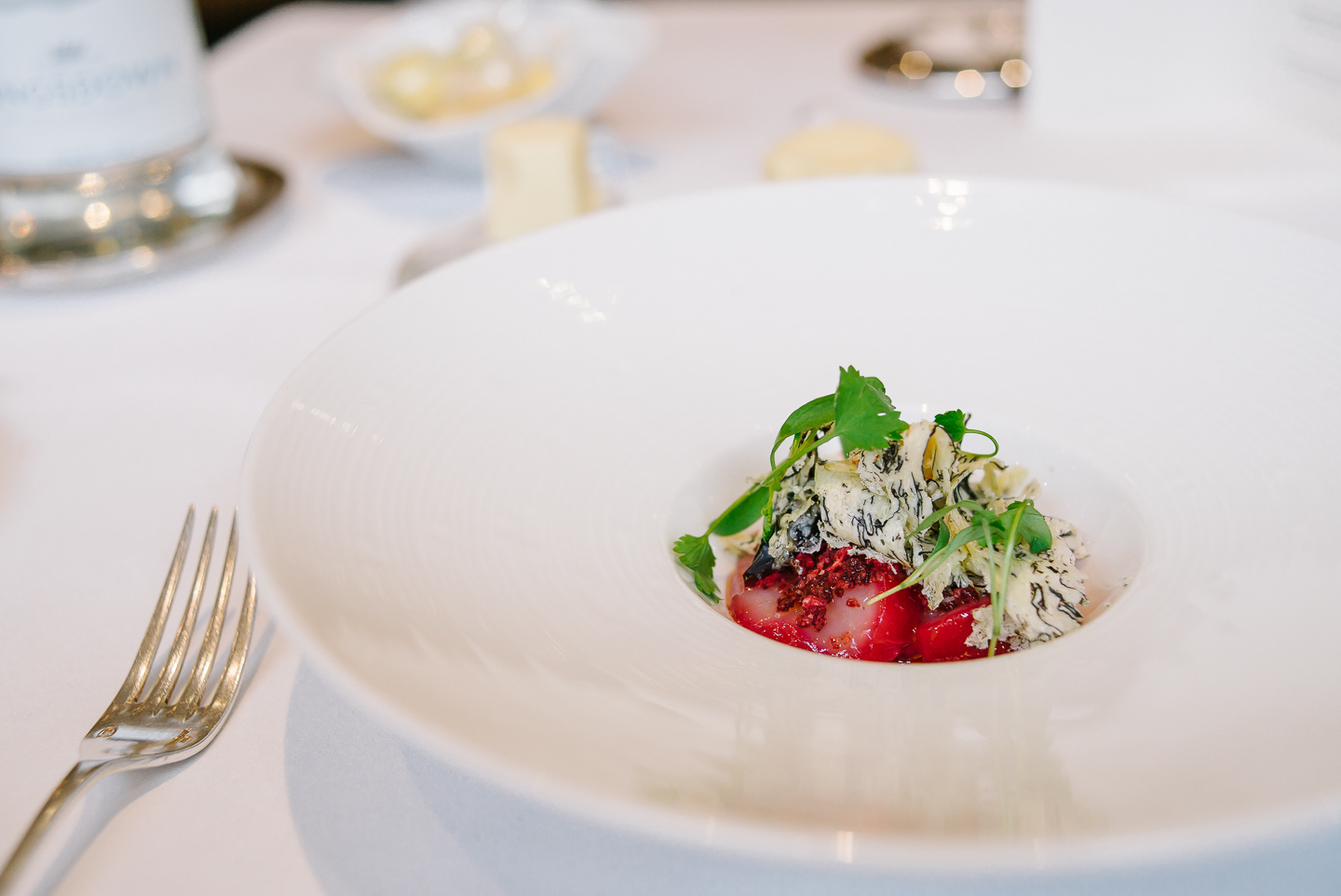 And out came this.
Very very good. I can feel your eyes rolling, but the beets did enhance flavour and harmonise with the natural sweet brine of the scallop. Beetroot came in a few ways, firstly as marinade, as a jelly and in dehydrated form. Topped with shaved nori butter (served cold), this produced an intriguing textural mouthfeel, fat melting on the palate, nori umami on beetroot umami, savoury on sweet, and all of it is tied together by the excellent quality of the scallop 'sashimi' (for want of a better term), firm and sweet, sliced in half.
3. Sugar spiced foie gras, gariguette strawberries, lemon verbena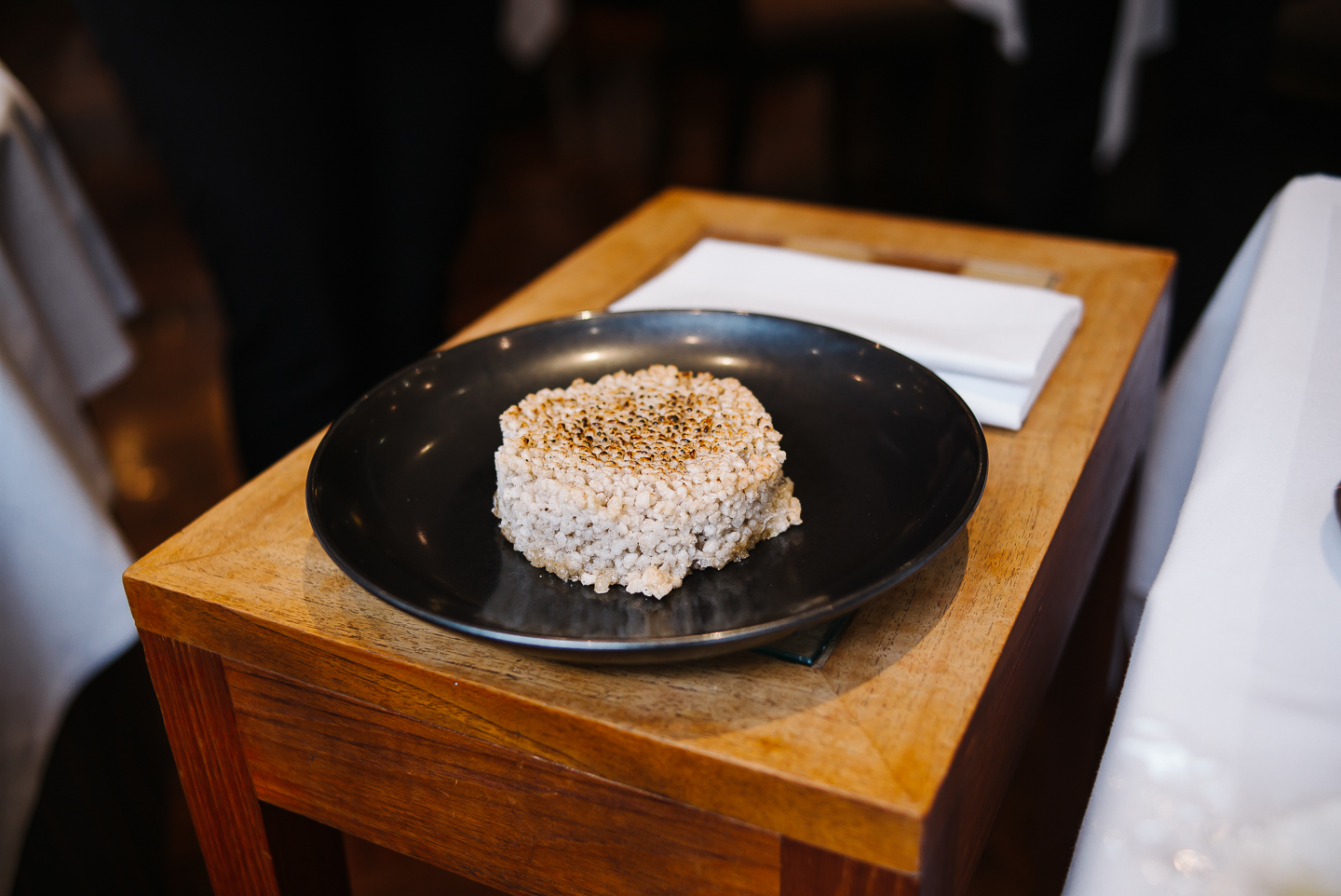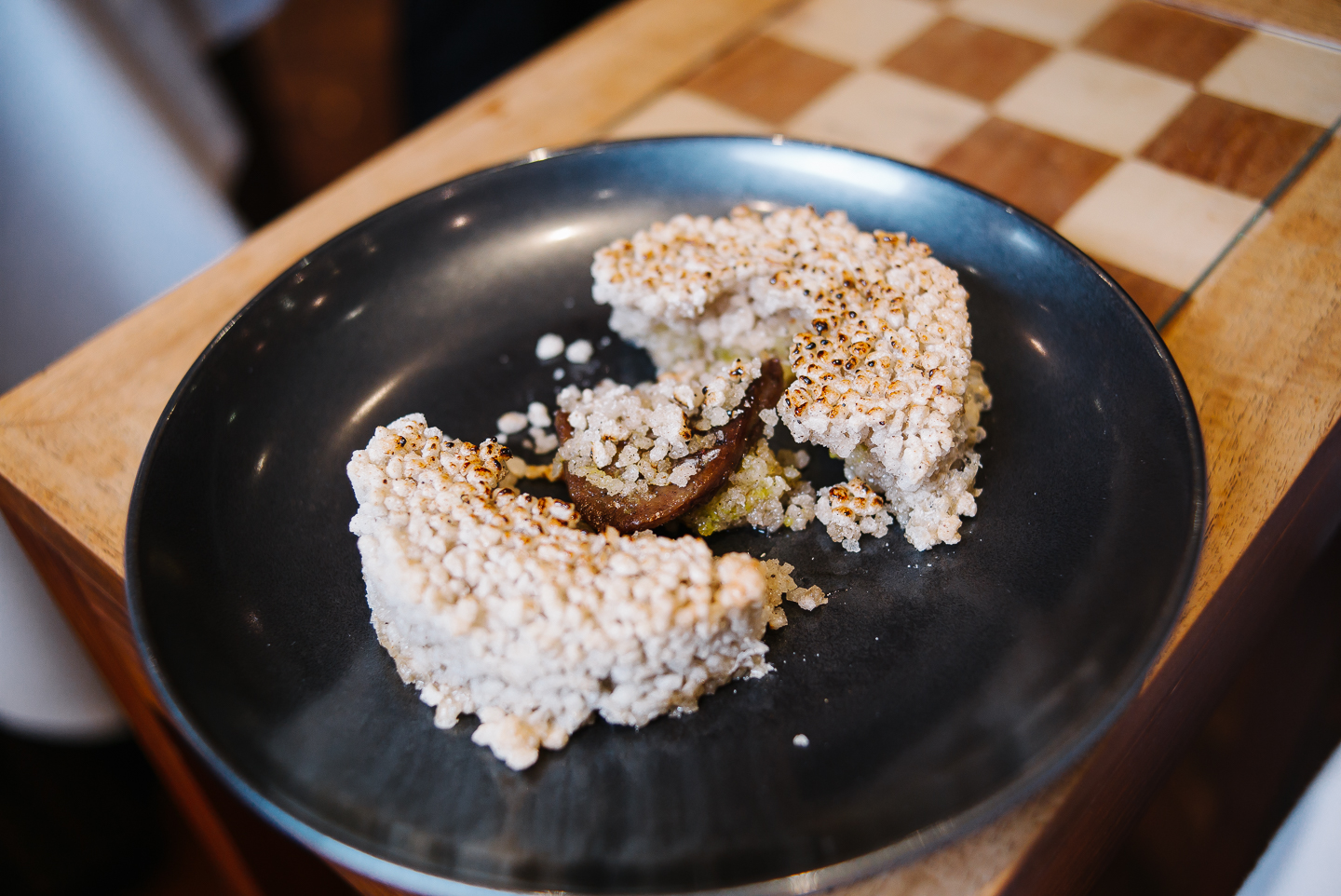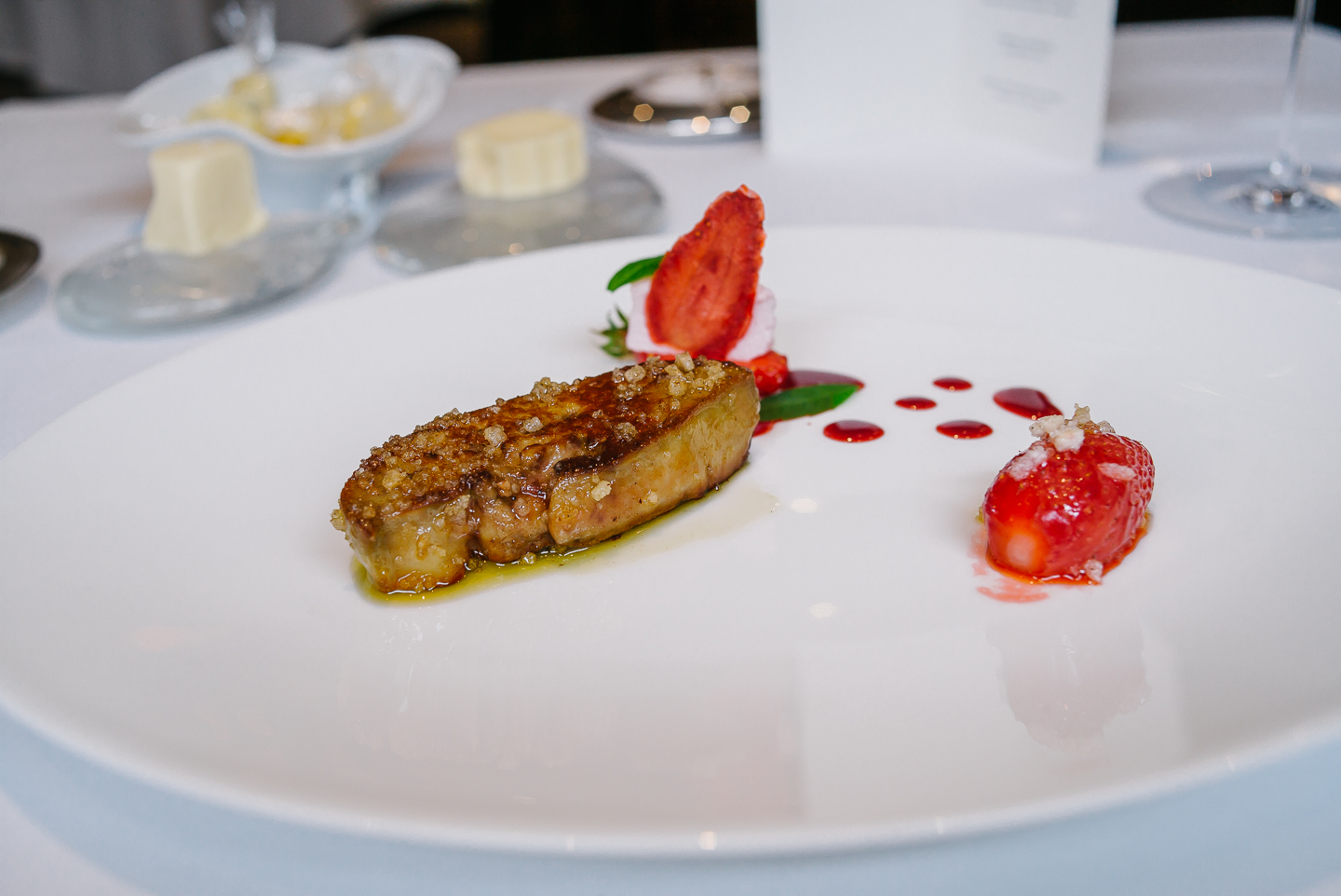 Serious cooking, presented and cracked at the table. Its like a flashback to Ledbury of old.
I imagine the slower process is the reason for the soft (fatty) texture, but perhaps most obvious is the sugar has worked its way into the foie. No sticky sauternes required here. I guess they hit the liver with high heat to order, as there are also roasted flavours, of the kind which I find to be very appealing. Redolent of toasted rice like say, the kind you find when scrapping the bottom of a bowl of dolsot bibimbap. The best bits hey.
I love the French strawberries, they are fantastic this time of year (right now in fact), and here they serve a few ways (raw, a light marshmallow, dried), but the one marinated in verjus explodes with the fruit's natural attributes. A seasonal foil to the foie, the acidity is brilliantly balanced with the sweetness and allows the fatty liver to strut its stuff. Freshness, perhaps something that you wouldn't associate with foie, but here, the kitchen has managed it. I like the simplicity of the dish, and marvel at the techniques to raise both ingredients to this state.
4. Wild Brixham seabass, watercress, dill, lovage, confit lemon, charred squid. (+ £20 supplement to have an extra plate this)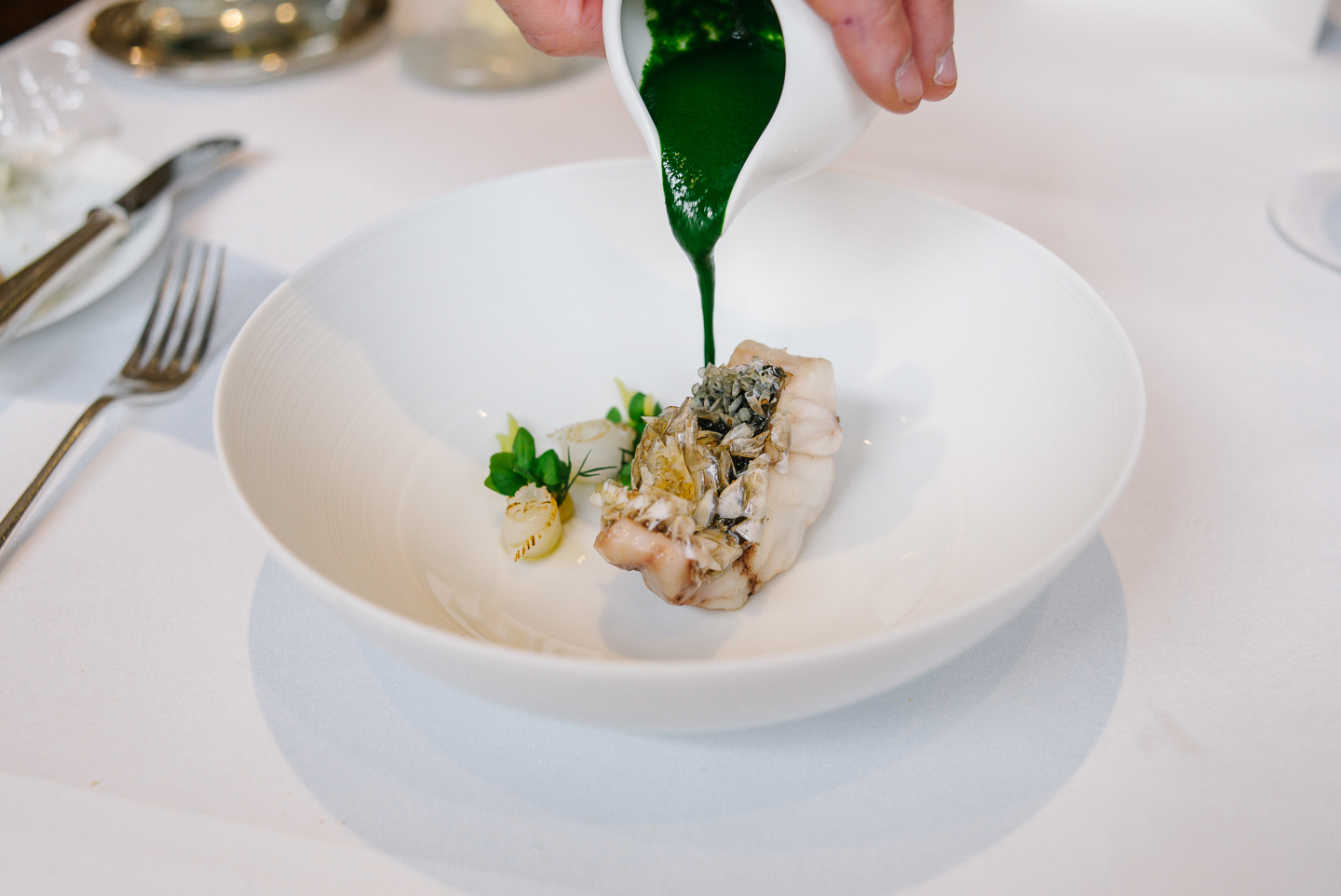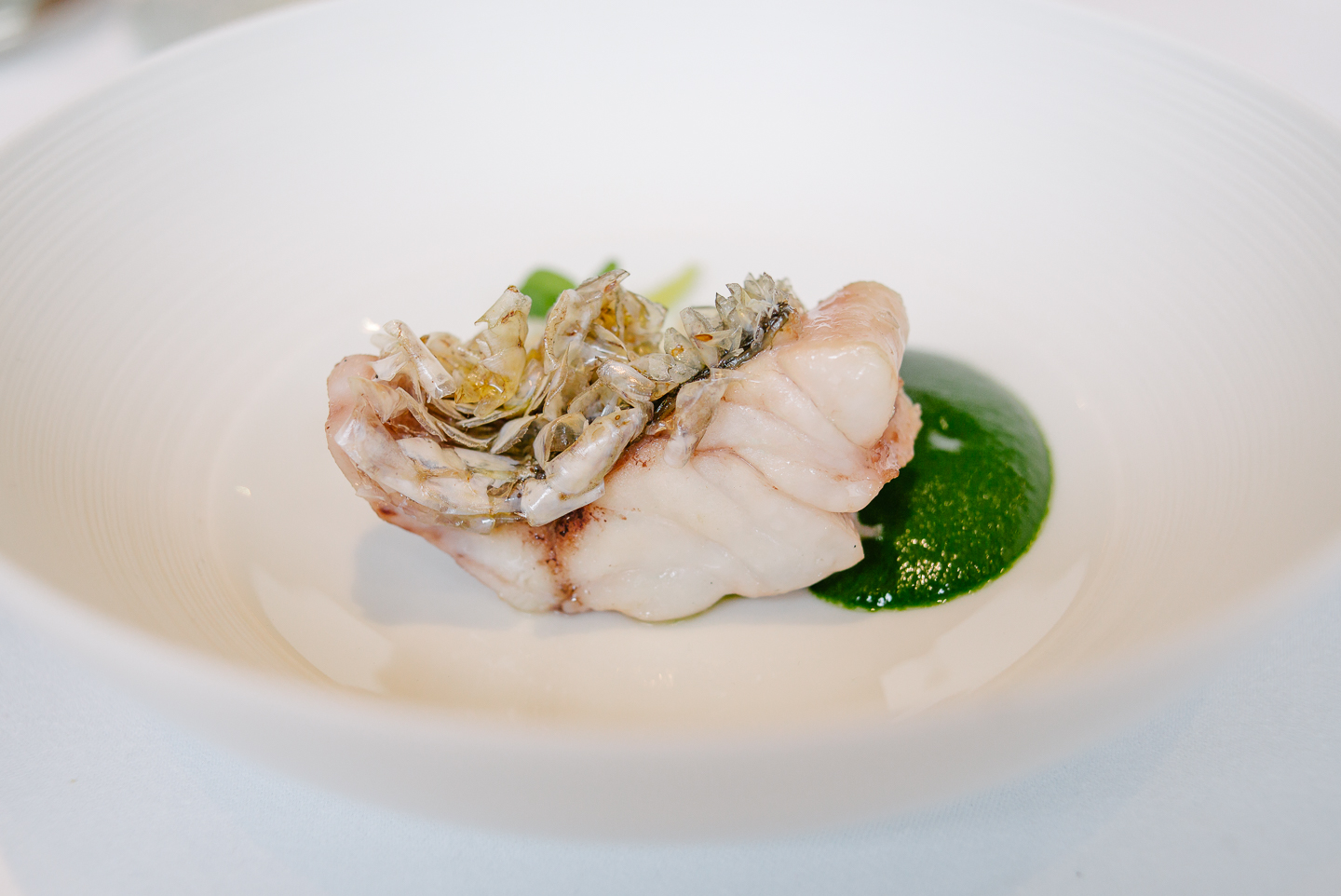 Thoroughly impressive fish cookery, might I suggest, matsukaze-yaki on local noble fish, rather than amadai in Japan (including Rubuchon over there), or red mullet like Jungsik.
Hot oil poured over the scales and they curl and stand up (like "pinecones") followed by, I was told, a very low oven to finish. Flesh is bang on perfect, moist, flaky and you know this from the pearly glimmer, the nacre effect, catching the light.
Of course, this is only possible because the fish was of fantastic quality. I wonder if there are sourcing synergies between the MARC restaurants, Arnaud Bignon at Greenhouse and more interestingly with Ishii san at Umu who gets ikejime fish for his sashimi platters. And speaking of Umu, if I recall Ishii san's words about Cornish squid, it is plentiful this time of year and so it is a seasonal addition to this dish. Here it looks like a quick kiss of flames and maintains its natural sticky crunchiness.
I asked for another plate immediately after I finished it (and was charged a £20 supplement). It was superb work, the best dish of the meal, and one of the best things I ate this year so far.
Considering restaurant trends in the Capital today (it is what You want), I am surprised to find this kind of quality and ambition in London. The two sushi-ya aside, I think Mikael Jonsson and Tom Kemble are the best in town for fish in my opinion. Now they have competition.
-Supplement- Flamed Cornish red mullet, fennel, lardo di colonnata, Le Carre' des Huiles olive oil (+£20)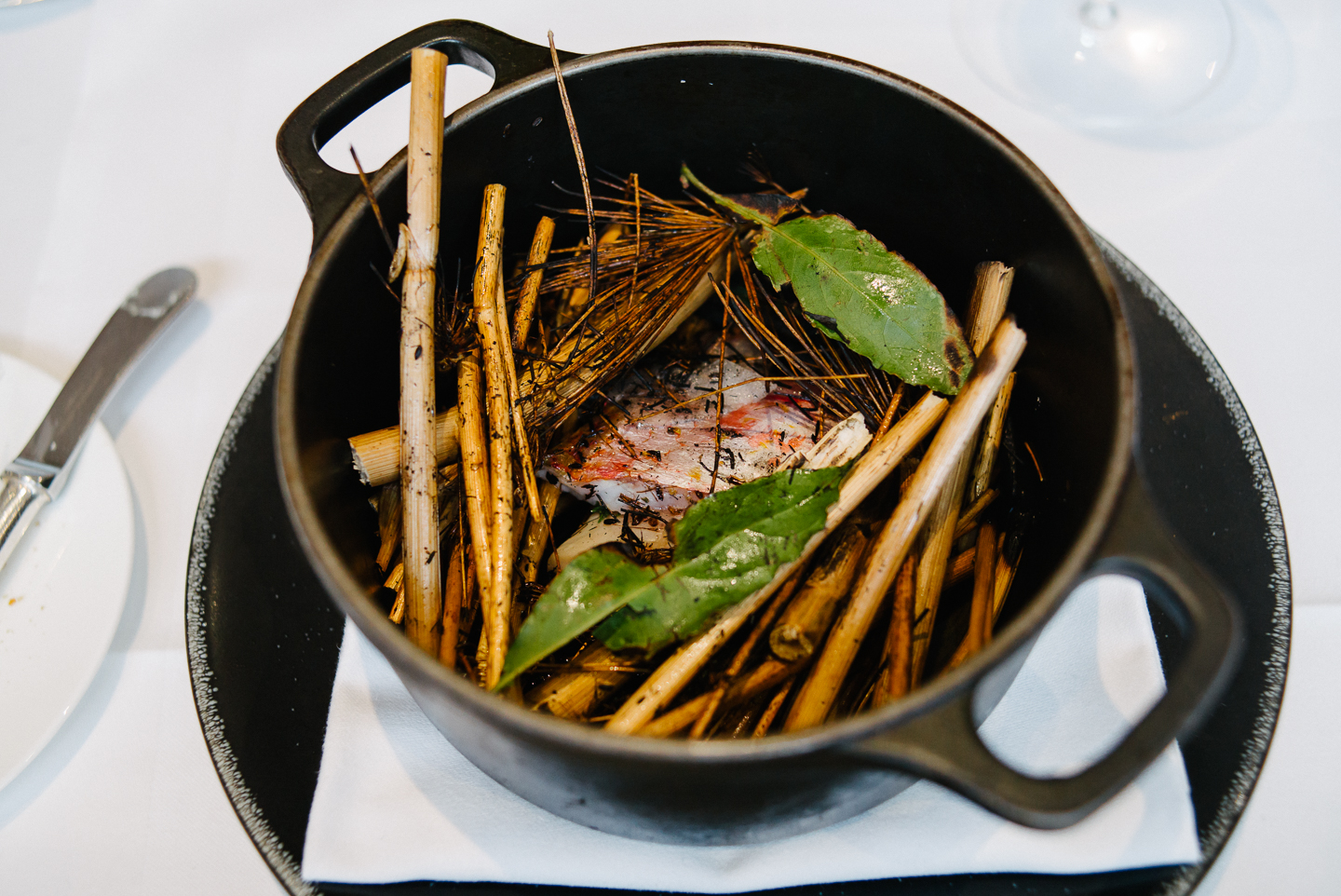 Yes, very fragrant, fish cooked inside smoking fennel branches.
Slowly cooked I should say, the flesh here is firm and flaky, slightly under and also glimmering in the light. Served with a potent tomato consomme and topped with lardo for seasoning.
Like the seabass, this was also superb. Perfect fish cooking, especially for London. I love seafood, I think it is an area of cookery where timing is very crucial and less forgiving than cooking to desired temperatures for land beasts. So when it is spot-on, it demonstrates the Chef's ambition as well as his team's ability. This brings to mind, Abysse in Tokyo, the chef there Kotaro Meguro with his multi-process fish cooking, something he likely picked up from his time with Shuzo Kishida, a master of slow cooking meat/fish.
5. Richard Vaughan's 55 day aged pork, roscoff onion, tokyo turnip, tarragon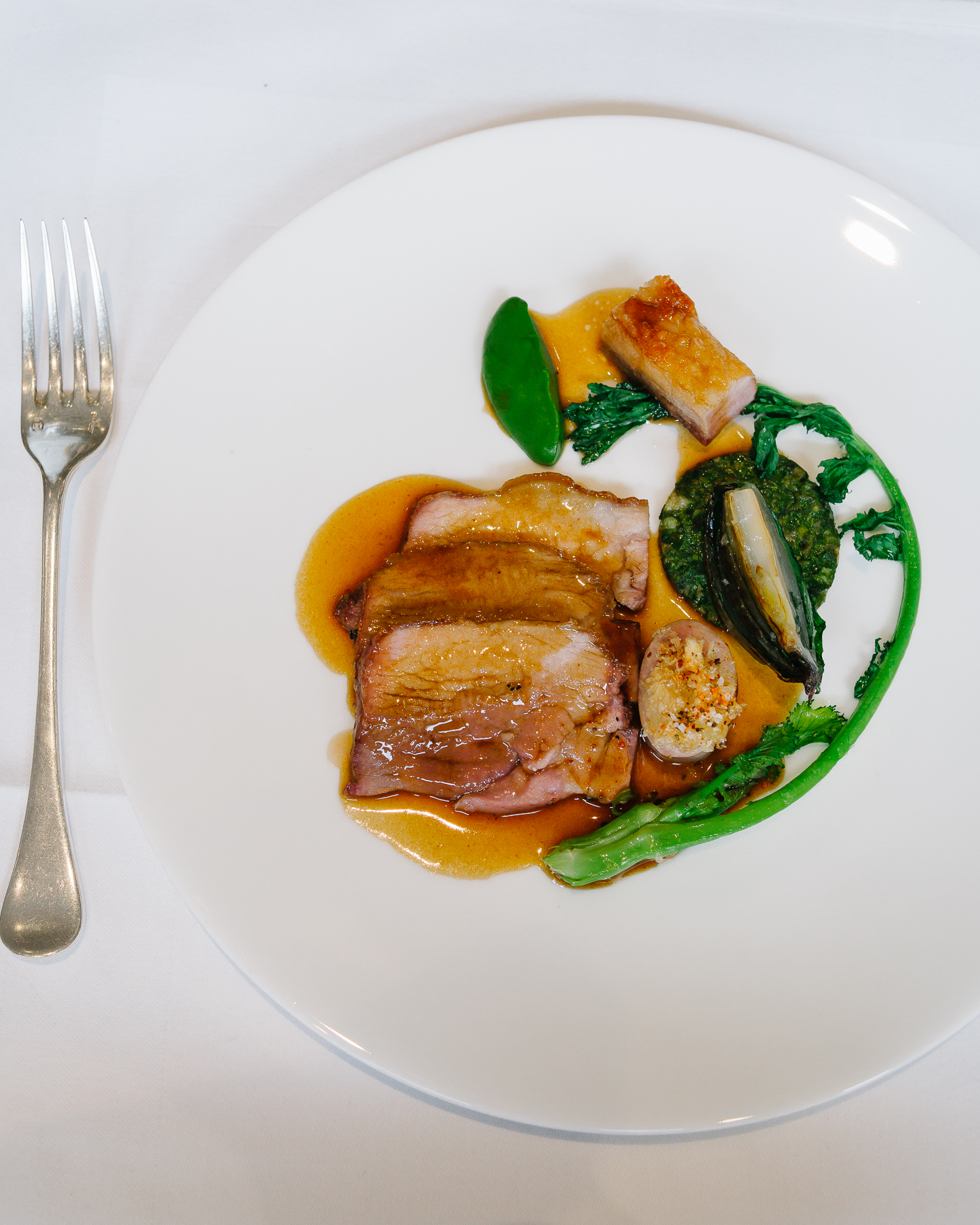 Yup, this is the stuff. Dry aging absolutely concentrates flavour in pork, and here I assume a slow roast, respectfully raised to the right temperature, pink, moist, as it should be.
Personally I would have liked a piece on the bone, a more satisfying way to eat, not to mention the most succulent bits are around there. I suppose sliced works for most.
There is this salsa verde thing going on, with tarragon and garlic, it is aromatic, and I suspect is there to help even out dry aged funk.
If I'm not mistaken, Royal Hospital Road gets their suckling pig (Claire's signature served 5 ways) from Richard too. I have to find a way to get hold of this stuff for home cooking. Gorgeous quality.
6. Almenara clementines, mascarpone, clove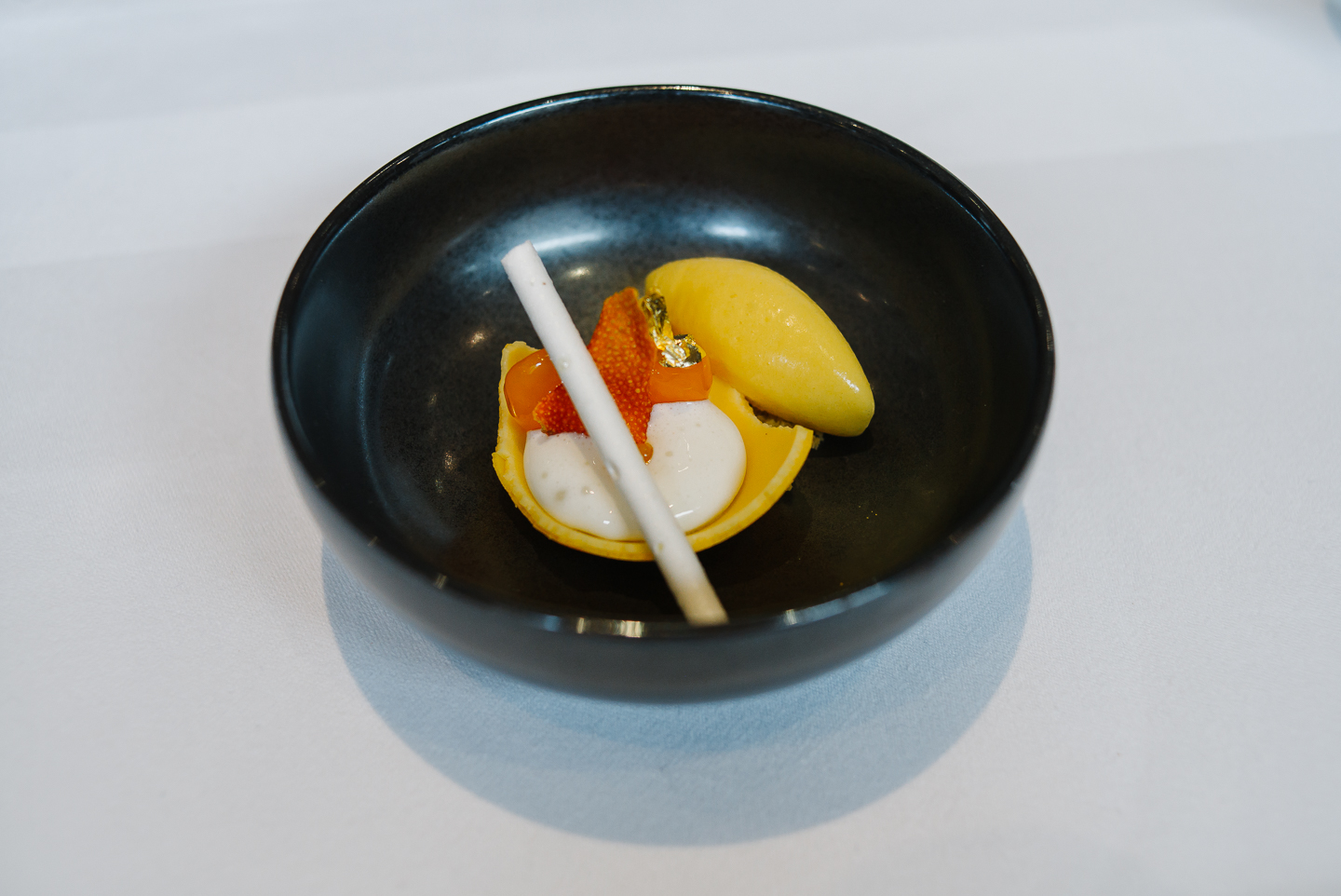 Yes so the palate cleanser was… ok. Done its job, I suppose, in preparation for the finish.
7. Single origin chocolate soufflé, organic chai ice cream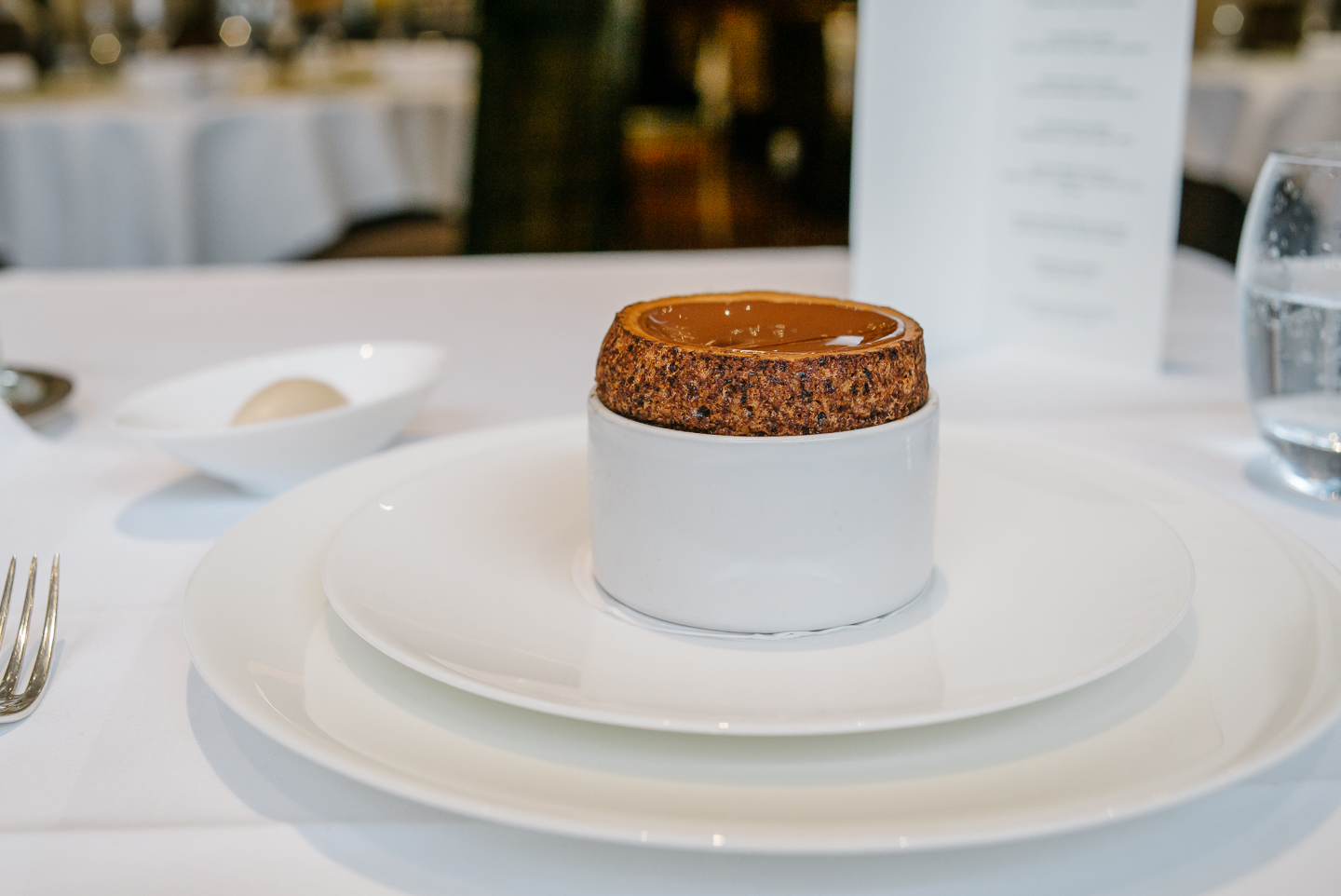 Check the mirror glaze ganache, resting on the resilient souffle. Looks even better in reality. Tasted like the legacy Howard method,i.e., a base mix of rice pudding (instead of a creme pat) with meringue and the result is a very stable souffle. I'm hardly the chocolate connoisseur, and did not bother asking about chocolate provenance, but this was very rich, and tasted good to me. What I can say is that this was the right vehicle to deliver the sin – it eats as you expect full-on chocolate richness delivered in spoonfuls of airiness. And also with some crunch, cocoa nibs (served with the ice cream). I like the chai ice cream, it brings a subtle spice-tea flavour to the chocolate.
—
I paid £230.06 for one person, which is the 7 course taster plus 3 supplement courses, water, one glass of wine and service.
A new era, and long may it last. The cooking here is absolutely top notch. Without question, this was one of the best meals in London this year. It's hard to say what the Bib will go for when they revise their guide come October (it is not in the current 2016/2017 guide after the change in ownership), but I would be surprised if they pass up Yu Sugimoto's The Square. By London standards, the cuisine is worth at least one, if not two stars. Different people value various aspects of restaurants for a myriad of reasons, but for me, it is about the cooking first and foremost, and this is where Sugimoto's team fill the sheets. It is very exciting and I think this is a kitchen that is very ambitious where it counts and that is in its gastronomy. Quality ingredients – for London, pretty damn good sourcing – with precise and elaborate technique that largely shuns the vacuumed bag.
I suppose the challenge now is two-fold; firstly to seduce old Square regulars, and secondly to convince a London that is today perfectly happy with less formal ways of eating out. Judging by the woeful number of covers at my visit (3 tables, 6 covers on a Friday lunch), they still have some ways to go. Maybe some of you have struck off Bruton and replaced it with Elystan Street in your mental diaries. Or maybe not. Maybe this room is heaving in the evenings, who knows.
In my opinion, it does not help that the wine list after the transfer of ownership, has had its prices updated to be 'in-line' with the group's other restaurants. As recent as January 2016 just before the sale, you could still have say a Leflaive Chevy-Mont for close to market price. Today the current listing of (likely the same) bottles are no where near the old figures, which – at a glance – runs at the industry average of 3-4x mark-ups. Shame really as I think the cuisine deserves more frequent popping of tidy labels to match. I wonder if the group would consider an exception, and reinstate or at least come close to NPM's old pricing structure (unless the mark-ups were priced in with the restaurant purchase). Or perhaps, leave one eye closed and (intentionally) leave off a digit for the odd hallowed bottle, here and there, when they come to update the list periodically. It would help rebuild that regulars list. And I say this because the smartly chosen and priced wine list was for many years, a hallmark of The Square.
As it stands, pricing is a barrier, on all fronts. Look around town and there's plenty of competition in their bracket. Having said that, I still urge you to give this table a try. The cooking is too good to pass up. The set lunch is 3 courses for £40, worth starting there if you are skeptical, it does feature the 55 day aged pork as the mains afterall. I would say it is worth the extra mile for the ALC where you pay £105 for 4 courses – the langoustine sandwich, red mullet and seabass are stunning plates of food.
Details
The Square
French
Set Lunch : £40 for 3 + drinks + service
Lunch taster : £65 for 6 + drinks + service
ALC : £105 for 4 + drinks + service
Taster : £125 for 7 + drinks + service
6-10 Bruton Street W1J 6PU
Tel: +44 (0) 20 7495 7100
Tube: Bond Street / Oxford Circus