When The Clove Club boys proclaimed their next project to be 'Britalian', I thought for certain that we would see the return of Gio Ravelli to the fold. I know a lot has happened in the social twebz in the last five years, but surely you remember the good old days when the Swiss-Italian (Swiitalian stallion?) was cooking up a storm for Isaac, Upstairs at Ten Bells.
Luca is not the first time Isaac, Johnny and Daniel have had two restaurants in play simultaneously as they continued their association with Upstairs, when Clove opened its Townhall doors back in 2013.
Eventually Gio (and Jarrod Cooke) went separate ways to start Brooksby's Walk, meanwhile Clove nurtured their crowdfunded car park to bricks fairy tale to become the international bistronomic attraction it is today.
There is resistance in some quarters to the original Young Turks design; or least some emerge from a meal at Clove and Lyle's with ambivalence. I am not one of them, as I think there is true genius behind Isaac and James' respective cuisines, if prematurely overrated at No.26 / 65, IMHO. Plenty of potential for a continued upward trajectory for both young chefs.
In any case, I am delighted to see Clove Club as successful as it is, and it is clear that they have some financial head room to bling out their diffusion restaurant. I do love the majesty of the Shoreditch Townhall, but Luca's ambiance might actually be even better than that.
I have read that the interior design is by Alexander Waterworth – Soho Farmhouse amongst others, and his work is very slick – and I'm most impressed with the dining room toward the back. Effectively a rear extension, with a reverse lean roof that allows for a nose-bleed high ceiling to floor glass wall. Behind this, a small gap and a view of either the facade of a pre-existing brick wall or the neighbhouring building. A smart find by Mchale and co. From my interwebs sleuthing, it is structurally more or less how it was when Portal occupied it previously. A proper dining room. Props.
Johnny received us for this mid-January lunch (for 2), was quite a difficult table to book and according to their official blurb, he will spend most of his time spreading his good vibes here, alongside Jennifer Brown (manager) and Robert Chambers, Chef and Britalian by way of his Italian grandmother. Robert has Square, Ledbury and Locatelli under his belt, and joins Luca from The R.A.C. club, where he was head chef.
Four courses, Italian cuisine, British terroir, to the food we go.
-Antipasti-
Roast Orkney scallop, Jerusalem artichoke, nduja, olive oil, £13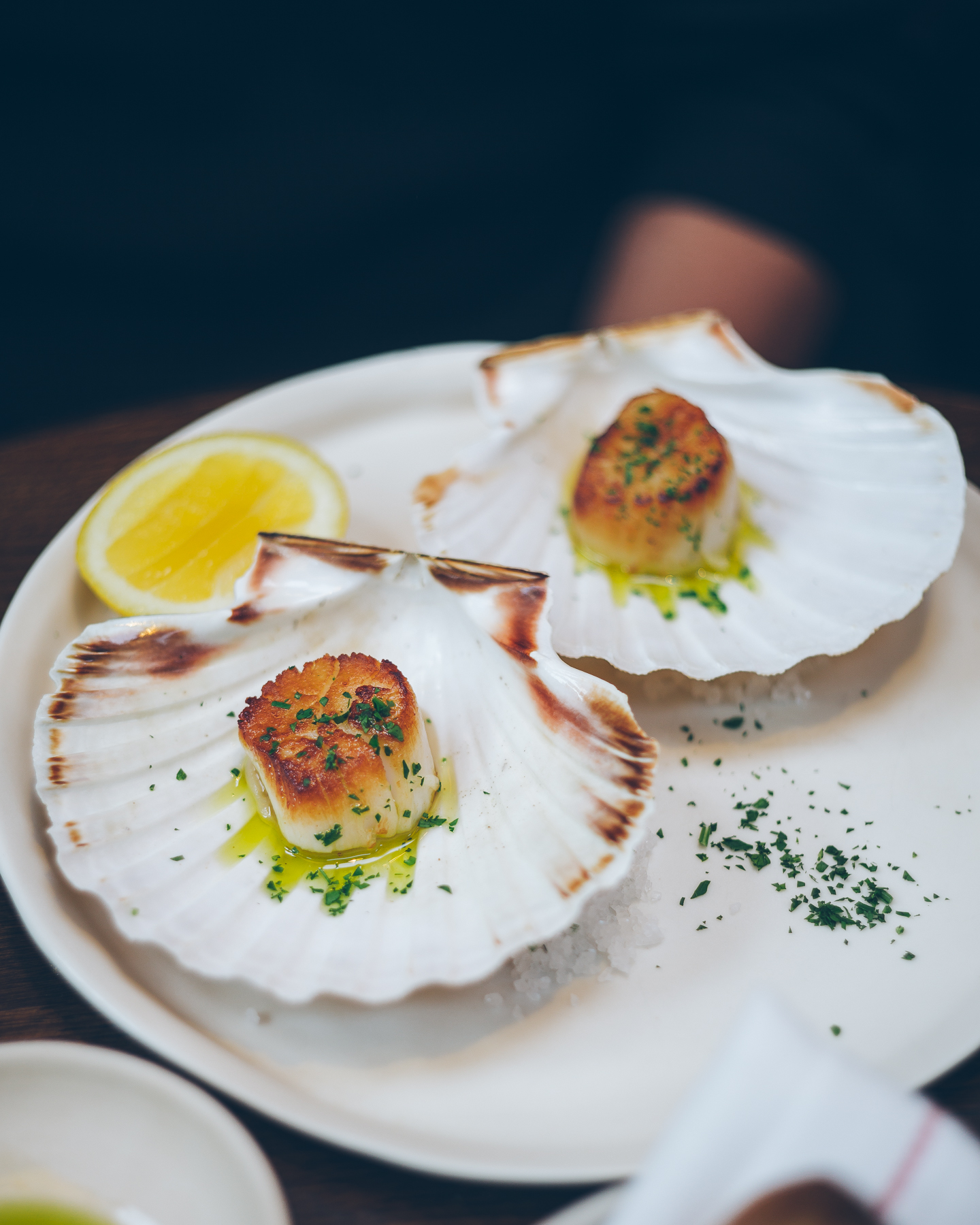 Sam's starter. It looks like a decent pan roast to me – browned on one side until crusty and golden, then presented in its own (cleaned) shell. Chokes in a purée hiding under scallops. Sam looked pleased with it.
Devilled spider crab bruschetta, £14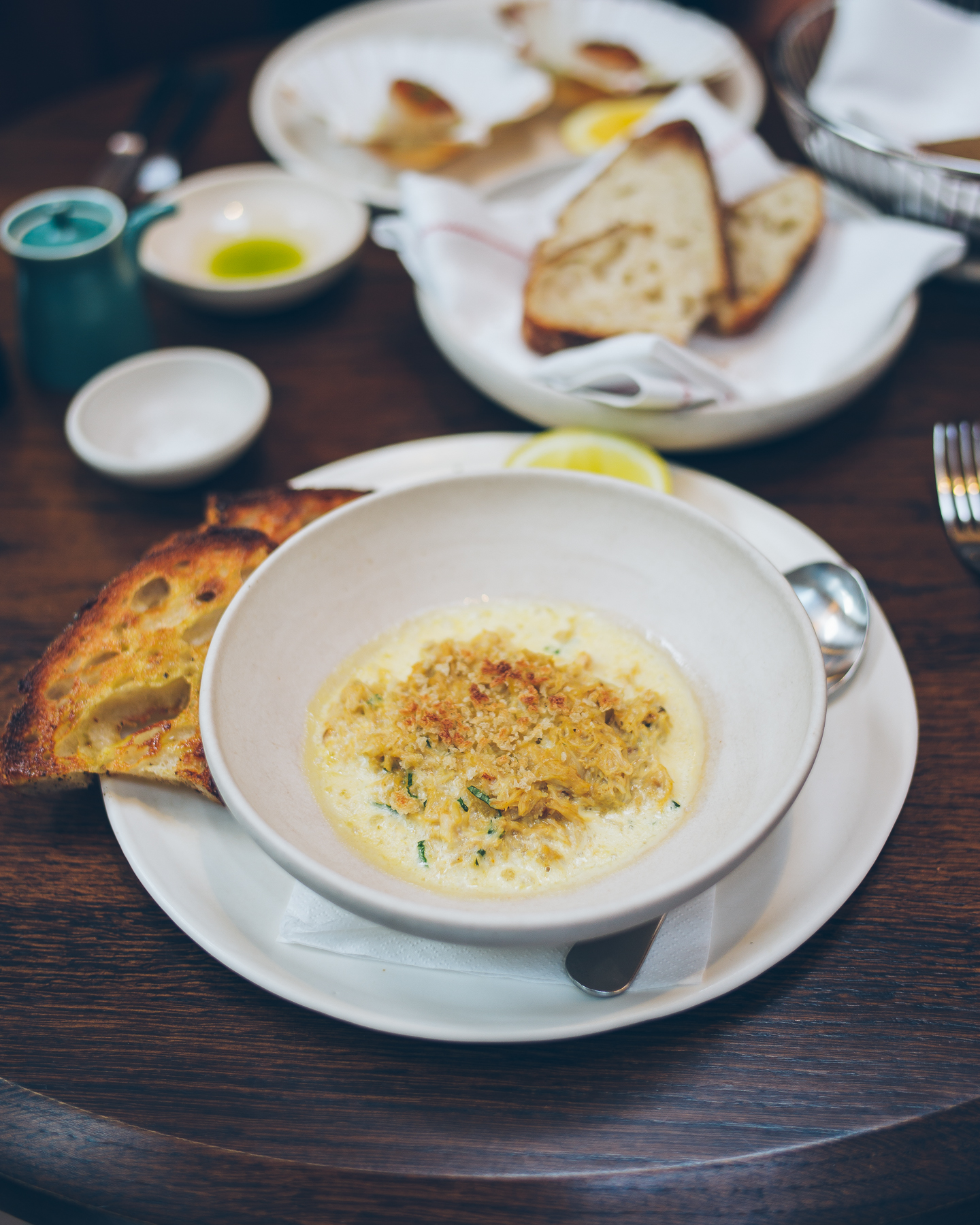 My starters, a warm and creamy bowl of picked crab, a little of a runny gratin that was both comforting and delicious. A DIY bruschetta, and a moniker that has been liberally applied to name the dish.
-Pasta-
Pheasant and mushroom agnolotti in brodo, £14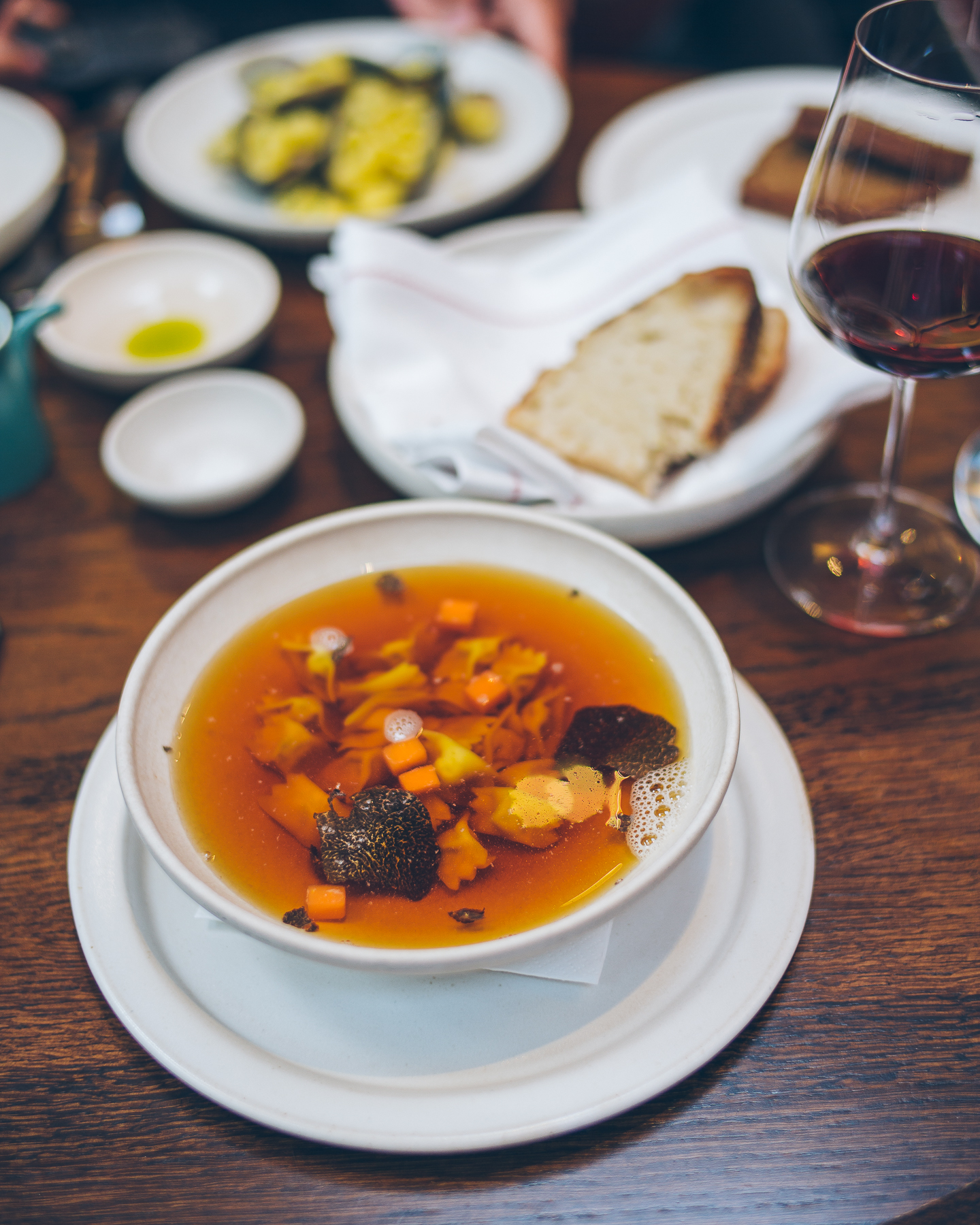 This instantly reminded me of a smoked pheasant tortellini (also in broth) that I had years ago at Upstairs.
Though this version is not smoked, so less intense, but still delicious nonetheless. The star is of course the crystal clear consommé with flavours that go deep. Good filling and good pasta. My favourite of the meal.
(PS: nice work with the cheeky melanosporum slices in Mid Jan)
Sam's gluten-free pasta with clams, garlic, white wine and chilli, £13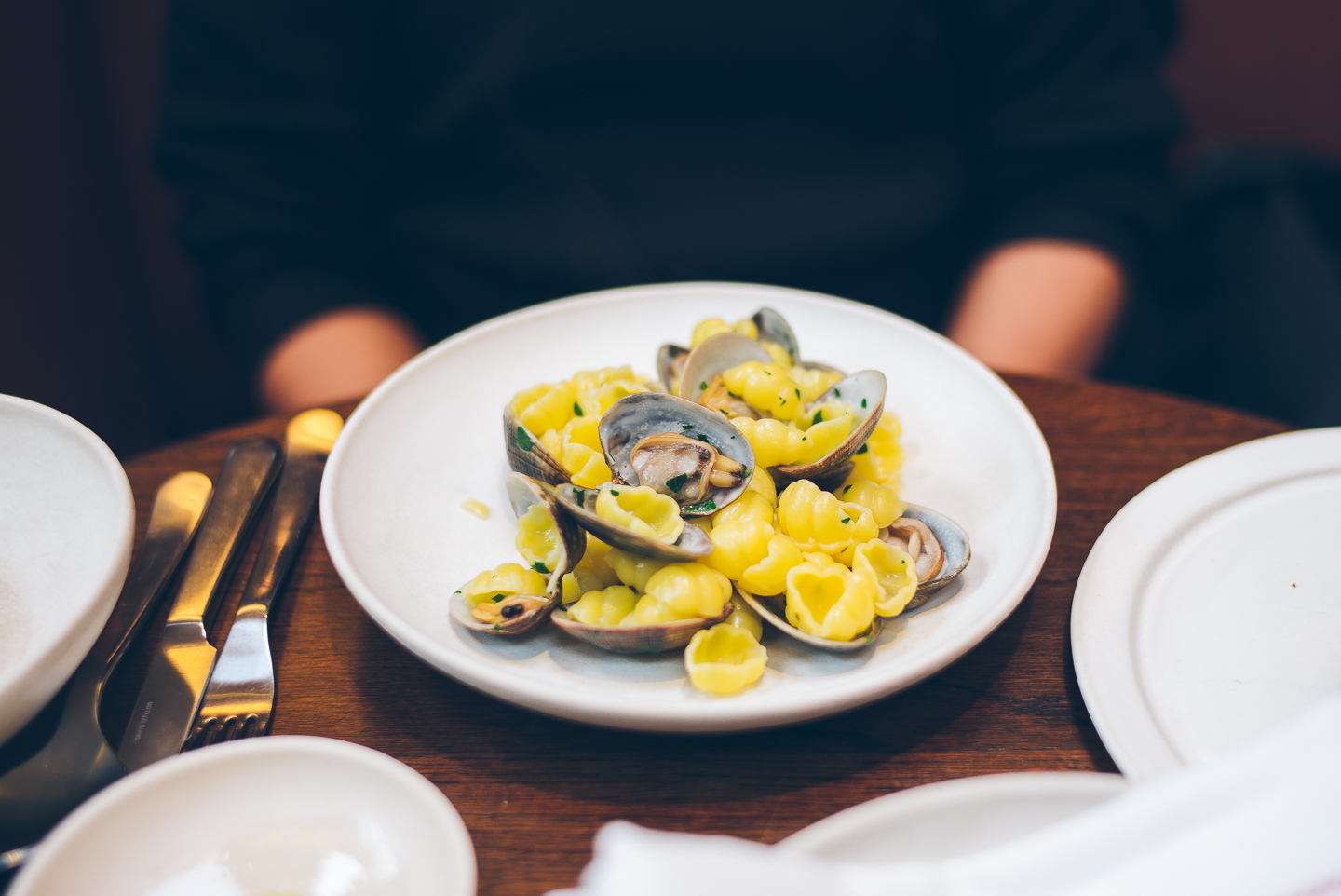 -Mains-
Hebridean lamb chops, rosemary breadcrumbs, crushed vegetables, £24.
With parmesan fries in the background, £4.5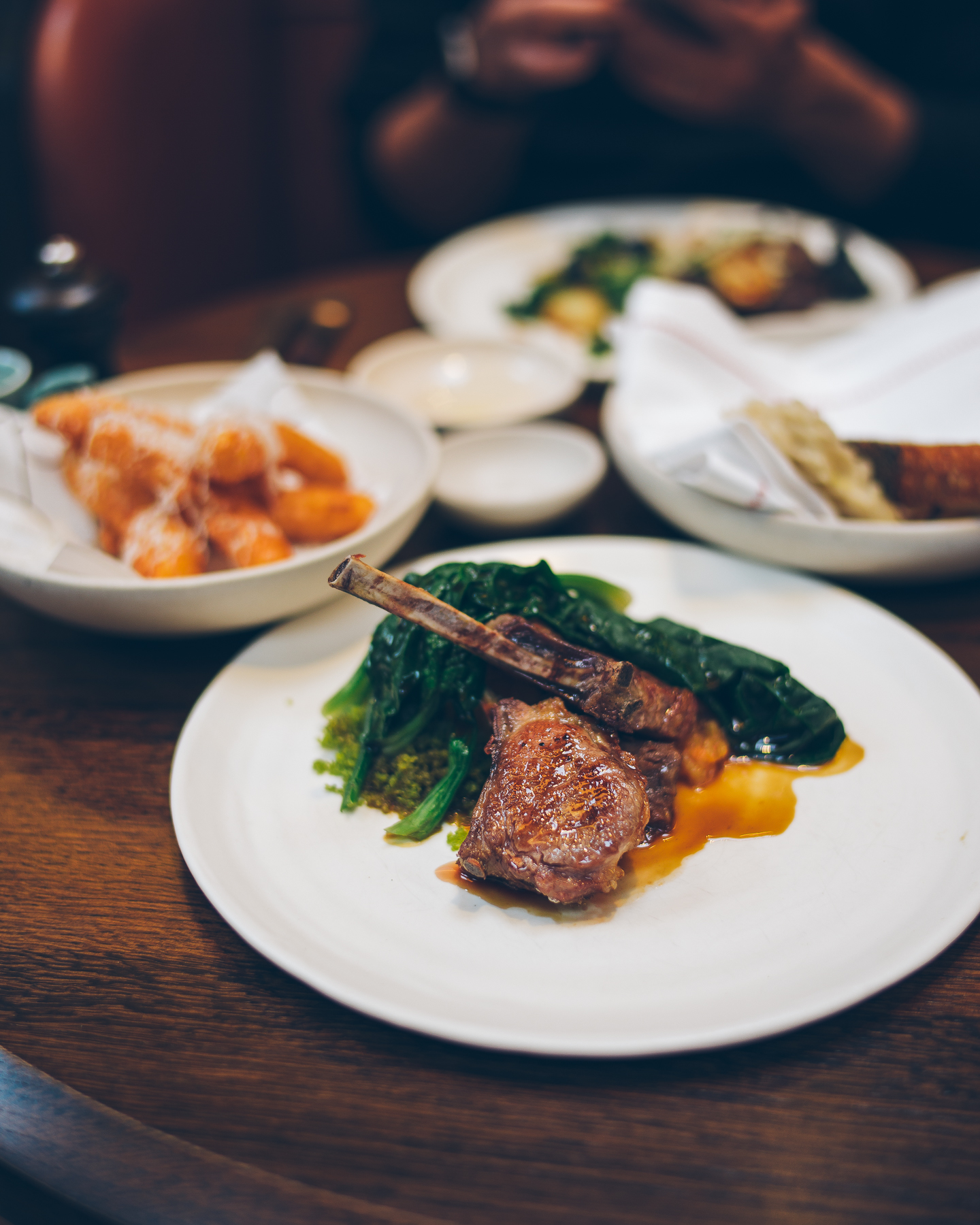 Yeah, this is overcooked. It is medium-well, in fact, it is nearly grey. Sam ordered the beef rump and same difference there. Just for the record, I did specifically ask for it to be medium rare and was assured it would be that.
I think the problem here is that meats are cooked fast and high, with each portion individually pan fried (as is obvious from crust on each chop, pictured above), the resting will almost definitely take the temperature over if you're not careful. I was hoping for slow roasted whole racks a la Upstairs / Clove, and I am really quite puzzled by this.
Isaac generally pays quite a lot of attention to his red meat, usually slowly roasted, on the bone and come perfectly pink. So it is surprising how bad the meats are here. I also found the rosemary crumbs completely overseasoned, especially with the jus poured over it. Considering the pedigree, this is a pretty rough showing. Sorry.
I did however enjoy the parmesan fries in the background, not unlike churros from fondue. Very rich, but delicious in small measures.
Sam's Rump of Hereford beef, stuffed with pancetta, kale and mushrooms, £25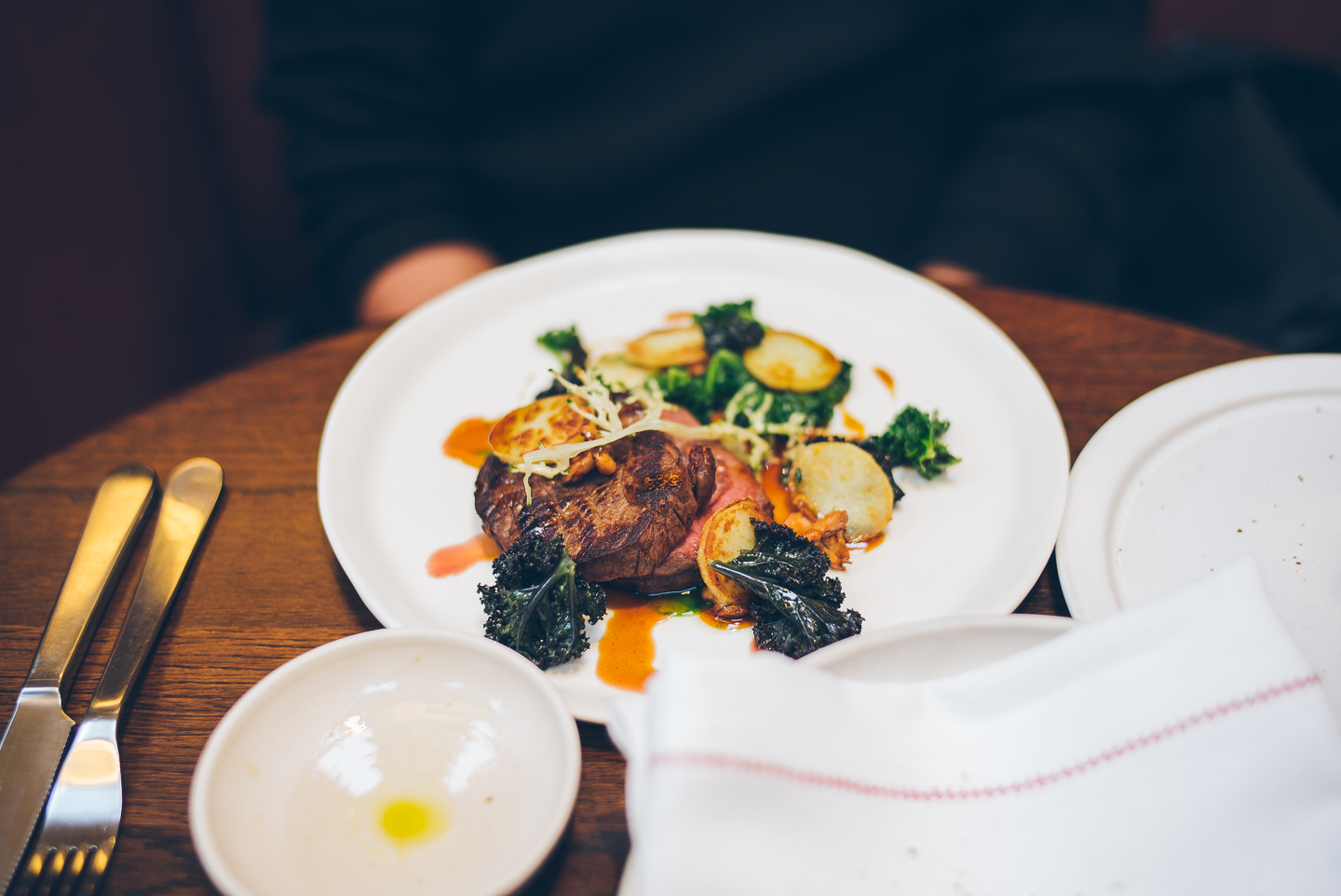 -Pudding-
Pear and frangipane tart, rum custard, £8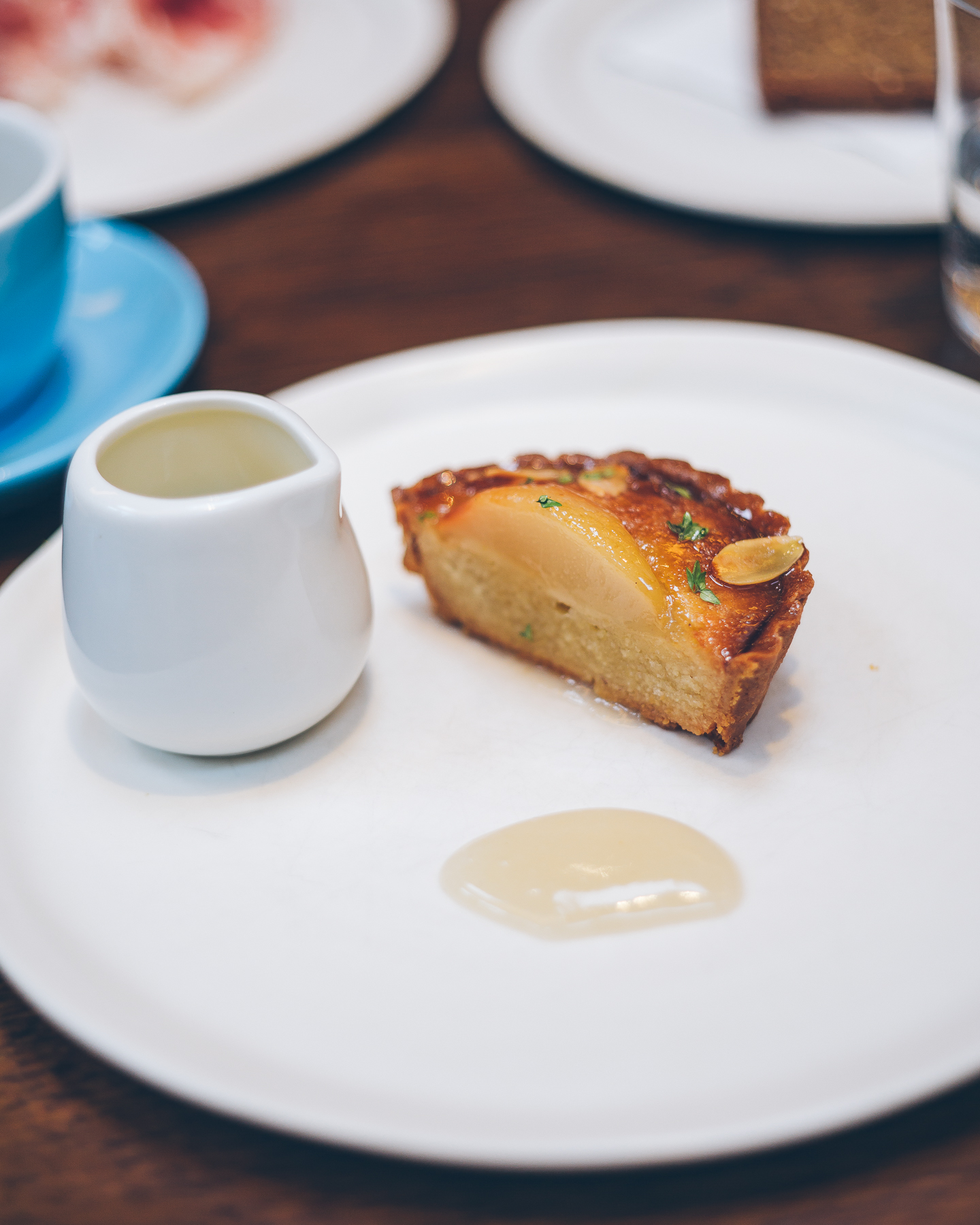 Pretty good, but I think there are better pear tarts in this town. Only a quarter pear, and for me, the frangipane is a little heavy. I do like the rum-spiked creme anglaise.
But who started this business of half-tarts anyway? Kadeau? I guess it does look striking visually, but it also hurts my little brain processing the missing half of an individual tart.
We paid £186.76 for 2 people. 4 courses each, 2 glasses, coffee, service.
The all important antipasti and pasta are solid, and priced well, but the meal tailed off from that point forward. Room is fantastic. All in all it… meets expectations, is a safe start, yeah to be honest, I struggle with this one. I still don't understand the Clove trio's tangent into Britalian. Is there more hiding in the cupboard or is this truly an out and out diffusion with a strict financial leash? Gastronomic palaces are loss-making ventures after all, I get that. I'm willing to come back again for the pasta and will be interested to see how this evolves.
Alas this wasn't the Upstairs revival I was hoping it'd be. To capture the mixed emotions, I think it apt to take a leaf from Little White Lies and rate this 4 for anticipation, 3 for enjoyment and 2 in retrospect.
Details
Luca Restaurant
Italian, Britalian, Italian
£52pp (ave) for 4 courses + drinks + service
88 St John Street EC1M 4EH
Tel: 0203 8593 000
Tube: Farringdon