I was greeted casually by a silvering gentleman wearing a handsomely pressed gray suit, a slender fella with long arms hanging off his frame. Time has made a road map of this Frenchman's face and turned his smartly groomed curls a shade of gunmetal grey, but I am certain that he is he; Pascal Vetaux, Directeur de Salle L'Ambroisie, est 1986. A lifetime. You could even say a little too casual, for you might expect more pomp due to the significance of this restaurant, but like many things, first hand experience reveals a reality that is often nothing like the stories they are portrayed.
"A table by the window, monsieur" whispered Pascal, breaking with a smile and body language to suggest that he did his best to meet this diner's requests. Certainly a decent guy. A tiny gesture, the art of the Front of House is afterall simple human decency.
He sat me in the middle of the three dining rooms (some say for the 'initiated', but as there were only 6 covers, perhaps we were all that for tuesday lunch), the largest in this opulently restored shop floor that formerly housed a silversmith. An impressive crystal chandelier hangs from the impressively tall ceiling, though it is the well-worn wood floors that interested me the most, at the edge of the rug under the dining tables, where Pascal and his team stood as they watchover their guests. Thin planks, oiled and darkened after decades of foot traffic. Maple?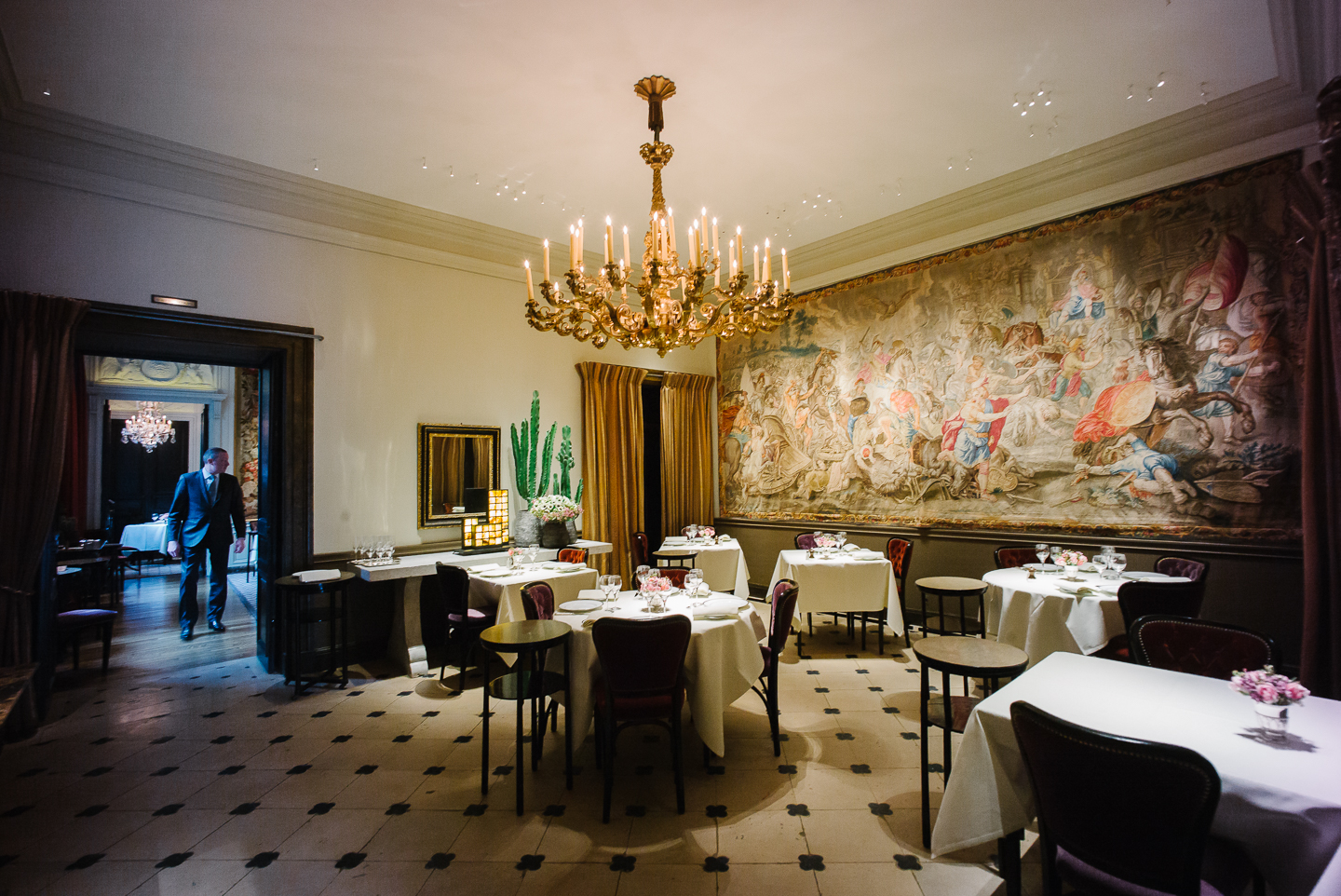 As I passed the first room, smaller with square white tiled floors, I spotted the great Bernard Pacaud blissfully arranging flowers in this windowless room. He stood in front of an epic Aubusson tapestry (which dates this building) than spanned the length of the wall. He tilted his head and nodded with a embarrassed look, of which I reciprocated. They say that this craftsman is a shy guy and much rather speak to you through his food.
The Pacauds and L'Ambroisie have lived in No.9 Place des Vosges since 1987, moving from his then original 8 seater restaurant from the other side of the bank, across the Seine. This restaurant is still a rather small one with capacity for no more than 40 covers. At the time of his move, Bernard was already a two starred chef. He picked up the third in 1988 which he has retained ever since.
There is mild-mannered minimalism with this restaurant, that to me in 2017, seems more in line with the wuthering passion of Japanese craftsmen, than his fellow Frenchmen, let alone that of the current generation. Simplicity is the essence of Bernard Pacaud, the pursuit of the purest form of Nouvelle Cuisine, perfection and timelessness. I wonder how the great chef views his own cuisine. Is he the humble apprentice following the footsteps of his mentor Claude Peyrot and does he still cook with the spirit of Eugenie Brazier guiding his hand and eye for detail.
We have however already passed the crossroads of L'Ambroisie's storied narrative. The great Chef will turn 70 this year and he had long since handed over the reigns to his next generation, Mathieu Pacaud. In recent times however, Mathieu himself has emerged from his father's shadow to focus more time in forging his own path. You will already be aware of the success of the 36 year old's Hexagones (*) and the interconnecting Histoires (**), and there is also the slowburn of the impending opening of L'Ambroisie in Macau (…). So it must delight loyal fans of the senior Pacaud, that he has come out from his 'semi-retirement' to look after his kitchen these days.
The menu changes once per season, and we are in the middle of the winter, or more specifically at the mid-point of the season, ripe time for the vaunted tuber melanosporum. The black winter truffle, or as we are in Paris, the Perigord black diamond, of which this season's menu celebrates.
I spot the Bel Humeur on the menu, I'm not sure how to feel. Half of me is elated, the other half quivering in fear. I will have to sell my kidney after this meal. I choose 4 from the ALC (no tasters here, as you know), and ask for a small portion of the seabass.
0. Amuse: Black truffle kouglof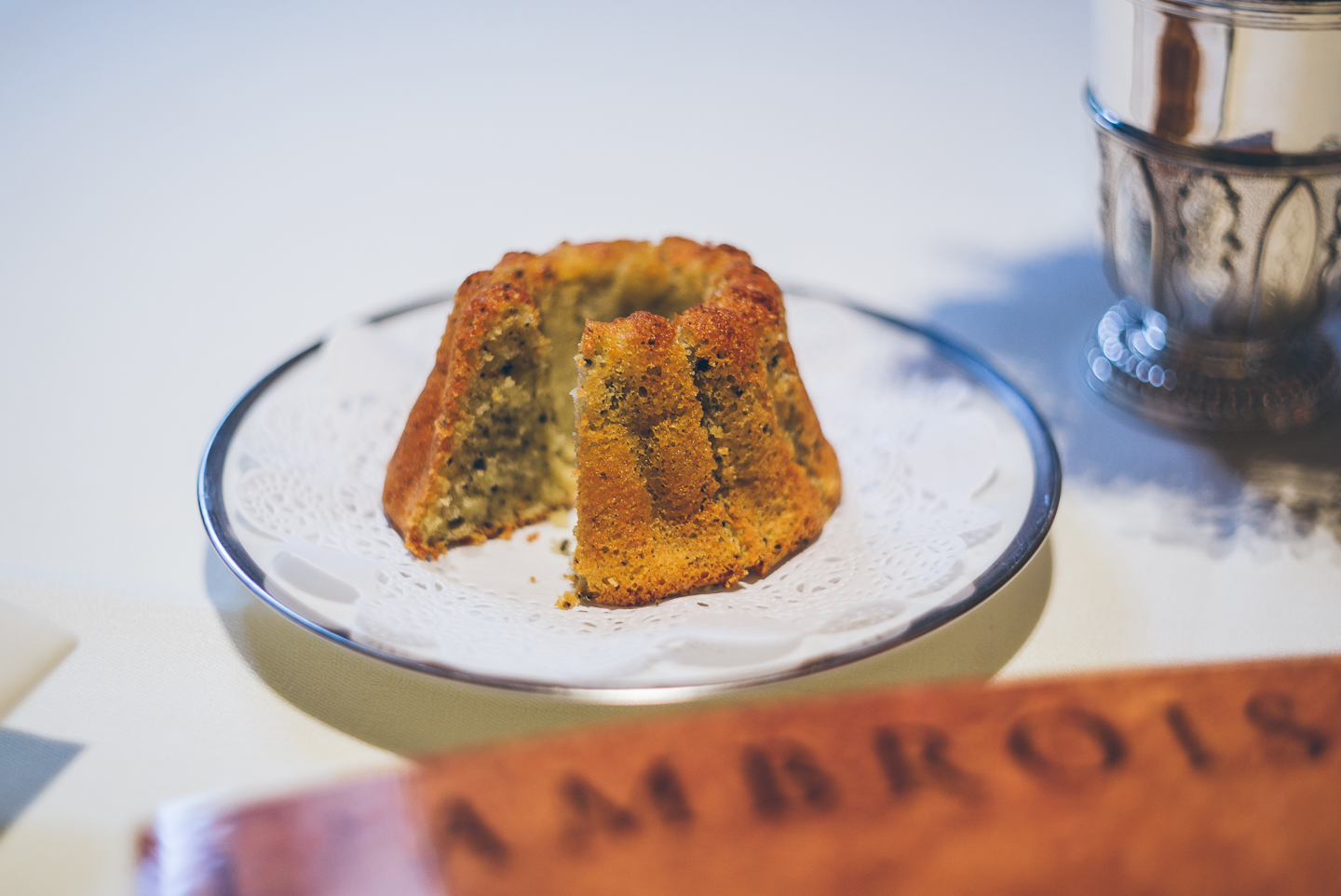 So we start here, fresh from the oven, I surmise because of the contrast between the diabolically thin crust to the moist and fluffy broiche inside of it, bursting with steam trying to rush out. Perigord Black winter truffle trimmings go in here, and the heat helps to float the intoxicating scents to my olfactory. A simple thing, perfectly made and arriving at the table at exactly the condition as it should.
1. Coquilles Saint Jacques au cresson, emulsion de truffe noire, truffe noire fraiche (as Amuse)
(Scallops, watercress, black truffle emulsion, fresh black truffle)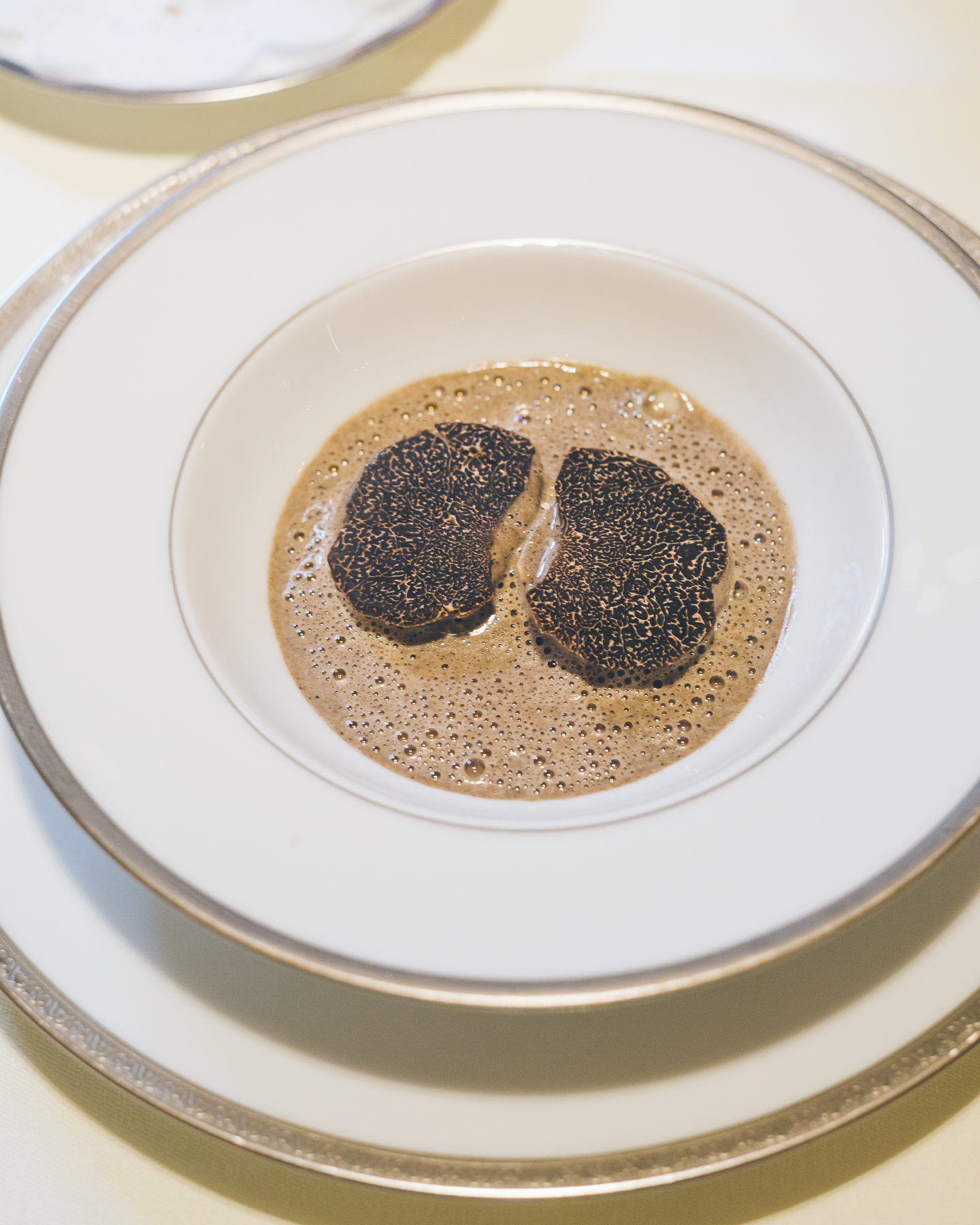 "Your amuse" offers Pascal with a wide grin, as he placed this pristine object of beauty on the table. Well now, this is a nice surprise, being that this is a small portion of one the starters.
A classic pairing of fresh scallops with fresh black winter truffles, but man, what a sauce. The aromas! Black truffle and I hazard parmesan have been mixed into the steaming emulsion. The warmth, the perfume intoxicates and the balance of taste is intense, but not heavy. It is just and perfect. The sauce itself serves to gently warm the scallop, I note only a little colour on the outside, raw inside which is to say that none of its stunning sweetness is lost.
It may be hard scale from the photo, but believe me it was one of those giants the size of a child's fist. Cut in half, and each with a canopy of black truffle (protecting its modesty), which always leads me to wonder if this is Scotland's finest rather than Brittany. Regardless the quality of the ingredient was stunning, as I mentioned, stunningly sweet. It was atypically dense and firm, where I wonder if this is the result of the gentle heat, or the spasming from a fresh shuck. Perhaps it was a simpler reason, that he quickly compressed under cling film. At the base hides a puree of watercress, chlorophyll and all, as a bright foil to the luxuriousness going on above.
Three elements on a plate, harmoniously precise, high impact flavours with certain lightness.
2.Feuillantines de langoustines aux grains de sesame, sauce au curry
(Langoustines with sesame feuillantines and curry sauce)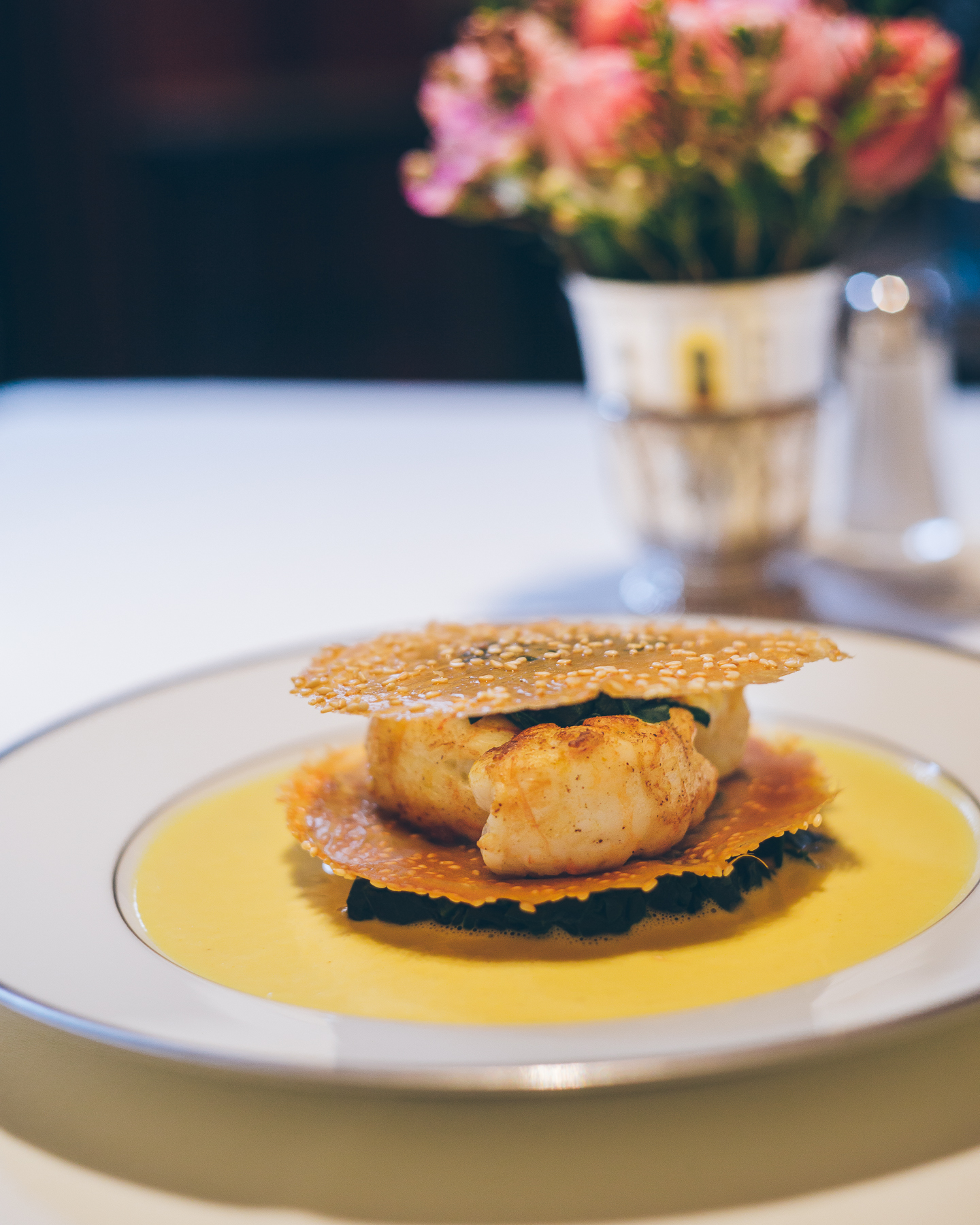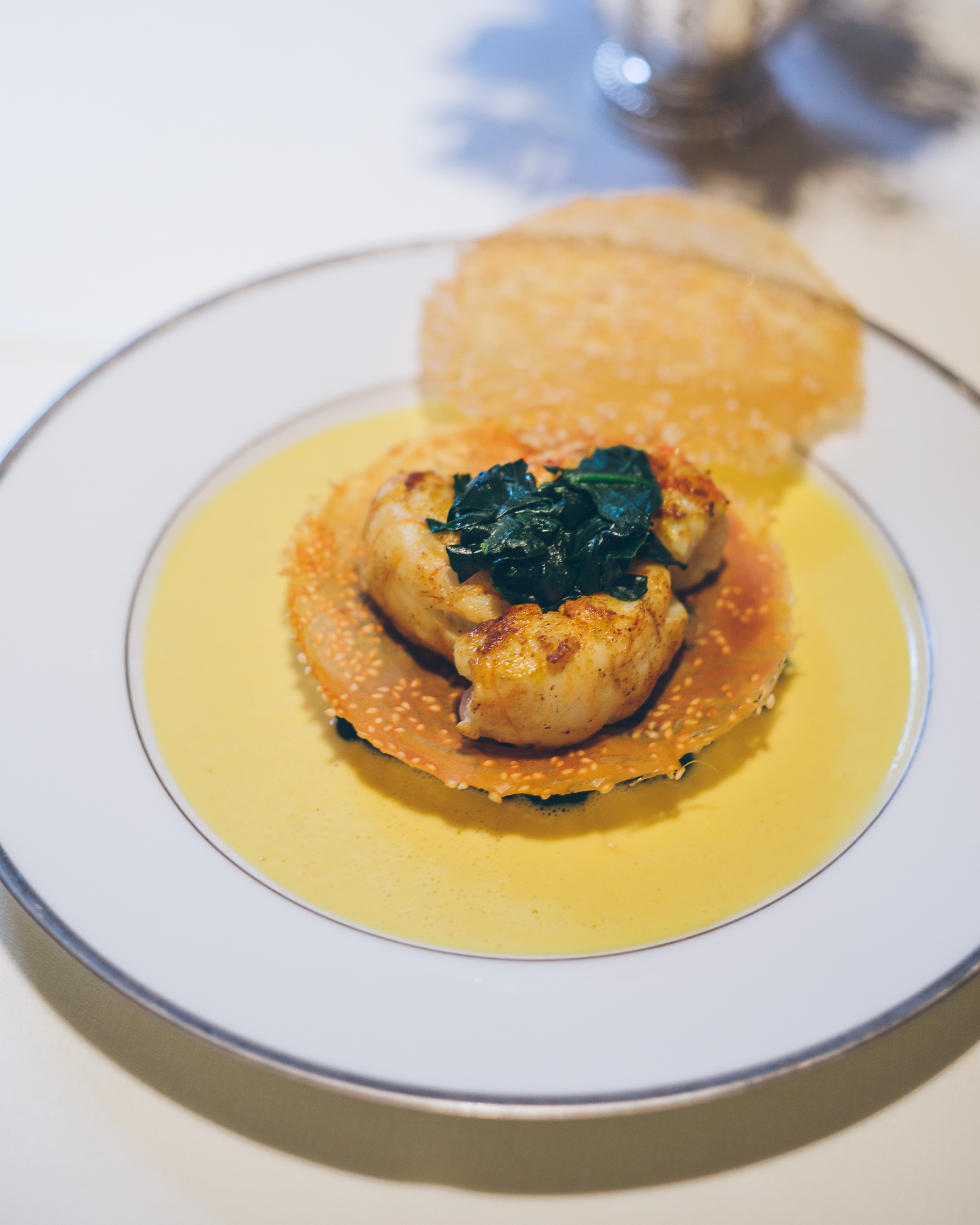 Such simplicity yet again. 4 elements, and yet the end result is as they say: much greater than the sum of its constituent parts. Each component on the plate carefully chosen and carefully cooked, harmonising to hit all five tastes all in equal measure.
First you are met with the aromas of roasted lango tails, and the eye catching matted sheen of the curry sauce. To my palate, like a delicious coronation sauce, albeit superiorly textured, and mild in flavour. The curry does not get in the way, rather it enhances the natural sweetness of those XL tails.
The tails were cooked mi cuit, with wonderful smokiness from the pan, French wok-hei, dare I say. The tissue thin sesame brik tuiles, and this nuttiness, dramatically energises the salty umami aspects of the dish. The spinach provides texture and a touch of bitterness to contrast the langoustines, and it too plays a role to create the overall pleasure profile. The sheer balance of flavours, no complexity no trained palates required. What a dish thi is. Pure Deliciousness.
3. Escalopines de bar à l'émincé d'artichauts, nage réduite au caviar golden (Small)
(Seabass escalopines, artichokes, reduced nage with golden caviar)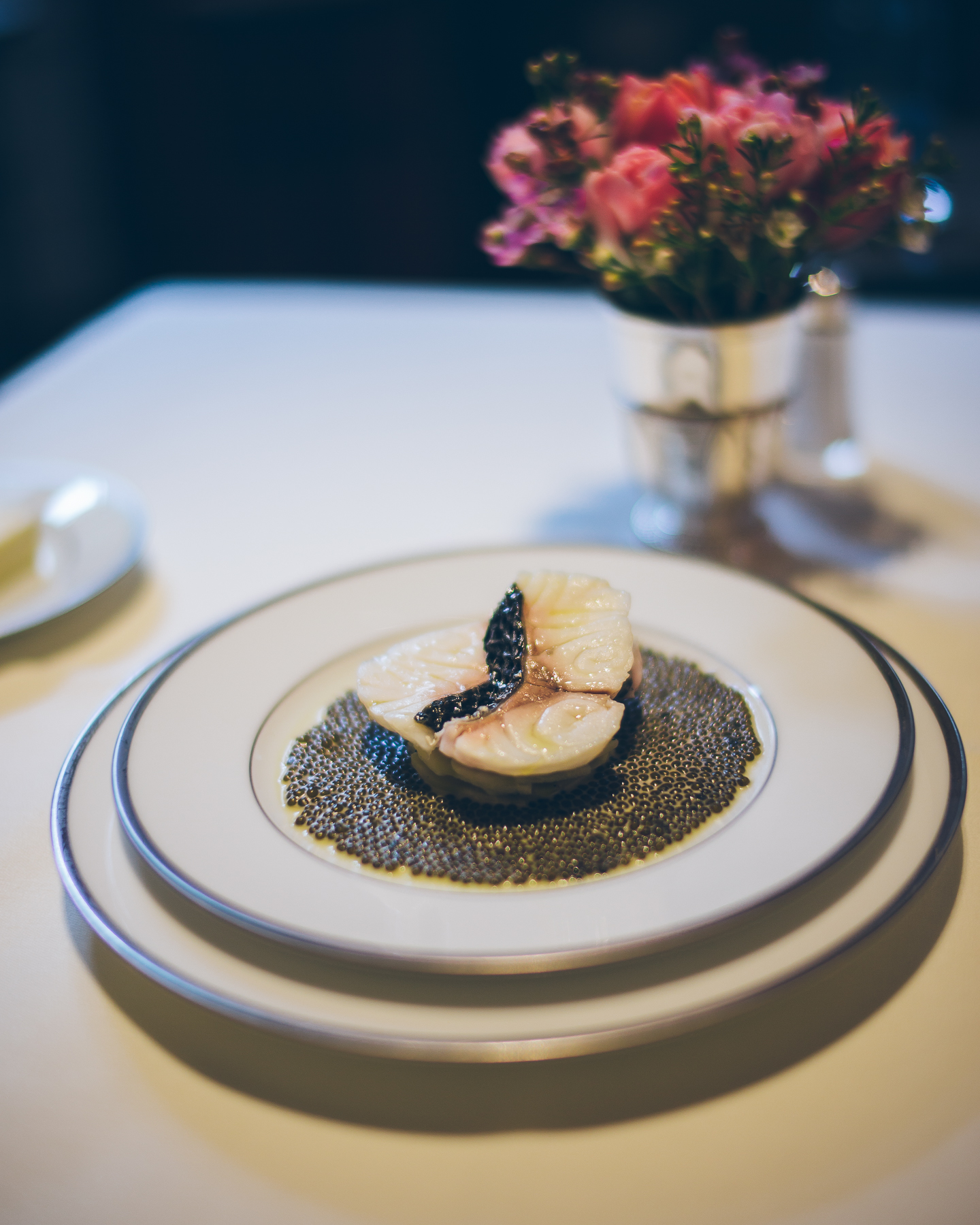 And so the story repeats itself again. The third plate of striking simplicity, elegant plating and yet another that delivers mind boggling maximum pleasure.
The fish is cooked very gently until pearlescent, and you can tell the temperature is hanging in the low 50s degC, because the skin glistens still, and yet to break from the flesh. At first this half-cooked skin gives off a funky stench, ladle the nage and you get why it's there – a bold flavour to be tempered by the buttery fish reduction and those little umami bombs of golden (Chinese) caviar. It floods your senses with the salt, fleur de sel and caviar, working in unison like an a la minute curing effect.
Amazingly, the choice of high quality caviar is integral rather than a luxury (in this context), to the "design" of this dish, as it acts to provide a fully lubricated, polished, slippery mouth feel. And this is perhaps the most satisfying part of the dish, hard to translate into words how gorgeously fine it is.
So I will try Chinese instead, 入口即化 (ru ko ji hua), which means 'disappears the moment it enters your mouth'. So now I understand why he's cooked the fish so gently, as the very ideal of gastronomy – luxury softness – is pursued, and achieved.
And then you take a bite of the (equally gently cooked, but for an altogether different reason) chokes, you have texture and then amongst the salt, the sweetness of the vegetable reveals itself, as if it were masquerading as the secret main ingredient all along. Wow moment.
It is quite amazing how he's transformed seabass. For me the typical experience of seabass is firm, clean but also dry and uninteresting, unlike say turbot which retains its oils. Here, the bass keeps its oils, and flakes with buttery moistness. Awesome cooking. For sure, the best seabass I've ever tasted.
4. Feuillete de truffe noire fraiche 'bel humeur' , salade frisee nicoise a la creme
(Black truffle puff pastry 'good mood', frisee nicoise salad)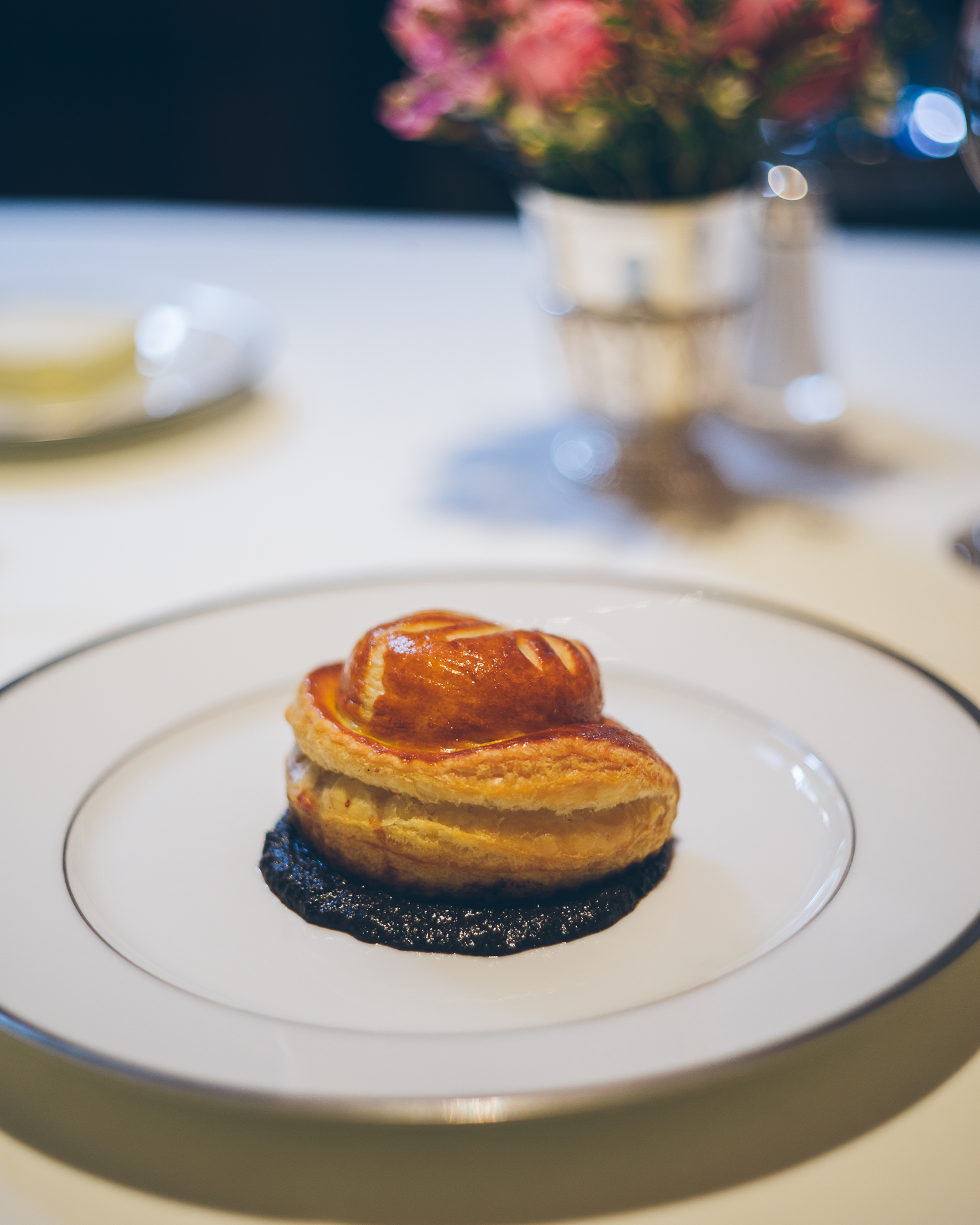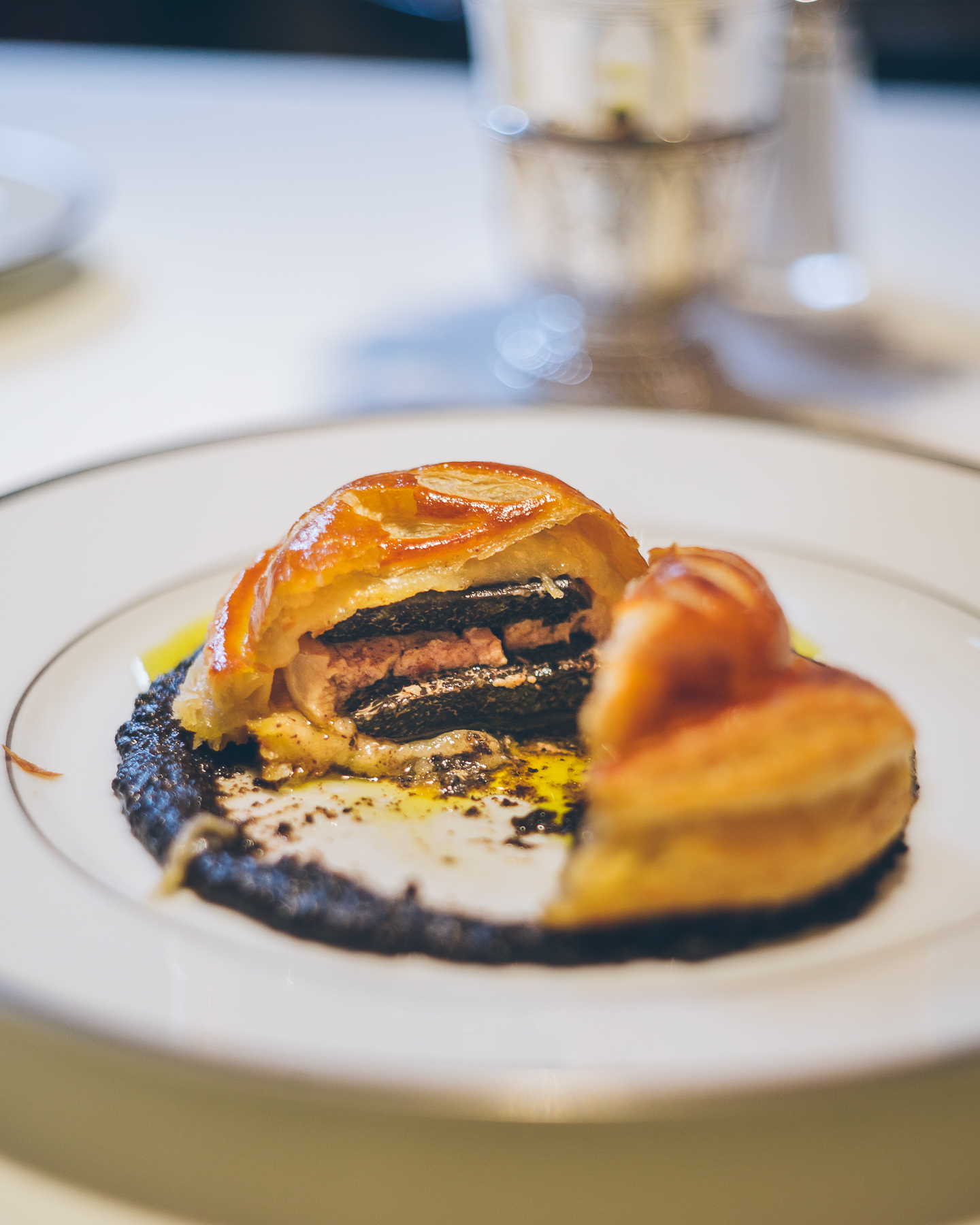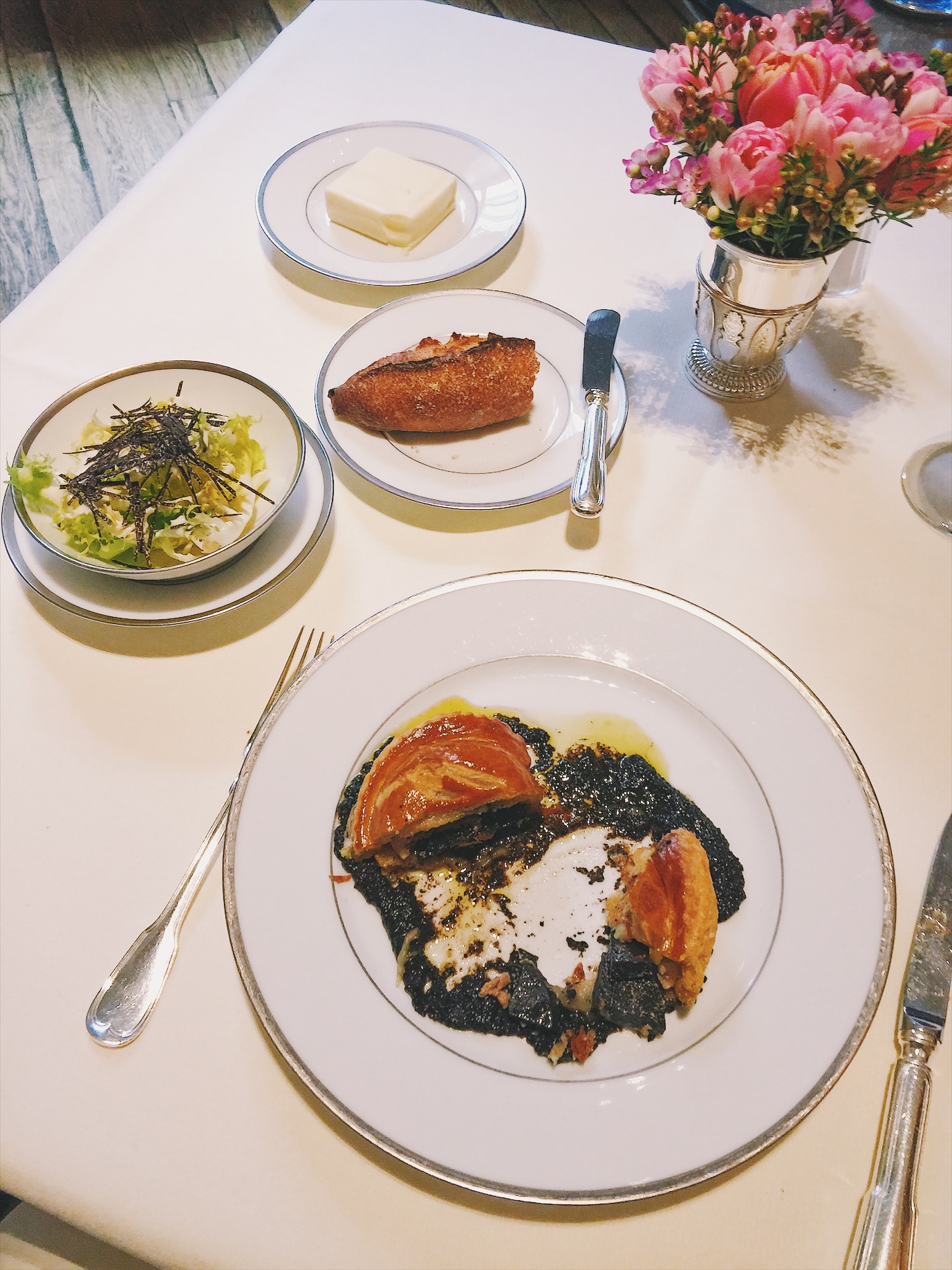 I had some reservations about ordering this, firstly because of the cold snap throughout Europe last week, so I worried for quantity of quality haul and secondly it looks utterly simple to make, so how could it be profound, if at all.
Like the rest of Pacaud's dishes, his genius lies in the seemingly banal, if you can call an oreo cookie using thick cuts from whole Perigord truffle, that.
The pie is surprisingly light, it had me wondering if there was a vinaigrette as there was a jot of freshness to my palate, as opposed to the expectation of heaviness. Could this be brandy perhaps?
The first time I had fairly sizeable chunks of truffle was when Mikael Jonsson served little 'nuggets' of Oz noires, with his squab dish in the summer. A herald of the revelation to come, albeit Hedone's was a "dry" crumble of fresh truffle, rather than this cooked "wet" crumble.
And you need high quality mature truffles for such a dish, as it is the firm (it won't be if your truffles are stale or immature) and crumbly character that is key.
This textural experience is sensational, when extrapolated to large chunks as this, well, it turns out it is the best way to 'eat' the black winter truffle. The foie both seasons and lubricates the truffle and for me, it was much like a densely compressed cooked mushroom. A king oyster or a cep. Crumbly like cold chocolate, also a little squidgy, moisten by the chunky truffle sauce, the deep seasoning releasing wave upon wave of glorious truffle aroma as you eat it.
Like the caviar / seabass, the truffle in this form is integral to the 'design' of the dish, for the purposes of both taste and texture.
1995 Chateau Lafite Rothschild, 15cl glass.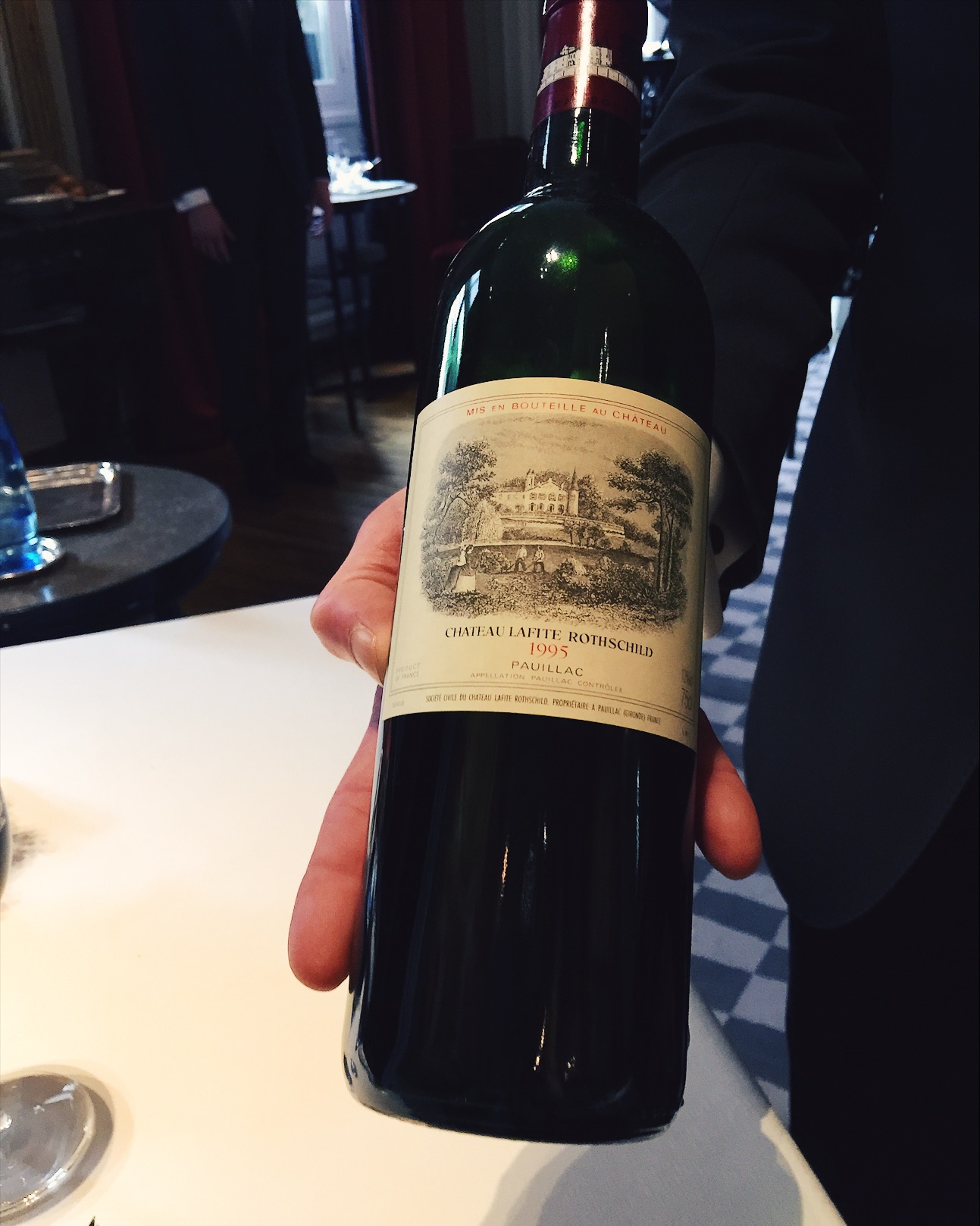 The sommelier Christoph left the wine menu with me to peruse, but I really was scratching my head at the mark-ups. Obviously all the first growths and hallowed Burgundies are present, but I hardly think 3500euroes is worth a DRC in a good year, let alone a '95 Lafite.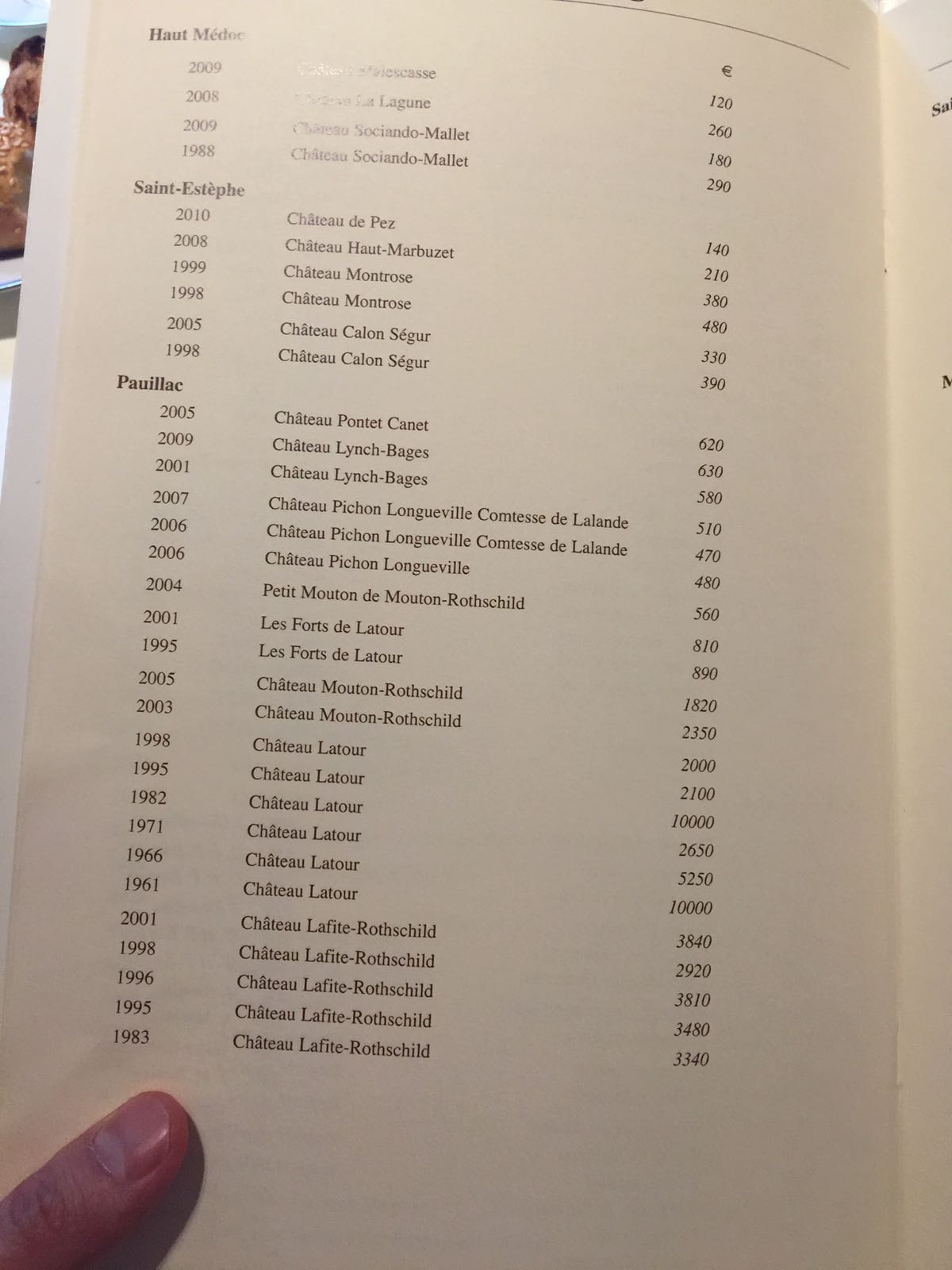 Then I glanced at the BTG list, and I had to do a double take. 160 euroes for a 150ml of '95 Lafite, in the year of 2017? In a restaurant? Yes to some of you, you might think I've gone mad, but to those of you who know, then you know this is actually a steal.
I did wonder if Bernard went a little crazy the night before, accidentally popped the cork on this bottle. Rather this is more likely the reward of a 36 year restaurant cellar (I hear you Kian at T!) that undoubtedly has bought EP in its time.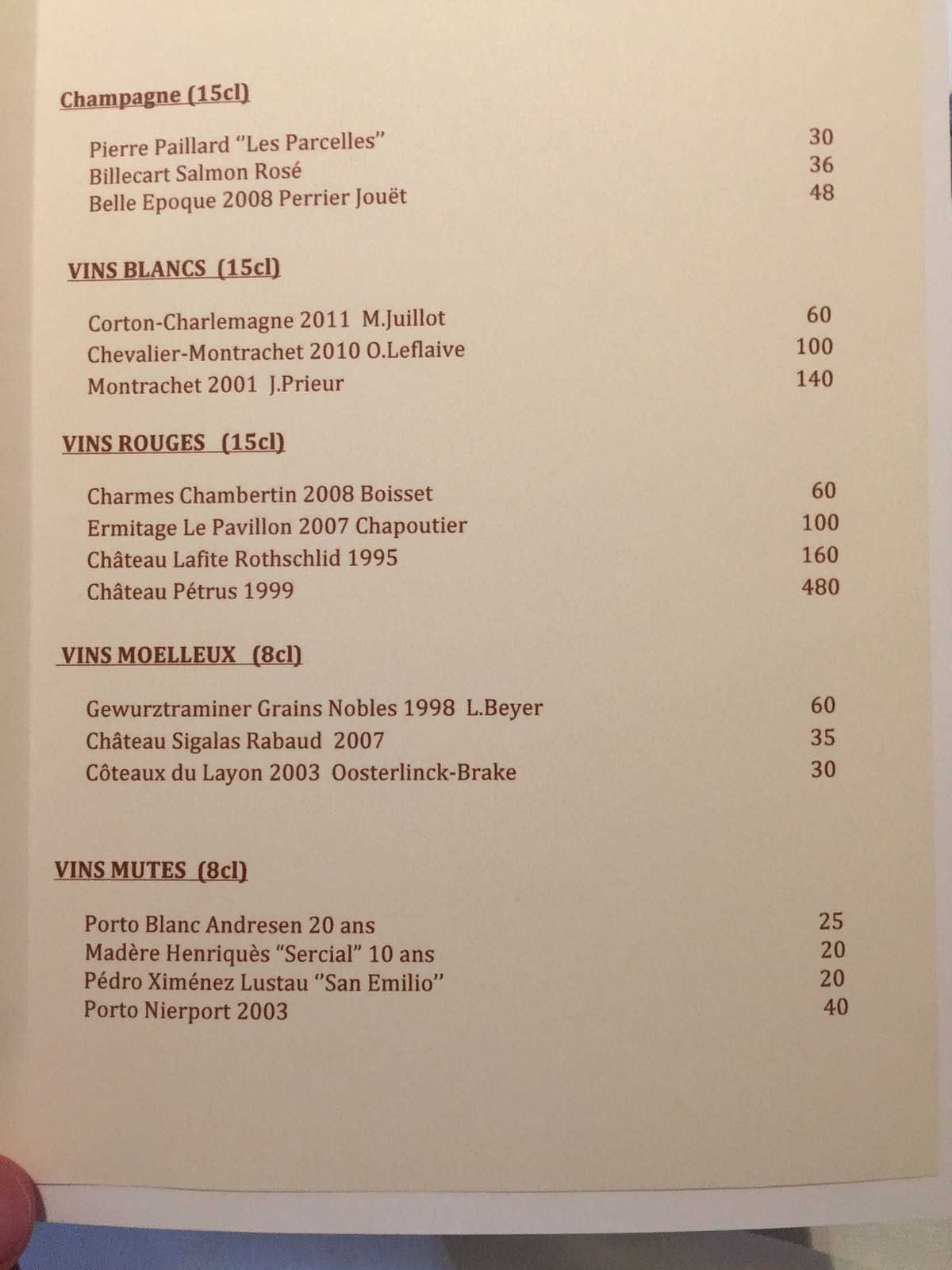 As expected, the Lafite was very good, still young in fact, only just taking on some secondary character in the form of a little sous bois. The nose is classic Pauillac, full of cedar and graphite. Tannins were ever present at first, with air it silkened to a bone china mouthfeel. And the finish was long, like a strepsil that refused to go away. First growth quality, as they say, but also what an incredible restaurant of its calibre to give diners the opportunity to drink grown up wine with your dinner, without sneaking into four digit territory.
I had hoped for London restaurants to do this with the advent of Coravin, but even The Sampler's xmas blow-out lafites are £50 to £100 (the latter for the '82s)for 25ml shots. As I said a steal, that makes the meal more 'value-driven' than say… potatoes, potataoes and some shallots at L'Arpege.
I tell you what, I regret not having the 2001 Prieur Montrachet, 'only' 140euroes…
Palate cleanser: Clementine sorbet, caramel, baked meringue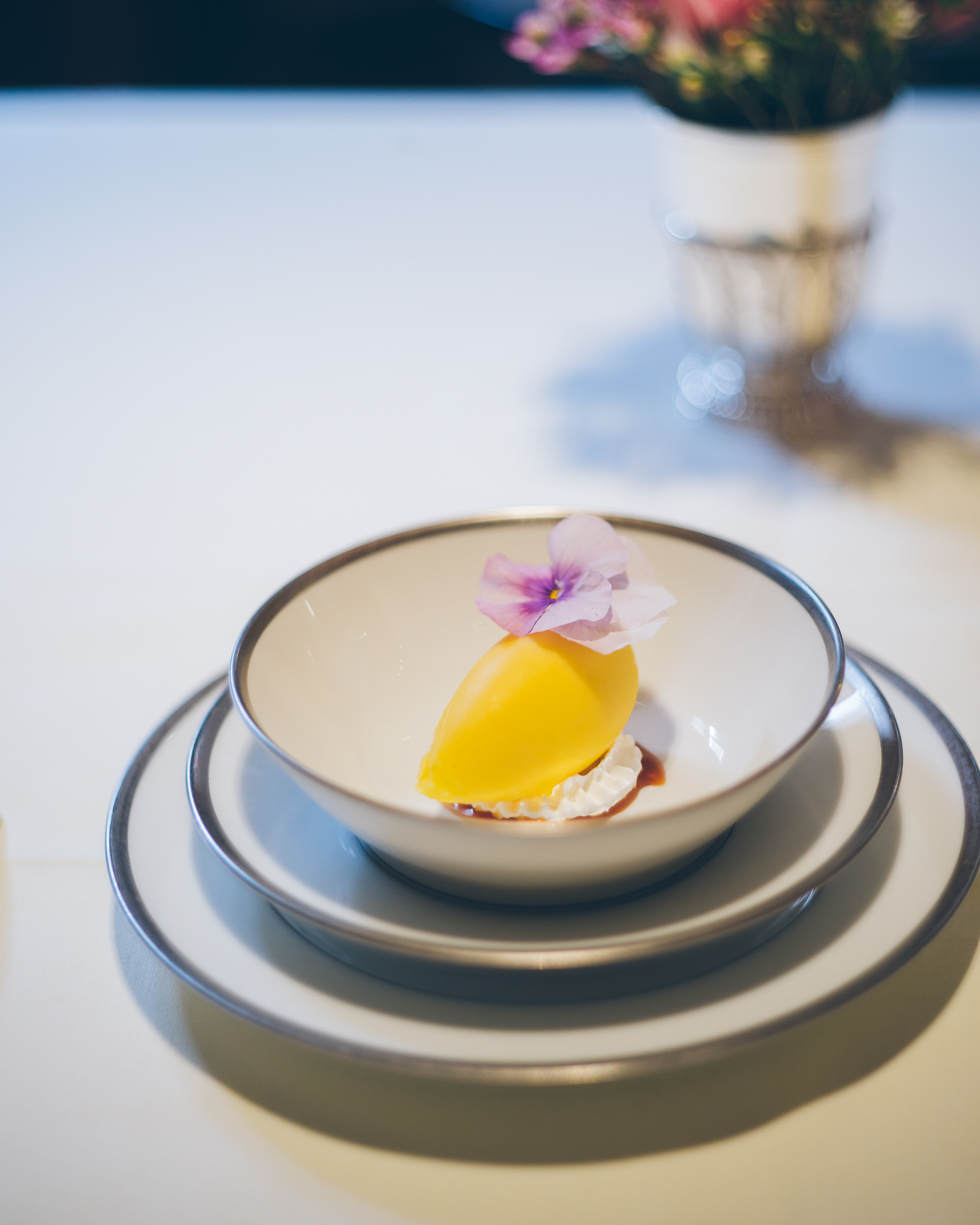 A quick reset before we march on to the home stretch..
5. Tarte fine sablee au cacao amer, creme glacee a la vanille Bourbon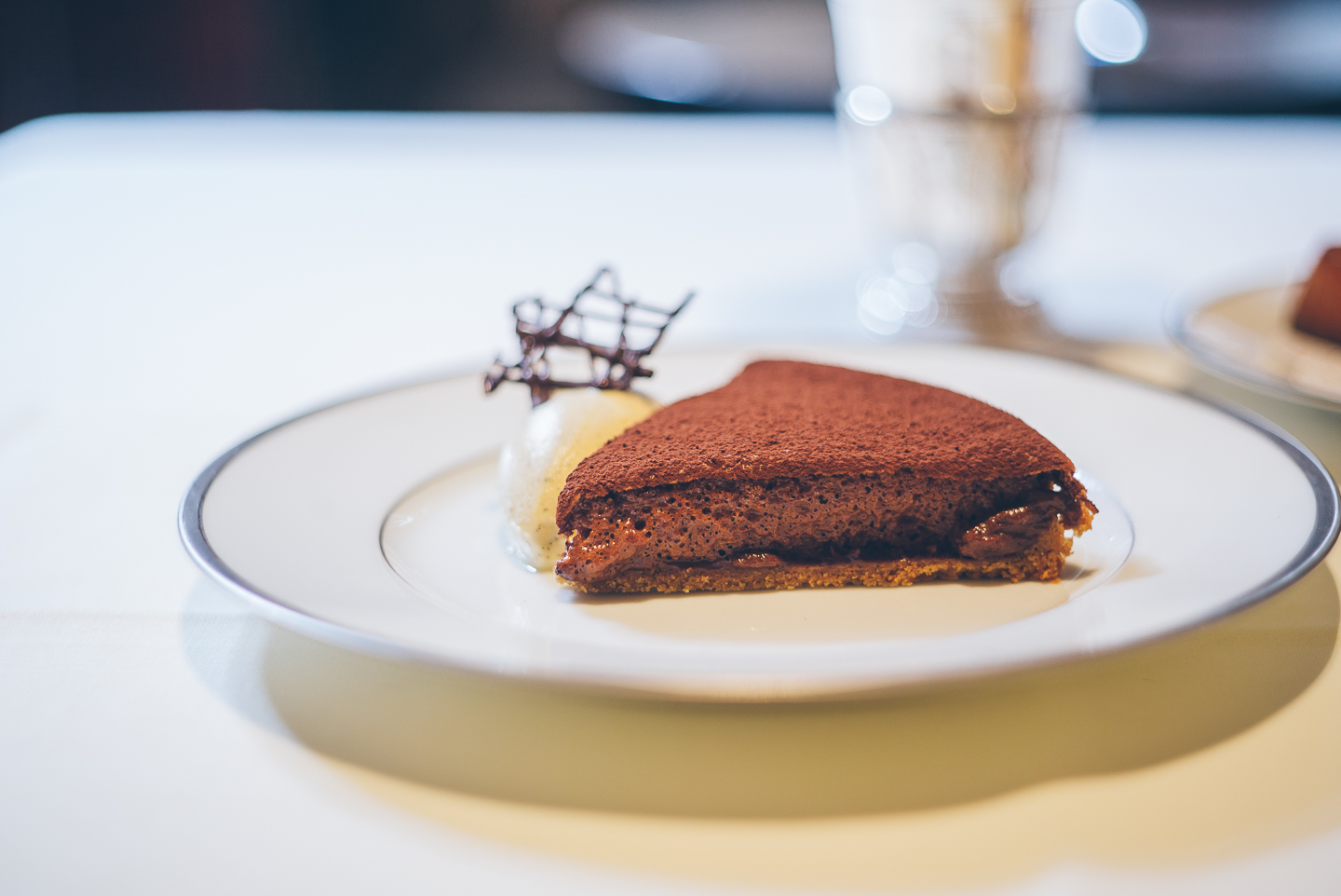 …to the fabled L'Ambroisie pudding. The sabayon filling is incredible. Flourless and whipped to life with millions of air bubbles holding it up to generate ethereal lightness. So light it makes you forget how concentrated the Madagascan vanilla ice cream really is.
It is lovely work, however I did think the sable base is too thick, a jarring contrast to the light filling, out of step with the delicacy of the rest of the meal.
Which is why I think the homage made at Bonhams, is just as good, if not better, especially with the jolt of acidity hiding under the ice cream.
Still a groundbreaking pudding of course and the original. Outside of Bonhams, you won't find something as mind blowing as this.
Mignardises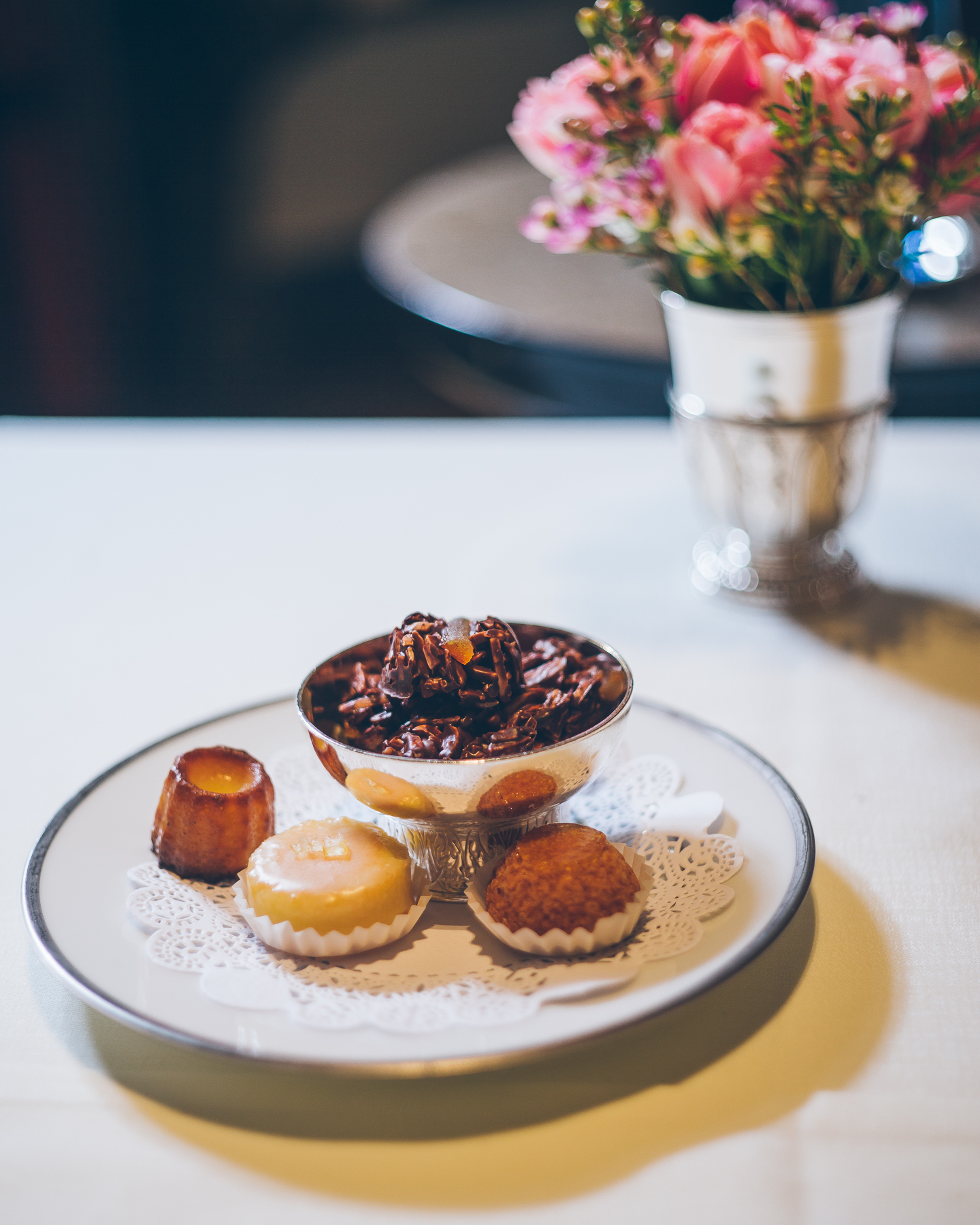 Winter Menu Jan 2017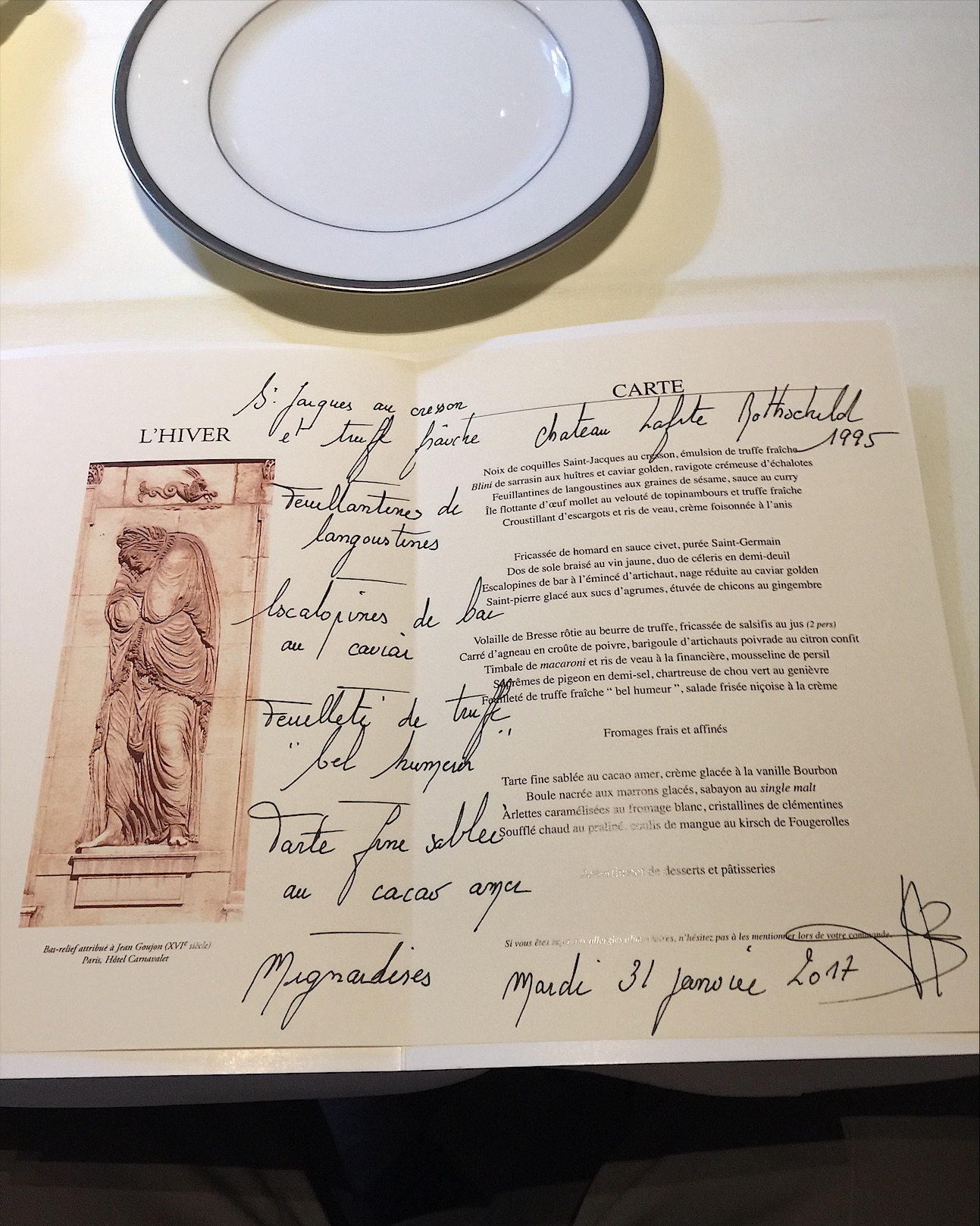 697 euroes, all food, 1 glass of 1995 Lafite, service, tax, for one person. Considering the quality, quantity, you get what you pay for.
The best ingredients in its most pristine condition, handled with the utmost respect to polish and to finesse to exacting proportions as the recipe demands in ultimate service of maximising natural flavour. That is all of L'Ambroisie.
And what is that really? This purest of pursuits for gastronomic ideals? What is the result of a craftsman who has spent his life in the kitchen flirting with the realities of achieving it? This is what I came away feeling. Seabass and Caviar is Perfection. Langoustines and Curry is Perfection. You would apply the same measures to the perfect burger, the perfect tonkatsu, the perfect scrambled eggs, the perfect millefeuille, the perfect amatriciana, the perfect zuke Oma akami, the perfect lasagne of crab and champagne, the perfect white-chop chicken rice.
Supply, demand, politics mean that they are priced unequally, but the ultimate goal is the same: pure deliciousness. The very thing you and I, as lovers of food chase. Heaven's gates don't always open, but you persist with your search to savour that grail moment nonetheless. You seek that to remind yourself of the fundamental reasons why you love something as dearly as you do, to cure the burning in your loins. Passion is priceless. And that is what L'Ambroisie is.
Details
L'Ambroisie
French National Treasure
£…it will be worth it…
9 Place des Vosges 75004 Paris, France
Tel : +33 (0)1 42 78 51 45
Metro: Saint-Paul / Bastille