10.30pm. Out from Goncourt station to Le Chateaubriand, the coolest bistro in Paris. The mysterious appeal of the quintessential modern bistro. It has those lived-in, well-maintained features from before Inaki's time like those mosaic tiled floors, wood panels, yellowing white walls taking on a patina that only time could have gifted. Le Chateaubriand has the best atmosphere of any restaurant (not ever, just ones that I have visited), the neo-classique creation of Gastronomy's Mr Cool, Inaki Aizpitarte. The rebel magician and talisman of the Le Fooding movement, reversing French cuisine with his inimitable self-taught style.
His 'cuisine de vagabond' is celebrated (at one time, the highest French entry no.9 on the World 50, now ranked 21) but has certainly divided opinion. Maybe he's ahead of his time or maybe it really is the emperor's new clothes. My own experience was simultaneously amazing and amazingly terrible.
Inaki's work is always an intriguing subject, his cuisine is really like none other, amassing a palate built on life experience (so I gather from various accounts on the interwebz). In a previous life, he had tried his hand with stone masonry, then briefly a landscape painter and even dabbled in oenology in bling central Bordeaux. His first brush with gastronomy came at Rozata in Israel, eventually finding his way back to France in Transversal – the restaurant attached to MAC/VAL comtemporary art museum and then to the opening of Le Chateaubriand and Le Dauphin in 2006 and 2010 respectively. This has ended up on the plate as a flowing tapestry of worldly influences, resulting in a style that is wholly unconventional. His cooking is unique for sure, hence the success. The trouble is sometimes his cooking (or lack of) is so subtle that at times, it doesn't make much sense.
This month, he is finally opening the doors to his first London outing in Mount Street with his long-time partners Franck Audoux and Laurent Cabut and in collaboration with film producer Varun Talreja. They have decided to name their London outing after a famous 19th century Parisian palace of hedonistic pleasure (of an entirely different nature of course) : Le Chabanais.
This is a whole different type of patina to the comparatively quaint Belleville bistro. Le Chabanais' design is by Clement Blanchet and like Le Dauphin (also designed by Clement), it has this all-consuming, continuous theme that envelops the interior design. If Le Dauphin is an 'obsession of white' , this would be an obsession of copper. Aside from the ceiling, the rest of Chabanais is almost entirely covered in an armour of brass. It looks roughly polished, with a burnished appearance that imbues the room with a copper glow. Like Le Dauphin, there is also a bar table for diners – 30ft long made from veined black marble. To match the luxurious room, are these beautiful American made (and presumably American) walnut chairs by Bassam fellows – supremely sanded down and held up by brass legs. What lavish interiors. It just oozes money. Like it's namesake and postcode I suppose.
Bread, butter, radish.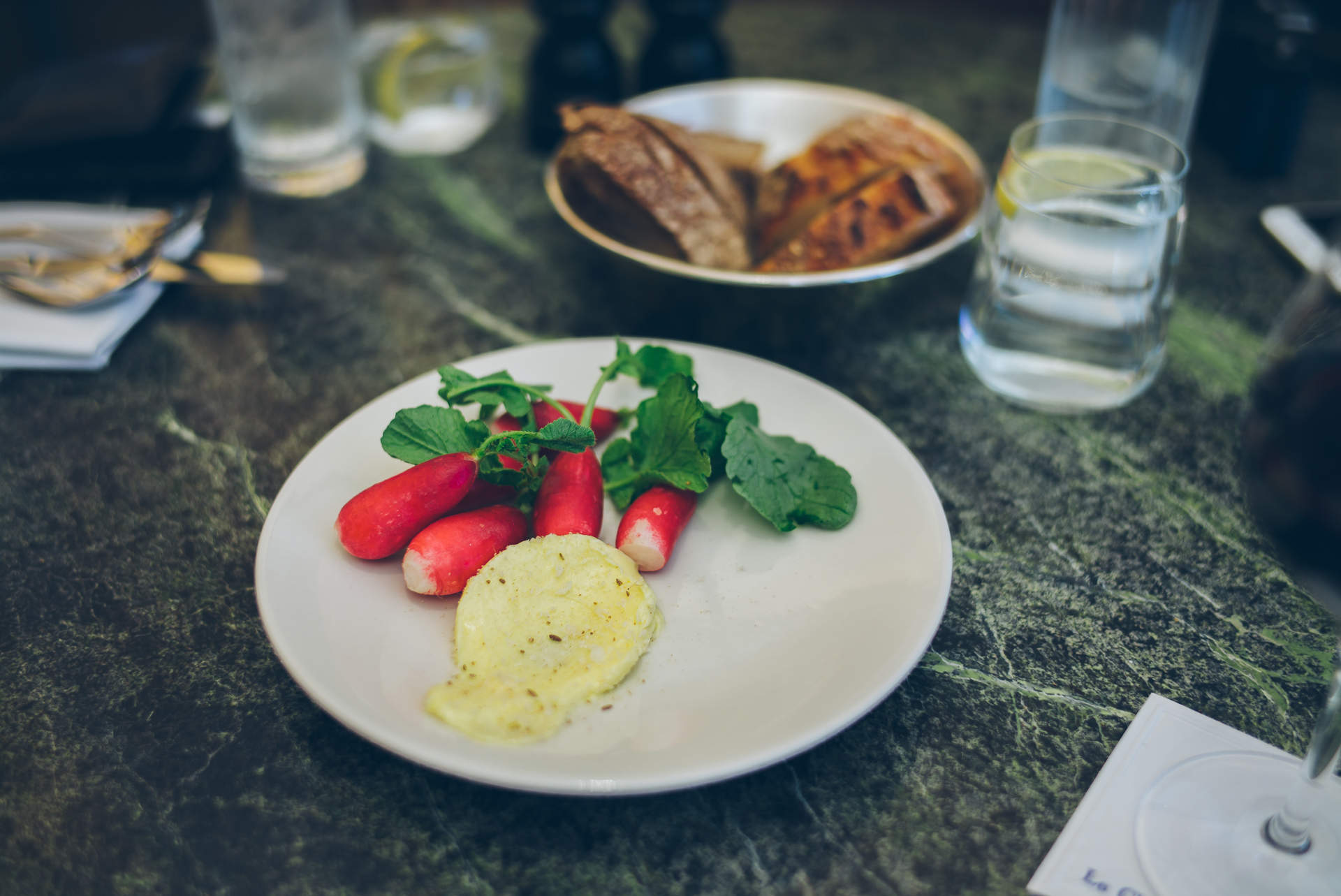 In their own words, LeChab's menu is inspired by, rather than a like-for-like of the Belleville original so there are some differences here. Paul Boudier runs the Chabanais' kitchen, who has obviously cut his teeth at Le Chateaubriand prior to this stint.
The first difference is there is no taster menu. Chabanais has a 3 course ALC meant to be based on British produce. This is somewhat a relief as Chateaubriand's ever-changing menus can either be amazing or amazingly bad. The second are those eye watering prices. Today, Le Chateaubriand's taster is 70euroes but there was a time when it was around 45-50euroes for 4 to 6 courses, the point being that it was always designed to be affordable. But no matter how you cut it, Chabanais is expensive. That's the Mount Street premium I suppose. But why the postcode and why so much bling? Why not East London? More in keeping with fashion of Le Chateaubriand no?
I booked in for their original late May opening which was scuppered due to some mechanical faults. They rang me back a few weeks later after they sorted their issues and I showed up for their first full lunch service last Friday with my brother and my mate Mark.
-STARTERS-
Chicken liver ravioli, fennel broth £12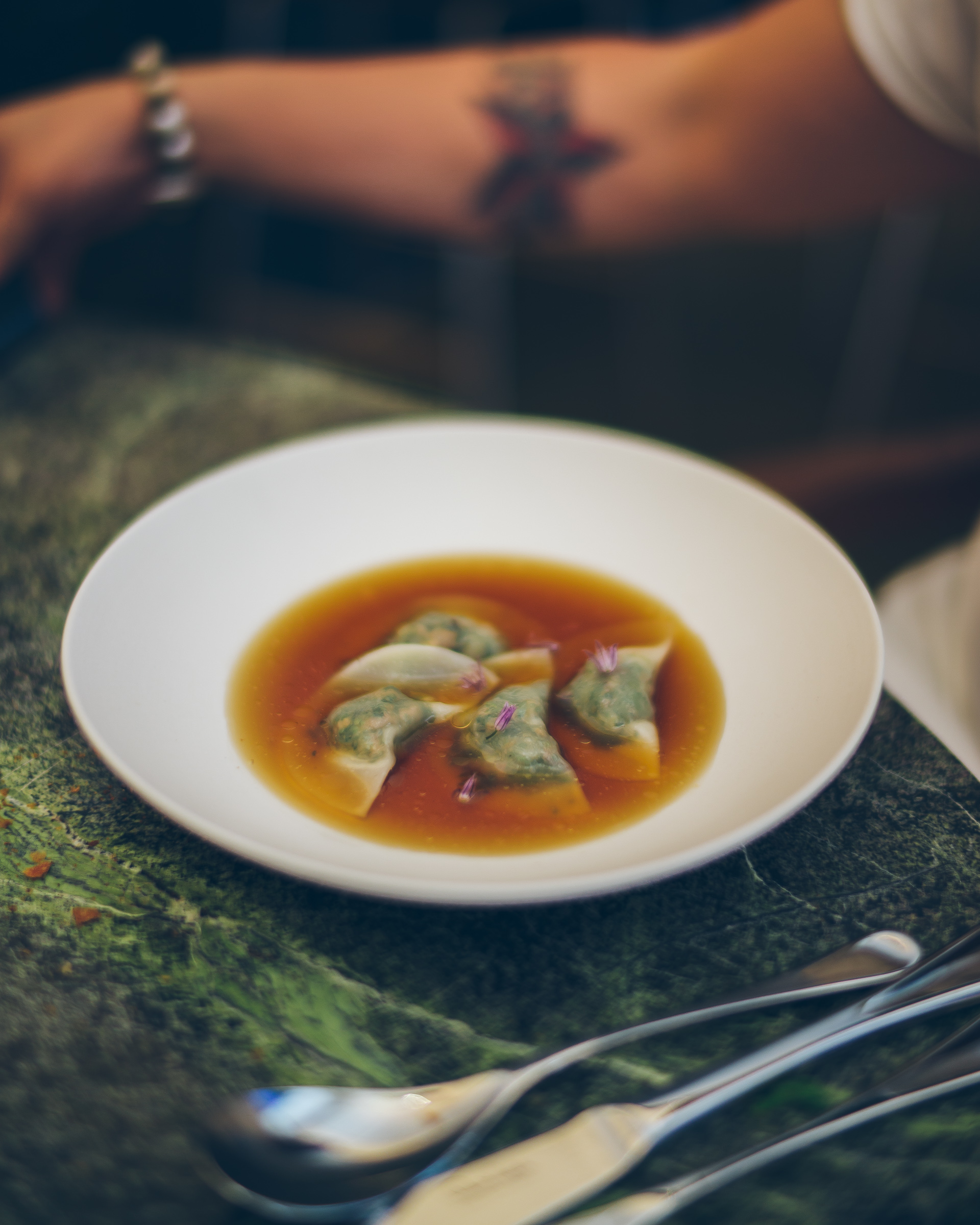 Mark's course. A delicate fennel broth made with yuzu seeds and garnished with tiny aromatic purple flowers, presumably sage blossoms – fragrant herbs to complement the liver. The ravioli itself is al dente and the mashed liver filling granular, well-seasoned and subtle. Slick innit?
Basque squid stew, £9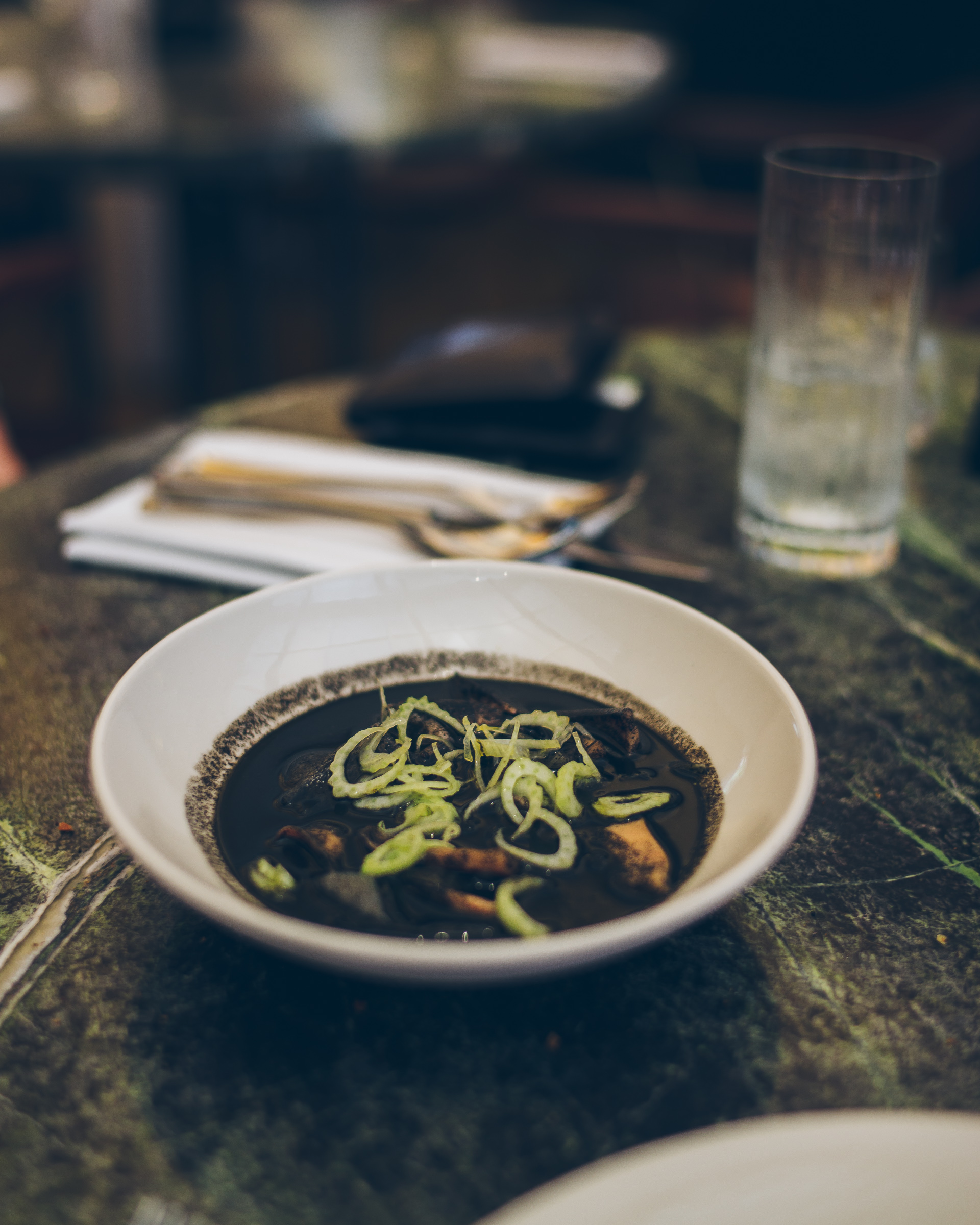 My brother's.
The squid ink stew is comfort food, another potent and balanced soup, but this was uninteresting, one dimensional and so there isn't much to discuss.
Langoustines, orach, Iberico jus £21.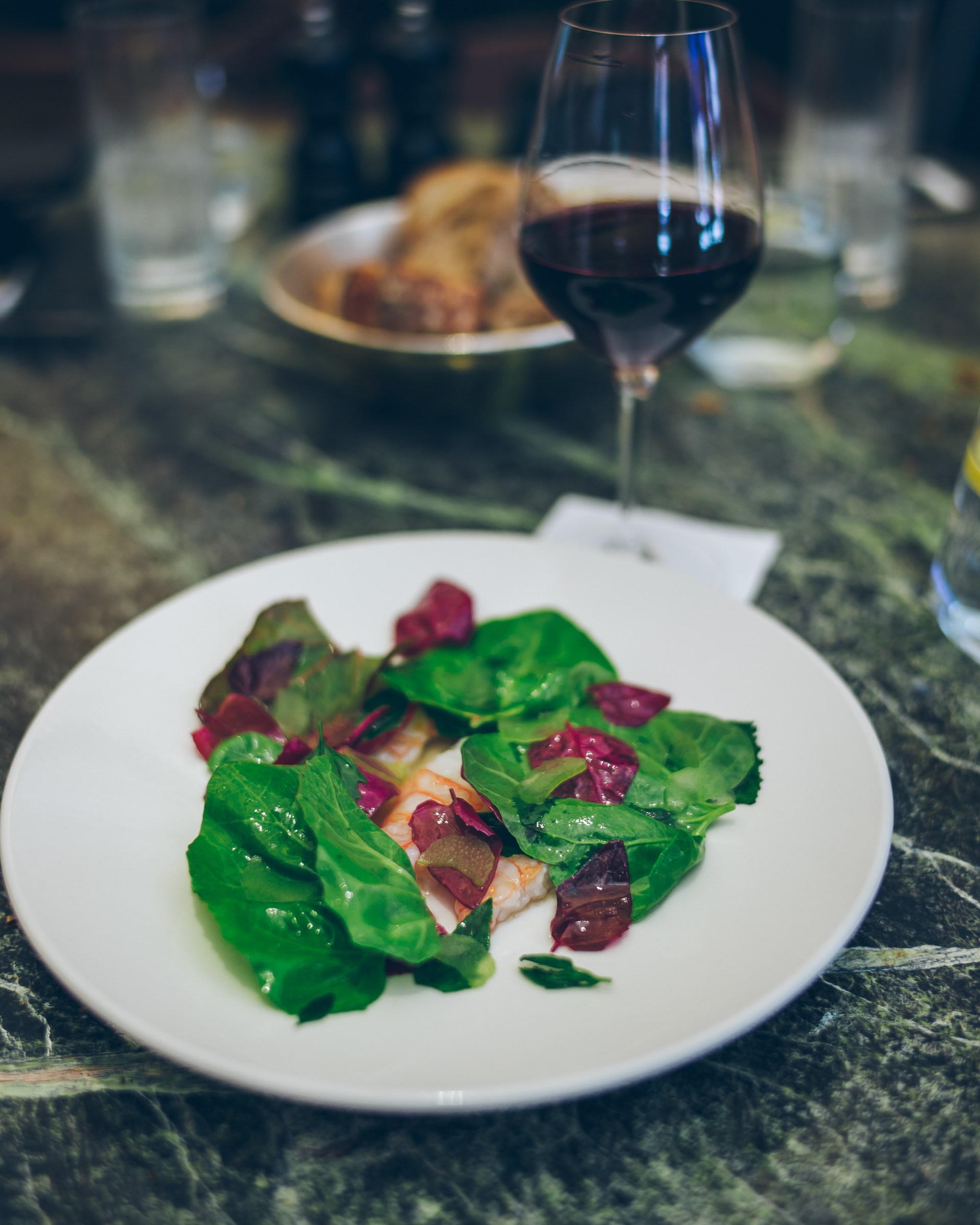 My course. Vegetable canopies – I remember this, styled just like Chateaubriand.
Yes. You read that correctly – £21. Expensive. But..
… Delicious.
Stunning langoustines, atypically meaty, where are these from I wonder? Scotch? Aside from Phil Howard's signature, I can't think of better langoustine dishes in London. The cooking is so delicate, so sweet, semi-translucent, the integrity of the flesh is fully intact. Wow.
And then that jamon jus – like a sort of watery olive oil carrying the essence of iberico, perhaps it even could be describe as a sort of iberico dashi. It just adds so many layers of complimentary flavour to the shellfish, the oiliness making for even silkier textures, the Iberico flavours as a kind of seasoning.
The clarity of the recipe, the perfect execution – seemingly effortless. The Le Chateaubriand feeling. Cool.
-MAINS-
Veal sweetbreads, smoked aubergines, elderflower £26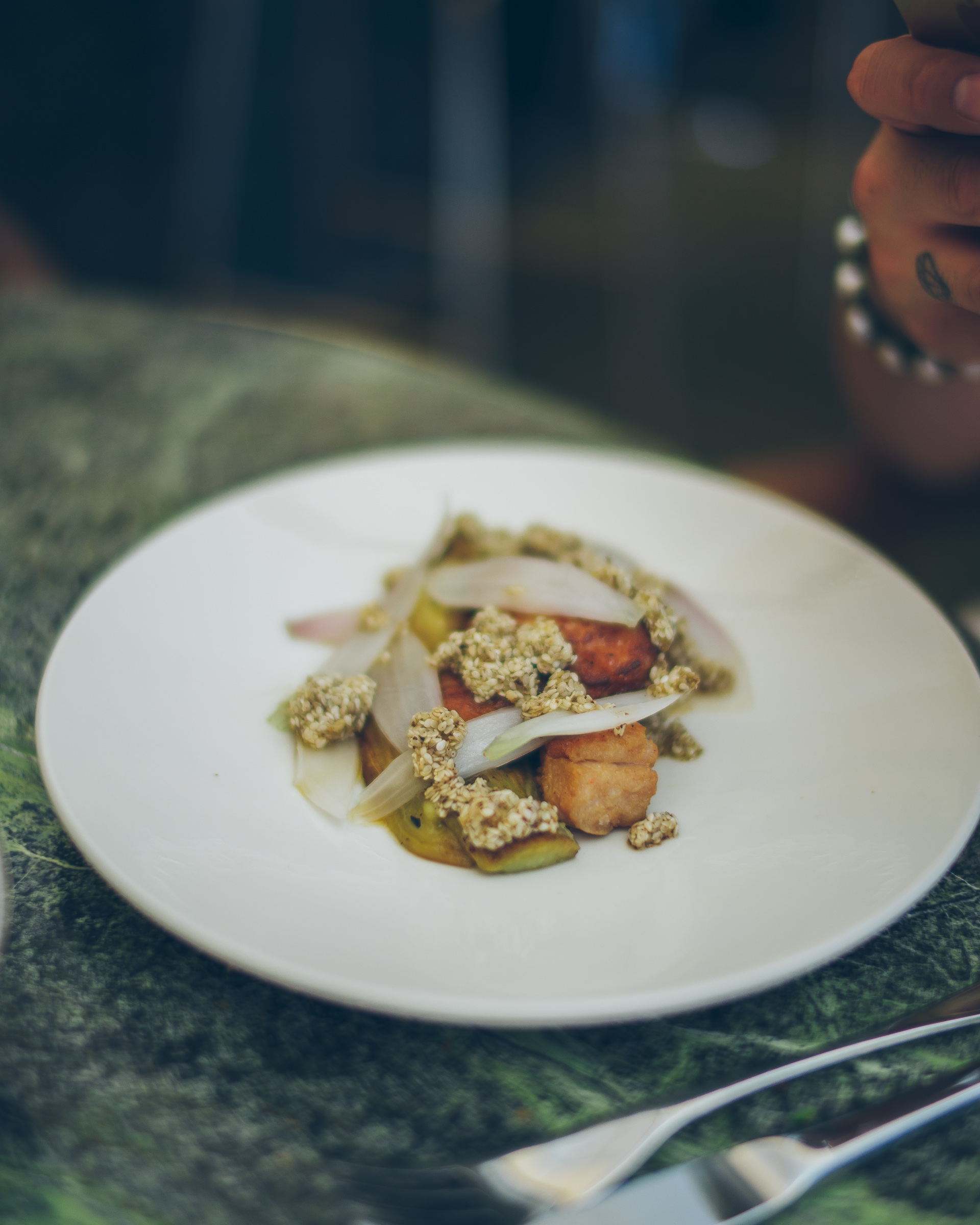 Gunpowder aubergines with sweetbreads expertly handled by the chef. Creamy inside, crispy exterior, subtle, easy going, a pleasure.
Lobster, cannellini beans, redcurrants, tarragon £30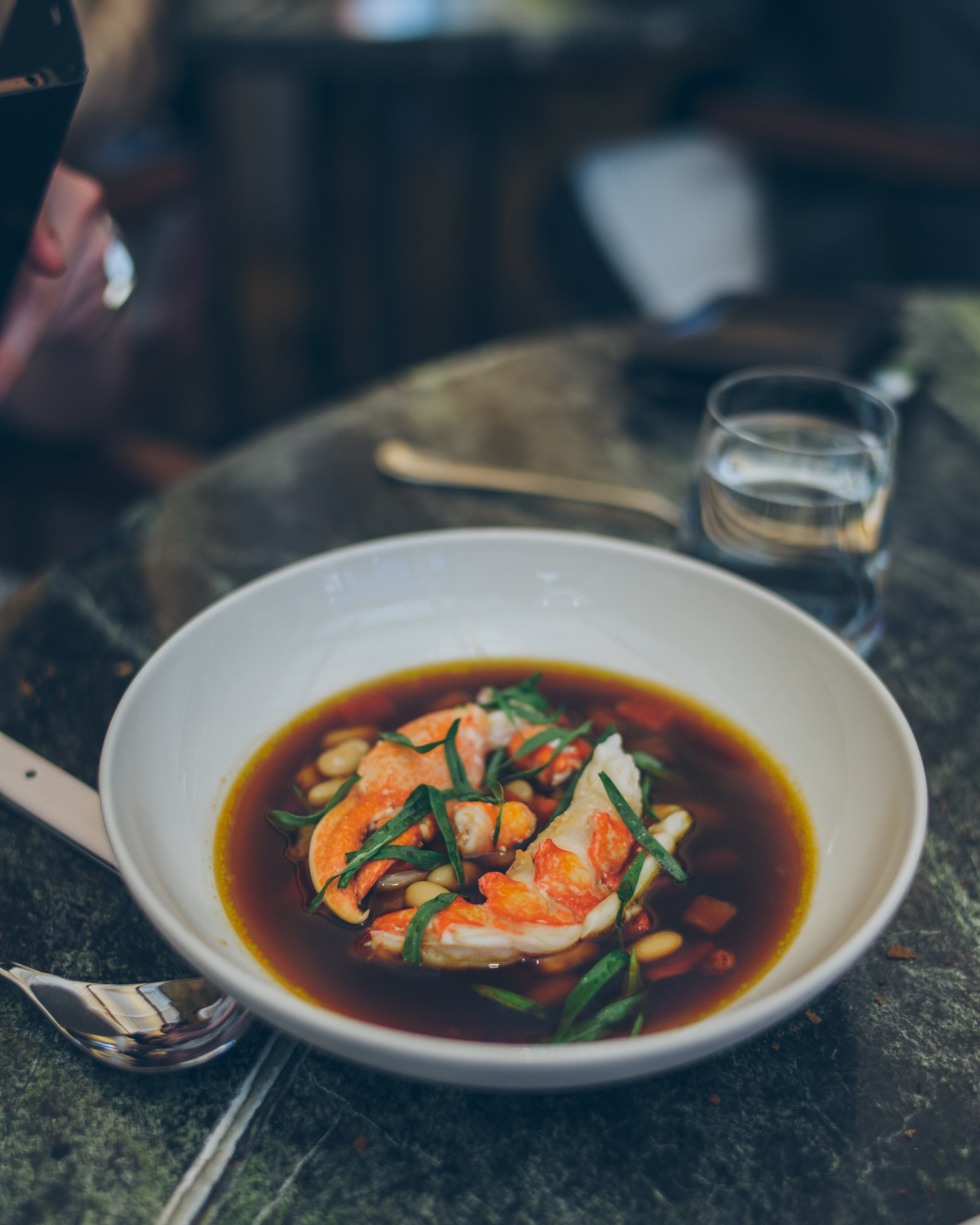 My brother ordered this. We didn't ask about the provenance of lobster, but it tasted top quality. Was it Scotch blue or Dorsets? I couldn't tell anyway. One whole claw and tail, carefully de-shelled and gently coaxed to retain the natural textures. So fleshy, so sweet. Luxurious.
Like all the dishes, that soup – so much power but also finesse and balance – the prime ingredient just revels in it.
A tinge of sweet and plenty of umami, presumably with the juices from the beast itself. This soup is so soothing. It tastes like it can cure all pains. It reminds me almost like a Chinese double boiled soup, the red-currants were redolent of goji berries. I don't know. That's what it reminded me of. Unique flavours, but at the same time so natural, so balanced, harmonious. Intricate lobster dish.
Guinea fowl, crushed vitelotte, ground ivy £28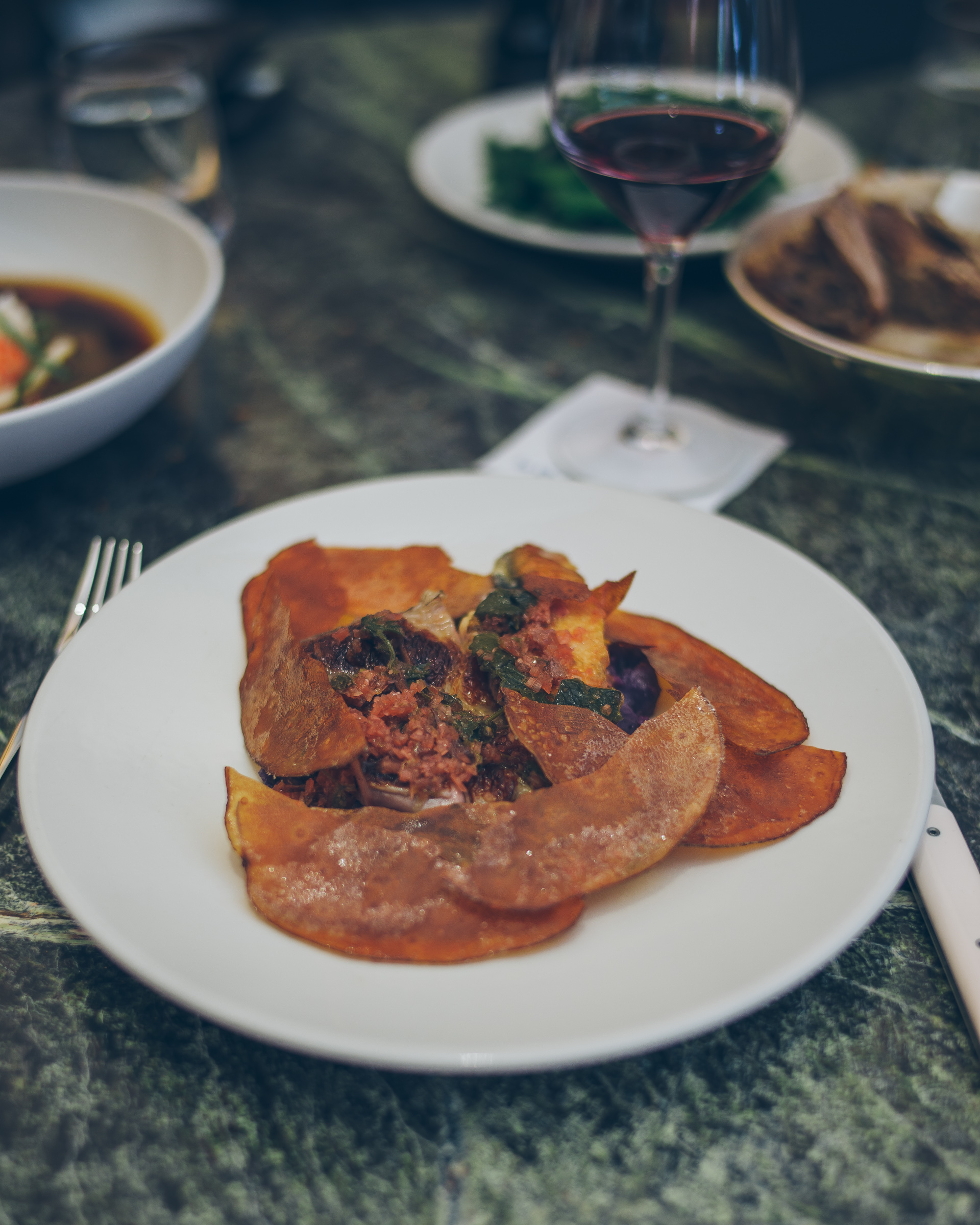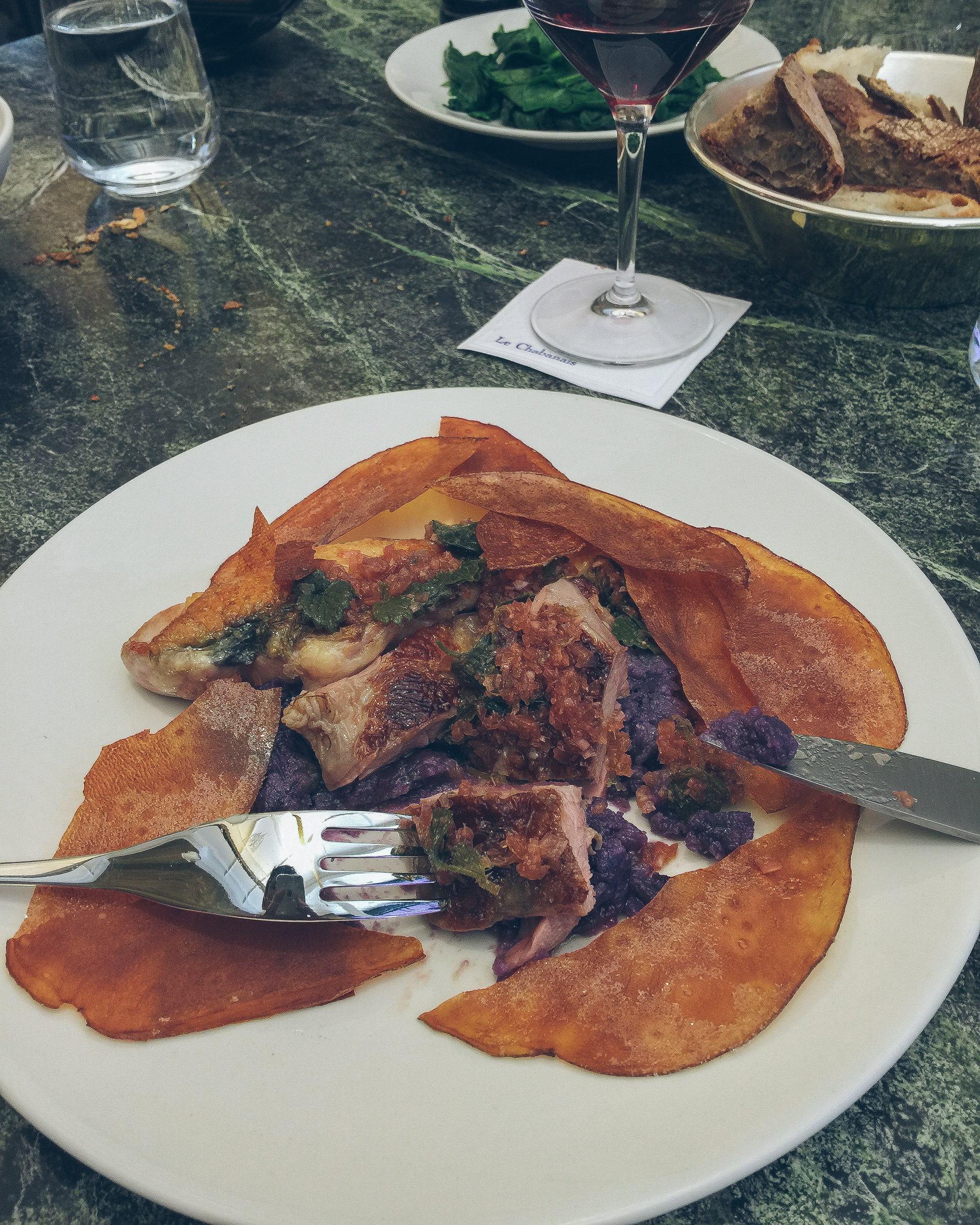 Beautiful purple potatoes. Roughly crushed & generously seasoned – the sense of natural cooking about it. The flavour profile seems so unique, almost a little weird (good weird) – a new flavour combo for me. Something herb-like, aromatic, like flowers and lime (like lemongrass?) , something which could be Asian but also is not. The best descriptor I can muster is like a kind of savoury key lime pie, and I'm probably completely off on that too. And finally expectedly, the perfectly cooked guinea fowl. So juicy and perfectly seasoned, with potato 'chips' for texture.
Just amazing. Speechless, I loved this dish. Some fresh ideas going on, yet also just so straightforward. Effortless.
-PUDDING-
Clockwise from 9 o'clock
Cherry Sorbet, kalamata olives £8
Jasmine Creme Brulee £6
Paris Brest £9
Mont Blanc £10
Inside the Paris Brest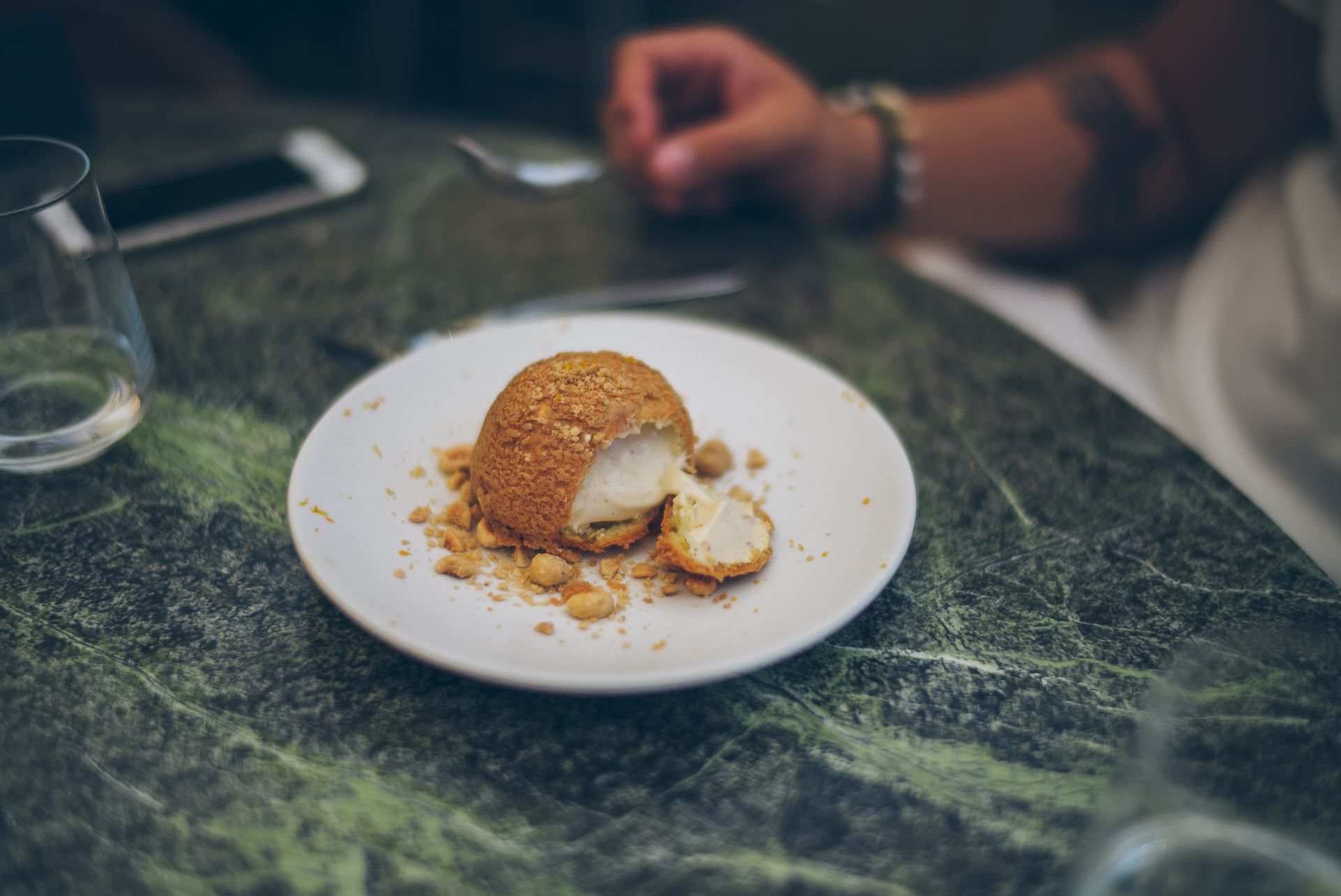 By pudding, we were discussing the minute twists with every dish we tried on this superb debut menu. When you read it, it doesn't sound exciting, but then you taste the food, and you are greeted with this feeling of wonderment and surprise.
Let's talk about that Mont Blanc. Some chestnut purée on top of cream and a very smooth and creamy chestnut ice cream. You get this marron glace but with smoothness for texture. Garnished with mushrooms, not sure if it actually did anything for flavour, maybe it imparted some earthiness. The pudding is covered with giant meringue flakes and I hazard a guess shaved chestnut. Yes. The essence of Mont Blanc, rebooted.
The smooth cherry sorbet with a savoury garnish of olive powder, the smooth hazelnut (ice?) cream inside the brest and a conventional creme brulee scented with jasmine.
Every pudding was all about smooth textures and the essence of sweetness. Just brilliant.
We paid £228.94 for three of 3 courses, 1 drink, coffee. £76 lunch per person. So yes. Expensive.
I applaud Paul in the manner he has chosen to channel Inaki's Way. Maybe it was partly to do with the ALC format or maybe that all the dishes actually featured cooked food. Whilst similar in spirit to Chateaubriand, this was definitely the better meal. Like Chateaubriand, where cooking is applied it's been superb. They are careful not to denature the natural textures.
And then you get this recipe layered on top of it, non-conformist flavour pairings. Creation. Dynamism. Something new, something fresh. The food just jumps off the plate. The recipes are like curved straight lines (yeah!), with clarity and purposeful purity.
Formidable. It's burned into my memory now. Those sweet langoustines and then those purple potatoes, the chestnuts. Oh man, I need to go back. It's a shame given the location that it needs to be this much more expensive. Sigh.
Overall however, I'm satisfied with this. It's my most anticipated opening this year, and I loved this first meal. It's a good thing that Inaki has come to London, but I don't think it replaces a trip to Le Chateaubriand, if you were curious. That place does have a unique atmosphere. And French produce.The coolest bistro in Paris now has a less cool little sister in Mayfair. Fingers crossed, the menu stays consistent like this…
Details
Le Chabanais
French
£75pp
8 Mount Street W1K 3NF
020 7491 7078