So here we are at Jason Atherton's next in his vastly expanding campaign for global dominance. This would be number 19 or 20 since 2011, I think? You already know about his trail blazing from his Maze days, through to Pollen Street, the diffusion Socials and the opulent Berners Tavern. This wine and tapas bar is his most social of the Socials to arrive yet.
The interior design (by Russell Sage Studios) feels leathery plush, steely, with moody lights and the overall colours are rich, dark and brooding – like stained wood with thick coats of maple syrup. On the ground floor, there are a couple of tables plus an L-shaped wine bar with a full hot kitchen behind it. It doesn't look small, but seems over-furnished and so it feels tight.
And that hot kitchen does emit quite abit of heat. Behind the long end of the bar sits a full josper grill. You don't feel it when the door is shut, but I sat there and boy, did it start to boil when it swung open.
Downstairs is what they call their cellar bar, where there's another kitchen handling charcuterie and cheese. More brooding plushness and a lot roomier down there and loads of large format first growths on display behind a glass cabinet. The downstairs is much more comfortable, so head there when you visit.
The tapas menu is fashioned by Frankie Van Loo, who has been with Jason since Pollen Street Social opened. Prior to this engagement, he was at Social Eating House. Wines are exclusively by Jason's key sommelier, Laure Patry, who has spent the good part of the last decade working with Jason from Maze years to the current Social years.
-Early Days Hiccup-
Ans so I'm here for the first full service on a Saturday under the warm embrace of the mid-June sun, and these beginning days are either well-rehearsed show and tells or just a fabulous mess. Unfortunately, it was the latter.
So I arrived first, ten minutes ahead of my brother, and I asked to sit at the bar but was told they wouldn't sit me until whole party arrive.
Ok…. but even for two people who want to sit at the bar? Really? Doesn't having a bar (or two bars counting the one in the basement) mean that they can offer me a drink at the bar at least, while I wait?
Nope. I stood at the entrance, whilst the receptionist watched me like a hawk, blocking my field of view every time I glanced at the half empty bar, looking ready to boot me out at any moment. Why am I made to stand around at the entrance to a half empty wine bar anyway? Be flexible? Please?
So we sat down, and more dysfunction, as staff appeared to still be working out their roles. Dedicated servers only carry plates to tables and will not take any orders. For that, you have to flag down the team of waiters, who appeared to be under-staffed on our visit. And this is mid-afternoon, half full wine bar, and service was just slow.
Anyway, on my 2nd visit a week later, they seemed to have smoothed out the kinks. Afterall, it is a Jason Atherton restaurant and he's renowned for service.
But that's about the only negatives, the rest of this blog post is (yet another) full of praise. Plate after plate of gorgeous food. Advanced props to Chef Van Loo – This is a dazzling array of skills on show.
Jamon, manchego toastie, quail's eggs £6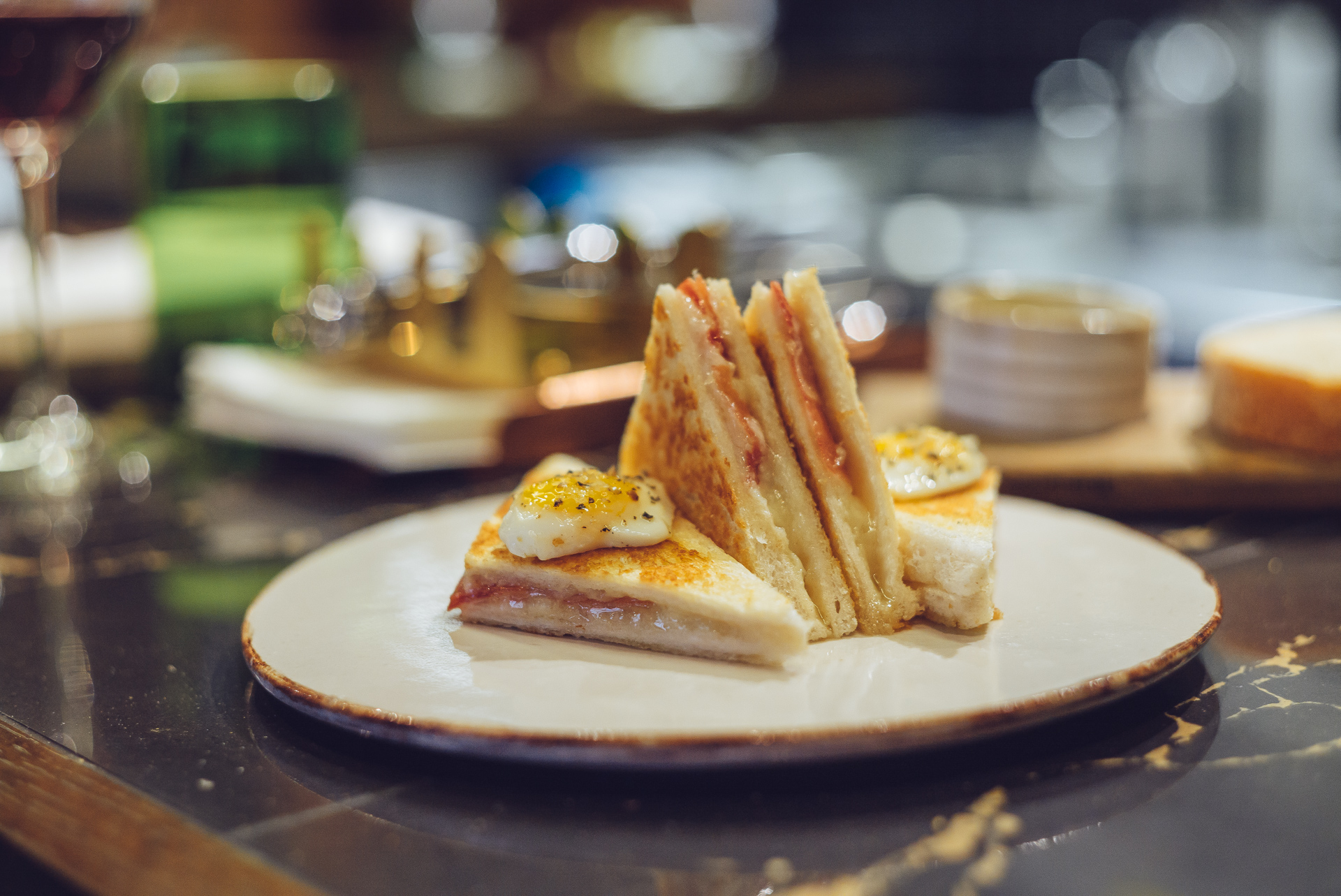 We start with simple pleasures then – a premium ham & cheese toastie, made with iberico and a mature manchego, topped with two fried quail's eggs. Man, simple pleasures indeed. Sipping this with wine is infinitely superior than those components on their own. Love it. I ordered another one.
-WINES- (Abit long so…)
You might recall my slight disappointment with Berner's wine list, for which I thought they could have made more compelling use of the Coravin.
Their by the glass list (standard 125ml) is not exhaustive, but it is solid, about 16 of each red and white, as well as a selection of 4 bubbly ones. Mainly European, starting from £4 up to £20 per glass – good pricing spread. They don't make it obvious which ones are Coravin, but from two visits, the expensive ones seem to be drawn using the Coravin.
They do however use the Coravin system to offer themed wine flights. The following from their opening menu look solid to me.
***From the way the menu reads, my blog post below assumes you get 3 glasses each of 75ml measure, which equates to a total of 225ml per flight.
If however, it is ONLY 75ml in total per flight (ie: 3x25ml) , then these flights would be hilariously overpriced.***
Chardonnay £27.5 75ml
Saint Aubin 1er Cru Clos de la Chatenière, Hubert Lamy 2010
Langhe, Marchesi di Gresy, Piedmonte 2012
Santa Rita Hills, Sandhi Wines 2013
2000 Vintage £105. 75ml
Château Montrose, St Estèphe 2000
Château Haut-Bailly, Pessac Léognan 2000
Château Troplong-Mondot, St Emilion 2000
Sandhi and Lamy (from a 2010 no less) wines for the Chard flight are great choices. £27.50 almost a no brainer, this would be my pick especially for summer.
A stalwart St Estpehe, a rising Graves star and a dependable St Emilion from the landmark vintage – looks almost too good to pass up. On the street, you'll expect to pay about £90 for each of the above (maybe abit less for the Haut Bailly), so at an average £30 for a 75ml, that makes it about 3 to 3.5x mark-up. Industry average. Not bad at all.
No doubt their wine flights will get more exciting over time as winemakers identify Social as a place to run their events. Hedonism might have to compete for attention to host tastings then. I'd love to sit in the cellar bar for a Pontet Canet tasting and have those toasties to munch on.
On the first visit, I drank a glass of 2013 Nebbiolo by Mauro Veglio (£8.50) which is exactly the sort of thing you drink in wine bars, exhibiting young red fruits, some grippy tannins and probably other notes which have since faded from memory.
On my second visit a week later, I tried a 2013 Catarratto by Nino Barraco (£8.50) which was more exciting, smells like a Napa Chardonnay (honey butter toast), but with a very deep hue that had me wondering if it was an orange wine. Not wine from oranges, rather white wine with a distinct orange tint due to contact with the grape skins. On the 2nd visit, I also drank a plummy & smoky glass of 2004 Virtus by Marchesi di Gresy, Piedmonte (£15), drawn from a Magnum using a Coravin – Fresh and loads of puppy fat – still years to go for this wine.
I'm very happy to see Thibault Liger-Belair on the menu. A fabulous Burgundian winemaker (with family ties to Domaine Comte Liger Belair) who own plots mainly in Nuit St Georges (and Richebourg!). He champions biodynamic methods and his wines are atypically plump for Burgundies. His Les St Georges is a gorgeous Premier Cru for example.
The La Chamotte offered (2009) is a NSG plot that straddles Premier Cru plots of Aux Argilats and Bousselots and is always a beautiful wine and excellent entry point to his juice. I imagine the 2009 will have the lushness of the vintage, but for me just a tad much for £21 a glass. A real bummer. They usually sell for £30-£40 a bottle on the street, making this by the glass pricing also about a 3 to 3.5x mark-up (21 x 6 / 35).
By the bottle prices are also generally also 3-3.5x mark-up, with some very nice lables. I saw Leflaive, Comte Lafon, Trimbach (CSH), DRC (*only* £4k for a Montrachet, that's actually not bad..), Fourrier, VCC (Respect. My favourite Pomerol) , Cos, Latour, La Mish. If you select carefully, some well-priced serious wine is found on this list.
Back to the food then.
Raw Orkney sea scallop, yuzu, radish, cucumber £7.0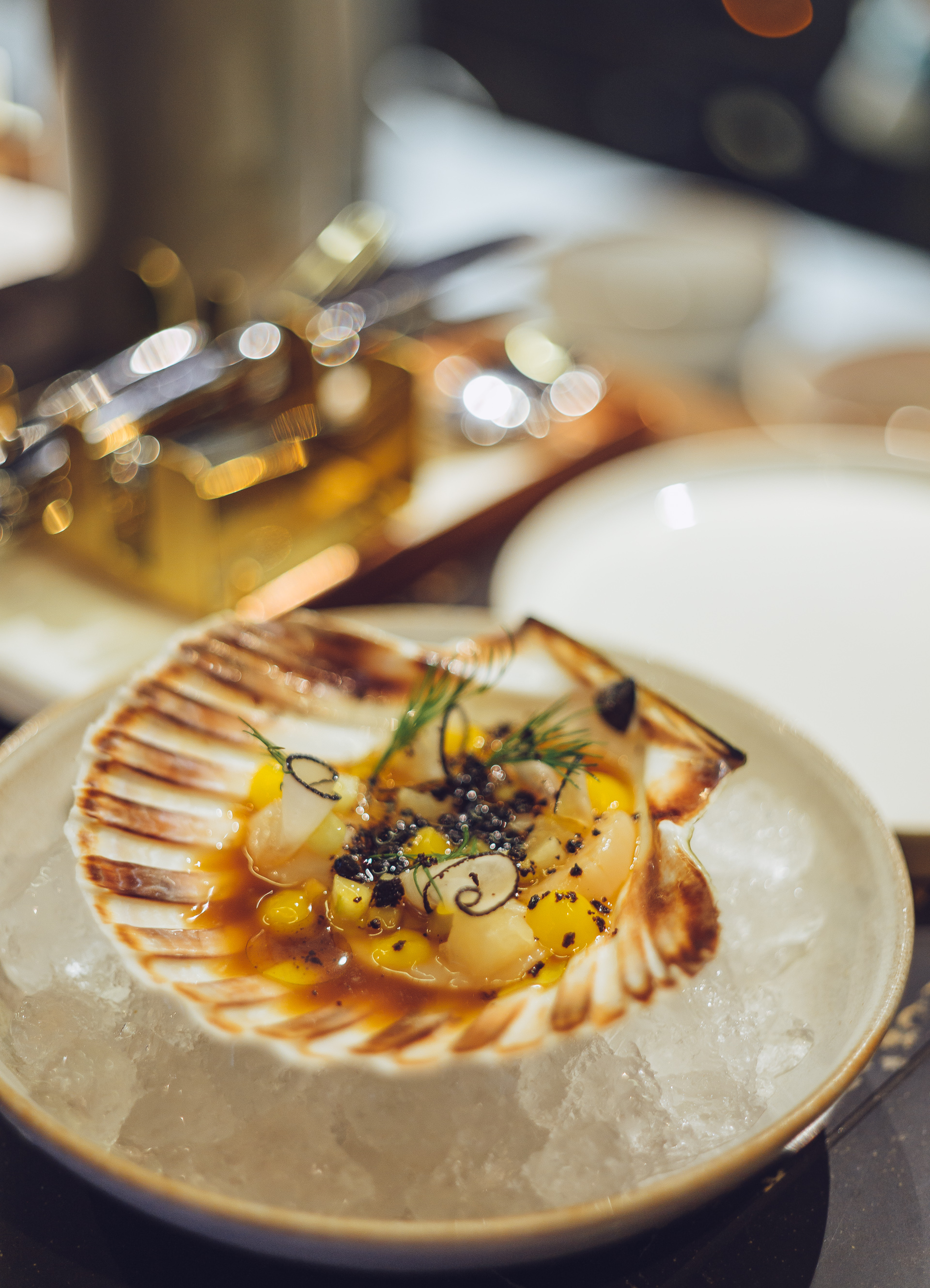 Ridiculously sweet, thinly sliced scallops, the yuzu & cucumber concoction tastes nearly like like a jus made from longan. It's all mineral, pure and clear – a near perfect compliment to the scallop's natural flavours. Stunner.
Slow-cooked egg, oxtail dashi, creamed potato £7.5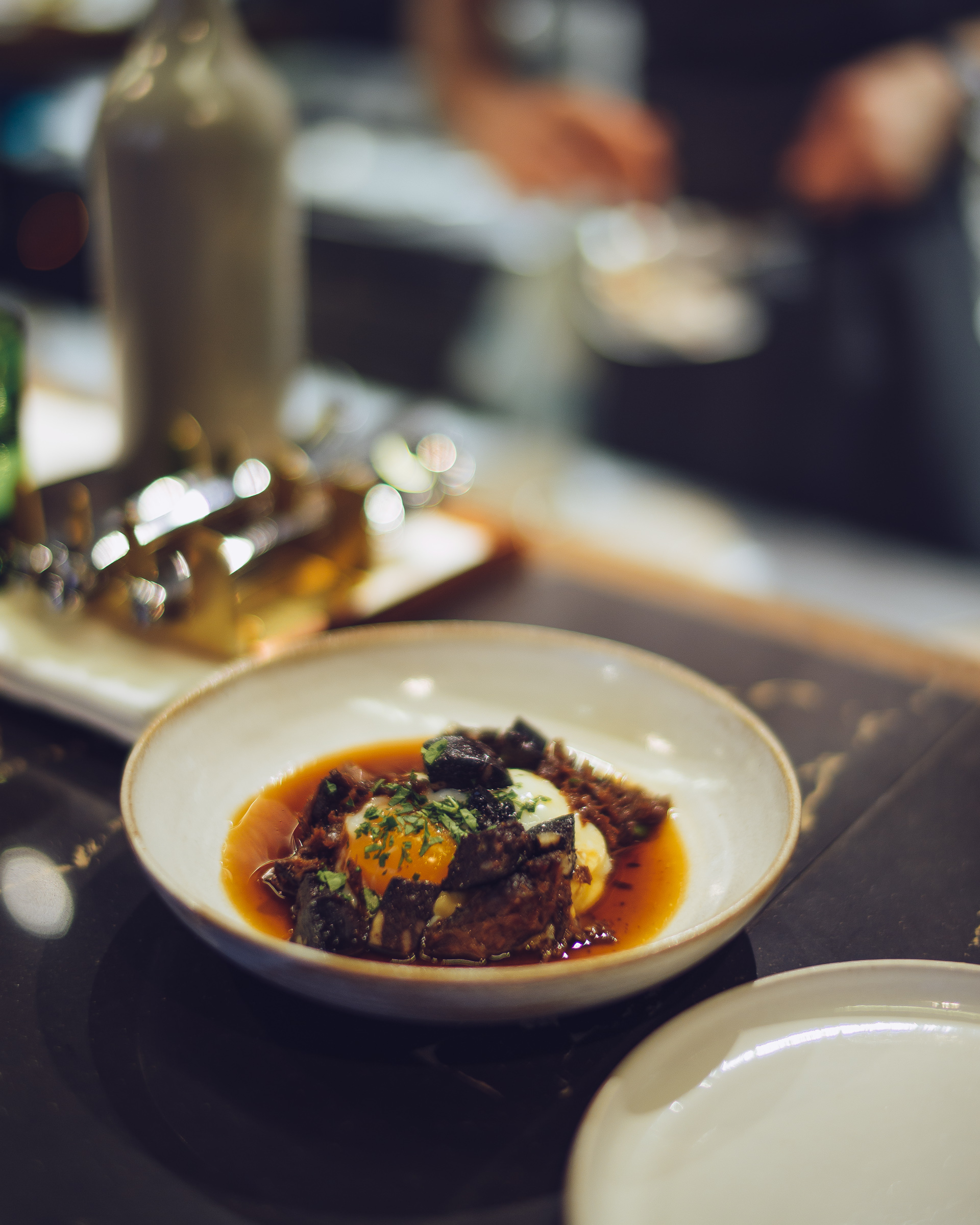 I think London in general loves poached egg dishes (I know I do) and you can find it on lots of menu today. So this dish is very familiar, except that dashi is just pure flavour-bomb. You taste it instantly. Wonderful.
The rest of the dish, runny egg, black pudding, potato puree, as well as tender flossed oxtail meat is just sheer goo-ey joy. Well prepared, well cooked, a complete recipe that oozes quality.
The same premium feel as Berners. This kitchen is a well-oil machine. They know their produce and they know exactly how to handle it. I finish up, wishing there was more. Pure class. Purr…purr…purr…
Salt-baked beetroot, sairass, red wine and pine nut dressing £5.5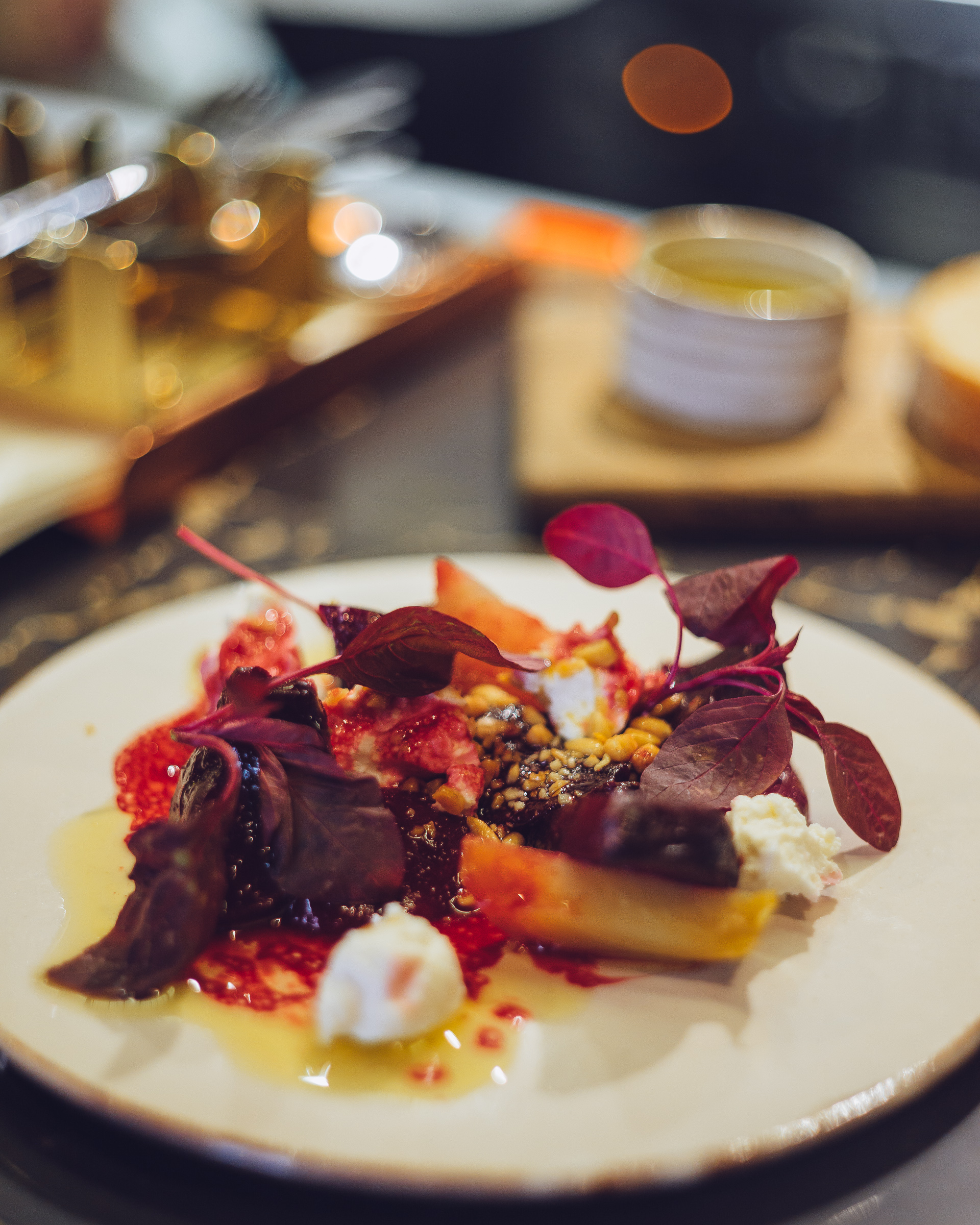 Like the eggs dish, it's hard to fault a solid beetroot, cheese and pinenut dish – surely this is by today, a classic combo. Sweet caramalised red wine sauce plus a tinge of complexity with those baked beets.
Roast milk soft serve ice cream £3.5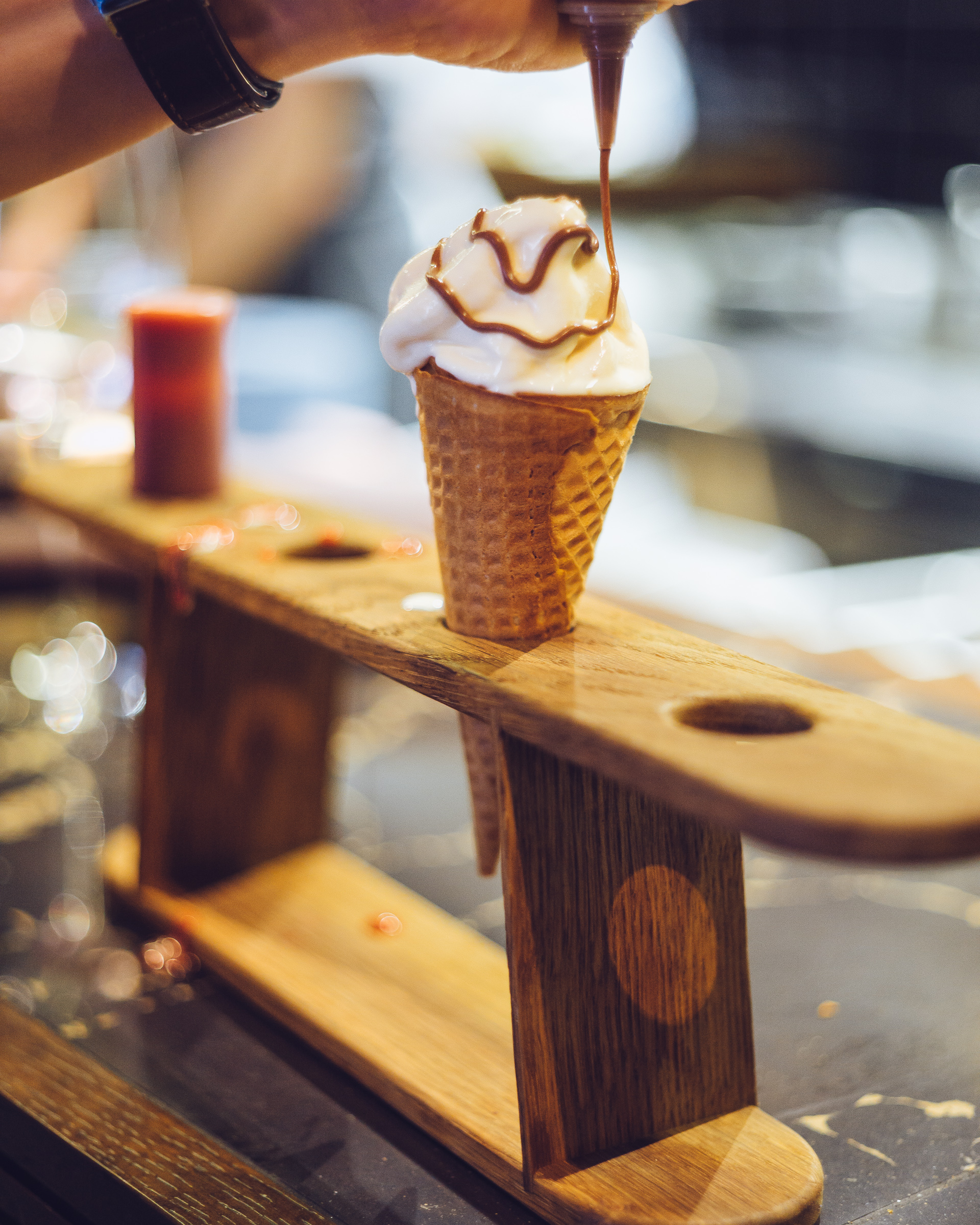 We finish with a soft-serve ice cream, with personal squeezable bottles of chocolate and strawberry sauce. I applaud the pricing – it competes with the fella on the street (!) – of this and other puddings on the menu.
Jason's roast milk whippy has a rich creamy flavour about it, but sadly too much ice crystals and not enough air, so it doesn't beat Mr Whippy. There are a number of brick and mortars doing soft-serve now. Gelupo's soft-serve is pretty good, Fowlox's is so-so, Meat Market probably the best of the lot. Nothing beats standard Mr Whippy though. My favourite is from this lady who runs her stall right outside Speakers Corner. I want to say she sells one for £1.50 (with flake), but maybe its closer to £2.
All food described above are from my first visit, including two glasses of wine, it came to £77.63 for two. On the 2nd visit, we had a couple of dishes to go with two glasses of wine and paid £43.31. Considering quality of food and wine, ambiance, the menu is well priced.
The slow-boil of Atherton's growing Social empire – the Age of Atherton is here and now. Jason and his team have definitely nailed their formula – the cooking cannot be faulted – it is a picture perfect blueprint of a global restaurant empire.
We've seen a fair share of wine bars open in the last few years, and many have got it right. For example, the 28-50 wine bars which Xavier & Agnar opened are brilliantly well-conceived with straightforward food, correctly priced wines and buzzy ambiance. And rightly so, it has found success, now with three locations across town. I love them but if I had to choose, I'd have to go with Social every time. I think Jason's cracked it. He's done a great wine bar.
Especially the downstairs area (toilets have a looping PA narrating about historical wine facts), it's got that plush, brooding and private atmosphere, the food is to die for and it is open all day. Pop in anytime you like, have a toastie, a glass of wine, rest your feet from all that window shopping.
1800 words later, here's my three thumbs up and looking forward to many more return visits.
Details
Social Wine and Tapas
£40pp
Wine and Tapas Bar
No Reservations
39 James Street W1U 1DL
Tube : Bond Street