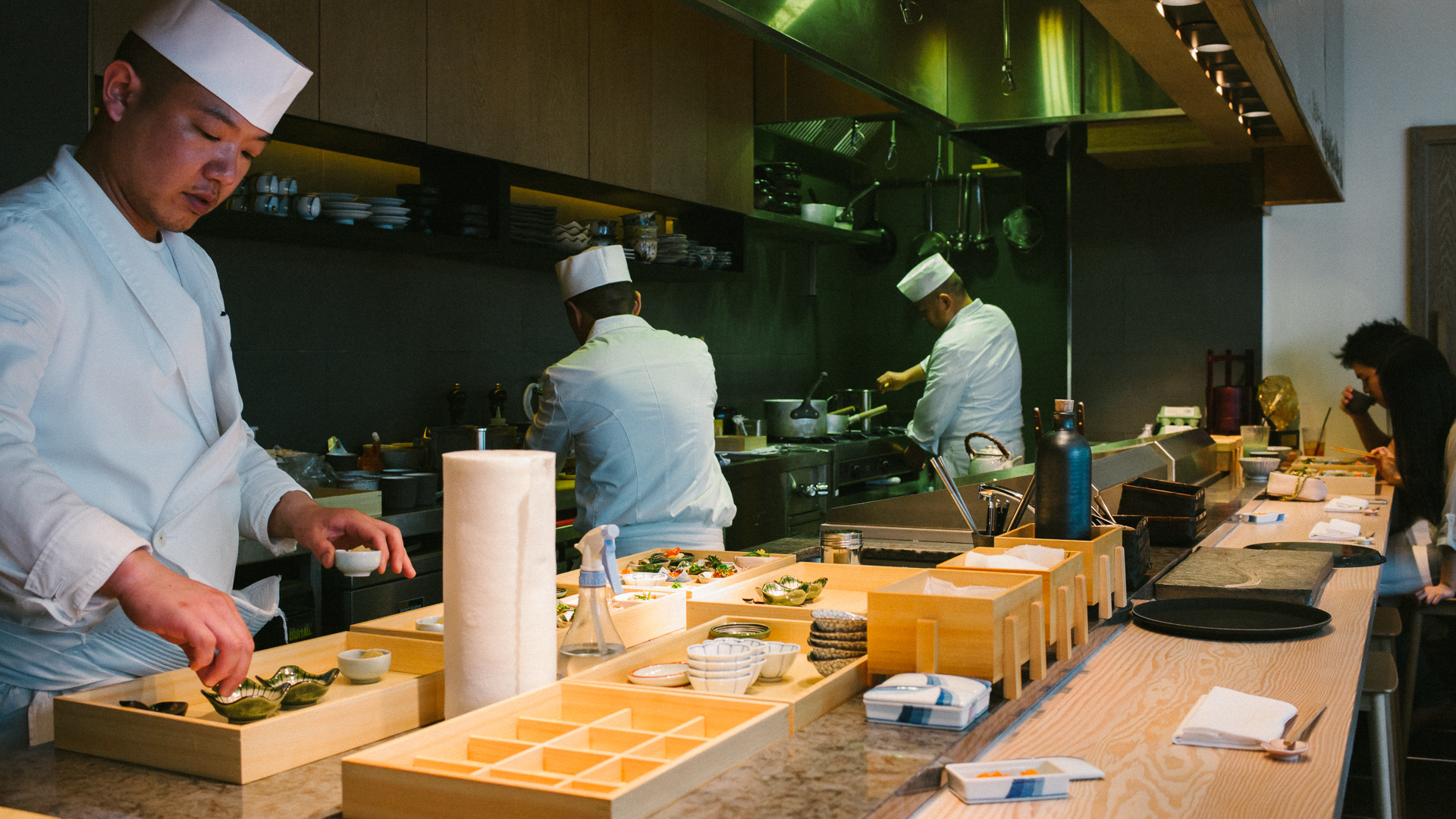 Yes, Wagyu is back in Britain, but at what price and what sort of quality? Skepticism was the immediate reaction to Engawa's Kobe beef claims. A regular misnomer claimed by some restaurants to generally describe fatty beef of questionable provenance.
But this is apparently the real deal; Their entire menu fashioned around those famous Tajima black cattle from the South of Japan. They are so into their Kobe beef that they import the whole cattle and do the butchering in-house.
The money behind this latest venture are Salt Group, who operate a dozen restaurants, cafes, bars (and a dog cafe) in Japan. Engawa appears to be their first overseas outing.
Engawa's closest comparison is probably 511 in Tokyo – offering a kaiseki themed entirely around Kobe Beef. The name 511 is derived from the grade of beef they offer over there, as in A511, a measure of the quality and density of marbling. More beef details later in the post.
I visited Engawa with my brother and we did back to back visits, starting off with Friday lunch. Lunch because their cheapest options interested me the most : a Beef Katsu set lunch for £35, and beautifully presented lunch bento boxes which start at £30. Decent katsu is a rare thing in London.
The restaurant can cater to 29 covers, but it is cramped inside a thin rectagular strip at the entrace to the swish Ham Yard Hotel. I suppose it is given its name because of its physical location at the doorstep to the Hotel. Who knows. The kitchen is completely exposed, with a kaiseiki-style kappo/counter. Decor is polished and smart, not unlike what you'd find in a fine Kyoto restaurant. Chefs are mindful that they're on show, but appear to be rather shy and do not interact with diners. They leave the softly-softly to the excellent front of house who are well trained to handle explanations and are generally knowledgeable about their offerings.
.LUNCH.
Kobe Beef Katsu Gozen £35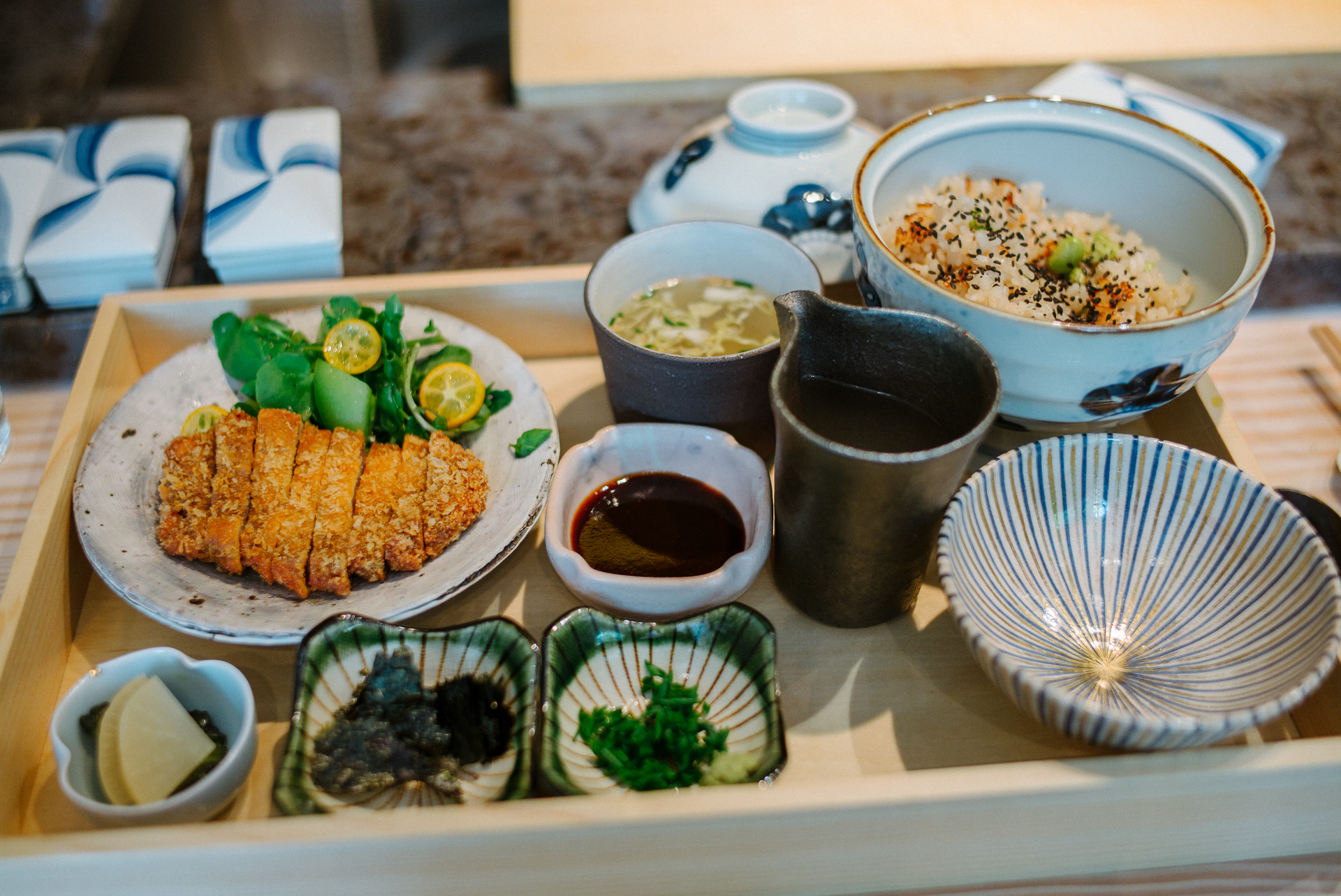 So here we go. About 100 to 120g of fillet is breaded and deep fried. On the side, we have katsu sauce and a large bowl of seasoned rice with barley and edamame. They also provided a tall cup of kobe beef stock, to enable a chazuke, or simply rice in hot water. Finally, we also have a soup of kombu dashi. Shredded cabbage in the soup, and not on the side.
It's a great lunch box. I love it.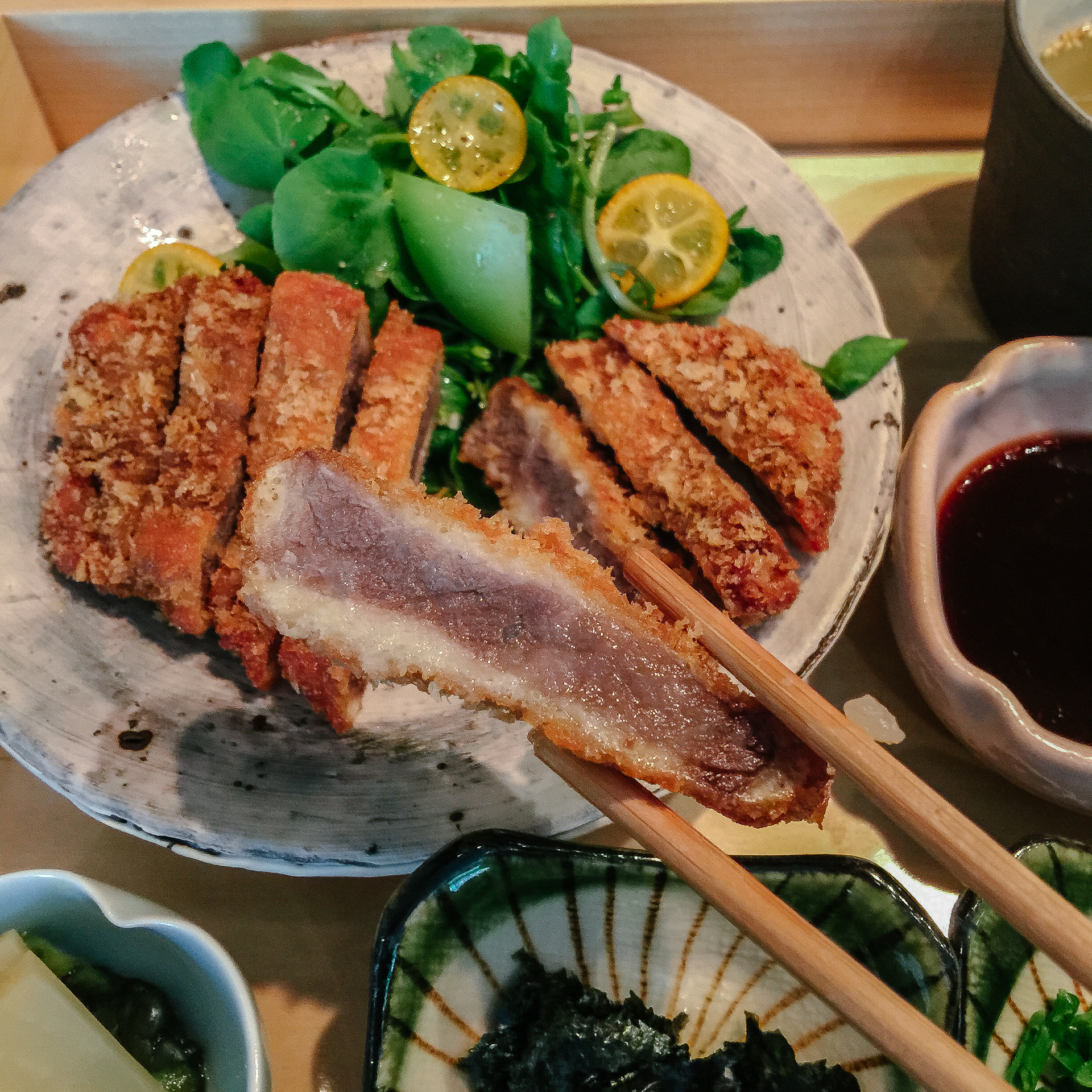 Could do with being a touch pink, but no bother, it's wagyu afterall, and is still tender enough when eaten well-done.
Of course, katsu restaurants generally use pork, but really any tender meat (chicken thigh even), preferably something oily and tender, can be a candidate for katsu. (my opinion)
It's not meant to be fine obviously, this is simply fried meat and rice. You don't really need the most marbled cut, but you do need a tender cut. I guess eating good katsu is analogous to good fish and chips. OK, I hear you, £35. But it's good beef, so for me, this is worth it.
That katsu sauce is key and it is as it should be, tart and sharp like plums and green apples. They could supply a small pestle and mortar for some grind it yourself sesame – like at Katsukara – and this dish would be complete.
Finally, that beef stock is just mouth watering. Kobe beef water. It imparts this potent essence of beef. The rice comes seasoned, but a few spoonfuls of the stock, it sends it a few notches up. Another bowl please.
I guess if I had to be picky, then this could do with crispier breadcrumbs, airier etc. You can totally geek out on this stuff obviously.
I have been to Maisen, it is decent, but I prefer Katsukara at Kyoto Station (also at Takashimaya Shinjuku). Over there, you get a choice of either sirloin or tenderloin from those lovely cross-bred Yonezawa sangen pork.
You also get tonkatsu as a sandwich, otherwise tonkatsu sando. Like all packaging in Japan, the Maisen ones are beautifully boxed up.
Why am I telling you this? Well, I think ramen fever is almost over, let Tonkatsu be the next. Juicy meat encased in crispy batter, you'll love it, I'm sure..
14 piece Bento Box, £40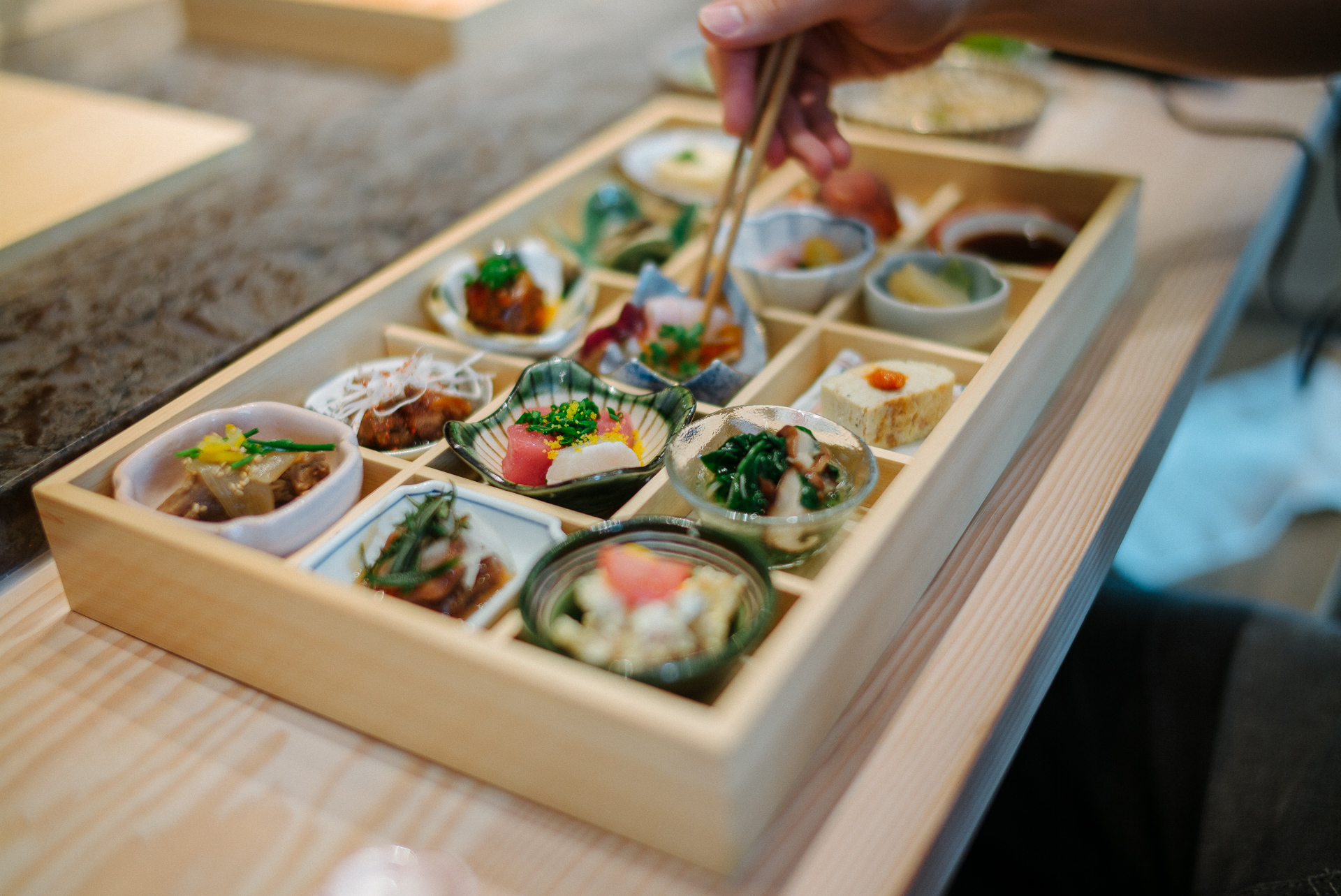 Isn't that pretty? It's like a grid web design, ordered daintiness and pleasing to the eye.
This box gives you a preview of their dinner tasting menu, like an assortment of their craft. In this format, you get a feel for the breath of the kitchen's abilities. Its just wonderful. Refreshing and perfectly designed for lunch.
Cooked items include their slow cooked wagyu, omelette, meatball, potato salad. There's also sashimi, tuna with grated egg yolk, scallop, yellowtail. On the side, a bowl of seasoned rice and dashi. This is the 14 piece version for £40, though I think the 11 piece version at £30 is the more compelling option, especially for lunch.
It is an interesting and satisfying lunch idea which presents a great impression of Engawa.
We finished with a pudding, tea and had a couple of drinks and paid £137.50 for two. Not cheap, but we liked it so much that we booked a return visit for Saturday night to try their dinner menu.
.DINNER.
Their dinner menus are three tasters of increasing prices (£60/£80/£100) and number of courses (3/5/8) and more focused around their prized kobe beef, than the lunch options.
It loosely resembles a kaiseki, except you finish on sushi, rather than rice or noodles. I have limited kaiseki experience, though this dinner immediately reminded me of my visit to Roan Kikunoi. Of course, I am obliged to make comparisons to my long-time favourite, The Shiori, when mentioning London Kaiseki.
At the start of the meal, they offered the ribeye and chuck during our service. We both selected the rib on the left.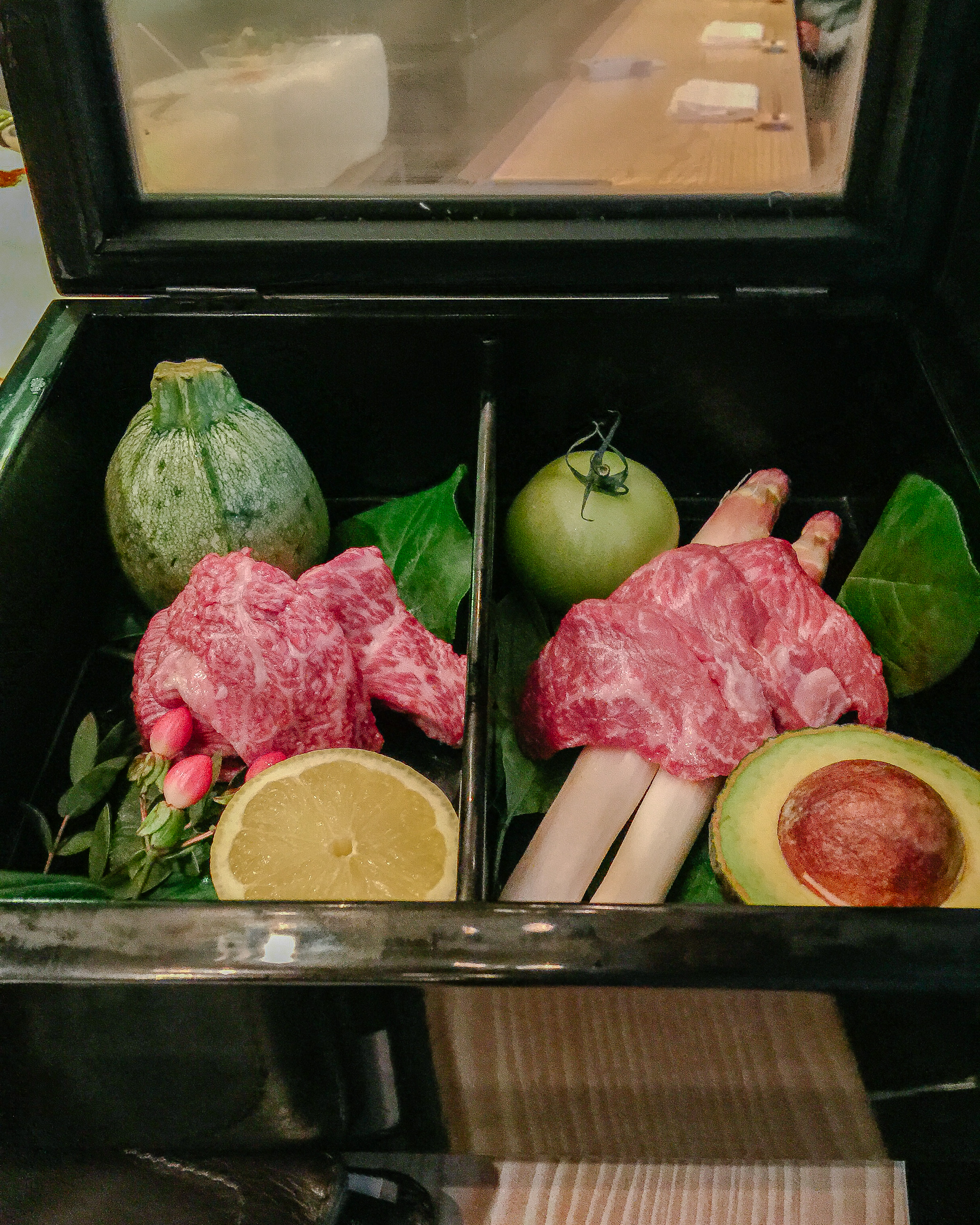 Their claim to make up about 5% of annual Kobe beef exports doesn't really add up. Given that they also claim only about 30 cattle leave the shores of Japan, so .. only 1.5 cows per year to Engawa? Is that all they would sell all year?
Questionable stats aside, their top taster only just about sneaks into the three digit range, which is fairly well priced considering the real deal. For reference, I paid about £100 for 100g at 511 in Tokyo.
Speaking of grades, things get a bit woolly, when I probed that department. Our waiter said it's definitely A5, but wouldn't commit the full grading. From the picture above, the marbling does mean it is wagyu, but I've seen denser 'flower' patterns. The actual grade is useful to know because the higher grades (A511 and A512) really are exponentially more expensive than the less fatty ones.
So just briefly then, to go over grading. Japan's meat grading system starts from C and goes upward to A5. This indicates yield and meat/fat quality. The digits 1 to 12 are then appended at the end of the grade to indicate the degree of marbling. We really are interested in the top end, from A5-9, A5-10, A5-11 (hence 511 restaurant above) to the maximum of A5-12.
(For more background on this, I wrote this blog post about Wagyu from two separate visits to Japan.)
To my eye, the meat looks about A5-8, A5-9. What do you reckon?
1. Appetiser
Kobe Beef Yukhoe
神戸牛肉ユッケ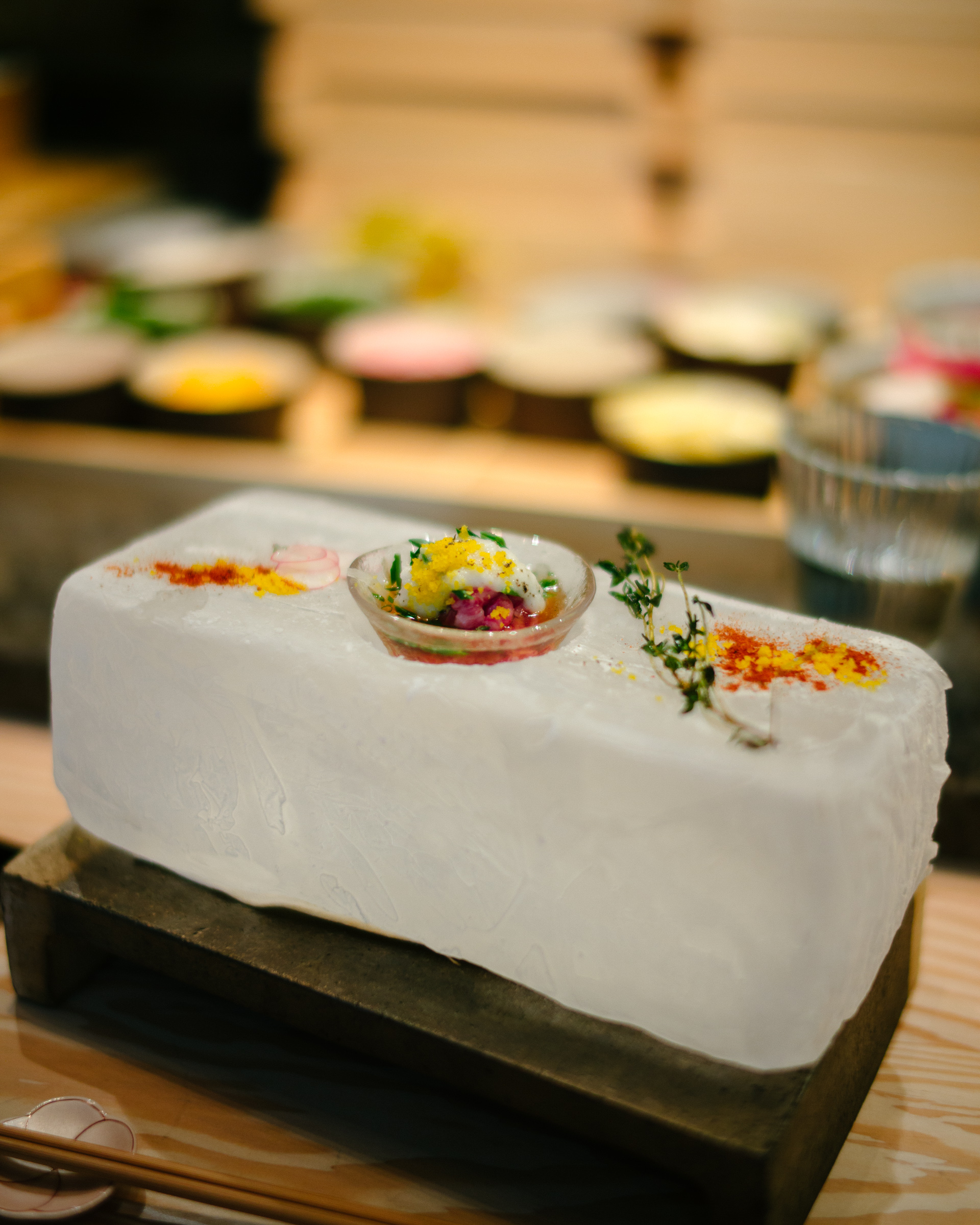 Served on a brick of ice.
So we start with a gorgeous wagyu tartare, little cubes of perfumed beef butter, covered in sticky, creamy grated yam. A fine, cold dashi is poured over it and garnished with chopped spring onions. The quality of the beef is apparent. Legit. Delicious.
2. Appetiser
Dashimaki with Kobe Beef Soup
出汁巻き卵 神戸牛出汁あん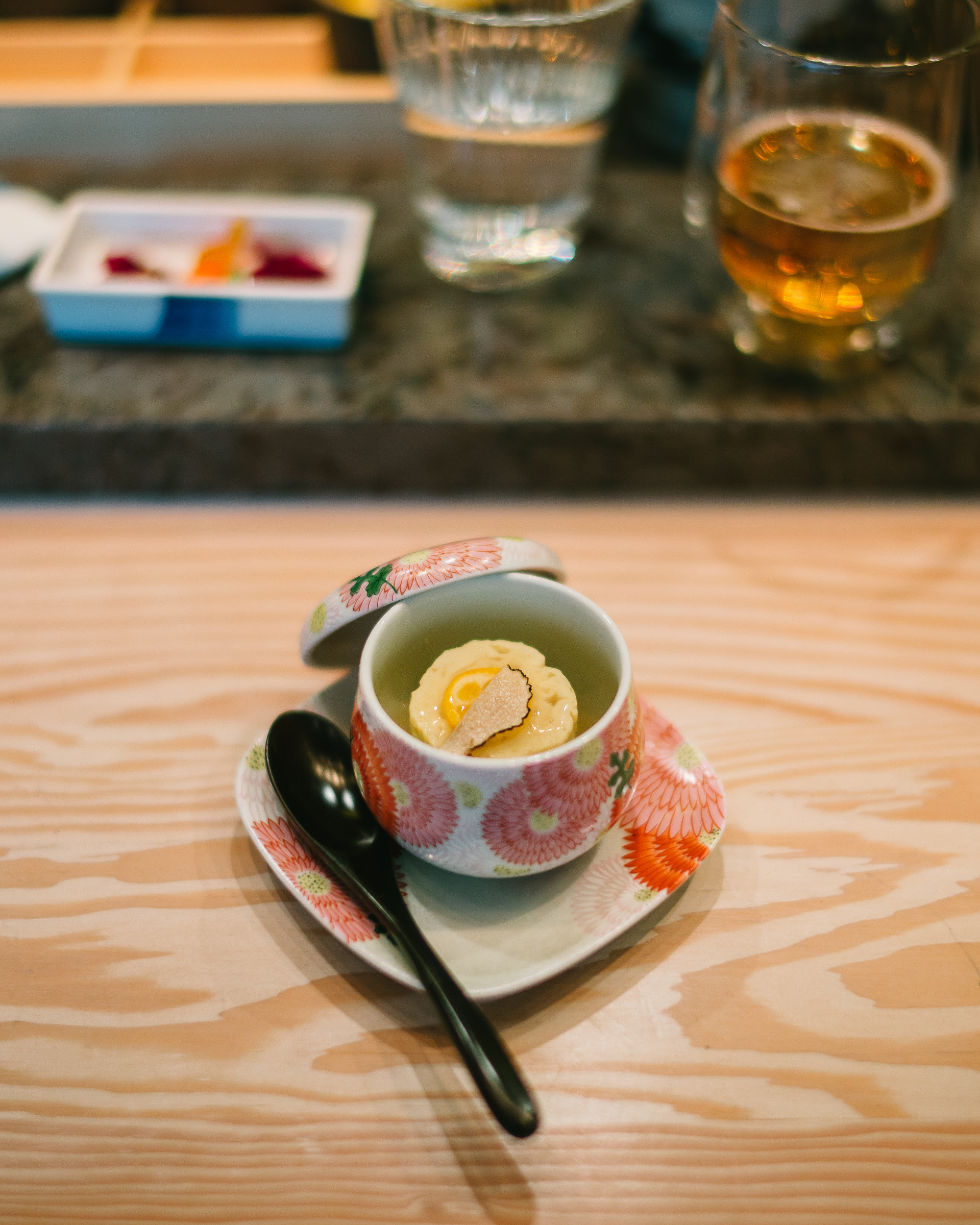 Their take on egg & beef, with a thin slice of truffle as garnish. The 'soup' is made from Kobe beef stock & dashi and appears to be thickened. This soup is the most gorgeous aspect of the dish. Umami.
This dashimaki is like a rolled omelette, it's good, but the alternate choice, the chawan-mushi, is the superior of two. Same beef soup, but the chawan-mushi is a silkened savoury egg custard that gels with the thickened soup. Like Hedone's umami flan. Gorgeous.
3. Age mono
Tempura of Prawn & Asparagus, with Kumquat.
本日の揚物 「かき揚・唐揚・天婦羅」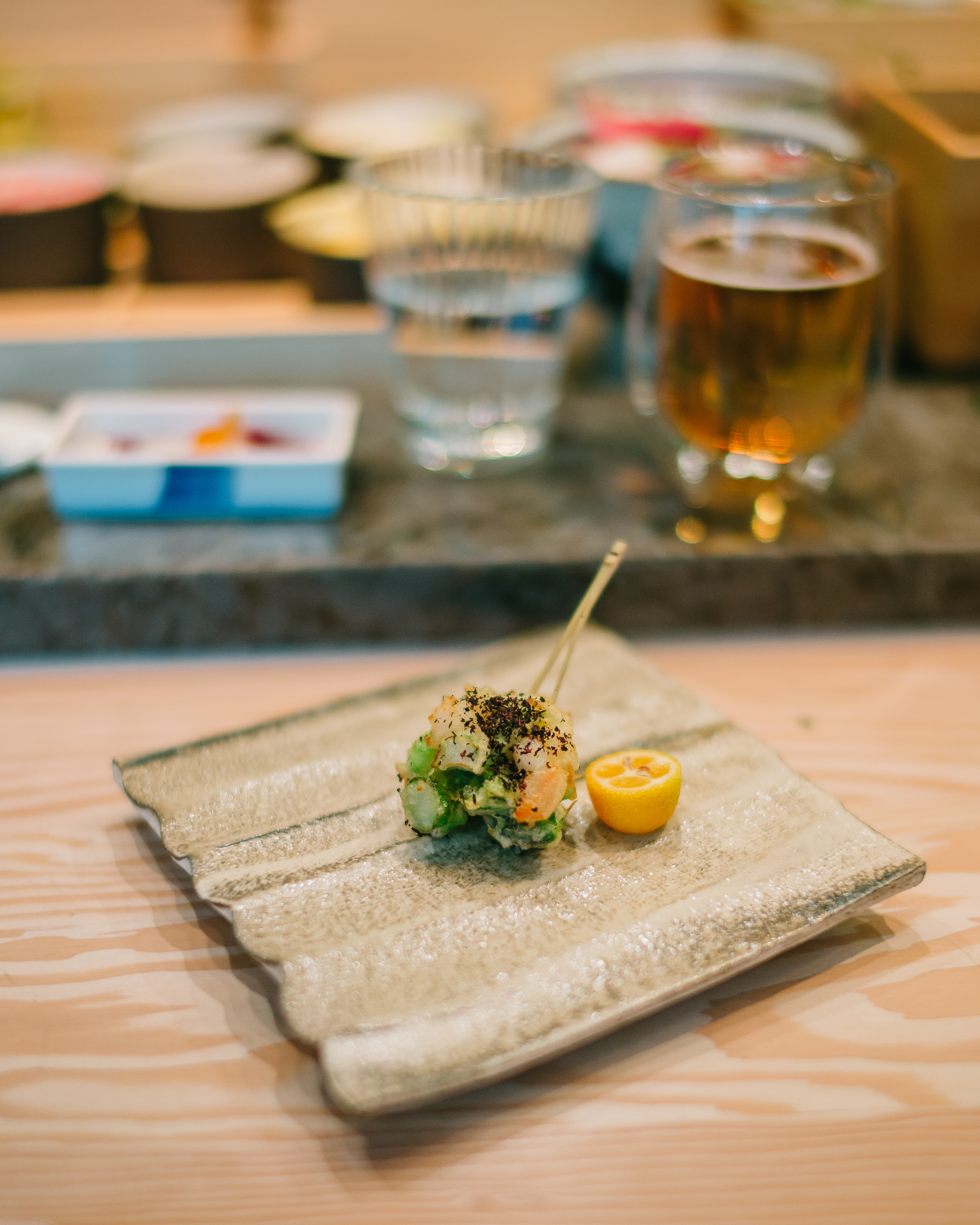 Next up is their seasonal deep-fried appetiser. They served a piping hot tempura 'ball' of prawn and asparagus, with half a kumquat for a zesty jiz. Meticulous and carefully prepared. Very brief flashes of Kondo. Solid.
4. 7pc Sashimi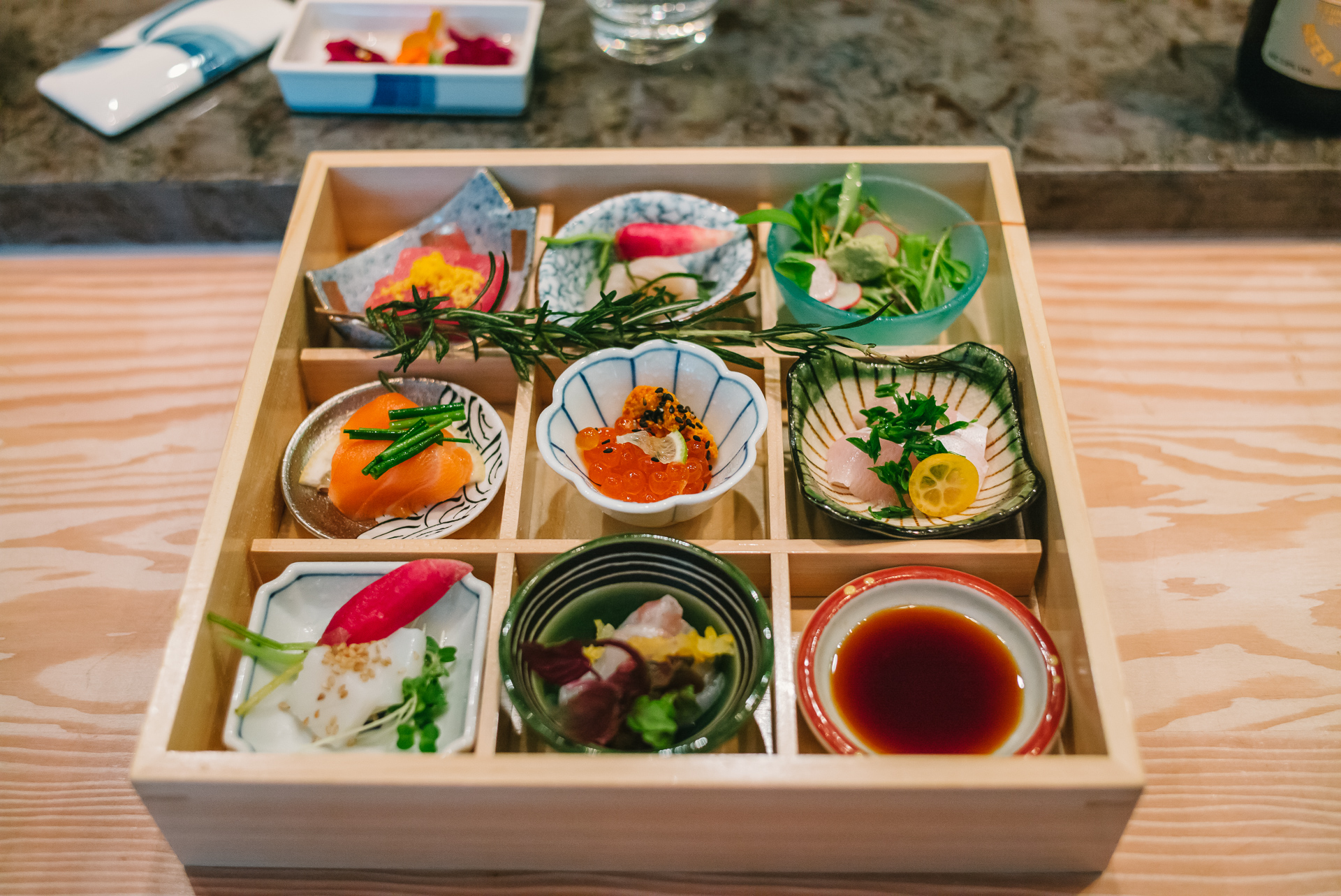 We have Spanish tuna and French uni. The rest are sea bass, yellowtail, squid, scallop and salmon. Basically it's same quality to your favourite izakaya in London, which I suppose is unofficially the Atariya standard.
I will however say that the cuts are well selected and carefully prepped and sliced. Each slice is smooth and tendon-free. I do wonder if they attempt any light ageing, but I can't be sure.
Overall, a decent sashimi spread, given what's available (or importable) into Britain. The soya sauce is good here, sweet, maybe spiked with mirin. However, I do think French uni is just terrible. Too bitter. It's nothing like Hokkaido uni, sweet and creamy, what it is supposed to taste like. Here, the bitternesss is tempered by the sweet ikura. Why do London restaurants even bother serving sub-standard uni? Why not serve raw gambero rosso instead?
5. Beef Cooked dish
Kobe Beef Daikon
神戸牛の牛肉大根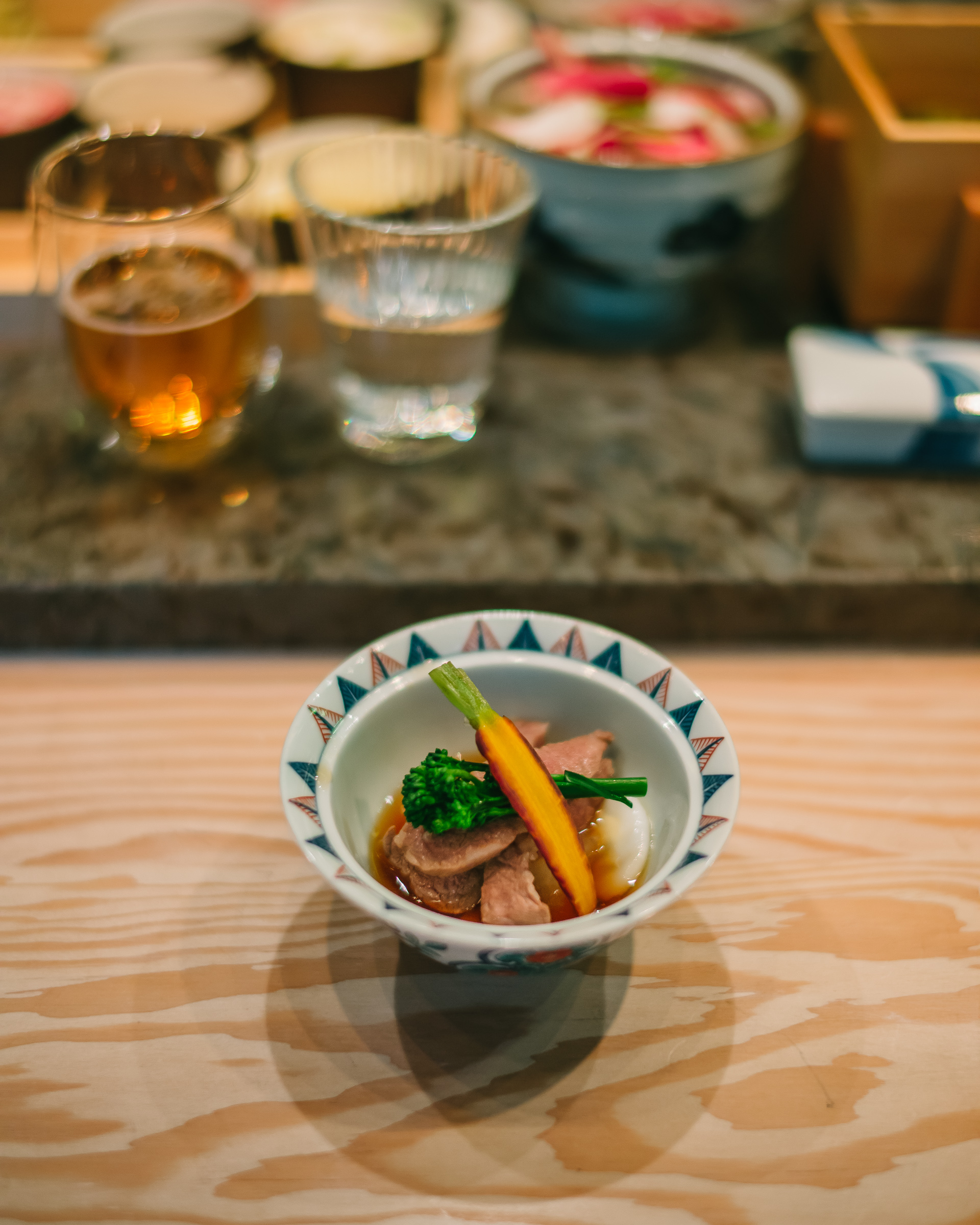 Mmm… the beef is tender. Carefully boiled. That amazing beef stock makes another appearance, this time served hot. Just delicious, they could easily serve it just as a consomme, it would be so wonderful on its own.
6. Beef Main Dish
I chose Ribeye, medium.
スタッフがお持ちする小箱の中からお選びください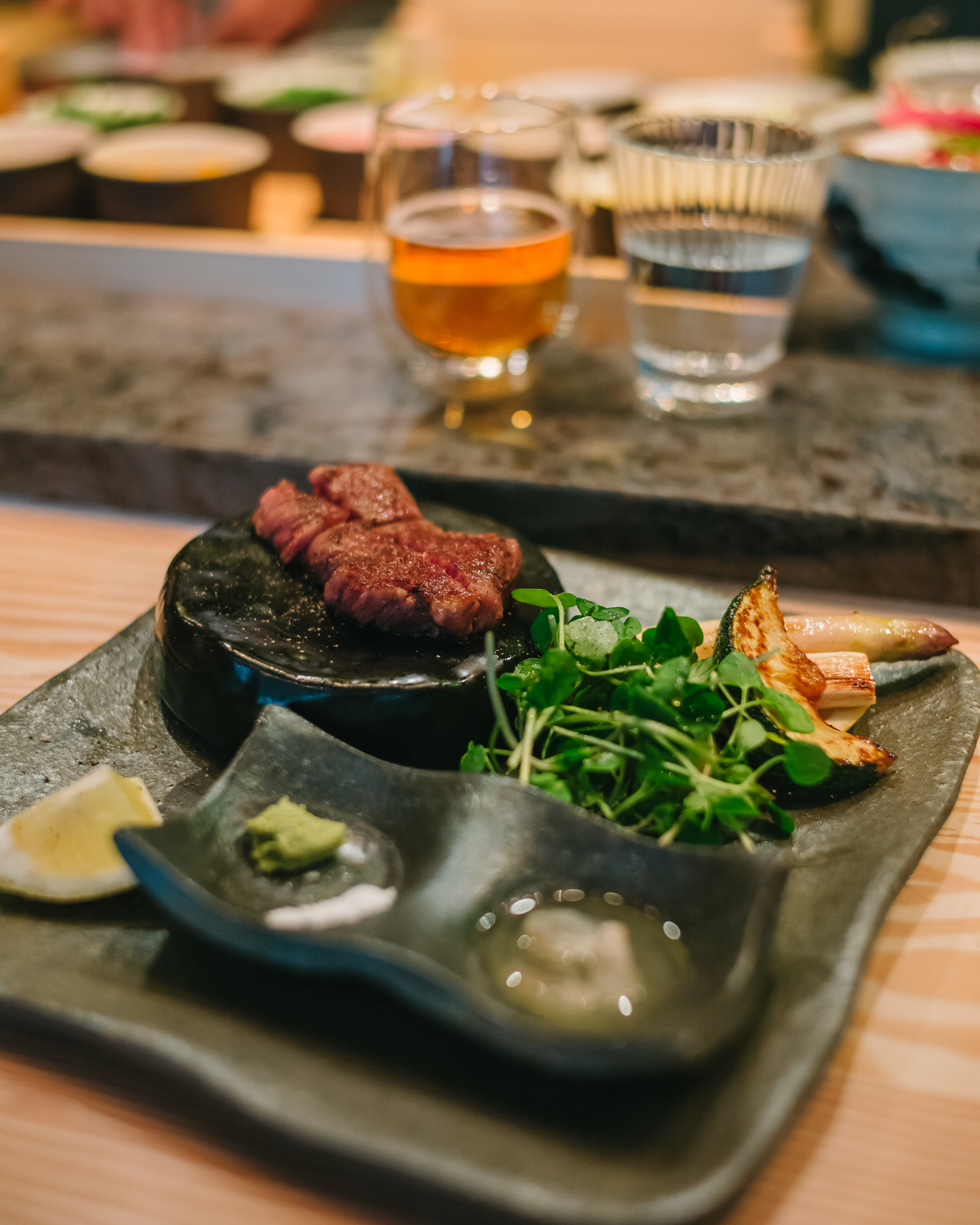 And finally.. the show. Ta-da. Looks about 100g. Maybe 125g and cooked teppan-yaki style.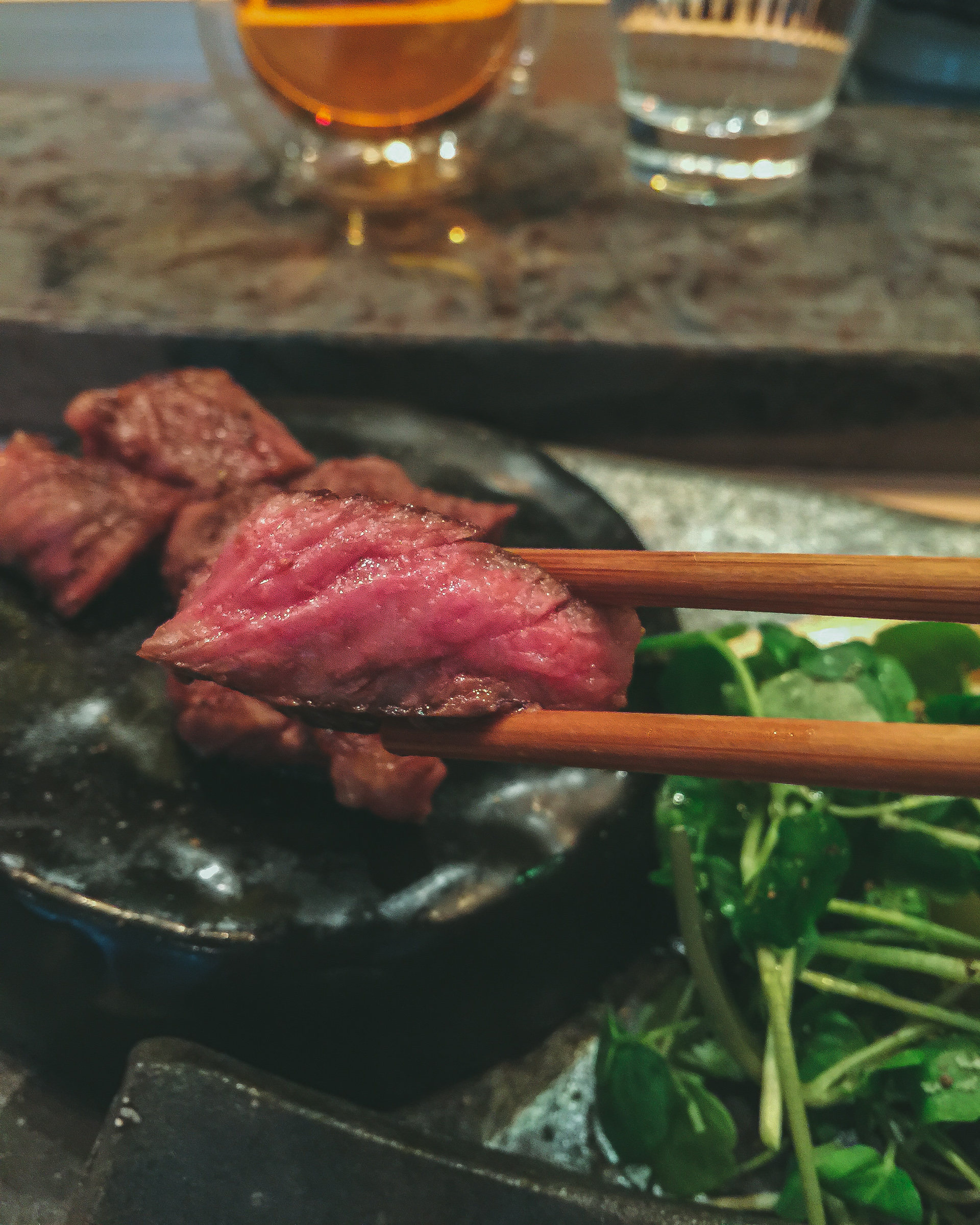 I asked for medium because I have found that wagyu requires longer heat to melt its fat for this sensation of oiliness. At medium rare, you're still chewing cool fat – not its most flattering temperature. My preference anyway.
The beef is very tender and this distinctive mellow flavour and fragrance, is unmistakably Kobe beef. It's the same mellow sweetness that shows up in the beef stock, used in the previous dishes.
My past impressions of Kobe beef wasn't so much butter-like textures but rather, like a sort of beef mousse. This wasn't mousse-like and it didn't have that sensation of oil bursting from meat while chewing. Although, this is sort of a good thing because wagyu can very quickly become queasy when eaten as a grilled steak.
Still, this is good beef and this serves as an introduction to Kobe beef. A5-8 or A5-9 that's my guess and I think it is clearly reflected in the pricing too. A5-12 would cost so much more. I wouldn't expect Engawa to be able to get their hands on the best stuff anyway, it is hard enough trying to do that in Tokyo. If you're to splurge on the best examples of wagyu, you still need to go to source. Anybody have a table booked at Kawamura?
7. Sushi
鮨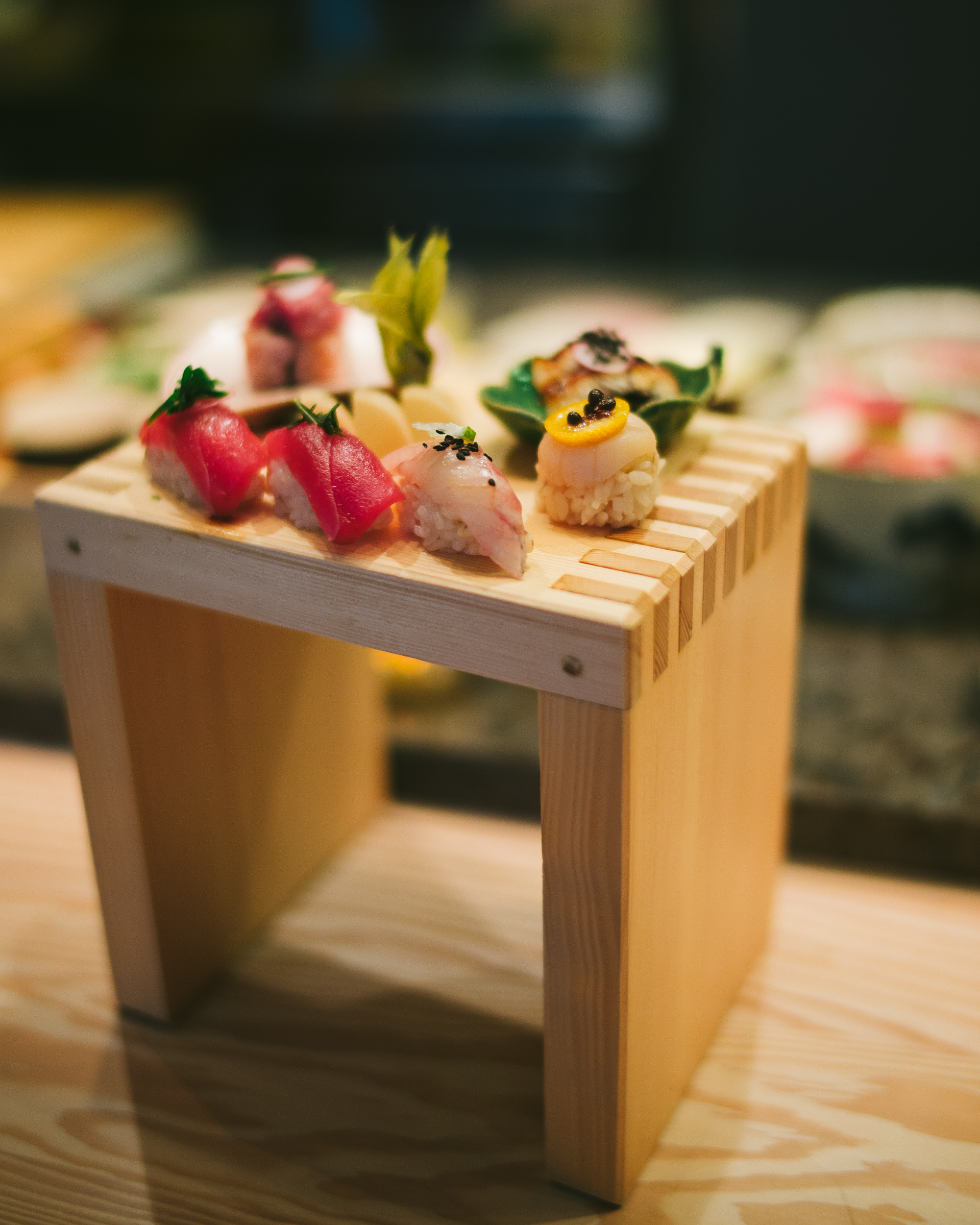 If I had a choice, I'd swap this out completely. Get me another Kobe Beef Yukhoe. Those sushi platters are pre-prepare and left in a corner, until a table is ready for it. Some just sat there nearly 15 minutes before serving. For one, rice has gone completely cold and started to stick to the board. They appear to use rice and barley for shari, tuna doesn't appear to be pre-soaked in soya sauce, rather it seems to be brushed with soya sauce, just a little too dry for me, so will need extra soy. The kobe beef tartare maki was the best of the lot, but overall, I thought the sushi was just passable.
It is abundantly clear that Engawa aren't keen on the sushi course, so why bother at all? Either commit to producing three pieces of proper kobe beef nigiri, or drop the course entirely.
I think they should just end the meal properly with rice, soup and pickles. Or just offer beef-fat fried rice. With truffle shavings. Or foie gras. That stuff always hits the spot.
8. Pudding
Deluxe Engawa Fondue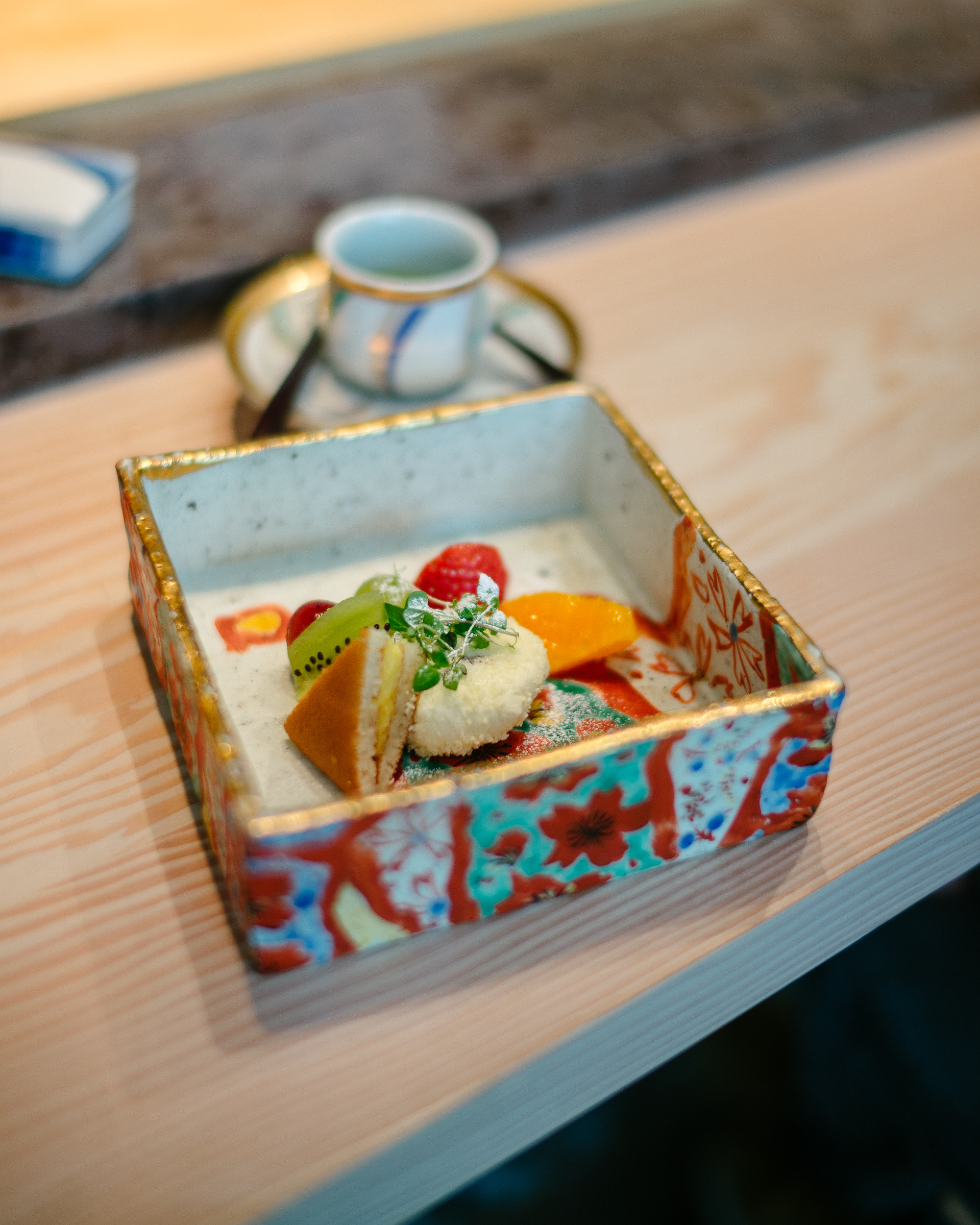 Thankfully the pudding is gorgeous, as a good meal would have been easily undone by that sushi course. A cheesecake without the crumble, almost like a sort of reconstituted ball of goats cheese. Fragile textured cheesecake, like snowflake, so delicate – minor work of art this is. What you can't see is the red bean paste in the centre. Dunk into the hot green tea white chocolate fondue and yeah, that's the stuff.
Oozing chocolate, red bean, matcha, sweet cheesecake. What's not to like? This is worth the price of entry alone. What a pudding.
We also had this during the lunch visit (a tenner during lunch, yikes!) and you have to make sure the dipping sauce is hot. If isn't, send it back. That hot sauce makes all the difference to the experience.
Dinner bill – We paid £249.38 for 2x 8 course menus, 2x kirin beers and 2x green teas. Yes. Expensive.
So here's the thing about Engawa, I think it's good because the supporting gastronomy the chefs have created around the beef is actually solid. The cooking is delicate, commendable and their kobe beef stock is like a sort of magic sauce. Instant umami.
However, like much of Japanese food outside of Japan (or any cuisine for that matter), the best is hardly exported. So if you're looking for the ultimate Wagyu experience, you'll only find that at source. You never find it in Britain. And why would you want to when we have such excellent examples of dry-aged British beef and equally excellent establishments who know how to draw out the best aspects of the produce. But that's really just stating the obvious, and is no means to negate Engawa, because you should be paying attention to the balance of menu and not focus on just the beef. This is a decent Japanese restaurant that just incidentally offers Kobe beef.
(You do however pay a premium for the incidental produce.)
Those three or four appetisers were really redolent of Kyoto. I was surprised by the level of delicacy. It's obviously not quite as fine, but it gave me the same impression, and for me, it's those dishes that create value for the 8 course £100 menu. Otherwise, the other two cheaper taster menus actually look less compelling. I don't know, it's a tough one, if you could swap the sashimi out for the yukhoe+chawan-mushi, perhaps that would make the £60 menu worth a go. Either way, the dinner menu is a one-off thing. If you choose to do it, go with the £100 option because their best dishes are on that menu. In the mean time, I'm plotting my next visit for the lunch katsu, where the real value appears to be.
Engawa is not without some blemishes, but I think they are fixable. They're headed in the right direction. I ate enough delicious things to want to go back again. It is fairly new anyhow, so it will be interesting to follow their menu tune-up over time. I like this place. A worthy addition to London.
Details
Engawa
Japanese
£50pp Lunch , £120pp Dinner
2 Ham Yard, London, W1D 7DT
Picadilly Circus
+44 (0)20 7287 5724