Get ready to queue up again..
What a fairy tale success story this has been! No doubt, you will have followed the entrepreneurial trio's humble starts from their KERB days, then through to their growth at Netil market with a cosy, steamy clean-cut wooden six seater hut last year ; and finally now as proper bricks and mortar in Soho.
They chose to open on the 8th of April to massive queues – in line with London restauranteurs' fascination with no reservations – and have since garnered universal love from you guys, le critics and the interwebs. I did try on the same opening weekend, but the queue stretched nearly to Fernandez & Wells a few doors down. I went back on the 8 May, VE day, election results day, for lunch around 1ish, though packed to the rafters, I happily got in without having to queue. The photo above is taken around 2.30pm, hmm, somehow it is a little saddening that 2015 dining is partly about queue sniping.
This narrative centres around Bao's three entrepreneurial owners. The Chungs, Sister and Brother Wai Ting, Shing Tat, who grew up in Nottingham and his wife Er Chen, originally from Taipei. Applying their fine arts background to craft this labour of love, I believe it's their attention to detail, and focus on refining their less is more menu, that has captured our appetites. More importantly, it has also captured the Sethi family's appetite (the money behind Trishna, Gymkhana and recently also behind Kitchen Table and Lyle's) and whom have chosen to support the launch of this enterprising family restaurant.
You might be thinking about the parallels with David Chang's old-time melt-in-your-mouth Momofuku pork belly buns ('American' by his own account of his cuisine) or perhaps you're wondering about those Japanese 'Hirata' buns. My better half would remind me that those are merely copies derived from the original Gua Bao – the long favourite Taiwanese street food which can be identified by the all important garnish of grounded peanuts.
The classic Gua Bao from Netil Market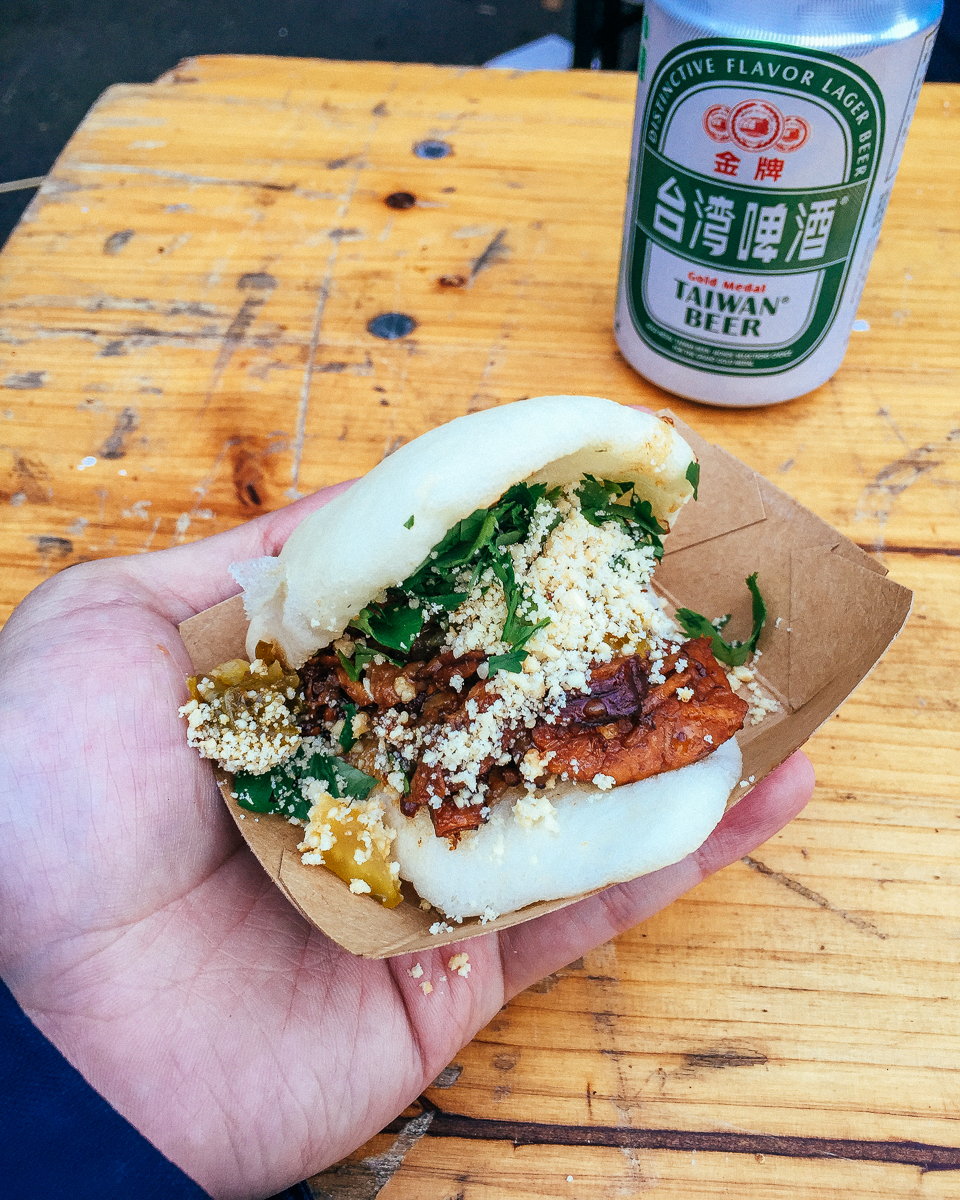 My first time at Bao was at Netil Market, and I tried to squeeze into the hut on a couple of separate visits, but well, its a six seater, and I never quite managed, so I devoured my baos out in the cold instead. If you're already acquainted with Bao, then you're probably most excited by the xiao chi, or small eats, as the latest extensions to this Soho menu.
If however this is your first time to Bao, then you definitely should pencil in two portions of their Classic Bao, stuffed with silken-ed slow braised pork belly, coriander, pickled lettuce and finished with the aforementioned peanut powder in a piping hot steamed pocket. The juicy pork is every bit the rival to Momofuku's take on the humble bao.
My opinion is that Bao Soho is more akin to a snack bar than restaurant, I definitely felt the swift turn-around times during my lunch sitting. IMHO, their likely competition – the obvious cuisine differences aside – is Spuntino. Swap erudite bourbon guys for tea geeks, and the smell of steaming buns (faint whiff of vinegar) for atmosphere.
There are obviously other variations of bao on offer, but it is their extended collection of xiao chi, served as palm-sized portions, that add depth to this permanent Soho fixture.
Much of that wooden hut feeling is present in the Soho shop – a migration of street food spirit into restaurant format. The food menu is presented as a tick-it-yourself paper tear out – a homage to kitsch yumcha menus – and the drinks menu that features proper tea, properly brewed with the precision you would expect from say baristas at Prufrock.
Foam Tea, £3.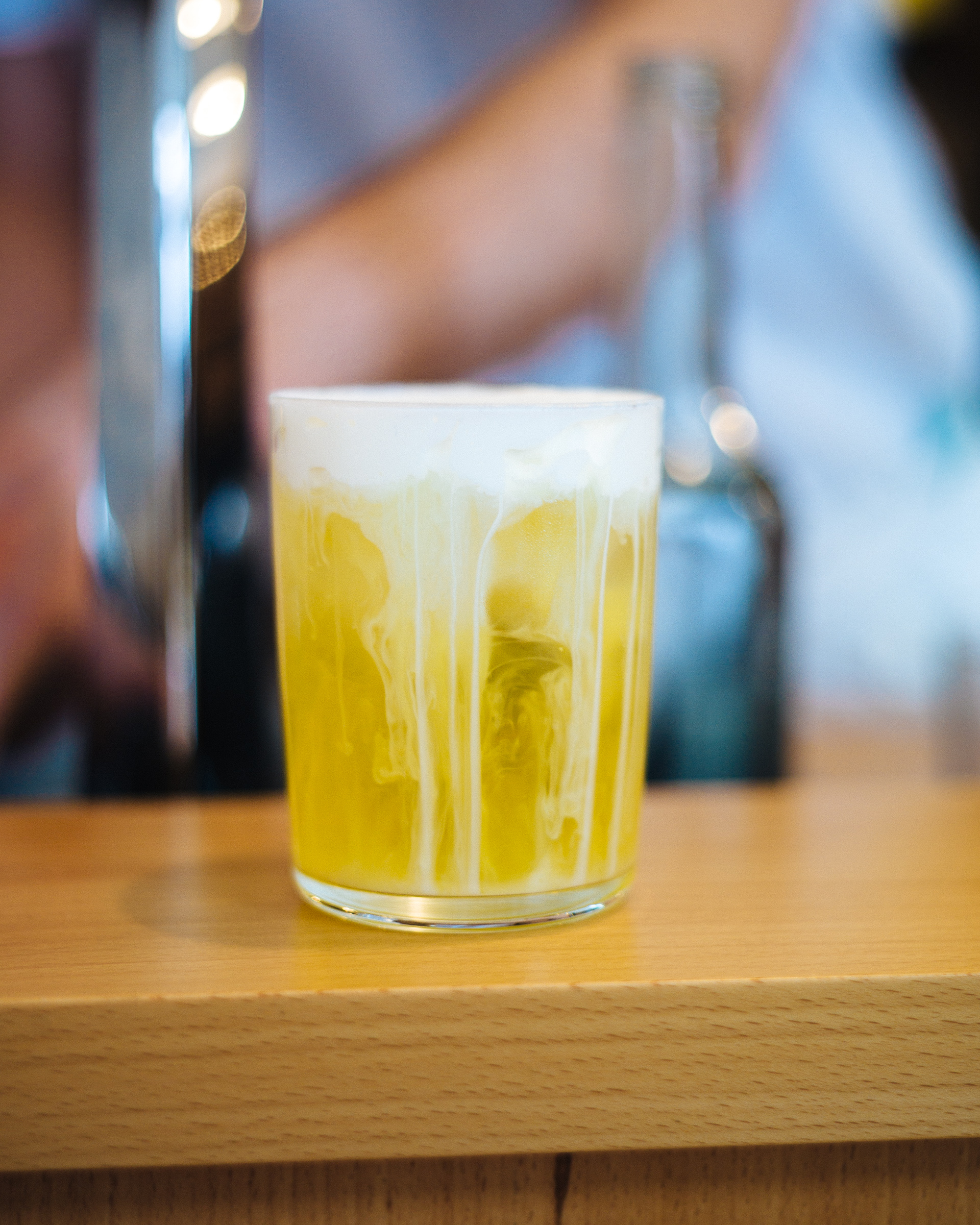 And so that's where I started. The moment the head of cream is squeezed onto the gold colour tea, you feel that a-ha moment of a tea masquerading as beer. Then as the cream works its way downwards into the tea, it morphs into Bao's take on nai cha, or milk tea. Think slightly sweetened hand-whipped cream, and served on the rocks. Another one please.
Trotter Nuggets, £4.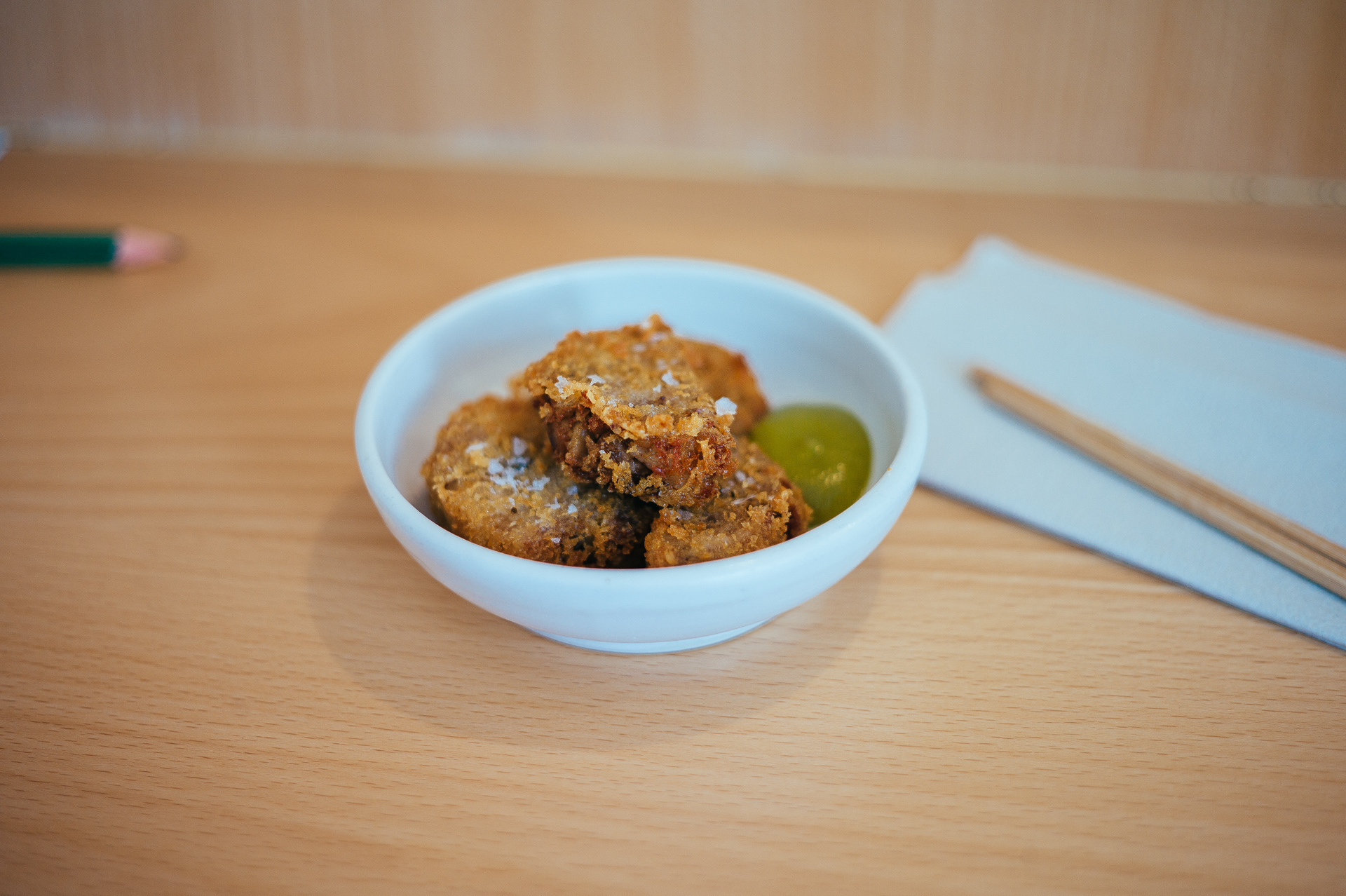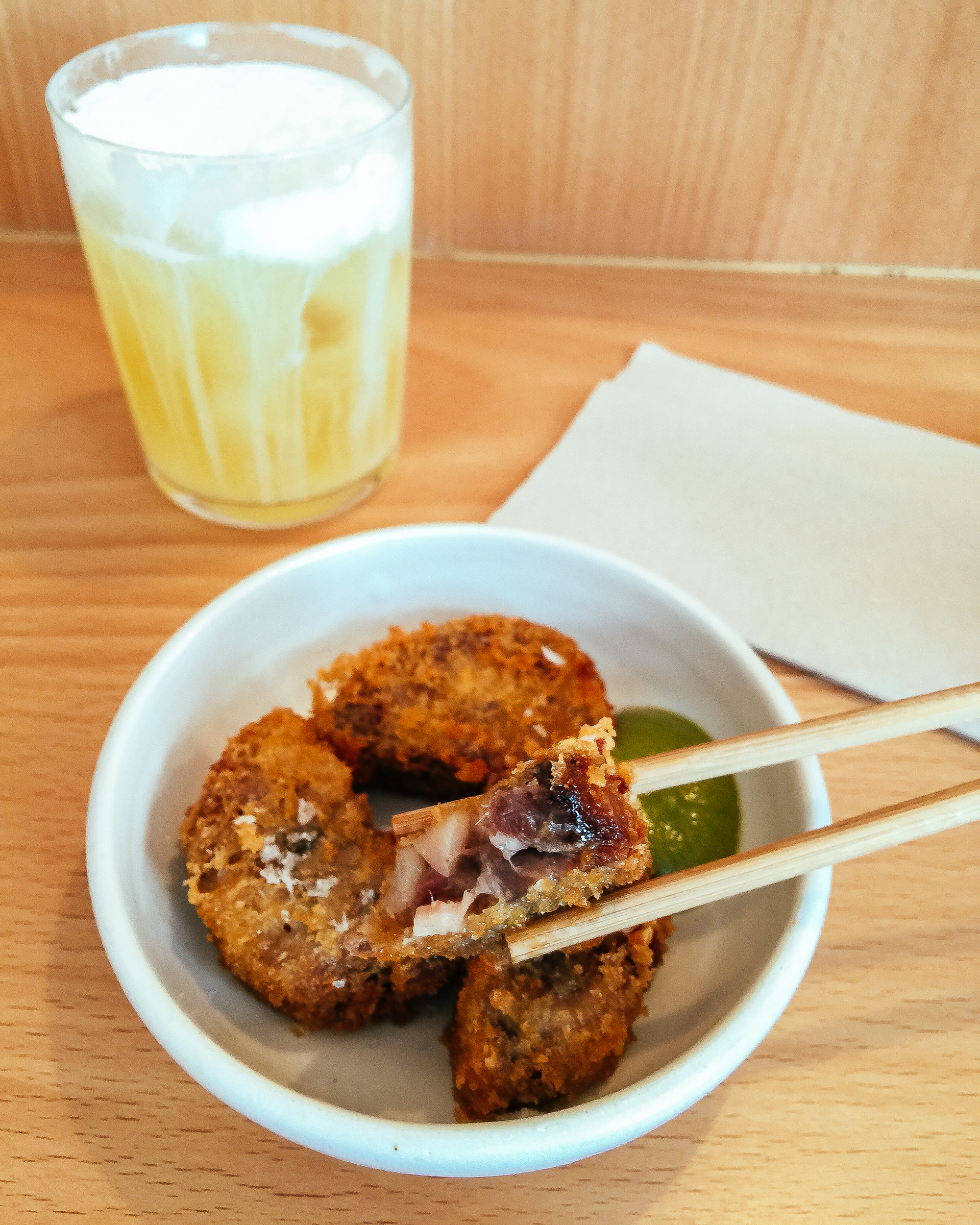 Perfectly crispy with loose, juicy, oily, chopped trotters with cubed gelatinous bits, full flavoured and completely delicious. If no one told me, then I would guessed the fillings to be iberico pork and black pudding – Flavour plus flavour.
Wai Ting explained the laboriously complex process to me, in rendering the trotters and imbue it with all its flavour, involving Shaoxing wine, an important component of Taiwanese cooking. All that hard work going into this simple looking creation. What a tantalising appetiser. Also, another one please.
Aged Rump Cap, Aged white soy sauce, £6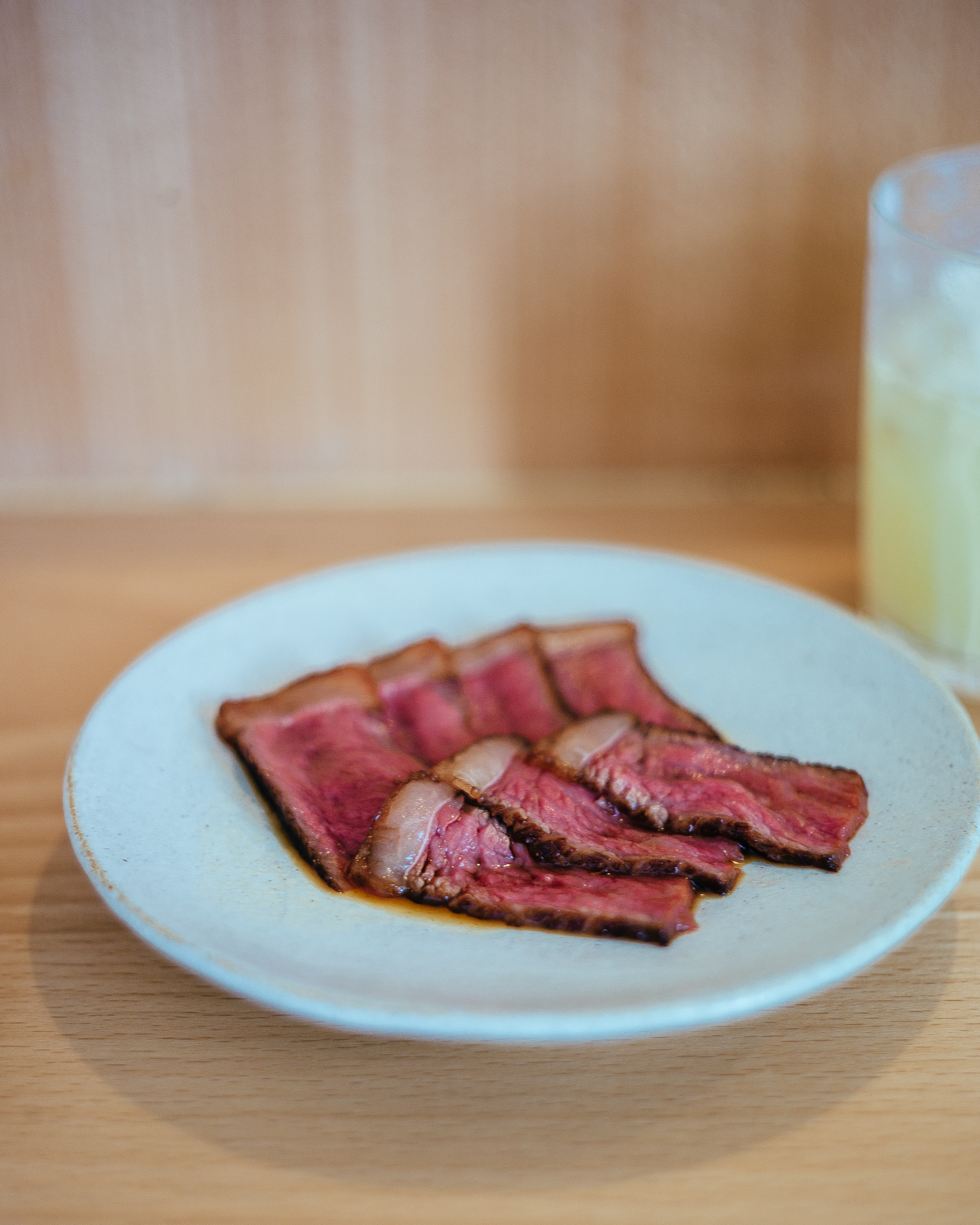 The rump cap is certainly well hung (Cornish beef, for 40 days) and that beautiful blue-cheese funk is ever apparent. Excellent selection of cut since it contains so much flavour. Served rare and sliced very thin, this helped to accentuate the natural texture, without compromising tenderness. It is simply delicious (and cooked to perfect temperature given the cut) and as with all the dishes here, so easy on the eyes. Beautiful plating, clean lines. I've never come across aged white soya sauce before and it must be quite the rarity item, sourced with great difficulty from Taiwan.
Unfortunately, I have to admit this precious soy sauce is lost on me, as I am not adept at picking up on the quality of soy sauce, as say my dad for example, who goes total soy sauce police whenever he gets the opportunity to be one. He would appreciate the subtlety of this dish and better palates may also find the aged white soy plus well hung English rump, a true revelation.
When this dish landed (channeling the Sethi connection), it reminded me of Lyle's excellent dexter beef dish. Both daring distilled expressions of dry aged beef's natural complexity.
I do wish I had tried the beef soup, which is the other quintessential representative of Taiwanese cuisine, but served here without the noodles. Next visit.
Fried Chicken Bao, £5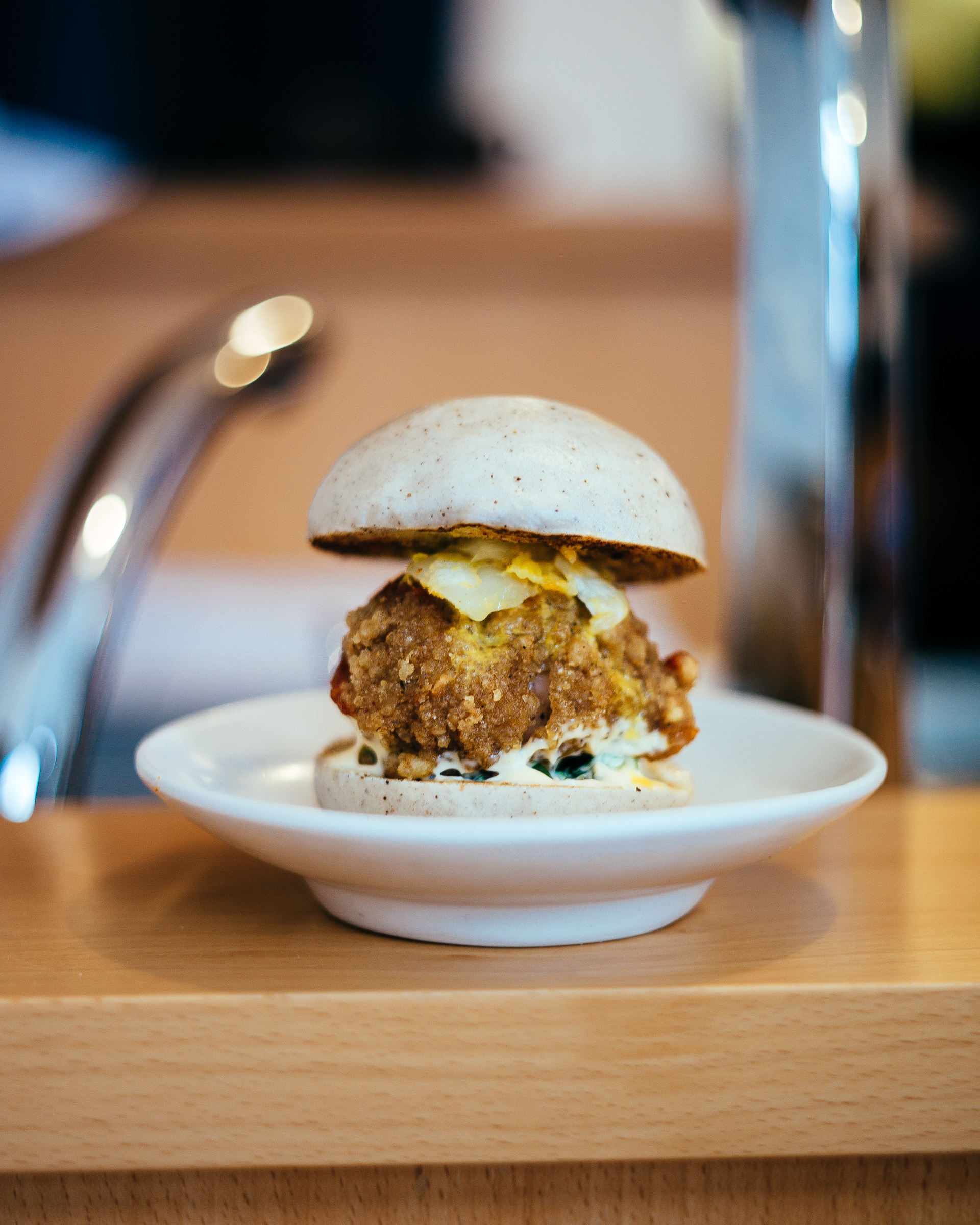 I've read the various accounts of their closely guarded fried chicken recipe that involves soya milk, a variety of spices, temperature (and excel charts) …and this is GENIUS. The batter retains this exciting powdery quality, the spice-laden seasoning appears to give the chicken extra dimensions of flavour. They use chicken thigh, so the meat is all juicy and pillowy – this bao will give the best fried chicken buns a run for its money. Fast food, Taiwanese style, in Londontown. Yeah.
Taiwanese Fried Chicken, Hot Sauce £5 and Taiwan Piju, £4.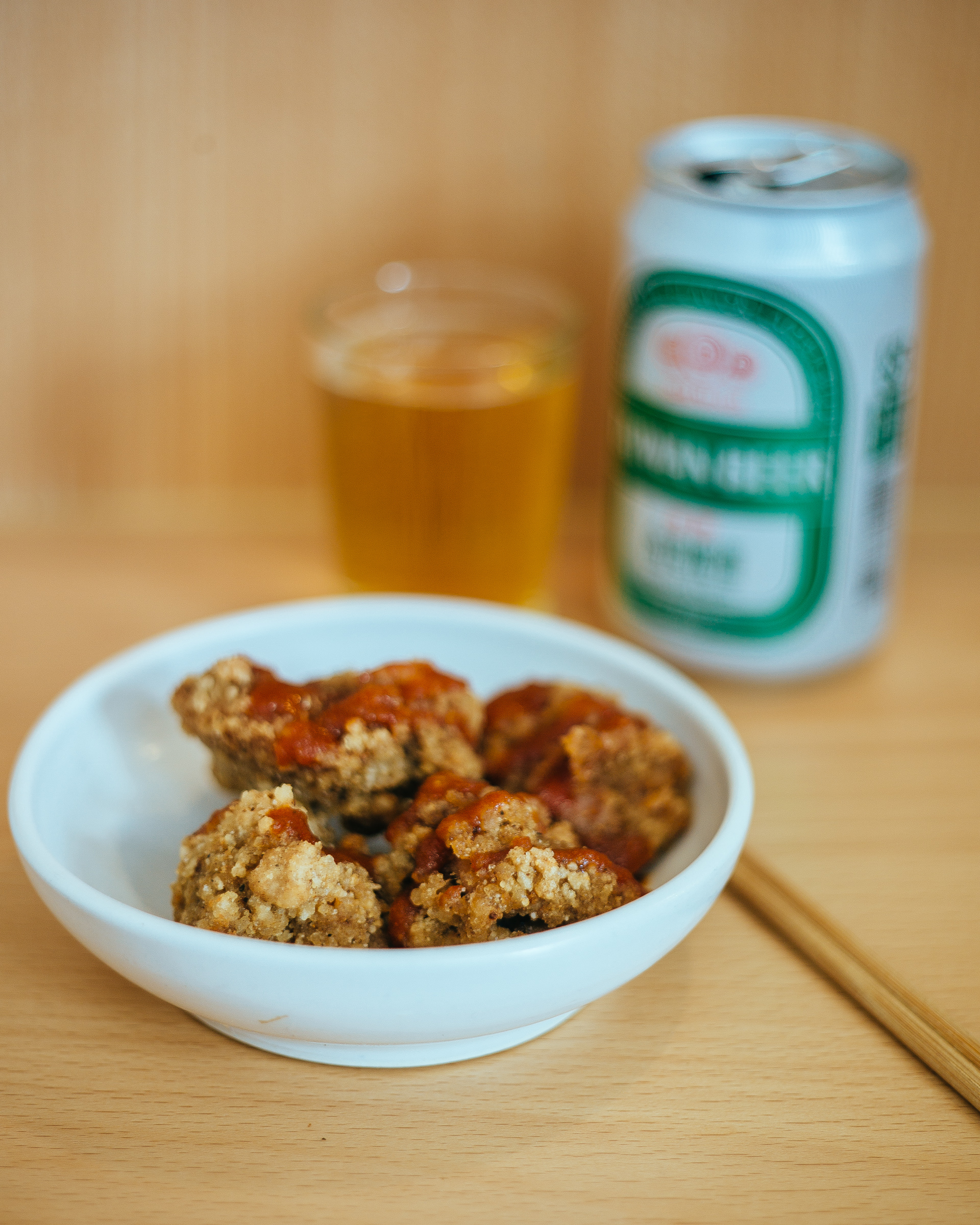 I liked the fried chicken so much, I ordered more of it. That hot sauce, wow, so hot, so good, beer, beer, beer. It seems quite chunky and appears to be own-made and tuned to match their fried chicken recipe. Overall just great fried chicken.
Another awesome import is Taiwan Piju – the nation's 'gold medal winning' beer. This is the perfect beverage to wash down the spicy fried chicken with. Think Heineken, but purer, like distilled sugarcane. Ahh…
This really reminded me of Taipei's night markets where Bao's original street food inspiration probably came from. I remember queuing up for a giant fried butterflied boneless chicken thigh, served piping hot, and the size of a person's face. I think I paid about £2 for this. Here is a picture of me attempting one at Shilin Market in 2011. There's still half the piece of chicken still in the wrapper:
Now that they've conquered fried chicken, I wonder if they will tackle Taiwanese Golden fried spare ribs next. Although when they do, I will have to scrutinise it closely as my partner's recipe (inherited from her mum) is pretty amazing. The secret to her recipe involves w… no I can't. I can't make those spare ribs yet.
Guinea Fowl Chi Shiang Rice, £5.25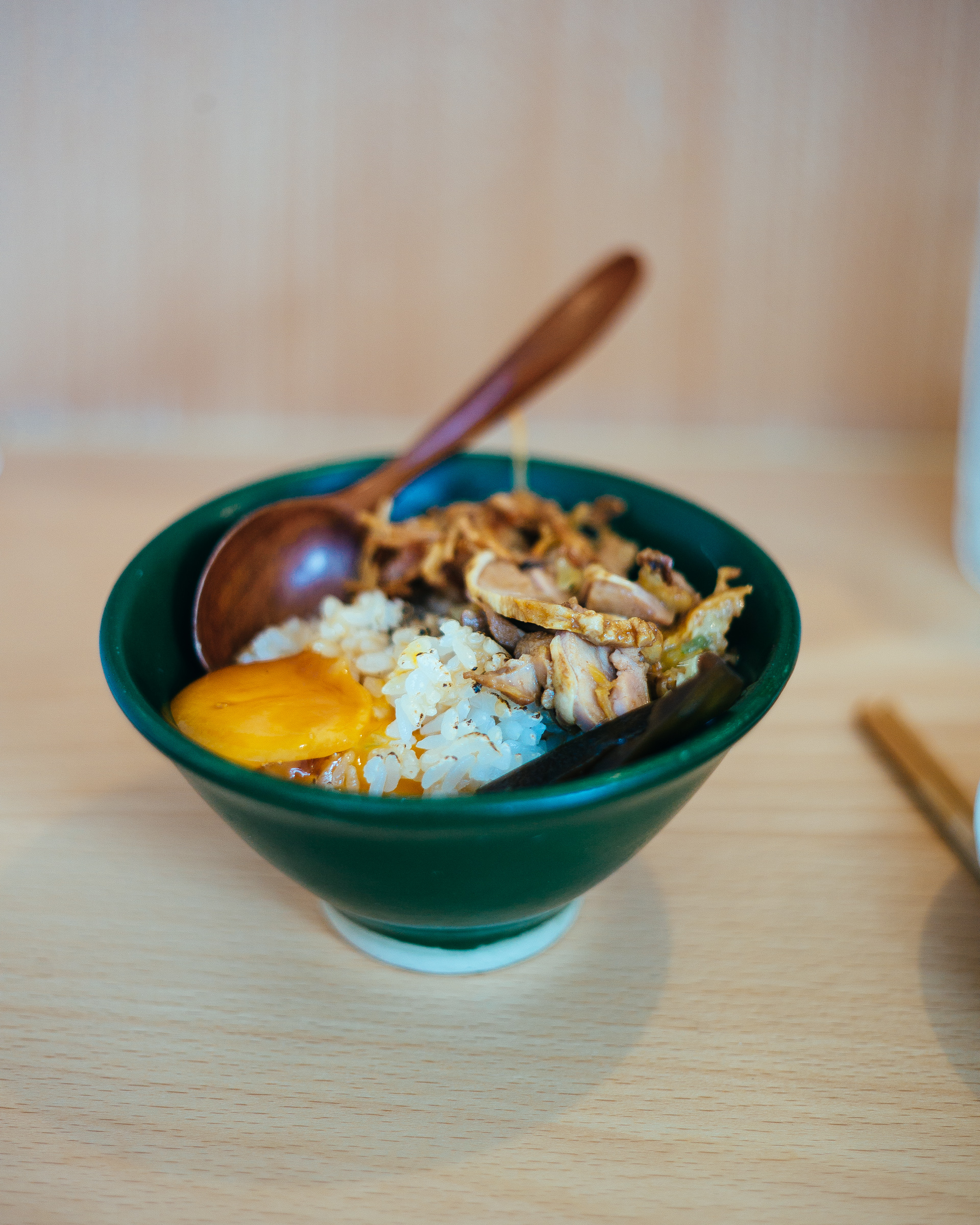 Why 25p?
The rice bowl is a dream, like a kind of Taiwanese-British take on donburi, but hyperbole aside, this is a humble bowl of correctly cooked, quality rice with delicious toppings. Homely. The rice (presumably from Chishang in Eastern Taiwan which is generally known for rice & rice bento boxes which may be the inspiration here) is a short grain (as in sushi rice), sticky, steamy, creamy …wait let me have this moment, that's good rice… The soft egg yolk coalesces with the tender sliced guinea fowl and the pickles give it lift. I could easily eat another bowl, so good.
Fried Bao with Horlicks Ice Cream, £4.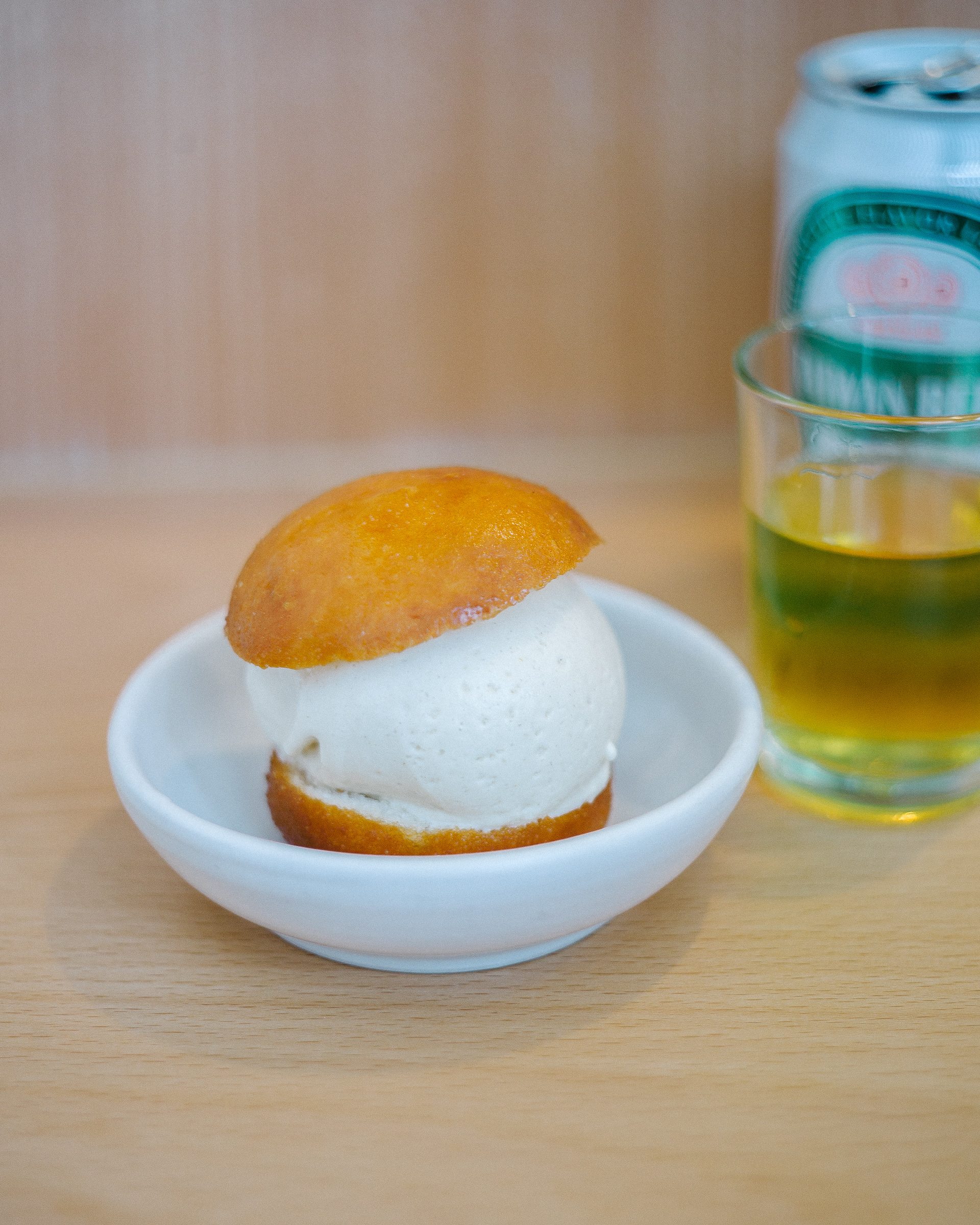 The obvious comparison for this sweet bao is Little Bao in Hong Kong. Though Little Bao's menu is a kind of New York fusion (Bao and truffle fries anyone?), rather than actual Chinese food. But both do have similar ice cream sandwiched in fried bao.
The difference however, is that Little Bao serves theirs freshly deep-fried, crunchy and piping hot, with a frozen ice cream, ie, you get hot and cold burns at the same time.
In that regard, I think Bao London's version is actually the more distinguished and the better recipe. The bao is pre-fried, so it's served at room temperature and soft like a donut. This allows for a smooth and creamy, paco-jet like ice cream to fill the middle. Cold malty, horlicks creme… what a smooth finish.
I paid £40.78 for one person. It is a little dear but mainly because of the bite-sized portions, and since everything tasted so good, I just felt compelled to keep ordering. So if this is likely the case for you as well, then be mindful that it will add up very quickly.
I do think they need to bulk up the portions for some dishes. For example, four chicken nuggets for £5 does look a bit expensive. If you're out for a lunch snack, a couple of dishes plus a drink will likely set you back about £15. This really isn't Netil Market, I suppose.
Speaking of snacks, at the moment they close between 3 and 5.30pm, but I really think their snack bar format fits the mid-afternoon crowd. Kitchen logistics aside.. all day weekend dining coming soon perhaps??
I am estatic to see Taiwanese cuisine now enjoying a higher profile. Thanks to Wai Ting, Shing Tat and Er Chen's wonderful Bao project, it gives us a glimpse into this diverse cuisine evolved from its rich cultural history shaped by migration and past colonial rule.
(3 years on, I'm still bowled over by Shi Yang hidden in mountains of Taipei)
Taiwanese street food, or Taipei street food to be precise, has been a thing for much longer than the few short years it has been popular here in London. The most famous is perhaps Shilin night market in Taipei. The sizzling food, the noise, the smoke, rows and rows of food stalls, loads of people and more people and long queues for fried chicken.
Bao Soho's extended small eats menu (and their baos of course) is already tantalising as it is though I think we haven't seen them fully flex those culinary muscles just yet. Oyster pancake, braised pork chop rice, mince pork rice, beef soup (with noodles), char-grilled octopus, stinky tofu, chicken in brine – the potential for the future is tremendous. I'm salivating. What's next?? *Excited*
We're barely half way through 2015 though Bao Soho is already looking like this year's most loved opening. I'm looking forward what they have in store for us in the future. One to visit now and to watch it evolve over the next decade.
Details
Bao Soho
Taiwanese
£20pp
53 Lexington St W1F 9AS
No Reservations
Tube : Piccadilly Circus