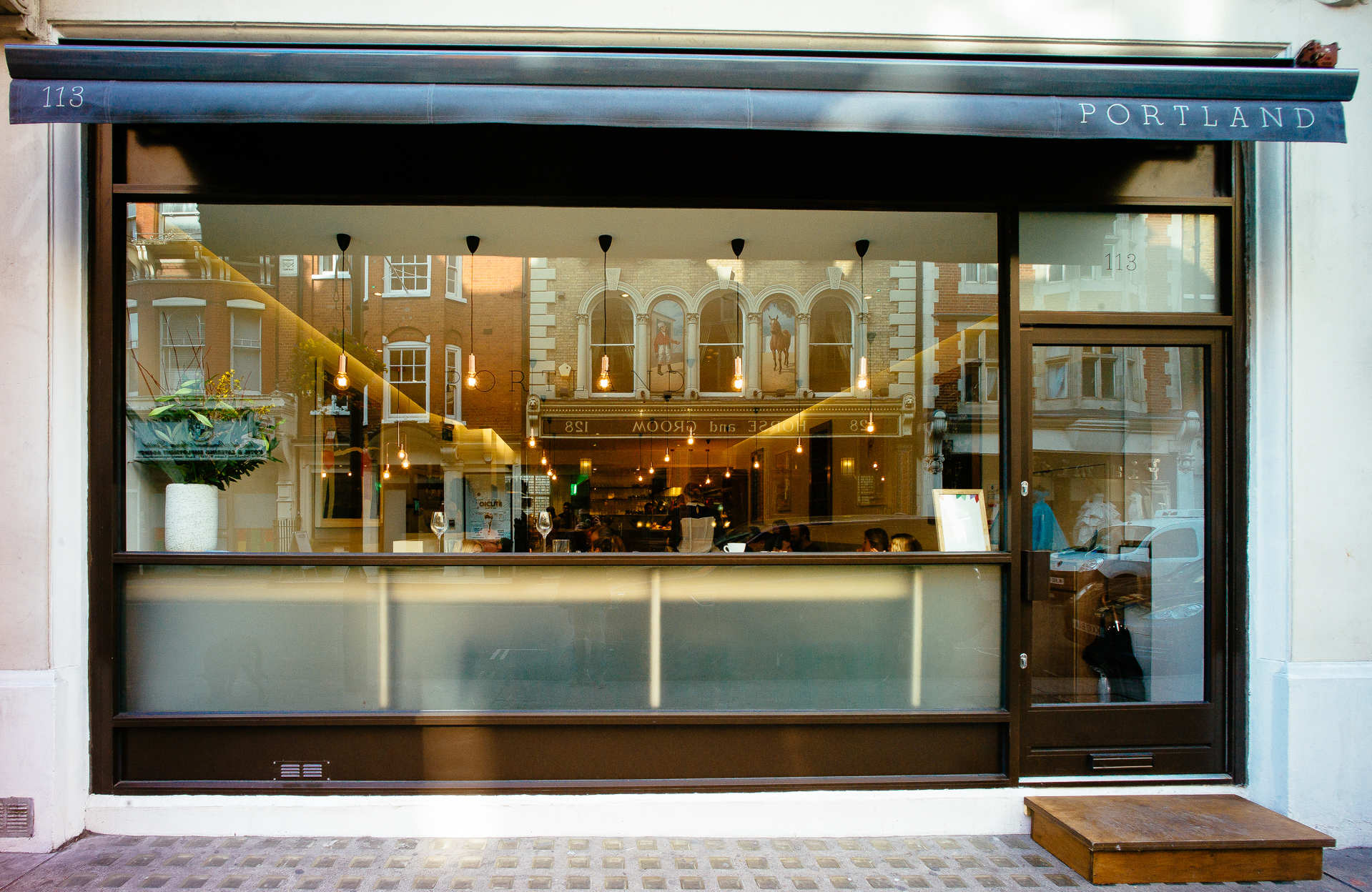 LondonEater in HD. It might take longer to load (sorry) but these are purer visuals (no sidebars). So what'd you reckon? Can you believe these are from Leica glass made in the 1950s ? Can you spot which are from the iPhone6 ?
So I decided to go HD on Portland, because I think this is it. Portland is legit.
I suppose you already know this and have been trying to book a table ever since. Well I woke up on a Saturday morning (14 March 2015) and decided to call them to see if I could score a table, from late cancellations. Turns out there are 4 bar stools (overlooking the pavement) which are dedicated for walk-ins. Anyway, I booked for 1pm to do a solo one, and whoopie-do, lunch sorted for a happy bunny.
Portland is owned by Will Lander who started (the quality) Quality Chop House and Daniel Morgenthau of 10 Greek Street. Between them, I think you could say they know us – the restaurant loving of London – quite well, so on paper, these guys know how to succeed in the London scene. Merlin Labron-Johnson runs the kitchen and his last stint was sous-chef to Kobe Desramaults at In De Wulf – currently one of Belgium's (and perhaps the world's) most celebrated one star restaurants in Ghent.
I don't read the FT, but I do read the FT Weekend magazine (come on Leigh, Hayward, Lander, Robinson, all stars) and so, perhaps a digression somewhat but I am fan of both of Will's parents. (Hello Mrs Lander, I am a loyal purple pager. I love Kusuda too.)
And so I must start my commentary with Will's Reserve wine list. It features loose bottles curated from his own private cellars. I do wonder if Jancis has contributed to this, at least for me, that's part of the fun of Portland's wine lists, knowing that Will has consulted Jancis about putting together a group of nice plonk.
An '87 Ramonet Chassy-Montrachet for £119; A 1990 Carruades Lafite for £185. I didn't bother googling the prices, but they cannot be far off from retail (or even found at your nearest merchant for that matter.). I gladly paid £140/btl for case of '09 Carraudes (shush you, not just because of my heritage) earlier this year, and I think £185 is really quite reasonable for restaurant prices. Respect.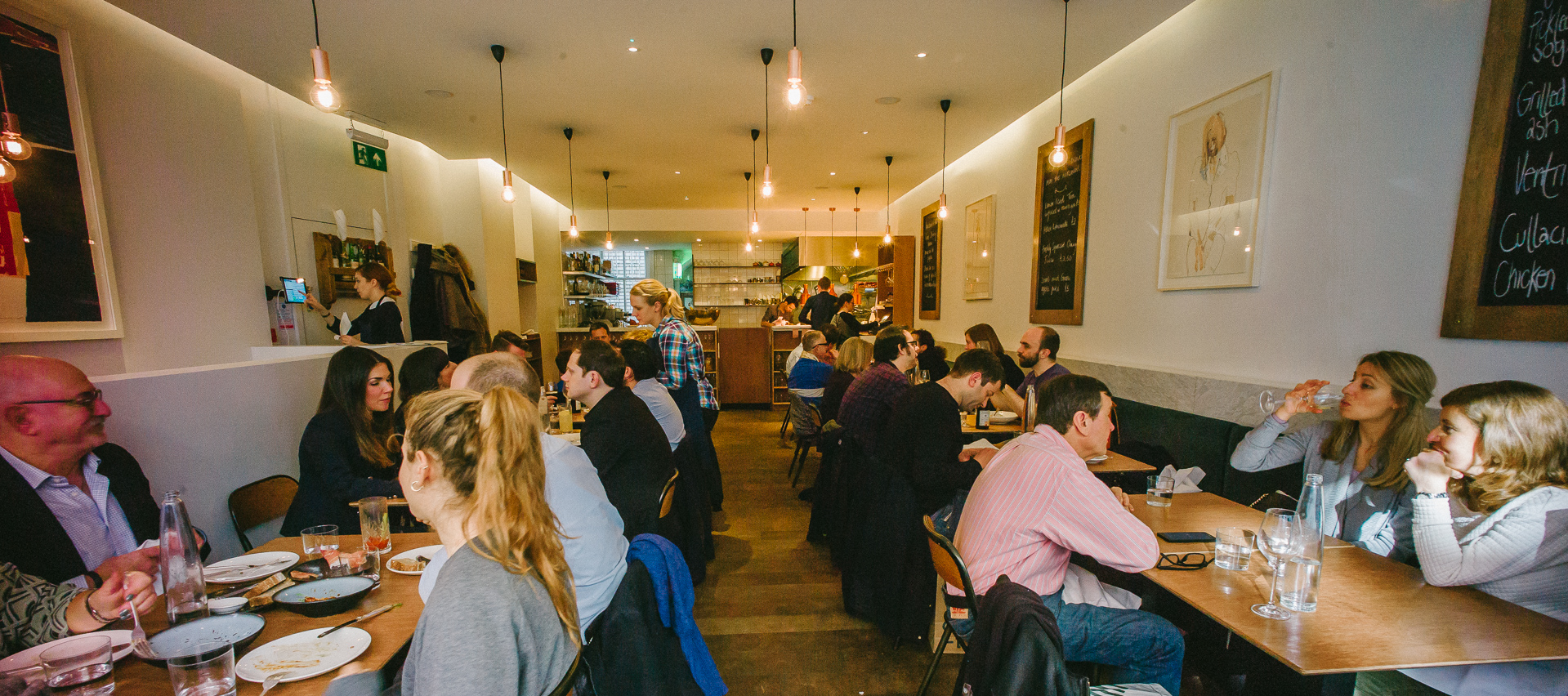 Then you work your way onto the main wine list (consisting of Textbooks, Leftfields & Specials) , and there's a treasure trove of gems to be had. The Specials section is essentially Portland's coravin collection. On my visit, there was a Vina Tondonia Blanco from '99 for £15/glass; a Javillier Meursault from 2010 for £20/glass, a '95 Gruaud Larose for £28/glass.
You might recall my rant on the Berner's Tavern post a few weeks ago, and I must admit, I didn't bother googling retail prices for Portland's choices, because it *feels* correctly priced (So feel free to correct my subjectivity).
And yes, finally, the day has come. A restaurant that totally gets how to utilise the Coravin properly. A wine lover runs this restaurant to sell to other wine lovers. I need to be back on Friday afternoons now. If that was Portland's only narrative, it would have been enough to fill it for months to come, but it is only half the story. There's also Merlin's food to talk about.
Or shall I say the food AND the wine. What's that saying about the sum of its parts?
Parsnip, 36 month Comte, Winter Truffle, £8
2013 Bianco Rugoli, Davide Spillare, £8 / glass.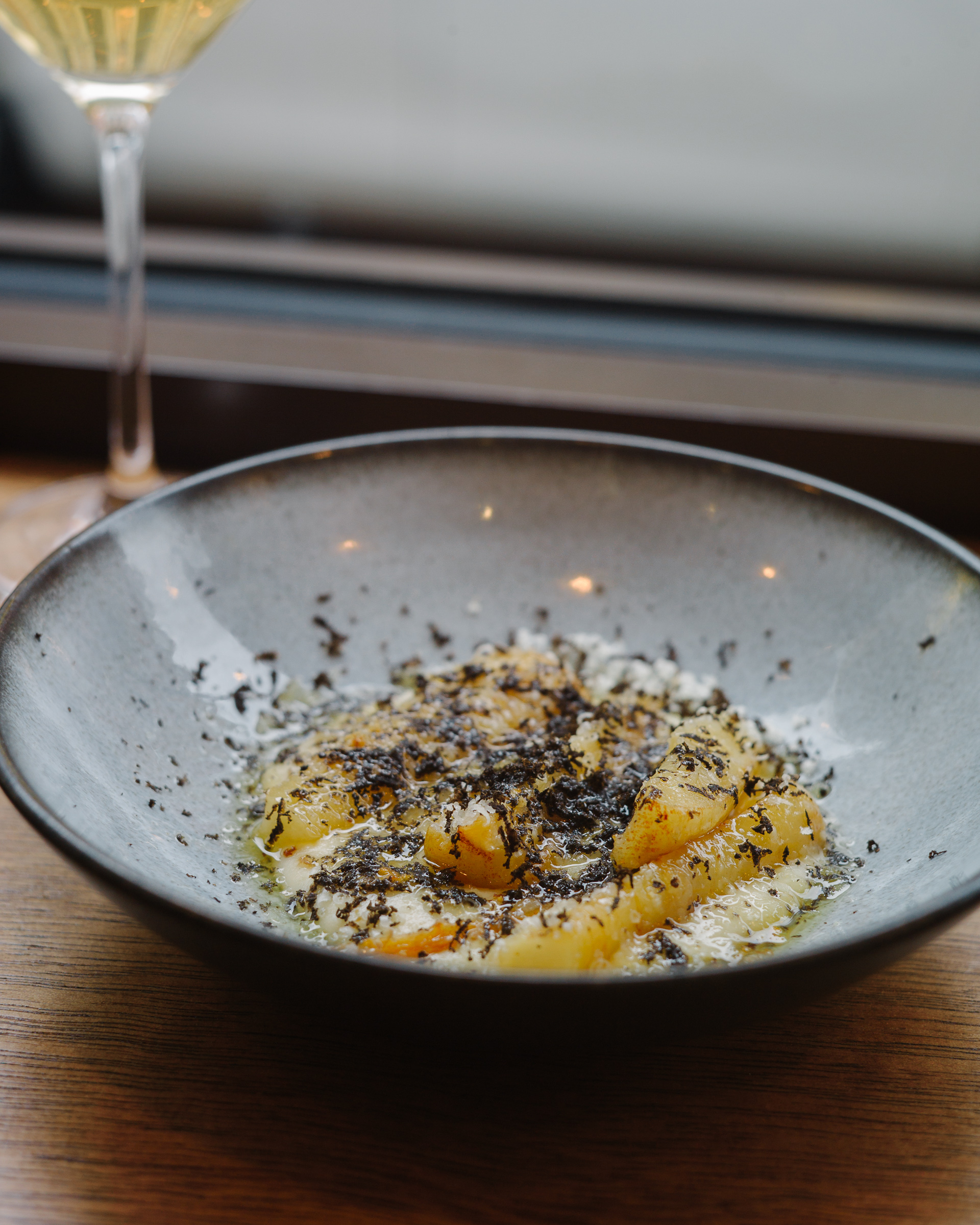 I started with a glass from the Leftfield list – non-classic wines. Veneto wines are always a true pleasure to drink, and in my opinion, drinking wine in Venice itself remains a bit of a secret for visitors. Seriously, go anywhere in Venice (including the hotel bar) and you can drink some awesome local wines for almost nothing (well very cheap at least)! Ripasso, Amarones and of course their myriad of whites. This particular wine by Davide is made from Gargenega (obscure to me) and Trebbiano grapes. It does have that sort of reductive natural wine nose, but quickly blows off and turns acidic and petrol-like. On the palate, you are met with a paradoxical semi-oxidised nuttiness, and for a moment, it is almost like a mature Alsatian Gewurztraminer (without the sweetness) or perhaps even a txakoli, but without the bubbles. Mmm. Leftfield indeed.
Parnips ….swoon. The smell of hot, shaved truffles fill the immediate atmosphere. Nose this, sip your wine, nose this again, what lovely aromas.
You know about my favourite restaurant in town yes? Medlar, they pride themselves with 36 month Comte and so I am glad to see this prince of French cheeses being utilised to such full effect here.
The cheese is melted down into this gloopy fondant-like sauce, almost like cheesy grits, and it seems to be binded with generous licks of honey. Each spoonful is sinful, soft, cheesy richness – It just warms you up inside. It does not feel heavy, and I think it is because of the parsnips which serves to lighten the palate with its rooty sweetness.
(My other theory is that in place of butter, you have honey which takes away any queasiness which you might otherwise experience.)
The warmth of this dish – especially in the crisp cold of early Spring – giving way to those heady truffle aromas, is pure comfort. I ate this with a spoon and lapped up all the sauce with bread.
Tartare of Cornish rump cap, raddichio, anchovy mayo, grated yolk, £9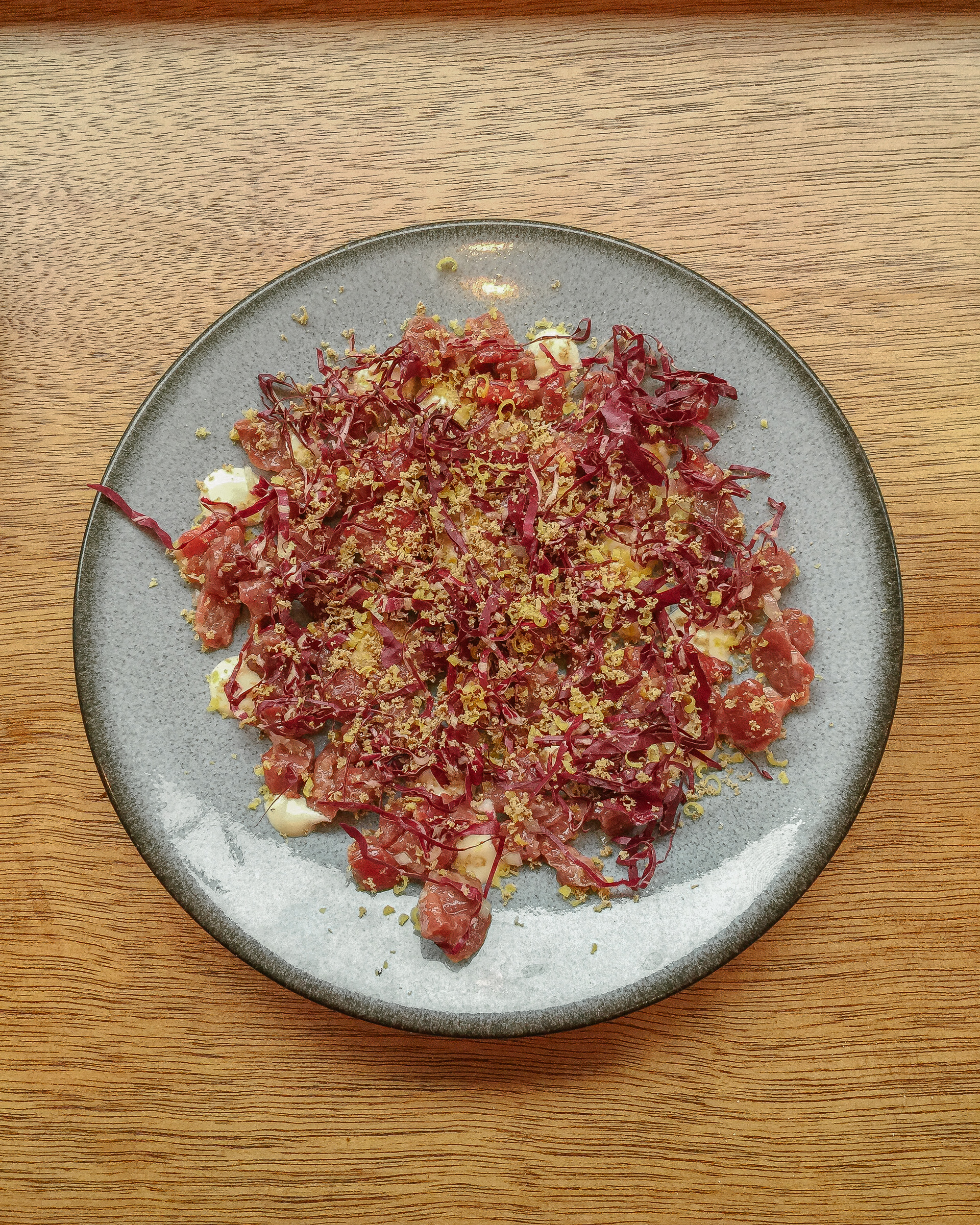 Fresh pickled tartare spiked with something fishy, perhaps bonito? No wait or is that pickled egg yolk? Or from the anchovy? Whaaat. As you work your way through it, you also get sharp saltiness, then that pepperiness to anchor the palate. Then comes the beefy funk from the rump cap, before it returns you to the pickled and the zesty, all over again. Woah.
This sort of all encompassing, sweet, salty, bitter and sour just dances on your palate (let's use the jazz analogy here). The recipe seems so free but is definitely well conceived. Every sense is engaged to emphasise the freshness of raw beef. You can drink with a white wine and it tends to emphasise the freshness, the minerality, the fishy, pickled elements. If you drink it with a red, it emphasises the sensation of body and the meaty character. What a joy.
The last time I had something like this was at The Manor. There seems to be a quiet revolution in the re-boot of beef tartare. This blew my mind as much as The Manor version. No more boring fillet tartare with capers & quail egg. This one uses rump cap, which gives it a nice chew and those lovely regal beefy funk. And it has enough zest to lift the palate – you feel like you're having fresh beefy beef. Not raw beef and raw eggs. London has become very savvy with beef, it's no longer just slabs of grilled bum. From Clapham to Flatiron to the Tea Building, our chefs seem to know where to look for the complex bovine blue cheese funk. I'm happy.
Denham Estate deer, fermented grains, rainbow chard, £20
1998 Barolo Nei Cannubi, Luigi Einaudi, £20 / glass.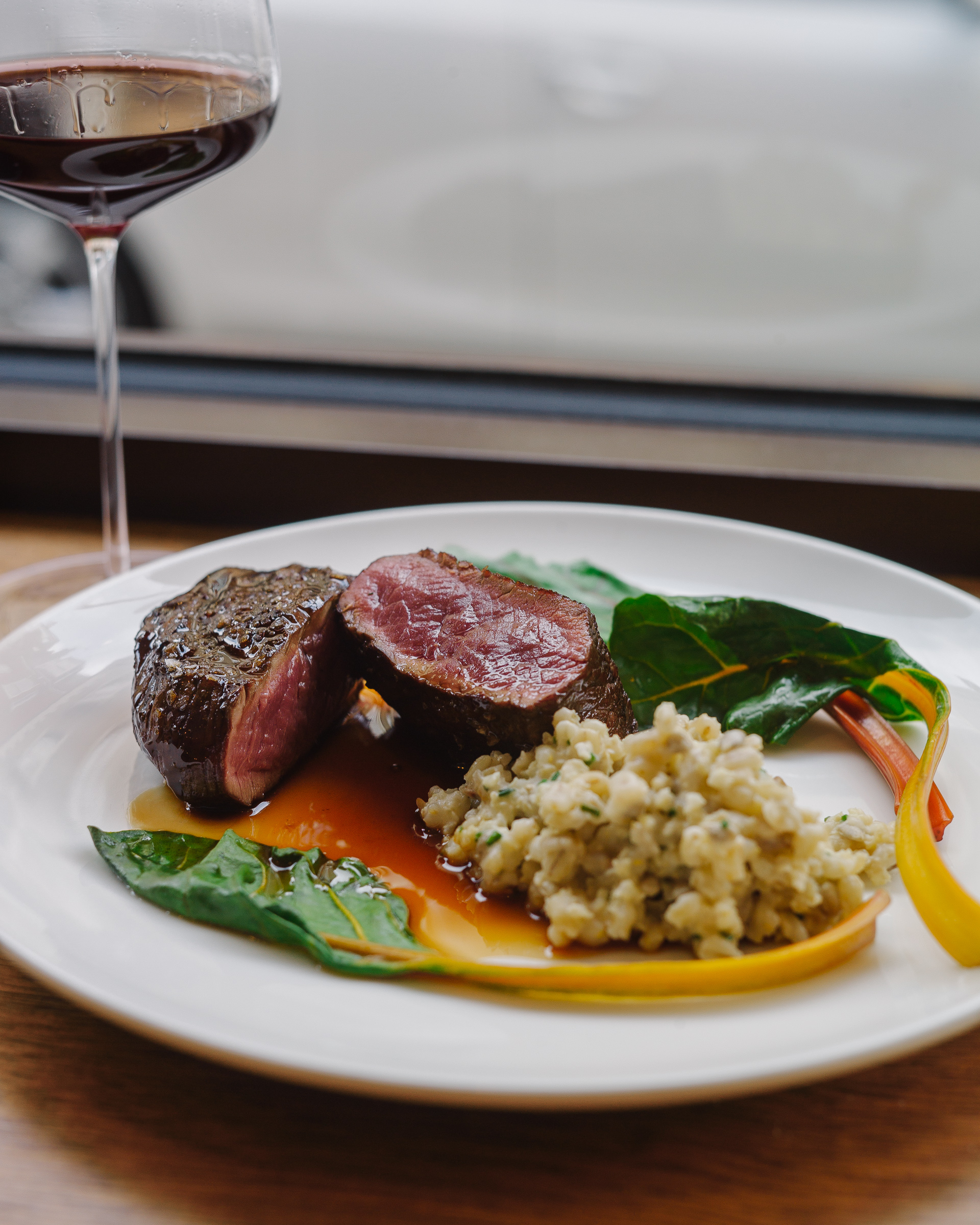 I suppose the beauty and the problem with good Barolo, is that it takes half a lifetime before it is drinkable. This one by Luigi Einaudi turns 17 and those tannins have just about resolved. As it meets with air, they softened to give the juice a grippy backbone. Time has given the dusty, woody nose some beautiful complexity. It really smells wonderful. A little smoky, some cedar, some pencil and almost like a decent pauillac of equal age. For me (I prefer younger wines because I like the fruit), it is entering its peak drinking window because the colour has started to fade on the rim and the palate, you are just starting to get that sort of sucking on wood feeling but it still has enough red fruit richness to carry it. Those broad Barolo shoulders have given way to a mellow, elegant plonk at 17.
And for this lovely nose, it is well matched to the aromatic deer. Firstly you pick up the pickled cheesy notes, presumably from the fermented grains, served like a sort of semi-wet risotto. Then you noticed the perfectly pink deer and those wonderful gamey aromas.
Wow. All those flavours swirling around in the air, so rich and so complex, all moss and douglas wood, it's like being in a damp forest, with Jennifer Lawrence hunting with her controlled breathing and bow and arrow (ok sorry, a cringe too far).
Warmth again. All those rich, complex, pickled sensations goes down so easily. This pickled cheesy thing cries for a good wine, so I take a sip of the Barolo. Complex layers of flavours clashing and melding together, all those permutations of fabulous flavours. Electric.
This fermented grain thing is truly the work of a wizard. Deer funk. Sweet pickled barley. Damn. You actually forget the fundamentals are all properly respected. The sticky and savoury caramelised sauce. The juicy, medium rare, tender meat and the choice of colourful chard to reflect the season.
Layered, varied, complex and fresh. Never heavy nor rich. Modern and classic together. This is a dish made by people who understand the totality of gastronomy and the importance of aroma. Nothing seems amiss. Food and wine. What a champ. Pure pleasure.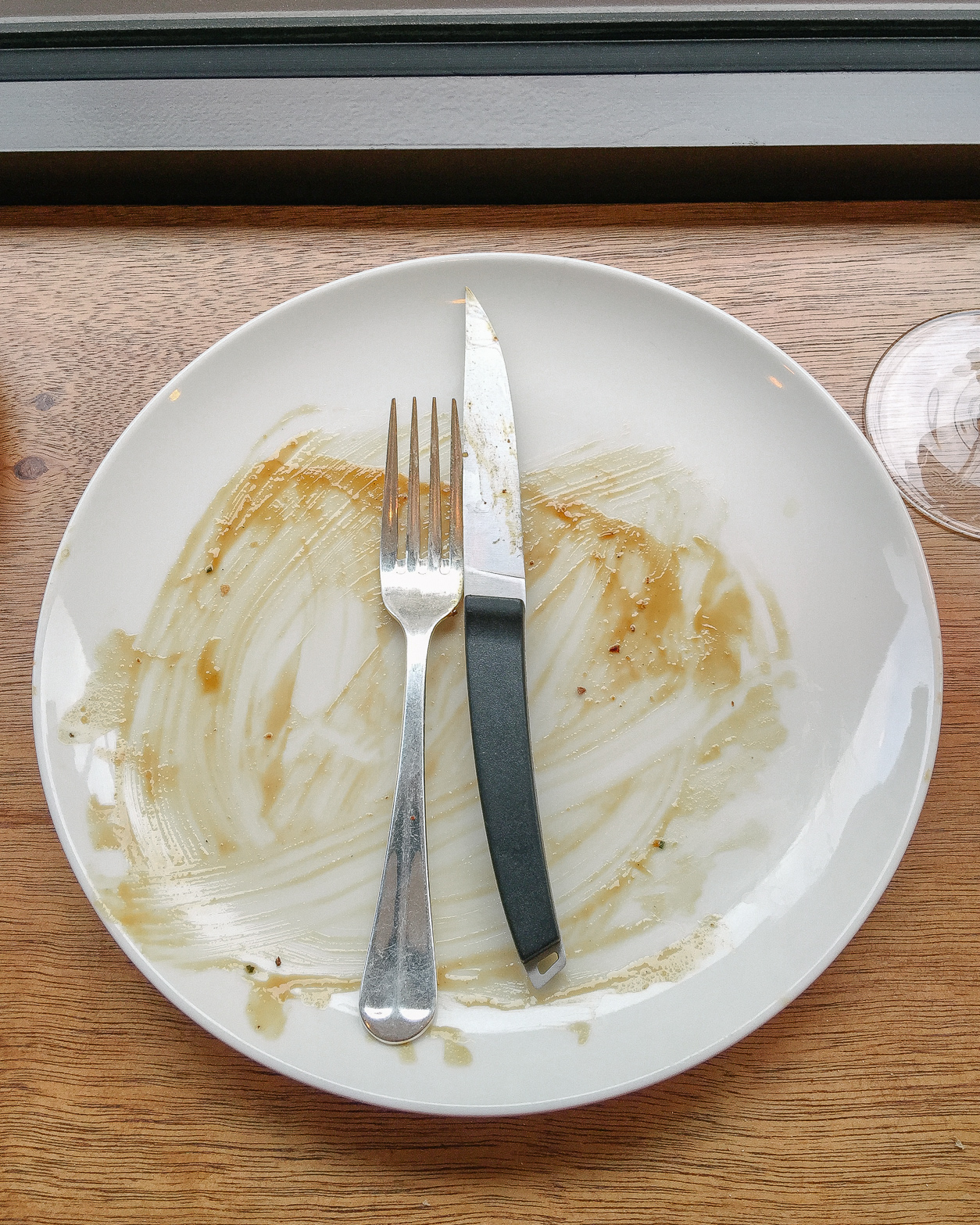 I try my best to show my compliments. I have wiped the plate as clean as I can with the sourdough.
Chocolate bar, peanut butter praline, hazelnut ice cream, £7
Maury (1928), Solera, £8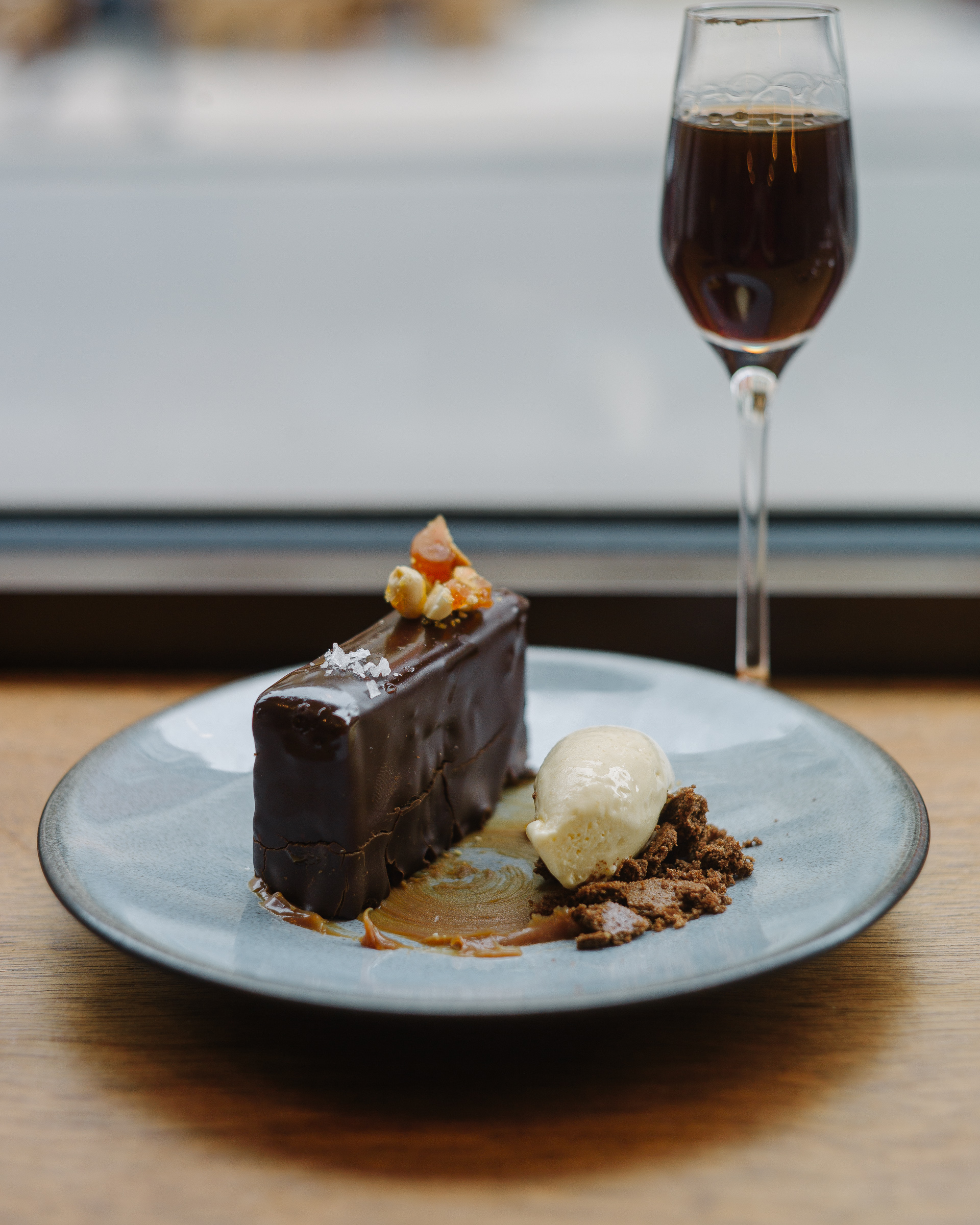 I finish with this chocolate bar and a glass of nutty caramel Maury. It's rich, chocolatey and better than an actual snickers yes, but not London-beating like the savouries. Mine was served too cold. I think you'll find better chocolate bars in Medlar or even Antidote.
I paid £91.69 for one and for the works: 4 courses, 3 wines, coffee. Expensive yes, but mostly because wine alone was nearly half the bill. So the moral of the story? Drink too much and you'll have to pay for it.
Those aromas… man. It just lingers on after you finish the dish. Every dish pushes the aromatics. I think this is what gives Portland its edge. All your four (or five I suppose) gustation senses are fully engaged and is supplemented by a wide ranging medley of flavours for the olfaction. And so when you drink good wine with the food here, everything just goes to the stratosphere.
The cooking comes across like that, rehearsed effortlessness that seems to just happen dynamically (of course it really doesn't, but in my mind it does). This is all so jazz. So delicious, feels classic but also feels modern. Refreshing. The greatest thing is that you forget how well-cooked the food is. All the fundamentals are sound, and for me, I think the recipes truly marry flavours in the right proportions.
As for ambiance, there's just something very relaxed about it – it just seems to be a restaurant which is free from insecurity and self-aggrandising hype. It just feels like a friendly place to eat. Music is certainly not as loud as I expected (I'm pretty sure they put Simon & Garfunkel on, so..). This warmth seems to stem from Will himself and it just percolates throughout the floor. He was running front of house on my visit and brimmed with optimism. A restaurant representative of springtime itself.
These days, it's no longer a surprise to see this sort of natural lines in the canteen-like decor. It does however have a sheen of brass about it. The school of organic modernity to regiment of Larousse Gastronomique? The Jazz to Chamber ?
I think if you like places like Lyle's, Antidote, Rochelle Canteen and Upstairs, then I think this is for you. Pricing feels right. Food feels right. Everything is in balance. Portland's owners have their finger bang on the pulse of what we really like. And I think that's why it's sold out for weeks ahead. Is this the ultimate fan service for people like us? That feeling of pleasure and hospitality that you yearn for every time you eat out; I think you'll find it here. I know I have.
Details
Portland
Modern British (and awesome wine)
£60pp
113 Great Portland Street W1W 6QQ
0207 436 3261
Oxford Circus