DISCLAIMER : RESTAURANT INVITATION. I DID NOT PAY FOR THIS MEAL.
A couple of weeks ago, I received an email from Hakkasan's marketing peeps for an invite to try their 2015 Chinese New Year Menu at Chef Tong's HKK in the city. And since it's a Hakkasan restaurant – it is quite hard to say no to. The savvy restaurant lover you are, will have noticed that in the past week or so, the internet had been saturated with blogs of this particular menu, so it's likely you are already well versed with the contents. The menu runs to end of Feb.
I can't remember when I last visited Hanway Place, maybe 4 years ago? Could even have been during Alan Yau days, but now as you know, the original glamour Chinese restaurant has gone global. From San Franciso to Doha, Mumbai to Miami.
And touching on that glitz, Hanway Place was always about the ambiance – those neon blue lights, the Ling Ling bar and the dark rose wood furnishings. It's the closest to being in a Wong Kar Wai film, and honestly if he'd ever shoot a restaurant scene in LDN, my money is on him picking Hanway. HKK retains the designer blues but it doesn't possess quite the magic of the original. It's a much more sterile room, in a rather sterile part of town. I think L'Anima a few doors down has more magic, HKK's interior just doesn't feel as atmospheric. So anyway, I prefer Hakkasan. Maybe it is just nostalgia.
There's two versions of their CNY menu, an 8-course for £68 and the 10-course for £98. The extra £30 gets you some nicely wok-ked NZ prawns, but most importantly, a bowl of double-boiled soup with generous chunks of abalone. My small comment here is that I think for CNY, they should have sold an 8 course menu, with 2 amuse bouches, for £88. Come on, its CNY!
Chef Tong has decided to lay on a structured menu in the darkly lit, hushed restaurant – in total contrast to the festive season. This really is more of an education than a celebration. No prosperity tossing going on here – half of me is always a little homesick around this time of the year.
Anyway, the menu takes you all across the eight major Chinese cuisines, an ambitious effort from Chef, flexing his culinary muscles I suppose. This menu is fully illustrated and a lot of work that has gone to create it. The menu – as a finish product – really is beautiful conceived, and you can take it with you at the end of the night. All this is also online.
Su Cuisine – Suzhou, Jiangsu
Marinated Duke of Berkshire pork with Osmanthus wine jelly 水晶肴肉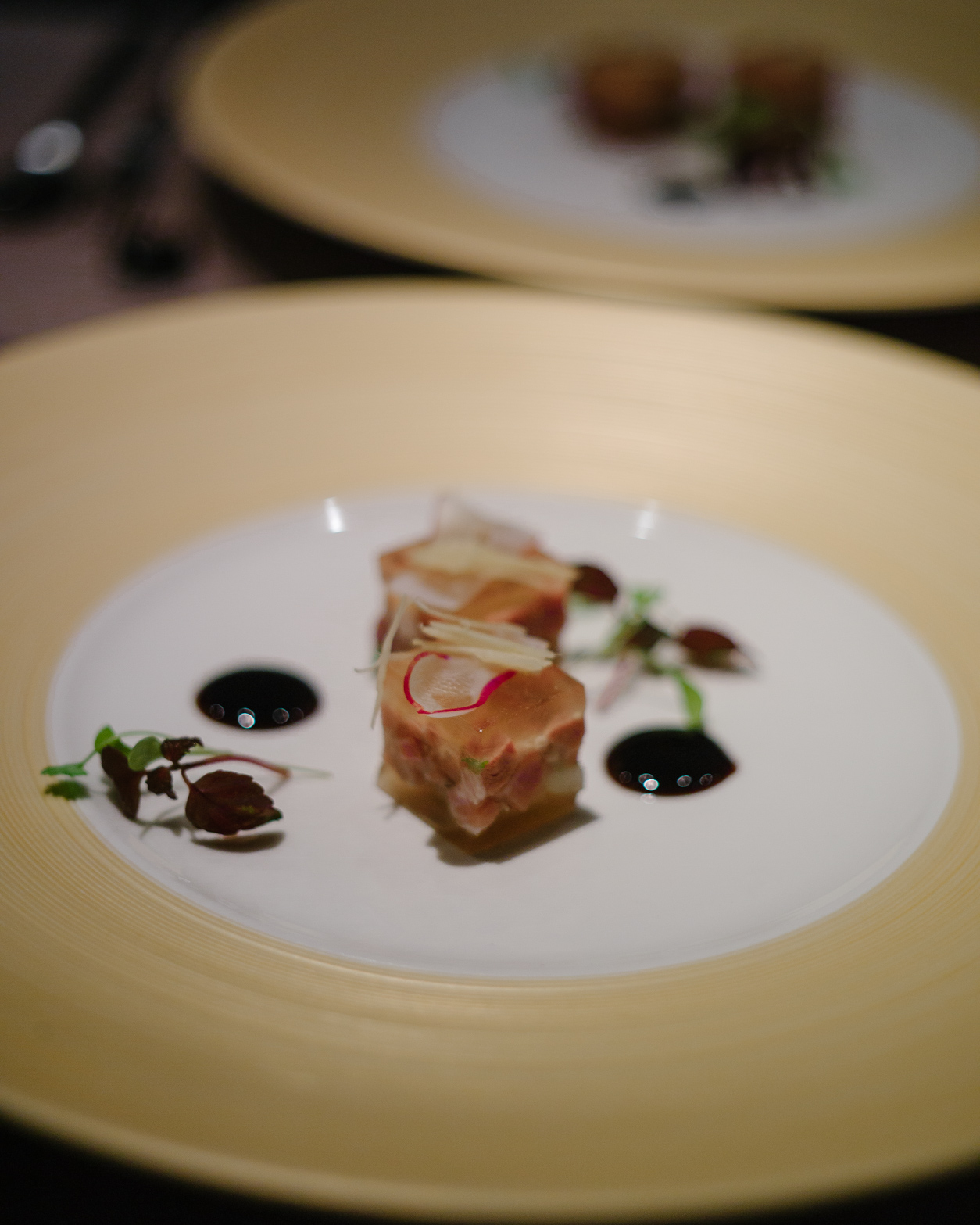 A delicious clean and cold appetiser gets the ball rolling. Nice savoury jelly, of well seasoned minced pork with ginger.
Lu Cuisine – Beijing, Shandong
Cherry wood roasted Peking duck 樱桃果木北京填鴨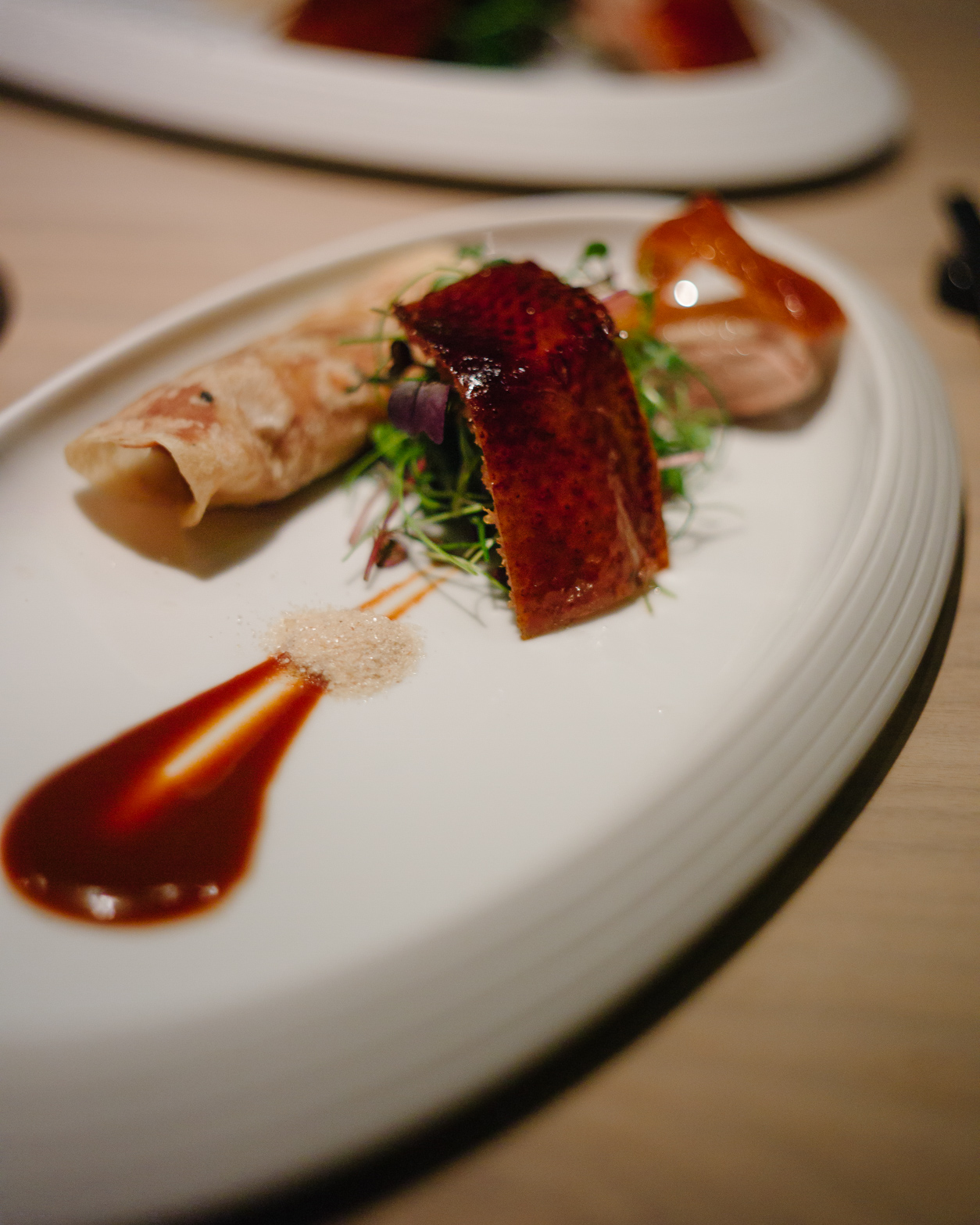 Next, the chefs carve the duck in the common prep area in the middle of the dining room and assemble sampler portions of (what is quickly becoming) the stereotypical icon dish of a luxe Chinese dinner. This is legit, I'm actually impressed. Great skin (which is the whole point), the fat is dense to the touch, and melts in the mouth. Fatter ducks during winter perhaps? Good flesh too, very plump and juicy. I like the brown sugar and the sauce is spot on. This is actually impressive.
Yue Cuisine – Guangdong
Dim sum trilogy 點心三部曲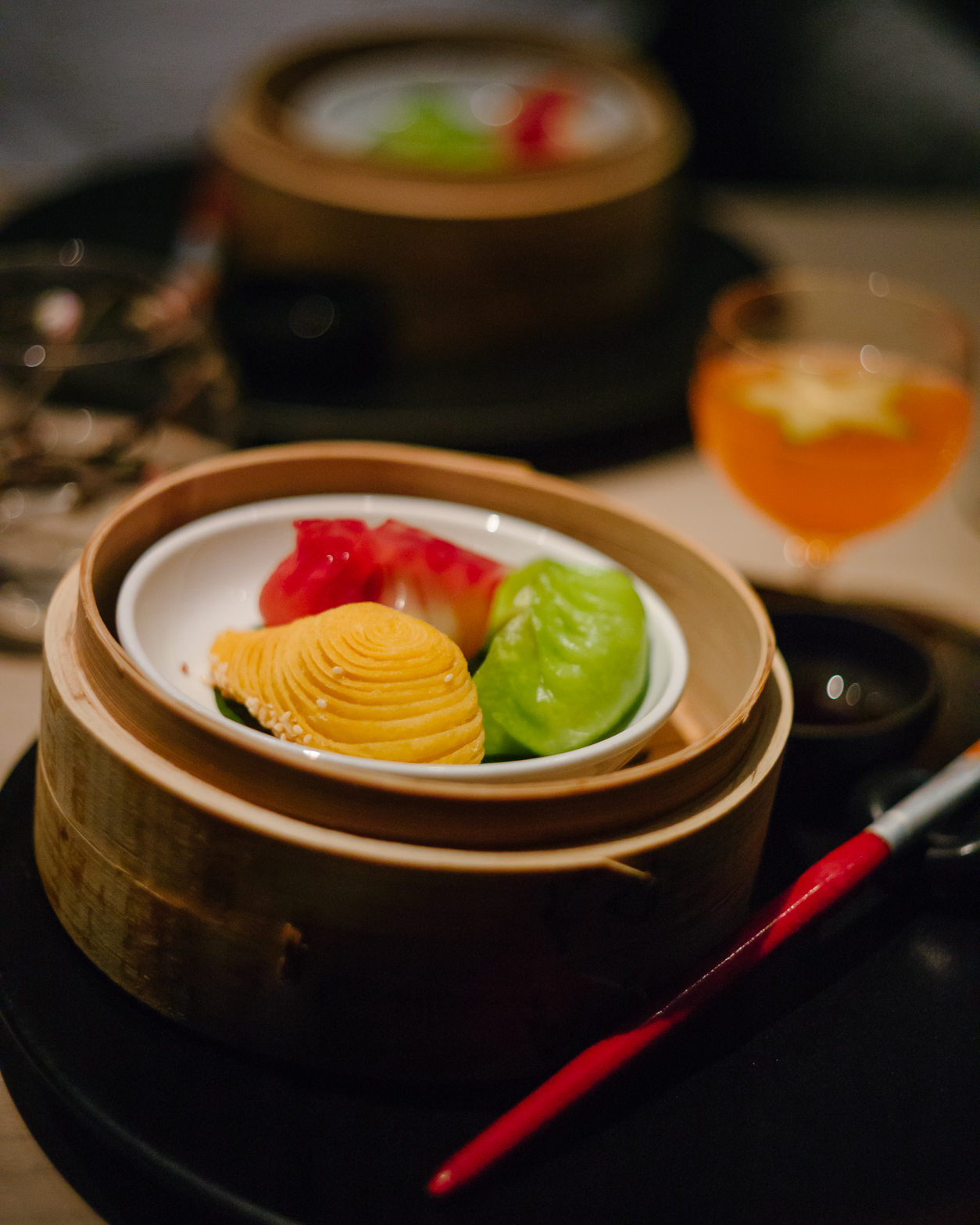 Expect no less from the guys who masterminded Hakkasan / Yauatcha dim sum, of course. Generously stuffed har gau, and there was another with truffle that was brilliant.
Min Cuisine – Fujian
Monk Jumps Over The Wall 佛跳墙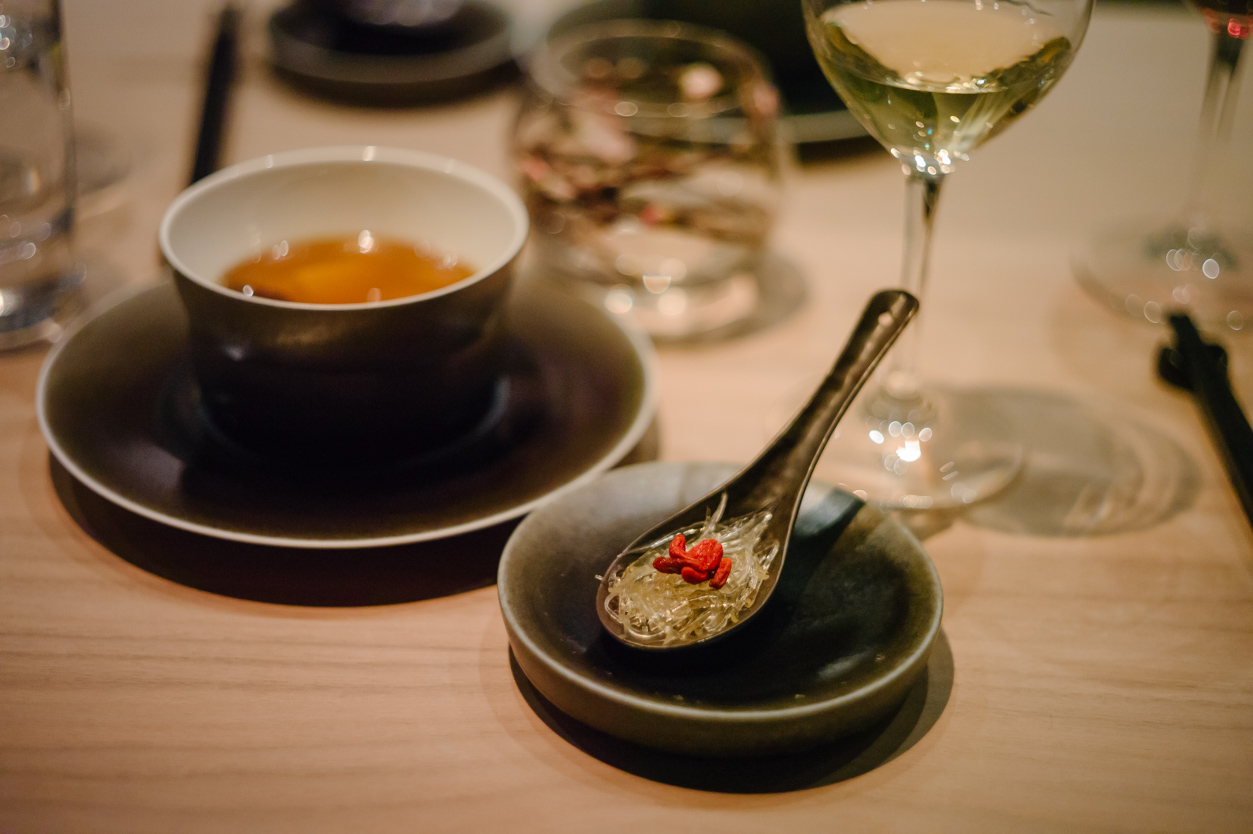 Proudly served with the far more ethical choice of mock sharks fin..! 20 years ago, we would be trying to suss out the real deal from the fake stuff, but today, mock is the way to go (or is it?). How the world has changed. Honestly, I used to choke on sharks fin as a kid. Not trying to be PC, but I tend to avoid it (and noodles for that matter, especially thin ones like Vermicelli. Mine my blog, you'll find I don't do noodles.) , if I can.
This was really quite good double boiled soup. I guess he must have strained out most of the goodies, just shy of consomme, so I can't tell what Chef Tong has actually made this with. He has however, left a generous 1/4 abalone in there (and sea cucumber, if I remember correctly?). It's just lovely, those juices of umami, the abalone, mushrooms, rich stock. It perks you up completely. The Budhha does jump over the wall with this.
If you have this soup, you MUST have the wine which this is paired with. A solid Sonoma Chard by Ramey. I would easily confuse the wine for a muscular Lucien Le Moine Pugliny-Montrachet: The same regal notes of buttered french toast, honey, oil, lemon, flint, just fabulous wine. And now I recognise the parallels between the flavour profiles of this prototypical Chinese soup with Burgundian Chardonnay.
The next time I'm in Fook Lam Moon – Chevy-Montrachet with Double boiled soup.
Xiang Cuisine – Hunan
Pan-grilled Chilean seabass in Sha Cha sauce 沙汁香煎智利鲈鱼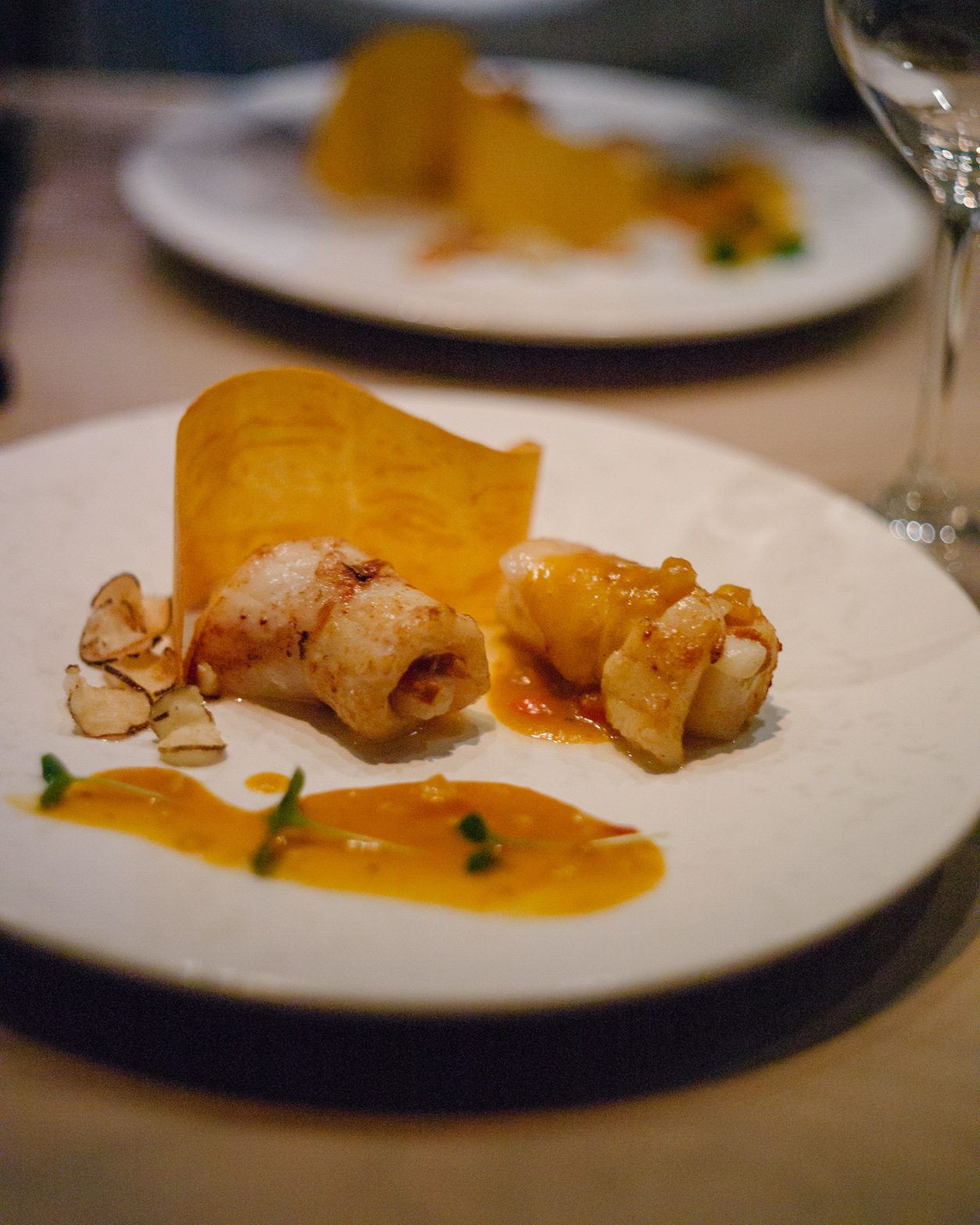 So now we come to some premium fish. Well handled, flaky and naturally oily, not overcooked, delicious. The sha cha sauce is sort of like a sweet chilli cream, dare I say, almost like a very light sweet curry sauce. It's well-seasoned and well made, so… where's my rice? Seriously, this needs rice.
Hui Cuisine- Anhui
Jasmine tea smoked poussin 茶香烟熏吊烧鸡
You know, I still remember first eating tea smoked chicken nearly 10 years ago at Hanway Place. It's a great recipe, but fast forward to 2015, well, I think it's quite ordinary. The Chef spiked this with some truffle – almost like a last ditch effort to spruce it up. It's so-so, chicken with sauce. Seriously, we are dying for some rice here. Where's my rice?
We did request for one, but our waiters looked puzzled, almost confused that we need rice with this dish. I don't know about you, but I still need to have rice with my mains. Especially with these sort of flavours, It's not been diluted, the sauces are still quite classic, and therefore… rice please.
Zhe Cuisine – Zhejiang
Braised King soy Wagyu beef with Merlot 东波神户牛肉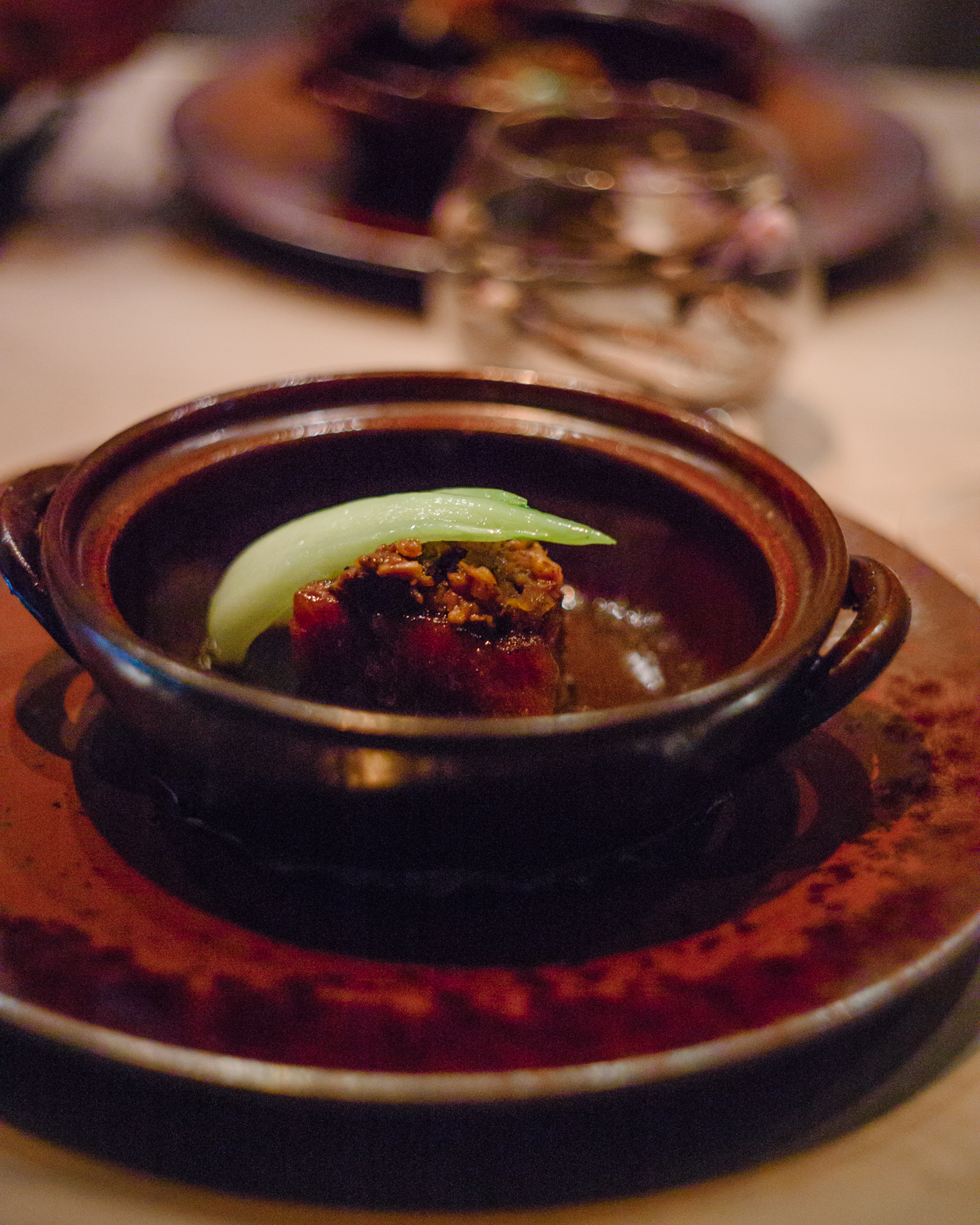 Good beef, obviously, but I found the sauce to be too syrupy. How much merlot did he caramelise? This is off balance to me, and needs tweaking. Also needs rice.
Chuan Cuisine – Sichuan
Sichuan chargrilled New Zealand scampi 麻辣新西兰小龙虾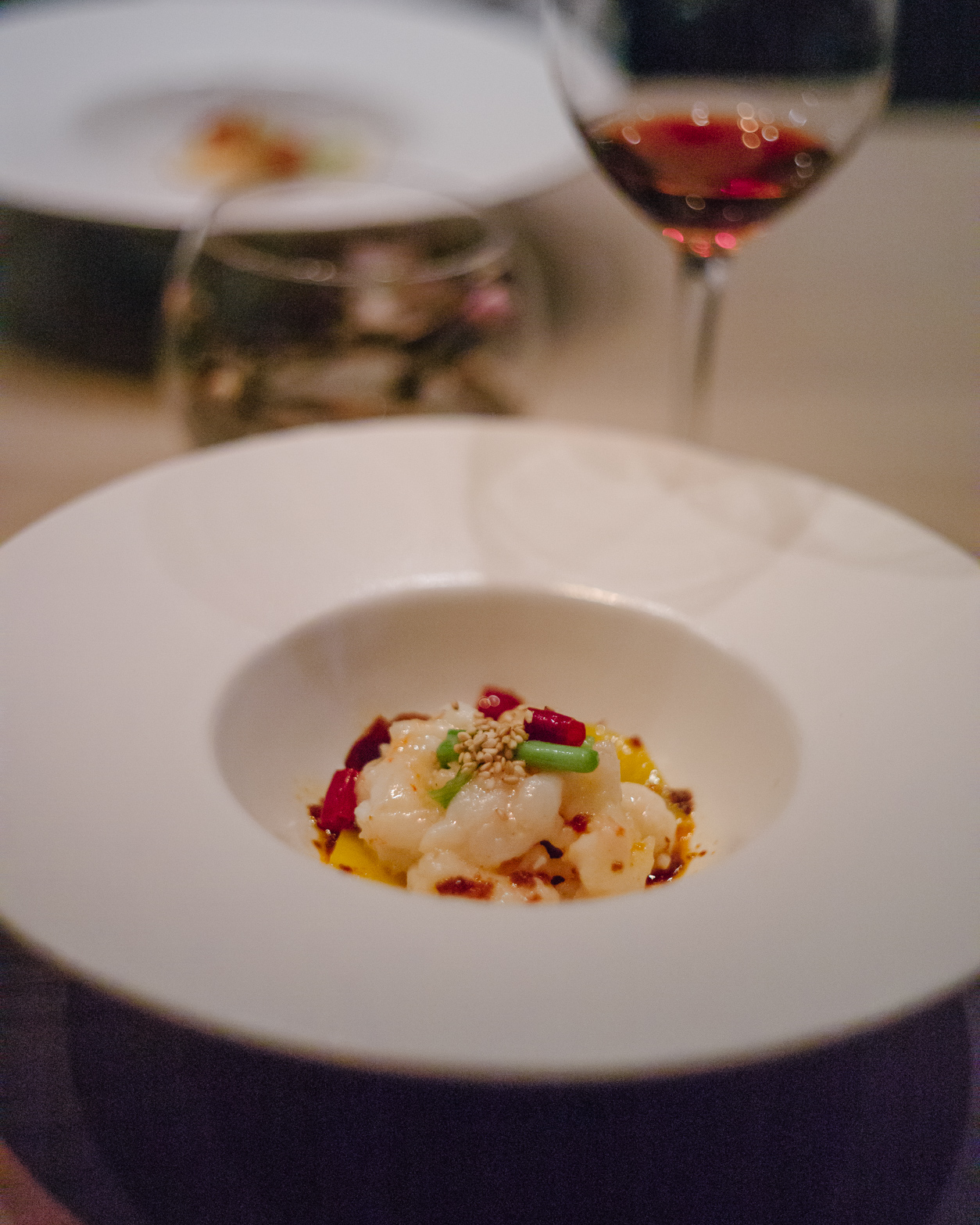 Check it out – the texture is all crunchy and fleshy, HK style! Yeah I definitely feel the Szechuan alright – the spiciness is evident. I liked this, good prawns, and a decent finish to the savouries.
I actually think the four main dishes can be served out to be shared by the table, with rice. I just think the taster menu structure falls apart at this juncture. Chinese food is about eating together, round tables and the art of not clashing chopsticks over dishes. All this structure, especially for CNY feels rigid.
Trio of dark chocolate dumplings with yuzu and ginger infusion 团团圆圆
Yeah nice sort of pre-dessert. Hmm, next?
Sheep's milk mousse, pandan curd and caramelised puff rice 喜气洋洋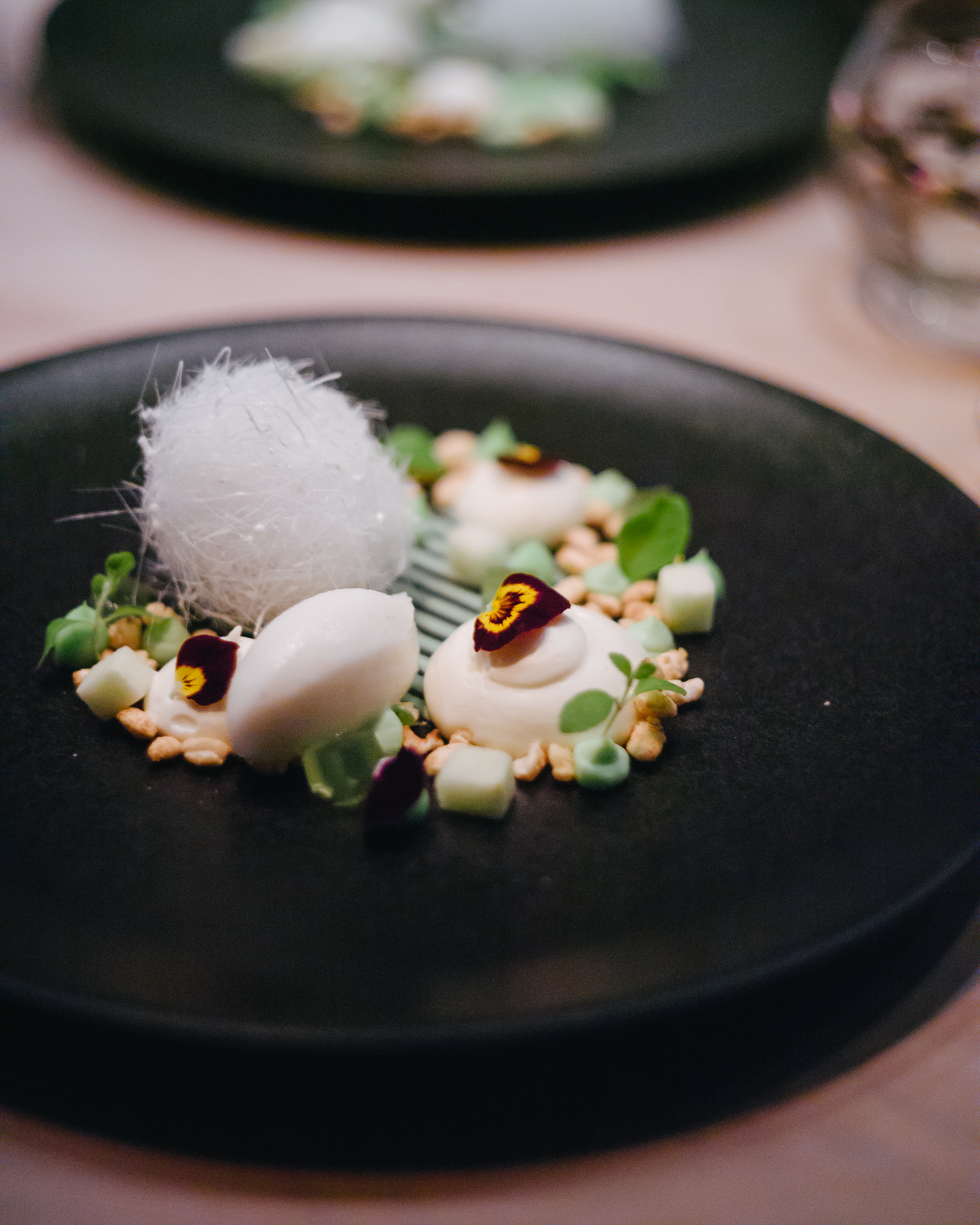 I liked the pandan curd and the candy floss (though it feels prickly enough to scratch enamel). It's a good dessert, but this feels more Young Turks than Szechuan. But it is a good pudding.
So all in all, yeah not bad. Good start, midway could be more interesting, decent finish. It is a decent greatest hits album of Chinese cooking, could do with some injection of festivity to reflect the occasion. Of course, Hakkasan knows how to cook good Chinese food, there's no question about ability, but I do find the menu just a bit pedestrian. There are no twists, nor innovation, this is straight up classic cooking. Should Chef Tong have cast a wider net to showcase some lesser known nuggets of Chinese cooking? I think so. Maybe Chef Tong will take more risks next year. Afterall you guys are quite a savvy bunch these days.
So Thank you Hakkasan for the invitation. Happy Chinese New Year and may your restaurant empire continue to push the boundaries of Chinese cuisine globally.
Details
HKK
Chinese, £88
88 Worship Street
Broadgate Quarter
London EC2A 2BE