I can't believe it took me over a year, but from now on, I'm going to make it here every Friday. Look at the dining room; This is heaven. Forget C&K, McNally or Caring, because the once Le Protege has outdone them all. This has the wow factor, the brass (and more brass), the colossal back-lit bar, chandeliers, walls decked out with shimmering brass-framed pictures. There's even more opulence here than if tables were set up in one of the drawing rooms in the Wallace. I like this a lot. Talk about atmosphere. This is atmosphere.
By now, you must agree with me that Jason Atherton has become The Man. He's literally all over the world from Singapore to Dubai, New York to London. I counted 15 on his website, but I'm sure there will be a couple more by the time you read this. I was always lukewarm about his Socials, but I think he's really has created something of a quintessential grand cafe either accidentally or by design. He, in this context, is a collab with EDITION Hotels – itself a luxe boutique hotel collaboration between the Marriot Group and Ian Schrager.
I visited for a lazy afternoon lunch on 2014 New Year's Eve. I thought about brunch at the other granddies, The Delaunay, Balthazar, but opted to come here, and I was really glad I did. Seriously, once you go through the front door and tilt your head up, it's breathtaking. This is a magnificent restaurant.
So what do you look for in one of these? Good house burger? Decent eggs? Maybe steak frites, oysters, fresh local(ish) catch? You're after conventional decadence, and that's exactly what Berners offers. No dicking around with concepts here, just classic.
Of course, the ambiance is all for naught, if the service didn't deliver. Front of house is as handsome and as slick an operation you'll expect. They are groomed in perfect black and whites with equally perfect pressed manners. My waiter was knowledgeable when quizzed, and presented his recs with a disarmingly professional style. Like other Atherton restaurants, they talk about the menu, like people who have eaten from it. This feels great. Here, take my money please.
Dressed Colchester crab, brown crab mayo, apple, coriander, £20.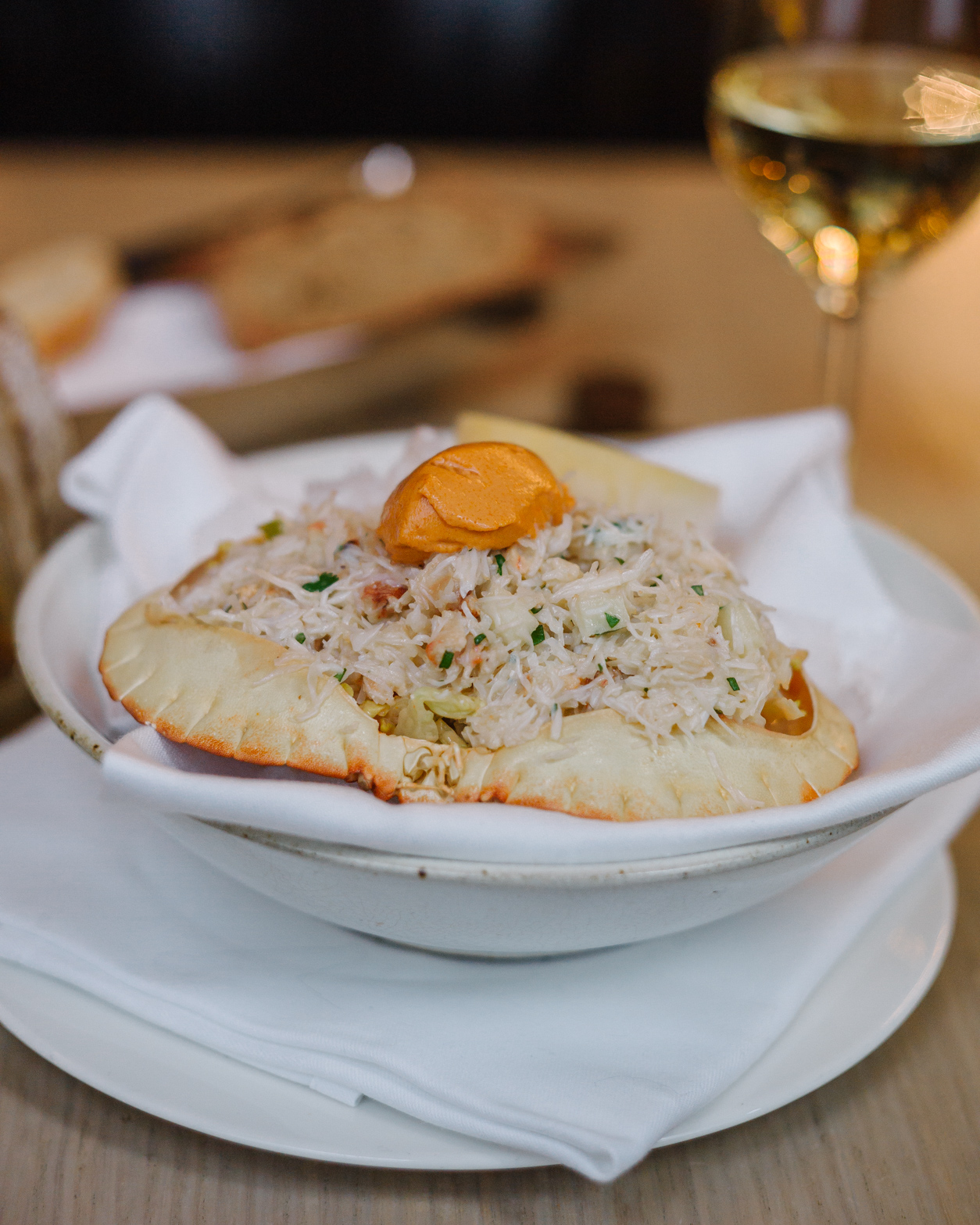 Some incredibly sweet crab, the natural flavours enhanced with the apple and coriander it's tossed with. If I remember correctly, with iceberg hiding in the shell. A superbly dressed crab salad indeed. Gorgeous brown crab whipped into a mayonnaise and served with toasted sourdough on side. Damn this is class. So clean, so fresh. Love it. I washed down with a glass of Galician Godello, on my waiter's recommendation. Everything in sync and in balance.
Roasted rump of Romney Marsh Lamb, crispy breast, smoked ham hock and white bean ragout, pesto £24
with Green Salad £4.5, Triple Cooked Chips £4.5 and Béarnaise Sauce.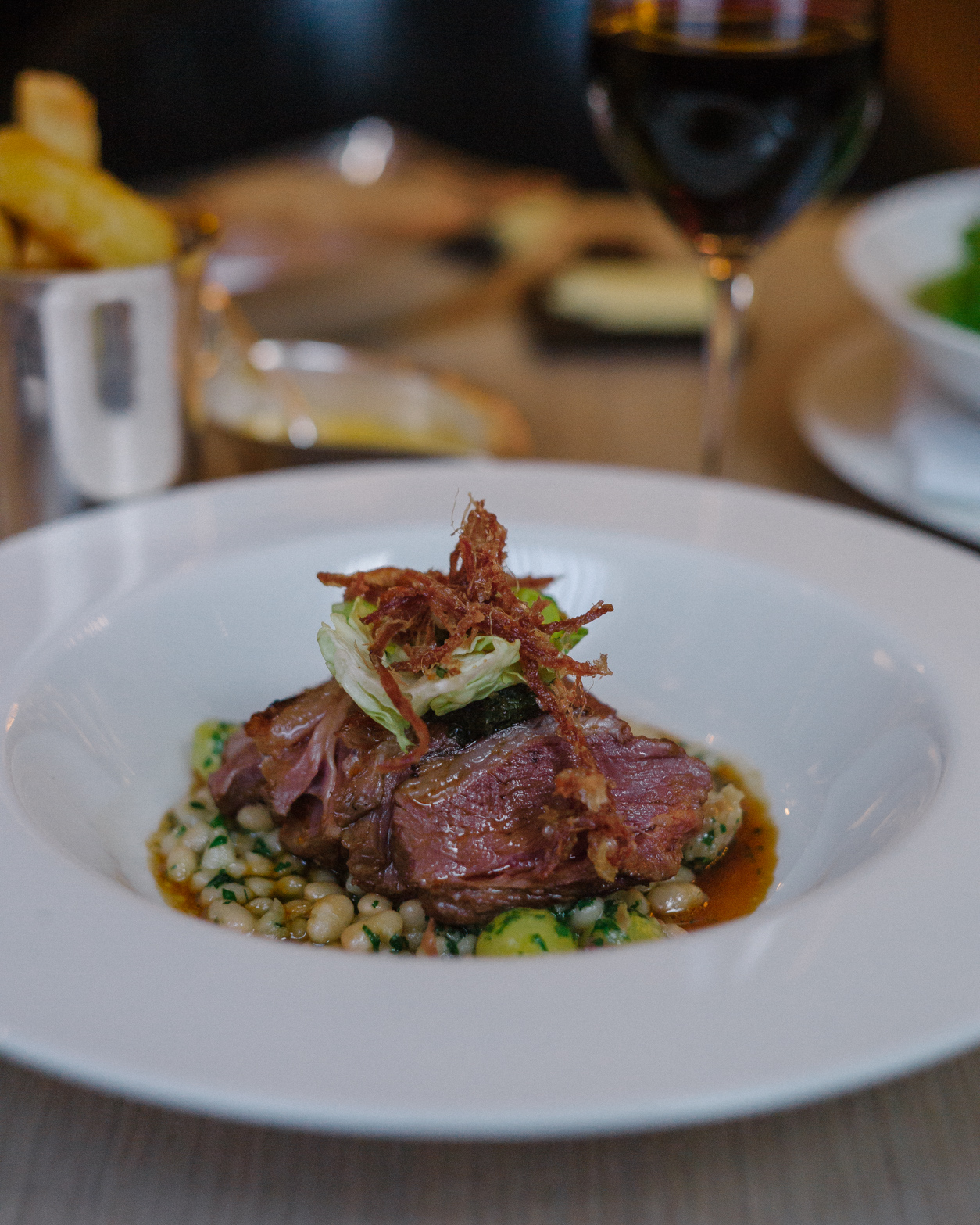 To the sides first – if you love your chips and béarnaise, then this ticks all the right boxes. The basics are all there.
I love that the lamb was cooked very pink. All the textural qualities are preserved here, it chews just fine with all the natural juiciness retained. The rest of the fixings, the crispy breast, the smoked hock and the beans, pesto, all of it just makes the the lamb ooze deliciousness in waves and layers of apparent complexity. All finished in a great sauce to moisten the palate. Just classic.
However, there was a bummer in that my cut has a massive sinew running through it. So I had to leave some unchewable bits behind.If this happens to you, maybe let Chef Phil know about it.
Warm apple and pear rice pudding, cinnamon crumble ice cream, £8.5.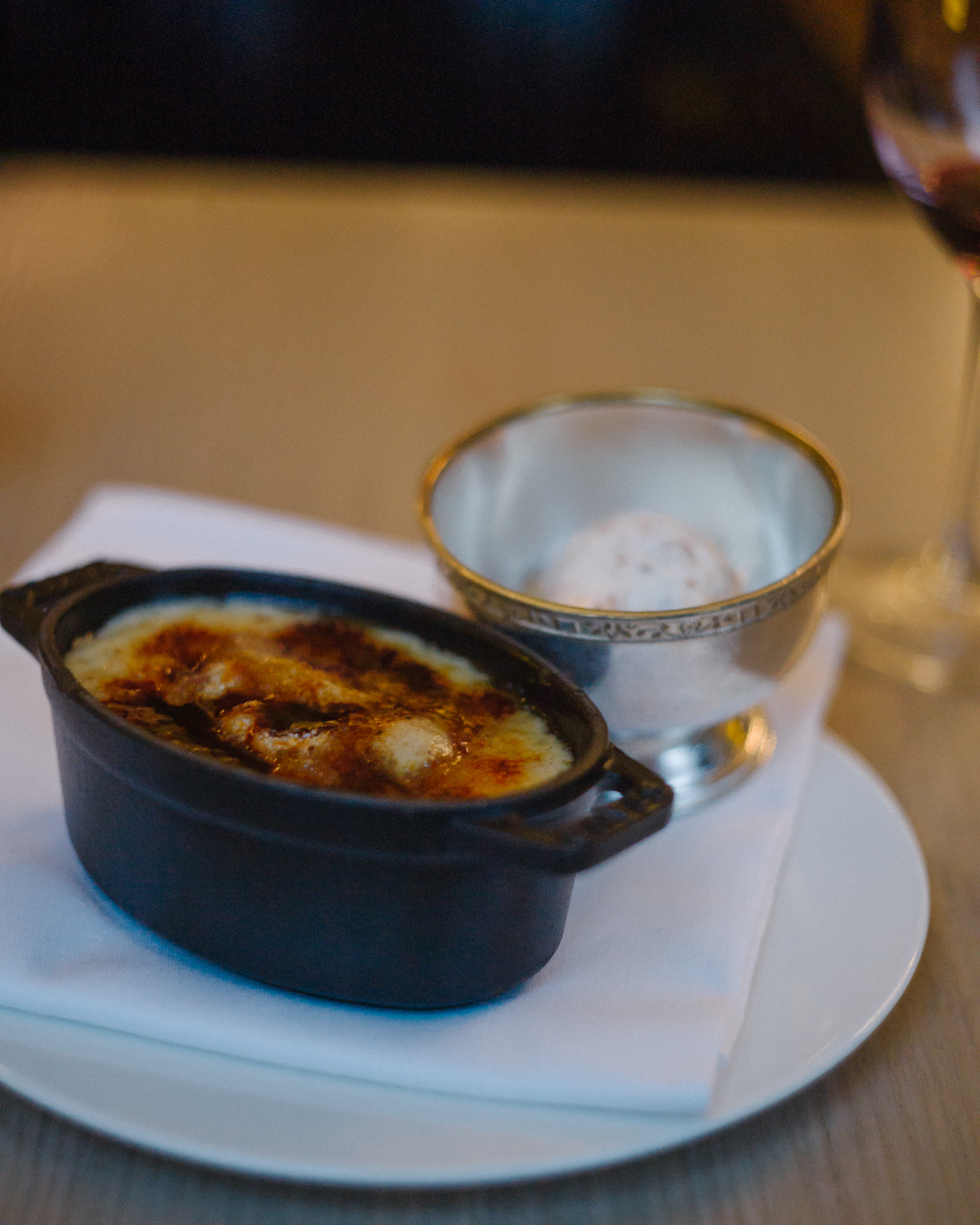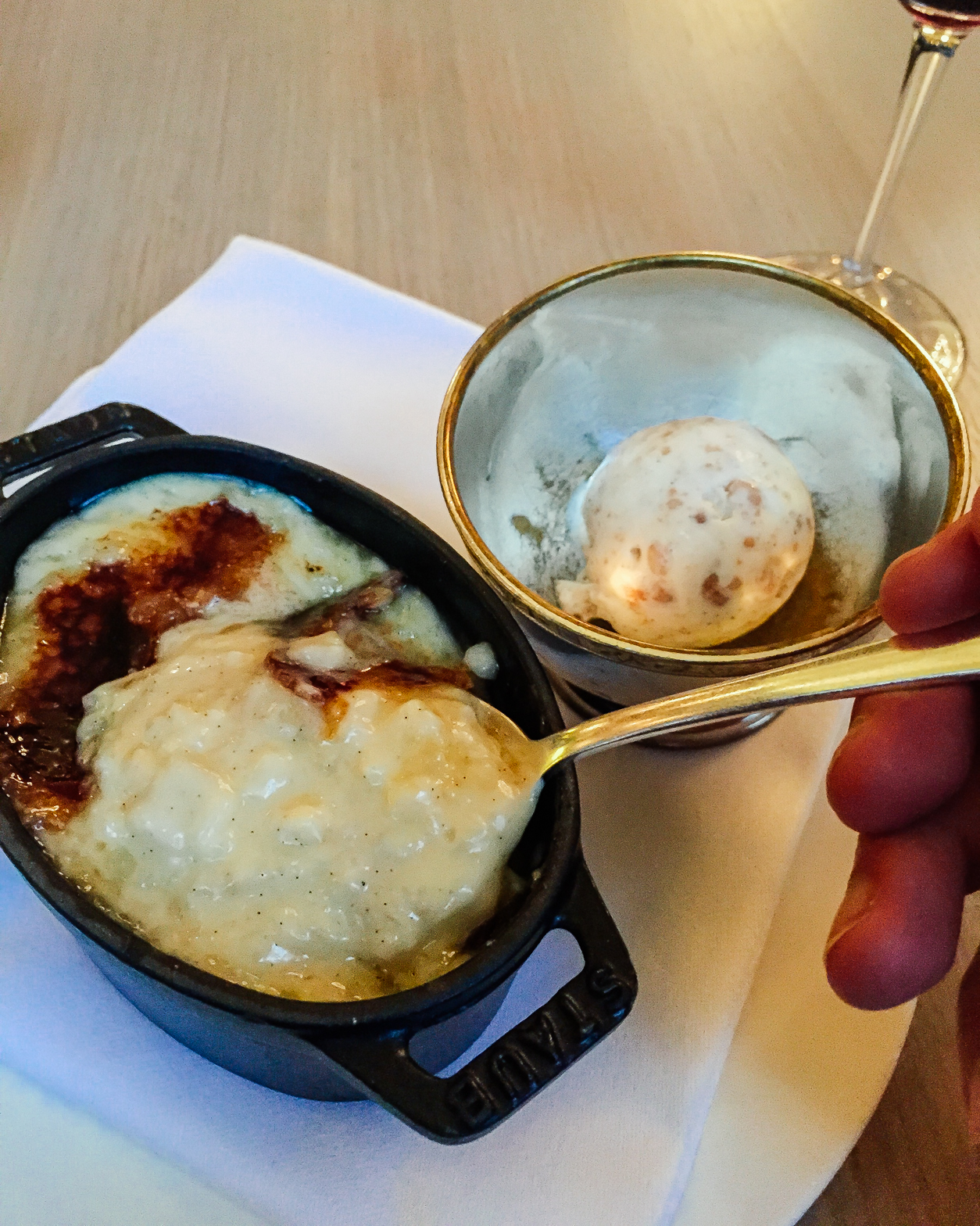 I'm pretty sure I had great rice pudding at Pollen St, when it first opened in 2011. At least, that seems to be the last time I remembered eating great rice pudding on a meal out.
Man did I love this. One for the purists. It's all hot, custardy and chock full of sweet vanilla eggy richness. It's just wintry comfort. Mix with cold ice cream and large crumble pieces and you have a proper pudding. Five thumbs up. This was better than the crab.
This old school, pitch perfect cooking strikes a nice balance. You won't go hungry after a meal here. I really like the menu. I could come for breakfast every weekend, read the paper, have a couple of cups of coffee. The atmosphere… It has atmosphere! Not many new restaurants can boast this sort of premium feel, ever since the egalitarian theme started a few years ago and as it continues to be the mainstream trend.
I cannot say more nice things of service. Dressed to the nines, attentive without being obtrusive. They know their menu inside out and are just so professional. It's brilliant. It's what you pay for.
And so to that subject. 3 courses, 2 glasses of wine, 1 coffee, service… £102.19 for one. Ouch. Expensive.
Unfortunately the atmosphere comes at a price. For a £100 lunch you can go to Le Gav or The Square or Marcus and eat all their signature dishes by ALC. Those ** restaurants of course have great atmosphere and objectively, the food is better. But that's obvious – A meal at Berners Tavern is not better than those institutions.
Saying that I'd still come back. There really is something quite magic about what they've done with this space. The question you'll ask yourself is how much you would be willing to pay to experience great service and superb atmosphere.
Ok so those are the nice things. I do have a small gripe and it's to do with the wine prices by Coravin. By now, many restaurants across town have embraced this technology but I think pricing by the glass is off. I love the gizmo, I think it really does work. And it does mean that you can slowly sip your grail bottles over years, rather than days.
Here's the stuff I've coravin-ed over the last few months. Everytime I draw a glass, it's fresh as daisies. This is miracle technology. Restaurants can finally offer legend labels by the glass, without having to sell the rest of the bottle on the same day.
So two things. Firstly, I think the pricing needs to be attractive. Secondly, I think selection is important. The coravin isn't meant to be able to serve any wine by the glass – it's about being able to give diners a peek into labels you usually just read about in over the top – terribly eloquently written up – hazy marathon tastings by say JR or RP or JS.
To start with the former, I think that like most restaurants' Coravin offerings, I was disappointed with Berners' prices. A 2011 Serre Nuove – Ornellaia's 2nd wine – for £22 for a glass (as in 125ml). It just feels like too much.
So here's my math:
You can source a bottle in bond for about £30, and that's the top offered BBX price from BBR.
Slap another 20% for VAT and that's £36 for 750ml bottle. What's a fair mark-up? 2x? Ok, so that makes £72 (still ouch for a Serre Nouve) for a bottle. It translates to £12 / 125ml. Ok fine, lets call it 2.5x then, £15 / 125ml.
The Coravin doesn't cost much, about £250. Add maybe a £1 per access for the helium, and that's it. The wine continues to sleep in the cellar. No other financial losses right? Am I missing something? Berners appears to have applied a 3 to 4x mark-up by my estimations.
On selection, don't get me wrong, it's a good wine, but the Coravin is supposed to enable restaurants to pour special wines. An Ornellaia maybe, but definitely not Serre Nouve. The thing about 'second wines' is that they are meant to be drunk early… the cork is supposed to come off, so you are temporarily distracted from opening the flagship wine, which needs to sleep!
As for Chateau Canon at £50 for a glass (125ml)…? It feels expensive. I don't know if I'd even pay that for a carafe. It's solid BDX yes, but I don't know if I'd really class that as a fancy wine. How much is a bottle of 2001 Canon? £80? £100? At today's prices. How much was that when it en primeured in those days?
The pricing and selection just isn't compelling enough. I just don't feel like I'm getting a good deal. Current Coravin prices in restaurants feel like they come with a novelty mark-up. Will we see more competitive pricing in coming months?
Or maybe, not enough of you care for a glass of '83 Clos Ste Hune with your fish.
I wait with bated breathe for the industry to re-think how to use the Coravin.
For £60, you can have an entire bottle of excellent 2009 La Chapelle Mission Haut-Brion from Robersons. Or better yet, you can get any Langoa Barton or any Dom Chevalier, from a 200x vintage, for about that. Maybe I visited during a depleted week, I don't know, but the pricing and selection just didn't do it for me.
Come on guys, please revisit your coravin policy. Doesn't this go against the original spirit of being able to offer mythic labels for mere mortals. The beasts continues their in-bottle slumber after a quick prick of the needle anyway, so nothing is lost…no? How about a Leroy Richebourg ? A Leflaive Chevy-Mont? Or as I offered above, the 1983 Trimbach Clos Ste Hune. Arguably the greatest Alsatian Riesling in living memory.
Something extremely compelling. A plea from a return customer who would love to spend (more) fair value money at your premises.
For comparison, I drank a wonderful glass of 2001 Morey Corton-Charlemagne – classy white burg with danger of premox absorbed by Marcus. He charged £50. Berners offered a similar-in-class 2002 Corton-Char, by Bonneau du Matray (great wine-maker, of course) for £85. For reference, Robersons offer the Bonneau for £114 a bottle.
Of course, there are some restaurants which already make a compelling case. 28-50 is a good example. The Maddox branch rotates nice things with the seasons. For a regular solo diner (without too many friends who spend money on plonk), this gives me a lot of reasons to go back. Especially when I hear that they offer DRC by Coravin too. See, I'm pretty sure I'll never buy a whole bottle of La Tache, ever. Just too much money for grape juice. But I'd love to satiate the curiosity with a small glass just to see what the fuss is all about.
I also think Medlar does a cracking Coravin rotation. In fact they offer some awesome wines by the glass, like Ch Margaux's 3rd wine (from 09 no less from popped cork) for £17.50. That's my usual when I go there. I don't know about you, but I love 09 Bdx, it'll just drink well forever without ever closing down, and just so appealing with food.
As for their Coravin list – A 06 Montrose for £35 and an 08 Dominus for £55. Both – IMHO – are superior to the 3 reds offered by Berners, during my visit.
So wine gripes aside, it only detracts slightly from this visit, or not at all if you don't really care for plonk. Fundamentally, there is nothing ground breaking here and this doesn't try to be anything other than to offer classic cooking (steaks on a josper grill), fresh British produce, proper service and proper ambiance. As long as you are happy with the prices, then there's quite a lot of good things going on. What more can you ask for?
Berners Tavern
British £100pp
10 Berners Street, London W1T 3NP
Tel: +44 (0) 20 7908 7979
Tube : Oxford Circus / Tottenham Court Road
PS: You should see slightly clearer pictures. With Retina or HighDPI displays these days, I've doubled the pixel count this year. Hope it works!