The people behind perhaps the most exciting restaurant of 2013 have opened The Manor in late November this year, and along with the opening of The Delicatessen soon, these guys look set to take 2015 by storm.
Actually, I still haven't been to The Diary, the one that started it all, and so I'm only joining the Robin and Sarah story in middle arc. The way it is explained to me, is that The Dairy is based on small plates, so 'British' tapas I suppose. The Manor takes the same approach to the next level. Bolder, grander, tasting-menu-ier.
As far as I can tell, Robin and Sarah Gill will continue to oversee The Dairy, while Dean Parker – ex-head chef at The Dairy – will become The Manor's point man. He's spent years alongside Robin and his other experiences include time in Tom Aikens, Amass and The Ledbury. Running front of house is the affable Dan Joines, who was present during my lunch visit.
Self-styled as a 'Modern Bistro', it is quite an apt descriptor, both in terms of food and decor. On the former, there's all manner of high-tech wizardry going on and this puts them in the same sandbox as the other very trendy establishments such as Story, Kitchen Table, Hedone and everything by ex-Young Turks, and potentially better than all of the above.
I thought I'd flash the menus below, since FOH chose to spend time to explain them to me, about how the £42 Tasting Menu is a showcase of the best of the best, but also about what can and cannot be swapped out. I decided on the ALC, because I wanted to try the cod cheeks.
ALC Menu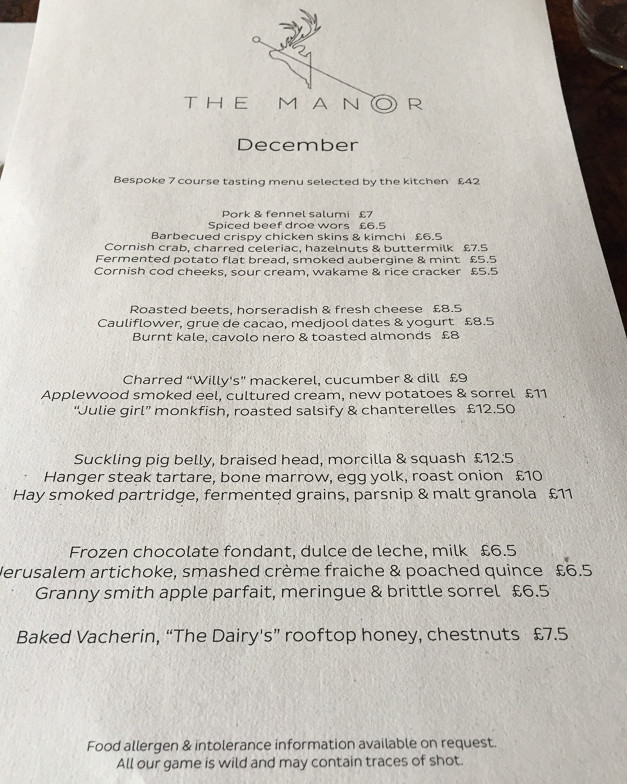 Tasting Menu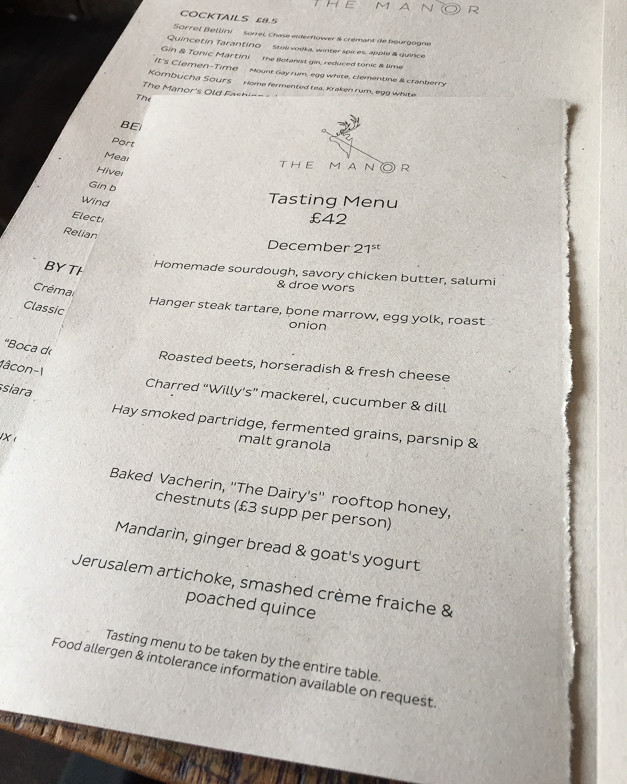 There is a relaxed mood about the ambiance, comforting, serene, FOH do their best to create a relaxed atmosphere and as a result, this creates a nice buzz when the room fills up. So it appears, it is quite an inviting bistro, so fresh and oddly it reminded me of Simon Rogan's celebrated pop-up Roganic.
From the various reviews, I was expecting a good meal, but I never expected to be surprised by how good the meal actually was. There was so much amazement and joy, wondrous innovation that I think it's almost a travesty for your first experience of The Manor to be from a blog-post. Is this what it was like to witness Heston at the start of The Fat Duck, I wonder?
On the other one hand, I feel compelled to write about this, but don't let me spoil the surprises for you, if you're like that about eating out. One thing is for sure: This is the best meal I had in 2014.
Sourdough and savoury chicken butter.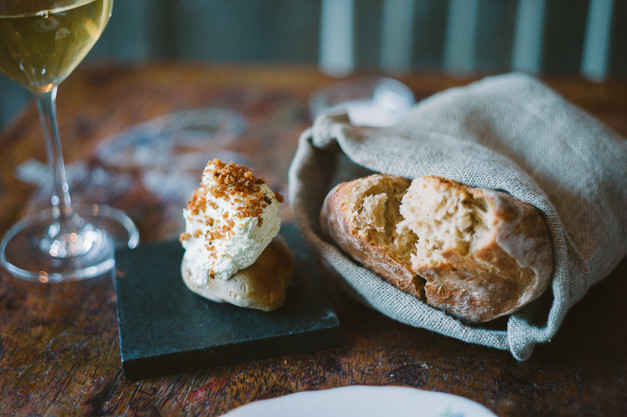 Piping hot sourdough is a bag with a tremendous mousse-like savoury chicken butter (and chives) and bits of crispy chicken skin. The bread and butter alone is worth all the stars in the world, so addictive, I tried to refrain from eating too much, but worked through one and a half palm-sized rolls anyway. The butter is probably better than at Nuno Mendes'.
Cod's cheeks, sour cream, wakame & rice cracker £5.5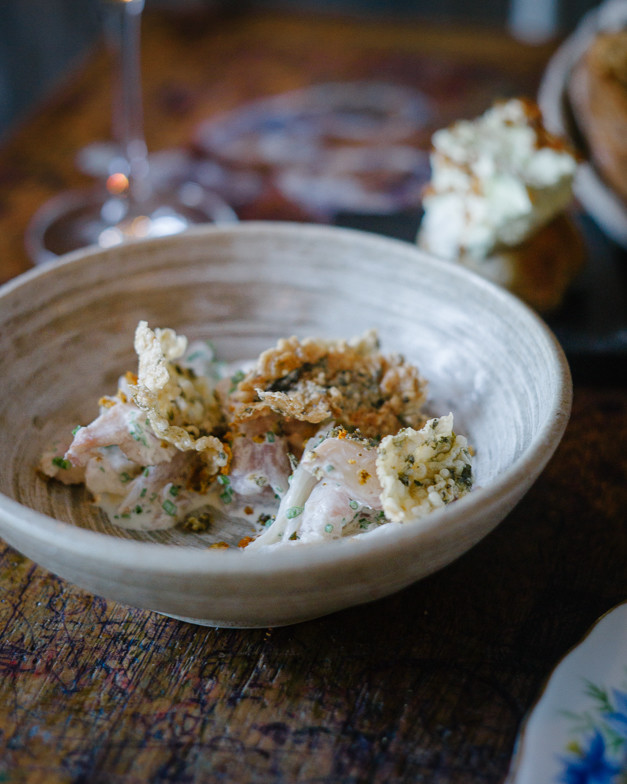 The texture of the fish… How is that possible?! It tastes both cooked and raw at same time – this is amazing. The original oily, silky, flakiness are gloriously retained. Served cold and well-seasoned with the sour cream enhancing the natural creaminess and adding a nice uplifting freshness. The crackers added more texture, mimicking something that looks and tastes like crispy fish skin. An expression of Cod or something like that. Skillz and then some.
Charred 'Willy's' mackerel, cucumber, dill, £9.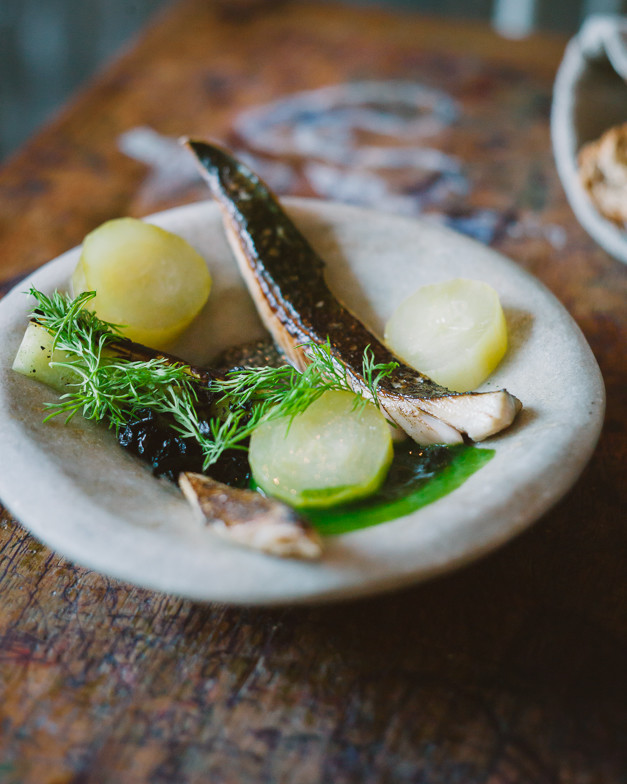 I went ALC, because I also wanted to try the 'Julie Girl' monkfish, well, because I wanted to find out what Julie Girl really meant. But they brought out 'Willy's' Mackerel instead. At first, I was confused and aghast they brought out the wrong dish, but Willy's fillet did look very appetising and so I decided to eat it.
Served on a hot stone plate, like the cod, the mackerel is exceptionally sourced produced and perfectly cooked. All the flakiness is retained, oozing oiliness and natural flavour with every bite. A nicely charred piece of oily white fish is surely one of the greatest simple pleasures in life. And so rather than disturb perfection, this recipe pairs ingredients that enhance the natural textural qualities of mackerel. Like the gelatinous-ness from cucumber, allowing each bite to slide around effortlessly on palate. Fine work indeed.
Hanger steak tartare, bone marrow, roast onion, egg yolk £10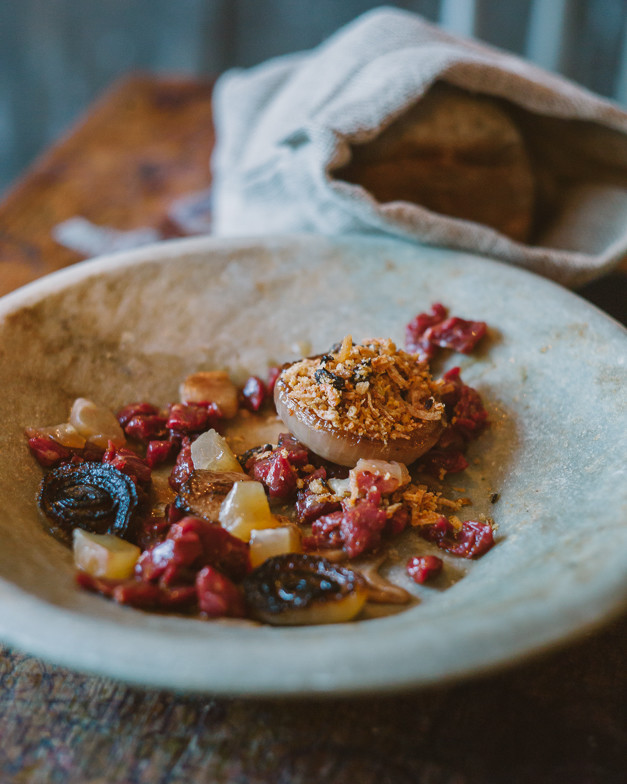 Wow dish. This is amazing, completely unexpected.
It starts off sweet and zesty, perhaps from onions (and hidden capers in there somewhere?) , then flavours of well-hung, beefy bits of onglet, peppered, salted, almost like a raw jerky. Then inside the half onion shell with (presumably) crisped onions is whipped eggyolk – like a savoury sabayon! With bone marrow whipped into it! Ridiculous! There are little cubes of marrow, but also other cubes of beef-flavoured jelly. What is it? Beef stock in agar? Reconstructed beef tendon? I dont know and that's amazing.
There's innovation for sake of innovation, and then there's innovation to make something better than it was before. I think this is the latter, this is steak tartare, done better. I've certainly never had it like this before.
Epic work, you experience it all here, sweet, salty, sour, bitter, it's wonderful and surprising and it tastes gorgeous and absolutely what eating out is all about. Massive props to Chef Dean.
Applewood smoked eel, cultured cream, new potatoes, sorrel, £11.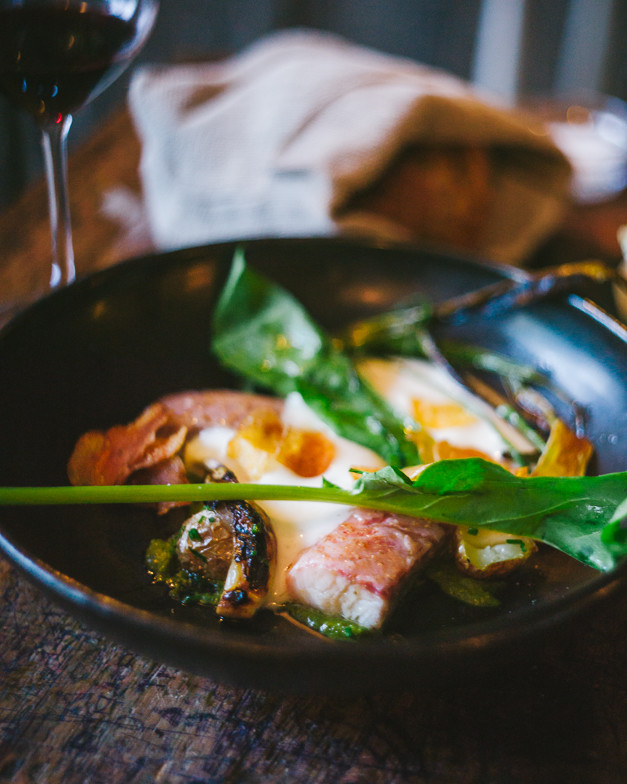 Dan had brought this out as an extra course to my meal.
What a nice colour. Subtle smokiness, nullified with the sharpness of the cream, thin potato crisps for texture and just the most delicate of textures, it dissolves as you work your way through it. Such classy stuff – How did the Bib decide to let The Dairy slip through their clutches?
Suckling pigs belly,braised head, morcilla , squash, £12.5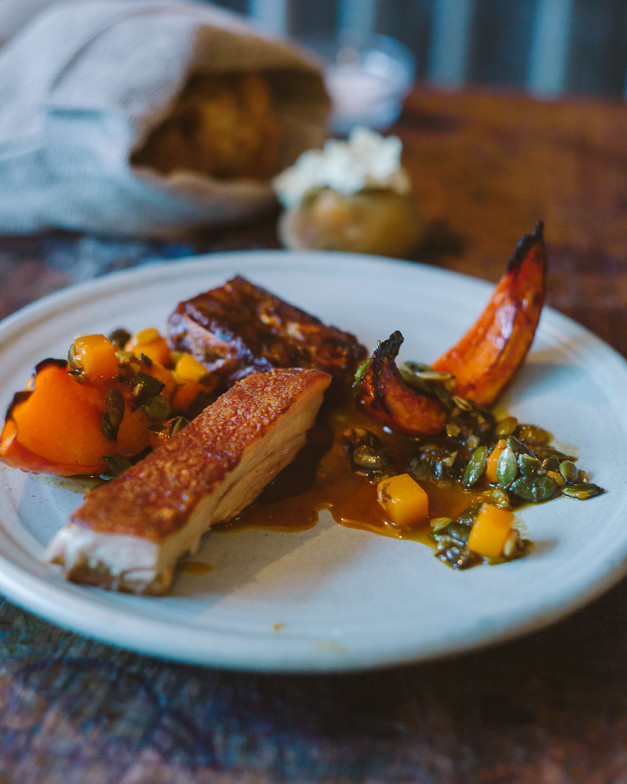 The execution is as high quality as the preceding dishes, but for me, it is the weakest of the meal. Mainly because having this, reminded me of better versions of it elsewhere. For example, I think Antidote does the perfect version of suckling pig's belly (in all variations of seasonal sides and accompaniments) and the braised head whilst good, just reminds me of how excellent Arbutus' signature dish really is.
At this point, I noticed a lingering charred sensation on the finish and I thought, what a great meal. Just when I thought it was over, Dan tells me to get up to sit at the Sweet Shop.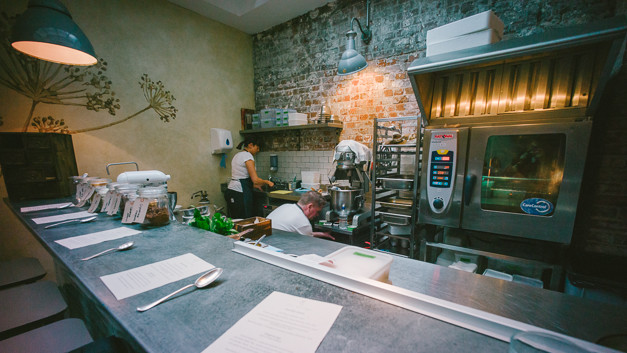 The savoury dishes were just mid-way. This meal was hardly over. Dan tells me he wants me to try abit of everything. Accordingly, I prepared myself for dessert.
At this point, I'm handed over to the sweet Kira Ghidoni- The Manor's pastry chef, formerly of Fera & Murano – who introduces her shop and all other baked things. It smells fantastic up here, under a rooflight that illuminates the steel bar top. Some kind of sweet heaven.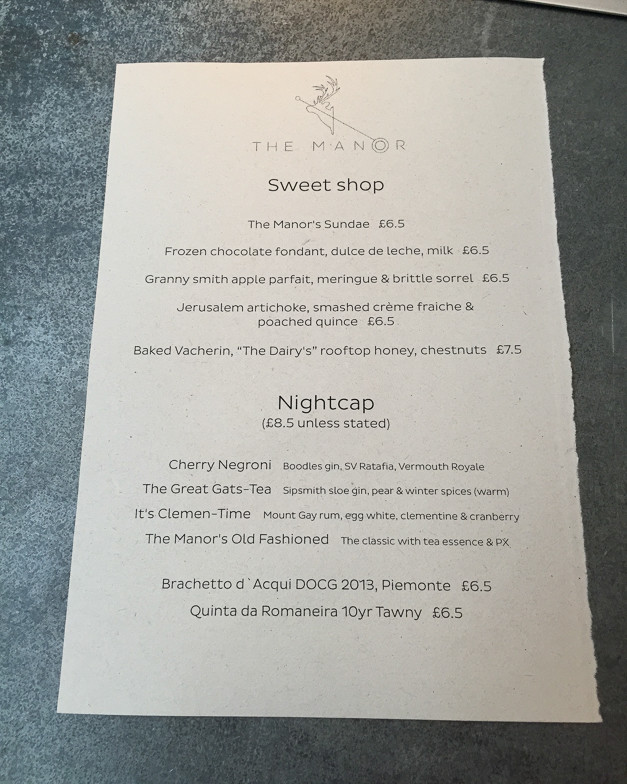 Baked Vacherin, 'The Dairy's' rooftop honey, chestnuts, £7.5.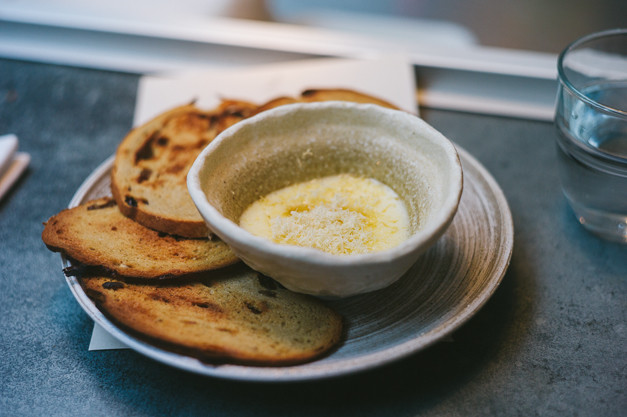 She starts off by baking some chestnut bread and vacherin in ramekins. After a few minutes in their impressive Rational oven, she scoops out the freshly baked and piping hot vacherin and drops in some honeycomb – from the rooftop garden at The Dairy. It's like a cheese soup, a dash of sweetness, wintry and gorgeous.
While I lick the bowl clean of the cheese, Kita begins to assemble the first of her exquisite creations and we are soon enveloped in a cloud of vaporising nitrogen, and powdered sugar. The air's getting thinner in this corner of The Manor ….
Granny smith apple parfait, meringue and brittle sorrel, £6.5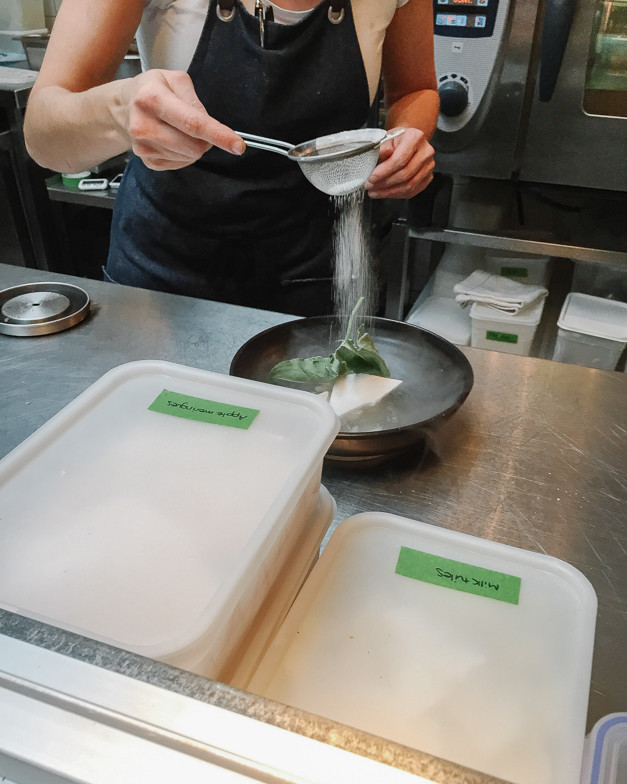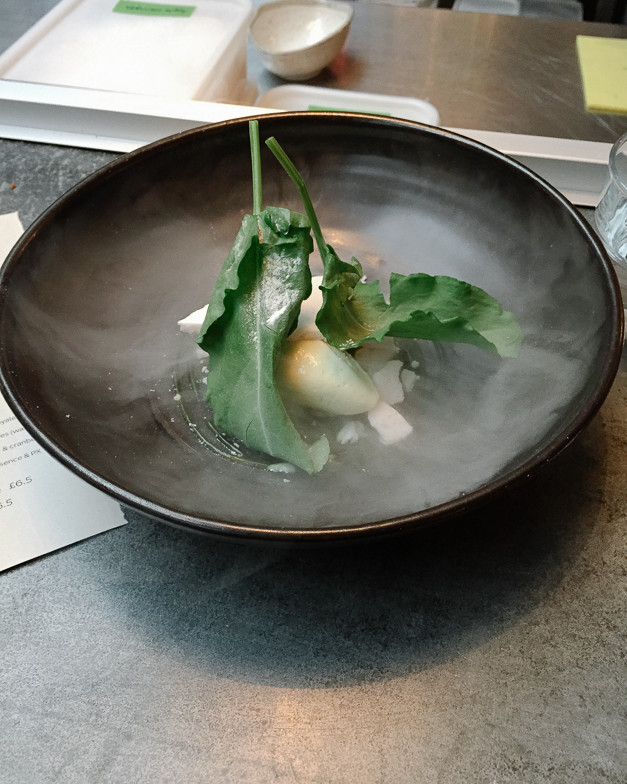 There's granny smith as a cold sorbet and also in cool jelly form. She finishes the plating by dipping two bits of sorrel in nitrogen until embrittlement takes place. A touch of drama. Drama aside, this is technically superb work. Completely pure and clear, like biting into an apple on top of Mt Fuji. That tartness, you know the pure zest of a crunchy granny smiths, the image in my mind, that of green apple is transposed so well as a sorbet and jelly form. It's like one of those Japanese desserts where they reconstruct grape into a sort of jelly form. Something like this one. This was stand-out dish for me, I can still remember the that apple jelly. SO good.
Mandarin, ginger bread & goat's yogurt.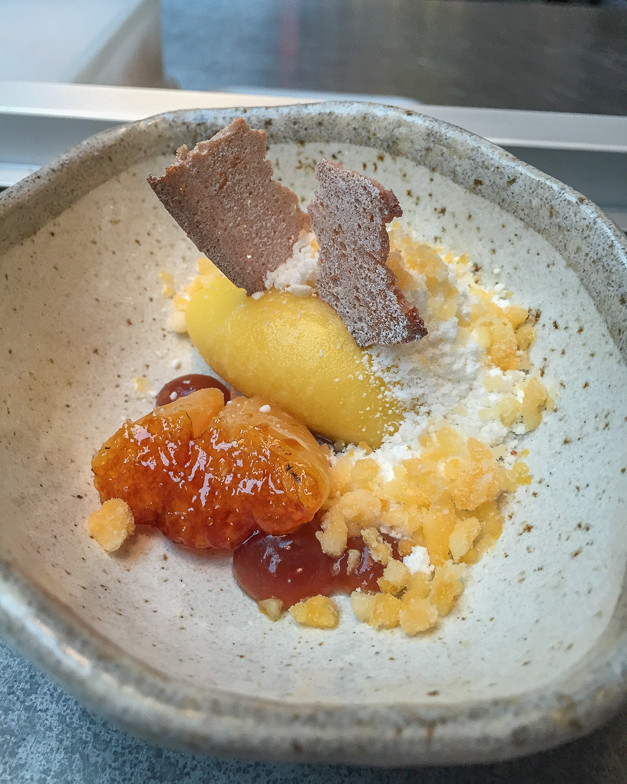 Pure apple, followed by a pure expression of mandarin orange. More obvious this time, with actual mandarin, with one side, encrusted in sugar and blowtorched until caramelised. The heat is awesomely contrasted to the cold of the sorbet, and the other embrittled bits on the plate. Also very pure and so clear. Wonderful palate cleansers.
Jerusalem artichoke, smashed creme fraiche and poached quince, £6.5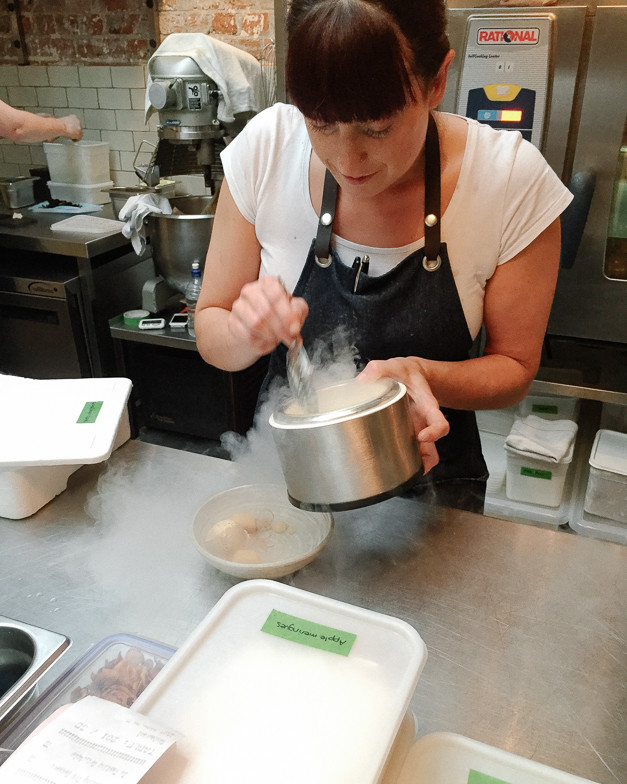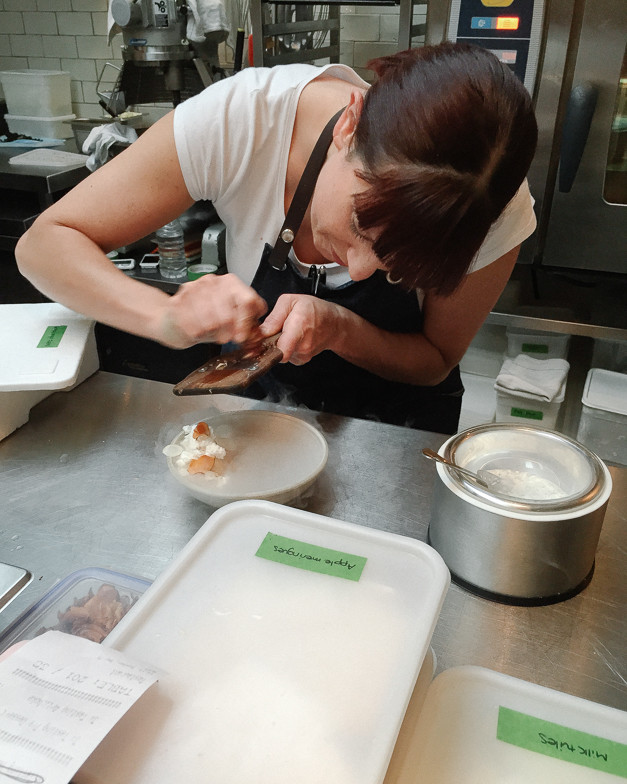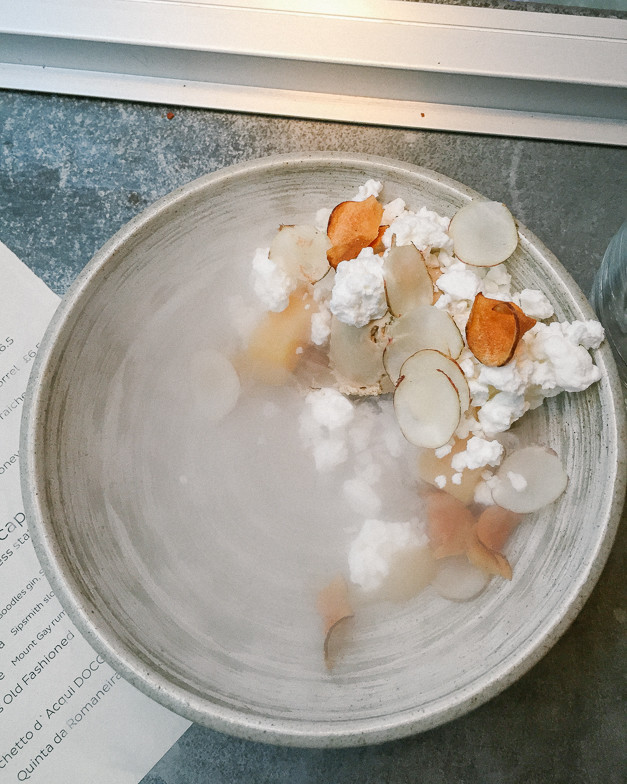 And then finally, Jerusalem artichoke shaved and as an ice cream, smashed (frozen) creme fraiche, poached quince all enveloped in a haze of vaporising nitrogen. This dessert is all nutty, rooty, deep and things ever so slowly melt away into a creamy ooze as you make your way through it. Even though it's cold, it reminds me of hot sweetened yam or roasted sweet potatoes and maybe even a mont blanc, you know the nutty flavours of sweet chestnut creme.
What a great meal.
Petit Fours.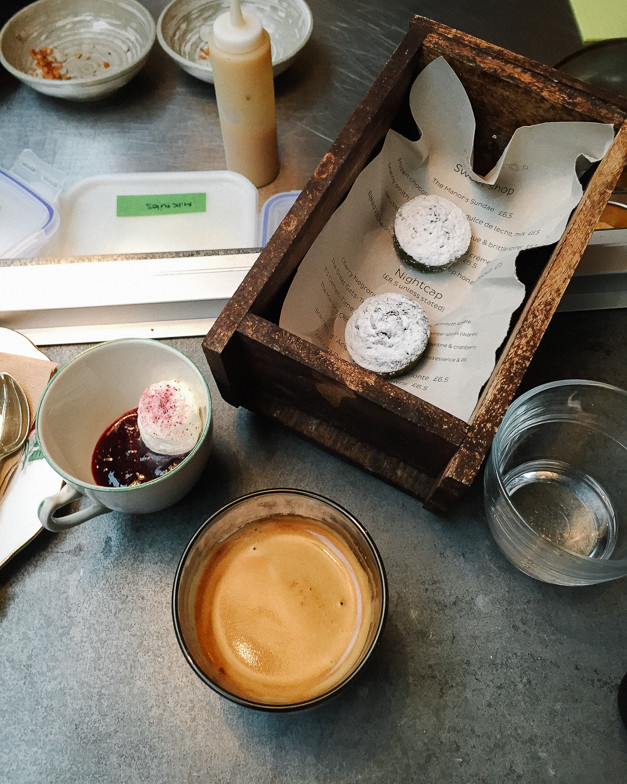 I paid £60.19. They threw in the puddings on the house, so I paid less than I really should. So please don't take my word for it, read everybody else's opinion and try it yourself.
Especially if you live in Clapham, get on the phone and reserve a table for NYE. Now! For us non-Claphamites, this is more than worth the trek. Going by the bib's definitions, this alone warrants a star. This beats Lyles and Antidote – two restaurants which I loved this year – and I think it is ahead of Kitchen Table, Story and Clove club – three of the Modernist types which have already got the nod from Ol' Red. (I was going to make comparisons to Dabbous, but I haven't been back in years). This is everything the dream of modern restaurants is supposed to be like, and then some.
The next-level techniques do not seem to be simply experimental, because I think it's actually focussed and honestly I didn't expect many of the things on the plate. This is like rediscovering joy of eating out all over again. Clapham may have been Byatt and Poole's backyard for years now, but I think The Manor/The Dairy may soon overtake those institutions. There's so much going on. Variety, subtlety, serious and effortless food. I get the impression that there's even more tucked away up their sleeves. Potential. I cannot wait to go back in 2015.
The rise of British Gastronomy's latest star? Go on then, Mr Inspector. One Macaroon, Two Macaroon…
The Manor @TheManorClapham
British, Very Cool.
£60pp.
148 Clapham Manor St, SW4 6BX
Tube : Clapham Common / Clapham North
Tel : 0207 720 4662