I heard about Parlour through my housemate who raved about the fantasy-like cooking and urged me to pay a visit to this pub. Located in a shady side street next to (the arguably the hottest spot in Kensal Green) Paradise. There are tales of flaming marshmallows wheels and other desserts 'painted' on to a tin foil covered tables, which looks a bit like Alinea in Chicago.
There's a vintage feel, but also perhaps because of the beer garden, it feels like a garden shop to me as well. At the reception area, there's a table full of bread to which you can help yourself to, another with a selection of daily papers and comfy leather seats lining the walls, beside the bar. You'll also find Head Chef Jesse (the Jovial) rolling around in a chef's jacket and shorts.
Jesse Dunford Wood's last stint prior to taking the reigns at Parlour was at Mall Tavern in Notting Hill. Prior to that, he has an exciting international resume having worked in famous kitchens around the world in Le Gav, Balthazar, Charlie Trotter's, Marque and The Gidleigh Park Hotel.
Not many places put out such playfully written menus so this is a welcoming read. It has everything you need to start your day such as Smashed Avocado on Toasted Lazy Bread to Fish Soup with Prawn(less) Cracker & 'Caviar' for lunch and 'Back Door' Smoked Salmon That Soda Bread for dinner. The kitchen is open all day from 10 to 10.
Chestnut Hummus with Rosemary Pitta Bread, £6.50 and Attenborough's 'Neolithic' Egg, £1.50.
Aren't they just great looking starters? My guess is that the excellent soda bread, served warm, is made in Jesse's kitchen. Sweet, soft, floury and absolutely gorgeous. It's like eating baked milk.
The chestnut hummous has a sticky, almost marzipan like texture, inherently sweet but with most flavour dominated by the viscous and highly zesty drizzle. It's like a Mont Blanc with cream replaced by vinegar. I liked the hummus, but thought that the drizzle could be served on the side instead. This could easily be served as a dessert..!
I really liked the densely doughy pitta bread which is great to pocket the hummus – smell the rosemary indeed. The flavour vaguely reminds me of uncooked chinese spring onion oil pancake, which can be addictive. Overall, an interesting starter, a fresh recipe indeed.
'Remarkable' Pork Chop, Tomato & Basil Salad £17.00.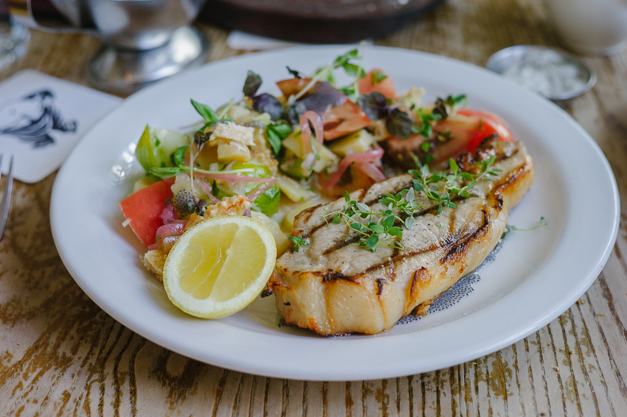 Another beauty to look at. All the colours, so fresh, so vibrant, just gorgeous, or as the menu suggests, remarkable. The tomato salad made with bits of pork crackling, pickled onions and garnished with basil seeds was superb. Were they heritage tomatoes I wonder. Dare I say Jesse's salad is a fresh take on a panzanella.
Needless to say, the pork chop was a well-chosen cut that was perfectly cooked and properly rested, retaining all its juicy glory. I will note that it seemed to be either lightly seasoned, or perhaps not seasoned at all. It seems that Jesse has a penchant for zest, fresh and natural flavours. This is quite refreshing stuff and one of the best pork chops in recent memory.
Sunday Roast Sirloin of Beef £17.00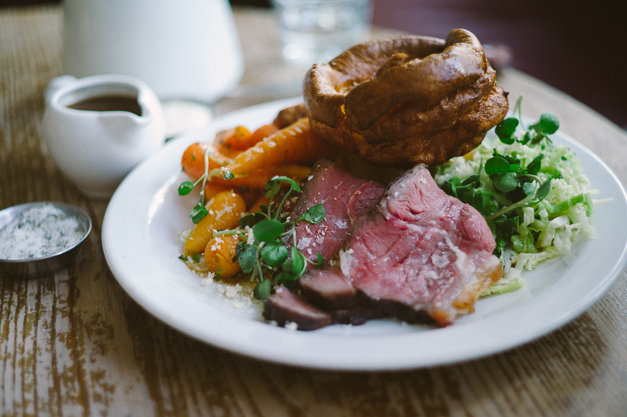 Another stunning plate don't you think? Look at those carrots, you can't post-process wholesomeness and I think it gives an indication of the quality of produce used at Parlour. The beef is top-notch of course, but personally, I still prefer the gently smoked pork & beef at The Smokehouse and the dry-aged rib at my local, Caldo.
DIY Eton Tidy £7.00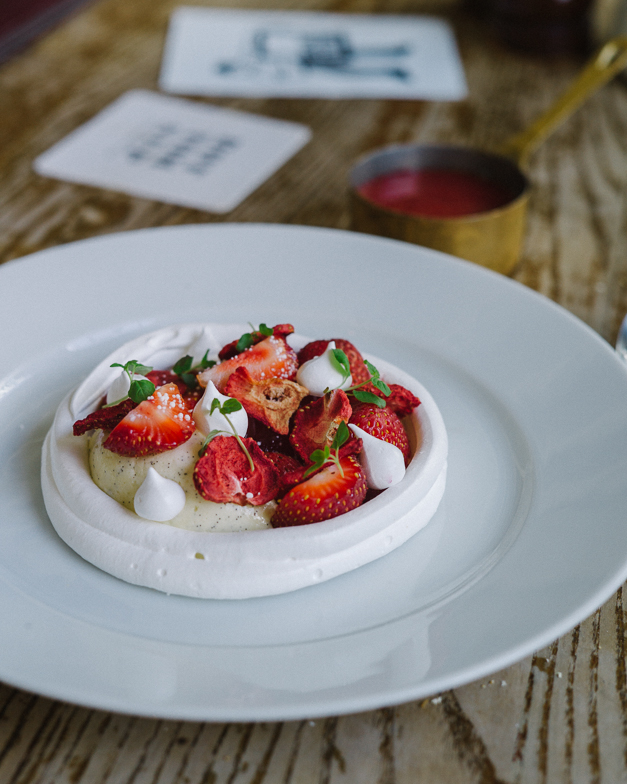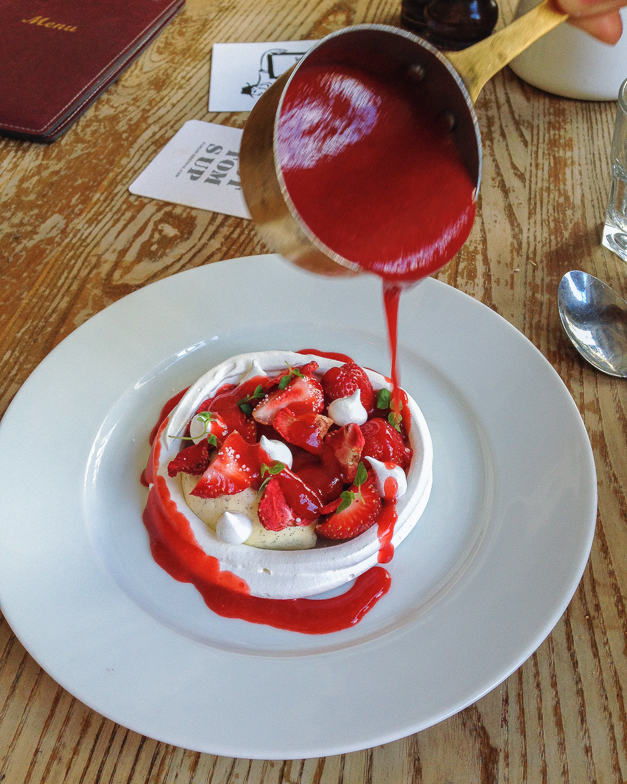 For you to create your own Mess. Isn't this great? It's a playful dish but I think it features tidy, top-end pastry work. The custard, the berries, the meringue, the vanilla custard, all in the right proportions. I really, really loved this Eton Mess. Tart heaven.
We paid £60.30 for food, a shandy and a cup of coffee. I was really taken by the meal, the positive vibes and affordability, that I felt compelled to return a week later to try more food.
McTucky's Popcorn Chicken Nuggets £6.00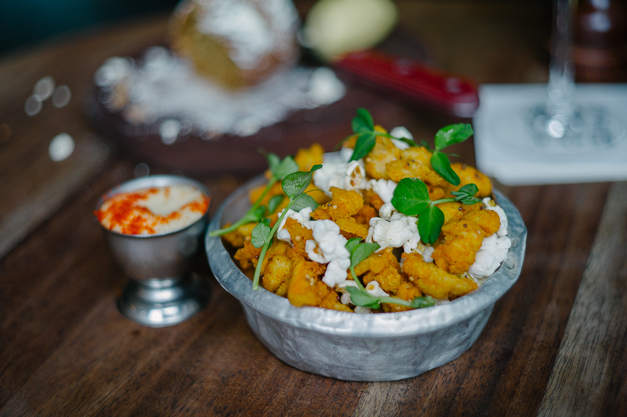 And it didn't disappoint on meal number two. Chopped chicken breast with popcorn and the taste of something herby (erm mustard seeds?) rather than salt. Yummy bar snack.
Cow Pie, £15.00.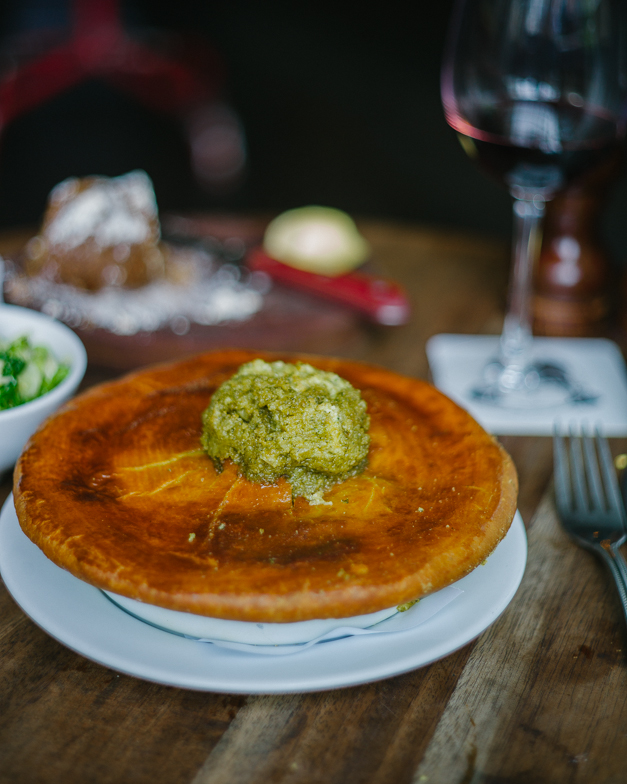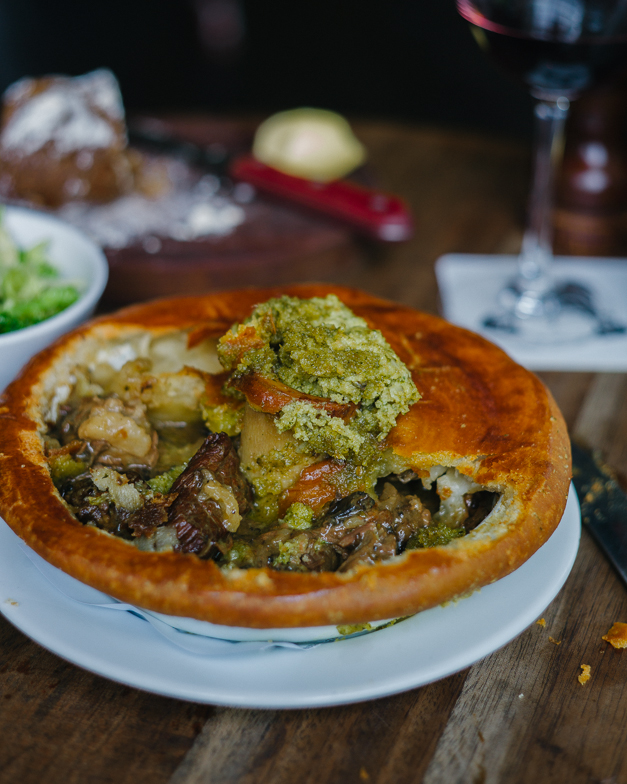 Jesse's recipe was made famous during his time at Mall Tavern and it is without question, the closest real-life version of Desparate Dan's favourite dish. This really is quite sight. It's huge, the circumference is probably as big as my outstretched hand.
First class, all butter puff pastry, with a glossy egg washed crust. Poke underneath the golden crust and you're greeted with a waft of glorious stew with generous chunks of braised beef, potato. The pie is so rich with full beefy and marrow flavour. Mixing the stuffing into the stew ups the intensity to almost blue cheese like notes. So sinful and utterly delicious.
Entirely wholesome and decadent …proper cow pie! I made my way through more than 3/4s of it, before being defeated completely. It's so large, I think it needs to be shared. I just think it's a top, top dish.
Arctic Rolls, with Thai green curry, Chilli Mayan chocolate and 'Hubba Bubba'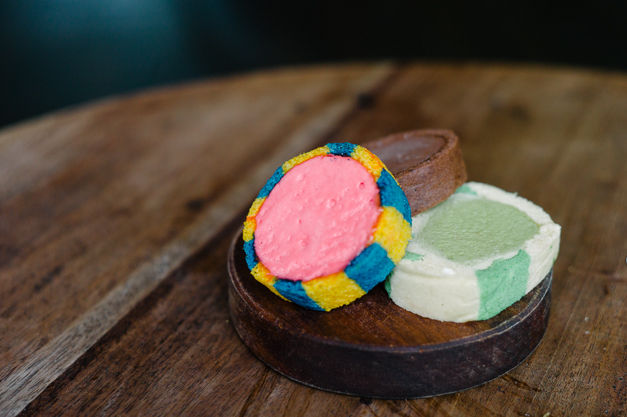 The flavours were served blind and I managed to make out the bubblegum and the spicy chocolate, but I thought the curry was lime..!
The perfect fusion of nostalgia and creativity?
I grew up with this stuff, so the trip down memory lane was satisfying. Mmmm, the jam, frozen sponge cake and the golden hued ice cream. The next time I go to Parlour, I'm going for the original birds eye flavour.
I paid £35.16 for the 2nd meal for food, a glass of Italian merlot and coffee.
The tunes that are played at Parlour are older than at Spuntino, like for example, Professor Longhair and Ron Holden and some others so swinging that even shazam had trouble finding them. Time forgot but you shouldn't.
This place is joyous. I did talk with Jesse after my meals and told him how much I enjoy Parlour. He is a bundle of positive, pure energy. It all makes sense after you meet this fella. I said to him, the colourful atmosphere and the inventive recipes is like Willy Wonka's – the space is perfect for family parties. He (kind of) agreed and added that a hot date at Parlour would also yield definitive success. Which I agree! The fantasy cooking is top-notch and I think this is truly a hidden gem. You'll have a good meal at Parlour and I think also you'll smile after the meal. A pleasant surprise and worthy of a visit or two. Cue, Pure Imagination.
PARLOUR
£30-40pp
5 Regent Street, NW10 5LG
Tel: 020 8969 2184
Tube: Kensal Green / Queen's Park