I should be speared for not fully appreciating Mikael Jonsson's pursuit for unimpeachable produce. I had returned to Hedone for subsequent visits and while I ate some dishes which are true inventions of sophistication, I just didn't feel as ecstatic sitting through the meal. Really some of the stuff just goes over my head, delightfully serious like a recital at Wigmore hall. So it's a nice surprise to find the contrast at Antidote – if you forgive the analogy – the jazz to Hedone's regiment. There is a wine bar downstairs and upstairs is the dining room. There are grey metal chairs, wooden tables without linen, diners seem relaxed and regularly burst out in belly laughter, service is all smiles, brisk and there's just a general feeling of burden-free comfort.
This site, located in Carnaby Street, once went by La Trouvaille, owned by Thierry Bouteloup and Guillaume Siard – from what I've read – retains much of the original concept. Except that the menu has been touched by Mikael Jonsson's genius and re-christened as an Antidote (sometime last month), perhaps to sooth souls.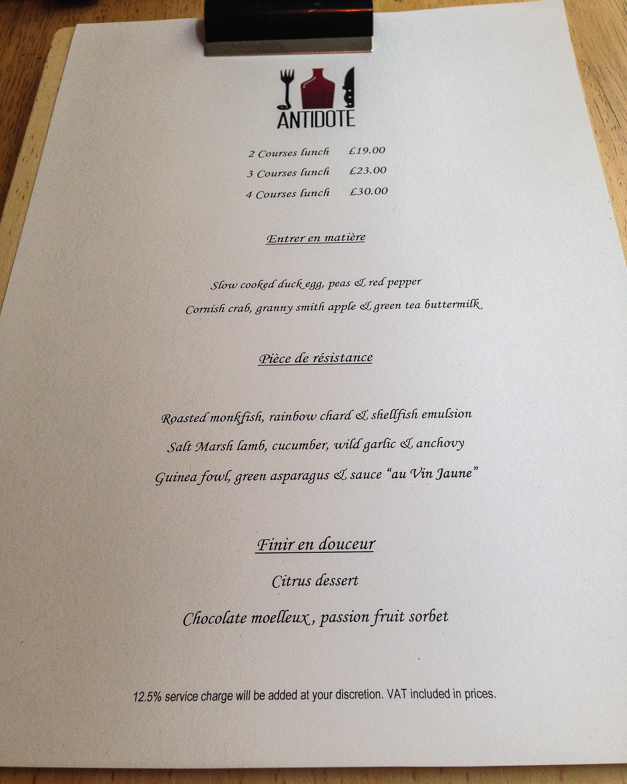 4 courses at lunch for £30 from the market menu is an absolute steal! Chris Johns, who was senior sous-chef for Mikael at L'autre Pied, runs the Antidote kitchen, so the expectations are high.
Lettuce gazpacho with mustard and creme fraiche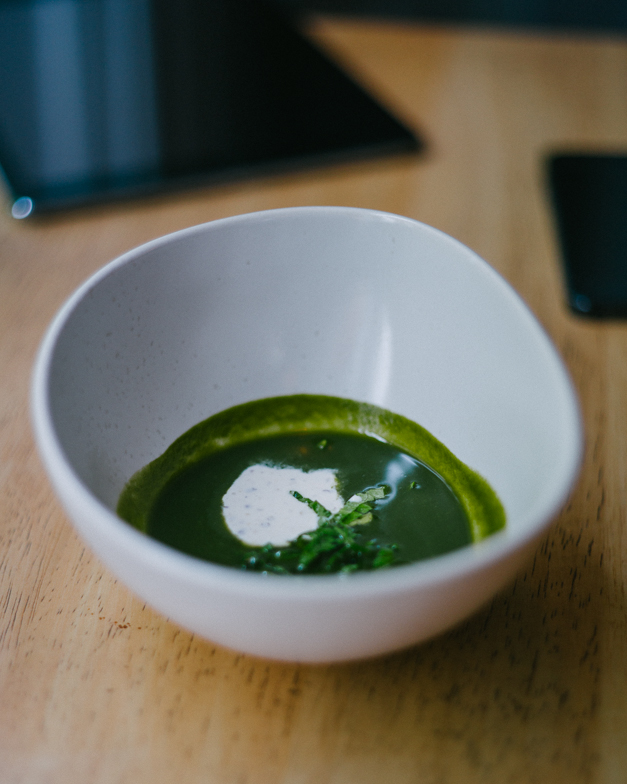 A cool, refreshing start to the meal, like a delicious detox.
The wines are organic and biodynamic, so I suppose that means South of France and probably wild vines (Carignan!) and affordable prices. They also sell French cider.
Cornish crab, granny smith apple & green tea buttermilk,
with '12 Domaine Josmeyer, Mise du Printemps (£9).
This is fresh, attractive, non-interventionist cooking. Some zest from the buttermilk and apple compliment the crab well. I drank this with an Alsatian pinot blanc, that was dry and peachy, but also oily, mineral and smooth.
The Bread.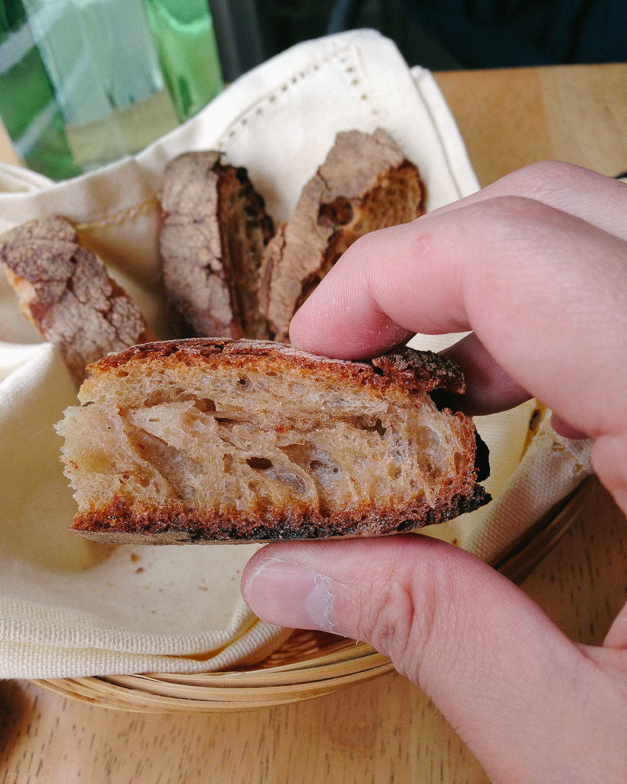 This is the same as Hedone right? It really is some of the best sourdough made by a restaurant in London. It's airy and spongy on the inside with a crunchy burnt crust. It has just the perfect texture. They could easily use this as a pizza base and make millions.
Hand-dived scallop (£6 supplement)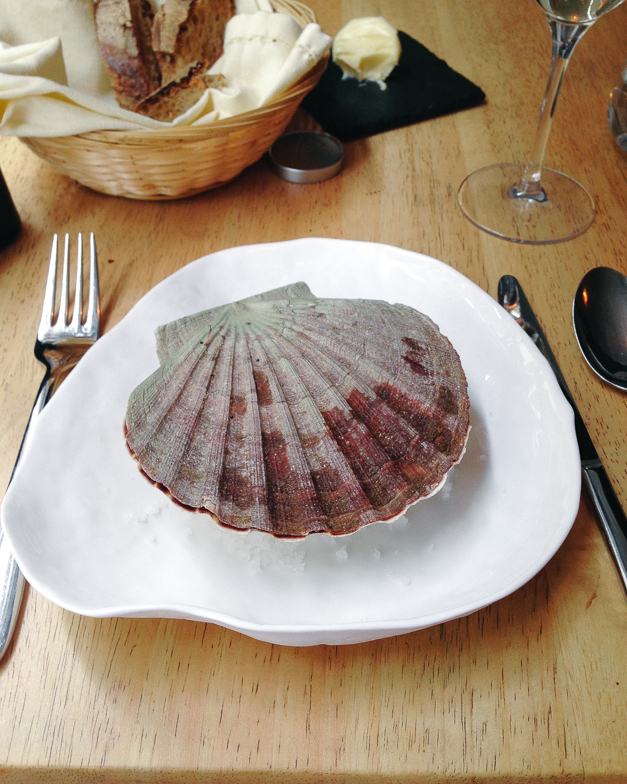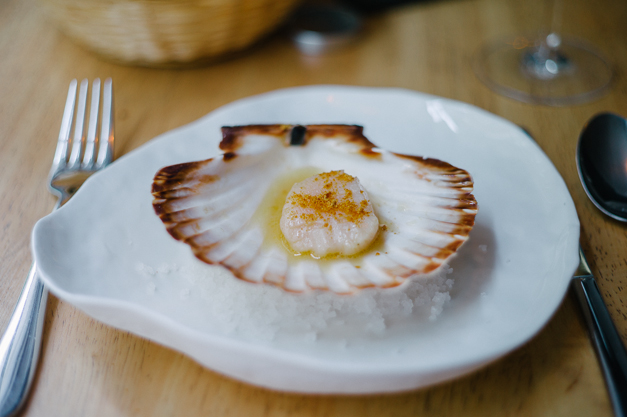 This was an 'in-between' course as a supplement to the menu. I guess it's daily fresh catch.
The smell the aromas of sea as you pop off the top shell. Still semi-translucent and still stuck to the bottom shell. This seems to be cooked with care and only just enough to sweat its juices.
The purity, followed by this amazing burst of sweetness. So natural, so fresh, awesome. It almost feels like we are at The Sportsman, the sound of breaking waves, in the distance. Where did they dive this scallop? It's absolutely pristine. I slurped all the juice, then wiped the shell with the bread and finally picked up the shell to lick it try . Regret not having another..! The quality of the scallop was undeniably, it was truly a precious moment to savour as I washed down the last drops of the pinot blanc.
Salt Marsh Lamb, cucumber, wild garlic, anchovy,
with '12 Alain Chabanon, Campredon, £7.50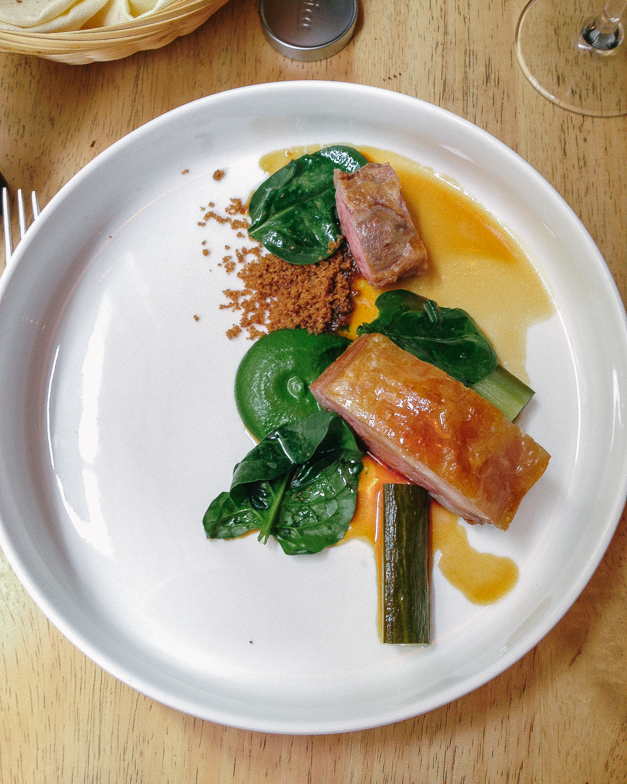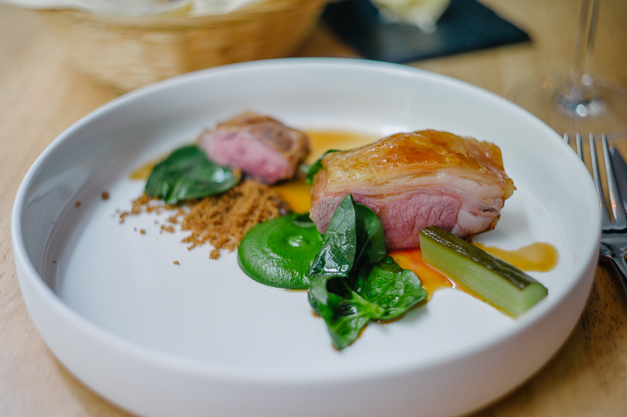 Major props to service; they struck the right balance of friendly and professional. They knew their menu well and suitably recommended good matching wines. So the red by Alain Chabanon is from Laungedoc being a blend of Syrah, mourvèdre and grenache. For me, it reminds me of a St Joseph but with more body. Like a raspberry sorbet but with fullish velvet body, a good match to lamb.
And so to the Pièce de résistance. Gosh, in a word, this was perfect.
Perfectly tender, juicy, top quality lamb shoulder and rack. The (powdered? dehydrated?) anchovy – almost like bottarga – is genius, as a sort of fishy, briny seasoning to compliment the richness of the lamb. Wonderful. Did I mention the juicy and tender lamb? There is just a small cap of fat, a golden crispy skin, both of which added layers of flavour to the meat. I'm really impressed by the cooking, but more than that, I loved eating it. It was simply delicious. All the saltiness is cutely balanced with sweet and sour of the pickle. Man, this is genius.
This is the kind of delicious that makes you sit back and savour each bite. I wish I could make this last longer but it eventually comes to an end. All these flavours seem to converge into something greater than the sum of its parts. This has it. This is special. The last time I had a lamb dish this exciting was cooked by Giorgio Ravelli at Upstairs at Ten Bells. I wipe the plate clean with my bread as a sign of respect. Respect and compliments to Mr Johns and Mr Jonsson. What a knockout dish.
Chocolate moelleux, Passion fruit sorbet.
with Vial-Mangneres, 8 year old, Banyuls, £6.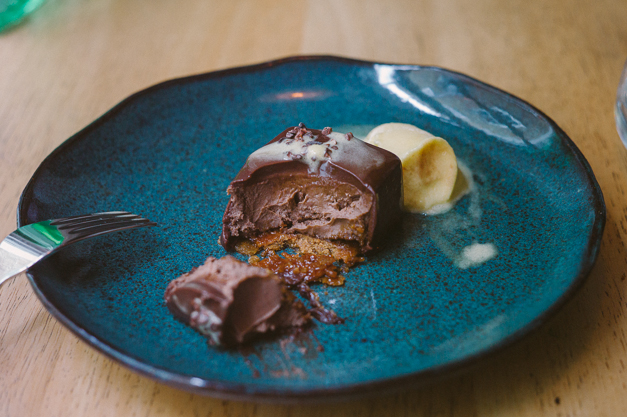 Soft and mellow chocolate indeed, but also cool and tasting freshly whipped. Alexis has a nearby rival. This posh kitkat gives you all the sinful milky flavour of chocolate but without being overly rich or sickly sweet. I love it.
Amazingly, the waiter laid on another hit with this glass of Banyuls – this almost has a nutty, semi-oxidised style, almost like a sherry with some brown sugar, that just coats the chocolate in the right manner.
I finished with a double espresso, but really I wanted the scallop and lamb again. Five courses, bread, 3 wines, coffee, great service and I only paid £68.91. A wine with every course at under 70 quid, I mean this is just too much heaven for the money.
The atmosphere is a smash hit and I think in this setting, the au-natural, purity style works very well. This is a beautiful project, exactly the sort of place to entertain people for weekend lunches. It really does remind me a little like Upstairs at Ten Bells – which I love to bits – and I think Chris and Giorgio should meet up and collab, they might find many common interest.
There is clear genius at work and this is clearly created by people who understand hospitality and have continued to refine cooking, almost like gentle nudging to accentuate the inherent quality of the produce. Chris Johns. I'll remember that name.
Details
Antidote Wine Bar & Dining Room
Fresh, Wine Bar.
£19-30 lunch, £40 dinner.
12A Newburgh Street, London, W1F 7RR
Tel : 44 20 7287 8488
Tube : Oxford Circus
Did you enjoy reading this? You can subscribe to the Newsletter. AAlternatively, you can subscribe to the RSS feed.