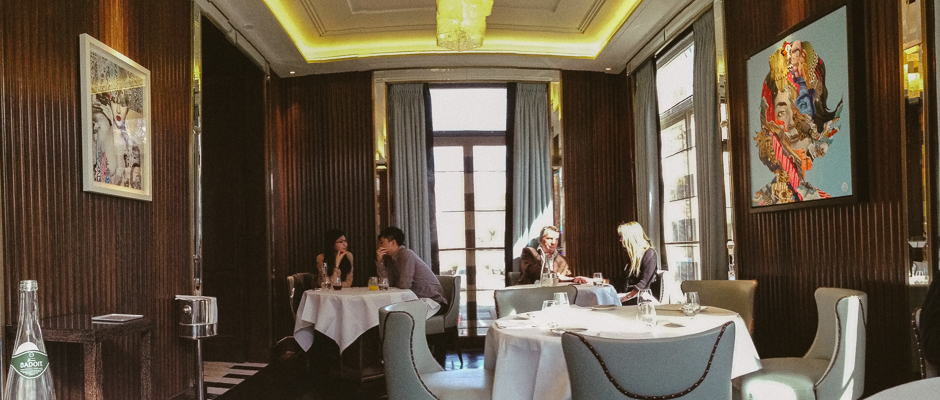 The last time I was here, I mistook the unmistakable nutmeg for cinnamon used in his egg custard tart and Alyn Williams was still head chef. Today, Mark Froydenlund runs Marcus' kitchen which has recently undergone a facelift to re-opened as the 'new' flagship restaurant at the Berkeley. In addition to the snappier name, the relaunch also promises to shed the stuffiness in favour for a softer approach.
The two-month refit, reportedly costing a cool £1.4 million, comes after ten years at the Berkeley, firstly as Petrus and then with his name above the door in 2008. Gone are the claret leather booths, circular window grilles, but the camouflaged entrance still forces you to wade through the tea room to get in. When you eventually find it, the once darkly regal room – which might have served as the perfect backdrop for a Mad Men episode – now has a fresher look with light blue curtains, matching leather seats, less white linen and a colourful art collection. Maybe Marcus is mellowing with age.
Also new is the re-arranged lunch menu which lists 'tasting' dishes and one-plate mains – all part of the grand idea of not forcing customers to the tasting menu. So you could come for a swift lunch, wash down a few glasses of really interesting wine or stay and read the paper.
And so it brings me to their offerings by the glass, some legend labels without popping the cork, made possible with the 'revolutionary' Coravin. Essentially, it's a syringe that pushes inert gas through a self-sealing hole in the cork, allowing you to siphon juice and continue to allow the rest to continue its slumber, in the bottle. I'm still waiting for this thing to be come become available for UK retail.
I think all restaurants should use this gadget, I suppose this gives Marcus and his wine director, Michael Deschamps flexibility to serve some very special juice to pair with the taster menu too. I'd come back for this, even if the fine wine supplement is an extra £200. During this visit, Mouton and DRC were available by the glass. Unfortunately, I found it to be just a little too ambitiously priced and difficult to justify the value for a glass of wine that is multiples the cost of food. Romanee-Conti is certainly attractive but at £400 (£500 plus service) for a glass of RSV…gasp. There are many nice bottles which can be had for that sort of money. Similarly, I would have also loved to try the 98 Unico, but at £140 (£175 plus service..!) a glass, it's a little too much, considering Xavier Ausas is doing a vertical at The Sampler for £120 soon.
I did however ordered a glass of 13 year old Corton-Charlemagne by Pierre Morey (ex-Leflaive). Subtle flowery nose, amazingly round on the palate, focused, mineral, chalk with this sort of subtle mint sweetness and then a mild citrus finish. Wow, teenage white burgundy is awesome indeed. With the risk of premox absorbed by the restaurant, the £50 asking price was just about worth it. Won't be long till Petrus is offered by the glass, surely.
Back to food. I already mentioned the new lunch menu, there's also the ALC, 2 courses for £60 extending to £95 for 4 and of course the full taster for £120. I went for Saturday lunch by myself and had 3 courses.
Wait, did I miss something? Have amuse bouches gone the way of the tablecloths?
After cheese gougeres and bread, the starter arrived.
Veal belly, frog's legs, snails, wild garlic.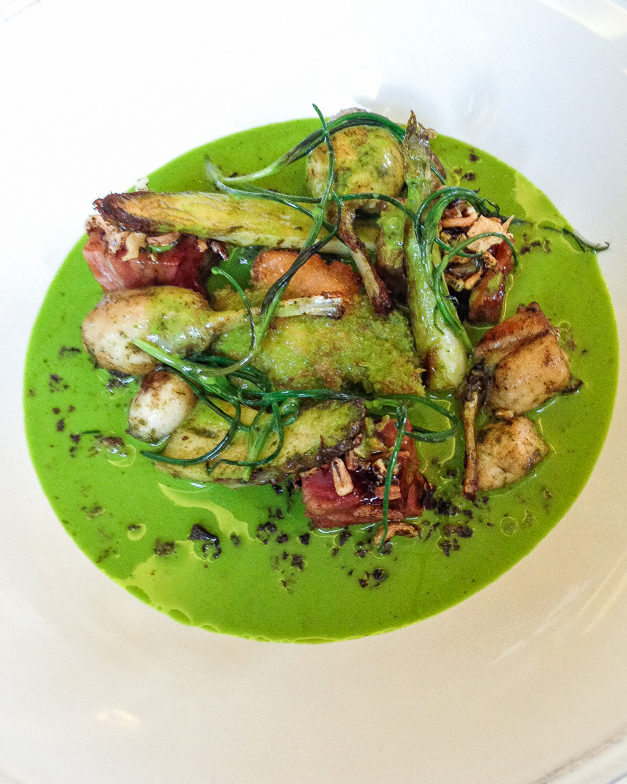 Goodness, the dish looks stunning. The colour of the veloute is like fresh cut grass in spring sunshine. The pure aroma of wild garlic, it's like grasping whole bunches of it in hand. Heavenly stuff.
Then I took a sip of the soup, and then bit into the frenched frog's leg… ding, ding, like hitting top score at a funfair strongman game. Rich and full flavours, seemingly layered and bursting with freshness. Perfection, I thought.
Perfectly cooked, bouncy, tender frogs legs, sumptuous veal belly, well seasoned and with a slight sweetness (Is it cured?) and then if I'm correct, a parcel of breaded calf brain, that just melted like marrow or foie gras, wow. You can certainly taste the quality of the produce. I noticed bits of grain or perhaps oat, which gave the dish more texture. Very delicious and exact, everything on the plate just seemed to be perfectly in balance. Very admirable cooking indeed.
Turbot, Dorset snails, shallot, gnocchi.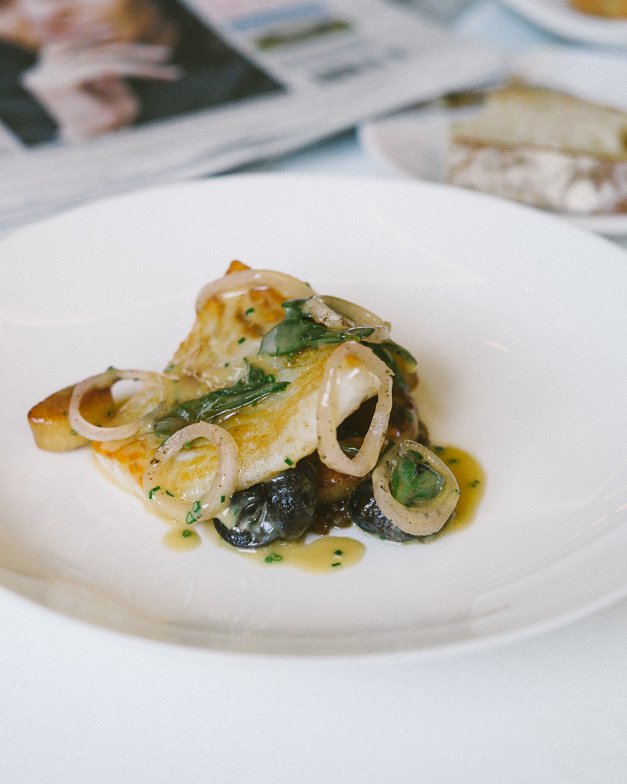 With this one, you can still feel the heat from the pan, sort of emanating, then you smell the freshness of the fish and then as you take the first bite… goodness, gorgeous perfection again.
Those snails just melt like butter. Amazingly well done, better than Fat Duck. Little knots of gnocchi are charred on the outside with a sweet, nutty flavour and a sticky texture about it. The fish was just PERFECTLY cooked, just slightly under that if you look hard, is just very slightly translucent. As I worked my way into the dish, I noticed how all these ingredients seemed to gel together, creating this kind of gloppy oneness. Everything comes together very well, analogous to al dente pasta. Just on fringes, there was this faint and very pleasing sweet and pickled flavour. I slowed down with each bite, it's the kind of dish which I just didn't want to end. It's a magnificent recipe, great flavour pairings, gorgeous produce again but also I think you can really taste the precise execution. A point. The sort of dish that validates Marcus's two star reputation.
Galloway beef, potato, cabbage, marrow, short rib (+£10 supplement..)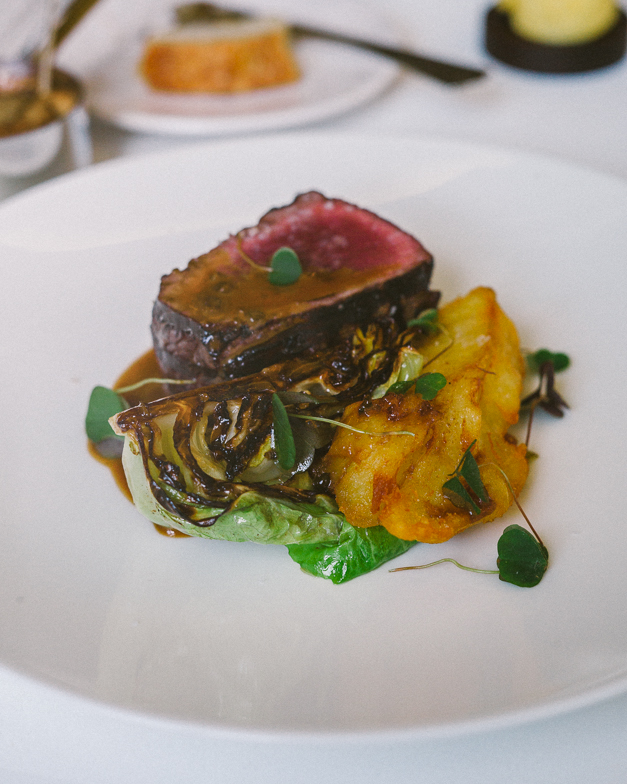 A nice wedge of fillet, perfectly medium rare of course, another good looking dish. I think beef is difficult to make fancy where usually all a good steak requires are salt, pepper and charcoal. So with this one, it's the oversized potato chip and the charred hispi cabbage which make the star turn. There's also some shortrib and marrow served on side, with a spiced tomato foam that tasted almost mocha-like, which was very interesting.
I drank a glass of fresh and fruit-driven Tempranillo by Olivier Rivie which set me back £16.50.
Back to the potato. Crispy crusty, armour-like crunch, can only assume this was cooked in good duck fat. Proper good. All fluffy on the inside. A beauty of a potato. Then the blackened cabbage with faint bitterness. Generous portions, very filling, I was completely stuffed after this. Another round of flawless execution, but perhaps the least exciting of the meal. I guess there's only so much you can do to beef.
All in all, it's very good, of course. Marcus' kitchen is fully capable of delivering such exacting outputs that at times, it seems to suspend belief that these are merely plates of food. It's the quality of the ingredients, the exactness of the execution, this feeling that the kitchen has refined its practice through hard work and the ambition to deliver the cooking the Right way. Well, it's why you pay so much, for a chance to really marvel at cuisine at the bleeding edge. Full two star territory, probably even two point five.
My only disappoint was that they didn't have the egg custard tart on, but I'm told you can 'pre-order' it if you really want it. I'm doing that on my next visit.
Perfection sure comes at a cost. For 3 courses , two glasses of wine, coffee, water and time spent browsing the daily paper : I paid £193.50. That's lunch for one! I guess it's back to writing about burgers next month, hah.
It's mainly the wine that's inflated this bill, £65.50 (£74 with service). £95 for food is expensive, but not out of step with the other two star luminaries in London. In my humble opinion, I think they should consider dialling down the by the glass prices just a little. £20+ (if memory serves) for a Mark Haisma (great winemaker) Gevrey seems dear to me. Think you can almost get three-quarters a bottle for that at retail. Only his Bonnes Mares is in the £100+ range, but that's grand cru, so…
Muscular, high-toned, multi-layered, explosive cooking in kodakchrome and a myriad of bright pastel. Big league cooking at its bountiful best. If Phil Howard's cuisine is reticent and elegant, Marcus is guns blazing, proper cuisine, done properly. There's microgram precision with everything that is presented in front of you. The ambiance has definitely lightened and it is a welcomed change. It actually makes Koffmans look like the more formal of the Berkeley pair.
Well there you have it, nothing you don't already know. Marcus, The Perfectionist, remains perfect.
Details
Marcus
European, British.
£65-95pp ALC, £120pp Taster, £195 for fine wine pairing
The Berkeley, Wilton Place, SW1X 7RL
Tel : 0207 235 1200
Tube : Knightsbridge
Did you enjoy reading this? You can subscribe to the Newsletter. AAlternatively, you can subscribe to the RSS feed.