Ember Yard is Version 4.0 in Salt Yard's widely acclaimed group of restaurants, taking the similar if-it-aint-broke formula and upgrading it with a couple of extra tricks in the kitchen.
Many dishes are familiar including classics like fried courgette flowers, though this particular menu seems to be even more Iberico pork-centric than Opera Tavern.
I went for a late solo Friday lunch and was surprised to find it still packed to the rafters – So it seems that you guys are huge Salt Yarders afterall.
Grilled Flatbread with Honey, Thyme and Smoked Butter, £3.25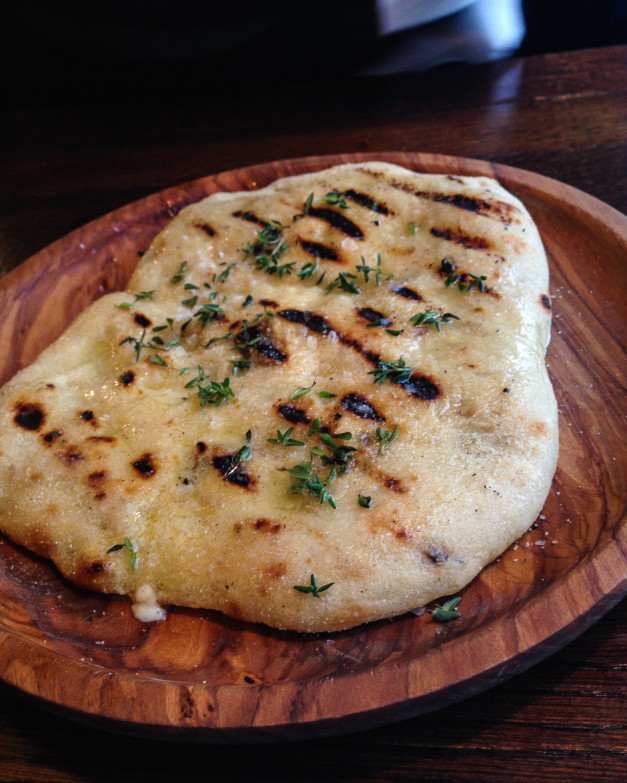 So the big idea with Ember Yard is mainly to do with the charcoal grilled food, imbuing dishes like this own-made bread with those heady smoking sensations. This was a winner by the way, well seasoned and still a little sticky under the carbon treated exterior.
Roasted Beetroot with Blood Orange, Rainbow Kale and Hazelnut, £5.25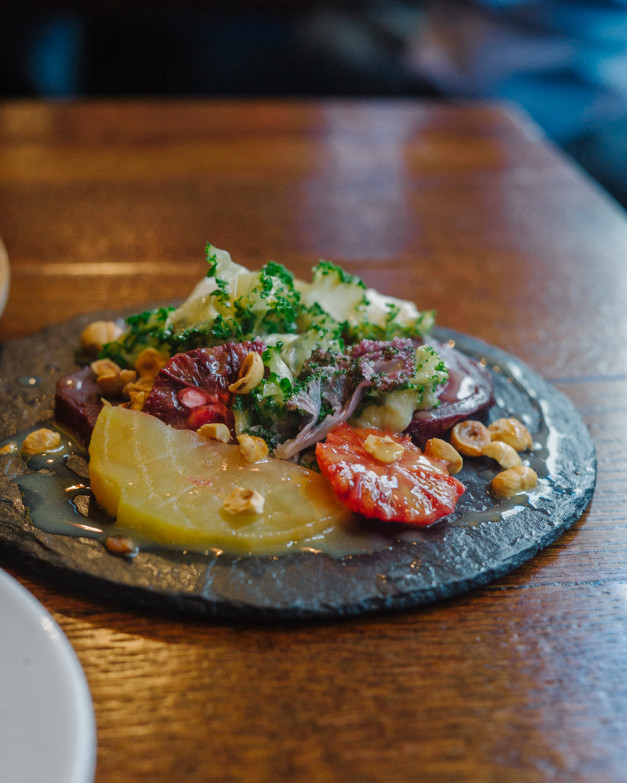 Like everything else in Salt yard restaurant, the sheer quality of the ingredients were shine through, making this dish just a joy to eat. The refreshing orange drizzle salad probably perfect for the upturn with the weather.
Steamed and Chargrilled Octopus with Pepperonata and Mojo Verde Alioli, £8.75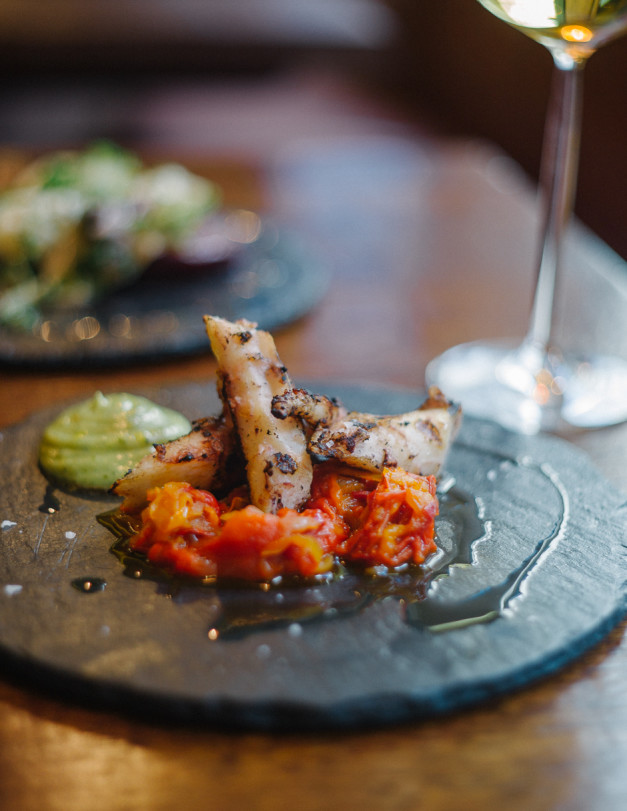 Wow, what amazing buttery textured octopus, expert cooking going on here. A tinge of bitterness (from the burnt skin) and of course with gorgeous smoked flavour as well. Perfect garlic sauce on the side, this is how the pros do it.
Ibérico Pork Fat Chips with Chorizo Ketchup, £4.50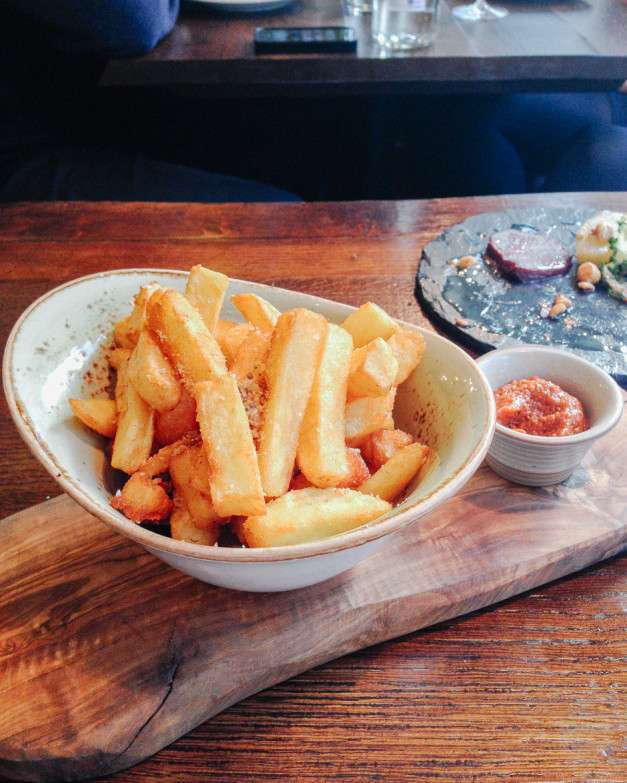 Crispy and floury with crackling powder … yeah, I don't know about the bits of crackling. Table salt probably still work best for me. The chunky (presumably own-made) chorizo ketchup was brilliant however.
Grilled Ibérico Presa with Whipped Jamón Butter, £8.75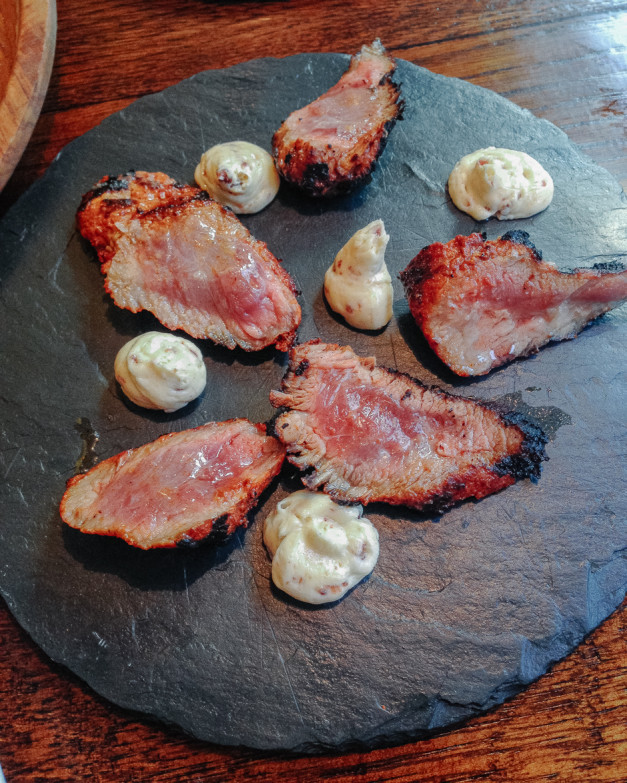 This was the highlight of the meal.
The almost sweet, smoky, crispy burnt skin, melting fat, char-siu like or satay like even. Juicy, plump, Pizzaro pink in the middle, superiorly tender, fatty flavour filled iberico pork. So tender that, you could just eat each slice whole without having to cut into it.
The butter. Oh man the butter. Presumably made with iberico jamon, rubbing that stuff on the meat made for an absolute thriller. It was sort of like spreading perfect clotted cream over perfect scones. Crunch. Perfection.
All food plus a glass of wine came to £47.13. So probably a better idea to come with some people to share the bill.
It's impossible to say bad things about Ben Tish's food – rich, full flavoured, high quality produce, if you're already a Salt Yard fan, you'll love this too. Glad to be rediscovering the tapas 'trend' and happy to report that its master purveyor is still at the top of its game in 2014.