It's *only* just a chip shop but an excellent one nonetheless. It might not be destination-worthy to trek out to Hammersmith (or to the 2nd branch in Ealing) just to eat here, but I'm so glad that this is within ten minutes from my desk.
The shop is squeaky clean and caff-like, neatly designed but pragmatic and remains true to K&M's aspirations of becoming a fresh chip shop but with all the nostalgia intact. Fish is never frozen and everything is freshly fried to order. Chips are double fried, salted are served without vinegar. They proudly transmit a live video feed of the kitchen to remind punters of their unrelenting dedication of becoming a modern chippy.
You can have cod, haddock, plaice, pollock or coley and you can have it either battered straight up, grilled or deep-fried with matzo meal (breadcrumbs).
Cod fried in Matzo meal with chips and mushy peas. £6.9 + £1.8 + £1.6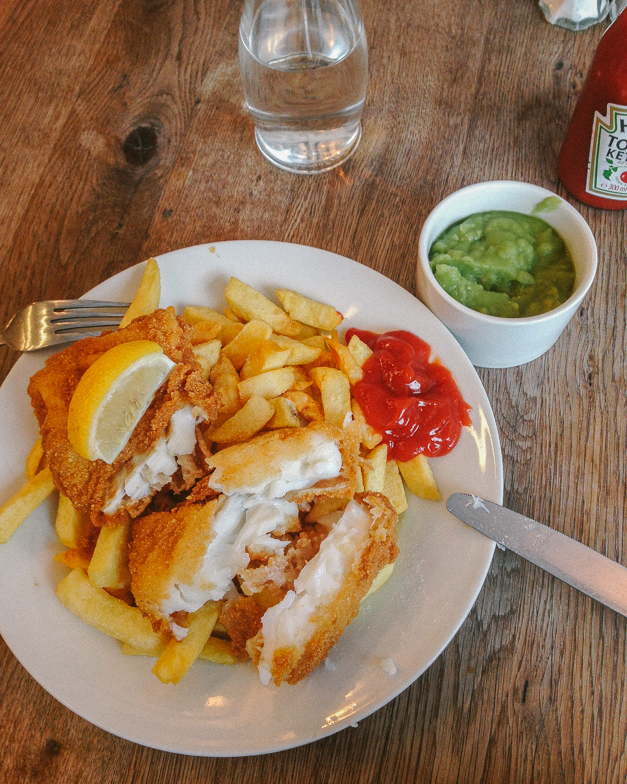 I've visited maybe 4 or 5 times for lunch and I've found that the fish is always flaky, juicy, just a little translucent and very fresh. Excellent really. It thoroughly deserves its reputation as one of London's finest fish and chip shops.
I prefer the matzo meal, crispy and crumbly though the batter is also good. Tastes clean, relatively little greasiness and portions are good. The chips are decent but not spectacular. They are crispy, but not triple-fried crispy. Same The mushy peas also adequate.
Food takes about 5 to 10 minutes to cook, you'll spend about a quarter of an hour devouring it and feel full till tea time. A tenner well spent. I don't really go out of my way to sample fish & chips, but this is definitely way up there for London. Ok price-wise, I think £7 for a fish portion is 'fair' in London terms, given the quality of produce. My reference point is Fish Shed in Topsham which delivered lip-smacking, superb fresh fish in crispy batter and even there the beer battered cod set us back £7.15 a hit. If you happen to be in West London for any sort of business, this is worth a visit.
Details
Kerbisher & Malt
Fish & Chips
£10pp
164 Shepherds Bush Road W6 7PB
Tel : 020 3556 0228
Tube : Hammersmith
Did you enjoy reading this? You can subscribe to the Newsletter. AAlternatively, you can subscribe to the RSS feed.