Happy Chinese New Year all! Hopefully you ate lots to usher in the galloping horse… and you know 2014 is going to be a great year. So I had decided to kick-start my new year with the very well-received A Wong. I can't believe it took me so long to finally get here but I am I finally did. This is now my favourite Chinese restaurant. Splendid cooking going on.
Located in an unfashionable stretch of Victoria, Andrew Wong took over the same site of his family business, Kyms, spiffed it up, opened up the kitchen to diner view and put his name above the door.
Andrew read Chemistry at Oxford, for a career, he has decided to put his know-how into the reaction kinetics of human tastebuds. It reminds me of Alvin Leung's start,  he was a sound engineer before opening Bo Innovation which eventually went on to claim its third star last year.
Atmosphere wise, it is not overly flashy and has an energetic, bustling ambiance – exactly what you want from a Chinese restaurant. They have a bar table which doubles as the restaurant's kitchen table. It gives diners a view of the inner workings, all blemishes intact, and a full picture of Andrew directing the various stations in his kitchen.
Andrew had spent some time exploring China, learning the various nuances of the expansive cuisine and as such his menu reflects his travels. There's an all-encompassing 10 course 'Taste of China' for £45 and there is also a dedicated Peking duck feast menu for a very lucky £38.88. For lunch, dim sum, snacks and wok dishes on a la carte. The missus and I had visited for lunch a couple of weeks ago and were pleasantly surprised by the quality of the food and so we decided to return for a CNY meal.
Dim Sum
Quail egg croquette puff, £1.75 each.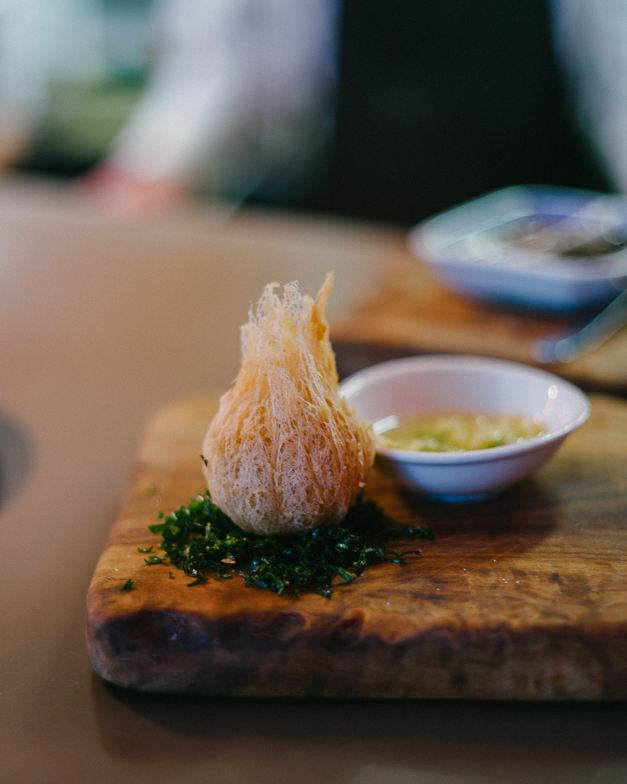 All dim sum is priced in singles, while it is slightly higher than say Princess Gardens, it's cheaper than Bo or Yauatcha.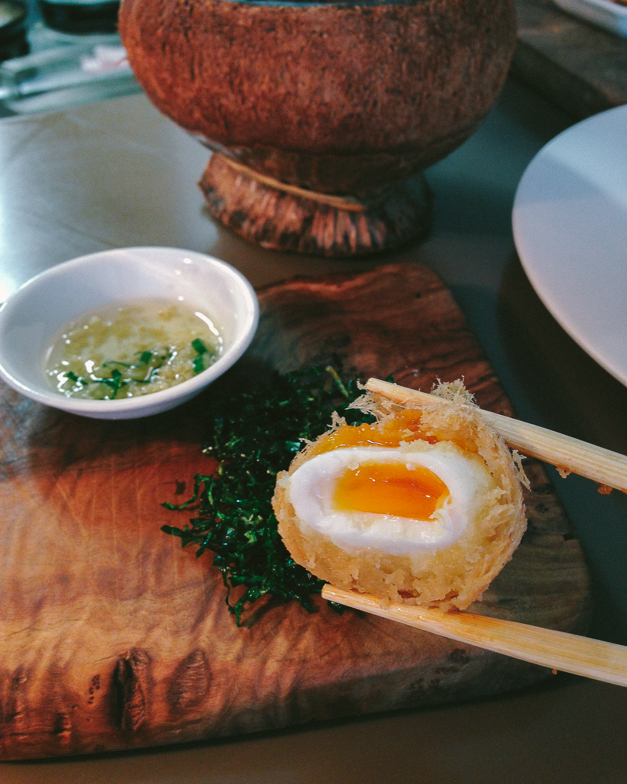 I didn't really expect this to be so good but it was fantastic. Had this on both visits, complete with runny yolk. While the crumbly crispy puff was a beauty, the real magic was this sort of garlic salsa-verde, served on the side. Solid recipe.
Crab, seafood, beancurd cannelloni (cheung fun) and pickled cockles, £1.75 for one portion, which comes as two 'bites'.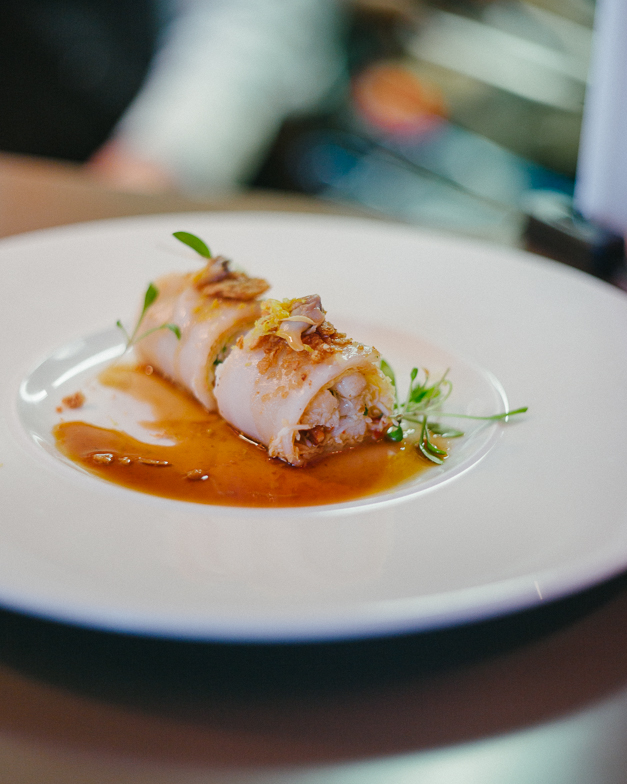 I'm a traditionalist. I did not expect this to work, but it sure did. Bloody great. Cute bite sized, generous flavours of the sea washes across your palate. I've never seen cheung fun done with crab and cockles before, but after eating it, it makes so much sense. A nice bit of innovation. It feels British even. Love it.
Shanghai steam dumplings (XLBs) with ginger infused vinegar; Yunnan mushrooms, pork and truffle dumpling, both £1.50 each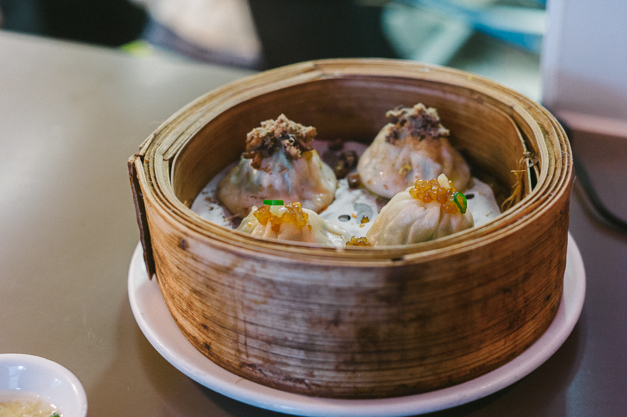 This reminds me of Taste Paradise in Singapore, what with all the variations on xiao long bao.
I think the XLBs are topped with tapioca pearls, the dumpling wrap is thin, but not overly so, the broth is warming but doesn't burn, rich in flavour and overall, accurately steamed. The missus loved it. This may well be as good as you'll get in London. I do like Bo London's XLBs, that being a more out-there recipe, served with a cool broth.
On the other side of the bamboo steamers..
those lovely mushroom & pork dumplings. Andrew blesses every dish on the pass and he finishes these dumplings generously with freshly shaved truffle. Lovely umami, the mushroom, the aroma of truffles, everything works. A wonderful achievement.
Pork and prawn dumpling (Shiu Mai), pork crackling, £1.30 each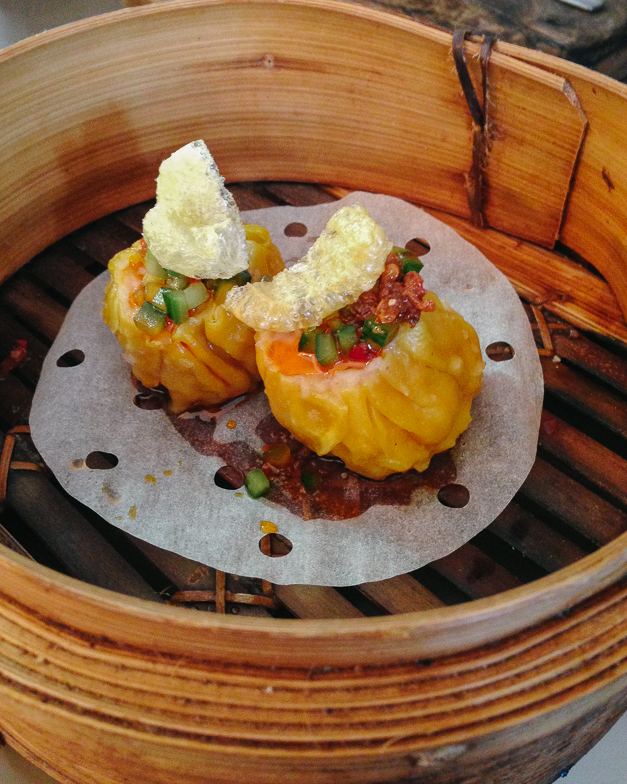 I should mention the bounce, a lot of it, then bursting with prawn & pork flavour, as expected of proper shiu mai. Andrew's little twist with this classic dumpling is (what appears to be) a dab of chilli oil and chopped cucumber which helps to freshen up the profile. It makes for cleaner, less fatty flavours. The crackling is a nice touch which I could do without but overall, top quality shiu mai.
Clear shrimp dumpling, sweet chilli sauce, citrus foam, £1.30 each.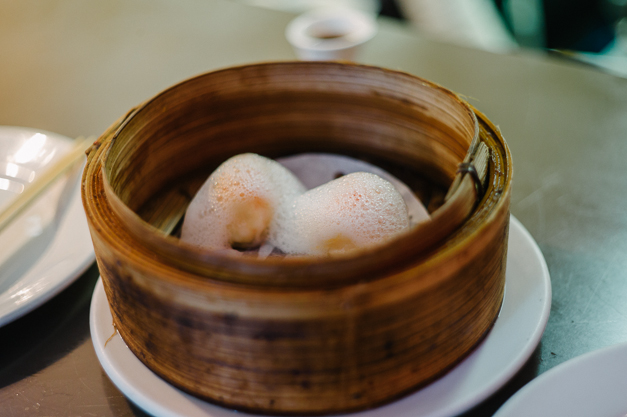 A bit unusual in appearance. Though yet again, Andrew's twist on classic dim sum is simply delightful. Rich prawn flavours, bouncing tennis ball texture, love it. The skin has this, oily mouthfeel, fresh, strong and elastic. A sweetish numbing peppery sauce seems to reside beneath the briny citrus foam. It's as if you are slurping an oyster by the seaside. The sand and the sunset… ahh. It tastes classic of course, but the tinkering has accetuated the classic recipe, rather than distract from it.
A bit of genius going on here, which must be the result of many hours of perfecting his recipe.
25 second aerated 'Ma Lai' sponge cake, £1.50 each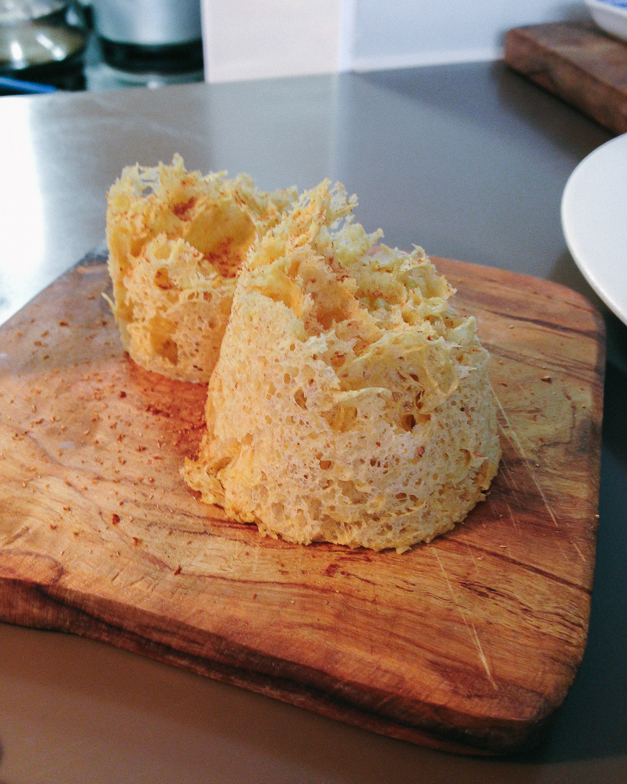 Rather than gun for thousands of layers, Andrew's opted to push the envelope for the airiest, lightest sponge cake he could manage. It's paper thin, weights barely anything when you pick it up and scented with cinnamon. Precision work.
Snacks
Chengdu street tofu, soy chilli, peanuts, preserved vegetables, £3.00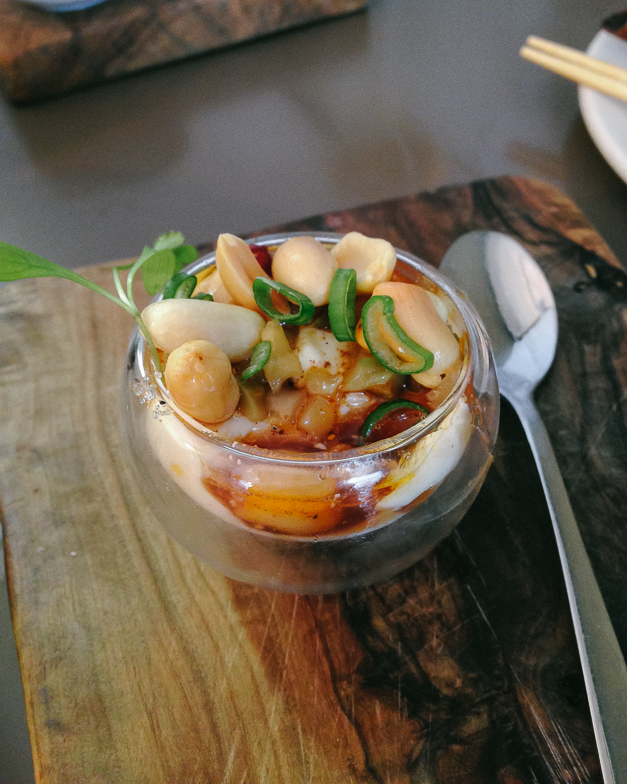 A savoury tofufa, or tofu that's been made into a smooth pudding. Yeah pretty good, very smooth.
Shanxi province honeycomb oat noodles with coriander and chilli dip, £4.50
The chilli dip is delicious, in the same way the garlic dip served with the quail egg is also terribly delicious. I suppose the oat noodles are analogous to  cannelloni pasta, this is al dente, goes well with the dip and looks impressive.
63 degree 'tea egg' with shredded filo, £4.95.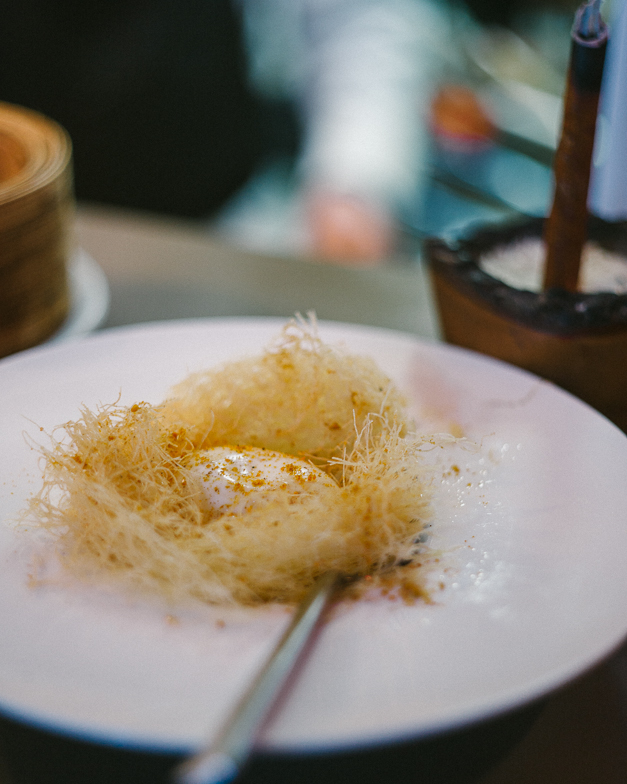 Perfectly 63 degrees. The burning cinnamon incense gives the dish a air of sweetness but it's the sheer joy of the salted shredded fried filo mixed with the almost custard like yolk that makes this dish so incredibly satisfying. Like a well made Cabonara, it's a revelation how a few ingredients in the right proportions and prepared well, come together so harmoniously.
The Wok
Andrew's wok menu sure means business. For me, beef ho fun together with the Yong Zhou Fried Rice and Wonton Noodle soup are a kind of holy trinity in Cantonese cuisine. Fundamental building blocks and a useful acid test to gauge the skill of the kitchen. (Or as my dad would say 'Test (the chef's) gong-fu')
Scotch Beef rump fried rice noodles, £8.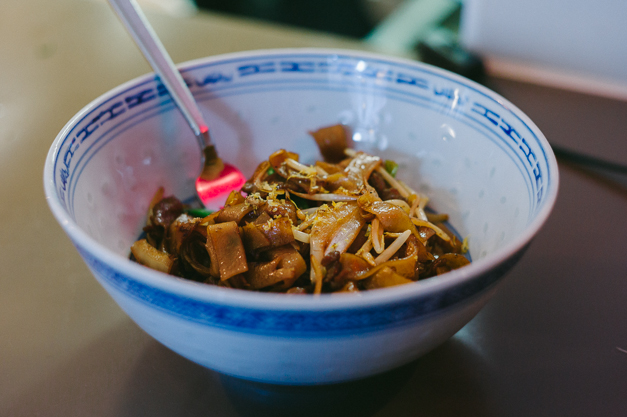 Good ho fun to beansprout ratio, ie less of the latter, a huge tick for me. The flat noodles have a silkened, oily texture, properly seasoned. Those slices of rump are tender and also correctly seasoned. On my first visit, Andrew took to the wok personally and you can see his seriousness in getting this stuff right.
Andrew's recipe also includes a sprinkling of lemon zest, which like the rest of his food, gives the flat noodles a sense of cleanliness and lift. The all-important 'qi' from the wok is present but it is subtle and less toasty than what I would have liked. My only criticism is maybe on portions. I could do with more but only because it tasted so delicious. I cannot say that this will best the dai pai tongs in Hong Kong, but for London, this is definitely top end stuff. Beats HK diner for sure.
Wonton noodle soup, £7.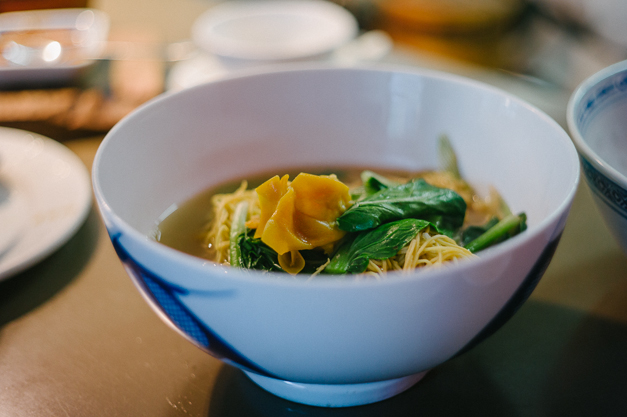 Finally we come to Andrew's wonton noodle soup. We watched him spend quite some time ladling the soup again and again, simmering and re-simmering, tasting multiple times, adjusting flavour and carefully working up the soup in his wok before serving.
Oodles of rich seafood (mainly shellfish I think, maybe crab) flavour result from his work, packing powerful punches all the while maintaining unnerving balance. This is such good soup, it is a joy to slurp away at it.
The doughy wonton is densely packed with mince and explodes so much flavour as it soaks up plenty of goodness from the soup. A pure rush of umami, a real achievement here, it's classic and careful Chinese cooking going, EXACTLY what a bowl of soup noodles should taste like.
We paid £65.80 (we had dessert, coffee and beer) the first time and £41.50 (just dim sum, snacks and wok) the second time. It still comes up as Kyms restaurant on the bank statement.
There is great and legitimate Chinese cooking going on at A.Wong, imbued with a sense of progression and innovation. It's not the regimental refinement in that haute cuisine sense, it's like he's trying to do it right, serve it with flair, respect the tradition all the while keeping the recipes grounded and practical. (That probably doesn't make any sense.)
The food is stunning without being fussy and I am amazed his prices are only about 2/3rd relative to his competition, Hakkasan and Bo which both carry stars. Andrew is a pretty approachable fella as he seems to enjoy interacting with his customers across the kitchen table. Think the bib needs to promote these guys from bib gourmand status to full macaroon level. Or maybe not to keep the value for money. Full house on both visits.
I really like Bo and the new stuff Alvin has brought to the London scene, but I like A.Wong more because it is a totally a fresh take, accessible without the weighty baggage that a high end Chinese restaurant might carry. For me at least, it ticks all the right boxes in food, ambiance and pricing and is absolutely everything a Chinese restaurant ought to be.
Hands down the best Chinese restaurant in London today. You should all go and eat everything on the menu, go for lunch then go for dinner, you'll love it. Don't miss.
Details
A.Wong
Chinese
£30pp Lunch / £50 Dinner
70 Wilton road, Victoria, SW1V 1DE
Tel : 0207 828 8931
Tube : Victoria
Did you enjoy reading this? You can subscribe to the Newsletter. AAlternatively, you can subscribe to the RSS feed.