So this is about the reset button, breaking from the proven British Steakhouse formula that has made Hawksmoor the darling of meat lovers. I've always been more of the Goodman fan, though Hawksmoor is equally great and their super sunday lunch is truly a belly busting winner.
Foxlow would be Will and Huw's fifth project coming after selling off major steak in their Hawksmoor empire.
They have turned the once decent (but sadly closed) North Road site into a trendy but perhaps fast becoming cliche, back to basics space. It has designs to become your favourite neighbourhood restaurant, even though Clerkenwell doesn't seem like the right place to set the scene.
Enamel white & greenish blue paint, unpolished wooden floors, plush leather seats , sparse and diner-like. Pretty much like every new restaurant opening in the past year. It's not a bad thing though, as it does have the charm of the original Spitafields restaurant.
If Hawksmoor is the showpiece steakhouse serving hideous chunks of wow meat, this would be the considered chef's menu with civilised daily meat board. A shortened greatest hits Hawksmoor menu centred around grilled and slow-cooked meat. More sensitive pricing than Hawksmoor.
From the salad bar, £7.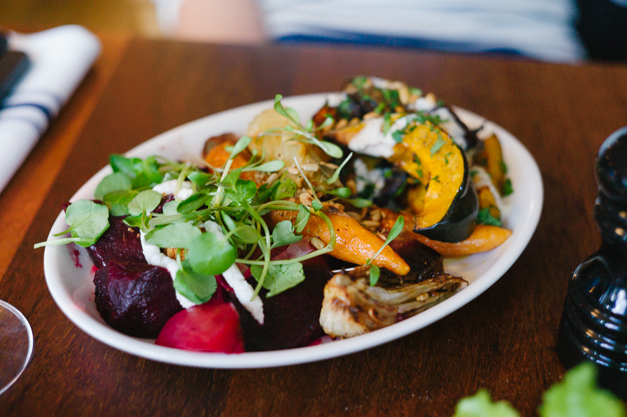 And they bring it to you, so there's no self service going on here. Thumbs up from the missus, it's a decent medley.
Brixham Crab with Devilled Mayonnaise, £9.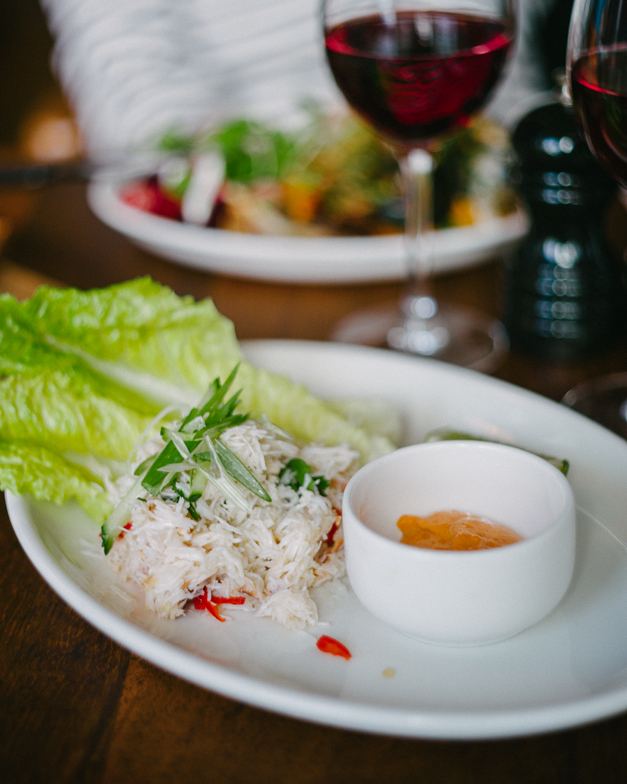 This seems to have an Indochina feel with cut chilli, cucumber, spring onion with lime. Fresh white meat & a little spicy. A lightened version of crab on toast, which was pleasant.
Rib Fillet, £18. Fries with bacon salt, £3.50.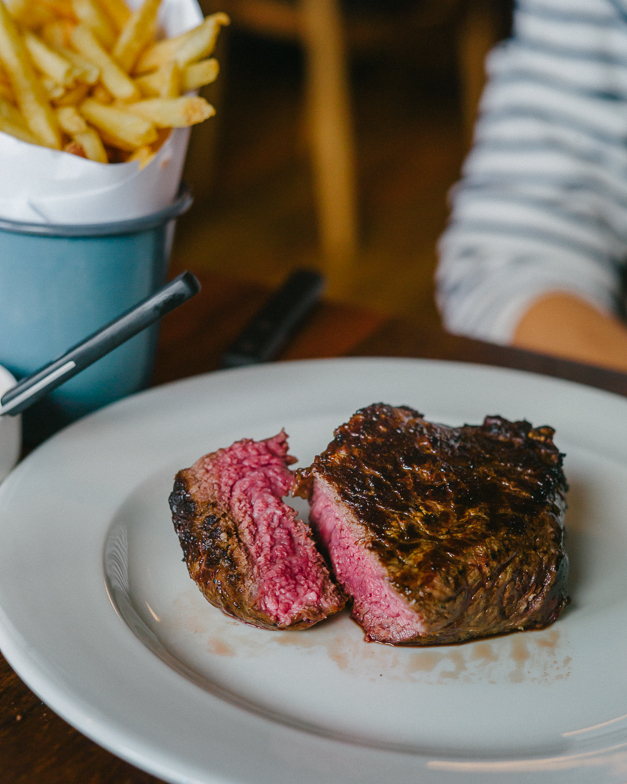 Here the Ginger Pig prime cuts are broken down into smaller, individual portions. Rather than one showy bone-in rib, it is broken down into two different cuts. For tenderness, select the rib fillet. For flavour, the deckle or the ribcap is offered, fattier and perhaps with more grain. We wanted to avoid steak but chose the rib fillet,as they ran out of the iberico pluma.
Looks like a decent 300g and a perfect medium rare, as expected of the pedigree. Smoky, charcoal aromas, mature dry-aged flavours, juicy, tender steak. Yummy. These guys also obviously know how to whip up a good béarnaise and make crispy fries to round off the course.
I'd skip the bacon salt on my next visit though.
Ten Hour Beef Shortrib with Kimchi, £16.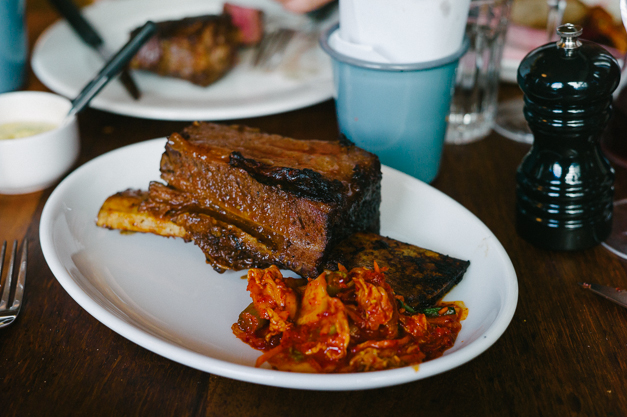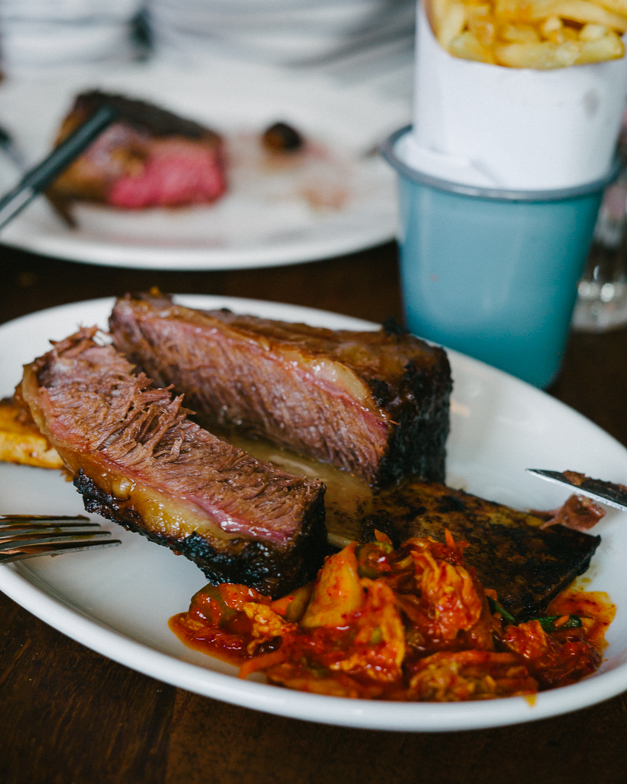 Yep. Nice belt of golden caramelised fat. Very appealing, covered in its own oil, rich beefy, fatty flavours. Cooked till it falls away with the slightest nudge on the hilt.
I've always been skeptical of Hawksmoor's kimchee (overkill on the burger) but here the fermented cabbage seems to work well with the richness of the shortrib. I think it's a good recipe, though the dish is on the heavy side. I got through about 3/4s and had to give up. I regret not taking the leftovers with me, I'd imagine it would taste as good (if not better) reheated in a sandwich the next day.
Well-priced at £16. There are of course equally good places to have good beef ribs (like Pitt Cue or Smokehouse perhaps) but this recipe holds its own very well.
Bourbon Caramel Softserve Sundae, £5.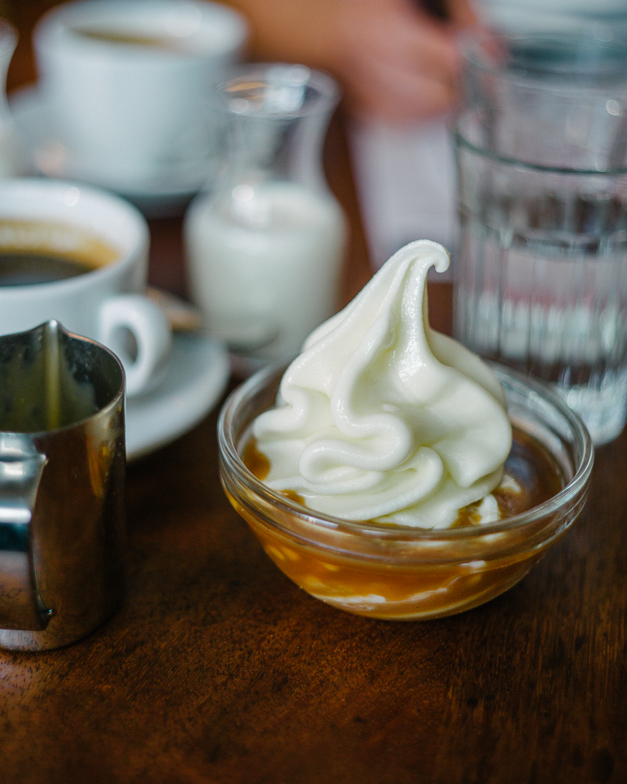 No cornflake shakes?
Too much icy crystals, a gloopy, overly sweet caramel sauce to pour over it. I didn't like this. Were they sold a dud machine? Nothing like those thick, smooth, creamy shakes at Meat Market, it's not even half a Mcflurry. Pass…
We visited on the weekend following Beaujolais Nouveau day and celebrated with a carafe of the 2013. Tasted very much like a rainy vintage. Still, ahhh… fresh grape juice.
We paid £90.56 for food, wine and coffee, so it is cheaper than Hawksmoor, but not by much.
Foxlow is like a subtle echo of the successful Hawksmoor brand. It has enough of the same tricks which we all know and love and on the whole it works. I guess its focus is a little different and so if you wanted unadulterated prime cuts, you're probably better off going to Hawksmoor. But if you wanted to explore their more varied cookbook recipes, then there are some decent things going on here. I'm intrigued by the sunday smoke-roast beef rib (£19.50) and if it has the same trimmings as the Hawksmoor version, I'm sure it'll be great.
I think they've mostly achieved the loveable, huggable feel-good factor which they probably wanted to have with this place. I suppose all that's left now is for them to roll out future Foxlows in actual neighborhoods.
Details
Foxlow
British
£40pp
69-73 St John Street EC1M 4AN
Tel : 020 7014 8070
Tube : Farringdon
Did you enjoy reading this? You can subscribe to the Newsletter. Alternatively, you can subscribe to the RSS feed.