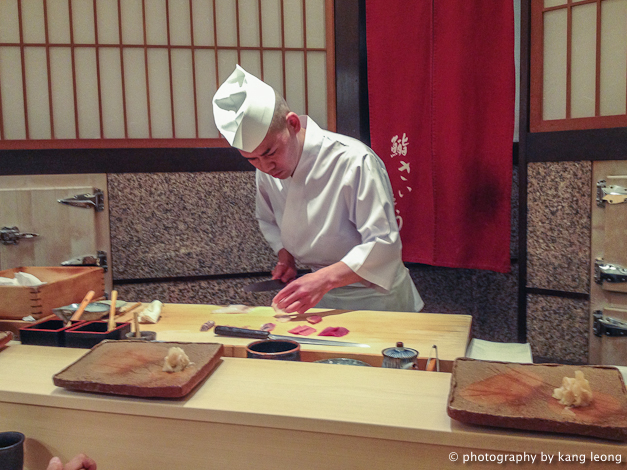 Takashi Saito needs little introduction. His tiny 7 seat sushi-ya, literally a small hole inside an anonymous office building car park is the epitome of a well-hidden, well-respected and well-loved gem. Saito-san holds three michelin stars, and is considered one of the celebrated top 5 or 6 sushi chefs in Tokyo – if not the world – held in similar regard with the famous Jiro Ono, Koji Sawada, Mizutani and Shinji Kanesaka. Or at least according to the general view of online foodsters today.
Every sushi master has his own take on 'perfection' and Saito-san's style is seen to be the traditionalist or perhaps the most austere of the illustrious lot. This means smaller cuts of fish (or neta, the topping) and comparatively strong flavoured shari (rice) which employs red vinegar and salt to compliment his tuna pieces, or so say The Red Guide & blogs. Despite the modesty of his operation, he is probably the most foreigner friendly (and camera tolerant). I even managed this meal by myself without a Japanese speaking chaperone. This – I've read – is in total contrast to say Sukiyabashi Jiro in Ginza.
There are conflicting accounts of where he apprenticed – Kanesaka or Kyubei – and there is claim that he shares his fish sources with Kanesaka. But given that Shinji-san & Takashi-san are about the same age, I'm guessing the old Ginza institution (which I also visited on this trip to JPN) is probably the more accurate of his alma mater.
It must be said that Saito-San is the nicest bloke I've ever met to wield a sushi knife.
Tokyo is the birthplace of Edomae (or (Old) Tokyo style) sushi which we have all come to know and love. They say the best sushi in the world is found in Tokyo (mostly Ginza) and even though it has become popular the world over, nothing is quite like experiencing the real deal in its natural habitat.
I am indebted to Shinly who had helped me make the booking, without whom this visit would be impossible. Like his luminaries, the exalted Tokyo sushi-yas have idiosyncratic reservation policies, but I think its partly because of the intimate nature of the experience, and because the entirety of the experience is premised on an Itamae devoting a lot of personal time to each diner, that it probably limits the number of seats per sitting.
As is seemingly common practice, this sushi-ya is not easy to find. I was 30 minutes late, circling Akasaka looking for the indoor car park, all the while fearing I would miss my booking. Thankfully Saito-san was nice enough to hold my seat till I got there. He presented 3 lunch options: 10 pieces (¥5250), 15 (¥10,500) or 18 (¥15750). I paused, as if to pretend it was a hard decision. But there was no doubt in my mind, it was hard enough securing a seat and I didn't know when I would be back again, so I went with the 18. All omakase choices come with seaweed salad (unlimited by looks of it), miso soup, tuna roll and tamago.
One – Hirame / Summer Flounder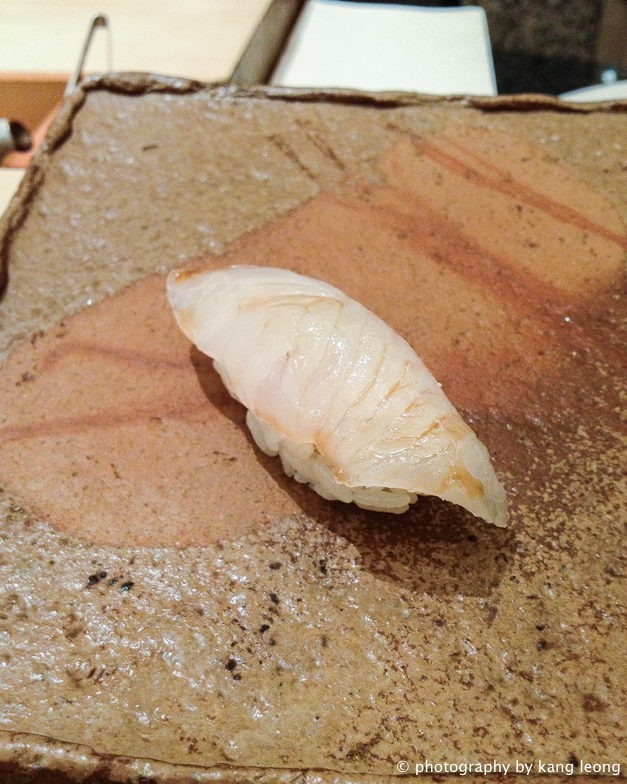 Each piece of nigiri was brushed with the intended marinade by Saito-san – in this case, a lick of soya sauce – so no additional soya sauce is needed. When he placed each piece of nigiri on the plate, the shari seemed to relax and expand slightly on the plate, a baffling but interesting effect, which supposedly is linked to the air pockets which are required to form inside the shari.
I picked up each piece of nigiri by hand and noted how delicate it felt.
Wow. Superb. From this first piece, it was evident this was quite unlike anything I'd tasted anywhere else in the world.
Immediately, I noticed the warmth of the rice, this warmth was seemingly the invisible glue that allowed the neta to adhere to the shari. And then the sharp vinegar and the intense saltiness. The shari was definitely stronger than usual, but the two towering profiles did not overpower and somehow managed to balance each other out. I could feel each bead of rice, as if each were a tiny, perfectly oval shaped pearl, each one polished by hand and then dipped in diamond pixie dust before being coated in white gold. I've never tasted rice of such robust texture before. This was better than perfect.
In its totality, I noted the smooth, elasticity and airy texture of the rice, like it was putty or dough.
The quality of the fish was stunning. It just tasted so clean, so fresh and there was an over-riding feeling that this was like a translucent piece of jelly, fish gutted and then washed in the icy, crystal clear and pure waters of Lake Ashi, itself formed from volcanic activity, 800m above sea level.
Sweet, piquant, and an appealing purity. Not unlike the purity of a very good sake. Or in wine terms, it was like experiencing '1st growth quality'.
Two – Tai / Seabream Snapper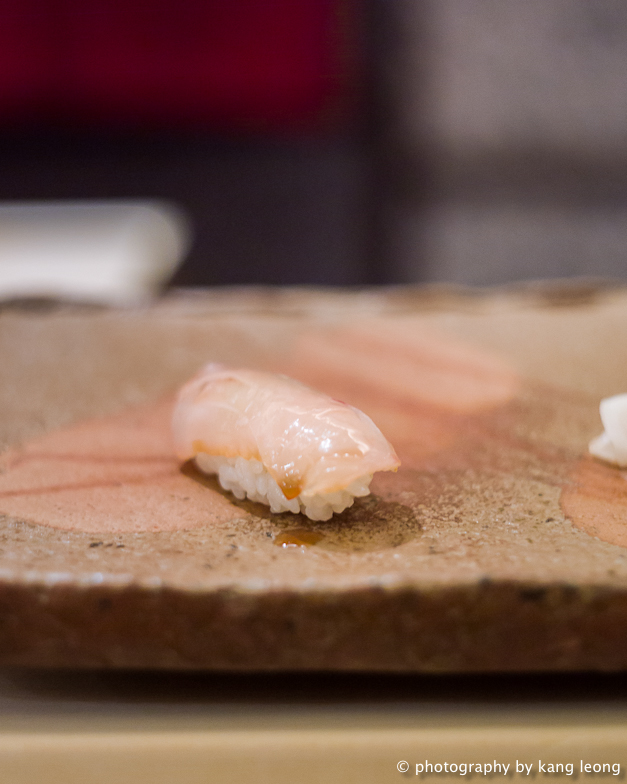 This was smoother and subtler than the Hirame, even more jewel-like than the first, but also very clean and pure. The rice was actually a little overpowering for this fish. I could feel the salt, depositing on my palate.
Three – Kohada / Gizzard Shad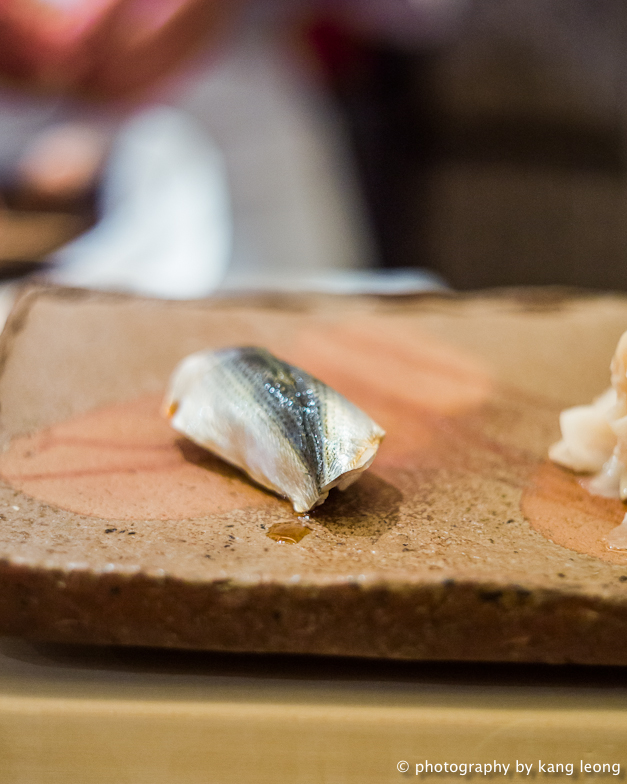 The shiny silver colour of the skin was visually appealing, to taste it was like that of sardine, a little oily but supple and sweet.
…The Tuna…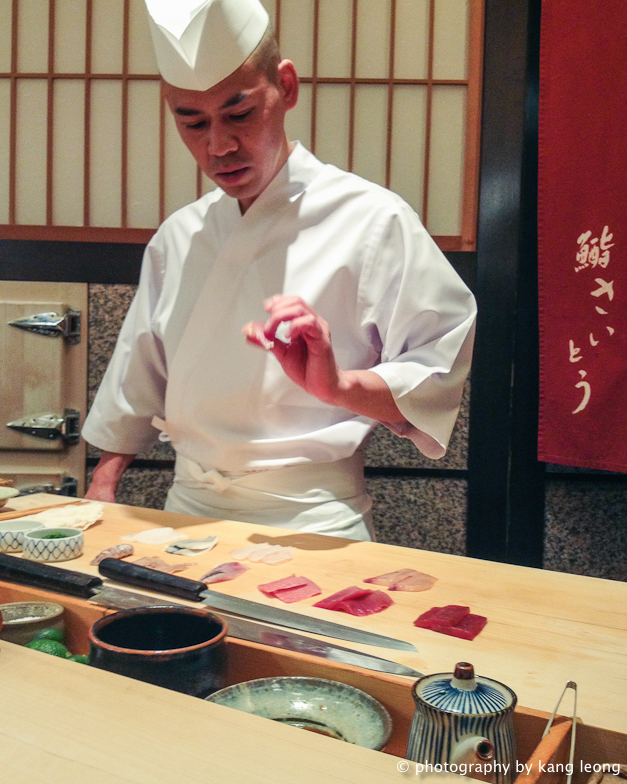 Watching Saito-san construct 7 meals, one nigiri at one time for each of his patrons is alone worth the price of entry alone. There is so much more personal control, attention to detail and precise application of skill, honed from years of training, that is apparent to the diner. It seems quite natural and totally integral to the sushi experience. Pictures cannot describe the speed and fluidity of his performance. It is exciting to watch really, akin to a seasoned casino dealer, and something well worth experiencing first hand.
Four – Akami / Lean Tuna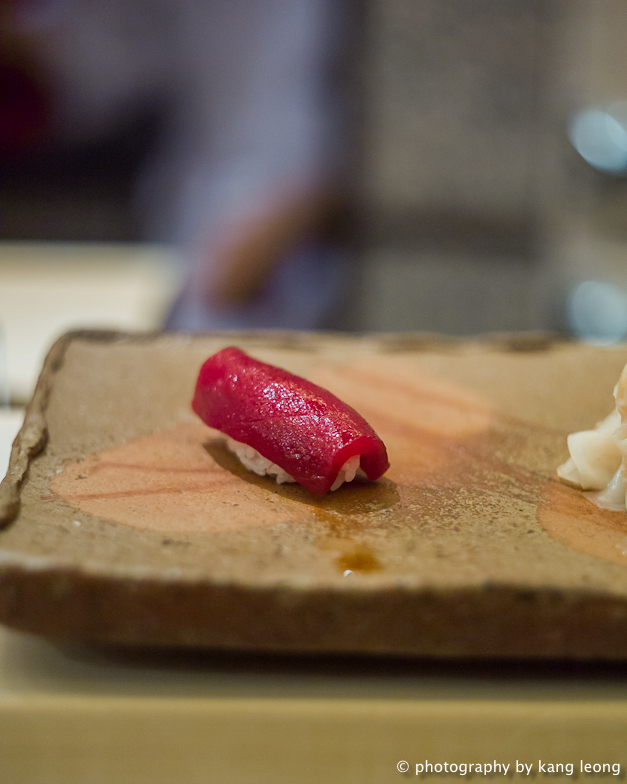 There are all kinds of stories of sushi chefs selecting and then treating their fish in order to present the purest expression of the ingredient to the diner, all of which feed the myth of this cuisine.
For example, the position from which the loin is used (ie: side not pressure against the floor, which receives least pressure) alters its asking price. Ageing, curing, intermediate storing temperature just before serving also play a part in the quality of the sushi, as do seasons affect the quality of fish (eg: fattier tuna during winter). Close scrutiny and control of so many variables for something meant to be agonisingly simple is borderline obsession, but also truly a marvel.
The result is this beautiful jewel-like, ruby-red flesh, expertly formed atop polished beads of warm marinated rice, that has to be eaten as soon as it is served – or in my case, 2 exposures each lasting 1/60s after 20s of focusing – before it loses its 'moment of perfection'.
Oh yeah, and it was the best lean tuna I'd ever had in memory. Lean red tuna, in the hands of a master is an extra-ordinary experience. It's just so pure, so smooth and simply delicious. While the o-toro is very in your face and easy to love, I think the subtlety and balance of a great akami is just next level stuff. If anything, the 'cleanliness' of leaner cuts probably requires more precision to make it really stand out. I'm using a lot of words, but in truth, it feels quite difficult to describe it. It's just a really singular, profound impression, a direct hit, a knock-out punch, that initial euphoria I felt when Bella Ferraro first opened her mouth.
Five – Chu-toro / Medium Fat Tuna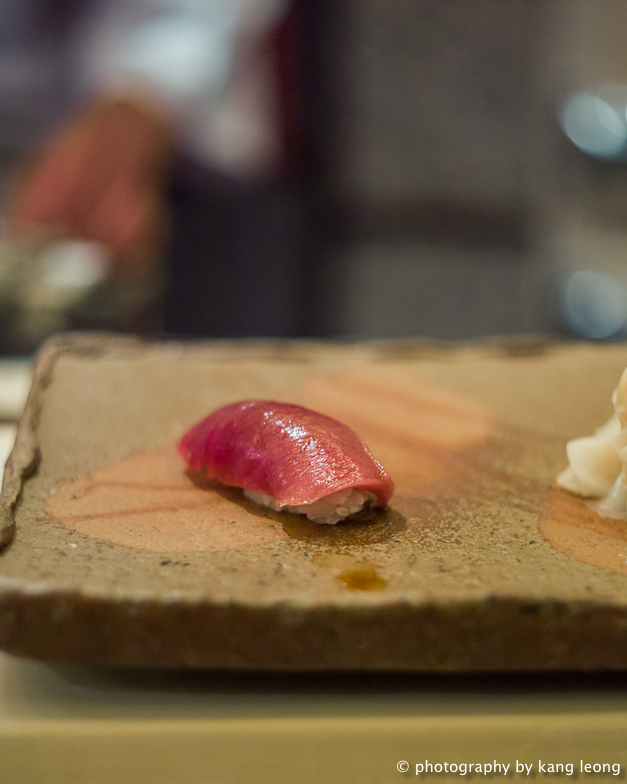 Like the Akami, but a little oily, more melting but not overly so and a little more fragrant, but still so balanced. From here onwards, the heavily flavoured shari was suddenly in harmony with this topping.
Six – O-toro / The Stuff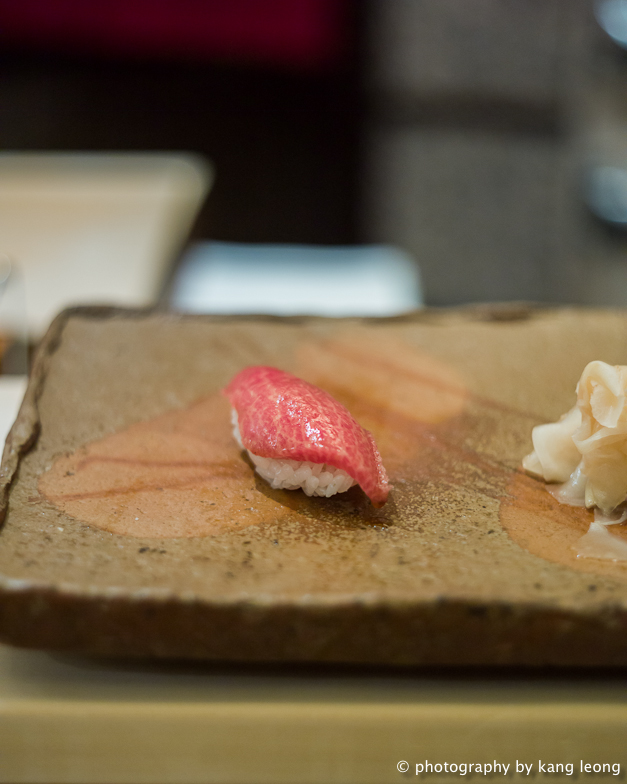 Like good beef, you can smell the fragrance when raw. It had baffled me, that everywhere we went in Japan, that the fish was of such high quality that they carried no smell of decay at all. Instead there is this extra layer of rich flavour. Wouldn't say its juicier or crisper or even oilier but somehow, there just seems to be 'more' to it, and it just feels more complete. It's like listening to the same tracks with a better set of speakers, I suppose.
Anyway. this o-toro was just too good. Look at that marbling. Perfumed, but not over the top, it melted like butter over the warm rice, giving way to this fantastically rich flavour that was almost like eating beef. Power and lightness. It's like Arnie performing ballerina, or perhaps a better analogy would be like watching Kim Yuna glide over ice. I'd like to think I've eaten enough O-toro to know good O-toro, but O-toro in Japan is peerless. Baffling and ridiculous delicious.
Seven – Ika / Squid
A little anti-climatic after the tuna course, but this was still smooth and crisp. If not mistaken, he seasoned this with a pinch of salt and a rub of yuzu zest. It was like a palate cleanser to wipe away the oily o-toro taste, ready for the next arc of the meal.
Eight – Shiro Ebi / White Baby Shrimp(s)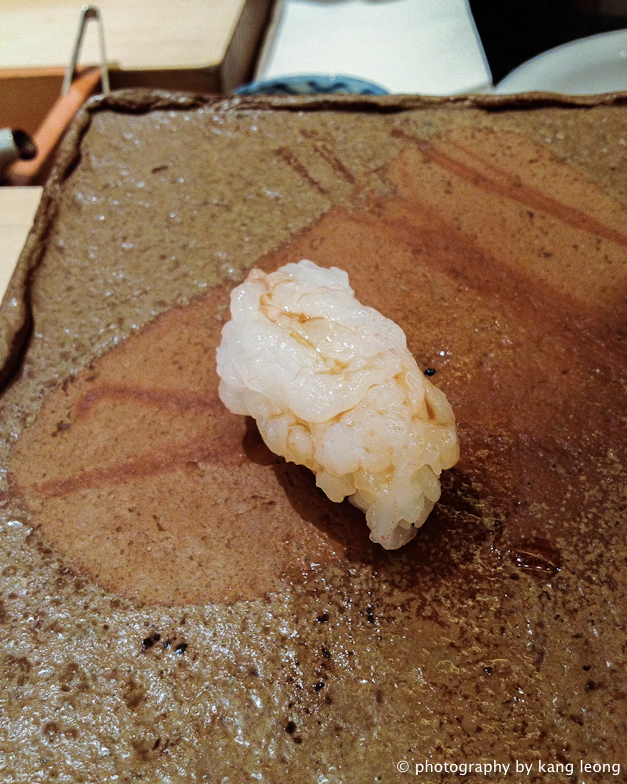 This was really intriguing. It looks a little like ..brain.. , but in fact it is a mass of tiny (raw) shrimp, each being extracted from their shells. I remember this deep sweetness, a muscular jelly-like texture and a coldness to it. It felt very live for whatever reason, but something I really enjoyed altogether.
Nine – Kurama Ebi / Japanese Imperial Prawn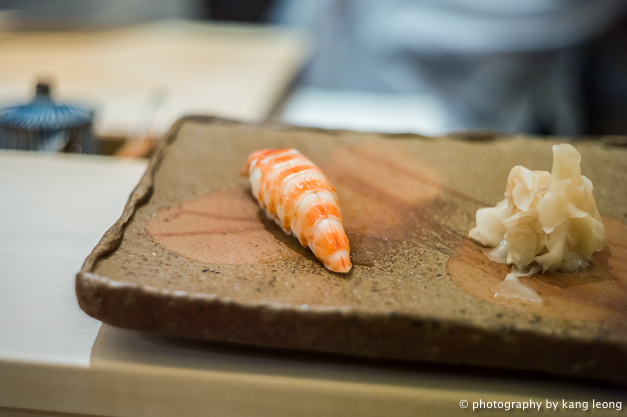 Boiled, with some of the brown meat left in, presumably for extra funk. Personally, would have preferred just the cleanliness of the white meat, but man this was a great shrimp. Very nice chewy texture, very juicy too, like a baby lobster.
Ten – LOOKS like Katsuo or Bonito / Same family of fish as Tuna, but not quite Skipjack or Bluefin.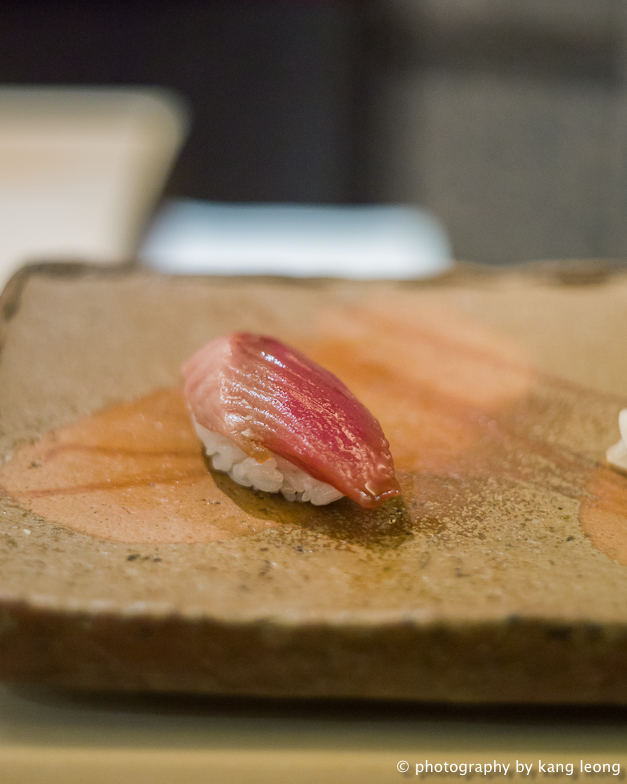 They use this fish to make bonito flakes.
I'm pretty certain that it is Katsuo, only because every other restaurant we've been to on this trip has served it to us, as we were told it was in season (3rd week of September 2012). I've also never come across another fish with red meat like this. It's like tuna, but it isn't. It's definitely got a chewier texture, and it definitely carries stronger flavour. It tastes much meatier, much more raw than Akami, but still clean and altogether very interesting, if that makes any sense.
Eleven – Aji / Horse Mackerel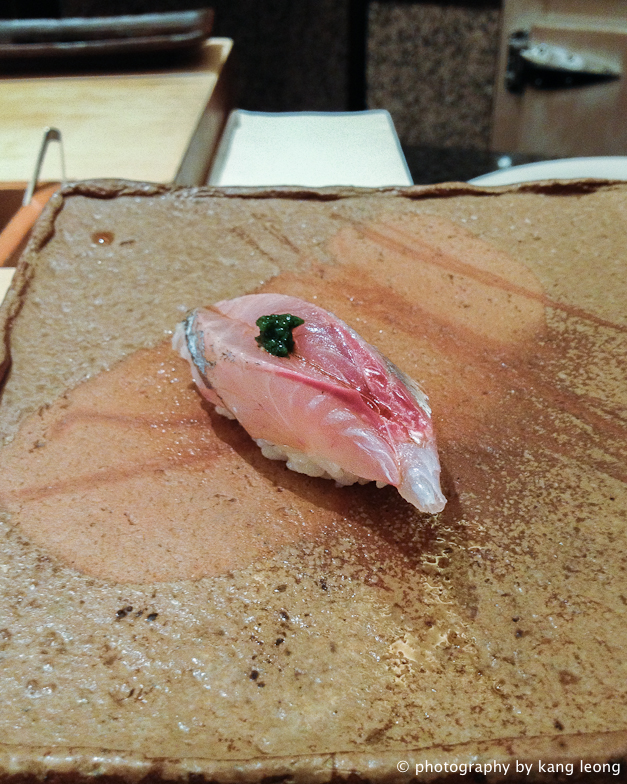 The green glob, I believe is grounded from some native leaves. To me, it tasted like a garlic pesto with a touch of mint. I really liked this one, the translucent jelly-like texture reminded me of the first two pieces, but with more flavour.
Twelve – Shako Ebi / Mantis Shrimp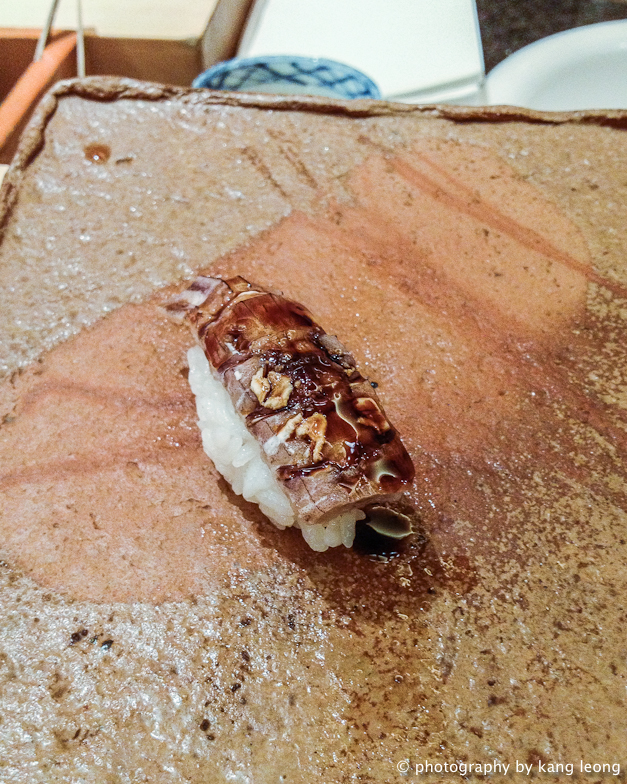 Honestly, the sickly brown colour of this shrimp looked suspicious to me. If you google it, it looks pretty scary. I'm quite certain this has been left to marinate in something very sweet (perhaps a mirin concoction of some kind) as it was very tart. Kind of like eating tenderised sugarcane that's been left soaking in syrup for a long time. Intriguing really, it was a new experience for me.
Thirteen – Ikura / Salmon Roe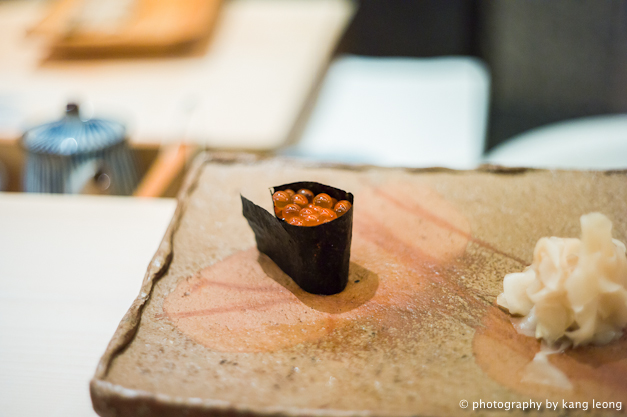 Even the ikura is top stuff. As each roe popped, it released a vibrant and sweet syrup. I wondered if this had been marinated as well.
Fourteen – Hamaguri / Clam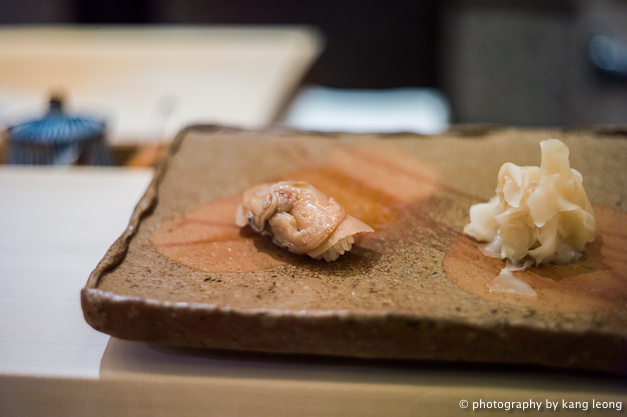 At first I thought this was some kind of baby abalone. Rubbed with yuzu zest between the neta and shari and then brushed with soya sauce. It was nice I suppose, with a good softly rubbery texture, and minerality of bivalves. But nothing spectacular to note.
Fifteen – Ezo-bafun Uni / Short-Spined Sea Urchin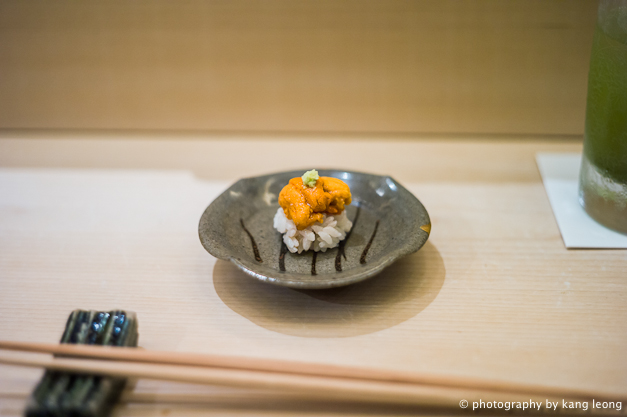 They say the best sea urchin come from Hokkaido, and I now believe the hype. While bafun might translate as horse dung, something which I have come to associate sea urchin with, given that the ones served here in London (or anywhere but Japan for that matter) are mostly bitter and strong smelling, Japanese sea urchin on the other hand is just… different. Sweet, creamy and pleasant, it's just… delicious!
Sixteen – Kita-murasaki Uni / Purple Sea Urchin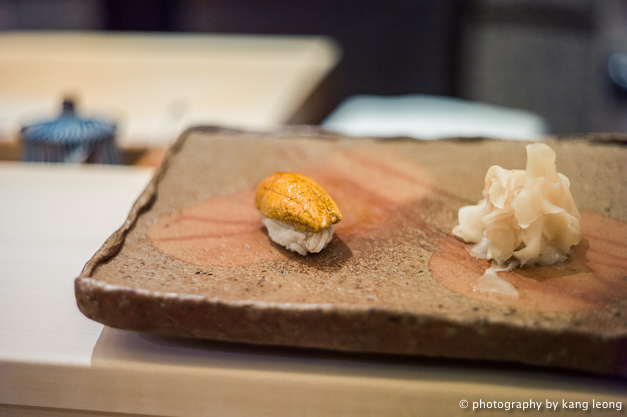 Also from Hokkaido, but even creamier, smoother in texture and with a more intense flavour, redolent of good foie gras, leaving a yellowish smear on my fingers. I preferred this to the previous one, but both were just so damn good. I noted that he had formed this by hand, and given the delicate texture of the uni, it illustrated Saito-san's control of his ability.
(I should add that I was also served Uni at Sushi Bun at Tsukiji Fish Market and at Kyubei and both times it was consistent with this experience. I get the whole Uni craze now.)
Seventeen & Eighteen – Anago / Conger (Sea Eel) ; Sweet Sauce & Sea Salt.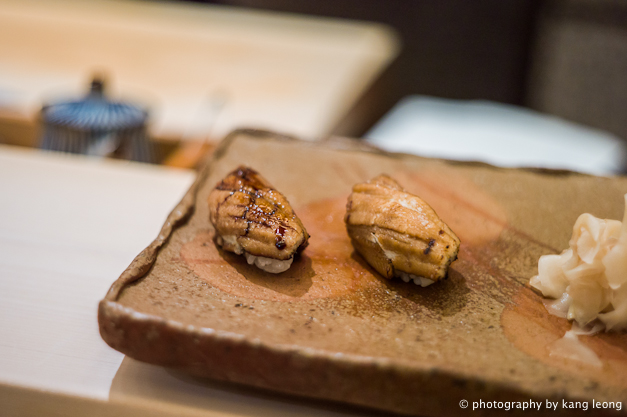 We're coming to an end now. One is brushed with a thick and sweet sauce made from anago stock essence, while the other is simply sprinkled with salt.
Lovely texture which just dissolves easily, but with a very appealing toasted exterior. The flavours were like butter and maple syrup melted over hot toast. Simply beguiling.
Miso Soup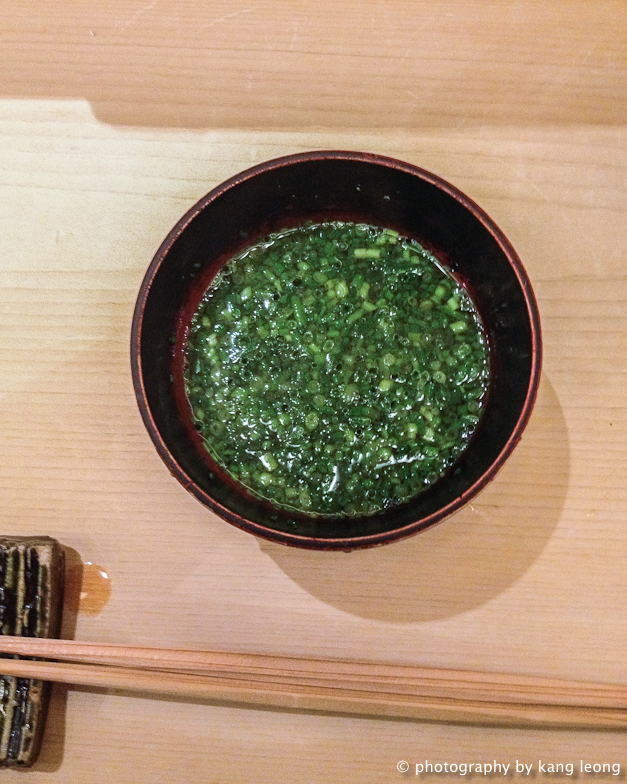 Tuna Roll & Tamago to finish.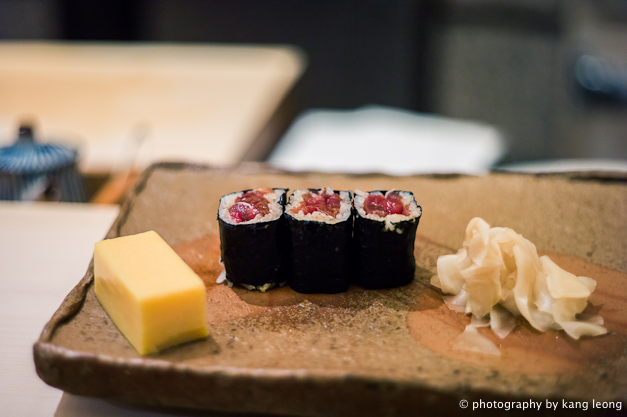 As is etiquette, the tamago is presented almost like a dessert at the end of the omakase. Each chef will have a variation of this recipe, and probably also figures into his reputation.
Saito-san's version isn't overly sweet, runny nor is it like a sponge cake. It is medium sweet, has a firm but bouncy texture, but it is very eggy and kind of glossy, like boiled egg.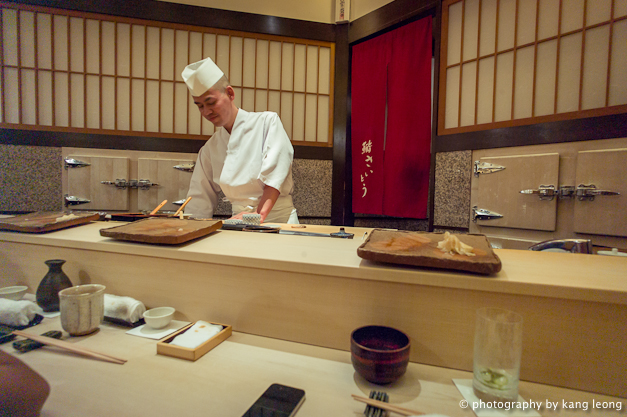 I paid ¥15750 (£125).
Greatest sushi meal yet. London is simply not at this level, nor any other country where sushi has become popular, based on my very limited experience of course. Sushi in Taipei whilst very good – given they fish from the same seas – isn't quite as precise as this. And while I think Takahashi-san's Sushi Tetsu is absolutely wonderful (if not at the very top) by London standards, it simply does not compare with the profoundness of this experience. There were no hard edges, everything tasted in total balance, the textures were soft, supple and it all went down smoothly. Not once did I feel the heat of wasabi threaten to bring tears to my eyes.
Broadly speaking, I think fish in Japan is simply better. Tsukiji market is simply better, to be exact. Perhaps there is more to choose from, the best stock sold to the highest bidder rarely leaves the country, the fish may benefit from not needing to travel huge distances frozen to get to the restaurant. Beyond quality of ingredient, there is refinement of technique, whether in the way the tuna was caught & handled, to the manipulation (be it ageing, smoking or marinating) done in the sushi-ya or simply that Saito-san has perfected his craft after years of practice.
This is where Edomae sushi began, has had 2 centuries (or so) to evolve their methods and the competition and level of experience is just on another plane. It may seem like an obvious conclusion to draw, but this meal has only served to solidify my understanding that the best sushi in the world is found in Tokyo. Of course, I could be wrong. I didn't eat sushi in Osaka, Hokkaido or Kyoto for example.
Like most things in Japan, the meal featured panache, refinement, heritage and also subtlety. This was Nth degree, pinnacle of life stuff. The precision to attain a kind of singular expression which conversely could be interpreted as a gradation of many complex subtle flavours, which for the untrained palate like mine, would fail to fully realise just exactly what happens as the prized sushi hit my palate. Obsession for perfection is Japanese culture. I don't know if it's absolute perfection they are after, or if it's about outdoing their personal best. I haven't tried the other super sushi-yas, but at this level, I doubt I would be able to tell the difference. It would probably all taste as stunning to me. Personally, Sushi Saito has changed my mind's idea of what 'perfect sushi' is. It is quite possible that this is currently the world's best sushi restaurant.
I remember feeling invigorated after the meal, partly because Saito-san had been such wonderful company. The boundary between chef and customer, customer with neighbouring customer is probably what makes sushi in Japan so unique, and uniquely personal. In the beginning it was a little awkward, 8 strangers sitting in such close proximity with one another, but toward the end of the meal, we were all laughing and joking together as if we had been acquainted for much longer …but mostly laughing at me, especially at my inability to converse in Japanese yet able to identify fish by their Japanese names. There was a lot of banter going on over that lunch hour, which I won't bore you with, but all I can say is that Saito-san is a real gentleman. He's serious but doesn't take himself too seriously. As I left, he ran from his default position behind the counter to the front door just to say goodbye, and to apologise for not having space for my missus.
This was certainly a memorable meal. I would go back to Sushi Saito again, for dinner the next time around where there are additional tricks up his sleeves stronger than his tuna trump cards, and to spend even more. Debatable whether it is actually worth spending this sort for money for raw fish on rice, but as I discovered, sushi is theatre and showmanship. It is also about human interaction. The incredible ability of a good Itamae in making his diners feel special is probably what makes the experience absolutely priceless. And I guess that is the whole point of hospitality.
Details
Sushi Saito
The Real Deal.
Lunch ¥5250pp (£45) upwards ; Dinner ¥15250pp (£125) upwards.
Nihon Jitensha Kaikan 1F, 1-9-15 Akasaka, Minato, Tokyo.
Tel: +81 (0) 3 3589 4412
Reservations: They ONLY take calls on the 1st of previous month prior to visit (eg: if you plan to visit any day in March, you must ring on 1st February.).
Did you enjoy reading this? You can subscribe to the Newsletter. Alternatively, you can subscribe to the RSS feed.