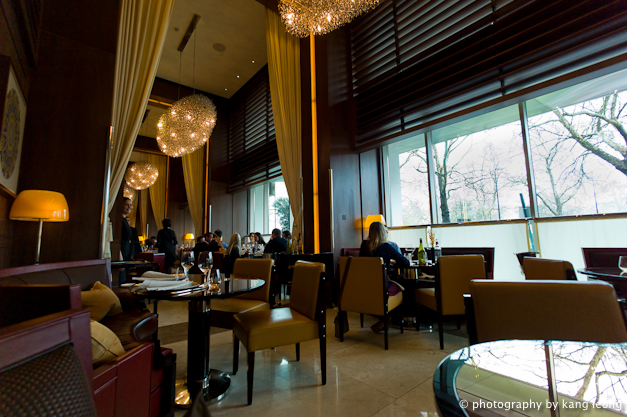 Ten years ago, the breakthrough in London steak dining was in delivering cow hides which were tender enough to cut with a regular and not a steak knife. I am referring to the gimmick they use at Gaucho. I believe they still operate the one man open grill in the centre of its 1st floor dining room at the Piccadilly branch, but I haven't been in years. On busy weekends, every diner is a witness to the grill man screwing up Argentina's best exports.
If birthdays were involved, it had to be the gigantic 800g bone-in rib steaks at The Big Easy. In those days, we were much less picky, reasonably happy to make do with Scotch Angus', Prime USDAs were a rare sight in restaurants and the Josper yet to be introduced into our lexicon.
2012 is a very different world altogether. 'American' food has well and truly invaded every category of our dining preference. These days you are much pickier lot, going beyond a cut of choice to preference of provenance. On the topic of breeds, I'd like to think of our options as a sliding scale from intensely beefy & chewy to tender & sweet. That's English grassfed Longhorns on one end, Irish Angus in the middle and cornfed American Angus on the other.
There is the other special (especially wallet burning) category of Wagyu (literally for 'Japanese beef') , which to me evokes images of beautiful bos with flowing black coats, gnawing on grass as elfish helpers brush their coats with sake and watch the prized cows wash down their five a days with beer, to keep a constant state of drunken flux.
Wagyu are well-travelled these days. As you know, you can't buy Japanese beef in the UK , but we can access examples from Chile, Oz, and (still elusive) Spain. The prized cattle are valued not for their fat content, but the way fat is distributed through its muscle. That distribution is judged as degree of marbling, where higher grades mean better fat distribution, better flavour, more tenderness and consequently a heftier bottomline.
The Chinese call it 'the flowering of oil', in essence relating the beauty of a well marbled piece of beef to that of …a mesmerising pattern. The saying is more literal than you think, when cooked, the fatty pattern melts to a protective layer of oil enveloping a beef that is tenderer than most, with a flavour that is more delicate (some would say floral, others think it's bland) than distinctly bovine. We now know there is a growing preference for this kind of fatty beef, what with ASDA's introduction into their shops (which I still haven't tried for myself yet).
The extortionate prices for wagyu may well come down in the next couple of years. Now these are just things I hear, and I hear that Welshmen are yielding good examples of Wagyu derived breeds, and those wizard herders from Tipperary are almost ready to slaughter their Wagyu-Angus crossbreeds.
CUT has most of the international breeds covered in their selection, with Prime USDAs flown in from the famed Creekstone farms (who supply Peter Luger and the famous Pat LeFrieda wholesalers) and Wagyu from the equally well-known Darling Downs cattle from Oz. As you know, the strength of steakhouses are judged primarily by what's hanging in their ageing rooms. In that regard, I believe the Russians retain the title as reigning steak purveyors in London, I refer directly to my personal favourite steakhouse: Goodman. Yeah, I hear you mate, I like GP Longhorns too, but that's all they sell at Hawksmoor.
As you know, 45 Park Lane is owned by the Brunei Investment Agency (BIA) which either means that it is wholly owned by the Bruneian Government or the Sultan or a bit of both. And hence the Dorchester connection. Brunei is no stranger to luxury, zero expense in spared in the lavish furnishings for this boutique hotel overlooking Hyde Park. If you're ever in Brunei, book yourself into The Empire , for me, the massive multi-level mezzanine lobby held together by gigantic pillars is still a thing of wonder.
On the topic of stylish Royal cash splash, there is a rumour that when His Majesty is staying at The Dorchester, they would fly the Bruneian flag. There is the other rumour that the end of his stay, he would have all the staff form a line, and one of his henchmen would tip each person a couple of hundred quid. There is a shred of truth to that. In the (my) good ol' (Uni) days, HM would organise annual dinners with Bruneian students at its student residential halls in Paddington (usually to celebrate Hari Raya, Aidilfitri or Eid) and the 'attendance gifts' were usually a couple hundred quid.
Incidentally, a mate of mine actually worked on the deal for 45PL while with BIA. Naturally, their brief was to build a hotel from the best of the best, and it was always their intention to chase a big chef to associate the hotel with. That big chef is Wolfgang Puck – one of America's most well known names. Here's a little known fact, the one proviso for the hotel restaurant is for it to be able to deliver fully halal meals. Which implies fully halal meats. Hmm, fully halal Darling Downs beef? At some point, Brunei did own a cattle farm in Australia which was geographical larger than the whole of the country. So we do have a history of steak love.
As Friday afternoon and mostly because of its expensive menu, I failed to convince Mark to tag along. So I flew solo for this one.
You've seen their ALC right? Hideously expensive isn't it.
Let's make sense of the numbers shall we? I'll measure the Prime USDA Ribeyes prices purely because this is my choice cut.
So Wolfgang reckons that 14 oz (400g approx) is £48. And so:
The CUT : £120/kg
Maze Grill : £125/kg
Goodman : £67.50/kg
Jack O'Sheas : £38/kg
JW : £87/kg (based on 14oz sirloin for £35)
Yup. The CUT ain't cheap, in fact, they almost as expensive as Maze Grill. It is worth including the oft neglected JW Steakhouse (at The Grosvenor) which also sells Prime USDA and is next door to 45 Park Lane.
Frankly, I didn't fancy paying for the ALC. So instead I elected to eat from the £55 three course set. This included two small measures of wine (I am guessing 125ml or even 75ml each) , coffee and half a bottle of water – pretty good value considering their Wagyu Sashimi salad is part of this set.
What am I saying, no meal priced at £55 should ever be considered 'good value'. The choice cut was a 6oz Casterbridge tenderloin, but I decided to pay the £15 supplement to upgrade to a 10oz Prime USDA NY Strip instead.
Wagyu Steak Sashimi, Spicy Radishes, Greek Cress (ALC price is £23)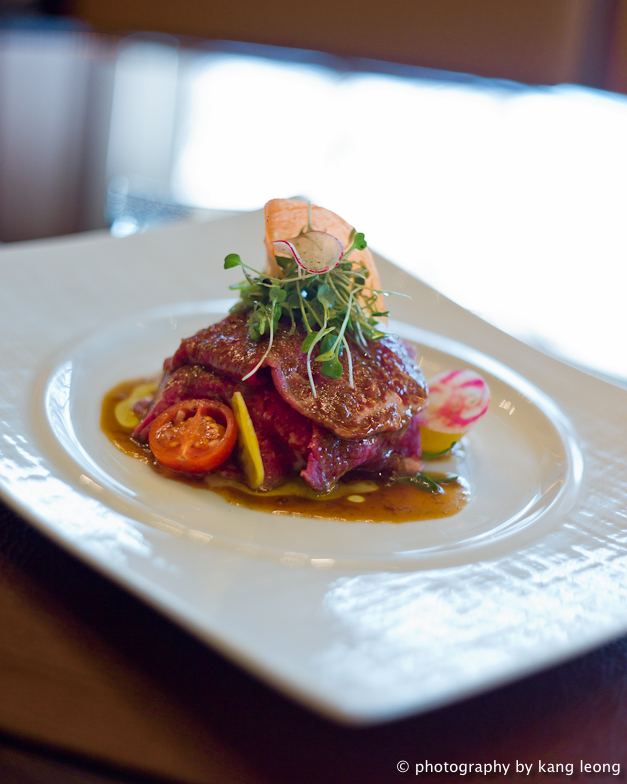 Depending on how you feel about raw food, this either looks gorgeously sinful or terribly animalistic. I fall in the former category. It's a bit of a Puck signature dish that is present across all of Wolfgang's international CUT outlets, sometimes going by Kobe beef tataki or Kobe beef sashimi salad.
Generously thick slices of Oz Wagyu fillet were amazingly tender and visually well marbled. It was like carpaccio, but with a pan-asian twist. It was a dish which could only work if the produce was of the absolute best quality, and this Darling Downs beef was absolutely just that. It was floral, fresh tasting and melted like candy floss. The rawness of the meat was covered with a beautifully made spicy sauce. It tasted like chilli, garlic, Thai fish sauce and maybe a dash of lemon juice or probably ponzu. I thought this lavish starter reflected the luxuriously high production values the restaurant (and hotel) embodied.
I washed it down with the half measure of Chablis.
Creekstone Farms Prime USDA NY Strip (Sirloin), 10 oz, Medium Rare.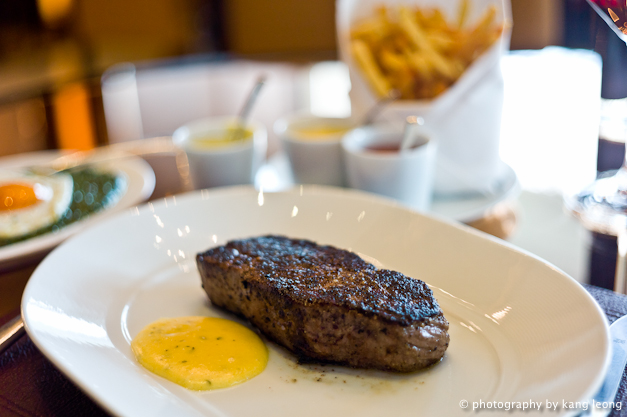 I've lost count of the number of speciality ovens in the city. At some point in our steak history, broilers and Josper grills were in the single digits, technology which was bespoke and unique in Brit restaurant kitchens, but today, even Bistro du vin has a Josper.
The high heat and charcoal is crucial to infusing the meat with the signature smoky, BBQ flavours of burnt cow hide, and at CUT, they boast about hardwood, charcoals and a broiler capable of reaching 650C. I'm not exactly sure if that implies an open grill, since I've never seen such a broiler up close before.
I have seen Jospers in operation, which are nothing more than ovens stuffed with charcoal. It manages something like 450C. At those temperatures, the exhaust gases are so hot, that opening the oven doors can literally obliterate eyebrows, and because of the heat, the kit need be supported with refractory material capable of containing the heat. I suppose a similar design is employed for the CUT's broiler.
I took an extra 3 minutes to take some pictures before cutting into the steak. So that's an extra 3 minutes of resting time on top of whatever the kitchen had allocated to this. Look at that plate, what do you see? Aside from the bearnaise, the plate was completely dry, ZERO juice leakage which tells me that this kitchen cook steaks with care, and understand the importance of resting. The steak was definitely a strong 10oz, leaning toward 11oz, as you know, high heat broilers mean that steaks spend no more than a couple of minutes over the heat, and hence why steakhouses with superhot cookers call for cuts to be of a certain minimum thickness. In other words, always order the heaviest weight you can afford, and if you're with a large crew, get something at least 1kgs worth, on the bone and have the kitchen slice it up to share. As The Critical Couple had rightly pointed out in their blogpost, avoid the bite-sized £55 tasters.
Next, check the colour: That's a perfect medium rare to me. Ok, so it was a fairly breezy Friday afternoon service, when things get busy on a weekend, this consistency may slip, but still – this is definitely a sign that the kitchen is well versed in the art of searing. See all that blackened carbon on the crust? These steaks were pre-seasoned with salt and pepper before going over the charcoal. A little different from say Goodman who do theirs nude. In fact, I don't think there were any S&P shakers on the table.
Mmmm… as expected, the Prime USDA was signature tender & sweet. Being a sirloin, it obviously had an expected muscular chew to it, but for a sirloin, it was incredibly tender. The Creekstone beef was of amazing quality, it was well marbled stuff, and I could taste every globule of sweet fat oozing out from every bite. Personally I prefer the slobbering intense fatty flavours of a rib-eye, but on this occasion, the beefier flavour of sirloin were a welcomed change.
Juicesage was well absorbed in the meat, but I think that they probably hadn't caramalised the crust enough to create enough contrast between a burnt exterior and a buttery, juicy centre. So the sensation of 'sealing the juices' wasn't quite as pronounced as I was used to. But still that sensation akin to bursting a water balloon or puncturing juice-filled fruit pulps were present.
Smoky, charcoal flavours were on the mellow side, only barely detectable, and more pan-fried than fired over glowing embers. Still, it didn't take away from the overall quality of the meat, the relatively mild flavour were actually quite pleasant, it demonstrated careful cooking to me. In place of smoky flavours were that of caramalised pepper and salt. I thought the seasoning was just right – I hardly dunked the steak in the bearnaise.
The heart of any steak restaurant may be the all important grill, but its soul is the people who operate it. Both appear to be in good working order. So all in all, I think these guys know how to grill steaks.
I washed down the delicate prime american beef with a jammy Californian pinot.
The chips.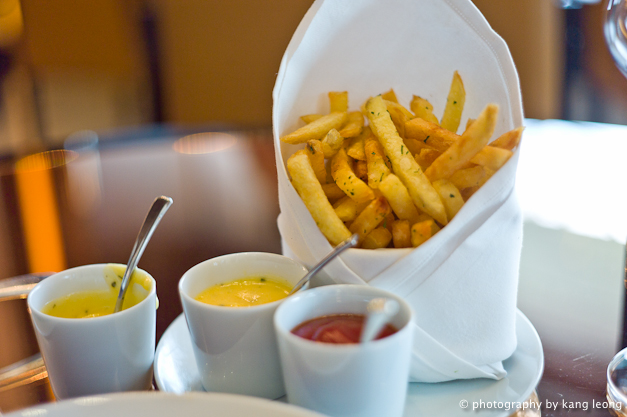 Fried vegetable oil, a little like Pringles, a powdery crisp, rich potato flavours, perfect with bearnaise. They are lighter than the triple cooked stuff we are so used to, but as good as any Parisian bistro.
Creamed spinach with egg, £6.50.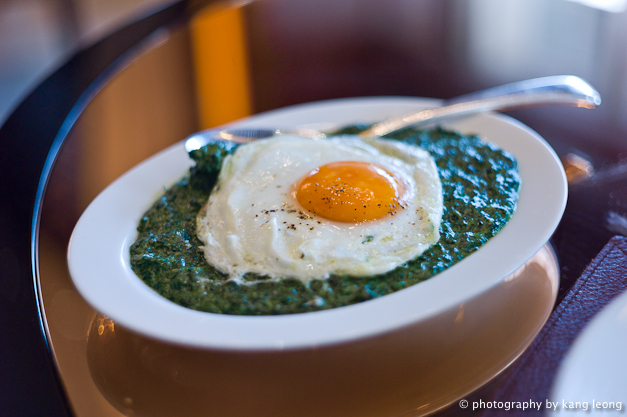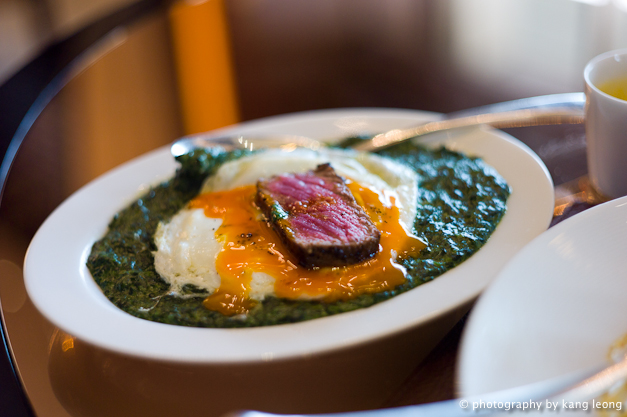 I'm sorry, I couldn't resist it, we bloggers we love puncturing egg yolks.
More attention to detail, this restaurant to me is all about the luxe. I can only describe this side dish of spinach as the most decadent plate of vegetables I had ever had. This is the kind of dish a casino would reward you with for cleaning them out for a hundred grand.
Medjool Date Cake, Sticky Toffee Sauce, "50 bean" vanilla ice cream.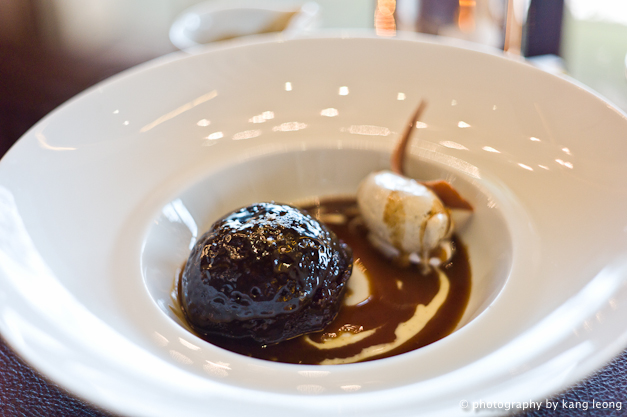 Hot toffee sauce poured over an incredibly sugary date cake – talk about a luxury treacle tart, there was enough sugar in this cake to feed entire countries. I loved that '50 bean' vanilla ice cream. It sat on top of either frozen marshmallows or meringue. The ice cream was so rich in vanilla that it was more brown than white in appearance.
Gosh what did I pay? £86.06 for one. Sure, it's fucking expensive, the most expensive set lunch I've ever paid for. But it was also brilliantly delicious, in an old-fashioned kind of way. On my visit, most tables were filled with men and women in suits, and I surmise all were about business. Hey, I would do business lunches here, it has that kind of greedy ambiance which Mickey Bricks would use to convince his marks of his latent abilities in delivering the too good to be true. Truthfully though, I didn't like the long and narrow design. Yeah sure it was decked out like Cleopatra's boudoir, but it also felt like I was eating in a hallway. For a real money-money hotel steakhouse ambiance, JW is actually much swankier, though their steaks aren't exactly top notch.
There were a couple of solo diners like me, in polo shirts and jeans, who didn't have to work a Friday afternoon. I did sit across a bloke dining with two women, a blonde and a brunette, and I did wonder if they had spent the morning engaged in ….yoga. He paid for the meal after the women left without him.
So, here's the moment of truth then, should you invest in a meal at the CUT? Well, yes and no. If you've only just won the lottery, yeah do it. Service has improved tremendously since it opened. Not only did they offer the solo diner (me) the daily paper, they asked me what I wanted to read. The Times if you are still keeping track. So at the very least, I think you will be treated well. The food as I said, is of luxury quality. And at those prices, they better damn well be. If the steak is anything but to your preference, always, always send it back. That was a tip I got from someone who runs a successful steakhouse in London. If you are curious and have the opportunity to expense a business meal with associates, don't even think about it, go here and satisfy your curiosity.
If you are a regular steak lover like me, stick to Goodman. It remains the standard by which steakhouses in London are measured against.
The Gist
CUT at 45 Park Lane
Steak, and other things. £100pp and easily more.
No.45 Park Lane W1K 1PN
Tel: +44 (0) 20 7493 4554
Underground : Hyde Park Corner
Links
John Walsh , John Lanchester , Andy Hayler , Slow Food Kitchen , Saying it Straight
Did you enjoy reading this? You can subscribe to the RSS feed.