… I write to you as I lie on the blackened brown beach in Brunei. It overlooks the oil rigs just off the coast that fuels the economy of this tiny Sultanate on the Northeast coast of Borneo Island, and behind me, my parents' backyard. Happy new year LDN. I am technically still on my xmas vacation which is just spilling over into the new year. Did I mention the equatorial climate mean that it's a sunny 30C every day?
What better way to break the 2012 bubble than to recount a November 2011 visit at a true London institution and a destination restaurant. Yup after nearly four years of hot air, I finally made it to Chez Bruce in Wandsworth.
In my often narrow and simplistic view of the shadowy powers which have molded our idea of the template for london posh dining, I see two power players whose influence reaches across an association of restaurants. Glorious chefs have passed through these kitchens at some point in their career, and in a way, these breeding grounds are the bedrock for the progression of high cooking.
On one end of the stick, we have zen master Phil Howard with his double-macarooned lair – The Square. This is of course a story that is written to death about, since Brett Graham trained with Phil in the beginning days before they spun out the Ledbury, Harwood Arms, and Phil's other diffusion restaurant, Kitchen W8.
The other is of course the highly respected (Chez) Bruce Poole whose 16 year old outpost in Wandsworth is still going and going but perhaps just beginning to look a tad long in the tooth. It still charms the pants off of most, but certainly not all of you. Bruce's diffusion restaurants include La Trompette and The Glasshouse, both michelin starred and highly regarded in their own right.
If ever there was a formula for special occasion restaurants, then these guys have discovered it. Both men share a common connection, the silent partner who has helped shaped many a chefs career – Nigel Platts-Martin.
NPM's ownership of starred restaurants stretches back to the old glory days when the site of Chez Bruce was formerly Marco Pierre White's Harvey's. I am bittersweet that I'm too young and so have missed MPW's most dominant days. To me, he is mere urban legend. I only have youtube videos of him cooking for Albert Roux (whom he describes his proteges as his little bunny) to go on. In those days, Philip Howard was only just a precocious up and coming chef de partie in White's flaming kitchen.
Moan all you like about NPM's classic French fare, the bottomline is that these guys know what paying punters (that's you) really look for in restaurants. And consequently, NPM's restaurants turn profits. Solid cooking at 2003 prices, a shushed ambiance and a strategic neighbourhood location. Mid-level fine dining at its finest yes?
As Chez Bruce is the kind of special occasion restuarant, We thought it was apt selection for me and the missus' anniversary. A Saturday lunch, I put a tie on to pay homage to a culinary giant. The prix fixe menu is impressively affordable : at £27.50 for three courses (£45 for dinner) , it's simply unbeatable value for money in 2012 (Nov 2011). It reads like any classic French menu – divine, classy and a little lost in time. Which is good, the fantasy spirit of eating out is well and alive in Chez Bruce.
The starters.
Potato, chicken and thyme soup with poached egg.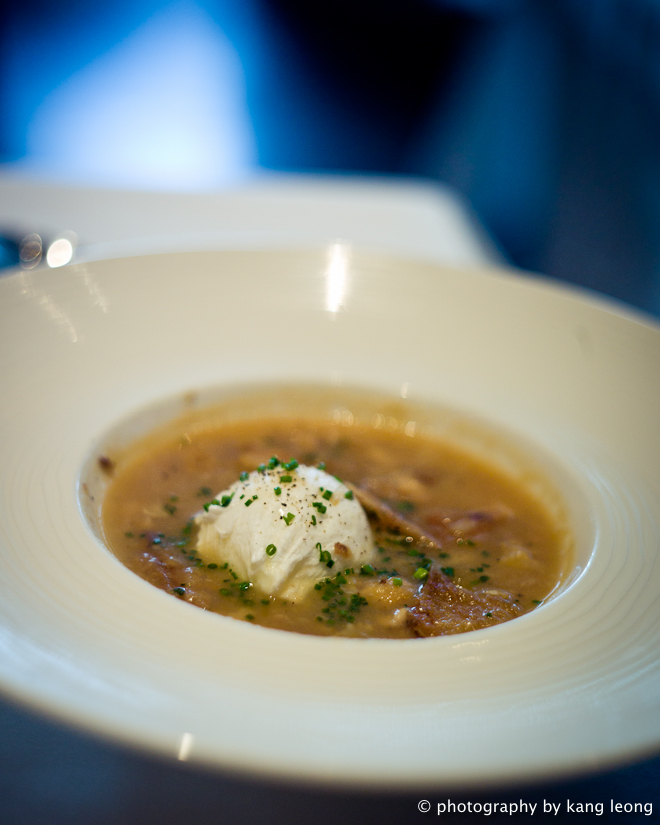 The better half started things off with a starchy, gluey, rich potage, finished with poached egg. Cooked to a T, it was as potato soup should be. The missus approved.
Buckwheat pappardelle with braised hare, bacon and parmesan.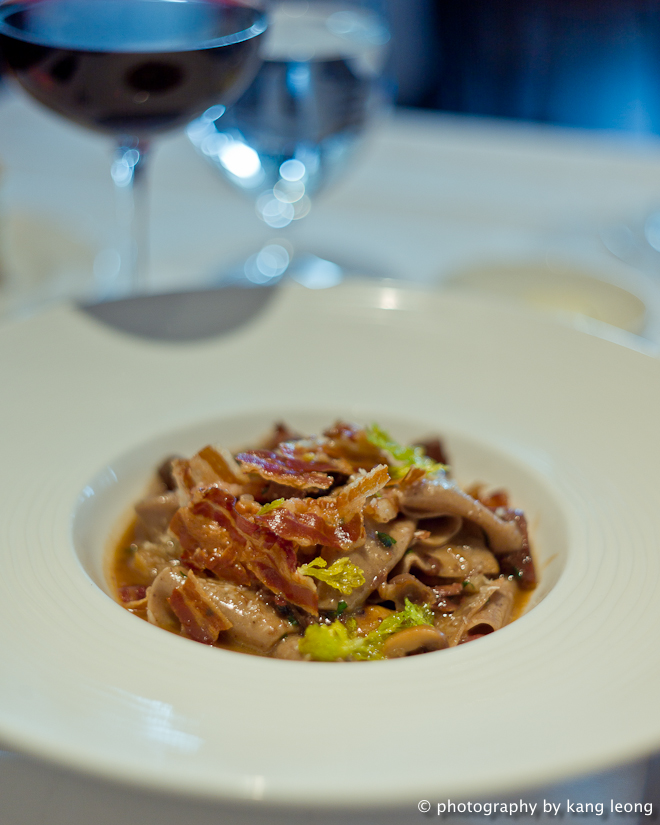 I chose the house made buckwheat pasta, which was expectedly al dente, with a nutty sting and a rather pleasant coarse texture, like sand in cockles. The rest of the dish was the forest of flavours it looked. Woody, familiar, rich and a cracking sauce. This was classic cooking at its best. One could say this recipe was boring, but then again, you can't fault good cooking. Mastery of conventional food is as important (if not more so) than pioneering modern trends.
The mains
Shoulder, loin and hache of venison with spatzle, chestnuts, bacon and red cabbage (£5 extra)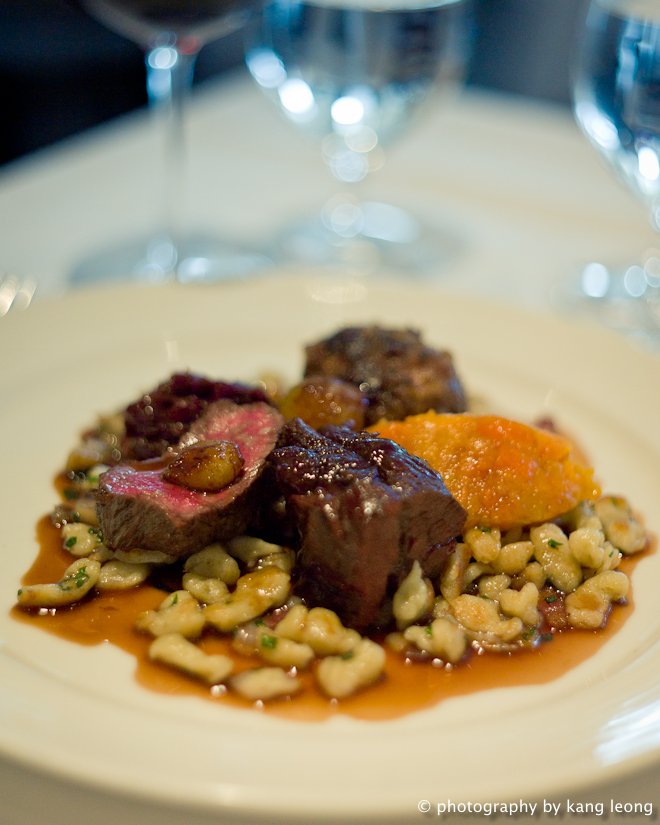 Venison, three ways. Very rich, very sweet. After a hefty starter, this seemed a bit of a meat overload. The shoulder melted like candy floss, the loin was tender yet firm, flavours of onion and sage, and the chopped meatball was so sharp, it was nearing pungent. A good kind of pungent. I think that perhaps it could have done with less spatzle, which to me, tastes like wetted rice crispies, began to disturb the meat textures.
I can't say I absolutely loved it, since it was a big plate of meat, veg and sauce. However, I did think that everything on the plate was well cooked. It was clearly the mark of a kitchen which has perfected their skills over the decades.
Roast rump of beef with shallot purée, cocotte potatoes and bourguignonne sauce.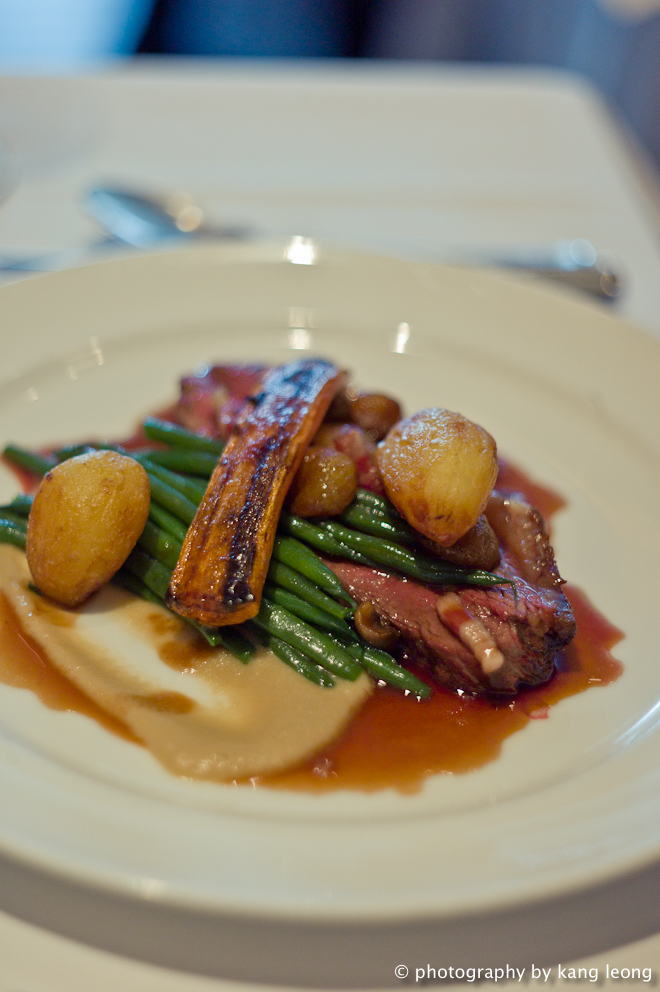 The better half was impressed with her textbook roast beef, and so was I. It had the nostalgic effect, hearty, roasty and cooked to a perfect pink. Personally, I would have preferred to see just a little more blood, but preference aside, this came out just right. I thought the beef selected was top notch. The butter-flavoured fat on the beef was a sign that this was a good breed whose hide was well hung. My notes indicate that this was some kind of Devon Angus crossbreed which comes from the Westcountry. This isn't something I'm familiar with per say, but given that it was a rump, it was rather tender, with fantastic natural concentration of flavour, and it made for an enjoyable plate of roast beef.
Benchmark roast beef, perhaps even a version of perfect roast beef. I'm a big believer in restaurants which can get the classics spot on. And I think this effort speaks volume about the skill of Bruce Poole's team.
Dessert.
Pineapple cannelloni with lime and ginger syrup, mint granita and coconut.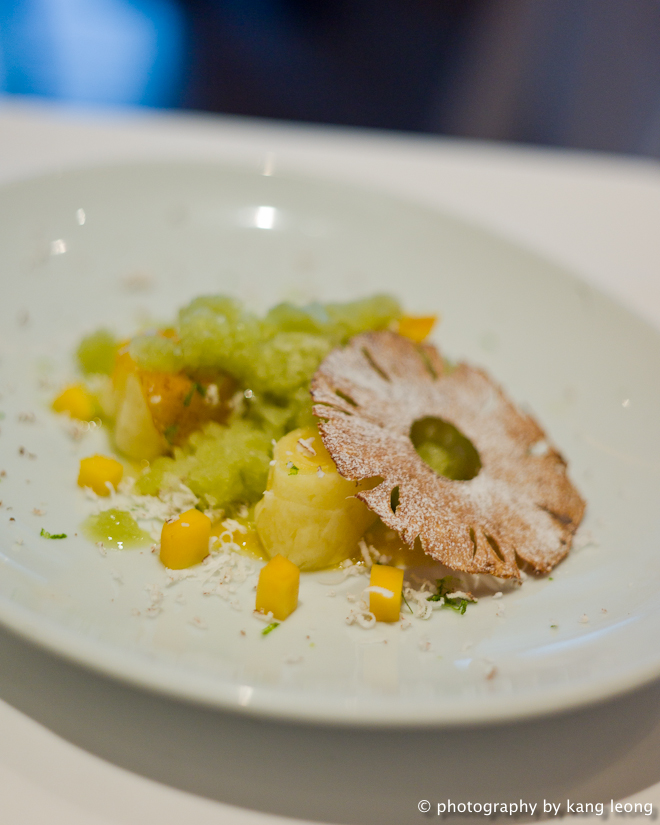 I suppose this shaved ice dessert is Chef Poole bowing to the Nordic food trends, or perhaps it's just a reworking of a regal ingredient in French puddings. Deconstructed pina colada? How about reverse pineapple tarte tatin? Nah, that's taking the p.
It looked nice, a departure from the rest of the dishes. While we both liked it, shaved ice is not necessarily my favourite gimmick on a plate, be it a savoury or a dessert.
In fact, I'm curious when shaved ice transitioned in to 'haute cuisine'. For me, shaved ice belongs in Asian (street food) desserts like Ais Kacang (literally for Ice Beans). Blocks of ice are milled in its shaven form using hand wound ice shaving machines , and then scooped into large bowls and served with syrup, sweetcorn, sago and red bean and other starchy things. It's hugely satisfying if you've never tried one. And it's been around for at least 50 years. It's a mountain of colour and ice.
Prune and Armagnac ice cream.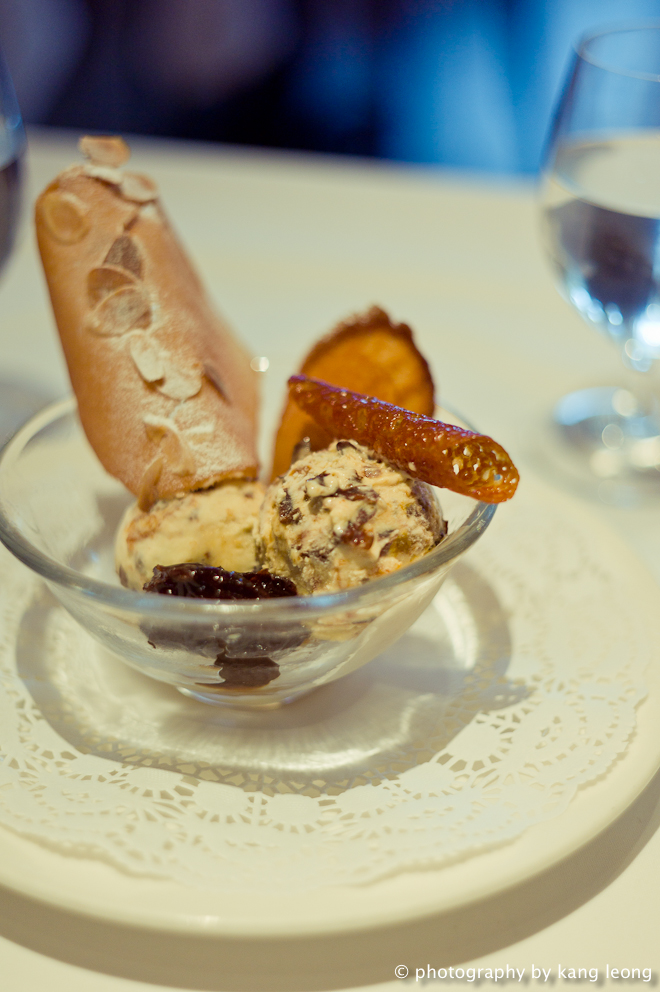 Wicked. Classic. I love this. Let the nostalgia wash over. Ahh.
The ice cream was creamy, velvety and generously alcoholic. A prune on the side was absolutely seeping with brandy flavours, that one can only assume that Bruce had done it to demonstrate that he had allowed plenty of time for osmosis to take place when he soaked the prunes in brandy. I cannot fault this, I loved every bit of this ice cream. This was a bona-fide dessert.
On the topic of armagnac, I've taken an interest in this kind of brandy. Did you know that armagnac precedes cognac, but since they are less popular, it makes Armagnac the cheaper alternative. Quite conveniently, Berry Bros & Rudd – yes that venerable wine bod in mayfair – stock a particular family of armagnacs which go back two centuries. This is an area where I'll invest some time in this year I guess.
But darn it, ain't it such a Chinese thing to drink brandy. My dad drinks cognac. Louis XIII to be exact. What a cliche yes?
As much as the next generation of progressive cooking has taken over, these evergreen classic French recipes – butter, lardons and red wine – are still top notch. It's a reminder and a relief to find that when you dine out, portions are still adult sized and fill the entire plate, and not served on a Chinese soup spoon.
We paid £ 85.78 for food and 2 glasses of wine , and we fell into a satisfactory snooze as we took the bus back toward the North of the river. Well, that just leaves The Glasshouse, and then I would have visited all of Nigel's current portfolio of restaurants.
So as Gordon Ramsay is changing the direction of his business with the cheaper, less dressy bread street kitchen, Plats-Martin's restaurants, in my view, stand the test of time with their prix fixe, no-nonsense French food. While New Nordic has undoubtedly influenced newer restaurant menus with lighter (and perhaps healthier and better looking) recipes, heavy meals like this still has a place for the lovers of old-fashioned eating out. While the table cloths were perfectly pressed at Chez Bruce, it really buzzed more like a bistro than a prolific stuffy affair.
If I can be quite frank, the meal was ordinary, but this is probably by design. That's not to say that it was bad, far from it, it was a delicious meal, everything was well cooked. But the recipes feel mature, and definitely doesn't come with the flash of younger (hungrier and triendier) restaurants.
I noted the similarities between Medlar's food, and it was obvious that Joe Mercer Nairne's cooking has its roots in Chez Bruce. But I think Medlar's food is just bolder and more exciting.
Nevertheless, I enjoyed the meal, the classic feel and it didn't escape me that this is the epitome of the neighbourhood restaurant. Is it a destination restaurant? Yes, because of its history. No, if you're seeking meat-fruit, nitro-blasted cucumber, vintage potato dust or yeast baked champagne lemon sole. But you already know that.
It's straight up, finger-licking, double portioned French cooking, at reasonable prices, decent service and a charming room. Chez Bruce has aged gracefully into an icon fully deserving its place in the annals of history, but the old guard's definitely still got it.
The Gist of It
Chez Bruce
French, £50pp
2 Bellevue Road
Tel : 0208 672 0114
Rail : Wandsworth Common
Did you enjoy reading this? You can subscribe to the RSS feed.