At last, José Pizarro's diptych is finally complete, and you know what, it's mighty fine work.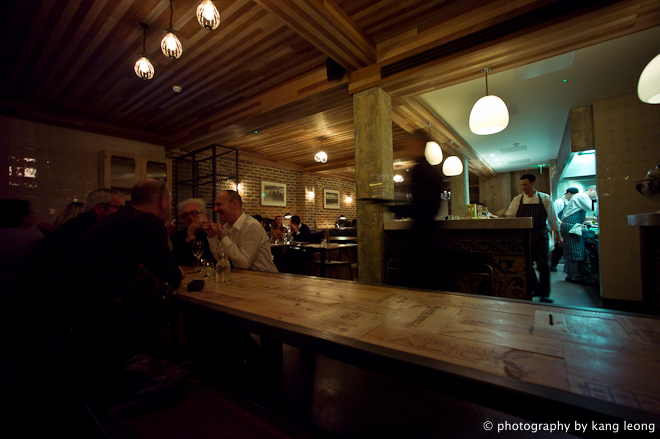 The restaurant took a while to finish – it's at least a month late, and the private rooms are still awaiting the finishing details – but it finally opened, and my my, is it going to be a smashing success in 2012.
It seems to be fashionable these days for Spanish restaurant owners to pair larger scale restaurants for the full experience with a more modest – or shall we say more fun – sherry bar for the easy tapas and alhambras. If you cast your mind back to the boozy summer of sherry and half cooked pork, you'll remember that José really was just the prologue to something much bigger to come.
And it is much, much bigger. If José was a cute baby taking his first steps into the dangerous world of hospitality, then Pizarro is all grown up 28 year old voluptuous Paz Vega all lips, puppy dog eyes and husky voice (Oh Paz Vega, wouldn't that be a christmas to remember). Alright to be fair then, how about a 35 year old Antonio Banderas with his piercing stare, a Spanish guitar with brand new nylon strings and cat whiskers.
For background noise, the front of house chose Nina Simone tracks from (I'd like to think it was) her 1958 album titled 'Little Girl Blue'. The ambiance is ever as elegant and smoky as Miss Simone was.
The decor is wood panel, brick and marble tops like José, except it goes deeper. A long communal table out front, and large round family tables at the back. It has low ceilings, and it feels a little like an Alpine cottage held up by Turkish stone pillars. The kitchen is open, and like José, diners can sit at the bar and watch Chef Pizarro work his magic. Pizarro's design is more like a kitchen in a large villa than a London restaurant.
We visited at 3pm on a Saturday, and luckily for us, many of you were jammed into the teeny José sherry bar (my guess is to try it for the first time) and there were a few free spaces available. We rushed to the restaurant hoping to catch the kitchen's last service, but then we realised that they open all day from 12pm to 11pm on Saturdays. José was behind the counter for service, I felt thankful – at last for Christmas, I will have a special meal cooked for me by a special chef.
Like José, this menu is seasonal and straightforward. There are two price ranges, the first 8 or 10 dishes are £6 to £7 and are classic tapas like Croquetas; Artichoke, cauliflower, soft cheese, walnut; Duck liver, capers, fino; Quail, romesco (Yes, I remember the awesome romesco from my visit to José ). Larger dishes are £12 to £15 such as Salted cod, potatoes, vizcaina; Lamb, lentils, radicchio. Naturally, jamon iberico is served here as well. They are supplied by Manuel Maldonado and if my guesses are correct, the legs of black pigs that once roamed the fields of Extramadura, incidentally, Chef Pizarro's birthplace. Maldonado's jamon are also sold in Selfridges, and so if you're like me, you'll know they are red gold basting in naturally secreted and fragrantly acorn scented pig-body oil. The only gripe when I walked past the kitchen, is that I saw that these expensive exposed half-shaven meat on the leg were not covered with the layer of fat and skin to keep it moist. I surmise that when they serve it, they cut away the dried bits from the top before serving the rest.
Let's cut to the chase, small dishes..
Jerusalem artichoke soup, truffle oil, crispy ham or manchego, £5.5.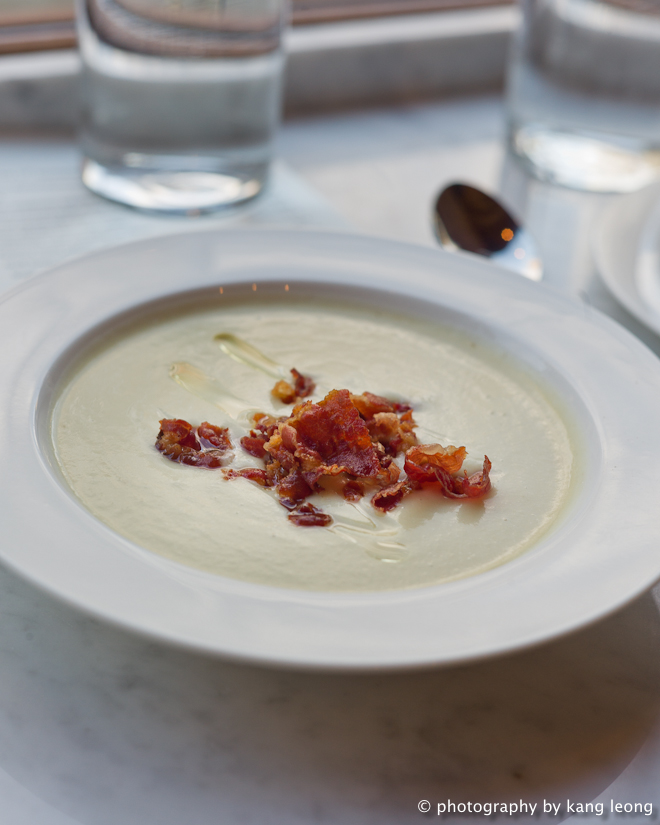 I chose crispy ham. Look at that, isn't that just the most innocent dish you've ever seen. The soup smelled absolutely fantastic, obviously due to the fragrant truffle oil. Texture-wise, it was thick and gloppy, a little like congee, but with bags of natural umami flavours. Got to say, the crispy ham is a stroke of genius giving bite and seasoning to the rounded rooty flavours. It was a great wintry dish, so rich, so hearty, so warming.
Prawns, serrano ham, chilli, garlic, £7.5.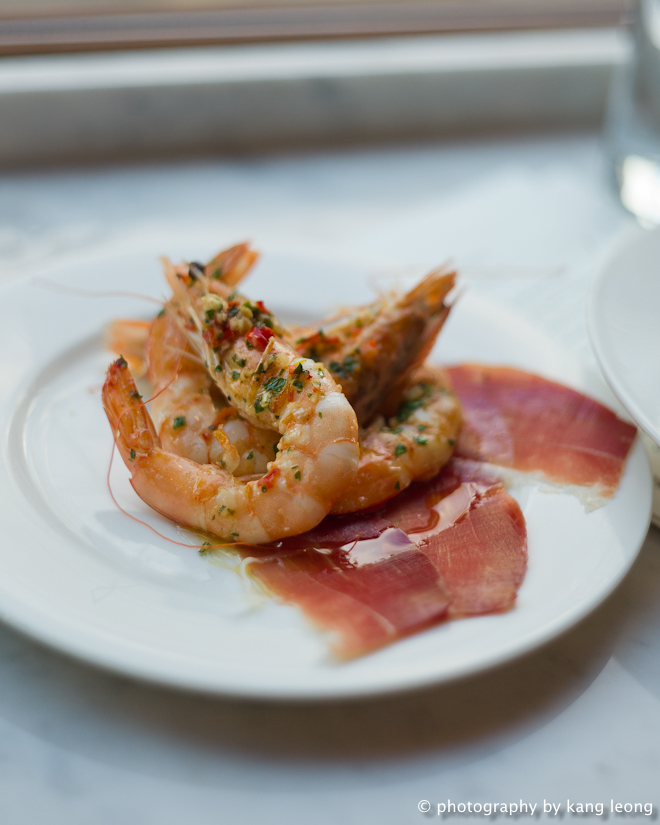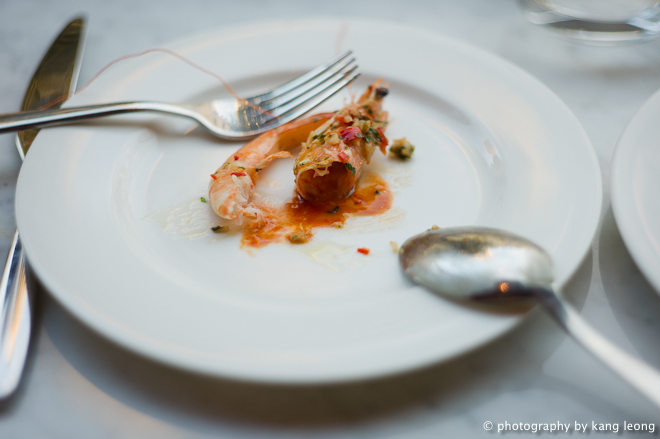 Oh my goodness, these were the sweetest little critters I'd ever tasted in London. It was so sweet, it may as well have just jumped off the boat. As I twisted the head off, red juices came rushing out – as carnivorous as it sounds – I sucked the prawn head dry, and I savoured every moment of it. Prawns this fresh would make any Chinese person want to either drown it in brandy or steam it (or both) because you really need not do much save to not overcook it to preserve all of its natural sweetness. Yummy.
Half-way through our meal, Chef JP came over to greet us, I had to ask where he got his wonderful seafood from. He said "In my 20 odd years of cooking, I've only trusted one fishmonger, and he is based in New Covent Garden. If he brings me hake, I'll cook it, if he brings me red mullet I'll cook it.". I believe this mystical fishmonger is Murray's.
Beetroot cured salmon, capers, egg yolk, £7.5.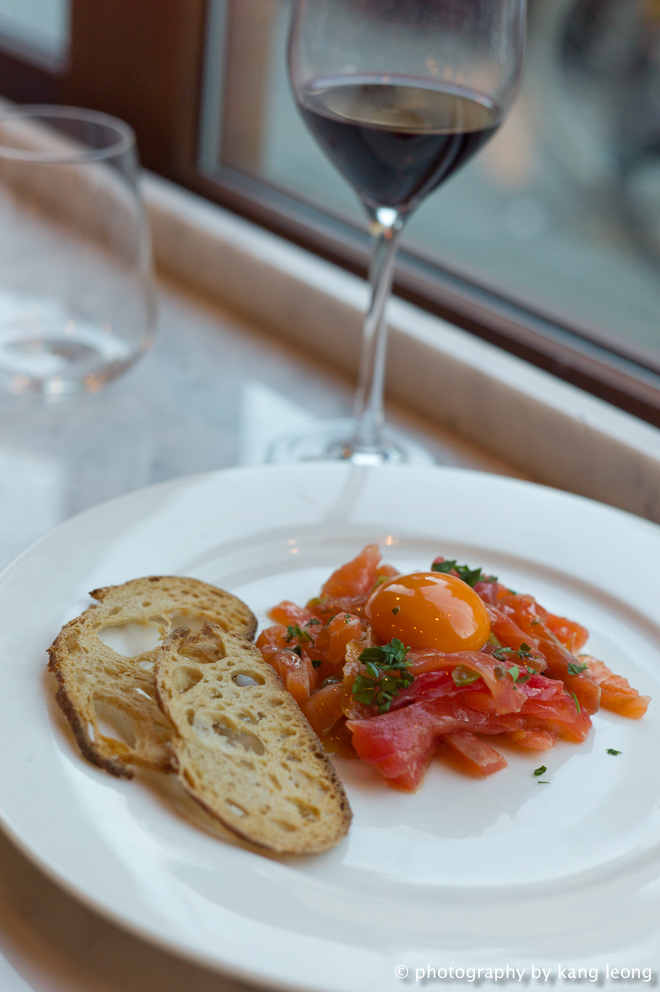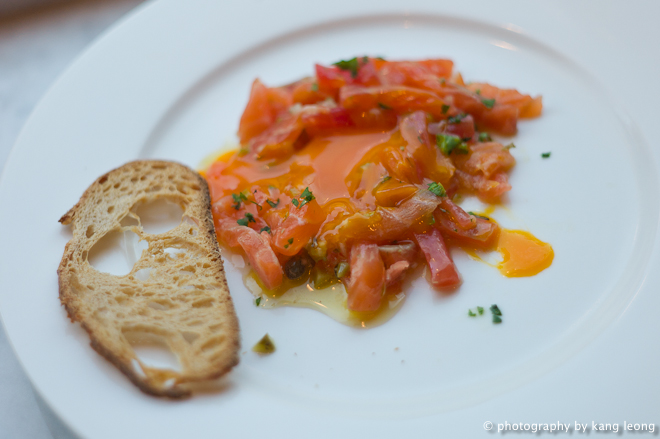 I suppose this is home-cured salmon, and the fluorescent orange yolk is not that of duck or an irradiated chicken, but that of corn-fed chicken. It had to be superfresh to be eaten raw, and 24 hours after the meal, my tummy is not bubbly, which suggest it is indeed very fresh eggs.
In essence, this is salmon tartare. The addition of capers made sure of that. What can I say? It was brilliant, it was more than brilliant, the salmon tasted so bouncy, so fresh and so alive. It was so sweet, so juicy and so mellow. It was like the best sashimi I'd ever had, paired with the richest egg yolks I'd ever had. We asked for more bread to mop up the yolk. This dish embodied the entire simplicity philosophy Chef Pizarro was working toward. When you buy the absolute best ingredients you can get your hands on, and cook it well (or prep it well in this case), the result is returning customers and restaurant patrons. This is the kind of dish which will keep them permanently hooked.
The large plates.
Manchego canelones, silver chard, pine nuts, £12.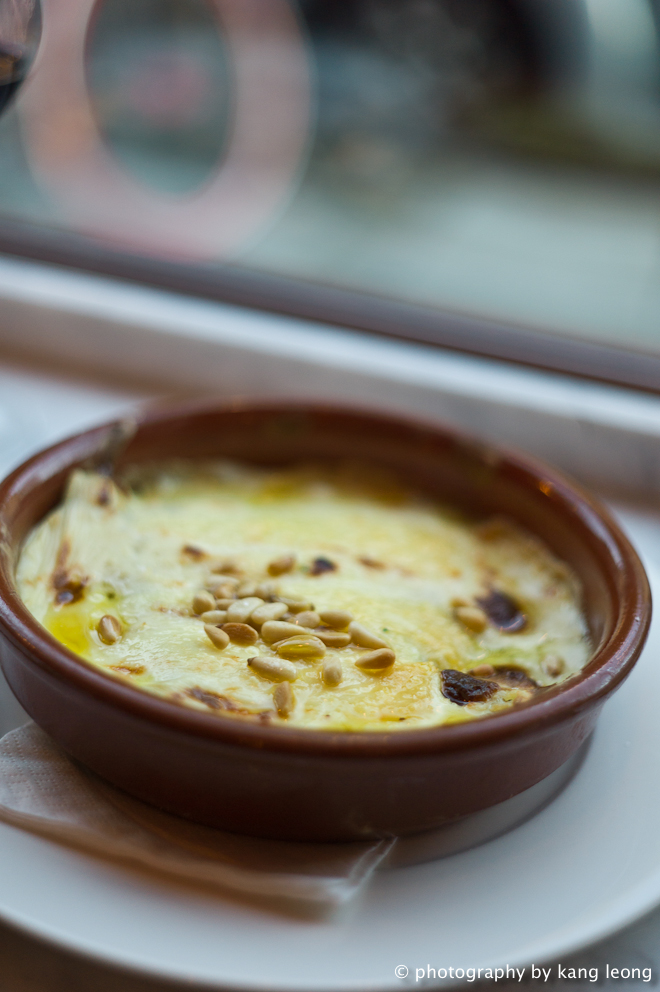 Canelones as in Cannelloni, rolled and stuffed pasta. I suppose this would be the Iberian version, and while my photograph may not show it above, it is served in a large cazuelas, probably 6in in diameter. Again, beautiful homely cooking here, great roasted flavours, fantastically rich melted manchego and great chopped silver chard. Can't remember if there was bechamel inside. I think there was, but no tomatoes, it was all green inside. For £12, nice.
Hake, black cabbage, clams, £15.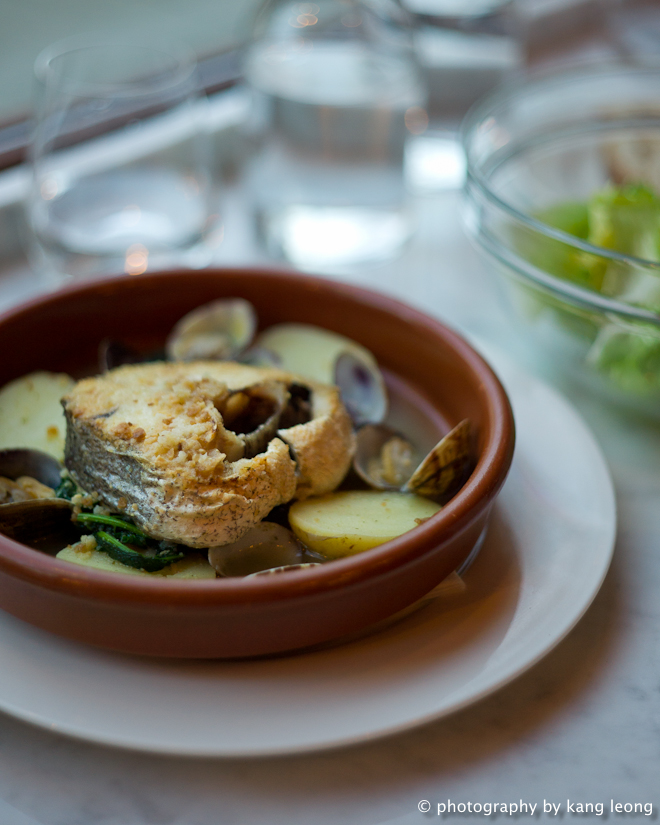 The hake at José was basically fried and loaded with aioli, nice but too simple. This one on the other hand, was rustic and nostalgic. Clams and potatoes made for a broth that was soothing, therapeutic, gosh I could just imagine as this rolled out of the oven – it smelled gorgeous. The fish was top class obviously, simply pan-fried and still flaky inside. We asked for yet more bread to ensure we wiped all the juices off the terracotta. Marvellous cooking.
Chocolate, toast, caramel ice cream, £6.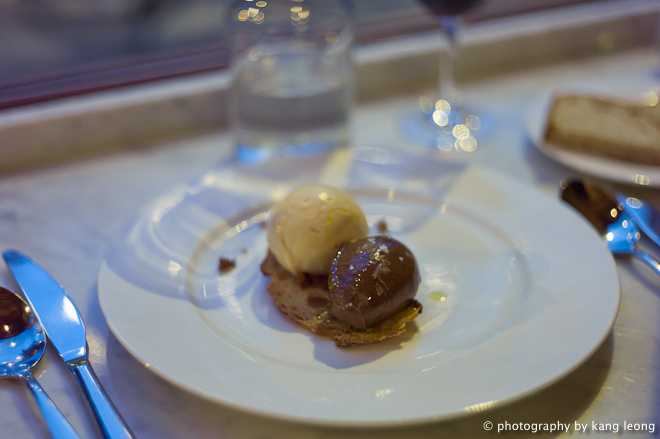 We ended the meal with a whipped and sticky dollop of chocolate (richer than a mousse) served on a thin toast and a fabulous caramel ice cream, and washed it all down with a smooth and sweet oloroso. I guess there was a little salt sprinkled over it and it summed up the natural wholesome goodiness that is José Pizarro's cooking.
We paid £59.50 for the food and this time, I put down 10% service charge, £6. Well – it was a faultless meal. We loved everything which was put in front of us. It was also fab value for money, and the restaurant had a magical ambiance.
As you know, I love Cambio de Tercio, and earlier last month I visited Capote y Toros and asked Abel (Lusa who owns CdT) if he had visited José's new place yet. This time around, I asked José if he knew Abel, and obviously he did, and he said many, many years ago when he first came to Britain, he had asked for a job with Abel – someone who he still respects he says. Abel is still going with CdT and eventually expanded with 3 more tapas bars to CdT. José went on to oversee the genesis of perhaps the greatest tapas restaurants to grace London – the Brindisas. But it is only now that José has reached what I believe is the height of his career with José and Pizarro.
The missus loves José, I think Cambio de Tercio still holds much sentimental value for me (given the amount of money I've spent there over the years). Of course, Alberto Criado's modern style couldn't be more of a contrast to José's more rustic cooking. Both are ace chefs obviously and I think it's great that London have both men choosing to cook in our beloved city. At the end of the day, I do think Pizarro will become a future classic. I'm sure there are millions of Brindisa lovers out there, I believe they will appreciate Pizarro's latest work.
Bermondsey Street is blessed to have such fabulous restaurants in the neighbourhood. Along with Zucca, the sleuth of good looking coffee shops, it's possibly the best area to hang out on weekends. I wonder what house prices are like in the area, these days.
The greatest strength of Pizarro is the quality of ingredients. Google the blogs, and take a look at the food which comes out – everything looks so vibrant and fresh that it can only be delicious. The seasonal simplicity is like being invited to a close friend's house with her mother doing all the cooking. The nostalgia makes Pizarro the perfect weekend restaurant.
One might argue that top quality produce needn't much cooking, but I think you still need a deft hand to bring out the natural shades of flavour correctly. Of course, we already know that Pizarro is an accomplished chef, everything comes out perfectly seasoned, piping hot and just excellent. This is only the second week of service, and if I can level some criticism, is that the communication between staff isn't that smooth as yet. We had to keep reminding the waiters to bring the bread, which they frequently forgot, and timings are a little erratic between plates. These are probably just growing pains which they will work out the system once they oil all the cogs. Otherwise, the waiters had the right attitude, they were friendly and accommodating.
It's easy ambiance, it's just so comfortable being in here. It is evident José wants his customers to feel at home here. They've got a rack of magazines and daily papers and a copy of his book Seasonal Spanish Food. I love Prufrock, but I might have to spend a couple of boozy Friday afternoons reading a signed copy of his book (which I should return to buy) and tucking away his rice pudding. The bar is open all day, everyday I believe.
I shook his hand and thanked José after the meal. I told him Pizarro is going to be a hit. His grandfather would certainly have been so proud of this restaurant named in his memory. It was nearly 4.30pm, the kitchen was still cooking, there was no letting up really, people continued to stream into the restaurant. The man was visibly tired after a long day (not to mention the long night ahead) , but you could see that he was proud of his little labour of love. After all, it was beginning to take on the same enthusiastic soul as its creator.
Well done to the man from Extremadura.
The Gist of It
Pizarro
Spanish. £40pp
194 Bermondsey Street, London, SE1 3TQ
Tel : 020 7378 9455
Tube: London Bridge
Sharing : The Picky Glutton ; Butter is Better ; Rocket and Squash ; London Tastin' ; Chopstix 2 Steaknives ; London Unattached ; Kavey Eats ; Tehbus
Did you enjoy reading this? You can subscribe to the Newsletter. Alternatively, you can subscribe to the RSS feed.