Bryn Williams is the most underrated chef in this country. I recall his stupendous turn on the first season of Great British Menu, in which his representation of Wales on a plate of cockles, samphire and turbot, eventually won its way to HM's 80th birthday bash. Something I'm sure she gobbled up with glee. Five years on, the same dish is now a famously permanent fixture from his ALC menu at Odette's. I had it last year and I was completely flabbergasted by how good the conception of the dish really is. It remains one of the most memorable dishes Ive ever eaten, and that sentiment also extends to the rest of Bryn's fantastic cooking.
I continue to be amazed by the lack of internet champions for this terrific neighbourhood restaurant. Maybe that's the problem, that Odette's is so well nestled within its neighbourhood that it deserves to remain a secret and not be paraded around the internet like yet another ice chips and beetroot trend that becomes dangerously out of fashion the moment it comes into vogue. Conceptual nonsense has no place in Odette's ; This restaurant mainly involves a hardworking and a fairly young chef – coming into his prime – who passionately slaves away in his kitchen (most days and nights, if not every) to craft one of the most delicious Anglo-Franco menus in London. His six course taster is 'merely' £50, reasonable considering the category of restaurants, Odette's is in competition with. It is also open everyday.
Since the last time I was here 15 months ago, it seems the restaurant had undergone a small facelift. Gone are the flowery green wallpapers, and soon to go, I'm told, are the brass chandeliers. Regardless, the space is still terribly romantic, given that this part of Primrose Hill is quite scenic itself (local residents own gorgeously groomed pets) ; It is my opinion that these kind of restaurants are becoming a rarity. Odette's has character, authenticity and a hardworking chef/owner – just the right blend of factors to produce romantic secret suppers.
A couple of sundays ago, I attended the last of Bryn's sunday supperclub dinners in 2011, a four course meal that sought to combine beer and truffle. This wasn't an exclusive bloggero one-night-only special pop-up which punters can never get to. The supper club didn't happen at an unlicensed location, nor did it take place at The Loft, instead, it took place in a bit of a private dining space toward the back of the restaurant. I took Mark and we sat with about 10 or so patrons who were a mixture of Bryn fans such as myself, and a table of chefs, whom we assumed were Bryn's pals in the business.
The restaurant newsletter here mentions what they lay on every so few months. These supper clubs are like seasonal one-off three coursers which he lays on over the course of a Sunday evening once per quarter, ranging from £50 to this one at £85. I also think it is a pilot program of sorts for him to test new recipes. Our test group were subjected to an unorthodox pairing of beer and truffle, two items in hospitality which rarely find their way on the same table at the same time.
After a glass of bubbly, the chef himself came out to greet his supperclubbers and gave a short monologue about the evening's theme, his inspiration behind the dinner and to shed some light on the genesis of the meal. It's always illuminating having the chef speak about his ideas, I was obviously in chef heaven, he came across as he does on TV, someone incredibly down to earth and genuine, but also you could sense his passion for cooking in the way he talks about food. Besides, it's always a rush to have the main man come out from behind broilers to shake hands and receive backslaps from patrons. Shortly after the presentation, Bryn headed back into the engine room and not long after, the first course came flooding out.
Salt Cod Brandade, Green Beans & Truffle.
with Kirin Ichiban, Japan.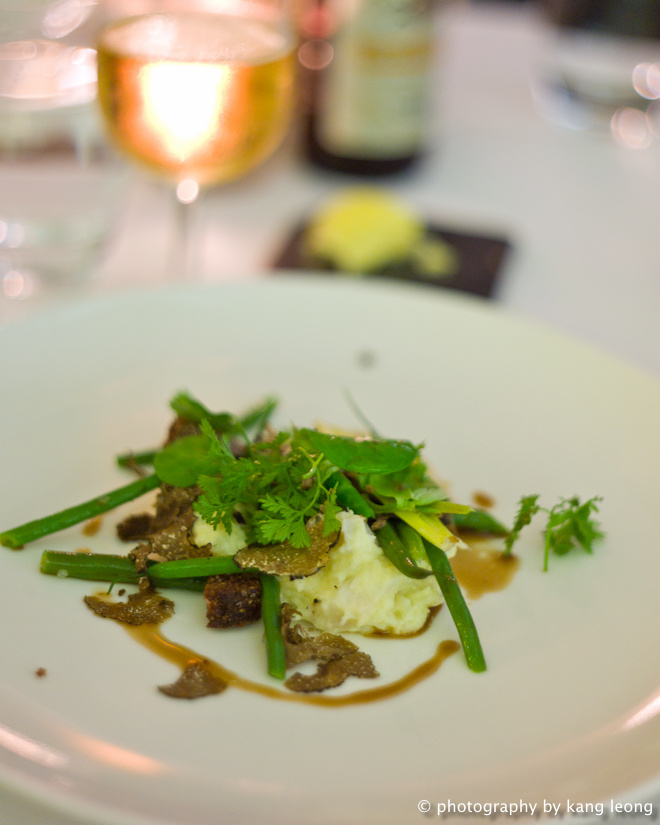 I don't think I've ever tried the 'Premium Press' version of Kirin before. Anyway, here's a reference to The Beer Journey's description of the Japanese biru – fizzy, pure and delicately sweet, easy drinking stuff that was redolent of biru brewed with koshi-hikari (only the best rice for sushi). Generous shavings of summer truffle (I think) covering a fluffy rendition of brandade with appetising flavours of salt and cod. A spoonful of cod and potatoes, a swirl of kirin – from a glass – and a sniff of truffle : Well won't you believe it – they sure work well together. If flavours worked like ice cream cake, then the truffle would be analogous to a layer of clotted cream ice cream layered atop a chiffon of beer.
Roast rump of Welsh beef, pomme Ana & truffle
with Quilmes, Argentina.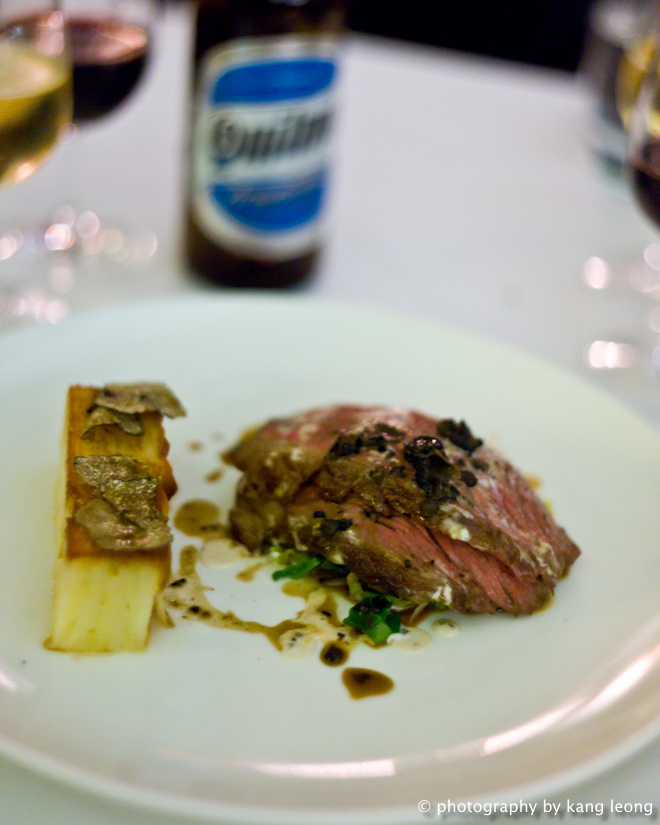 A stronger beer to tackle a more muscular set of ingredients. The rump was beautifully pink, a little chewy as is expected for rump, but slow-cooked enough to mellow out the textures to a tender chew. Robust beefy flavours as expected of Welsh (black I think) beef, but the real highlight were the crisp crusted buttery layers of sliced potatoes. Truffle and potato on the same plate make for a very classic case of umaminess. I was glad it was not overdone with too much of either ingredients. I know this because, I sat through a truffle meal at Terres de Truffes in Paris, in which the main course was a boiled potato, a creamy truffle sauce and overly-generous shavings of truffle, which was flavour overkill. This on the other hand, was a flavour-rush.
Anyway, a classic effort, one that was beautifully executed and had managed to brilliantly balance out those big flavours. Besides, how can anyone not like truffle, beef and beer right?
Whipped goats cheese, truffle honey
with Cusquena, Peru.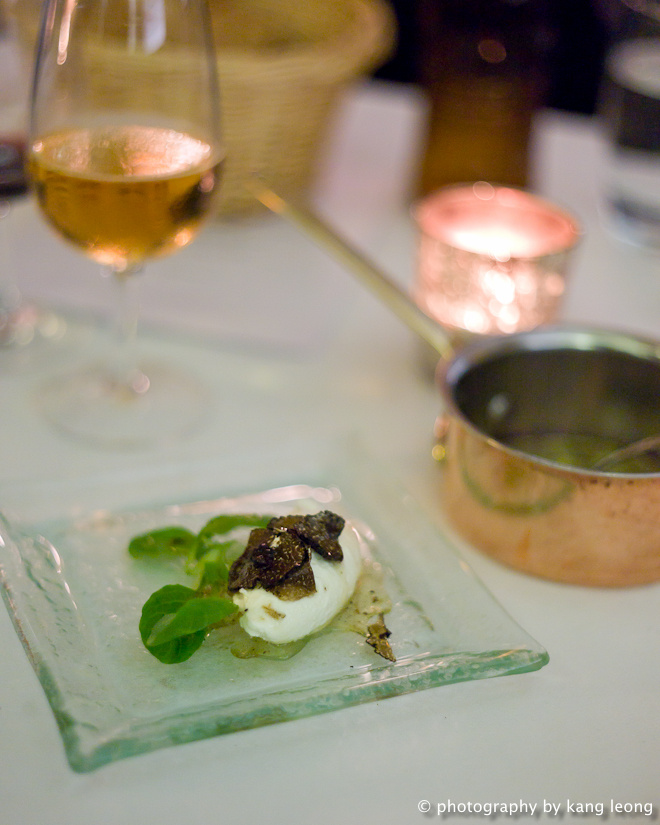 Whipped with cream, and honey from nearby Regent's Park, soaked in perigord. A copper saucepan contained more of the truffle infused honey, in case we couldn't get enough of the good stuff. Mmmm. The beauty of any meal with truffle is obviously the smell, especially with a hot, steaming dish. To me, truffle is that initial whiff of rooty fragrance, after that, the brain seems to acclimatise to the strong smell and it never gets better than that very first hit of flavour when the dish comes to the table. I gobbled up the cheese and licked the saucepan dry.
Carpaccio of pineapple, truffle
with Leffe Blonde, Belgium.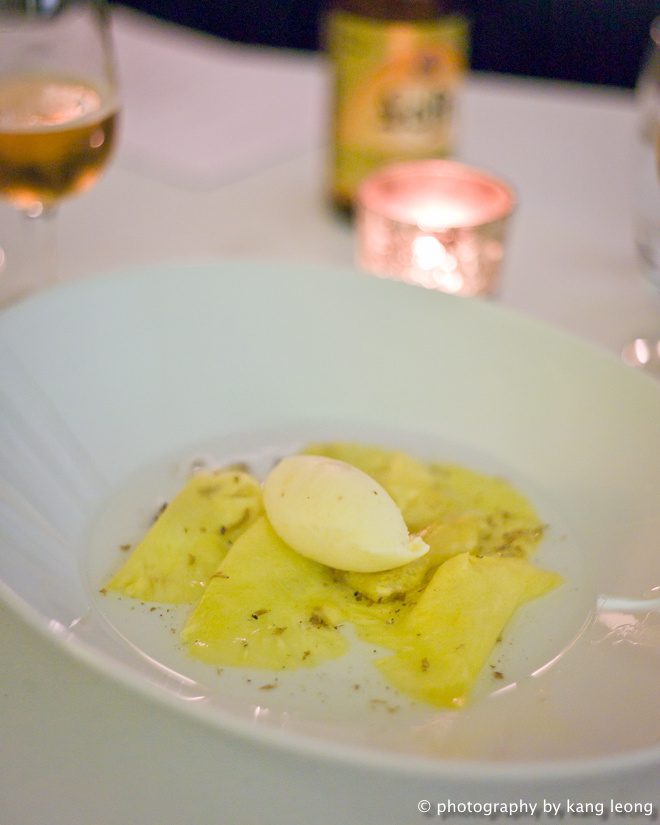 Sliced pineapple soaked in truffle syrup, served with pineapple sorbet. Like the goats cheese, the truffle infusion was more of a complimentary accent, rather than a full on concentrated experience. The result was a unique savoury edge to the sugary pineapple syrup. This tethered on the edge of sensible flavours – a little bit like eating brie with chocolate.
After the meal we chatted briefly to Bryn, I told him how much I admired his work, stopping short of asking him to sign my manboobs. He told us of his plans to strip down the tensions associated with classy meals, in effect to make his restaurant less intimidating and a more comfortable place to eat. I suppose he was trying to articulate that he wanted to make it even more neighbourly and create an even friendly atmosphere than it already possesses. We also asked him about expectations for a Michelin star, and he told us that while it would be a nice to have, he really is more interested in satisfying return customers than chasing accolades. Mark and I did both agree that he deserves one and the only reason he probably hasn't been granted one, is his sole proprietorship. His cooking is already way up there. This kind of food isn't the deeply philosophical, it's just delicious.
I will reinterate what I said last year that and I believe that Bryn Williams is currently one of the most exciting young chefs today. More importantly, he is building the very foundations of a landmark restaurant. Remember the days when the Ledbury was a one-star off-shoot backed by Phil Howard and fronted by a young gun ? That was only three years ago, and look where Brett is today. I believe Bryn is travelling along the same trajectory, and I suspect we'll hear much more of Odette's in the years to come. And if you don't write about him, then at the very least, I will continue to champion Bryn Williams.
The Gist of It
Odette's
British, £60pp
130 Regent's Park Road NW1 8XL
Tel: 020 7586 5486
Tube: Chalk Farm
Did you enjoy reading this? You can subscribe to the Newsletter. Alternatively, you can subscribe to the RSS feed.