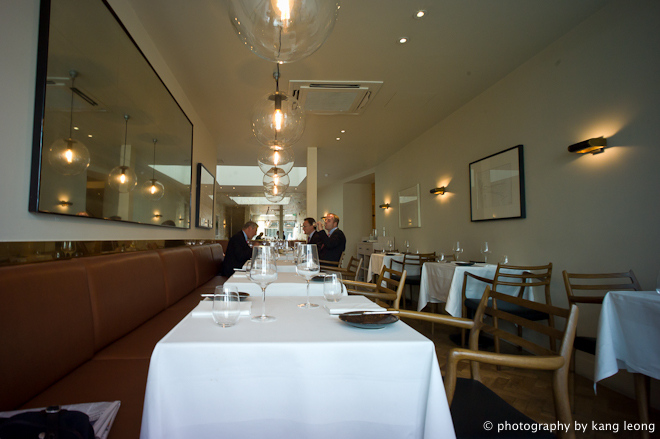 I have never been to Denmark, with the way things are going with the rise and rise of Rene Redzepi, it looks like it will be a long while before I contemplate the Copenhagen trip. It doesn't mean I'm not curious (obviously I am), you can already picture a Chinese guy perched over the dinner table, reluctant to eat anything till he has papped the dishes to death. All this sudden appreciation for Nordic food in the media is extraordinary. It's still very new to us, for starters, Nordic cuisine is universally lumped together as an umbrella cuisine covering everything that includes Swedish, Icelandic, Danish, Norwegian. Honestly, I do not know the differences between the respective cuisines. It just seems a little weird that all the fervent attention on Nordic cuisine hasn't translated to a more comprehensive coverage, it's like lumping Chinese in with Japanese, Korean, Vietnamese, Thai and calling it Oriental.
Then again definitions might be moot when observing the high end stuff because they hardly anything like the traditional cuisines they have sprung from. And it always looks good. Take for instance Maemo in Oslo – this stuff looks awesome, but nothing like what I ate when I spent some months in Haugesund, a coastal outpost of yatchs and rich kids awash with Norwegian oil money. What I ate was markedly unexotic. Crayfish, giant lobsters, sunflower seeds with lots of butter, and surprisingly alot of olive oil and chorizo. It was nothing like the cutting edge Nordic stuff the hacks write about, you know sous-vide fish cheeks , hay smoked deer testicles, irradiated shark's fin… then again, Haugesund isn't exactly the culinary heartland of Scandinavia. I do remember coming away feeling like I ate some of the best rice puddings on the planet. Less porridge and more whipped meringue, in fact, it is more apt to call it a rice cream, and it was fucking fabulous. Norwegians know how to whip up a proper rice pud they do.
But North Road is not Norway, in fact far from it, it's suppose to be local British ingredients reimagined with a 'new' Nordic twist. On the surface, Danish chef Christoffer Hruskova appears to have gone down this route to appease the media by bringing together two of the flavours of the era: Revitalized Nordic cuisine and British provenance. Obviously there are those who have denounced this cook-what-you-can-forage concept as simply being a Noma copycat (and they really don't like the food here, yikes!) but equally there are those who realise that Christoffer had been 'Scandilising' in London for much before Noma's win last year, with his previous venture, Fig.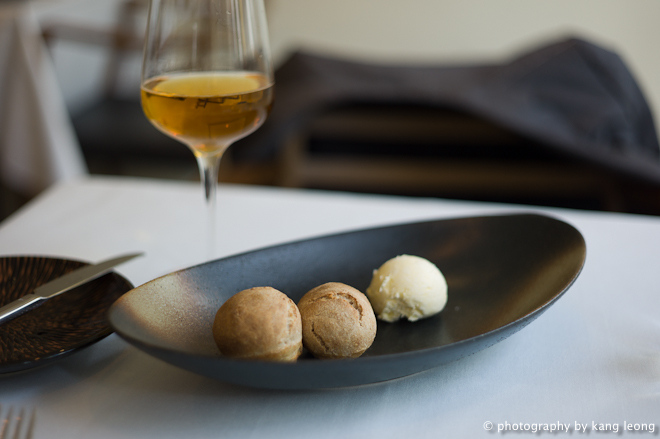 I admit, I am a shameless fan of Adrian Gill's writing. I never miss his column on Sundays (except when he's away) and I own a couple of his books including the best sex novel man has never known 'Starcrossed' , his lifestyle ones 'Away' and the condensed version of his column 'Table Talk'. Yeah he might have some strange opinions at times, but for the most part, he's just bloody damn good at articulating cultural observation (or anything with words for that matter) , and since I read his North Road review a few months ago, I've been itching to visit.
(Really the entire paragraph is just an excuse for me to sneak in unnecessary hero worship, I don't know why.)
And so I decided to take Monday off to have a long lunch here, and rather to my amazement, the whole town slows to a serene pace, businesses tick along, but everything is at low volume…
…The ALC is justifiably priced, £9 starters and £20 mains, while the set lunch is fantastic value at £20 for three courses. I asked for the taster menu instead, which wasn't on the menu for lunch, but seeing as to how empty the restaurant was, they kindly laid on a five courser for me for £58.
Warm bread rolls with butter shaped like a scoop of ice cream. I drank a Sydre brut by Eric Bordelet, a Frenchman's take on cider, a poncy man's sidre. Lightly fizzy, smooth rather than dry, sweet rather than crisp, like a ballerina to a break dancer. Who knew cider could taste so good from a wine glass.
Course 1: Scottish Langoustine, muesli & caramelised cream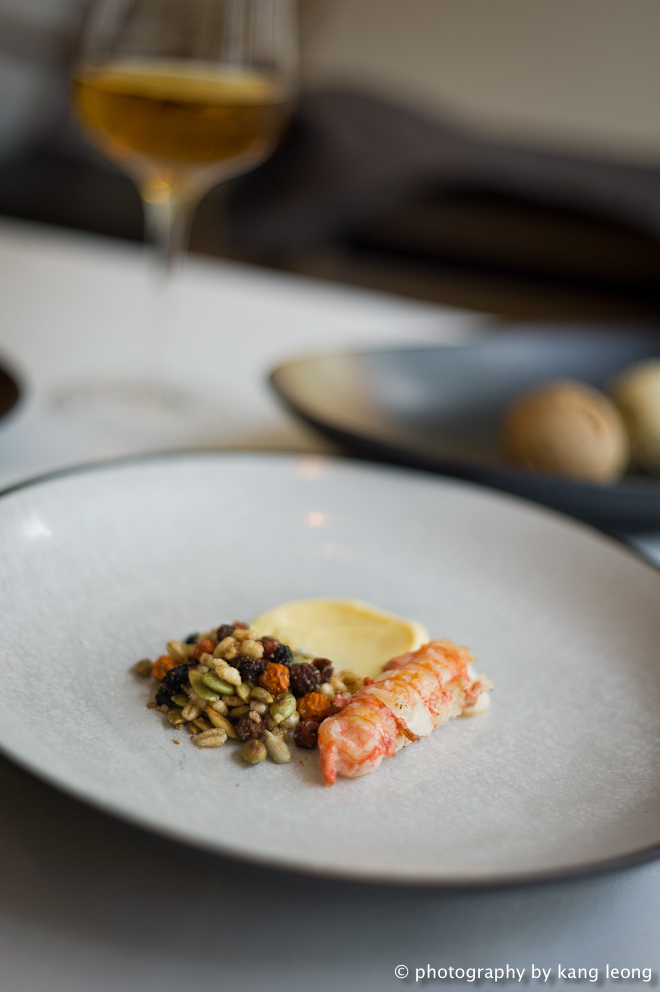 Damn these Scotch critters are massive – very nicely cooked piece of shellfish, fleshy, juicy, well seasoned with a crusty skin. Muesli ? The rocky road crunch was … healthy… but the cream was just lemon butter, a little so what, in all honesty, but for the sheer immensity of the produce alone, I enjoyed the dish.
Course 2: Razor Clams & Cuttlefish Ink, buttermilk ash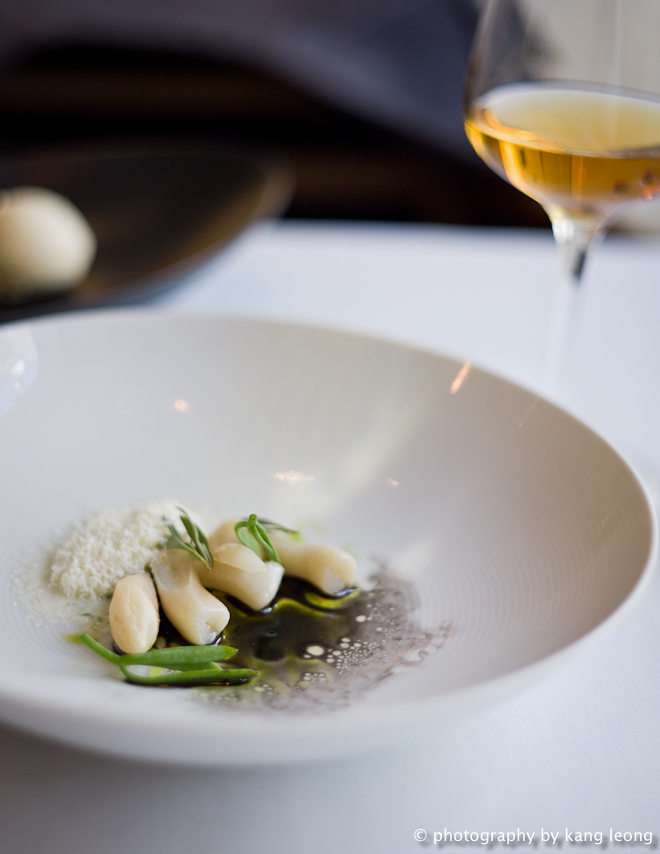 Also Scotch, and fucking brilliant. Ice cold 'ash' with ink sauce poured around it and finished off with sorrel. Visually, the dish was eye opening. I remember the smell, as if I was standing in the middle of a forest with a bucket of just opened fresh paint. Doesn't sound appetizing I know, I was on the verge of a brain freeze with this one. The crammed up texture of the razor clam (which I wonder if it's just psychological from the ice cold ash) was unique, obviously there wasn't much to harp on about with regards to flavours, just sliced razor clams, I enjoyed this dish nonetheless. The peculiar thing about this dish: the decision that it be eaten with a soup spoon. I tell you, scooping up razom clam is a much trickier affair than one expected. I should like pick up the phallic creature of the sand by poking it with a fork. Or maybe I wasn't suppose to poke it. Hmm.
Course 3: Wild Mushroom & Birch Broth, cobnuts & kent truffle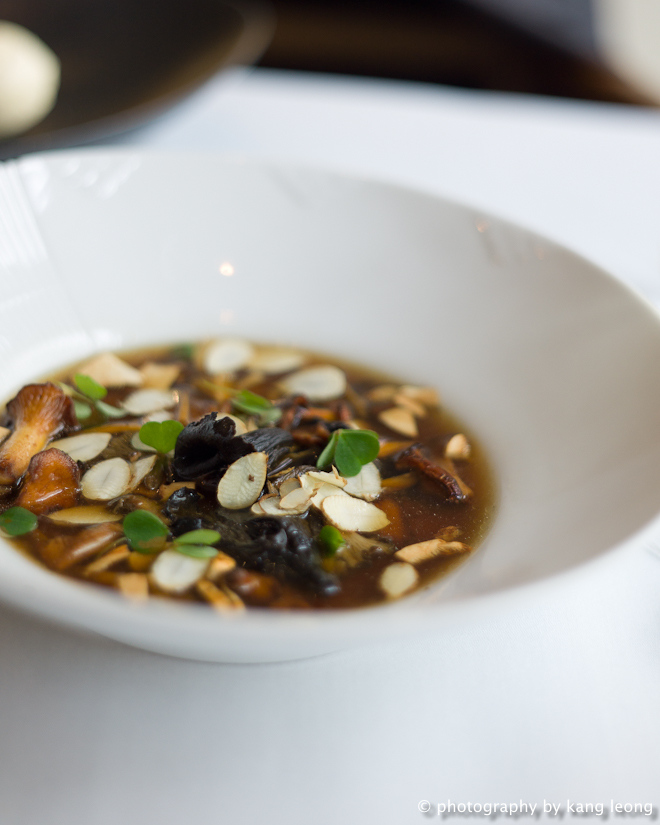 This exotic fungi soup was so aromatic, I could have sat there all day and smelled it. It was like walking into the same forest, holding a sack full of foraged mushrooms. The soup was bursting with woody, shrubby, shroomy flavours, it would have been a vegetarian's dream, a potent stock that you could use to bring any dead meat back to life. I enjoyed this immensely, it was redolent of superiorly slow cooked Chinese broths.
Course 4: Roe deer, smoked bone marrow, beetroot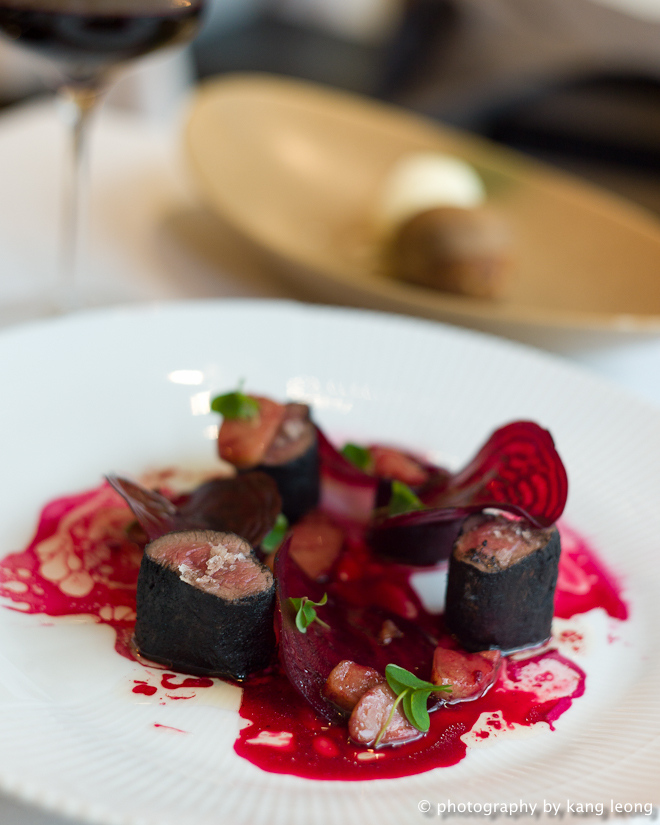 Death on a plate.
For this, I readied myself with a glass of Rendez Vous de Soleil, a jammy red. Hard to believe this blackurrant juice is French. So acidic, the rising alcoholic fumes went straight up my nostrils. I needed the extra alcohol to comprehend this dish.
On first glance, the vibrant colour of beetroot looked great, but the more I looked at it, the more it looked gruesome. As if the chef had gutted the animal and let the entrails drop onto a plate below it. There was a time when beetroot was the ingredient of the future, but now beetroot on any restaurant menu feels cliched. Here it is overused to death, raw, juiced and boiled. I can hear the chef saying "Here's your fucking beetroot you wanker! Five a day! Arggh…!". What's with the obsession with the vegetable anyway? It doesn't even go with meat.
The ash covered roe deer was nicely cooked, but it was wild after all and so a little too chewy. What I really enjoyed however were the smoked bone marrow. Exactly like popping glowing embers into the mouth, it was infused with an exciting sensation of eating encapsulated fire. I think the smoked bone marrow saved this dish.
Course 5: Hay & Brambles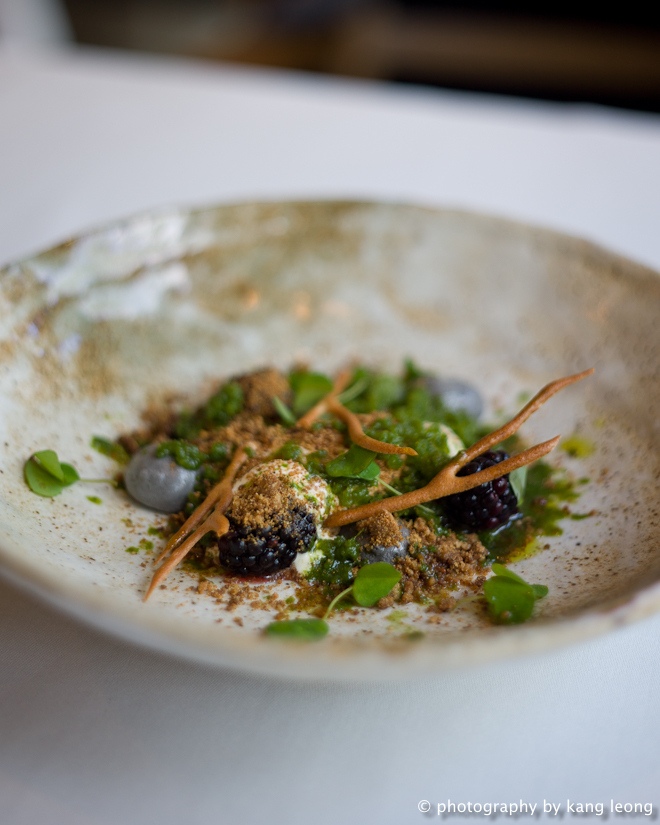 I have no idea what was in this ice-cold pudding. Some shaved icy bits, some blueberries, something that tastes like milk flavoured ice cream and biscuits shaped like antlers. Foraged stuff of dreams, rocky road and river stream textures. It was fine.
Coffee and petit fours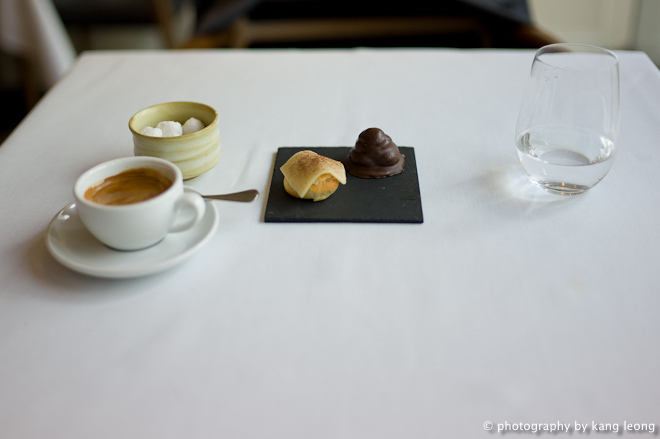 Included as part of asking price for the taster menu, which makes for added value. Uncheap. I paid £80.44 for the taster menu and two glasses of wine and service.
I liked the meal. I like the ambiance and I think service was good enough. Let's firstly give Chef C a huge pat on the back, this guy is well trained, disciplined and he can definitely cook. He's well on top of the balancing act of flavours, meat came out fleshy, juicy and nothing was overcooked. The final products were all very slick, five points. As for recipes, well, an awful lot of muesli makes for a bumpy ride. I was bemused by some of the concepts, why muesli for example, and why beetroot? Were these Nordic flavours adapted for British palates, or is this truly what Danish cuisine taste like? Or maybe it is true after all – Nordic cooking is just a bit boring.
There's was little in the way of flavour, or to put another way, it was a different sort of flavour. Herbs on everything, ice, smoke, milk and more ice. The curiously good bread was so good that I had to ask for seconds. Shame how good they were, wasted on these recipes. Nothing I ate, suggested I could actually wipe the plate with it. Melting shards of ice cold buttermilk? Clear mushroom broth? Beetroot juice? I tried, disgusting with warm bread. That is the irony of North Road I suppose.
Maybe he should just get rid of the deer completely and replace with something a little clearer in concept, because I genuinely think he can cook really good food, it's just the ideas he's trying to eek out are a little misshaped. Or perhaps he can consider doing what Ledbury do with their stuff; more muscular recipes , flex those culinary skills. Hay, ash and game are present in Graham's cooking I think, and you guys seem to be unanimous about liking that stuff.
In spite of my reservations, I think North Road deserves a visit, if nothing but to cure the fascination surrounding this type of cuisine that is still introducing itself to the world. Even if it turns out to be a disaster, it would only set you back a handsome £20 (for lunch). You can afford a £20 disaster, even though I suspect you might be in for a pleasant surprise instead.
The Deets.
North Road
Danish £80pp … £20 for 3 course set lunch.
69-73 St John Street EC1M 4AN
Tel: (020) 3217 0033
Tube : Farringdon
The Great Nordic Debate : John Lanchester , Nordic Nibbler , The Scrag End , The Skinny Bib , Tom Eats Jen Cooks , Harden's , The Critical Couple , M'OL.
Did you enjoy reading this? You can subscribe to the Newsletter. Alternatively, you can subscribe to the RSS feed.