About a year ago, a new kind of Italian restaurant swept into the smoke. It moved the goal posts, threatened the old guard and breathed new life into this country's image of Italian cuisine. And it was mightily affordable. The decor bare, yet efficient, the service regimental yet friendly, the food simple but quite majestic. In its relatively short existence, it had won many fans, I count myself amongst that group, but the better half is the truly fervent follower. She has been back at least once every two months and has witnessed the cooking inch ever so slowly toward perfection. Like a finely tuned orchestra, each cog is a marvel to the senses, working together to pump out masterpiece after masterpiece.
I was with a table of four and a half, and I was glad to see the energy and the smell of roasted coffee beans still filled the atmosphere inside this restaurant. The menu was still as brief as the A4 it was printed on. A smatter of antipasti dishes, fish, cheese, Italian ham; a couple of pasta dishes, a meat ragu and one with mushrooms; grilled fish fillets and meat chops. The memory of my first couple of meals at Zucca last year, lingered like a good summer fling, fuelling my appetite as I sat down to order. However, as this meal progressed, it was obvious that the restaurant had become masters of their trade – the meal better than what I remembered.
It began with their signature bread basket, olive oil, but new (to me this year) was a kind of potato omelette.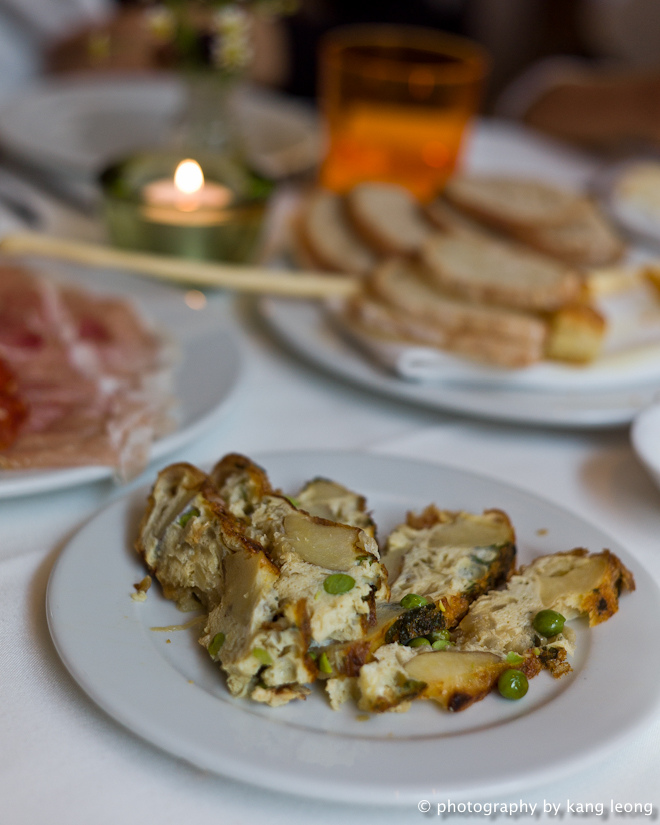 On the house while you wait, of course, and something which would give nearby Jose a run for its money. I forget what the dish was actually called, but it was so delicious we asked for another plate. How they managed to sell at at the cost of air was beyond me.
Salt cod with tomatoes, £4.25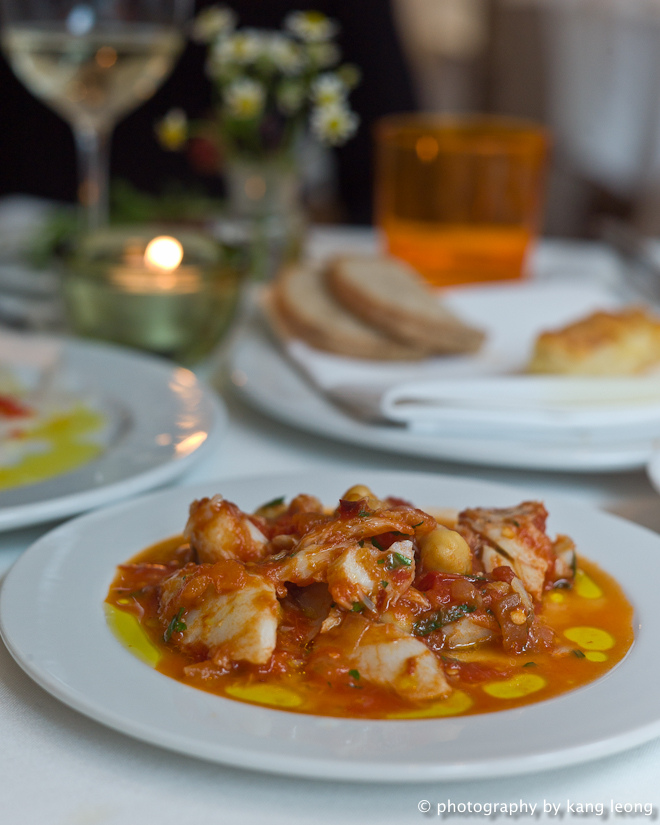 A stroke of rustic genius, this was such a beautiful dish, it felt as if it had been stewing for at least the entire day, in a pot that had travelled all the way from someone's kitchen in Castelvecchio.
Mozzarella with Sicilian aubergines, £4.25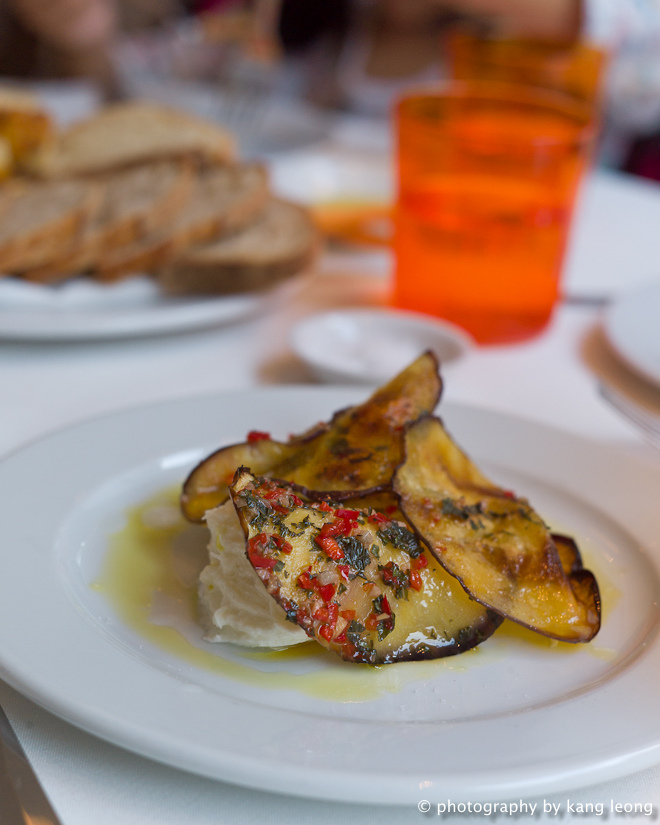 Yes, I was skeptical too, when I saw this menu, but the waitress assured me that aubergines flown in from Sicily were simply to die for. Chopped garlic, peppers, oil … gosh it was the gooey texture of the browned aubergine that really had me cooing for more. The soft spongey and cold cheese, the meaty burst of flavour in the aubergines and the rather overpowering garlic – it was superb. Who knew aubergines and mozzarella was ever such a good fit. As good a fit as is white chocolate with banana, scallops with truffle, miso and black cod.
Pappardelle with veal ragu, £9 (large)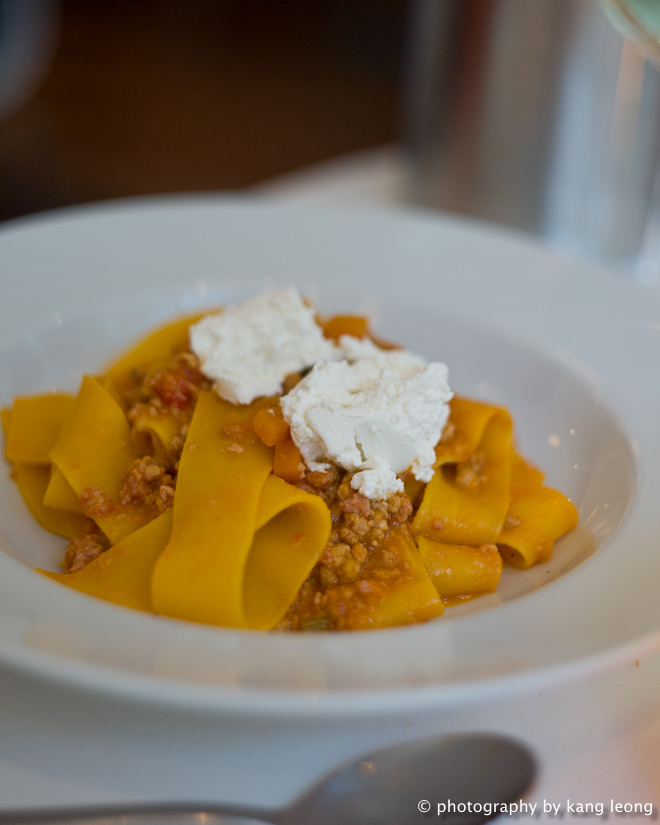 The pasta is made in house, and is expectedly al dente. I wasn't too hot for the ragu, if I was honest, but on the other side of the table were thinner ribbon pasta made with a potent mushroom sauce. That…that dish was awesome.
Veal chop with spinach and lemon, £14.75.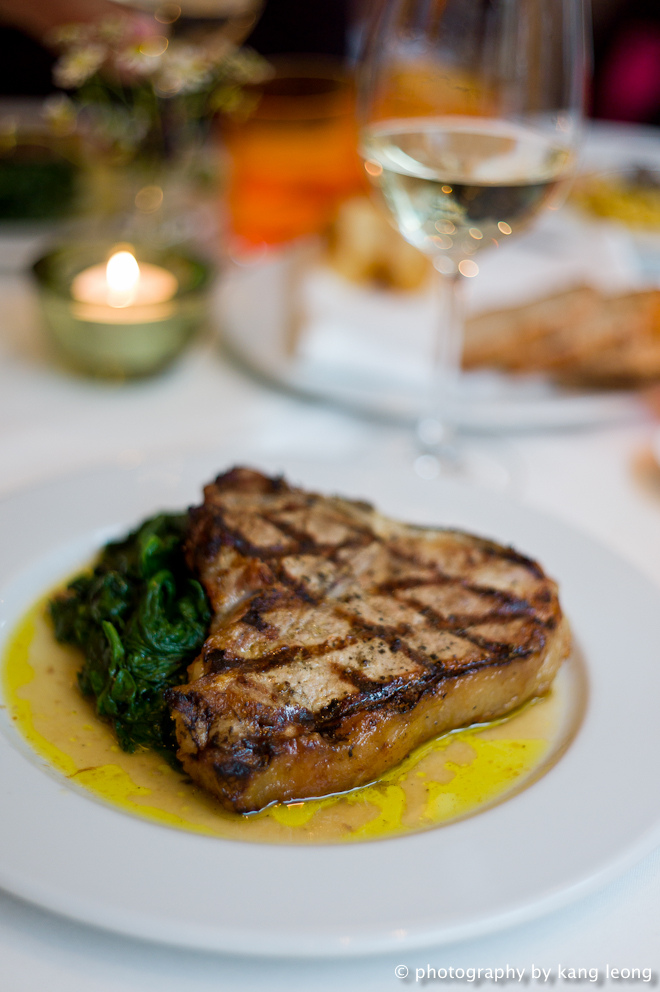 But of course, we had to have the infamous Zucca veal chop. The pièce de résistance, the pride of Bermondsey, the chef d'oeuvre, the chop that launched a thousand bellies. One can only speculate that this was a porterhouse cut, with a tenderer and smaller side equivalent to the fillet, and a larger more muscular and flavoursome sirloin bit. Simply charred and juicy, mellow in flavour and texture, like a middle white pretending to be a longhorn, it was sheer magic.
Amaretto, coffee and vanilla, £5.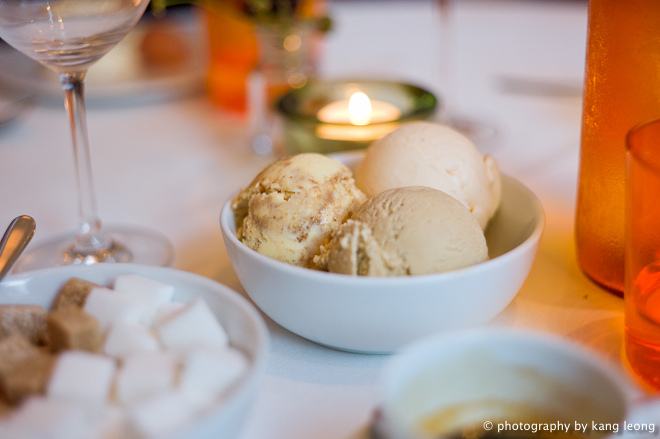 There were a couple more dishes on the table, like the sea bass carpaccio that I forgot to take pictures of. With a bottle of Gavi di Gavi, we paid £114 for four and a half people. Fabulous value for money, incredibly enjoyable and if they keep going like this, Sam Harris's honest little labour of love will surpass River Cafe. There's just something very exciting about the cooking here, they've made it so easy to fall in love with it. Zucca remains, in my opinion, one of London's best restaurants.
The Gist of It
Zucca Official Site
£30pp Italian.
184 Bermondsey Street SE1 3TQ
Tel: (020) 7378 6809
Tube: London Bridge
Did you enjoy reading this? You can subscribe to the Newsletter. Alternatively, you can subscribe to the RSS feed. Free, free free.