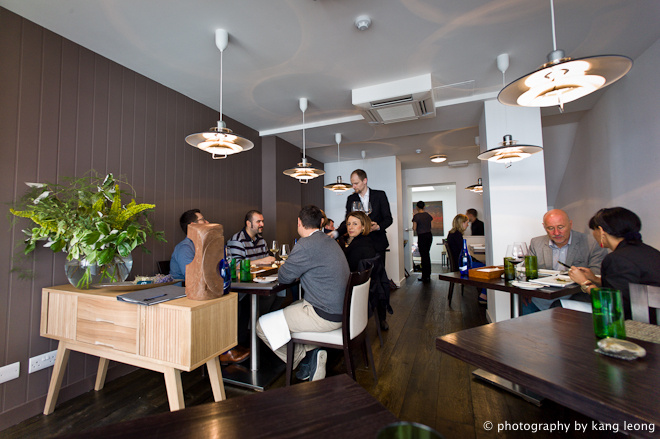 I discovered a fact about you lot (which seems intuitive but something you never really think about) when I first sat down for this meal at Roganic, and that is nobody eats lunch at 12 pm on Saturdays. In fact, you don't show up till about 1.30. Talk about being unfashionably early. I booked myself in for the high noon sitting, but was actually a quarter of an hour early anyway. I skipped breakfast you see, because Roganic is one of those restaurant premised upon a idyllic gastronomic journey as opposed to a bog standard meat and two veg. So for half of the meal, I had the entire front of house to myself, it felt the complete opposite of being lonely (as I was dining solo), the staff gave their sole (and first) patron (of the day) their undivided attention.
Anyway, you should care about the opening of Roganic, because Roganic's chef patron is none other than Simon Rogan. Michelin star holder and co-owner of the unashamedly high concept L'Enclume in the Lake District. The restaurant named after Rogan and which is also a play on 'organic' is to my best guessimations, a reflection of Rogan's philosophy to grow and cook (most of) his own produce, alluding to a certain level of unrivalled excellence in the ingredients.
Rogan himself does not run this kitchen, that honour belongs to one young Mr Ben Spalding. I was fortunate enough (and rather humbled) to meet the man after the meal, because this guy's track record is pretty fantastic. His stints include 28+ in Gothenburg, Per Se in NYC, His Majesty, GR at Royal Hospital Road, L'Autre Pied, Gary Rhodes W1 at the Cumberland, Vue de monde in Melbourne, The Fat Duck, Le Manoir, The Capital (during its 2* days) and Bagatelle in Oslo. That's a lot of michelin stars, quite safe to say that Ben brings with him a wealth of experience.
The restaurant is tiny, and for a posh outfit, the decor certainly carries a lightweight ambiance. Fittings are at their bare mininum, just enough tarting up to make it decent, afterall this project is initially a two year pop-up (till the lease finishes) , but with a view to turn it into a permanent outfit, once they find somewhere bigger, and I'd imagine if the business is well-liked by people like you and I.
There are three menu choices which vary depending on how much time you have for the meal. £29 for three courses, £69 for six and £80 for ten. Naturally, I opted for the ten, for the benefit of you guys who like staring at food photos.
Ten courses to follow, quite exhaustive, so here we go…
Teaser.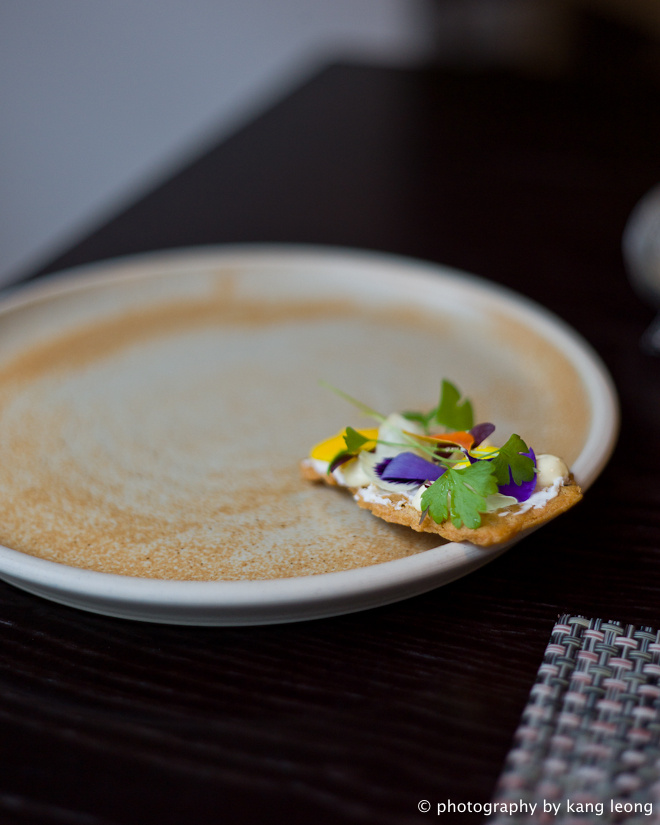 A chicken and cheese wafer to kick proceedings off…
Bread. Pumpernickel, splet, potato and buttermlik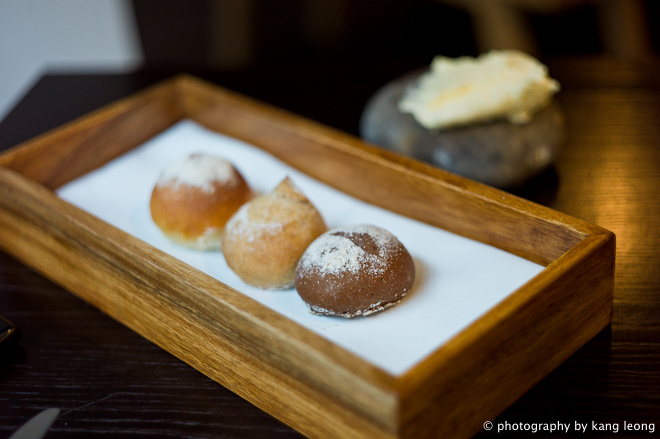 … before the perpetually replenishment bread selection served with butter seasoned with maldon sea salt. The bread were ridiculously addictive, warm, soft and I'd imagine baked daily in house, I kept trying to fight the temptation not to eat them, but I probably ended up eating 12 of these with each of the dishes.
Course One : Broad bean and hyssop, fresh curds and beetroot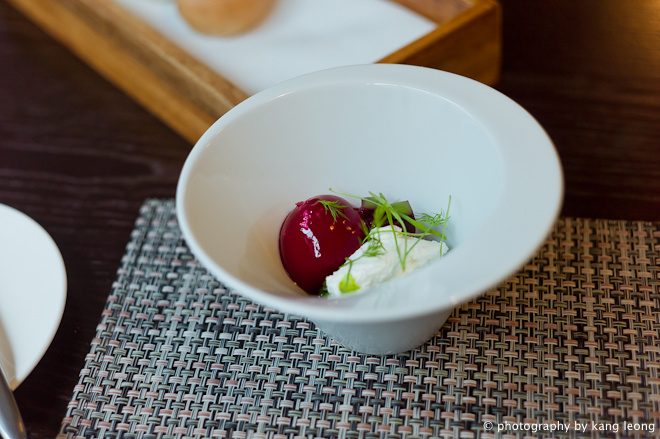 This felt like it might have been a soup, but had set like gelatin in the fridge, to give rise to a kind of smooth texture, like walking on sand or laying down on a memory foam pillow. Rooty, refreshing and harmonious. Zen.
Course Two : Rubin turnip baked in salt, smoked yolk, sea vegetables and wild mustard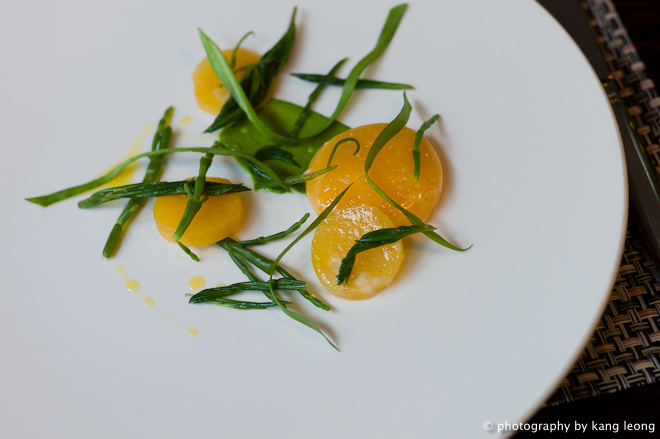 I really liked this. Clear flavours, simple execution, and rather beautiful to look at. Sharp turnips and a genuine smoky flavoured yolk, with a cake-like texture.
Course Three : Seawater cured Kentish mackerel, orache, broccoli and warm elderflower honey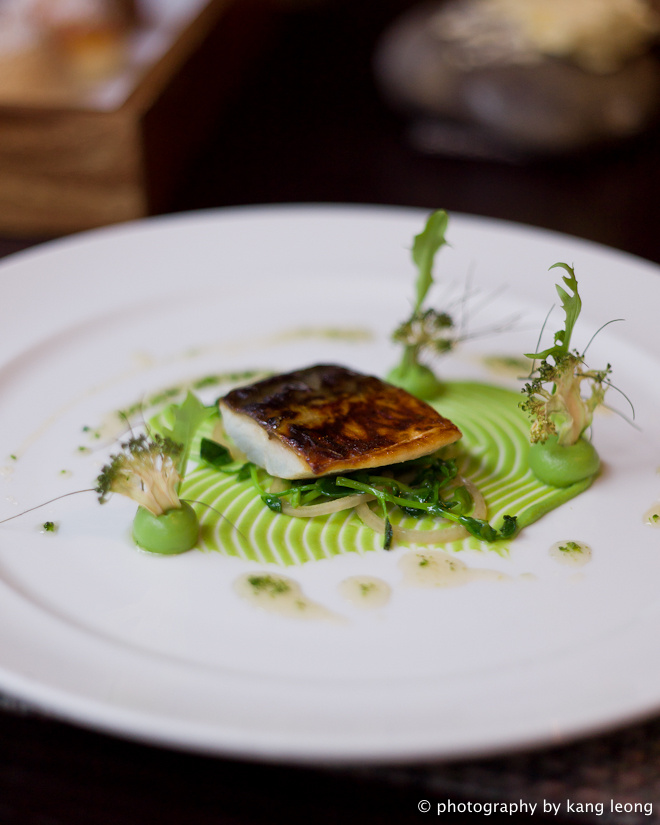 The seawater is apparently collected from The English Channel, the honey from nearby Regent's Park. I think this is the first time I've come across honey, broccoli and fish on the same plate. Firstly, the fish had great texture, flakiness that defies the laws of physics, well salted, a rich flavour, yet it wasn't too heavy. The moussed broccoli and honey was revelatory to say the least, calming, comforting and impeccably well balanced in flavour. I feel like this recipe has been tweaked and tweaked and then some to reach a level of refinement, that resembles what perfection might tasted like. Exciting stuff.
Course Four : Shredded ox tongue, pickles and sourdough paper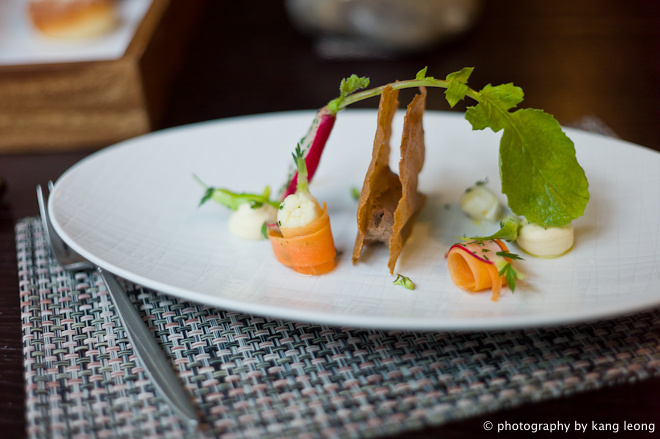 The shredded ox tongue was a little like a terrine, it's meant to be rendered in duck fat, but I found it to be rather bland overall. It was like an intermission.
Course Five : Flaky Crab and mallow cream, young squid and cucumber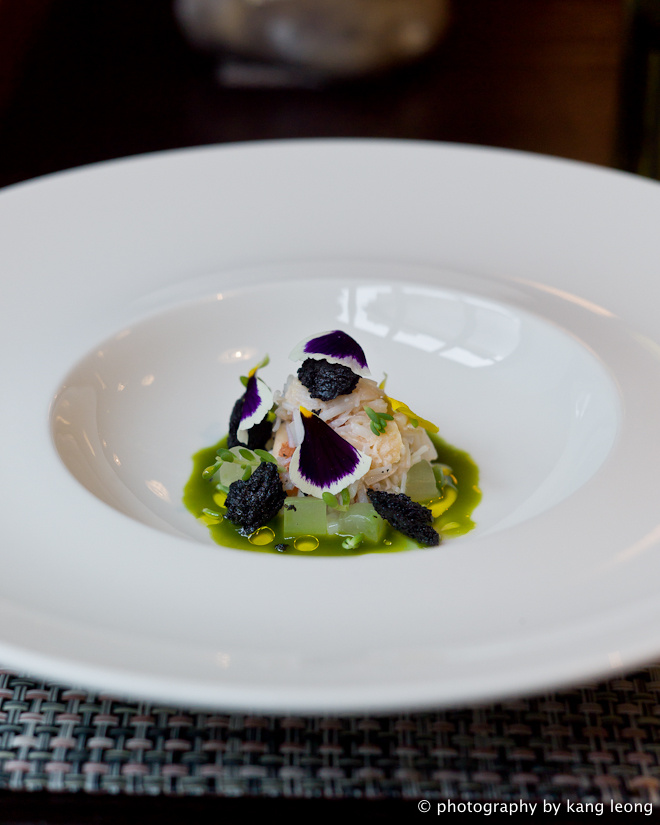 Nothing flaky about this. Flavours of sea and sand in this dish. The crab I assume is hand picked tasted very lively. Cubes of cucumber and silken textured raw squid added to the crispy freshness of the dish. I liked the salty squid ink-ed croutons. Overall, a very pretty dish, clean flavours of the sea, simple, elegant.
Course Six : Vintage potatoes in onion ashes, lovage and wood sorrel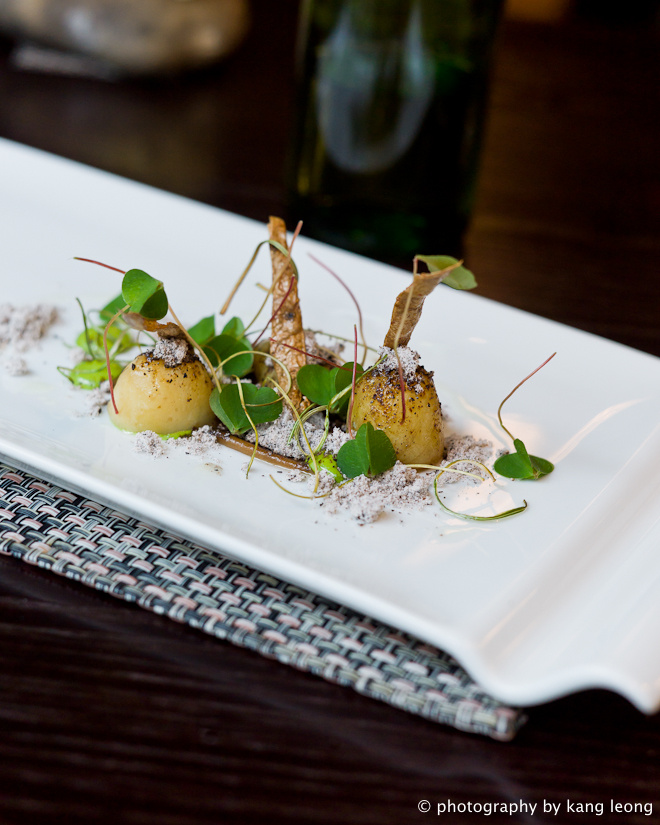 My waiter tried to explain the provenance of these vintage potatoes to me, a dish which is originally on the L'Enclume menu, but I must say, I've forgotten most of what he said. What I can tell you is that the potatoes were ridiculously well textured, like powdered wax, and smooth mash, but obviously unmashed, and just the richest flavour of potato I've ever had. There was sweetness and sharp saltiness in the onion ash that added to the fluffy potato. Who knew potato could be eaten as the main as opposed to the side and reach such dizzy heights of pleasure.
Let me also applaud the beautiful plating up. You can tell that the chefs have pumped their fullest energy into building each and every dish into a work of instant art.
Course Seven : Roasted brill, chicken salt, cockles and ruby chard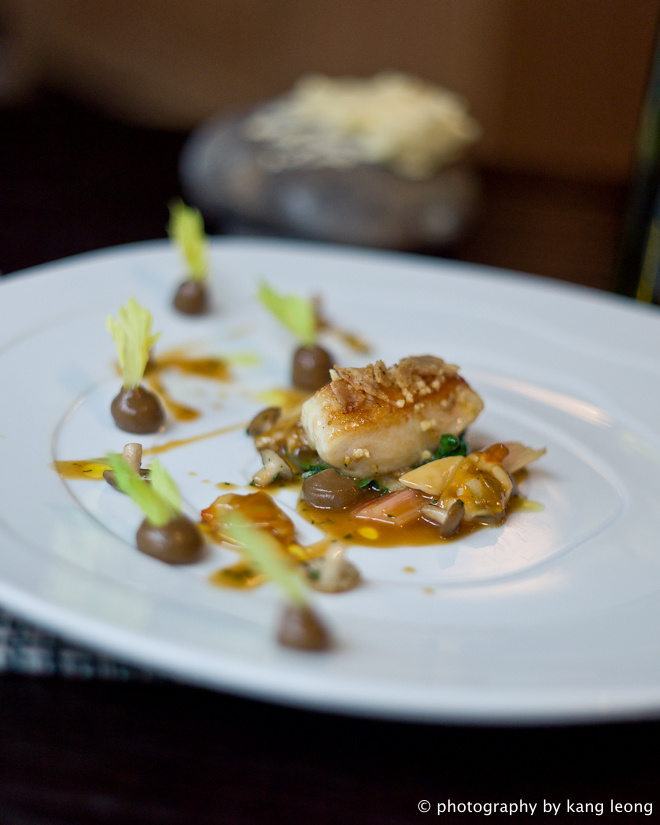 I like how each dish is simple. Simple in the sense that each recipe has a clear and present focus on what it wants the diner to experience. For example, with the vintage potatoes, the dish says 'great potatoes' , with the smoked yolk it says 'quirky and delish egg yolk' . With this one, it's all about the marvellously rich flavour of chicken. It tasted like the stock of chicken, and also chicken fat, like the kind of bubbly richness you experience from freshly fried chicken. Also a little like Chinese oyster sauce. The brill was naturally cooked to perfect flakiness (like the mackerel) , and I thought the addition of cockles was a stroke of genius to tart up the entire affair. It's another seriously beautiful plate of food.
Course Eight : Cumbrian hogget, sweetbreads artichokes and chenopodiums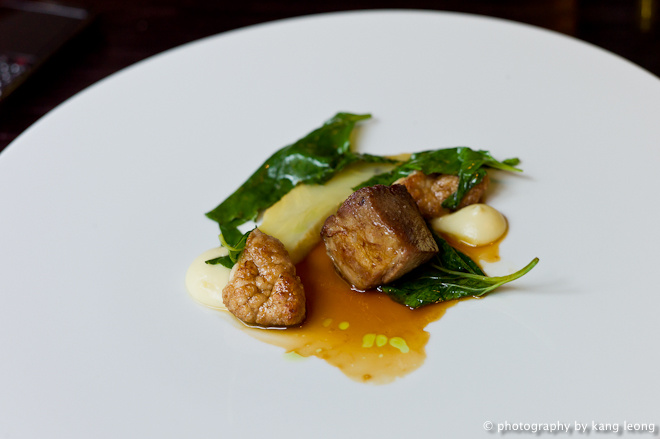 I thought the hogget was pure magic. Hogget (maa..) which is sheep slaughtered between one and two, and half way from lamb (less than a year, baa.. ) to mutton (old sheep, burp). Great texture, tenderness to the nth level, not the best sweetbreads recipe I've had, but pretty damn good. The melding of the tender hogget and mousse-like sweetbreads was unique. Nutty flavours.
Course Nine : Sweet ciceley with strawberry, buttermilk and verbena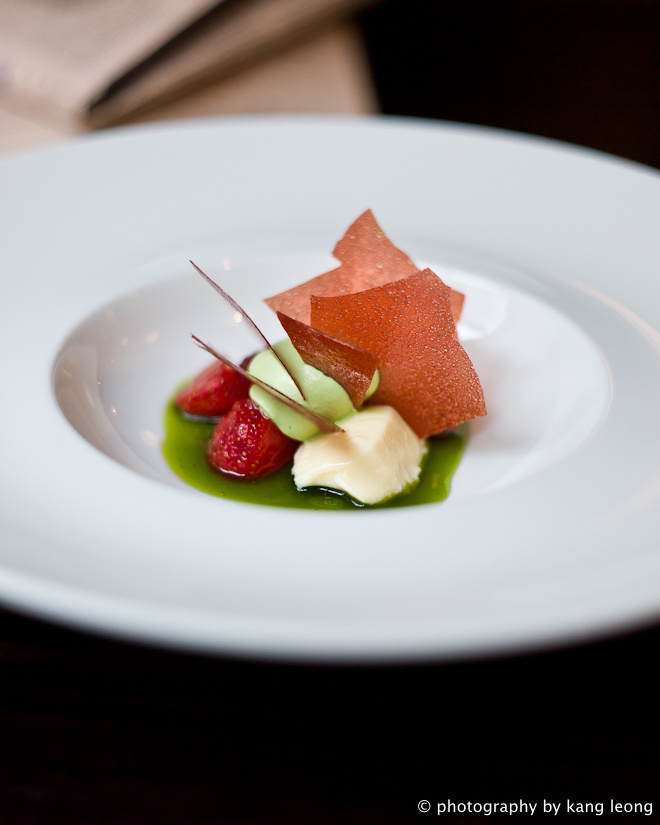 Both puddings were absolutely fantastic. I loved this ciceley ice cream, herbal, minty and almost ginger like. The strawberry shards were candied genius, it was redolent of strawberry lozenges. Apt for the weather, and the pannacotta like custard was perfect. Another awesomely well-textured experience.
Course Ten : Warm spiced bread, salted almonds, buckthorn curd, smoked clotted cream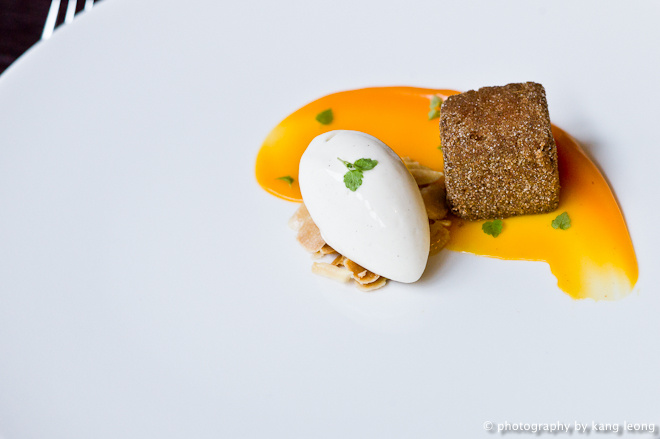 Smoked cream is a first for me, it was like having meat flavour ice cream… ok, not meat flavoured, but smoke-flavoured, kind of salty, I don't actually, now that I think about it, I find it hard to put it in words. It was certainly unique. However, the real winner on this plate was the light and crusty spiced bread. Sugar, spice and crunch, a stylish end to a stylish meal.
(Epilogue?) Douglas Fir Milkshake and Flapjack.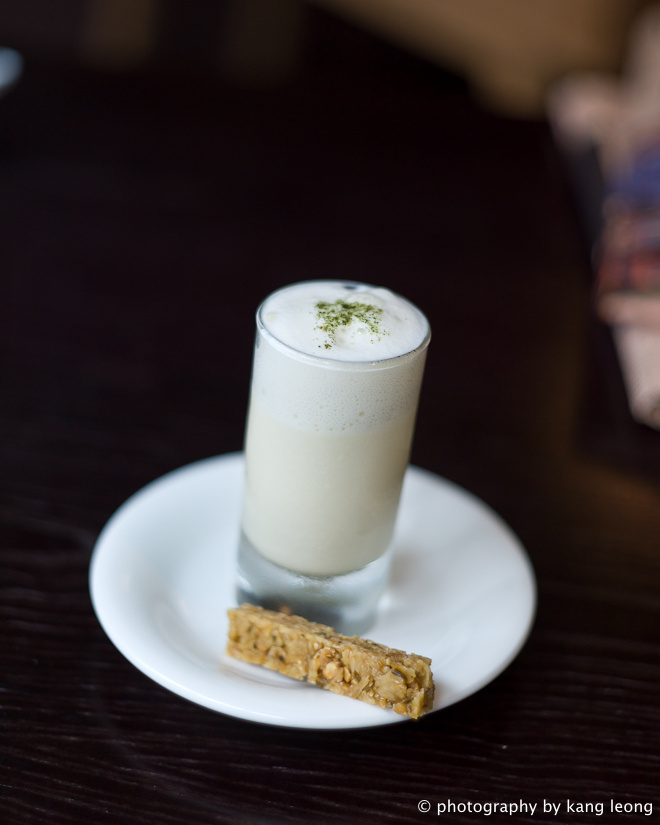 As I sipped the herb infused milkshake and chewed on the flapjack, I tried to sum up the meal in my mind, it wasn't easy, partly because it was so long, and because it was so long, I'd imagine not many of you might actually care to read every single detail of each dish. And my gosh, was there attention to detail in this meal. The kitchen goes out of its way to make sure that the diner is made aware of the significance of what is served, each dish is focused on something particular, and it's obvious that a lot of care has gone into ensuring each dish is on spec when it gets plated up. This thorough examination feels like the antithesis of the traditional idea of upper level dining; where one usually expects a complex marriage of ingredients on the same plate, here the grand ideas are compartmentalised, and allowed to stretch out over ten dishes. If you stack the experience of each dish one on top of the other, like layers of design for say a silicon microprocessor, then you see that the weaving of the big picture is quite breathtaking.
I admire the fact that the entire meal feels focused, the recipes all seem to work in unison toward achieving some singular goal. In that regard, I also admired the surgically precise cooking, and isolation of key flavours, it was so disciplined, and I must stress the obsessive attention to detail, is both startling and admirable. I really must commend the chefs working on that day, and I have to commend them for being able to churn out the same high level of quality night in night out.
Different people have a different reaction and opinion on what is wow. Some crave the complexity, some like the ceremony. Others adore the pomposity, while for some, it's life and style. And there are those who march to the beat of the contemporary trend because the blogs say so, and while some think dining out is to reconnect with your first times. Your first memory of capers. Your first pizza. Your first steak sandwich with Heinz. Your first French Toast. Your first coffee.
I think there's a lot of firsts with this meal at Roganic, the elemental discovery was like being in primary school, the gastronomic education as revelatory as it was clear to understand. A host of alternative cooking to heat is involved, such as smoking, mousing, curing brining, dehydrating (some which I made up obviously) , lots of herbs, and finally, a visual delight.
If you are into this sort of discover your palate experience, I thought Roganic is pretty good. In fact, it might be better than Pollen Street Social.
In the end, even the cupcakes had pop rocks in them for abit of fun. Not cheap by any stretch of the imagination, I paid £98.44 for the ten courses and a glass for wine, and hopefully I've done Mr Spalding's creations justice by at least getting the minor details correct. This is the type of restaurant you shouldn't read about folks, obviously blogs will gush over the technicalities, but there was so much information to process in one sitting, that I doubt I've presenting a full picture of the experience. Other than to point my thumbs skywards and take a few snaps to help your decision of course. That's my part done. If the idea of Roganic intrigues, you should visit, and make up your own mind about it. It's that sort of place, and I guarantee you that at the very least, you will come away with a few new memories of first times.
The Deets
Roganic
£50 to £100 pp
19 Blandford St, W1U 3DH
Tel: 0207 4860380
Organically written-up elsewhere: GT , TCC , TSB
Did you enjoy reading this? You can subscribe to the Newsletter. Alternatively, you cansubscribe to the RSS feed.