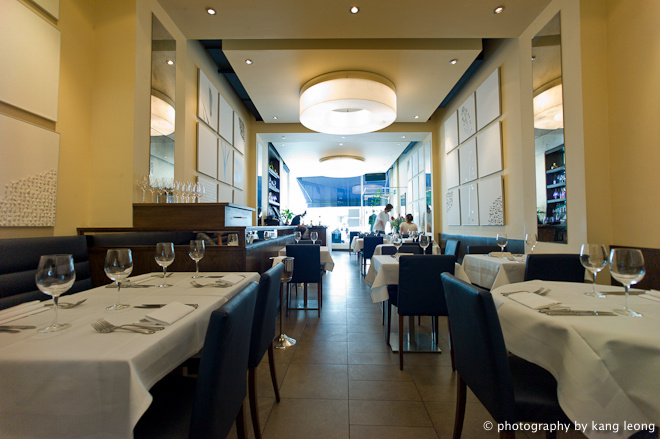 UPDATE: Well now, this is news to me. 101 Pimlico Road is closing on the 28th of May, man that's a loss to the trade, but here's hoping Keith G's next project will be more sustainable.
The trick in choosing your next greatest meal is to find a restaurant which borrows its name from its address. For instance, 32 Great Queen Street at 32 Great Queen Street is brilliant, and by that estimation, so is 101 Pimlico Road. I've heard nice things about 101, though it's one of those restaurants which I keep pushing down my list, but I am glad I finally made some time for this maiden visit.
The restaurant decor is both woefully boring, and a successful exercise of restraint elegance. I like the blue theme, but the long and narrow room is a bit of a mind bender. Leading the hob is young Keith Goddard, and as I understand it (from Dino), Keith's alma mater is The French Culinary Institute in NYC and formerly apprenticed with O'Sheas, Peyton's restaurant at the Wallace Collection (which is a brilliant private collection of art) and with Mr Aikens.
The theme of his restaurant is English, with a French accent, sashaying on to your plates, to the smokey tunes of Nina Simone grooving over the PA. Oh, so this is what Spring looks like in Belgravia.
The ala carte is … pricy, but is ambitiously well written, such as Wild Garlic Risotto, Trompettes De La Mort, Stichelton Beignets or Anjou Pigeon, Roast Breast, Confit leg, Almond And Saffron Couscous Millefeuille, Orange Purée, Chorizo; the mouthful descriptions seem to indicate either very elaborate (and large) plates of food, or something bewilderingly complex. The set lunch, is the complete opposite, lighter weight, more offal and for a meagre £22 (for 3 courses).
Service is bourgeois, relaxed with equal dollops of appreciated humility and a good dollop of French charm.
What is in the oil with the bread. It's so familiar, it's like … sunflower?
Anyway, food time, you need to see this folks. So as per usual, the better half springs for the set luncher, and I observe my table manners and order what I want.
(Apologies for the shorthand descriptions, I was too busy eating to take down the full details.)
Set Lunch : Monkfish Liver with cous cous.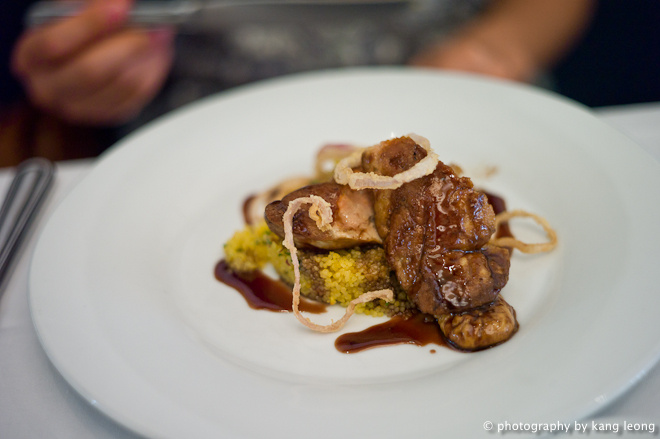 Monkfish liver is a first for me. The first thing that came to mind after the first forkful was … tofu. The texture of tofu, with a faint whiff of fish roe and the stink of something livery. Perhaps it was the sauce it was done in, it tasted much like unagi basted with teriyaki sauce. The portions were massive, a little challenging, since the taste of liver stays with you after the chewing had long ended. Pleasantly surprised though.
Ala Carte: Chantenay Carrots, Fresh Truffle, Shaved Baby Turnip, Truffle Cream, Crispy Quail's Egg £12.5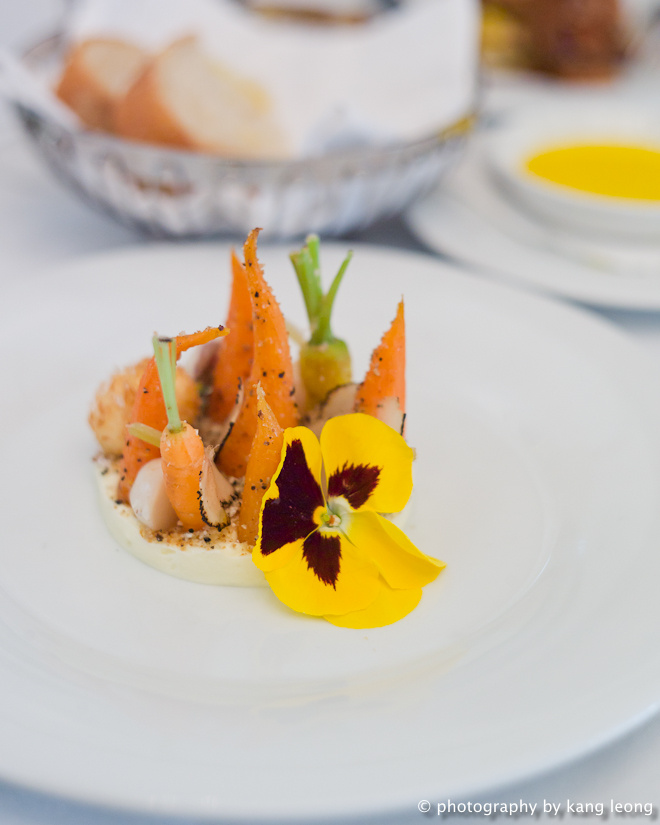 Ah a forest made of carrots with truffle shavings for shrubs. This was bloody fantastic. When I closed my eyes, I was certain I was frolicking under the spring sunshine, digging my hands into the soil in search of root vegetables, and stuffing it in my mouth. Mmmm. smell the flowers, the crunch, the freshness, the truffles.
The dish was beautifully arranged, and the elements came together very well. Firstly, the truffle cream, with a hint of garlic, was guilefully whippy; Who knew baby carrots complimented truffle so well? To top it off, it was as if there was a mini easter egg challenge, in discovering a tiny soft boiled quail egg, with a crumbed skin and a runny centre.
Fantastic. High marks for visual flair. High marks for turning the visual into something a little playful, but most of all, kudos to the effort in pairing all the flavours. And, it's meat free! Mad skills going on here.
Set Lunch: Swordfish with young greens.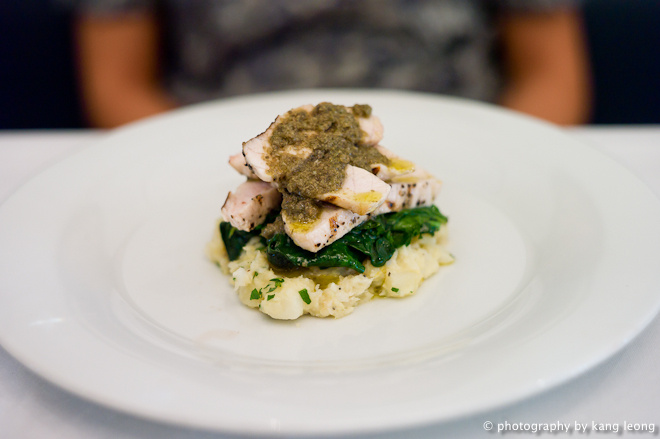 Lemon, salt, grilled swordfish fillets. Edible Simple. Layered genius. Boom.
Ala Carte: Onglet with polenta, £24 and truffle chips, £4.50.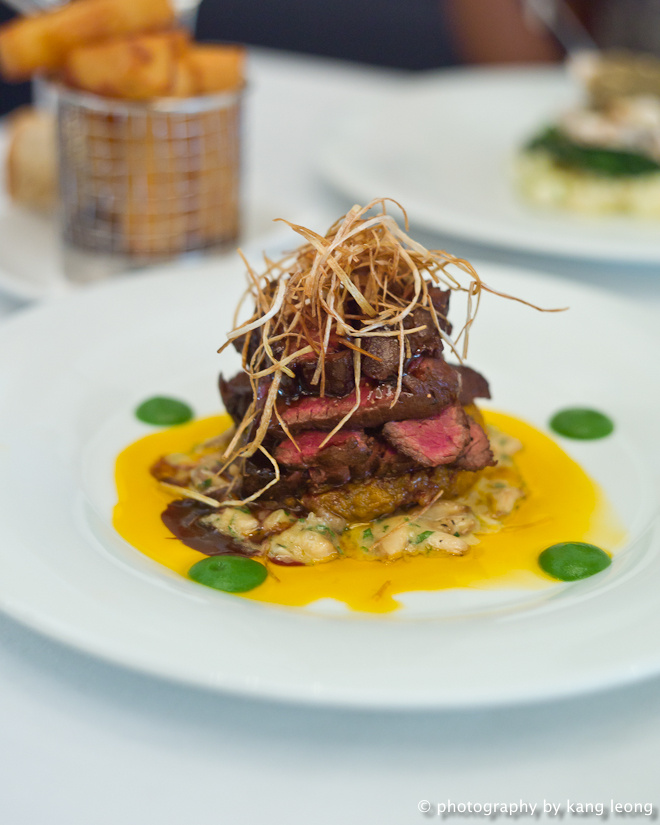 It pains to say that my memory fails me as to the source of beef, as well as the full description of ingredients to this dish. Tomato and mushrooms were involved I'm sure. It's English, I'm sure of it..but which Estate..which Estate…argh. Dedham Vale perhaps?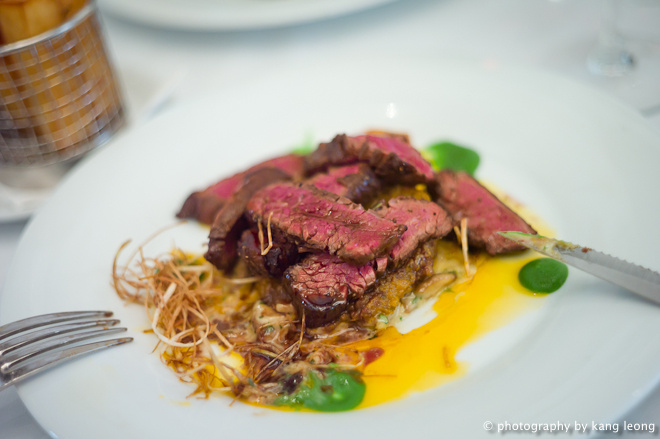 Rare. The only way to go with hanger steaks. Trust me.
Seeped into the bone flavours… pow! Tomato pureed, 'shrromed umami depth charges. Normally I would advise against recipes that hide the natural flavour of beef, as I have usually found that steak tastes best naked straight off the coals. But then again, this is a French restaurant (with an English accent), and in French restaurants, you can trust a dressed up steak.
Hearty, brilliantly homely, warm, perhaps a little too heavy for Spring, but that fried polenta cake with ginger (I hazard) was 'wow' personified. The beef was so surprisingly soft to cut that it may as well have fell off a bone, and caught on my plate, with the polenta cushioning its fall.
Terribly beautiful cooking going on here, unimaginably easy to eat this kind of long food, I wish my stomach and appetite was bigger. I mean, just look at those slices of red gold – yup, onglets are the thinking man's steak, the glutton's choice, no longer belonging to just the butcher and the French Bistro. And it's cheaper than the premium cuts too.
Prunes & Armagnac Ice Cream £7.00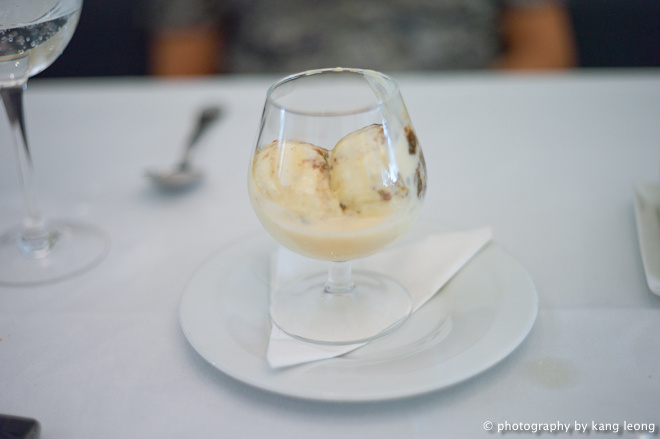 £3.50 per scoop, you say? I can only speculate that the ice cream was made in their kitchens. It was fab work, honeyed, syrup, datey, boozy and decadent. Cold fury, when you go to 101, make sure you try this. What is it with restaurant ice creams, invariably, when they are made in house, they taste better than the premium gelato stuff. Is it because they make them in smaller batches that make them creamier and fuller in taste? Case in point, the strawberry ice cream at 32 GQS is unmatched. Or perhaps it's just psychological?
The bill including wine and coffee and sparkling water (shoot me) was £102.38.
Listen, 101 Pimlico is undeservedly underrated, abit of a sleeper gem of a restaurant and I am surprised it isn't more popular that it ought to be. The food is fabulously well cooked. Keith Goddard (and team by extension) is clearly a man (and his team of chefs), you want cooking for you. The decor, well, if I may say, is a little dry. But service is absolutely spot on.
If I may make a comparison to a promising jazz singer I've been listening to lately, 101 is like Stacey Kent singing in French. It's so damn cool, so slick, so precise, heartbreakingly soulful, so controlled and a really wonderful experience to be taking in. There is a bit of jive and off the cuff flair to 101. Lyrical waxing aside, 101 Pimlico Road has received mixed press, but I think it is unjust, at least with regards to the quality of the food. Price wise, the ala carte is a tad steep, but the set lunch is exceptional value. If you're on the fence, I suggest going for lunch first, and then a full on dinner. All in all, I like it, and I think you should definitely give this restaurant a go.
Especially as you will soon be in the vicinity for the Chelsea Flower Show that's coming up in your calendar.
The Gist of It
101 Pimlico Road
Anglais, £60pp or more.
101 Pimlico Road SW1H 8PH
Tel : 020 7730 0202
Tube: Sloane Square
Crossing the Channel : The Epicurean ; Intoxicatingly well prosed ; a fork full of spaghetti ; Zoe Williams ; Matt Norman
Did you enjoy reading this? You can subscribe to the Newsletter. Alternatively, you cansubscribe to the RSS feed.