Hello Meat, I'm back.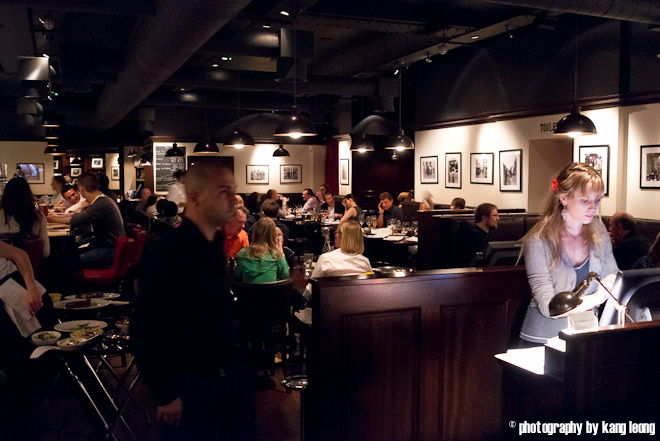 It's been six months since I was last here. And my information gathering has returned the following: John had left the Josper to pursue new charcoaled pasteurs in Swindon… and is possibly back at Maddox St… , Dave S is still the smooth operator, and Goodman Mayfair is still ever overbooked. It remains my favourite place to go for a steak dinner in the city, and I am very glad to say the Josper grilled, charcoalised, blood filled sensteaktions are still my paramour. Food wise, sex wise, I mean, you know what I mean. Please excuse the vulgarity, it's meat afterall.
As per usual, I always request for a bespoke cut of meat, on the bone, and have it served sliced, and to be shared. I have since come up with a formula to figure out how much each table requires:
Firstly, to figure out the weight you should order, apply Kang's Standard Equation of Meat:
150 + 200 x (n1) + 300 x (n2) + 400 x (n3)
replace n1, n2, n3 with number of persons who fall in the categories according to the key below :
Key:
150 – weight of bone,
n1 – number of ladies on table,
n2 – number of gentlemen,
n3 – number of men with impossibly large guts.
eg: if table of three contains 2 ladies and a large tummy then,
Weight of steak = 150 + 200 x (2) + 300 x (0) + 400 x (1) = 950g. Voila.
All steak restaurants should use Kang's standard equation of meat.
Next choose your cut :
Bone-in Ribeye = Best balance of fat + meat = flavourbags. The gentlemen's choice.
Porterhouse = Medium Fillet + Large Sirloin = Best of both worlds
T-Bone = Tiny Fillet + Large Sirloin = Poor man's Porterhouse.
Fillet = Soft to touch, not much to taste.
Sirloin = Balance. Good separation of fat and meat.
Onglet = Out there, livery, cut across the grain.
Rump = Flavour. For when you feel German.
Side orders:
Chips
Spinach
Bearnaise
Stilton and Red Wine Sawce.
And lastly, breed:
USDA = Mild flavour, schweet, tender.
O'Sheas = Balanced flavourbags, tender but not overly so, fragrant, like a field of lavender…
Galloway = Megaflavour, least tenderest, megabeefy.
Wagyu = Oily.
And here are the photographs. All done with a 'point and shoot' from the lady's handbag, if you believe me. We paid £90 for this meal. This is probably my ninth visit to Goodman in two years. It has only gotten better and better in that time. I think what rounds out Goodman so well, are that starters – easily overlooked – are actually quite good. Frank Hederman's smoked salmon always a good place to start, in case you are lost. The risotto is awesome, and the lobster bisque is to the point.
If you are even slightly curious of meat, go to Goodman.
Buffalo Mozzarella, £8.00.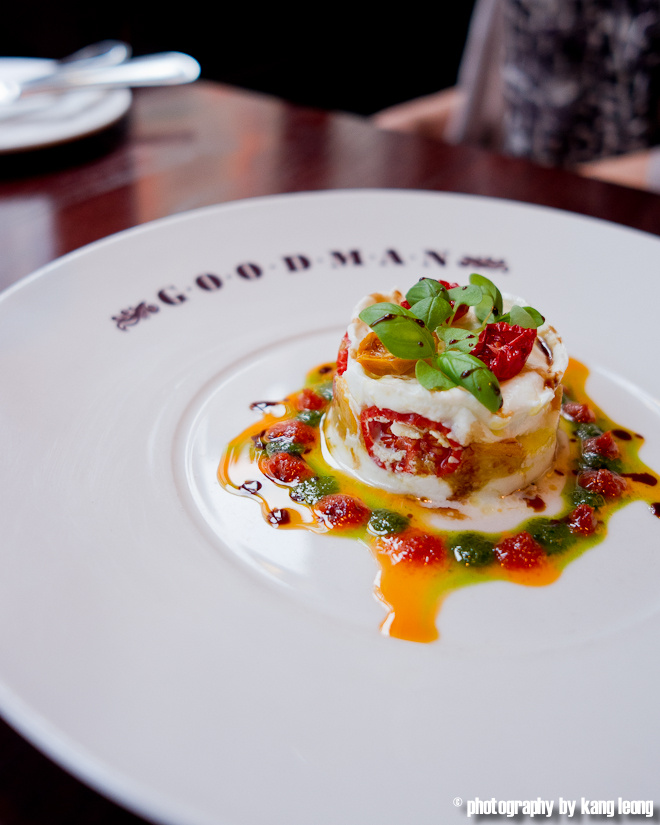 A light starter, nothing heavy because…
800g O'Sheas Bone-in Ribeye, £50 (@£62.50/kg)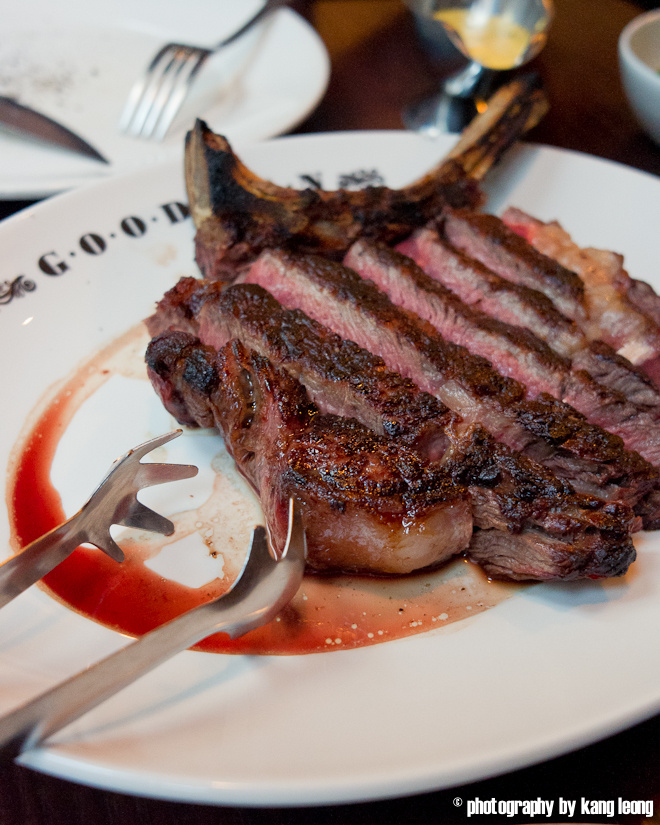 Just look at this glorious monstrosity. Yes.. YES..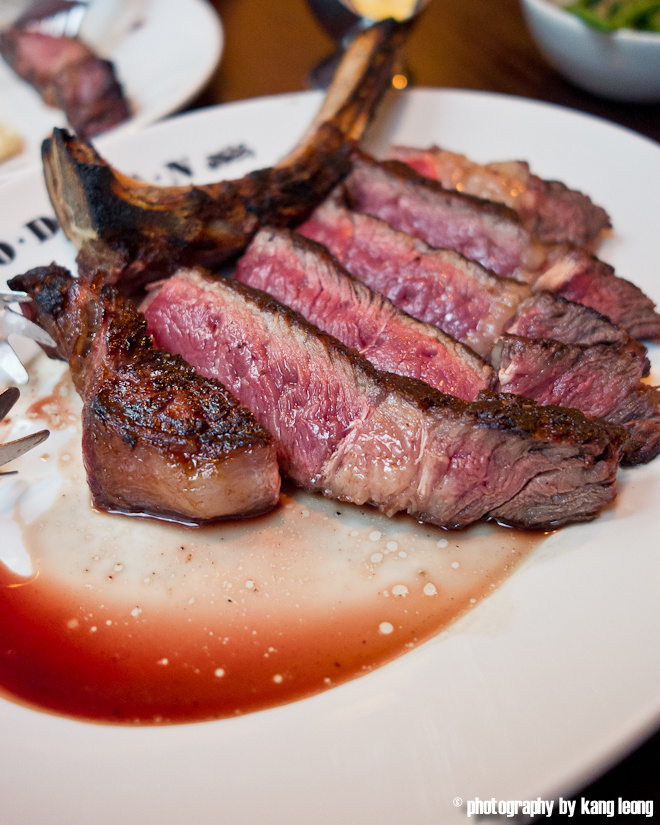 Medium rare, no exceptions. You see that crusty skin? That's the kiss of charcoal. Helps to create the illusion of 'sealing in the juices' with the contrast of crusty exterior and bloody interior.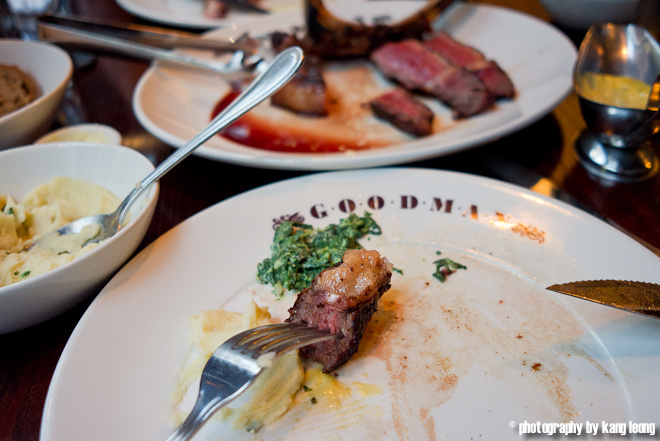 …and please chew the fat. That's where the buttery field of lavender flavourbags lie.
Lobster mash, £7.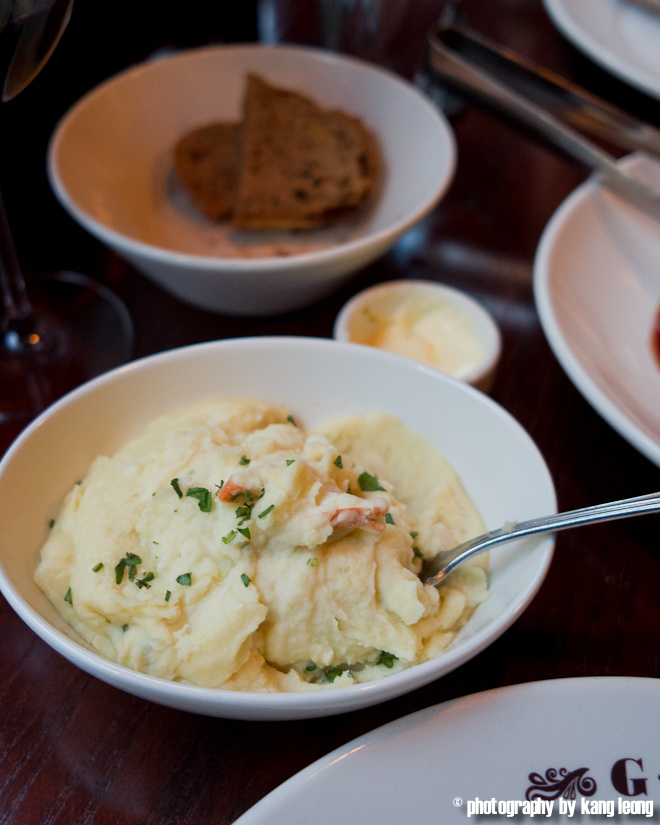 Not bad, but probably abit overkill. Chips would have sufficed.
Creamed spinach with cheese, £4.50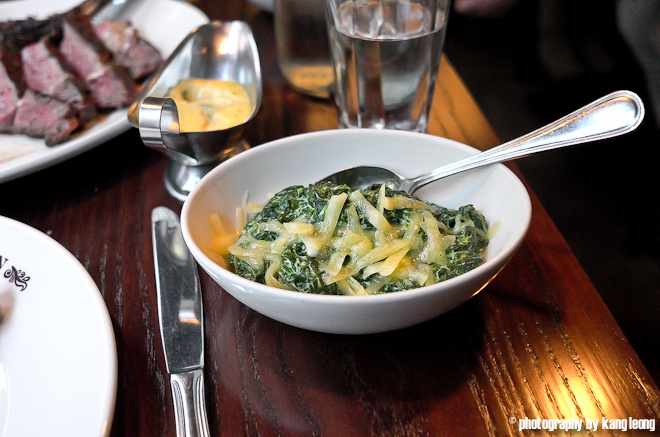 Also overkill, since the main course is essentially meat, with concentrated flavour. Always ask for blanched without cream.
Oh and one last thing. Get the Californian Columbia Crest 2008. A cab sav, really jammy, very heady nose, £12 per standard measure, great with the steak.
Q.E.D. babes.