When I think about spending big on meals, where multiple stars are involved, I think French, I think Japanese, I think miniscular gastronomy, water-bathed, raw and beetroot. Rarely does the thought of an expensive Italian meal ever cross my mind anymore these days. I put this down to the recent drive by like-minded restauranteurs in launching the lean and mean, baby River Cafes (and derivatives). As you are well aware, we've been loving the revolution in London-Italian dining, feeling the gastropubistro-fatigue. Come on admit it, you can't get enough of a novel-thick grilled veal chop, dripping in wet bloody juice. Especially if it costs under £20.
Yes, the Zuccas, Tinellos, Dock Kitchens, Bocca Di Lupos, Polpos, Tinellos and Trullos are good for Londoners. We have competed with one another in overbooking them to their fullest capacity, and we especially like the much slimmer bottomline, and delicious yet elegant recipes, built around fresh produce, which is the whole crust of Italian cuisine. At last, good Italian food has become democratic.
Having said that, there is still a legacy of the old-world, grand but homely Italian restaurants, designated by (quite strictly) by region and the Michelin man, and the pre-crash prices. Give it a go, call L'Anima, or Locatelli or River Cafe or Murano, and then ring any of the above mentioned mid-priced super Italian cucinas. You are likely to secure a table at the premium ones, before you nail one at the cheaper alternatives.
I'm making sweeping assumptions obviously, but I think its safe to say that the tide has turned. The alternatives are now the superstars. Vivi a lungo River Cafe-nites!
Enter Semplice. Opened to pretty strong reviews in 2007, won it's first star two years after, and it has a very loyal fan following, yet it is one of these sleeper restaurants which people seem to not like boasting about. It is pretty expensive after all, although like all top end restaurants, they do have a £20-something lunch menu. At the top of the table is Marco Torri whose CV boasts stints at Locatelli, The Halkin, Gualtiero Marchesi, Lucas Carton, and at El Bulli too.
Aside from the Milan dishes, I would boldly guess that the menu is largely inspired by cuisines of Northern Italy. Semplice (for Simple) are also quite proudly insistant on the provenance of their ingredients, going as far as to list an exact % (60 to be exact) of how much of is flown in from Italy.
Baby monkfish "Milanese" served with gem lettuce "panzanella' style and soft quail eggs, £10.75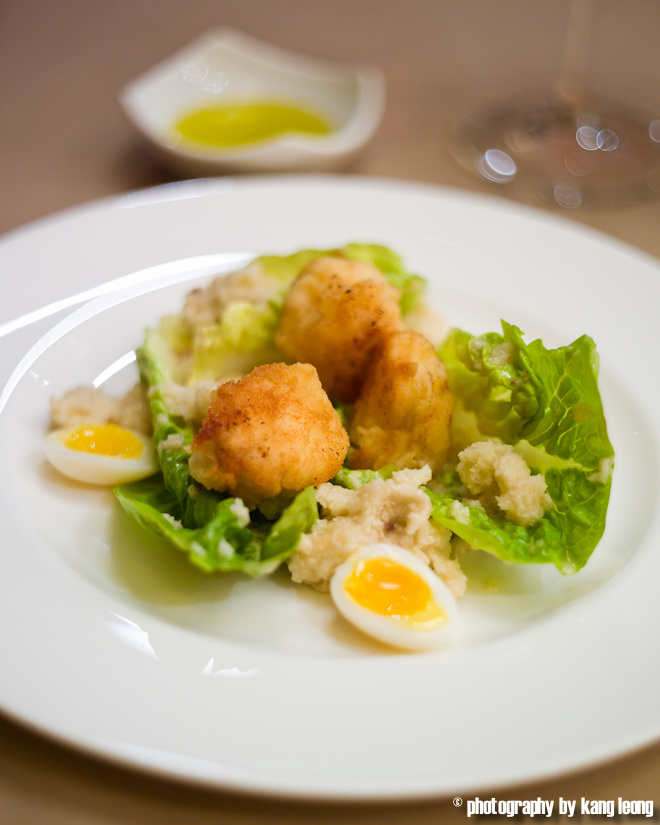 Very amazingly awesome. The very embodiment of distilled mastery resulting in something that looked deceptively simple, but which deep down inside of me, after the second bite or so, I concluded that it was anything but. Firstly though, I did a swift google image search for 'baby monkfish' because… I've not seen baby monkfish up close before. I can only speculate that these are a species of monkfish which do not grow to as large as the normal kind, which can be pretty large. Huge, flat, with a real kisser of a mug. Gunards or Monkfish? My local fishmonger sells the monkfish pre-filleted, so I've never really seen a monkfish up close either. Thank goodness for the internet then.
The entire dish was textured like baby food, the salt on the soft quail egg yolk, really so creamy and so simple, and the panzanella, a kind of soaked stale bed salad, vinegary, citrusy and interesting when combined with the truly wonderful baby monkfish nuggets. It was probably the best fish and mash I'd ever had. Loved this dish.
Traditional Milanese risotto with saffron and bone marrow, £14.50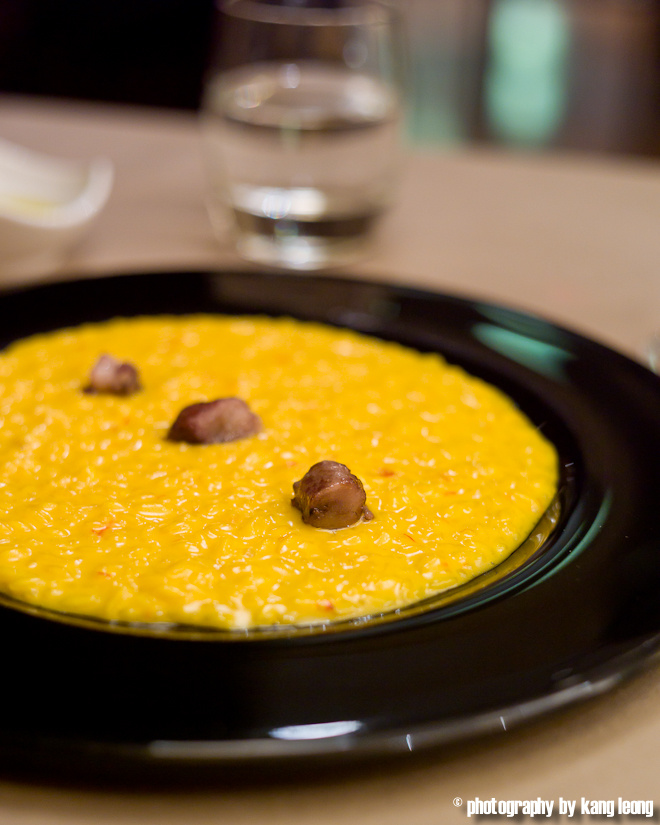 This dish has polarised opinion across reviews spanning the restaurant's lifetime. Some say this is man's greatest gift to his neighbour; others write it off as simply bad risotto, for not being creamy enough, for being too al dente, leading to speculation that the rice hadn't yet had enough time to soak up the juices proper.
I thought it was fucking fantastic. This was definitely the stuff. The sunflower yellow was so saturated that I had to shield my eyes with my wayfarers. It smelled bloody great. Strands of red saffron visible, I like that, and an intensely cheesy creamy consistency. The rice was al dente, chewy and not mushy-creamy like congee. I don't know, I think I prefer risotto which is 'thinner' than what is expected. The flavours of saffron (herby, shruby, tannic, rose-woody, flowery, – how to describe?) was pure love, and to finish off with three flavour bombs of bone marrow was sheer ecstasy.
I really enjoyed this risotto. In fact, it could well have been one (if not) the best risottos I've ever had, in London. The cheese, the bone marrow, the saffron, brilliant combo, and more importantly, beautifully cooked.
Roast milk-fed Piedmontese veal with shitake, courgettes, taggiasca olives and sweet potato sauce, £28.75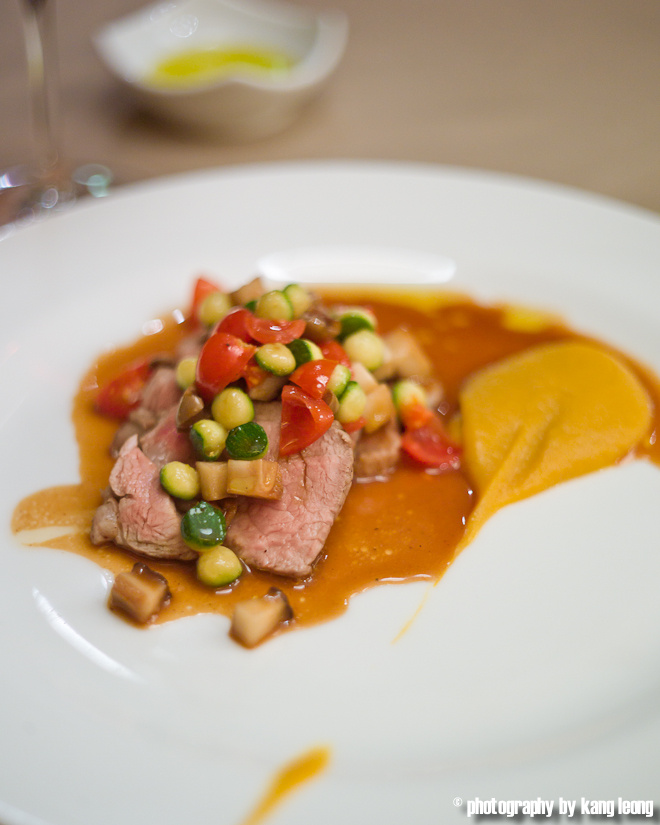 Here's a dish where the proud Italian provenance was realised. Hands down the best sliced veal I'd ever had. The meat was incredibly tender – moral/ethical issues aside – , the natural fragrance of veal (like a really high quality butter) coming through, it just melted on my tongue.
But sadly, I didn't agree with the recipe. It was tacky, old-fashioned, tired, lazy, stereotypical, uninventive, unimaginable, overpowering, heavy, too heavy, it just didn't seem to fit in with the semplice theme. The sweet potato sauce was absolutely criminal.
Coffee tiramisu with tiramisu ice cream,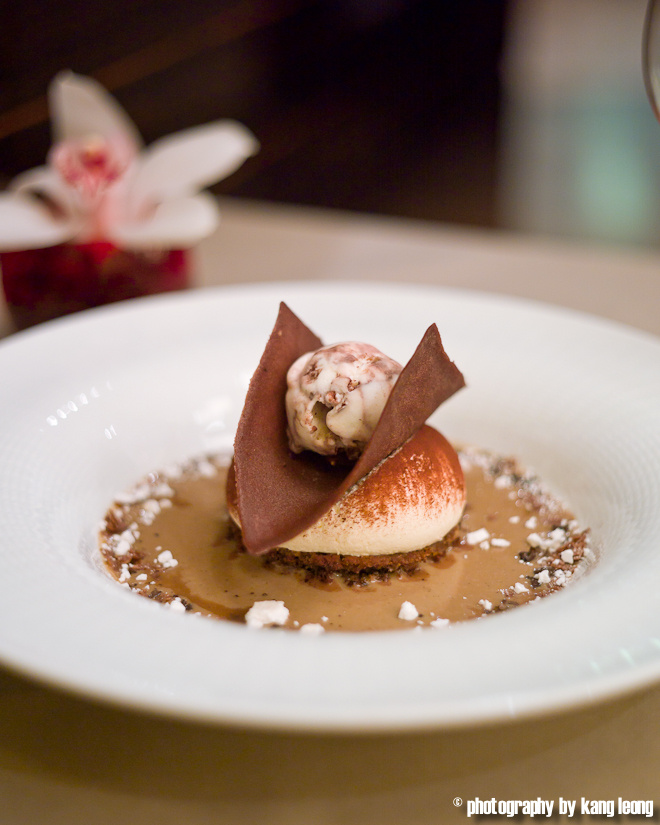 I enjoyed the meal thoroughly through this point, because I really have to hand it to the restaurant manager and his merry servers. Giovanni Baldino is a model front of house man. He and his staff put together a really modest, heart warming, and genuine round of service. One can definitely feel the love. They do take care of guests with true humility and genuine hospitality. In all my years of eating out, I've not so much felt so well taken care of, but I've never really felt quite so comforted, and genuinely grateful for service. There is simply no ego involved, no bib induced snobbery, and they really gave me the impression that they just want to show their guests a good time. Six stars out of five in this category.
And then they bring me the pudding. What's this? A twist on the age old Italian stereotypical dessert in a restaurant which goes by Simple?! Hah. I was surprised at first, and I have to say I really enjoyed it. The bitterness of the coffee really lifted the heaviness of all that sugar and cream. It was like having frozen tiramisu and then warm tiramisu. The ice cream was ace, the coffee sauce, probably acer.
It wasn't cheap, I paid £80.16 (including water + a glass of tipples) for the solo adventure, and it was a pricy lunch. But for once, I find myself recommending that you consider throwing your money away for one special night at Semplice, and to not be thrifty about it. Yes, while you can get fantastic ossobucco at Polpetto, excellent home-made pappardelle at Zucca, and a formidable pumpkin risotto at Trullo; I don't however think that any of the mid-range trendy Italian restaurants quite match up in terms of sheer technical ability when it comes to the cooking. And I think that's where the real strength of these rather old-school Italian stifferatos lie. I was blown away by the sauces at Zafferano, just the balance of flavour and texture, spectacular, and I think the same of this meal at Semplice.
Food was simply delicious, bottomline was a little much, but service was stratospherically awesome. I was completely seduced by allure of fine Italian dining once again, and for that reason, I heartily recommend Semplice.
The Gist of It
Ristorante Semplice
Italian, £75pp
10 Blenheim St W1S 1LJ
Tel: (020) 7495 1509
Tube: Bond Street
The interwebs speak: Genuiness ; Travel with Wingz ; The Critical Couple ; AA ; Matt Norman ; TimeOut
Did you enjoy reading this? You can subscribe to the Newsletter. Alternatively, you cansubscribe to the RSS feed.