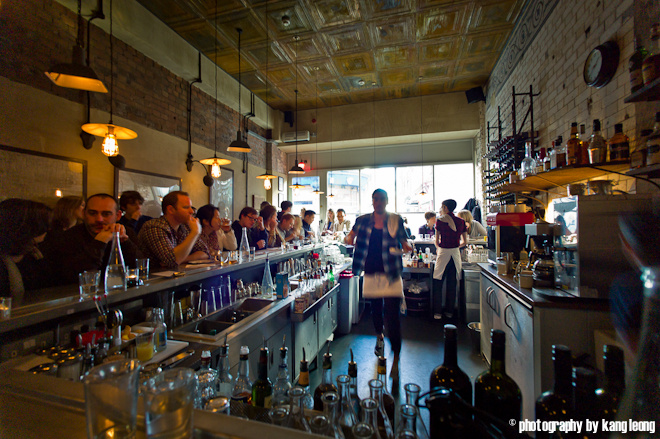 I would like to begin by publicly apologising to Russell Norman and his team, because on reflection, I think I was man-pmsing when I wrote the Polpetto review. I was out of line, and rude, and I hope I can be forgiven. Handslap.
Most of you are already familiar with the famous bacaro in Soho that is Polpo, and many of you would have heard of the owners, Norman and Beatty's exciting plans of growing the brand they have created. And while Polpetto was more of the same, except smaller (great ossobuco), the third outfit, Spuntino, is a step in a totally different direction. The Italian influence, is now heavily laced with references to the American diner, the menu is still presented as a personal paper table cloth; except this time round, you can almost hear Robert Frank's shutter going off in the background to a recital of the bebop beat poetry of Jack Kerouac.
Spuntino inherits the winning ambiance from its predecessors and then some. There's just something very special about this squarish room, in the heart of striptease central. I didn't like the crammed Polpo and hated the rammed Polpetto, but Spuntino is very close to perfect.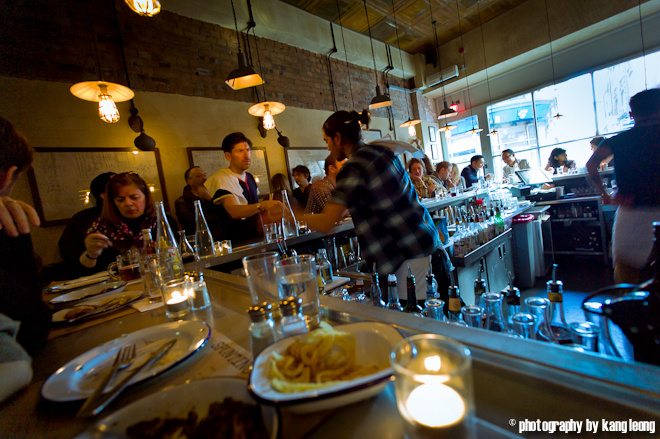 Spuntino is tiny, about twenty can sit around the bar, there's a table for six right at the back, and at the very end of the bar, there is a oversized stool, affectionately termed the kissing stool, where the better half and I were lucky enough to nab during this visit. Incidentally, this was their very first Saturday service, so it was little surprise to see Russell on the floor making sure things were running as smoothly as possible. Folksy tunes in the background, I recognised the Bob Dylans, beyond that, I was just so absorbed with the first rate waitering, the high ceilings, the cream walls, the bricks, the funky hanging filament bulbs, to pick up much else.
If you thought Polpo was simple, there is even less fuss about Spuntino. Essentially this is a caffe, with a bar, serves snacks (hence Spuntino) and so it's logical for them to be open all day from elevenses till late, take no bookings, doesn't even list an on-site phone number but welcomes everybody with very modern and very laid-back embrace.
Egg & Soldiers, £3.50.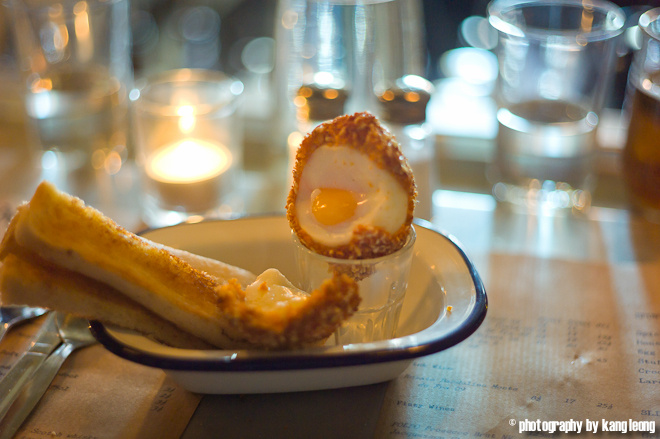 Soft boiled, and encrusted in a deep-fried sesame armour with greased soldiers, was a sign of the fun times to come. Was it American, Italian, British or something entirely new? Who cares, it's food, it's good and we want more.
Truffle Egg Toast, £5.50.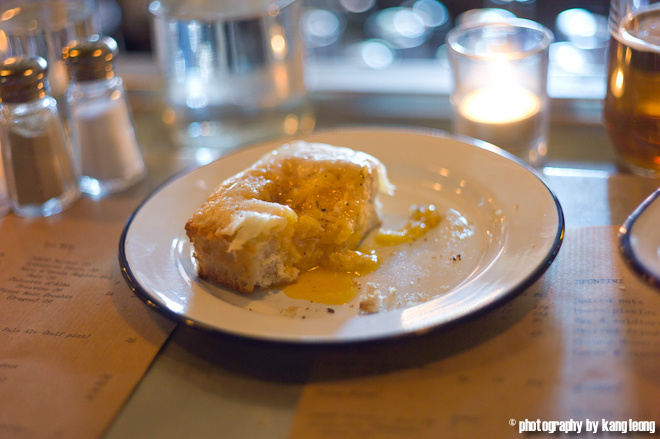 And more we got. Melting fontina cheese, a custard cream yolk centre, very thick, very crusty white bread, truffle oil, such simple pleasures combined to produce an utterly sinful, sinful (sinful) attack on the palate. It didn't look like much, but this was so bloody damn good, that I think it should be hailed as the open sandwich that toppled the croque monsieur as the gentlemen's sandwich (of choice) for the 21st century. Heavy truffle flavours fighting against a sharp cheese on a sturdy bed of toasted white bread. Did I say this was bloody damn brilliant ?
Calamari, chickpeas, ink, £7.00.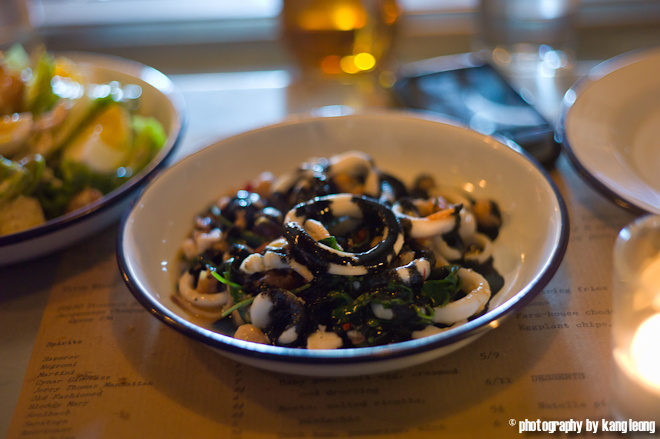 As soon as this landed, I shouted "Polpo!" and was glad to enjoy this hearty, well seasoned comfort dish with the better half, who has (amazingly) never been to Polpo or Polpetto, but who was (extremely) impressed with this dish.
Baby gem, soft egg, creamed cod dressing, £6.00.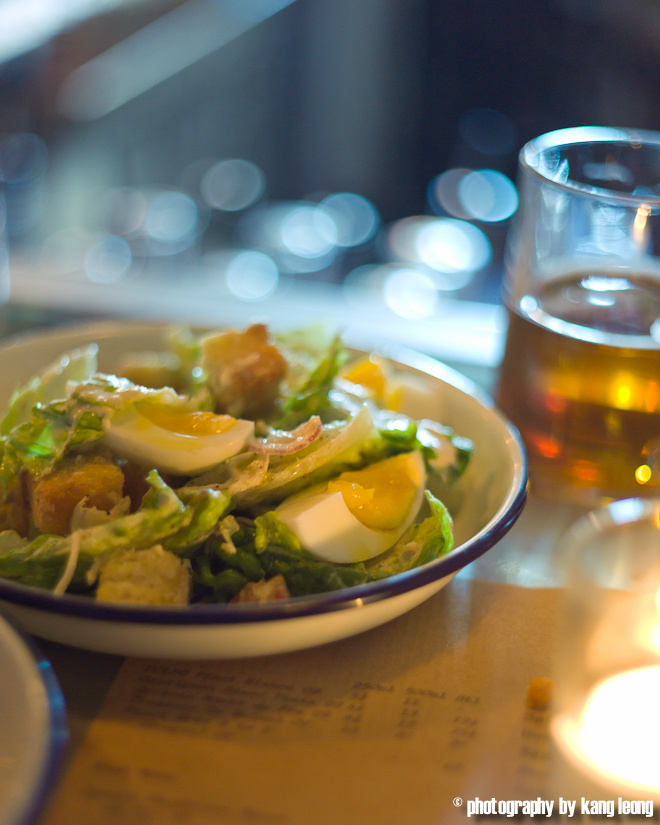 More soft boiled egg, on a bed of a gem of a lettuce salad with oversized croutons, simple, homely and lovely.
Slider with ground beef and bone marrow, £4.50 and shoestring fries, £3.00.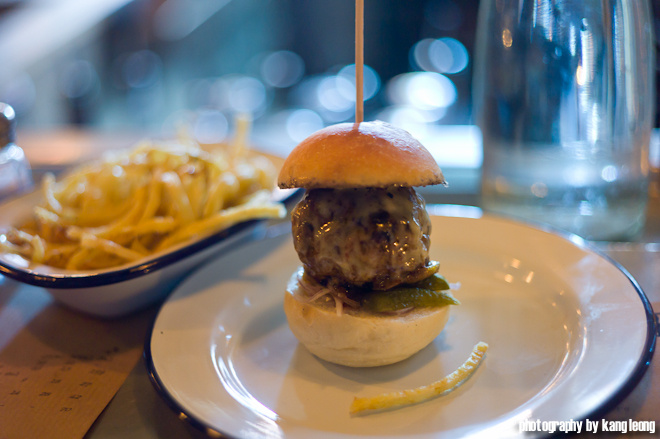 Shaved potatoes for shoestring fries were greasy and addictive. Up till now, greasy, creamy, deep-fried, sinful and eggy appeared to be the theme running throughout the recipes. I really liked the interpretation of the original 5 cent burger (You might recall I hated Byron's early sliders years ago) mainly because the patty was very good. Ironically the patty was rather large considering it was a mini burger, almost like deliberately oversized meatball in fact. Onion and pickles over toasted brioche, with a juicy pink centre, and melted cheese dripping all over it. Eating this in one go, reminded me of a diner scene in Archie comics. I could feel myself morphing into Jughead, savouring these sliders with approving nods and wishing my stomach were as bottomless as his, just so I could have two more.
Spicy sausage, lentil & radicchio, £7.00.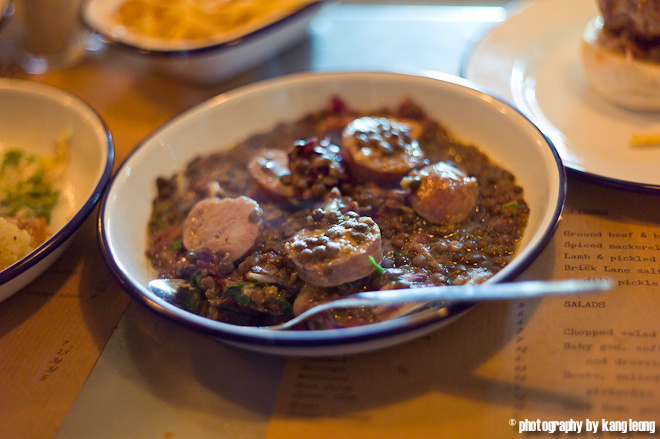 This is the only dish I didn't like. It was fine, sausage with lentils, and a mild spiciness to it, with lovely Italian chicory in the mix, but it paled in comparison to the rest of the food.
Peanut butter and Jelly Sandwich, £6.50.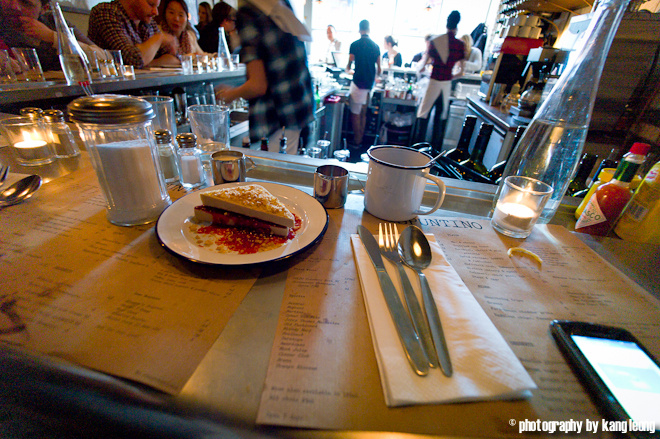 To finish, the classic PB&J, rejigged into a kind of peanut butter flavoured iced nougat sandwiching rich, red fruit jam with sprinklings of peanuts and demerara sugar (I think).
It was a stroke of pure genius, undulated fun and I think Spuntino represents the moment in which this series of restaurants achieved a rarified air of pellucid magic. Perhaps this is the reason why we, Londoners have been so infatuated with Russell Norman's restaurants in the last couple of years.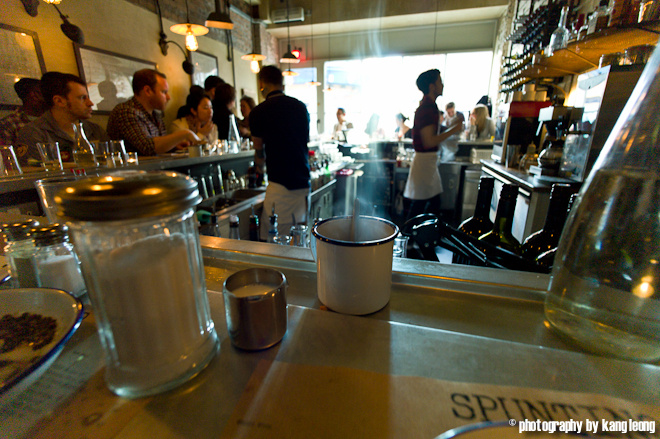 We paid £54.34, including service, a glass of white and half a pint of Meantime. As expected, the restaurant is fabulous value for money. I stupidly asked for a latte, but they only serve filtered coffee, poured into enamel tin soldier mugs, like those seen in war movies, from bulb shaped glass jugs, complete with rising steam. Ahhh. 'Twas a great ending to a fabulous Saturday lunch.
I think Spuntino is awesome, a very welcomed cafe/diner/bar/restaurant/watering hole to Soho. I think there is something quite special about this particular branch, I will definitely be back, and I think you would enjoy it as well, when you eventually visit. The place smells great, of popcorn, coffee, honey, dust, oil and hot burgers; it is impossible for patrons not to enjoy it, with all this flavour swirling around in the air.
On my way out, I told Russell how much we enjoyed the meal, and I told him I liked Spuntino the best, that he was onto something special with this one. Unsurprisingly he told me many had already indicated it to him. He also said that this was a labour of love for him.
The food is pure fantasy, not in the it's going to win a star way, but (thankfully) in the fuck it's just so darn delicious, I could eat this over and over again, kind of way. I don't know whether to think that it leans toward being American or Italian or British or otherwise, but I think it is very London, very Soho, and perhaps that's what makes it so special, in that it belongs and was born right here in London. I believe Norman's eateries are helping to redefine the contemporary idea of eating out. If the Ivys, Sheekeys and the Scotts were 20th century, Nina Simone chic, then perhaps Spuntino is the 21st century, Corinne Bailey Rae reboot. Sleeker, sexier, leaner, but still ever elegant, soaking in sacks of culture and ever so delicious.
The Gist of It
Spuntino
American, £25pp
61 Rupert Street W1D 7PW
No phones, no reservations.
Tube: Piccadilly Circus
More photos on my flickr page.
Spunky: TimeOut London ; Food Stories ; Cheese and Biscuits ; Eat like a girl ; The Arbuturian; Campari and Soda
Did you enjoy reading this? You can subscribe to the Newsletter. Alternatively, you cansubscribe to the RSS feed.