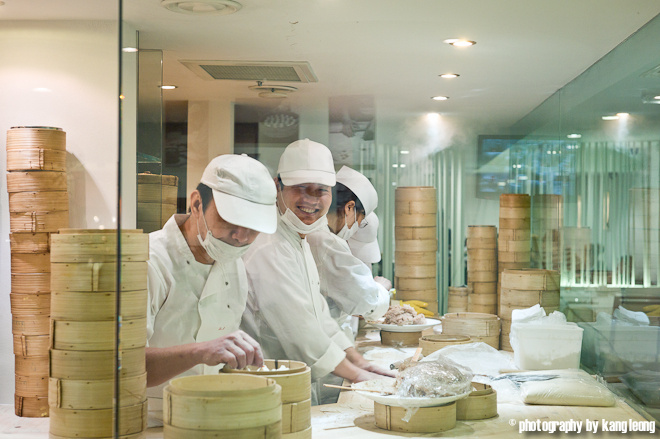 Perhaps it has aspirations toward becoming the Ding Tai Fung of Europe, what with the copycat white walls, chefs folding xia long bao behind glass panels. Full marks for ambiance and kudos for trying to emulate a franchise which has perfected the delivery of consistently good XLBs. Unfortunately, we're closer to Chinatown, London, than we are to Tienmu,Taipei, and sadly that makes for a more than wary customer in me.
I cannot say I'm not glad to see Dumplings' Legend take over from the ageing and overly torrid Lee Ho Fook – a champion way before my time, but probably because of Warren Zevon's singing rather than for its Michelin winning ways – which in its twilight years, churned out some of the worst Chinese food I can remember. Though usually applied to restaurants with rip-off prices, my dad branded it a 'black store' (as in blacklisted, banned, do no enter, nuclear wastage) anyway.
Unconfirmed reports and to my best guesstimations suggest that the owners of Dumplings' Legend also own the Leongs Legends restaurants, as well as Empress of Sichuan. So at the very least, some semblance of quality can be expected. I take the general view that LL and LL Continues (for the overspill of customers) are two of the 'best' dim sum restaurants in Chinatown, which says very little of the tremendously bad quality of Chinatown restaurants these days really. Perhaps because of its associations, there are recognisable LL specific dishes, such as cheung fun stuffed with seabass, which I quite like.
As the name suggests, dumplings are at the heart of the game at DL, and as a result, features no less that 7 different types of xia long baos on their dim sum menu, from spicy pork to pork with crab meat and one with fresh crab roe.
Dim sum is served to 5pm, after which the dinner menu takes over. I'll try not to sneer at the food too much since it is Chinese New Year anyhow.
Xia Long Bao, Spicy Pork, £6.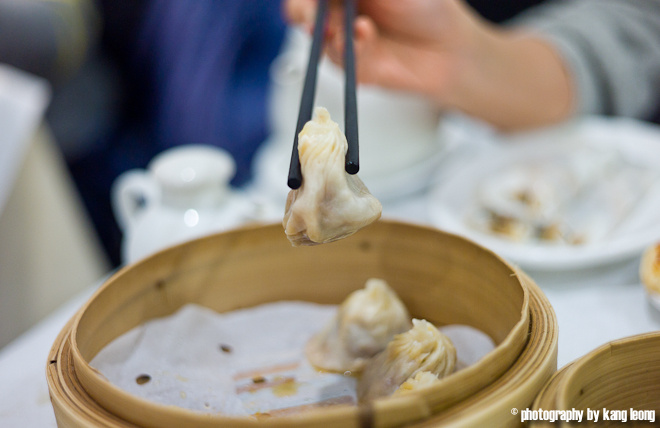 So it seems only natural to kick off proceedings with the XLBs. If we use the above photograph as a go-by, it would suggest a dry, craggily and underwhelming affair, where in actual fact it wasn't too bad. The stuffing was alright, the juices were alright, but the wrapping was inconsistent at best. Some were too delicate, in that the slightest tug tore it apart, letting the precious broth flow away to the bamboo steamer. Others were incredibly thick, as if it were made of lead, instead of flour. While XLBs are no longer a rare occurrence in London, few if any, rarely produce anything quite as memorable as a trip to Asia. Though generally speaking, things are headed in the right direction. It'll be a while before we see a true standard in London that can match anything the expanding Ding Tai Fung franchise (which in the grand scheme of XLB things, is not even the very best) , but we live in hope. Who knows, we might even see a genuine Ding Tai Fung in Europe before long? The year of the rabbit is a fruitful one.
Scallop & Cheese, Mashed Taro, £2.50.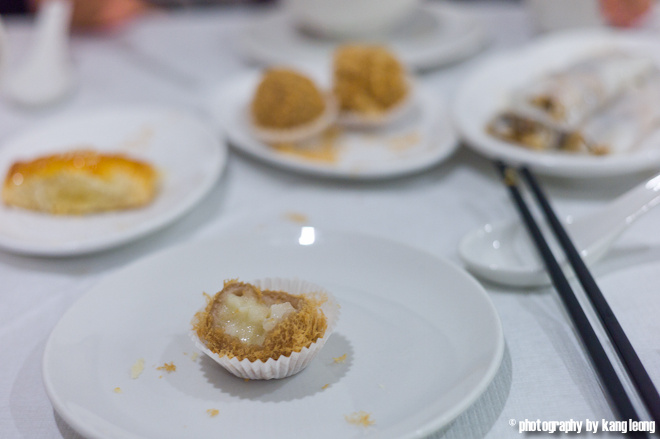 I really enjoyed this fried puffer, not entirely sure what sort of processed cheese they used (probably the cheapest ones they could find), but it was great. Something about the grainy texture of the mashed yam, the sliced and diced scallop, the melted cheese….mmm. Or perhaps it was my palate requiring reorientation.
Siu Mai, £2.50.
Rich shrimp flavours, much more than that of pork fat – a good thing, spongy and spring-like, I thought it was pretty good.
Sea bass Cheung Fun, £3.30.
Not pictured, and which came sans any sauce whatsoever. It was nice though, if a little suspect. It was cold, suggesting that it might not have been freshly steamed, but for what it was worth, the texture was consistent, and slithering seabass went so well with rice flour. Reminiscent of Leongs Legends.
Durian Puff, £3.20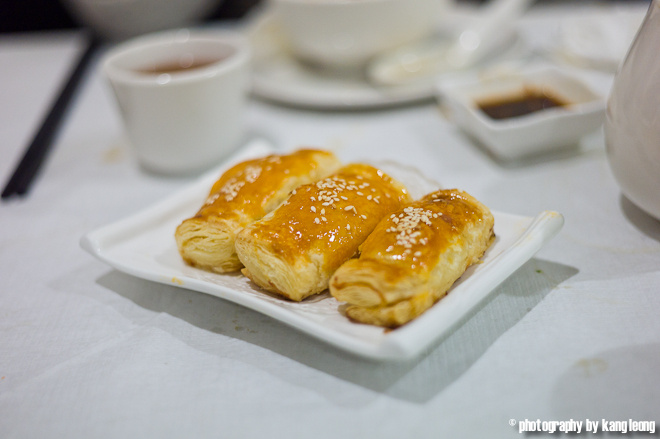 Aha! Finally the pièce de résistance, this I loved. Served warm, the sweet durian paste was flossy and appears to have been made with real durian flesh intermeshed with the preserved kind. In fact, we liked it so much we ordered two. It could do with even more durian and abit less pastry, and while it's no comparison to durian puff specialists which can be found in the food hall at say Takashimaya in Singapore, it was of a good standard.
We paid £36.10 for all food, drank a mix of chrysanthemum and poli, and overall I thought it was not too bad. It's no Wing Yip, but its as good as it gets in Chinatown terms. I wouldn't mind returning for the XLBs to be quite fair, and expectedly, the bottomline is slender.
Happy Chinese New Year folks, Nian nian yiu yu, and may you eat fish a plenty.
The Gist of It
Dumplings' Legend
Chinese, £20pp
15-16 Gerrard Street W1D 6JE
Tel: (020) 7494 1200
Tube: Leicester Square
Har Gao : Marina Metro ; Greedy Diva ; Chowhound Thread; Food Fight
Did you enjoy reading this? You can subscribe to the Newsletter. Alternatively, you cansubscribe to the RSS feed.