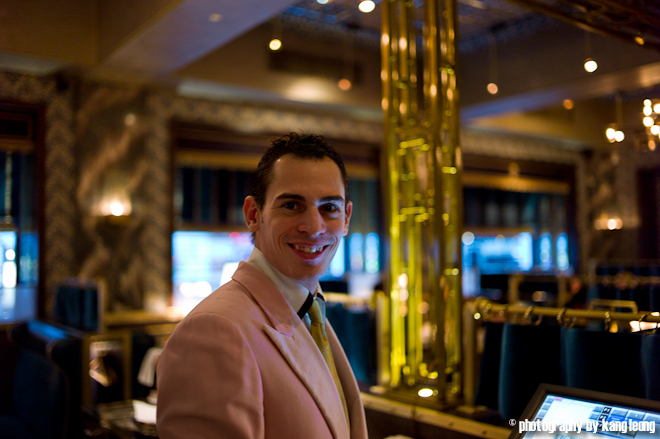 The sheer volume of blogposts on Bob Bob Ricard throughout 2010 made the interwebs quite a homogeneous place to read about new things. For a moment in time, BBR was perhaps the trendiest all day, all-booth, Anglo diner in London, complete with champagne push buttons and a power outlet for the laptop wielding gastrophile. I'd imagine it is so you could blog about your meal, as you ate. I won't do a full write-up on this well-liked restaurant in Soho, because you've probably read about it, but I will show you the photographs I took on my first (yes, my first) visit to the restaurant.
I avoided the circus when it rolled into town, and was perfectly happy to avoid altogether, but then Mark put together a very strong case for BBR (telling me it is the quintessential Soho diner), and he convinced me to have a go at it (preferably with ripped jeans and flip flops), with a rather impromptu, late Sunday lunch in the mid afternoon, so he could hand me some sausages stuffed with mushrooms, something he picked up from a recent visit to France.
And it was. The interior design was glamorous alright. Blue leather booths, polished brass, tiled floor, darkly lit, brown and very chic. Service came draped in a golden-hued tie, an off-pink blazer and an ear to ear smile. Mark has visited on more than one occasion, and service is a particular highlight at BBR, it seems. We felt comfortable indeed.
Finally, the food…oh gosh, the food was – surprisingly – brilliant. I ordered the (much raved about) Veal Holstein, with qualis eggs, anchovies, truffled mash, capers and 'secret sauce' (£21.50) , and was bowled over by how comforting this hearty, mushy, juicy dish was. Overseen by Chef James Walker, whom I must tip my hat to, who lays on English classics, with a touch of Russian flair – Probably a reflection of the owners Leonid Shutov and Richard Howarth. A slither of Mark's juicy Chicken Kiev was equally pleasing. Onglets supplied by the excellent Irish butcher in Knightsbridge, O'Sheas are also on the menu, served with frites.
Going back to service, I think I might prefer BBR to The Wolseley, the latter more epic in Grand Cafe terms, and the former a little more egalitarian, a little funkier, equally vintage in style, but utterly modern in execution. It's just a great brasserie, diner, cafe, place to hang out, and the all-welcoming attitude is a breathe of fresh air. If you still haven't been, I think BBR is worth a try. Not cheap however, we paid £68.91 for two plates of food plus two glasses of wine (more if you are partial to Vodka and Caviar), but it's worth it. Glad to say that BBR is actually a place I would revisit, and I suspect I will in 2011, or maybe during Boxing day sales, if it is open, and if I still have some change.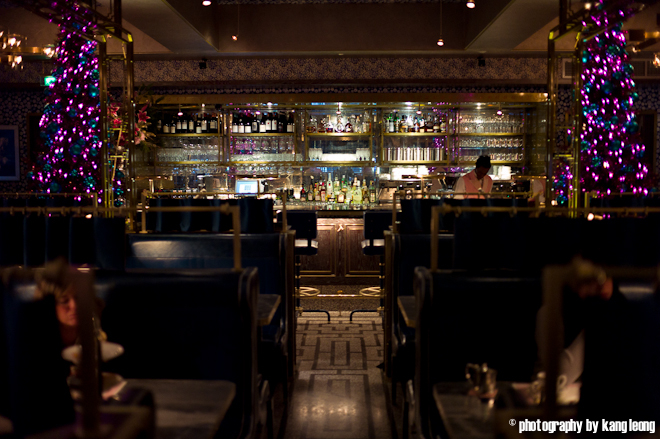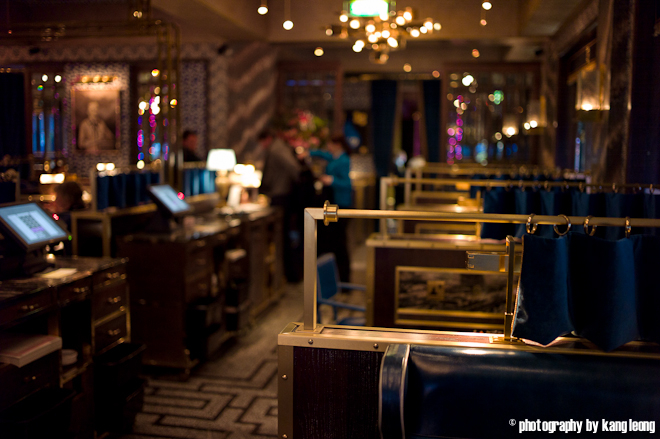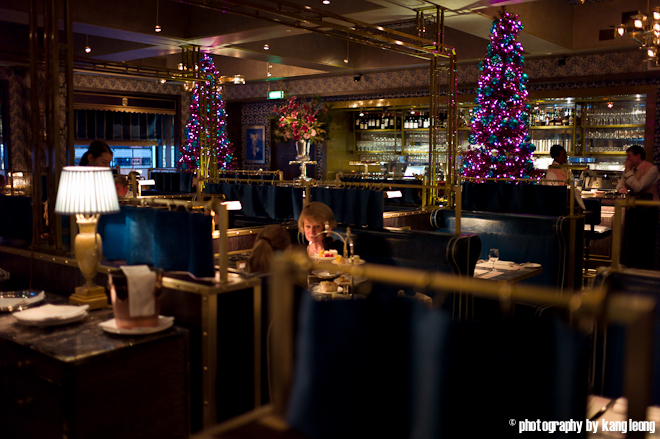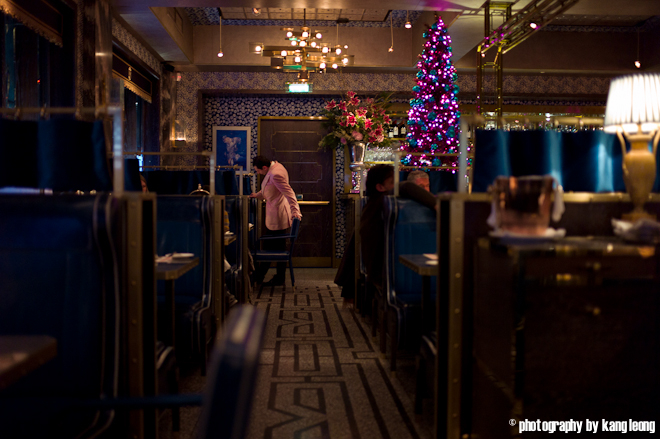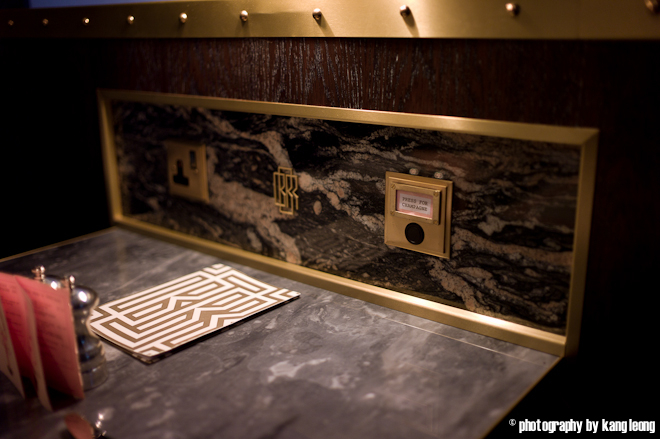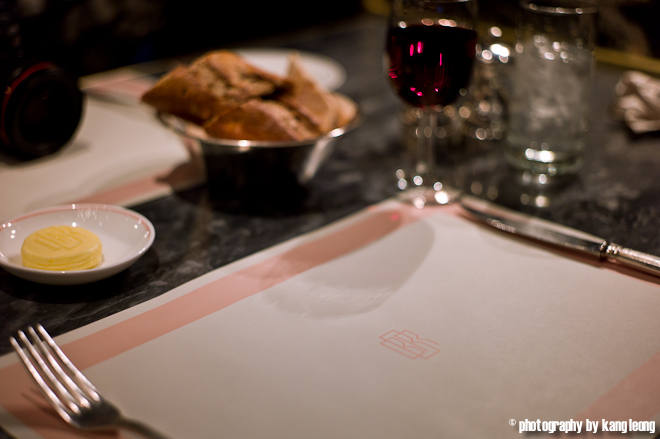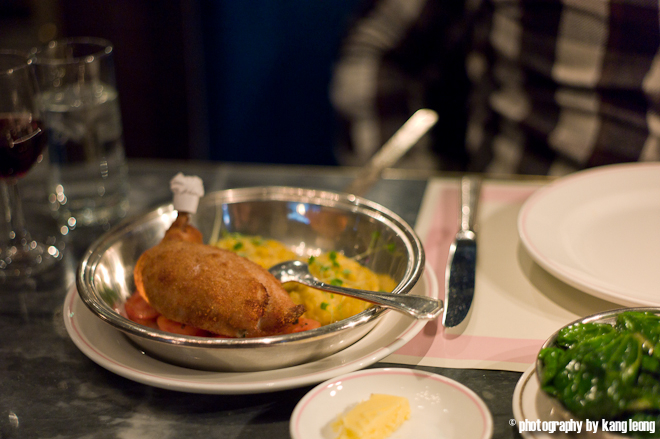 The Gist.
Bob Bob Ricard
Anglo-Russian All Day Diner, Vodka & Caviar, 40pp
1 Upper James Street, London, W1F 9DF
Tel: +44 (0)203 145 1000
Tube: Piccadilly Circus
Did you enjoy reading this? You can subscribe to the Newsletter. Alternatively, you can subscribe to the RSS feed.