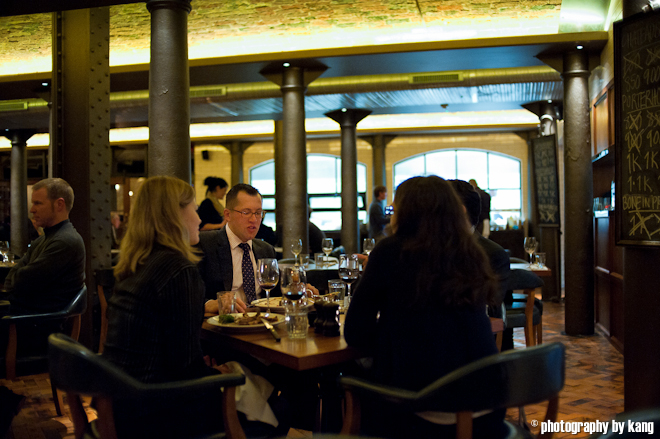 Hawksmoor has great PR, one of the early champions of blogs, it has since gone on to utilise and charm the medium with great success. Generally speaking, you guys – ie, people who read online food ramblings – love Hawksmoor. And I suppose, as a viable business, it has prompted Will & Huw to expand with this second restaurant; much more conveniently located in Covent Garden. Technically, My visit this week (45) is during opening week, but like many of the well informed food writing/blogging republic, they will have got a meat-powerup in October from the oversubscribed soft-launch (including yours truly), and no doubt, you'll already have read about it elsewhere.
But wait..wait…I think I can add value, serious.
I'm going to go out on a limb and say that the Hawksmoors are not really steak restaurants, despite what my peers have already said, it's a meat restaurant. Don't get me wrong, I'm not knocking the steaks, they jospergrill the shiz out of the steaks well enough, but I just feel that the kitchen are distracted by cooking other – better – items off the menu. Actually, it's more than a meat restaurant, it's an unadulterated celebration of protein in all edible formats. Just look at how the menu reads: Six oysters and sausages; Half a lobster; Grilled lamb chops; Bone Marrow; Tamworth belly ribs, and that's just for starters.
With protein to start, and protein mains, you can opt for more protein on the side, in the form of fried eggs or bone marrow, with bone marrow sauce and beef dripping chips. If you are partial to green things, look away. Rarrghh..!
The (poorly) 850g Porterhouse, £51.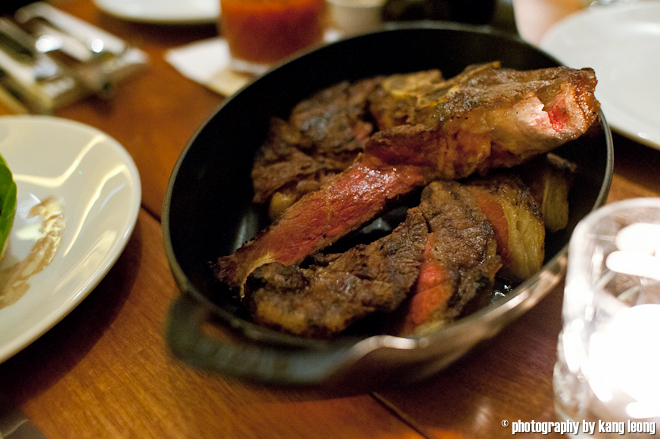 So they have a chalk board to track the availability of pre-prepared cuts throughout the night. We wanted a bone-in rib at 850g, but they only had 1kg cuts. They couldn't do a bespoke cut for us. That's just blasphemy! No visible dry aging room. Perhaps a meat locker of some kind..? As I said in my 2009 post, this is why I don't do steak at Hawksmoor. Choice is poor.
Ginger Pig Longhorns are great, strong beefy flavours, not overly tender, when dry-aged, the stuff is brill, but it is not better than O'Sheas. Overpriced at £60/kg, even for restaurant mark-ups. For the sake of comparison, Goodman's prized USDAs are £63/kg, and if memory serves, the O'sheas for roughly £45/kg. In my humble opinion, if you love GP, you're better off getting the meat from the butcher (at Borough Market or Marylebone) for significantly less money, and then putting the rest toward a quality skillet.
I am used to being able to select cuts and breeds, and that's why I think Goodman is the better steak restaurant. A typical Goodman meal can include a USDA, a Chilean Wagyu, an O'Shea and a Galloway. At Hawksmoor, it's Longhorns or nothing.
As for cooking: Yes, on the money. No drippage, so I assume it was rested enough (We waited about 20 minutes for this), it had the signature taste of charcoal, like a barbecue going off in your mouth, and I'm certain they have a Josper in the Seven Dials branch. A perfect medium rare. In terms of meat – beefy and a tad chewy, but tender. The tenderloin bit of the porterhous, however, was disappointingly chewy. In contrast, a tenderloin (on a porterhouse) from O'Sheas usually melts like chocolate.
..THE BAR MENU..
I can't find the pdf version on Hawksmoor's website, but I feel that this menu is an important one. It's not cocktails and nuts, it's a proper food menu that carries two significant Hawksmoor dishes, namely the lobster roll and the signature burgers (now with an expanded range).
Warm Lobster Roll with Bearnaise. £25.
For months now, Twitter chatter had suggested that the Hawksmoor owners did significant research by travelling to the home of the lobster roll – Maine, USA – in order to recreate an accurate rendition of this dish in their London restaurants. I have never had a proper lobster roll in America before, so this virgin experience is something I covet.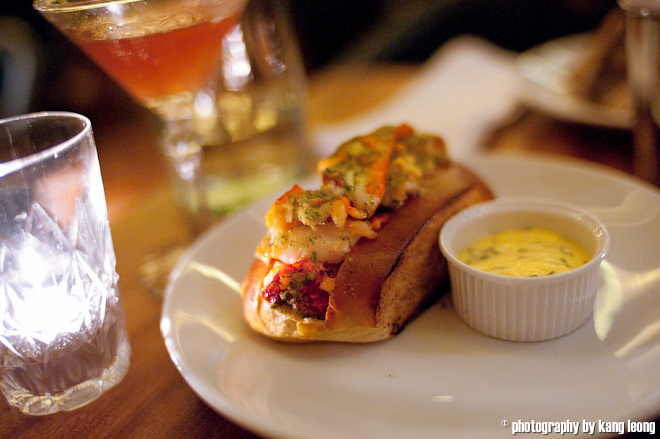 The inspiration for this particular roll comes from Red's Eats , a small shack in Wiscasset, Maine, that has been around since the 30's.
A warm, toasted soft bun with fine lashings of garlic & hazelnut butter, stuffed with an entire, whole, grilled Dorset Blue…
….oh fuck…fuck…!! First of all, visually impressive, really was stuffed with a whole lobster – I gather a 750g shell on crustacean. This was seafood heaven. Protein heaven. Heaven.
It was as if the lobster's hard shell had been substituted with this dense, soft and richly buttery garlic roll. It's not very big, so you can actually eat it with your hands… I don't even know how to describe it. It's just great lobster, well seasoned, great garlic butter flavours, great bun, floury and sweet. It's £25 and it's bloody expensive, but it's worth every penny. I've never had lobster rolls before, as I said, and my first time was simply orgasmic. And I will be back for more. In fact, I've booked a table for the 1st week of December. I will be back.
The Hawksmoor Bugger, with Beef Dripping chips. £15.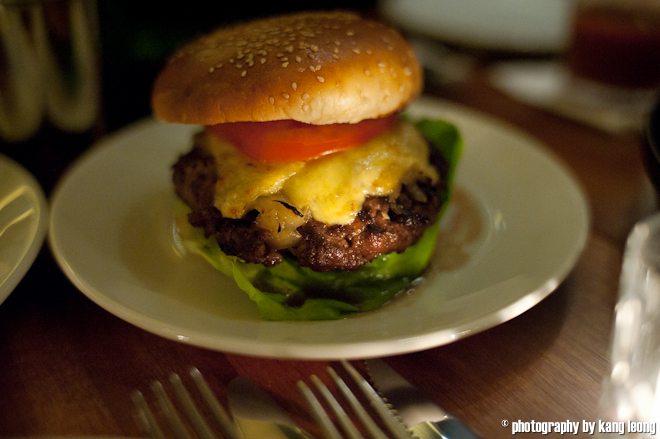 Much hype has been created around this bastard, to the point where every time I see a blog post about the marrow-filled patty, I cannot help but roll my eyes.
But then I took a bite, and realised I was dead wrong. This is the best burger in town, gourmet or otherwise. Hype duly justified.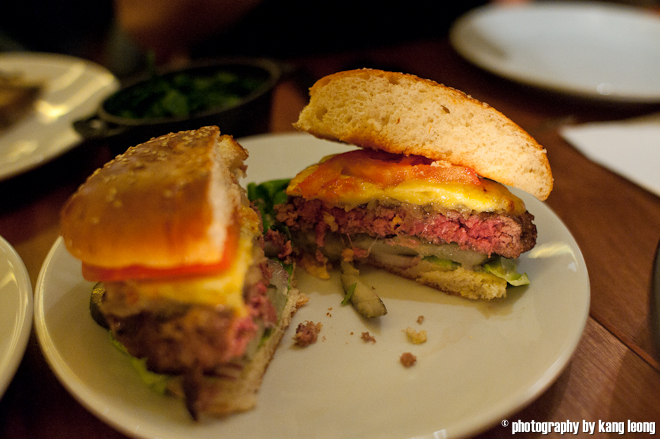 The sweet bun is just great, the ogle shield cheese, like a sweet cheddar is great, the use of pickles is illuminating. The patty is beautiful, juicy, beefy and it gives this impression like it has been steamed. We can't help but feel like alot of thought has gone into this burger. Put all the elements together, and you have a burger that jives like an 18-piece band. A burger that potentially could (have) launched a thousand foodblogs.
The Kimchi Burger, £15.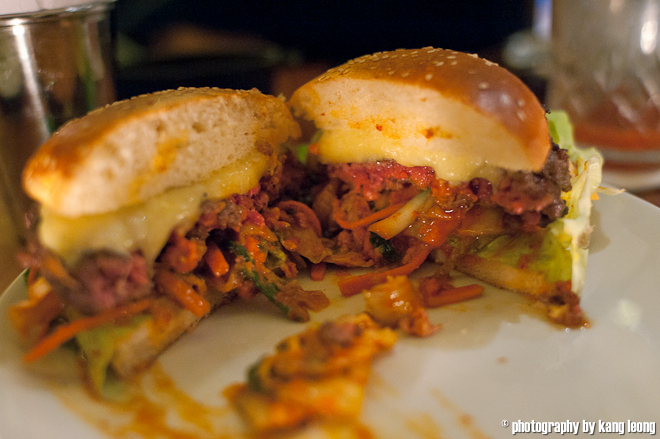 I had high hopes for this, but sadly, I hated this. Messy. All over the place. At its core, it is similar to the house burger, but the cheese has been upped to some sort of blue cheese, I gather, to match the spicy kimchi, which was more soya-like than spicy. The cheese was overpowering and too sharp, the kimchi in burger was just weird. I felt it was the fibrous texture that turned me off it, it just refused to play nice with the patty. And what a shame really, because the patty is great, it needs to be the star, and need not play second fiddle in this weird fusion monstrosity. I scraped off all the wet kimchi, and continued chomping.
Experimentation that has gone awry. I think the Hawksmoor burger is perfect, tinkering with the design has led to something quite grotesque, and 'comparing' them head to head, it only made it even clearer as to how great the original burger really is.
Full disclosure then, the reason I visited for opening week instead of during the soft launch, was because the kitchen had flooded and hence the restaurant was closed during the day we were meant to visit. But Will was kind enough to extend the 50% discount for food to us for this anyway. So we paid £80.44 for a table of 3. At full whack, it would have set us back £136.94… which would haved worked out to be £45 each.
Hawksmoor is expensive, but you get a great meat-filled experience. Over the next few weeks, you're going to read alot about the new Hawksmoor, if you haven't already. The message I want to convey is to not have steak at Hawksmoor. Its good, but it's not great, for the same money, I feel that you get a lot more at Goodman or even Maze Grill. Great steak restaurants are as much about the Josper as it is about the quality and choice of meat.
Instead, I urge you to go for everything else on the menu, the ribs, the lobster roll, the burger, the bone marrow, the lamb chops, the beef drip chips (which were jaw dropping) and the cocktails (I had a Johnny from London?), and it is exactly everything else that makes the Hawksmoor dining experience, such a satisfying one.
For reference:
My little guide to steak
Hawksmoor Commercial Road 2009 review
Goodman City 2010 review
The Gist.
Hawksmoor Seven Dials
British, £45pp
*Not really in Seven Dials*
11 Langley St. WC2H 9JG
Tel: 020 7856 2154
Underground : Covent Garden
Do Meat: Guy Dimond & Gourmet Traveller
Did you enjoy reading this? You can subscribe to the Newsletter. Alternatively, you can subscribe to the RSS feed.