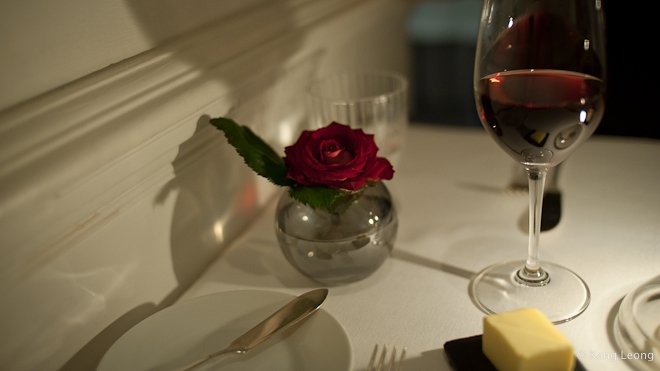 I'm dreaming. This is a radical fantasy, the food is beyond excellent, the filtered water is free, a rainbow assortment of bread flows (freely too) all night long, with the startling choice of salted and unsalted Normandy butter on the table.
All hail the new chieftain of Soho, the former steward of mighty Roussillon, and now captain of his own ship, the eponymous Gauthier of Soho, by Alexis. Surely, you've have all read the reviews, and re-read them in preparation for your eventual visit, while cooking has been praised with near unanimity, the restaurant setting seems to have split opinion. We'll get to that eventually, but first, I commend you to try Alexis' blog. The man has a good sense of humour to say the very least.
I never had the good fortune of eating at a Gauthier-run Roussillon which famously featured the most edible vegetarian taster menus in town (now headed by 24 year old, Blanc trained Dan Gill, in Pimlico) , but I have read so much of the Avignon-born chef. En route to Michelin stardom (with Roussillon in 2000), he acquired valuable training from the Ducasse restaurant, Louis XV in Monte Carlo, where in my best guessimation, is the inspiration for his signature dessert, also Louis XV. Gauthier Soho as far as I can tell, is the restaurant dearest to him, aside from the Head Chef Gerard Virolle; We met the rest of this venture's key partners, Roberto Della Pietra (Head sommelier) and Damian Sanchez (Restaurant Manager) – both on hand to ensure we were treated like Kings.
Great service is an understatement, as Mark and I thought the genial staff took care of their guests as if we had been invited into their homes, as opposed to a meal at a restaurant. A convivial affair. I wonder if this is to do with its setting, located in a four storey Georgian townhouse with the ground and first floor used for the restaurant, and the kitchen kitted out in the basement. A little cramped, oddly shaped but cosy, appreciated especially on a winter-like Thursday night. Candle-light was supplemented by dimmed spotlights if memory serves. Very romantic, wasn't it Mark?
A la carte is a choice of 3, 4, 5 (£35/£45/£55) dishes or a full 7 course degustation plus cheese and coffee and petit fours for a not unreasonable sum of £68.
Amuse Bouche.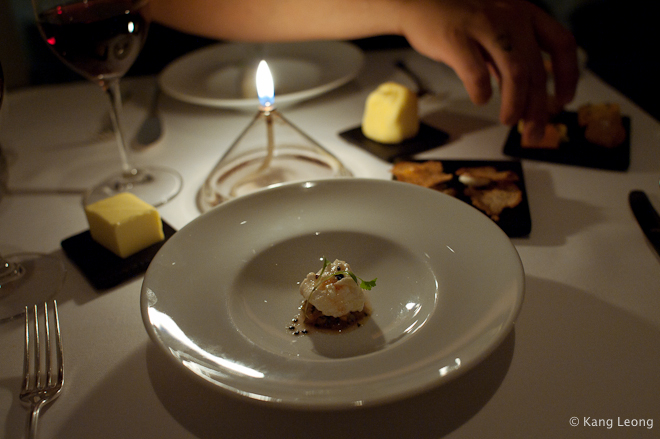 I'll start with a mention of the excellent bread selection, and Alexis should be granted an award of some kind for them. Walnut rolls, chopped chorizo, black olives, tomato, a knotty one with herbs (I think) and doughy baguettes. The amuse was halibut with ratatouille, zesty and raw, like cucumber, with but a slither of fish, a little on the overconked side. The other bite sized freebies include a cheese puff (with Gruyere, I think) and a powdery cheese cracker, deceptively like a Ritz bits sandwich.
PREMIER PLAT
Crayfish veloute, blond chicken liver, truffle & chervil.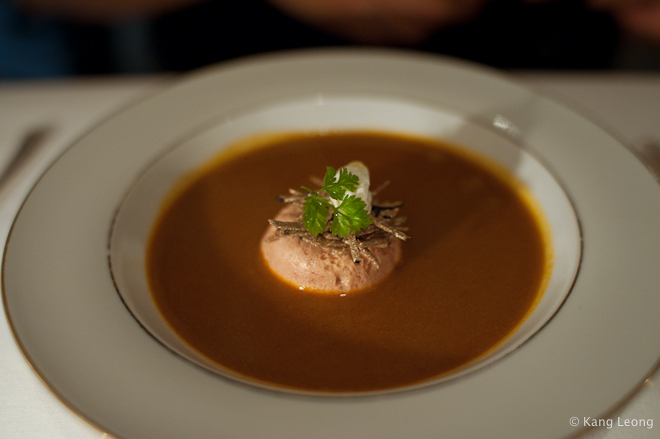 I made a last gasp decision to skip the soup starter and replace it with something a little chunkier, but Mark thoroughly enjoyed the light parfait and chopped truffle. I had a spoonful and was treated to the texture and flavour of a classic fish soup, I gather, with the shell of the crustacean dissolved into it.
DEUXIÈME PLAT.
I wanted to have two dishes from this section from the menu but didn't know if it was possible. Not entirely sure how militant Alexis is, about how his guests intepret the menu. Considering it had been minutes after the ordered went through, I pulled Damian back to ask if it was ok to change. To which he replied emphatically "Of course.". Ahh I see, this is one of those posh restaurants which has the customer's best interest at heart. Gold star.
Calves sweetbread, truffle & light breadcrumb, celery & bone marrow.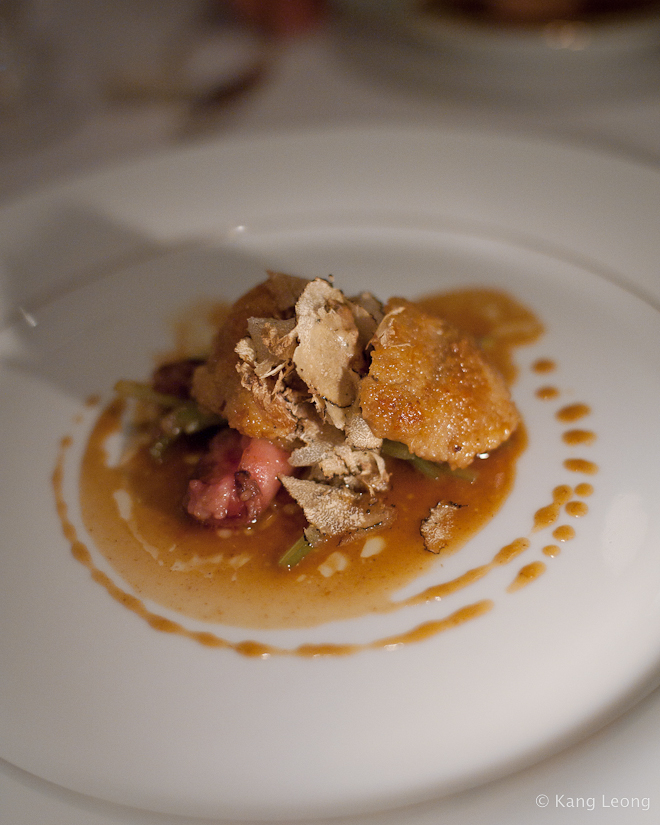 One must have marrow when given the choice. The description was intriguing, and when it arrived, it confirmed what I thought. The arrangement was beautiful, yet efficient. The chef has kept the dish simple, as you can probably tell from the picture, all the ingredients are in plain sight. Note the chopped truffles. It meant the dish smelled immensely swell. The texture, oh my, this was a star dish. A wet crispy quality, mushy yet sponge-like, whatever the sticky jus was, it was full flavoured, without being overly sharp, it was neatly balanced. The truffle enveloped the palate, the bone marrow, looked delicately scooped out, was still pink in appearance, oozed yet more complimenting flavour and added its own marbled feel to the overall texture – a powerplay of umami. Even though it was relatively small, I took my time with it, and savoured every mouthful. Such an amazing dish. This one can win proposals, both in business and of a personal nature, I gather.
Autumn truffle risotto, jus de roti and brown butter.
The other dish from the 2nd plat section, I had to try is of course, a signature of Alexis Gauthier. Now, I'm no truffle expert (that would be Laissez Fare), though we are just entering the season for black ruffles, judging from the hazelnut appearance. As the dishes of risotto begin their march upstairs, even with a lid over it, the smell quickly filled the room with its aroma – what potent stuff. I suppose, we began 'eating' the dish before we even saw it. When it came, it was decidedly truffle heaven. The manner of presentation hinted at joy and frivolity, and I had this image of the chef generously shaving large slices of the prized ingredient onto the dish, probably laughing out loud as he did it, intoxicated with working with such a sinful ingredient. A true celebration!
I did it justice. Nose first, eyes firmly shut and I took it all in, the nose eats first. It smelled so good…. I could do this all night until I expired.
As for the risotto, it tasted even better. Nutty and swirly, dare I say, the texture was more in common with an indulgent rice pudding than a famous risotto. Lump upon lump of malleable, and al dente gold, just the slightest chew of grain and a fully formed flavour of parmesan. If the sweetbread opened negotiations, this would appear to be the closer.
TROISIÈME PLAT.
Soft & crispy filet of Dover Sole, thin celeraic ravoili, jerex vinegar reduction, beef-orange jus.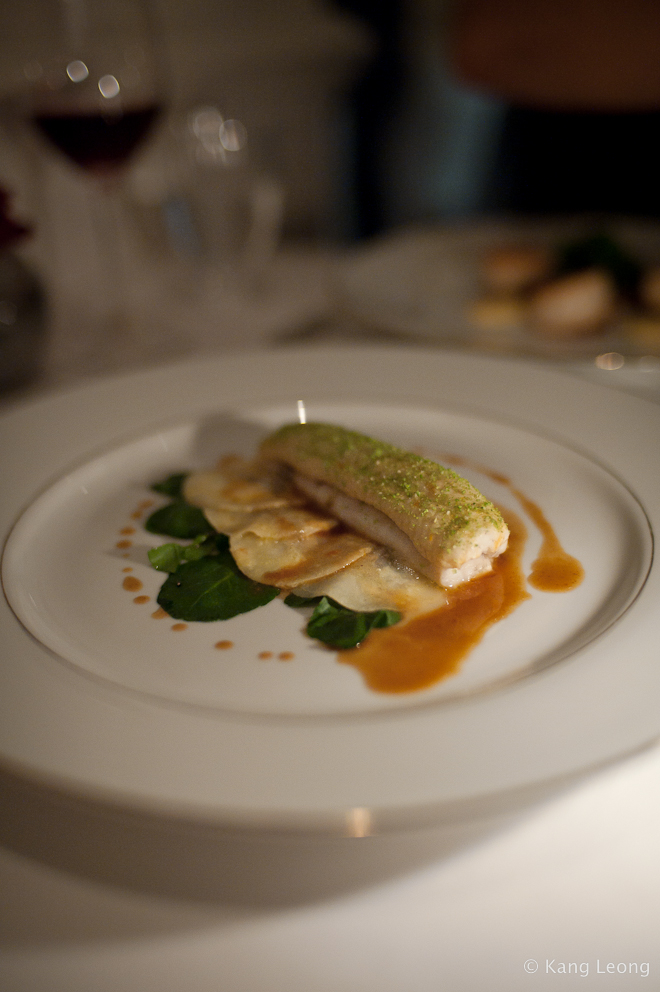 Well now, after those two dishes, I'm not sure if the run can be sustained, and sure enough, I felt a little underwhelmed by the fish. I felt the fish was cooked just about right, on the edge of being overdone. Otherwise, it was wet and juicy, the beef-orange jus reminded me of milk chocolate for some reason, and the razor thin celeraic ravioli seemed more form than function. Still, I appreciated the simplicity of this course, easy to eat, and hard to fault technically.
I think it is safe to say that the kitchen is run by wizards who are masters of their craft. They sure can cook.
Scallops and caramalised red onions, braised and crunchy rainbow chard, sauce choron-brown butter.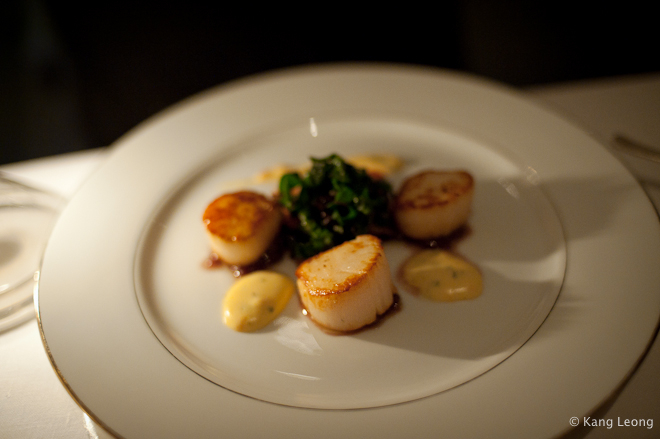 More of the same story with Mark's dish really, but what piqued my interest was the sauce choron, a variant of the bearnaise, usually with added tomato puree, and here it has allegedly been whipped with brown butter. I had a whiff and indeed it was nicely done – as an aside, I've started seeing sauce choron being offered in London restaurants (the other is 28-50) , which is a nice step-up from a béarnaise, certainly for steak restaurants, in my opinion. What else should I say? Perfectly cooked scallops with a translucent, well seasoned center, but you already know that.
CINQUIÈME PLAT
Golden Louis XV, dark chocolate & pralin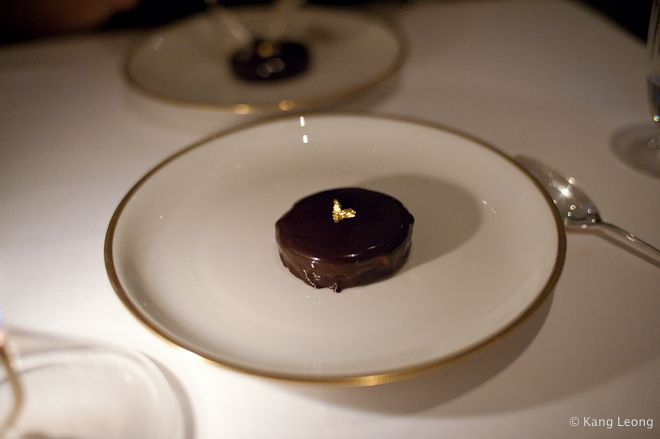 Finally, we culminate with the showpiece dessert. Note the gold leaf. Gerard once trained as a pastry chef at Louise XV, for reference. Of course, I don't want to dismiss this as a glorified kit-kat, but for the sake of description, that's what the pralin base reminded me of. So we'll start there.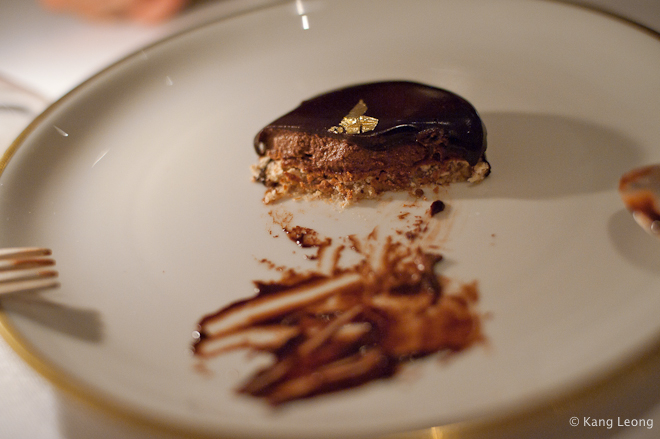 In breaching the famed Duccasse pudding, we witness all the layers, from bottom up, the base, the distinct hazelnut flavour, the rich chocolate mousse, and the melting dark chocolate seemingly poured over it, and forming this continuous reflective shield of an exterior. Not forgetting the gold leaf of course. It lives up to its reputation as globally revered dessert, short of actually having it at Monte Carlo, I felt fortunate to have tried Alexis and Gerard's recreation. Chocolate (and hazelnut) lovers rejoice.
The ambiance.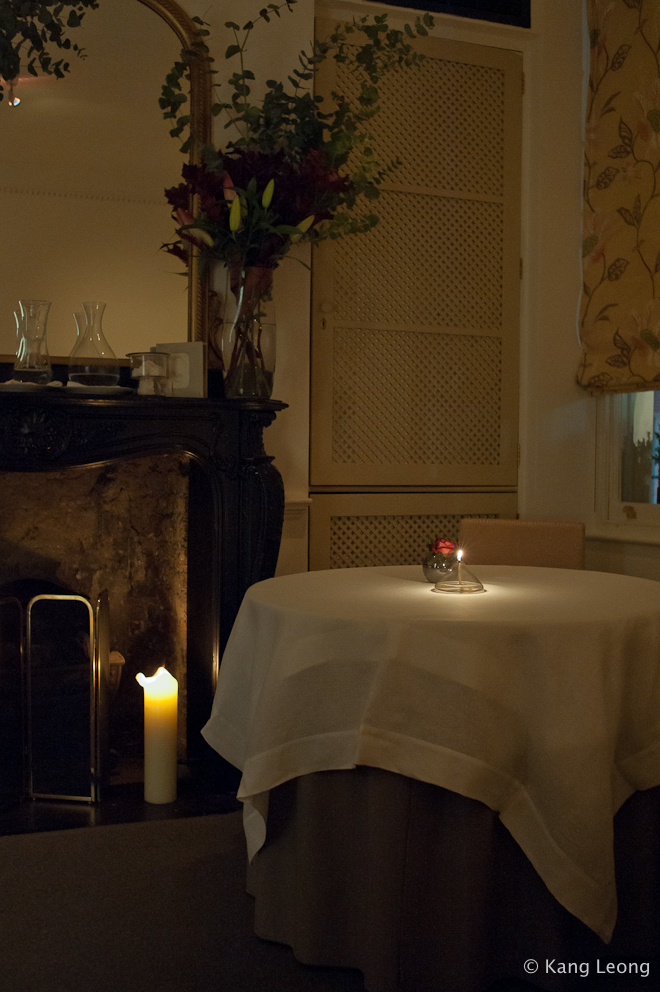 I thought I would leave this to last. Critics have seemingly taken issue with the closed-door and the buzzerred entrance, but I think it's overplayed. I pressed the buzzer, and was greeted by Damian, the manager, like I was coming over to his home – his warmth made it fun. The hushed interior design has caused ruckus too. Normally I would be inclined to agree, but as I visited for a candle-lit dinner in fall as opposed to a meal in summer, I thought this secluded ambiance was apt.
The corner table wasn't just cosy, it felt romantic enough, that both Mark and I felt like it would be appropriate to take the missus for the next visit. I'm never really one for fully exposed, fully-lit square rooms anyway, as I dislike waiters hovering over my shoulder, watching my every chew. I liked that I couldn't see the waiting staff. They remained vigilant and stayed around the corner, just out of sight, topping up water periodically and I surmise that after six months open, staff have probably worked out how to manage the awkward arrangement. As I said, I really enjoyed our corner table by the wall, and I do think this sort of ambiance is better suited to dinner than for lunch, winter rather than summer, which from the PR shots, I imagine would feel very business-like, if you did the latter. So don't, go on a cool night instead.
We drank two glasses of Alsatian Pinot noir (£8.50) from Wunsch & Mann, which tasted very much like a Spätburgunder – more cream than fruit and peat, vibrant and highly drinkable. The final bill was £120.38, which works out to £60 for four courses.
Considering the sheer quality of food on show, I felt this meal was very good value, and (well relatively anyway) charitably priced. Alexis and Gerard trained with the best, afterall, Alain Ducasse does hold 19 macarons. It's only a matter of time before the bib starts pressing the buzzer, Gauthier Soho is a landmark addition to the dining scene, and I think many restaurant collecting types will be more than happy they have another haunt to call their own. Speaking of which, the restaurant was filled with tables of regulars, our neighbour took two friends and explained that he had followed Alexis from his Roussillon days, yes matey, the décor was that intimate, and I couldn't help overhearing conversations, especially when he mentioned his love for another important London institution, the Ledbury. His name is Simon, if memory serves. As for me, I'm already plotting a return visit with the better half, the truffle risotto looms in my memory and I suspect this is not the last time I will write about Gauthier.
What stunning cooking and handsome service. Bravo, Alexis.
The Gist.
Gauthier Soho
French, £80pp
21 Romilly Street W1D 5AF
Tel: 020 7494 3111
Underground : Leicester Square
Courted: Marina Metro ; Tracy for Independent ; Harden Brothers ; Allan Jenkins for Observer ; LF ; Andy Hayler ; A girl has to eat ; Pigs Pigs Corner ; Sabrina's Passions
Did you enjoy reading this? You can subscribe to the Newsletter. Alternatively, you can subscribe to the RSS feed.