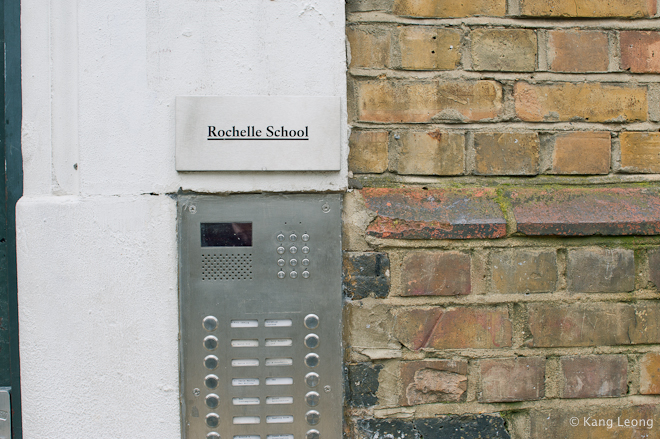 I've been to the Boundary Estate before, and this was during one of the many illuminating photowalks with Garson Byer, he who makes striking portraits of those he encounters on the streets. Particularly around this part of East London, where enough of the historic architecture are still standing, for Mr Byer to weave a retelling as we walk around them. Previous to the Boundary Estate's existence, were the notorious Old Nichol slum that had become so saturated with poverty, crime and death (one in four children wouldn't make it past their 1st birthday) that even Victorian era policemen dare not thread these parts. It would become the inspiration for the account of a child's life in a slum, thinly veiled in the Arthur Morrison book 'A Child of the Jago'.
Around the turn of the century, the slums were replaced by the Boundary Estate – literally built on top of it – which is known to have regenerated the area with new residents, but it also meant that it pushed the former slummers out further East, in turn creating more slums. Back in the Boundary Estate, a band stand was erected and stood in the middle of a round garden which came to be known as Arnold Circus, and the children went to Rochelle School.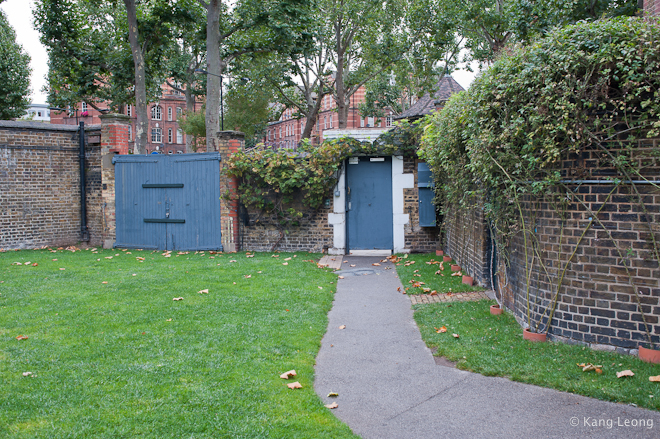 Today, Arnold Circus and the surrounding flats are listed buildings, the bandstand being looked after by a group known as The Friends of Arnold Circus. As for Rochelle School, it has become a thriving centre for creative minds. The old classrooms have become studios for production agencies, photographers, artists and designers as spaces to work and to exhibit.
You'll need to buzz for the Canteen from the Boys entrance, as you approach the circus from Club Row… you'll know what I mean when you get there, it is a blue door.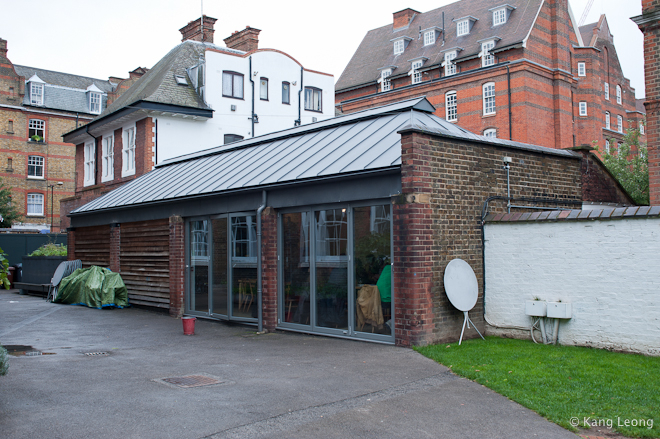 One of the Rochelle residents are caterers Arnold & Henderson – Nose to Tail Eating
, the latter is perhaps a name synonymous with Nose to Tail cooking, and rightly so, since Melanie Arnold and Margot Henderson are wives to Jon Spiteri and Fergus Henderson, both who went off to open St John.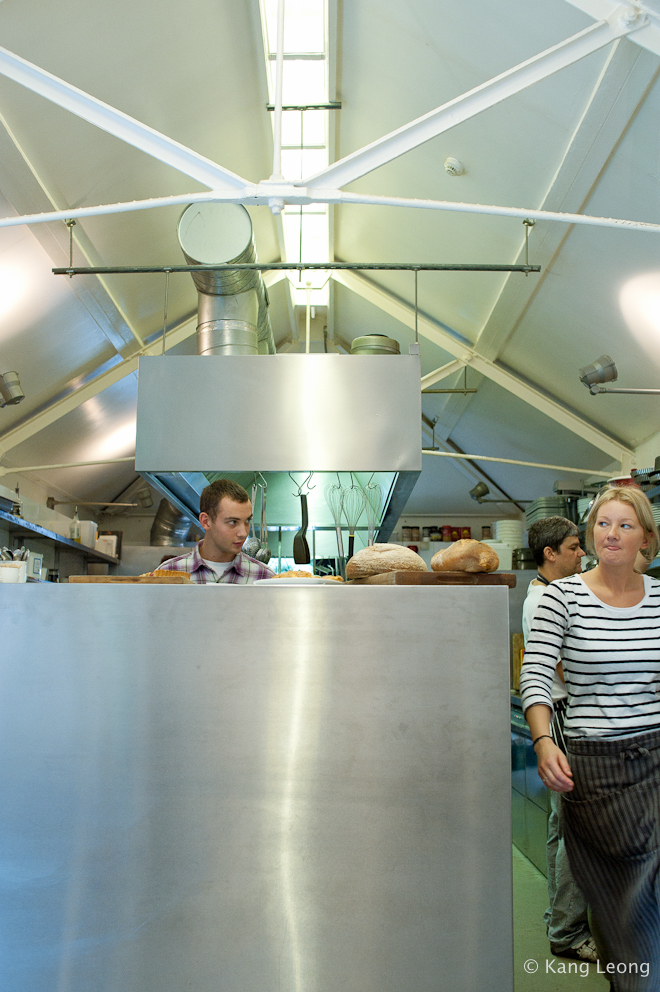 The quirky BYO canteen only serves lunch on weekdays, regulars are mostly the creative minds who buzz about the collective space inside Rochelle, but it is also open to the public. As one would expect, the cooking is St John-esque in all its reticent glory, with decor kept to its barest possible, after all, the space was once a bike shed. Half of it, is the rather well equipped kitchen, and the other half are long tables. Bread is supplied from Bread & Wine.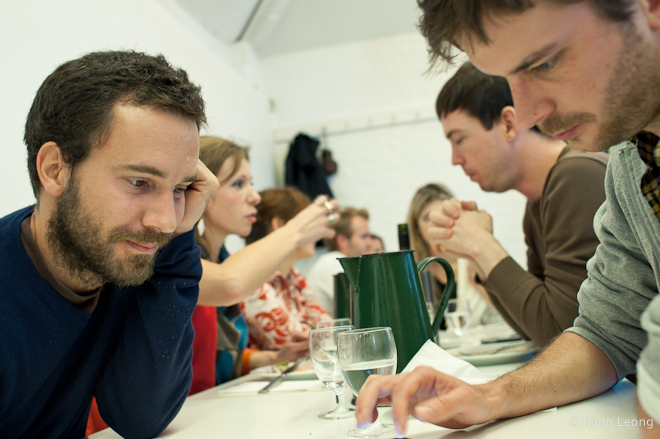 You'll be in for a change with the clientele, consisting of people who build very pretty things for a living; the conversational chatter will be interesting to say the least. It was one of few places in London, where diners didn't bat an eyelid with my camera out, and I felt I wasn't judged like something from a Garry Winogrand zoo.
This is the first solo meal I've had in 2010.
Like St John, the menu at Rochelle is updated daily on their website, with basic descriptions of whatever they've got stewing.
Deep Fried Cod Cheeks & Tartare Sauce £7.50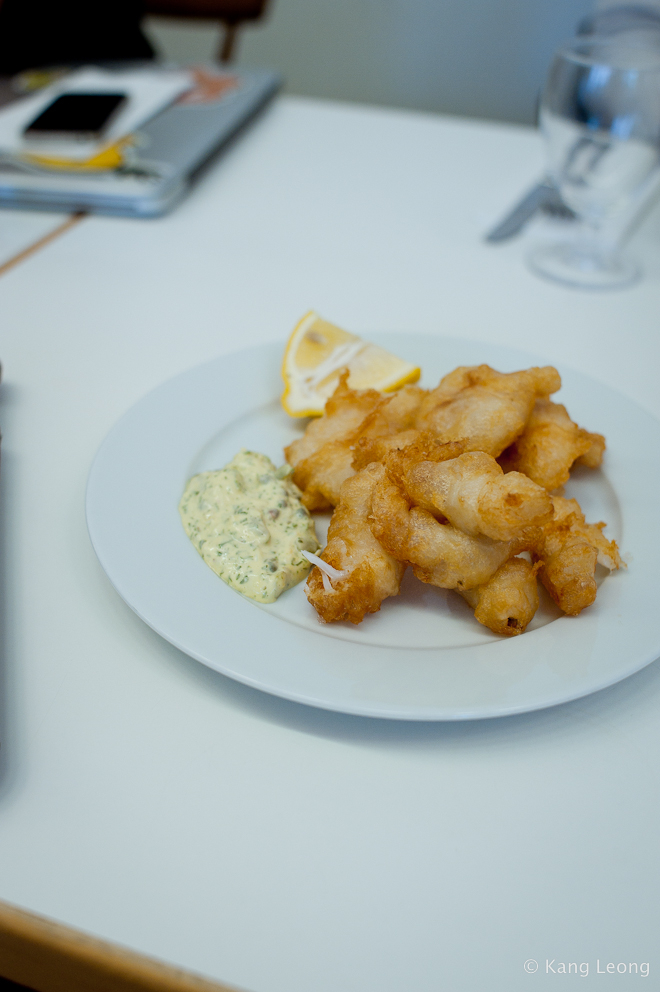 Capers, pickles and a dash of lemon juice made for a wonderful, and simple condiment to the fleshy cod cheeks – delicious as one expected them to be.
Braised Mutton, Turnips & Barley , £12.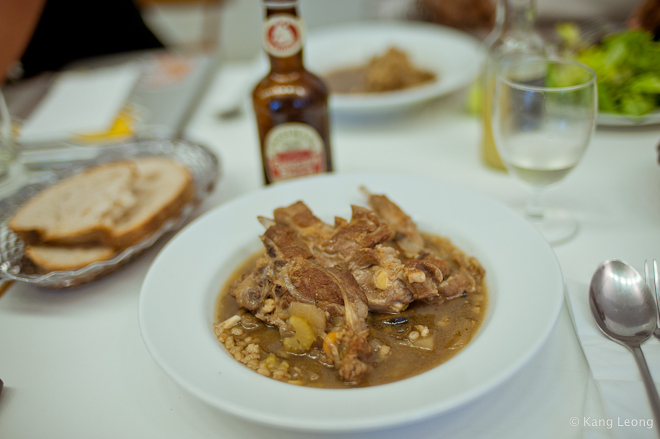 The turnips and barley soup was sweet, almost too sweet, while the mutton could have fell off the bone a little easier. But for lunch in a bike shed masquerading as a mess, this was adequate, peppery and just ripe for the slippery autumn.
I drank a bottle of ginger beer and lapped up the remainder of soup with the familiar St John sour dough.
Plum Tart & Crème Fraiche, £4.50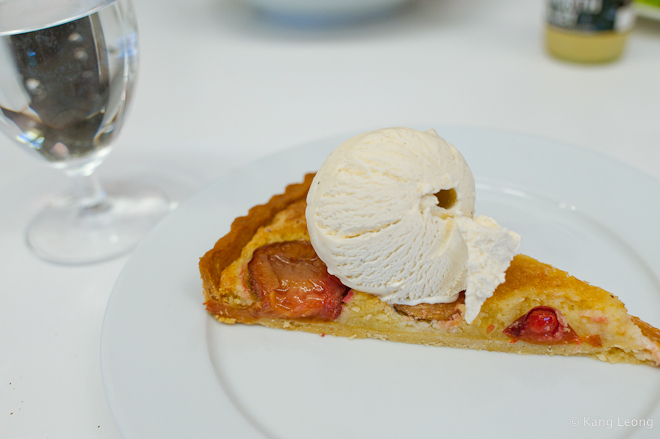 The tart was cold and dry, but the ice cream was rather nice.
The bill amounted to £25 sans service, so I paid £27.50, and all in all, a nice little escape from reality. It's not difficult to see why regulars would use this as their daily spot for an affordable and entirely edible lunch, if a little unremarkable in presentation. But who cares, when you just want grub and coffee and not have other diners bother you as you try to finish the crossword puzzle from the morning paper. Do make sure you call ahead to make a reservation, if you are considering Rochelle for lunch, as it does tend to get quite busy. Personally, I prefer St John Bread & Wine, both are similar, in spirit. A five minute bus ride into Shoreditch from Liverpool Street.
The Gist of It
Rochelle Canteen
Mon – Fri Lunch only.
British, £25pp
Rochelle School Arnold Circus E2 7ES
Tel: 020 7729 5677
Tube: Liverpool St Station
Art: The Silver Spoon ; The Independent ; Time Out London ; Fay ; Hunt Haggarty , Tom Eats Jen Cooks
Did you enjoy reading this? You can subscribe to the Newsletter. Alternatively, you can subscribe to the RSS feed.