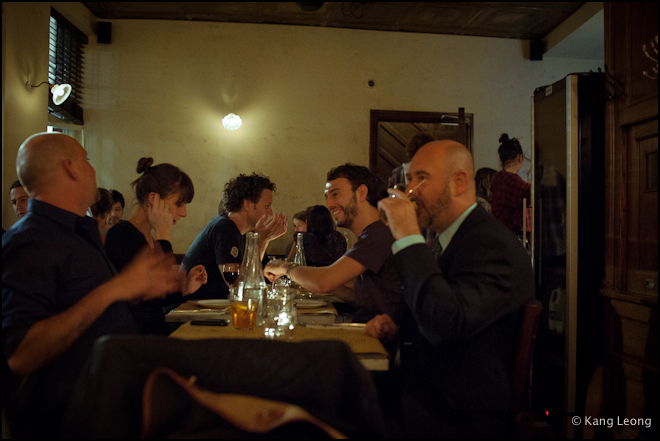 You would have most likely read about Russell Norman's new opening on other blogs, or probably were amongst those who went to Polpetto's first week of launch. Well if you are a Polpo fan, then you'll be familiar with much of the Venetian inspired bacaro concept, now transported to the upper floor of a pub, The French House, in Soho. Except the space is much smaller, purportedly only sits 28, as opposed to Polpo's 65.
Polpo receives much endearing love from the zeitgeist, it has a rather ubiquitous twitter presence, not least since Rusell Norman – the owner – is a master at his craft. Previously the Operations director at Le Caprice, he launched the Oyster bar at the resplendent institution that is J Sheekey.
Truth be told, I feel ambivalent writing posts about places as hot as these, ardent loyalists will mock any negativity, and a good review is just jumping on the bandwagon. Oh well.
So the winning formula is untinkered, dishes are tiny and to share, brick walls and wooden furnishings, paper menus as table tops, and the edgy and effortlessly waiting staff – a feature at Polpo – as well as the begrudged no reservations policy.
I must confess, the visit to Polpetto was completely accidental. I was en route to meet Mark for a maiden meal at the egalitarian institution that is Anchor & Hope in Southwark, but as we arrived, the place was absolutely heaving, on a Tuesday night. Disheartened by the queue, we set off to Central London, and wandered up the stairs at the French House. The room was packed of course….but lo and behold, there was no queue!
As our luck would have it, there was one last table available for the two fattest bastards in London, so we sat down. A sign that the initial buzz is waning perhaps? Or just Tuesday?
The menu looks similar to Polpo if shorter. Some dishes look familiar, the flank steak for instance, and others are probably new creations whipped up by the chef, Tom Oldroyd.
Man, this place is noisy.
Lentils & Burrata Salad, £5.50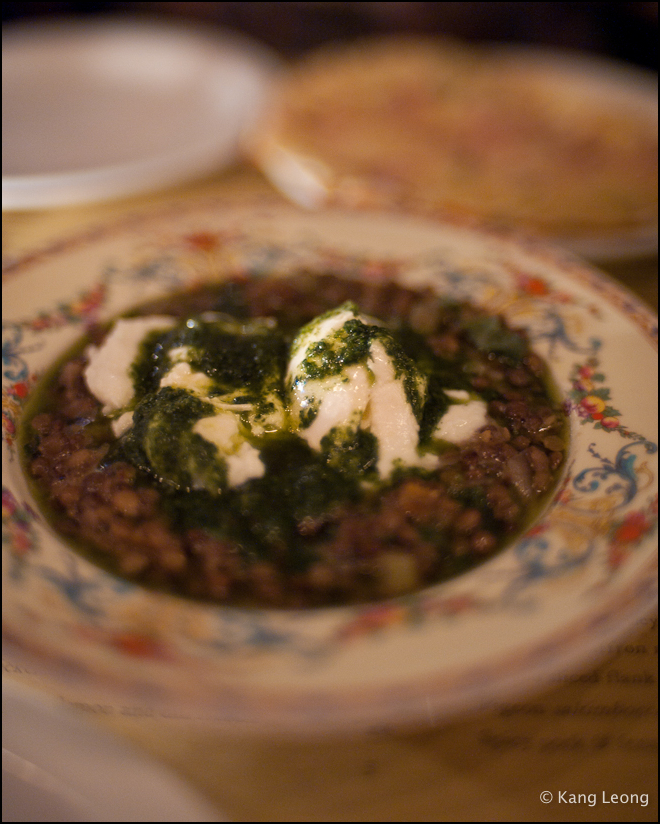 So we start with a homely bowl of lentils with a lovely, milky burrata (for buttered) cheese, which seems to be creeping into Italian menus these days. It's a beautiful cheese, I believe it is mozzarella plus cream. Gorgeous stuff, we mop up the lentils with a Pizzetta Bianca (£4.50) or a white mini-pizza as it were, but noted how the dish was a little too salty, as we finished it.
Cuttlefish in its ink, gremolata £6.50.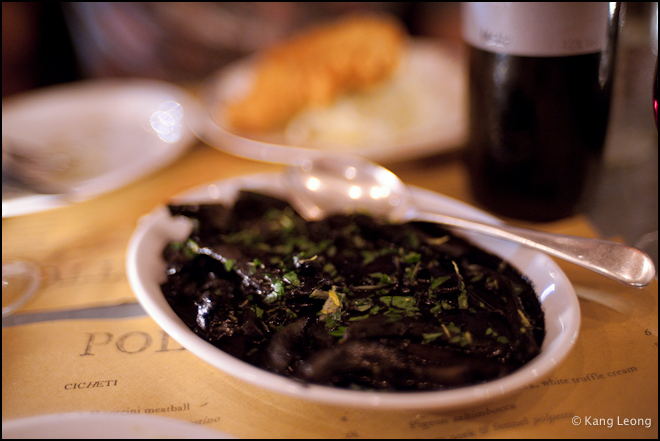 Swimming in very thick ink. Very intense, a little too much actually, and we thought it was just too salty. Honestly, there's nothing special going on here. This feels like something any tired and old Italian restaurant in Soho can churn out.
Crispy soft shell crab, parmesan batter, fennel salad, £8.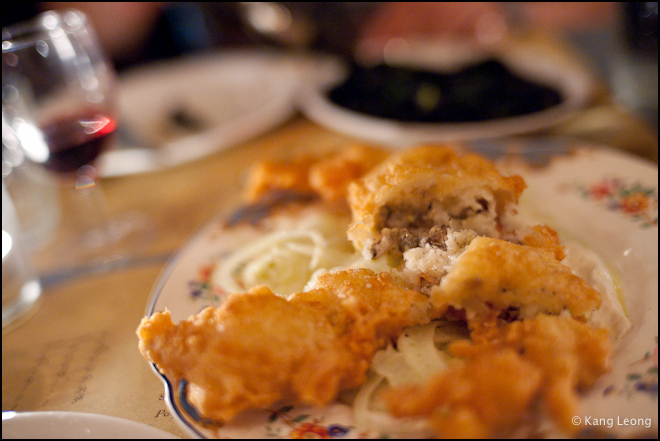 Yeah, on first impressions, this seems a good dish, but in reality, it's just fried soft shell crab, and an overly salty cream sauce. Good fennel.
Osso buco, saffron risotto, £8.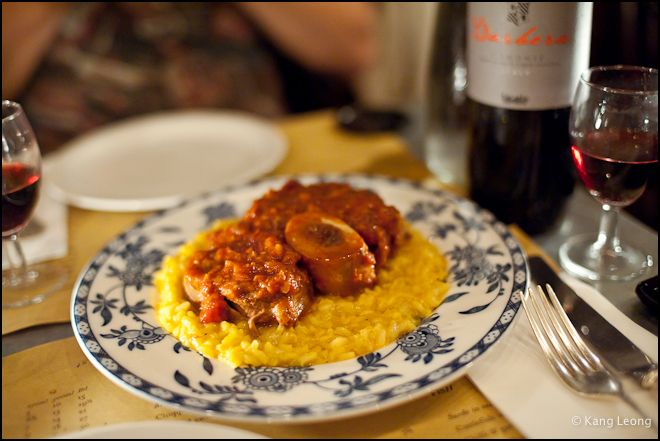 I'd imagine this is Polpetto's signature dish, afterall it has its own glamour shot on the website. Yeah this was proper good. Herby and homely and for some strange reason, the flavours were redolent of New Zealand. Bags of it, I stuck my nose in to the golden rice, and really enjoyed the melt-your-brains softness of the veal which couldn't help falling off the bone. What a bone hole.
Pigeon saltimbocca, £7.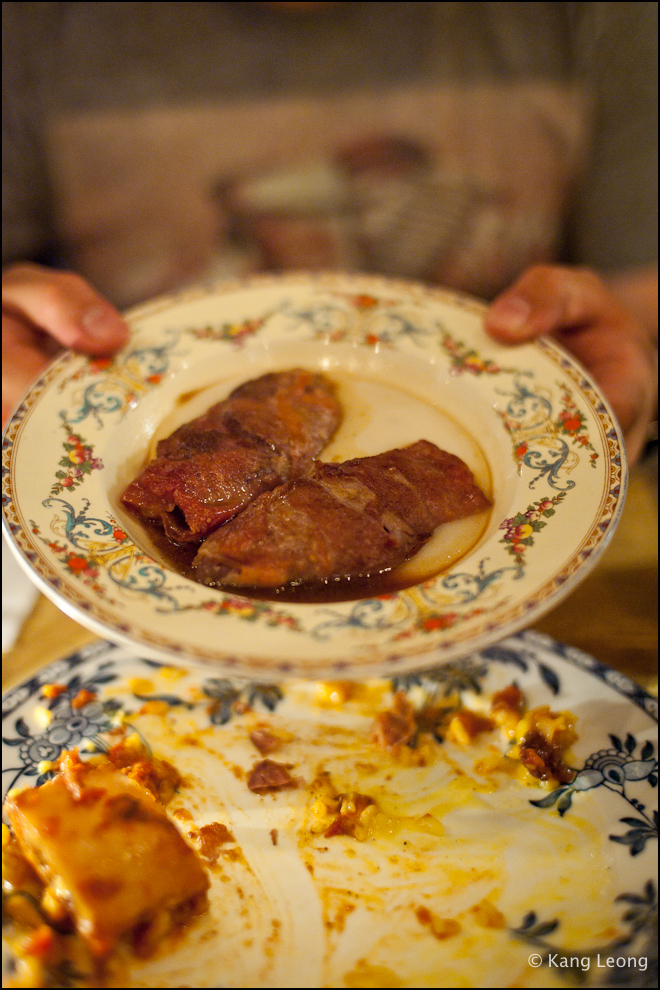 I actually thought this dish was disgusting.
As the room was so dimly lit, I mistook this initially for sardines. I'm pretty sure the breasts were wrapped in ham as per the classic recipe, though I cannot really tell from the photo. Served pink, but with a juiceless centre, tepid, overly salty, it certainly didn't jump in my mouth. In my humble opinion, I thought this was one dimensional. I did not finish the breasts off.
Baked Peaches, £5.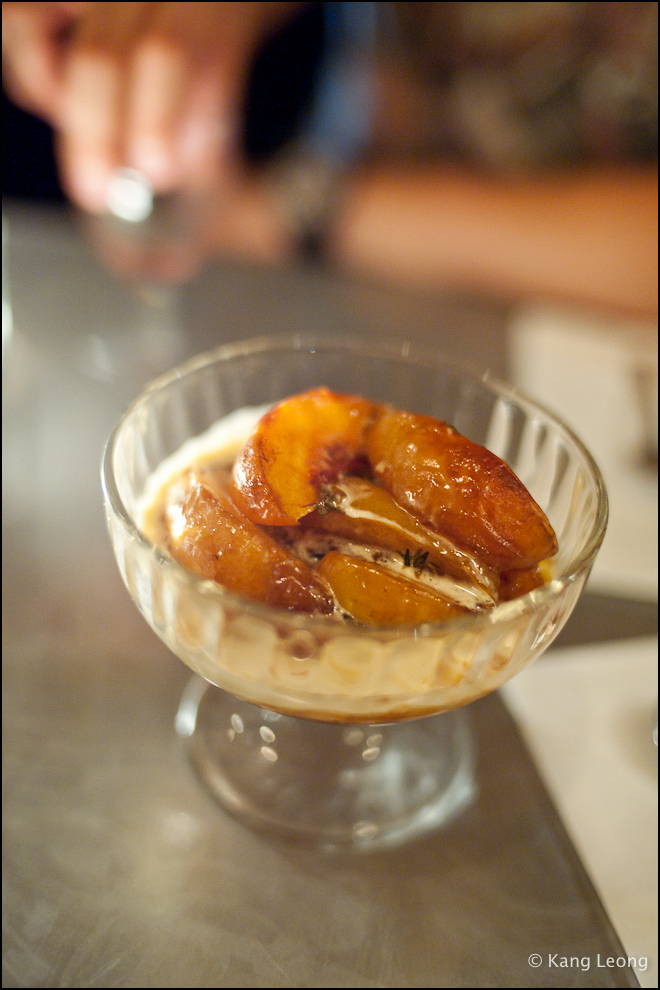 Oh that milky stuff, it tastes like whale spit… no I'm serious, ambergris. Waxy and a little weird. Hey ambergris is a delicacy.
…I'm wary. I think the cooking at Polpetto is unruly. The osso buco was faultless, but the rest of what we had, was not up to scratch. I think they've crossed the easy like Sunday morning line, the dishes approach banality. I expect more from such an appealing brand, some dishes look as if it could have come from any random cucina off Kilburn High Road. Generally speaking, everything was too salty. Just a little too off kilter.
We also ordered a bottle of the house red – Barbera Volpi 2009 – for £15 which was ok. Staff were generally chirpy, very huggable and instantly lovable. We paid £67 (including service) , a little pricier than expected, and we'd already missed the 50% discount on week one, but it was still cool.
So Polpetto, very faithful to the original. In my humblest of opinion – and feel free to disagree – Polpo and Polpetto are atmosphere first and food later. I feel that it pulls in traffic for exactly this reason. Food is mostly edible of course (even though much was yawn) , but given the choice, I wouldn't go back. Its greatest appeal is – for me at least – also its greatest turn-off. Bumping elbows with sweaty strangers after standing in a queue for half an hour might have been fun in 2009, but not anymore. At least not for me.
Women seem to love this place, shaking the hair loose, breaking down the invisible barriers to interact with neighbouring diners, given how close tables are. On my visit, a table of five SATC types were quizzical when I pulled out my camera, and on the other side, a couple , probably mid twenties, looked like they were really enjoying the buzz of such a 'trendy' eatery. Cute. At one point, she dropped her knife, picked it up from the floor and continued eating with merry abandon and told us it hadn't pass the "three seconds on the floor rule" so it was clean.
Yeah, that was fun. Next.
The Gist of It
Polpetto
Italian, £30pp
Upstairs at The French House
49 Dean Street
W1D 5BG
Tel: 020 7734 1969
Tube: Piccadilly Circus
Small bites: London Food Detective ; Guy for Time Out London ; Greedy Diva ; Gourmet Chick ; The Grumbling Gourmet ; 12.5% ; Tummy Rumble
Did you enjoy reading this? You can subscribe to the Newsletter. Alternatively, you can subscribe to the RSS feed.
All text and photography on this blogpost is copyright and belongs to Kang Leong, LondonEater.com. If you repost this without my permission, bad things will happen. So please don't do it.