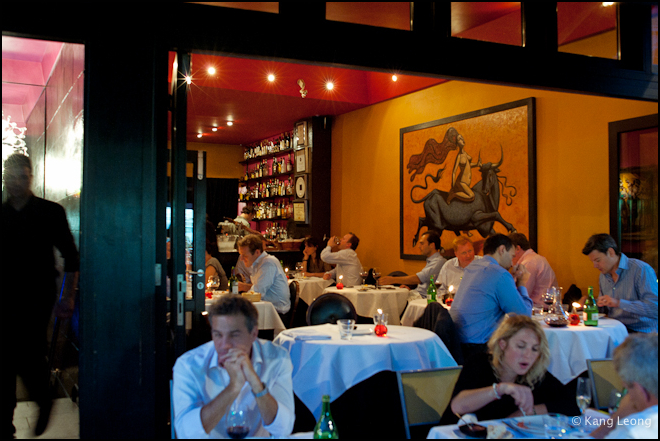 This is one restaurant where I have expended more of my earnings than any other. Before I started writing this blog, Cambio de Tercio was the pay day reward I gave myself at end of every month, it had always turned out to be a fantastic evening. It's a great restaurant to say the least, my most frequented (aside from Byron) and it remains my favourite to this day. I've done all my celebrations here, with family and friends, the folks especially love it; In the seven (or so) years since I first visited, every meal was inspiring. I can think of no better place in town for a midweek solo affair, since the staff ooze uber-warmth, that you never feel lonely. It is probably the singular reason why I refuse to uproot from Gloucester Road. I live about ten minutes from the restaurant. Cambio has been around since '95, an old favourite in the neighbourhood, while some of Old Brompton Road's luminaries have since moved on (Ambassade de l'Ile, and Lundums before that), Cambio remains consistently oversubscribed on weeknights and needless to say, on weekends. I've seen the menu go through minor jiggles and structural transformations from straight up three course menus to a grazing tapas teasers and to its current format, a mix and match combo of tapas and more substantial courses. It is perplexing that they have flown under the Michelin radar all this time, maybe those guys want to keep it a secret just as well. Prices have always been reasonable considering the bracket of clientele they are aiming for, you could eat perfectly well for £40 in 2004, and you still can eat perfectly well for £40 in 2010.
Cheese lollipops to start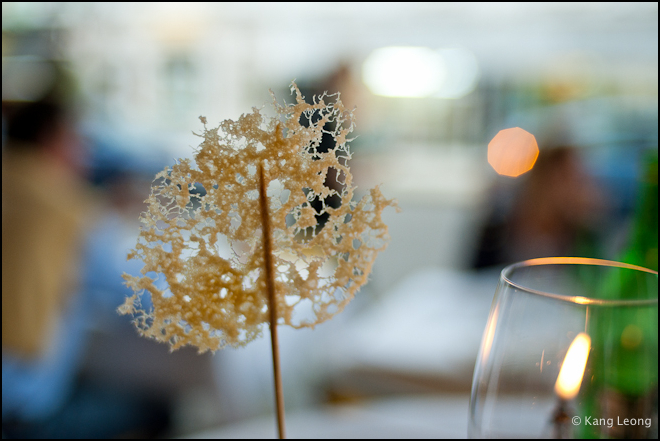 The name Cambio de Tercio comes from bullfighting, meaning a radical change in direction, probably a reference to the original intent of creating something special, rather than yet another tapas bar. The bullfighting homage – romantic as it is – is the major inspiration for the decor. Red, orange and black walls cradle artwork of matadors and bulls (created by Luiz Canizares) which is also available to buy.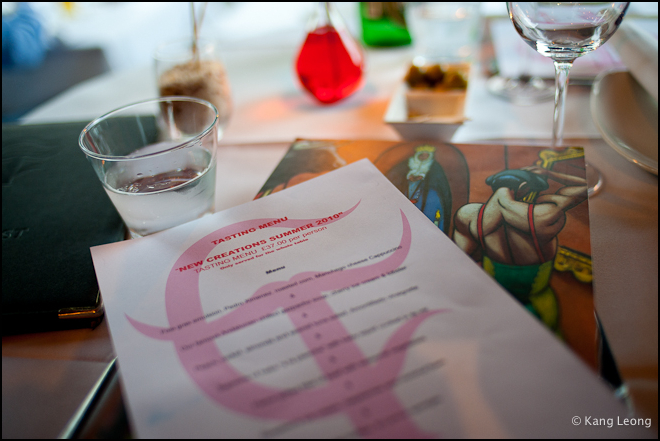 During the early days of this blog, I didn't hesitate writing up Cambio (it was my seventh) and as cringe-worthy as it was, here is a link to the first write-up. Please don't read it. But in case you do, you'll find that the underlying recipes and major ingredients haven't change all the much, in fact since my first meal in '03, food has taken an evolutionary path to refinement, and its core formula – a winning one – has only been perfected with time.
Service at CdT is unique. You won't find many restaurant managers shaking your hand like an old acquaintance as you come into the restaurant, and if you become a regular, brace for the bevy of waiters patting your back, and even more outstretched hands, making you feel like the centre of attention. The cuisine may be haute, but service is definitely down to earth. It might seem a little over the top to some, but I certainly welcome the warmth, it does not feel contrived, the arms are always genuinely wide open.
I took the missus on a Tuesday night in early August '10, we hadn't been back in a year (the longest yet) and wanted to try their new summer menu. It took the form of a six course taster (and petit fours) for a jaw-droppingly affordable £37, representing fantastic value, even considering the economic climate.
No.1 "Foie gras emulsion, Pedro Ximenez, roasted corn, Manchego cheese Cappuccino"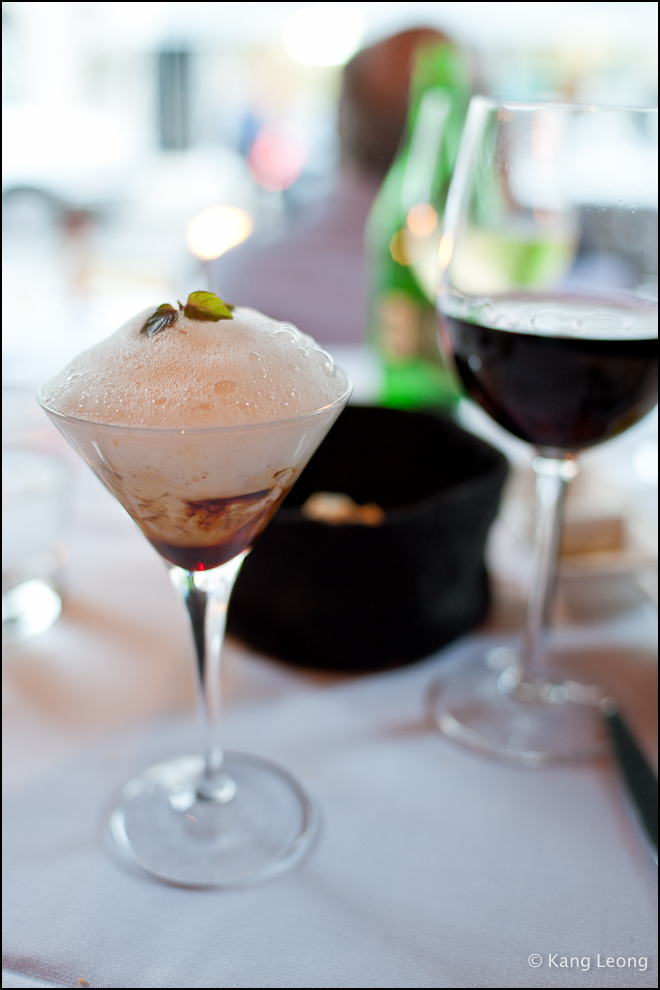 Love it. Flavours of corn (like popcorn actually) and vanilla probably from the natural potency of the foie gras, which has been whipped into a mousse. The foam – in my humble opinion – was functional in addition to being stylistic. It tasted like a gradual change of texture, from the bubbly to the airy (mousse). The foie gras mousse is spiked with pedro ximenez which had settled to the bottom, a sticky caramel syrup with a gentle sting of alcohol. Never did it get too tarty as the foie gras flavour had remained strong. Accomplished cooking, superbly well balanced flavours with particular attention paid to textures.
No.2 "Our famous Andalucian chilled gazpacho soup, cherry ice cream & lobster"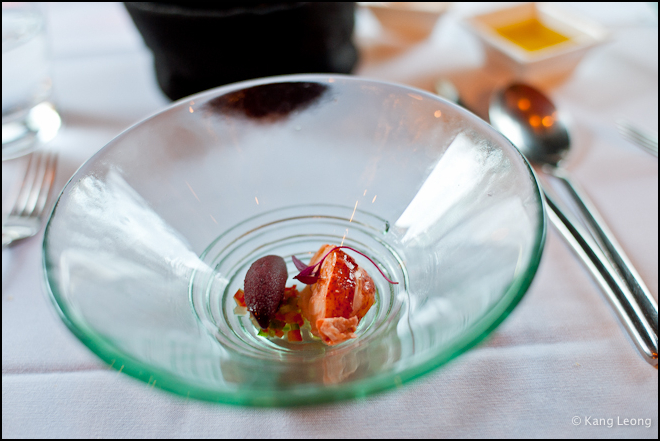 This is a long time classic on their menu, I think it was introduced around 2005 and it is ever as fabulous. Chopped peppers, cucumber, lobster tail (ohh baby) and cherry sorbet…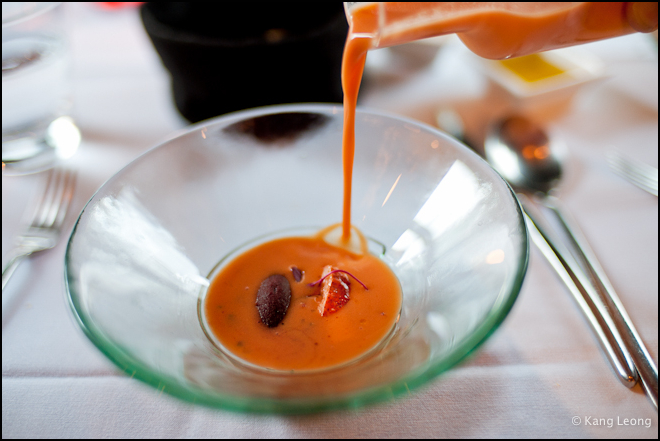 … and the ice-cold gazpacho. Oh, the rawness of the gazpacho just bites the palate, it exhibits a fantastic liveliness that just awakens the senses. The crunchiness of the chopped vegetables, the slushy sorbet, the rigid bounce of the lobster; it makes one take notice of the textures. A papery feel on the tongue, which I assumed was the liberal use of olive oil. Another fantastic starter.
No.3 "Peach, rocket, almonds and seared tuna salad, Amontillado vinaigrette"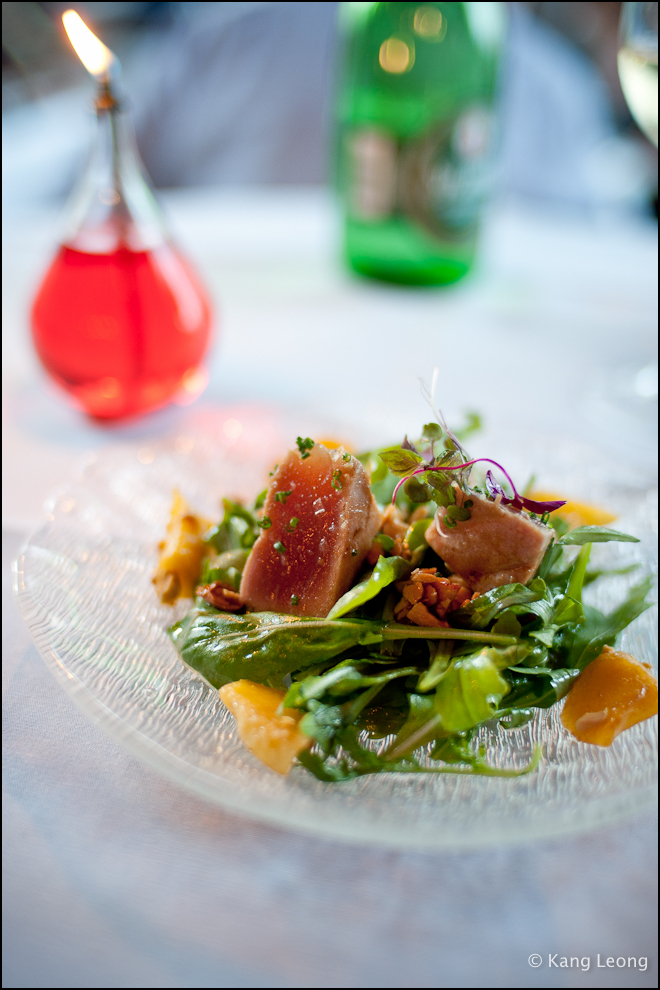 Simplicity, zen, elegance, it is just a salad, but a good one, with well-chosen ingredients. The peaches made this dish – the juiciness – and the tuna, gently seared to rare perfection. What an appetising start, just what the summer palate craves.
Bread.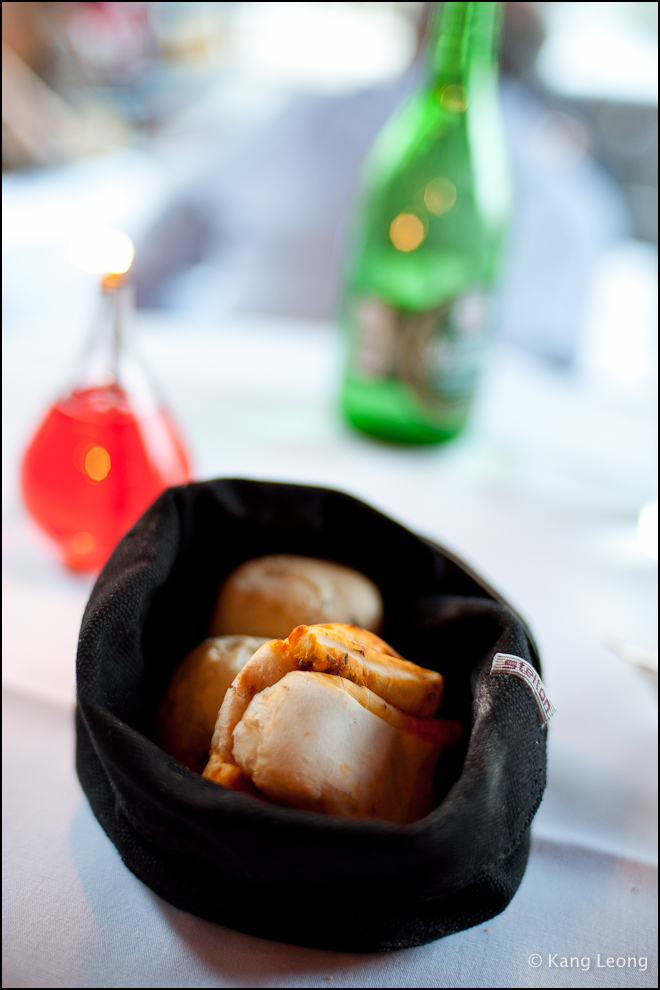 A distinct change, bread were once baguette rolls (made in house), but have been replaced by doughier equals. The texture was soft, wet and spongy, dare I say it's like dough used to make pizza. Chives and cheese for flavour.
No.4 "Supreme of hake "a la plancha" with baby squid cooked in its ink"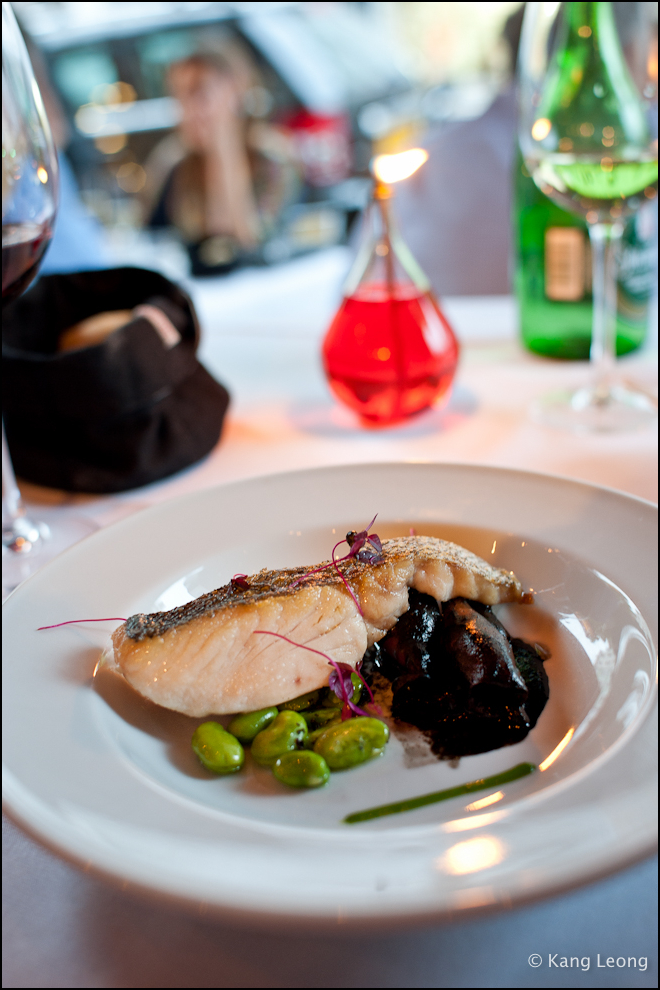 Effortlessly silken. One of few restaurants which pays attention to cooking fish to just a tad under, giving rise to this fragile flakiness that slips away into mouth very easily. Well seasoned, grilled to perfection. Sharing the limelight were wonderfully spongy baby squids, served with a gravy as black as its ink, visually arresting, it had the hearty fragrance of fish stock, and it went particularly well with the hake. Brilliant.
No.5 "Flame grilled fillet of beef with seasonal vegetables"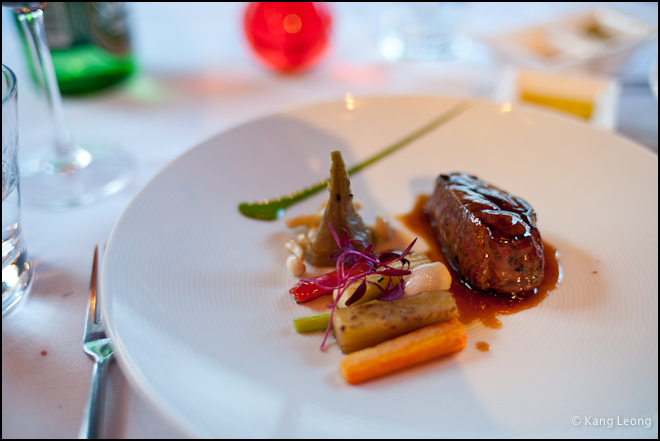 About the only thing that was 'ordinary' on the taster menu was the beef fillet. Seasonal vegetables included artichokes, enoki mushroom, parsnip, spring onion, aubergine and carrot.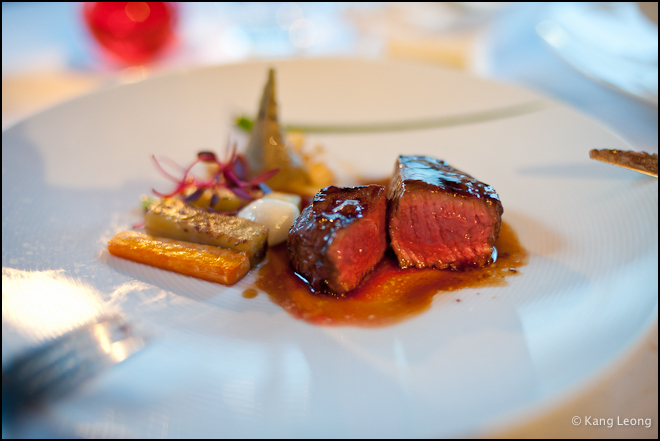 Don't get me wrong, the beef was still a sterling example of the medium rare and the well-rested. The juices were spewing as one bit into it. The sauce was muscular and bovine, which helped to emphasize the natural (or lack of I should say) beefiness of the fillet. Each of the veges added just another layer of flavour to the beef. Another masterful exercise of balancing flavours and textures.
Before we broke for dessert, I ordered one more item off the a la carte menu…
Chargrilled Galician octopus, potato parmentier, paprika oil £12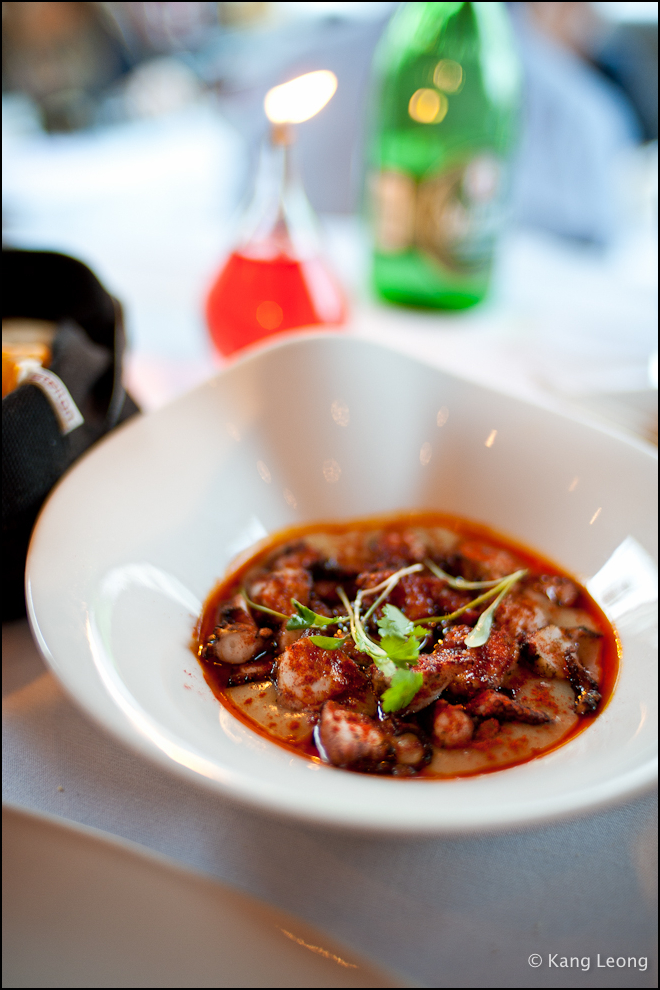 If you love octopus, you'll love this dish. The octopus took on the taste of burning flames, paprika enhanced it, but the real winner was the tremendous gooey potato parmentier. Supremely appetising, as if potatoes had been puree-ed in a micro blender to become this sticky gravy. There are no grainy bits, we do wonder if the fine texture are down to good lashings of flour.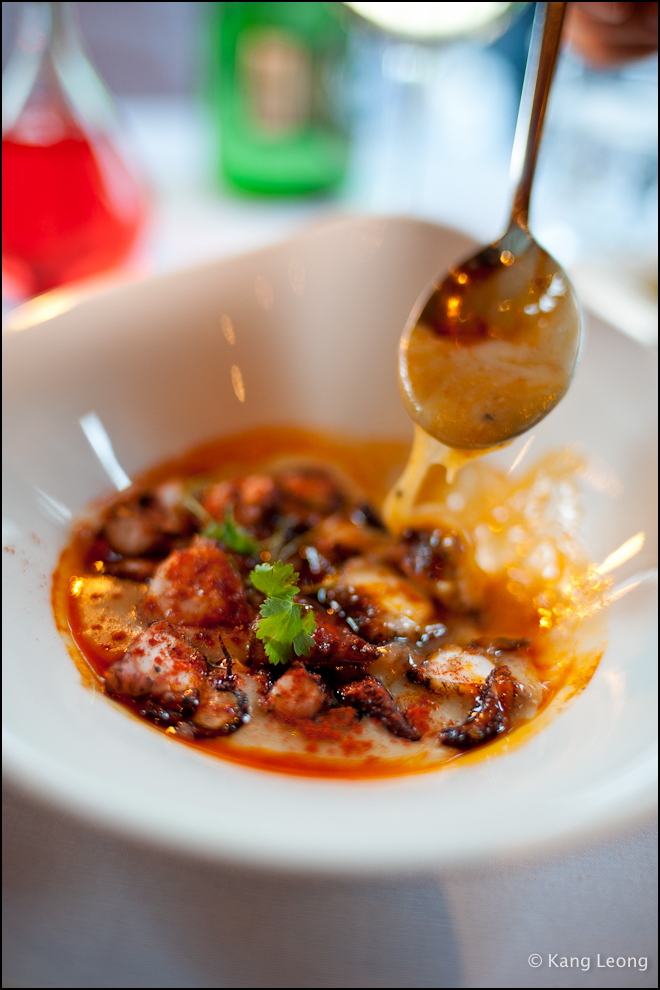 Double take, check out the slimy potatoes. It's filling in itself, but I usually mop it up with bread anyway – a personal ritual. You know you want this. This is my favourite dish at the restaurant, I order this every time I visit.
No.6 "Strawberry ice cream, raspberries and coconut foam"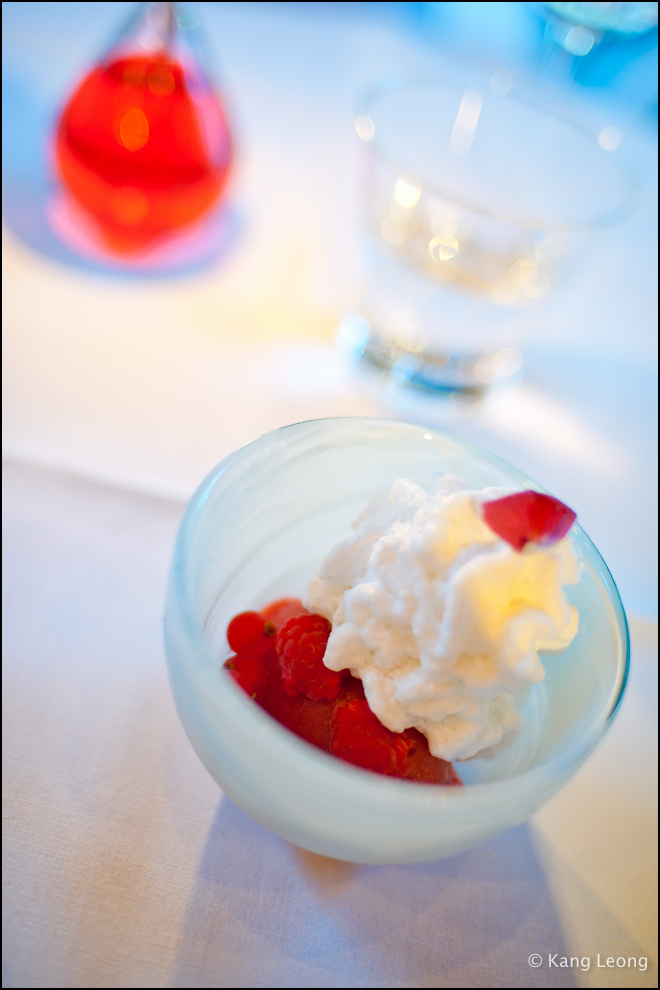 Personally, I think Cambio de Tercio's weakest links are its puddings. Aside from its decadent chocolate fondant (which most restaurants seem to offer these days), the rest aren't all that exciting. I would go for the cheese platter instead.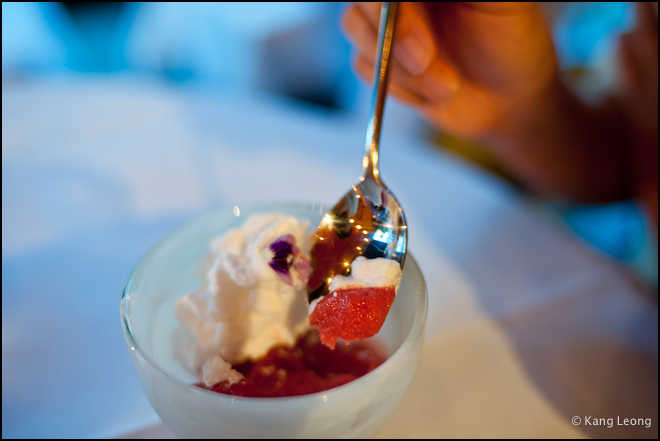 Having said that, I quite enjoyed this, simple as it were, the whipped coconut mousse was probably the best part, it tasted like a 'warm' sorbet. Cleansing, cooling and zesty. A calm finish.
Tendido Cero is across the road, the sister tapas bar, it is usually where the overflow of human traffic is directed toward. I'm not sure if it is still BYO, but while it is cheaper (and pretty good), I would recommend you try Cambio first, because the two derivative restaurants (including Tendido Cuatro) are no where near as good as the flaship restaurant. Two taster menus, one fabulous octopus dish, two glasses of wine, sparkling water and service amounted to £116. It is great value considering the amount of food we had.
Given that they were once voted the best Spanish restaurant outside of Spain by Spain's Ministry of Agriculture, Fisheries and Food a few years ago, I am so glad that CdT are still on top of their game. The refined feel, the attention to textures and balance, this Institution feels as fresh as the first visit. The restaurant exudes a lively vibe, mostly emanating from the busy staff shuffling tirelessly to plonk food on tables, and to work the floor at the same time. It remains a firm favourite, if not my favourite restaurant in London. If I had to choose, this would definitely be the one place I would return to again and again. There you go, another overly gushy, loved up blog post from yours truly. This however, is the real deal and the one that is closest to the heart. Highly recommended. Six and a half stars out of five.
More photographs on my flickr stream.
The Gist of It
Cambio de Tercio
Spanish, £50pp ; 7 Course taster menu £37.
163 Old Brompton Road SW5 0LJ
Tel: 020 7244 8970
Tube: Gloucester Road
Changing pace: Time Out London ; Matthew Norman ; Rafa Nadal loves it too! ; PigPig's Corner ; Genuiness.
Did you enjoy reading this? You can subscribe to the Newsletter. Alternatively, you can subscribe to the RSS feed.
All text and photography on this blogpost is copyright and belongs to Kang Leong, LondonEater.com. If you repost this without my permission, bad things will happen. So please don't do it.