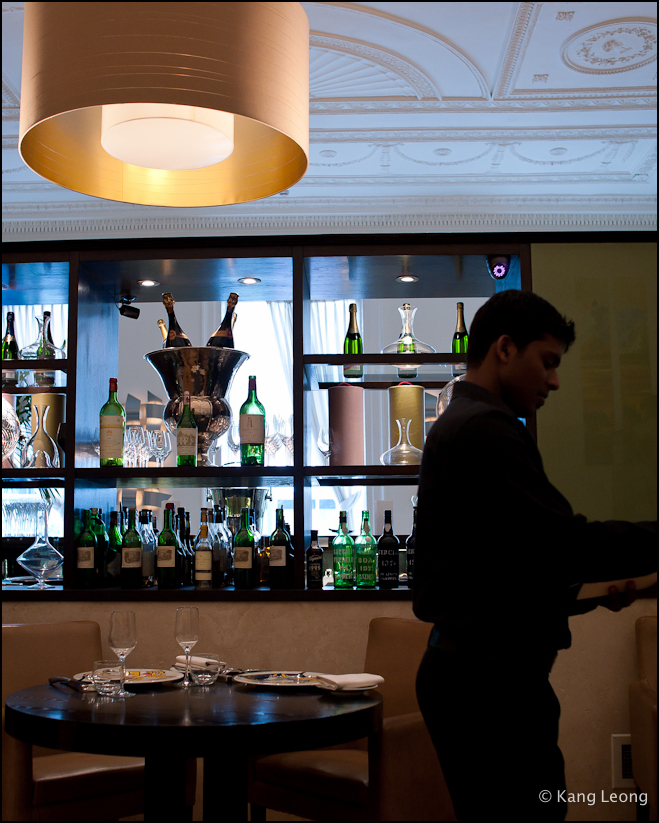 Texture is the brainchild of Icelandic born Chef Agnar Sverrisson and French born sommolier Xavier Rousset. Butter and cream, I'm told, are not involved in the Icelandic-inspired recipes. Winner of a michelin star in 2010, Texture is one part of the ascendency of Nordic cuisine.
I recently made two excursions to Norway last month, to the coastal town of Haugesund, I know next to nothing about Nordic cuisine, so while there, my meals became a personal education of sorts. I tried brown cheese or 'Brunost' (at the breakfast buffet no less), was introduced to shrimp-flavoured cheese pastes and smoked reindeer. The highlight however was a meal at Lothes[1. Lothes Mat & Vinhus], some say the pride & joy of Haugesund (in gastronomic terms), and I was thoroughly impressed with its 'elemental' use of local produce. Ginger 'foam' with truffle on risotto with Monkfish; Hollandaise and cauliflower sauce with Fillet steak; ohh… and crayfish steamed, with sunflower seeds and pickled red onion. I'm not certain how 'Norwegian' the meal was, but it was markedly different, an alien set of flavour combinations, but in a good way.
It was only natural for me to come home with a new found curiosity for Scandinavian food[2. What is Scandinavian food via Scandilicious] and since we were entertaining relatives from Down Under, Texture became the default choice to further our gastronomic explorations.
The restaurant conceived by Le Manoir[6. Raymond Blanc's Le Manoir] alumni, Xavier Rousset, a French sommelier and Agnar Sverrisson, an Icelandic chef places as much emphasis on cooking as it does with its selection of tipples. This partnership is also physically apparent in design, with the back-to-back bar taking up nearly as much space as the dining room. There is something very zen about the space; unpolished wooden floorings and green couches set against coffee accented walls that evoke a displaced sense of a forest in a town house. All it requires then, is maybe a recording of mother nature playing in the background, to complete the effect. This impenetrable serenity is broken with the stimulating brushstrokes of Icelander painter Tolli's[3. Paintings by Tolli] work, whose vibrant use of saturated colours breathe life to the walls, as well as to the cover plates on our tables. Elegant, natural, and maybe abit like the lair of a James Bond nemesis.
Cod fish skin, parmesan, potato and bread crisps.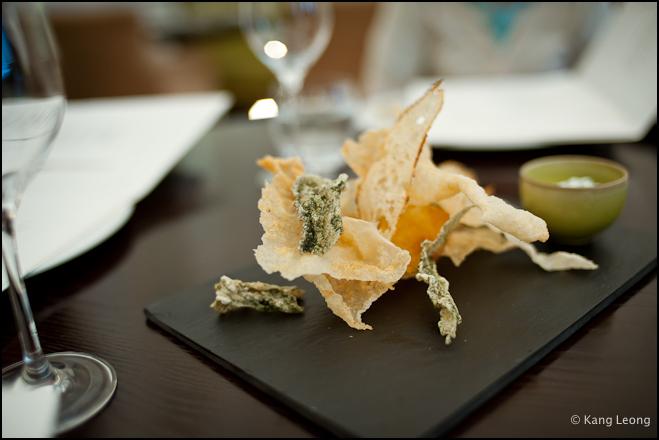 These were a welcomed change to bread (although bread was also served, rye I guess), thinly crispy as one expected, though I found the fish skin was a little too much so; The yoghurt dipping however helped to alleviate the fishiness, wasabi, lettuce and I think dill, adding a invigorating edge.
We were a table of four, three of us had chosen the £22 three course set, I opted for the a la carte. Not cheap however, starters average £15, mains £25 and desserts for £8.50, that's nearly fifty quid. We'll come back to menu choices after the dish descriptions.
Amuse Bouche: Pea and Mint.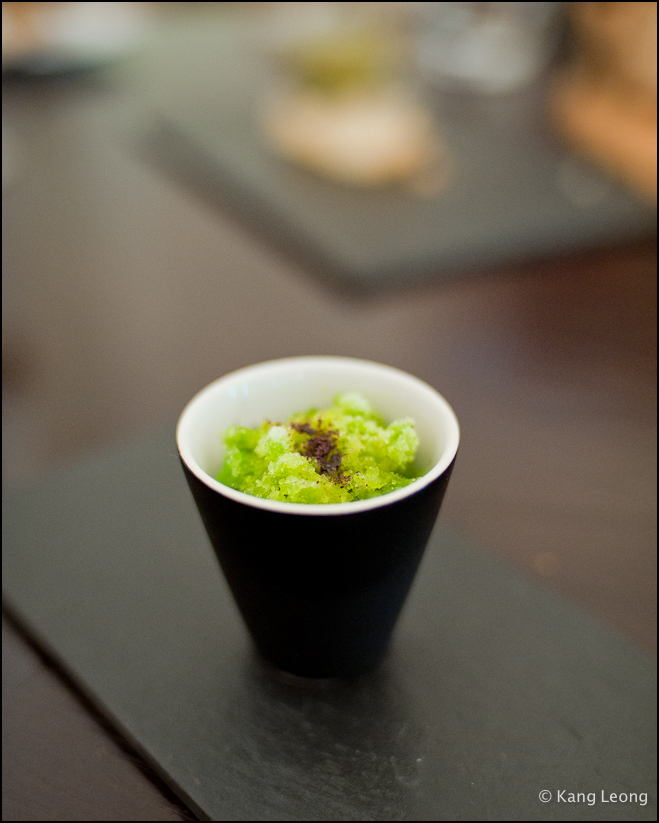 And we're off with a cracking start. Ice shavings, the sweetness of whole peas, and at the bottom, a sort of custard-like mousse, minty like a toothpaste but also with flavours of pea. I think the ice made this dish more interesting than it was, a frozen pea and mint soup which helped to cleanse the palate. I'll refrain from bringing textures into describing this combination…
Starters
Yellow fin tuna with barley, toasted almond and elderflower (set lunch)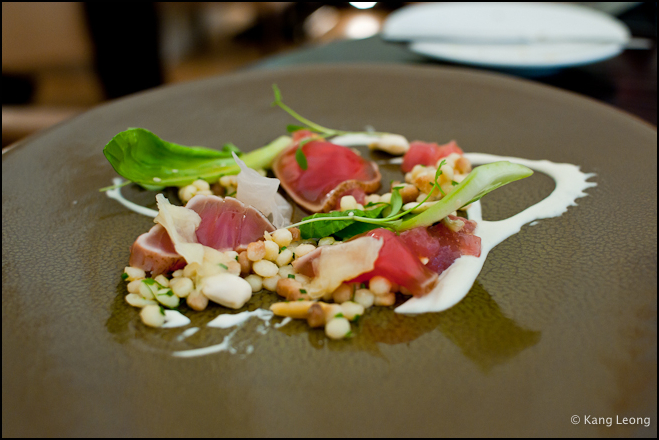 The first course from the lunch menu, while I had a quick bite, my memory fails me as I write this. My better half seemed to enjoy this dish, though she struggled to identify the elderflower. From a visual standpoint, I thought the styling was a slobbering mess, but then again, beauty is such a subjective thing.
Anjou Pigeon, chargrilled, Sweetcorn, shallot, bacon popcorn, red wine essence £14.50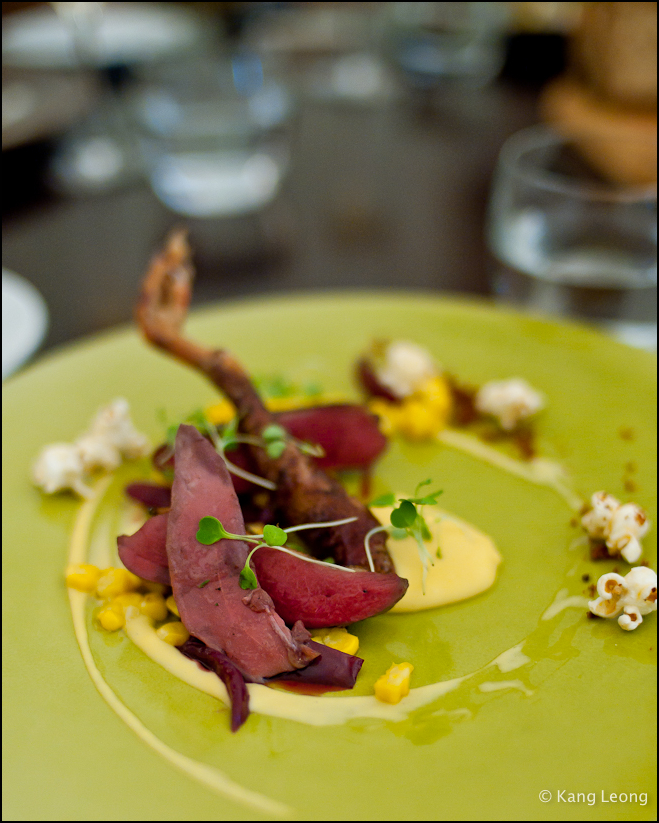 Aurelie, the front of house charmed our socks off. She was a gracious hostess, as was the rest of the staff, who were friendly, unpushy, and seemed almost shy to talk to us, even when presenting the dishes. They didn't force conversation. She took my order and recommended this dish, one of Agnar's signatures. Rock and roll. The meat was superbly delicate, it carried only a tinge of seared-ness about it, with sprinklings of rock salt for seasoning. I'd hazard a guess that the pigeon has been cooked sous-vide ie: very warm water and in a vacuum bag, giving rise to this melty sponge-like taste which inhabited a textural-limbo-land that was both raw and cooked at the same time.
The sweetcorn cream was just superb, it was so slippery it may as well have well been oil. The sweetness (from the three ways of corn) balanced well against the poultry, there seemed to be other earthy, shrub-like flavours thrown into the mix as well, a nutty fragrance, woodiness, as if this dish was composed of foraged elements. I know I'm reaching a little, and I am being vague, but the ideas on this plate was new to me. It was unique, at least in terms of what London based restaurants offer.
Mains
Sea trout, dill and carrots (from the set lunch)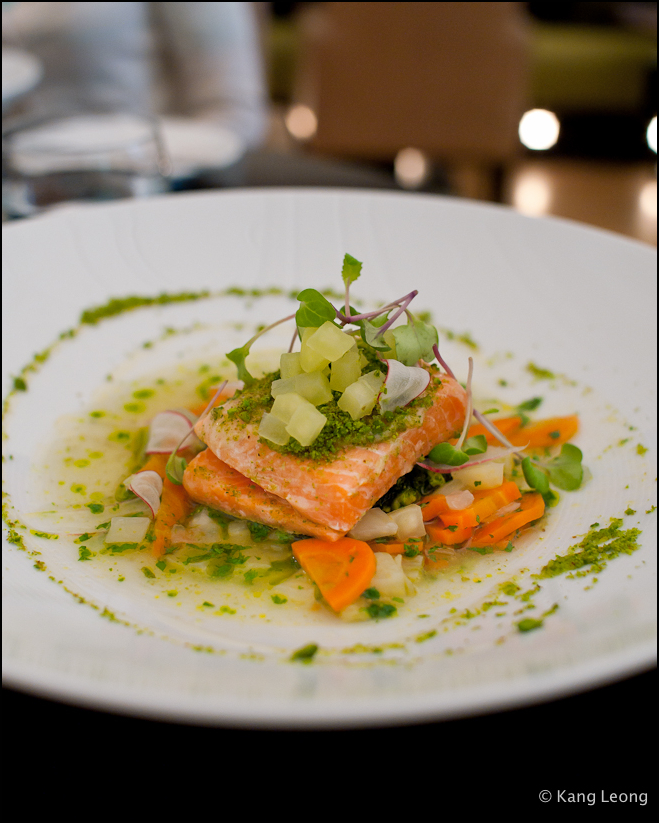 I didn't touch this dish, it was what my Uncle ordered. He really liked it, and from his indications, it was another example of sous-vide perfection. The styling was just ghastly, for some reason, this reminded me of those hair gel commercials pitching the messy, I-just-woke-up look…so much green…everywhere.
Corn-fed Free Range Chicken breast, leg, beans, peas, chicken jus (from the set lunch)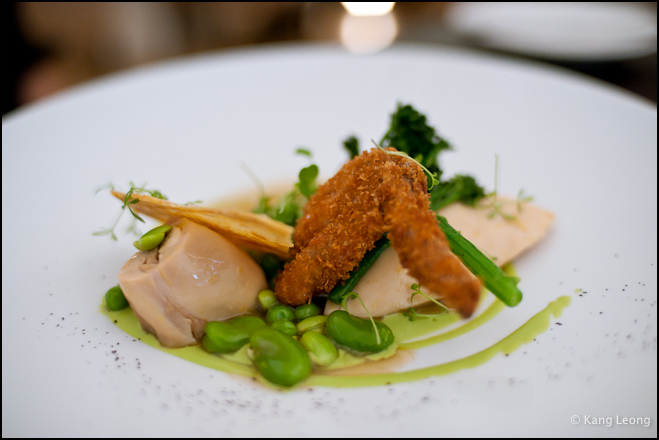 And the slow cooking procession continues. The chicken, like the pigeon before it, regardless if it was the breast or the leg, was melt-in-the-mouth fantastic, managing to maintain its juices, delicate and sumptous. I nicked the wing, and it was categorically the best fried chicken wing I've had in recent memory. Crumbly, crispy, corn-flavoured and juicy, look out Colonel Sanders. It had been deboned, and interestingly I felt the 'phanton-bone' effect take over. I couldn't believe that I was cautiously chewing through it even though I knew it wasn't there. The better half thought it was good, but her attention was elsewhere, on my dish to be exact…
Cornish Skate, langoustines, cockles, prawns, barley, shellfish broth £26.50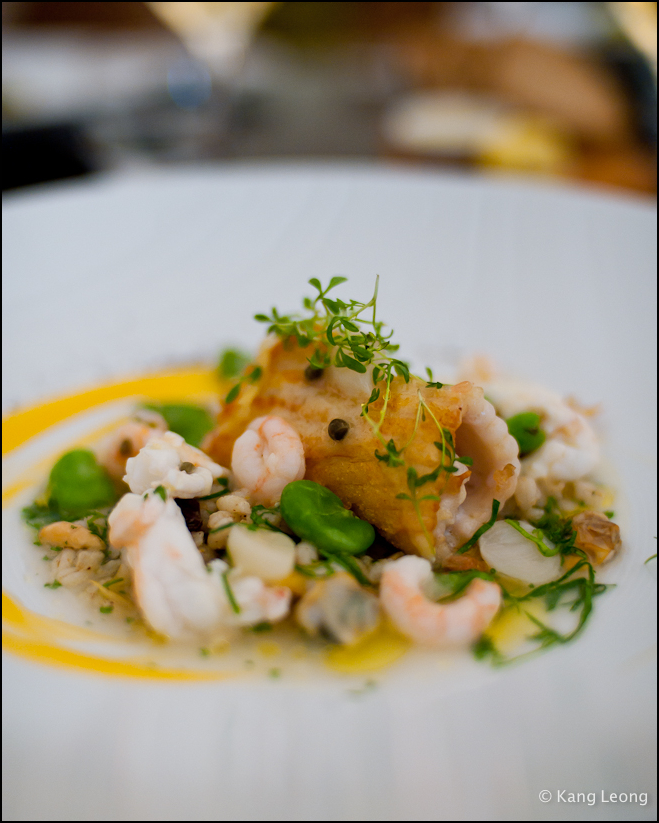 The messy styling technique was evident in every single dish, though by now, I was getting used to it. I suppose at least I could see all the ingredients. As one would expect with seafood, this was heartily aromatic. A barley base soaked up a smorgasbord (forgive the pun) of flavours: I detected lemon zest, raisins, cinnamon, dill, nuts, capers as well as a wholesome broth chock full of shellfishness. I am guessing white wine was involved as well.
There was so much going on, but luckily the myriad of wonderful ingredients didn't overwhelm. Instead, the soup was simply brimming with liveliness, earthy and clean flavours abound. This was no butter, cream or truffle in sight, and in the place of big-bang flavours, there were mellow sensations, this dish marched to a utterly alternative beat. And what great interchange of textures too. The mushy langoustines disintegrated like roe, the skate, fried to a crisp, and flaky when necessary with spongy cockles and baby shrimps rounding the dish off. Everything melded and melted, it felt like a masterclass of harnessing harmonising flavours from the interplay of the various constituent ingredients.
Dessert
We were a little 'creative' when it came to pudding, being that the set lunch options seemed like a subset of the ala carte, we opted to share three puddings, forgoing my own choice, which would have set me back £8.50.
Valrhona White Chocolate mousse, ice cream, dill, cucumber (from the set lunch….but also on the ala carte menu for £8.50)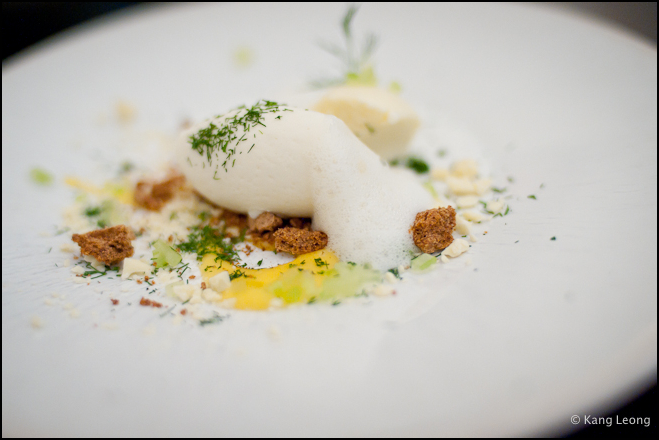 I really enjoyed this. Dill and cucumber reminded me of mango, bits of white chocolate and muesli cracked over seemed more for effect, though the the cloud-like chocolate mousse was a sweet whiff of fresh air. I didn't understand the significance of the foam, it was superfluous, both figuratively and literally.
Strawberry Granita (from the set lunch)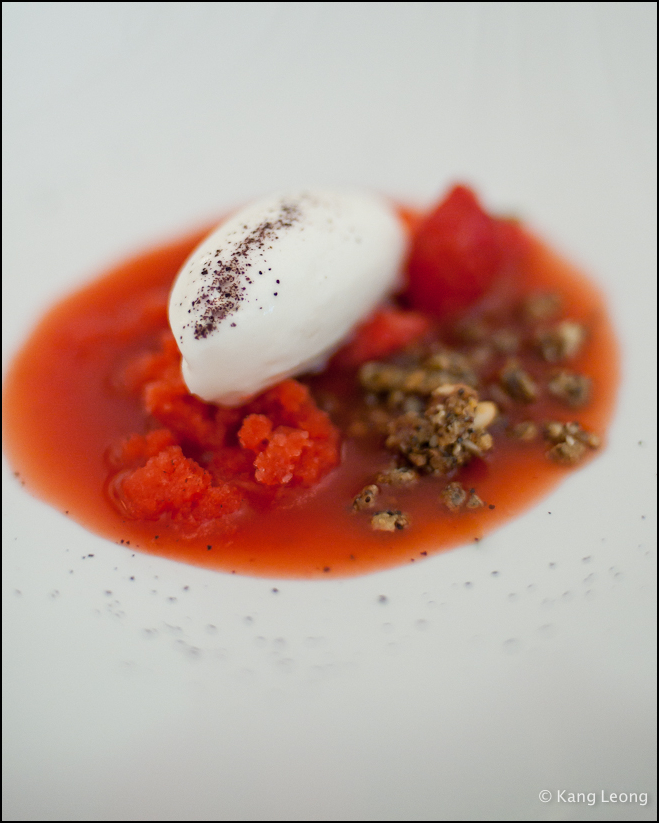 Finally then, a frozen granita with a jammy syrup and bits of cereal. I would have preferred the soup to be warm, but overall it was a pleasant finish.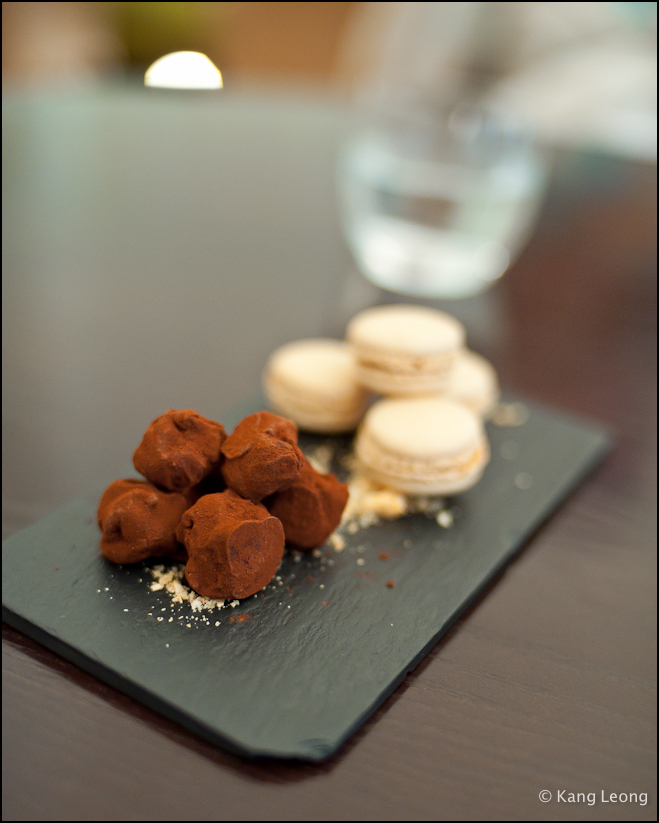 It could just be my malfunctioning taste-buds but I was certain to have tasted ginger in the truffles, and coffee in the macarons. They were both underwhelming and ironically ordinary when compared to the rest of the meal… the macarons in particular were shamefully atrocious. Petit Fours aside, we had a hugely enjoyable meal. We also ordered half a bottle of Roussette de Savoie, I forget the year or winery, Roussette being a grape which I hardly drink. Plus 2 teas and a single espresso, the bill came to £163 for four. My ala carte alone bore most of the expense, a whopping £70 (thereabouts) for two courses plus wine, coffee and service. It was expensive alright, based on this experience, I'd urge you to try either the £22 set lunch deal, which is similar in quality to the ala carte, or to go all out with the five course taster menus. The Scandinavian Fish menu is £52.50 and the meat & fish taster is £59. A wine tour available to compliment at £45 a pop.
Might these Clifton water baths[4. Clifton Water Bath… Sous Vide] be Texture's secret weapon in the kitchen? I felt the slithery slow-cooked meats were the defining theme in Chef Agnar's bag of tricks. On top of that, I was hugely impressed with the interplay of ingredients, and I also feel that this method of foraging to marry flavours and highlight textures (as much as it pains me to state the obvious) made the meal intriguing, beguiling and had set it apart from the pack. The chef seems to prefer naturally sweet ingredients such as barley, sweetcorn, raisins for example. I didn't think it was just all for show, I think it was practical, adding an appealing sheen to his cooking with such ingredients.
So how Icelandic is Texture? I don't know, I'm no expert, I did not spot Hakarl (rotting shark) or Lundabaggar (soured lamb) on the menu, though skyr (Icelandic yoghurt) and cod are on it. I'm not a stickler for authenticity to be honest, as long as it tastes good, the chef can tweak to his heart's content. Nordic flair with a British accent then. For no apparently connected reason whatsoever, Texture reminded me of Viajante[5. I reviewed Viajante]. Maybe it was because this meal too, felt abit like a journey.
The empty dining room during Friday lunch service is an indication of the public's wariness toward Nordic haute cuisine. If you were getting bored of French-Italian conventions, Texture might just be a pleasant change, if you were searching for one. I certainly enjoyed the distinctions, I think it is more than just a superficial concept and I think the food excelled. It explains why they've won a Michelin star this year. This certainly has been one of my more memorable meals this year, I liked it and I wholeheartedly recommend it.
The Gist of It
Texture
Icelandic £22 for lunch ; £70 for alacarte
34 Portman Street W1H 7BY
Tel. 020 7224 0028
Tube: Bond Street
Reviews elsewhere: A fork full of spaghetti ; Terry Durack for The Independent ; Matt Norman for Guardian ; Time Out London ; Wine, food and other pleasures ; Love food, Love drink ; Niamh of ELAG.
Did you enjoy reading this? You can subscribe to the Newsletter. Alternatively, you can subscribe to the RSS feed.
All text and photography on this blogpost is copyright and belongs to Kang Leong, LondonEater.com. If you repost this without my permission, bad things will happen. So please don't do it.