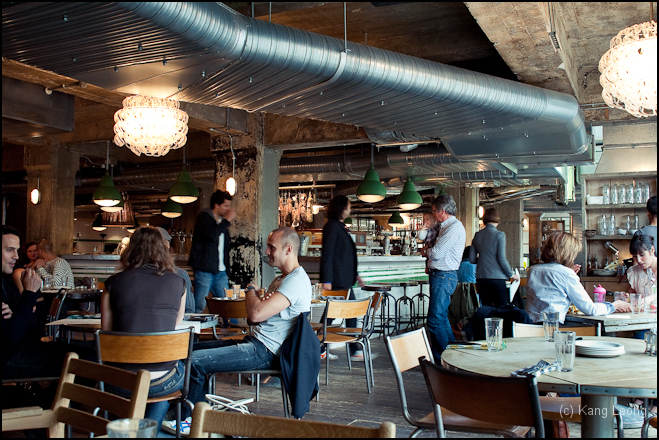 It wasn't long ago when pizza was simply a decision of who to call to coincide with prime-time TV. I am referring to the myriad of takeaway menus regularly shoved through the front door of course. I'd always pick the one which sold Haagen Daz ice creams. Pizza being about as far away from pretension and debate as can be, pizza being the ultimate comfort food. These days, it's a phenomenon unto itself, our critics and bloggers are making startling discoveries, holding aloft neighborhood gems that have somehow managed to stay hidden for decades. Ahem, just to add fuel to the fire, my local hidden gem would be Da Mario's, my favourite are their house special the 'Pizza Diana', once rumoured to be Princess D's favourite haunt (hence Pizza D) and an atrocity it had not been more widely 'discovered' as yet. Being such a common food, it isn't surprising to see so much commentary and especially such heated opinion regarding the humble pizza, after all, it's quite rare to find someone not ever experiencing this dish in one form or another. At least not in London.
Our eating habits are indubitably influenced by what our critics and bloggers are fascinated with at their dinner tables. As if we are all merely sheep, engaged in a cyclic, synchronized culture of refuelling our bodies. Period eating no? You know like period corsets, period bellbottoms, period sideburns, period loincloths. Food trends are intriguing to say the least. A not so nice side effect of popularity is that restauranteurs – whilst in pursuit of capitalising on trend – tend to gourmarise trends, or more accurately, PR bods putting a spin on things to up the USP ante. Take our wacky obsession with burgers for instance and observe how it has been elevated to posh-grub status with discerning connoisseurs claiming authenticity, technique and justification to cramp even more between the bun.
Fortunately, unlike the gentrification of burgers, pizza has taken a more traditional route to prominence, particularly with the adherence to its Naples heritage. Or Roman, I should say. There are pretty good pizza outposts in London of course such as Rossopomodoro, Donna Magherita and Franco Manca (now doubly branched), though to be quite honest, I can't say I've had stonkingly memorable pizza, but then I'm not allowed into Italy, but then again, it's just pizza.
Pizza East doesn't seek to uphold the Neapolitan heritage, instead the role model is American. Nick Jones, aka Mr Soho House, sought to emulate an L.A. favourite Pizzeria Mozza (which I've never been to personally), going as far as to flying some of Mozza's pizza experts, like Bryant Ng, to consult on the development of Pizza East. So far, it has been a rousing success in terms of public relations. There are a glut of hugely positive reviews floating about, just about every Joe Blogger has waxed lyrical and even Fay Maschler gave Nick Jones a pat on the behind. The venue looks great of course, a massive, brick-laden, rustic environment which is stripped down enough for trendy people to feel utterly likewise while scoffing. Atmosphere is of course crucial if you want to draw in the crowds, especially when you have a nice PR story to explain all that wonderfully restored industrial throw-back detail in what was once a warehouse that stored tea. Exposed pipes, crumbly pillars and metal-topped tables.
I was dining with Garson Byer, the man who would marry the World Foodie Guide, a quick pit-stop before an afternoon's worth of street photography in the near-by industrially photogenic Hackney area. G (who spent a few years in Italy) informs me that the toppings are meant to be quite authentic such as potato and garlic, as well as the usual compliment of Italian cured meat and leaves. Gnocchi, steak, fishstew and baked bone marrow round out a pretty comprehensive menu, and as it turns out, PE is not just a pizzeria.
We shared two halves of a magherita (£7) and another with courgettes, tomato, mozzarella, taleggio, marjoram (£8).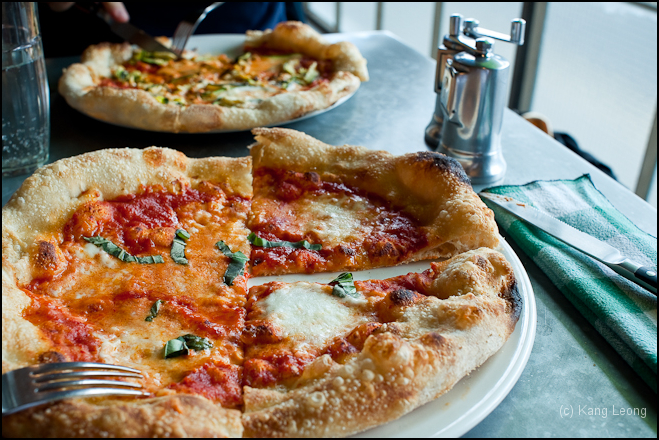 A purist would argue that the acid-test is in the wood-fire oven, being a matter of how hot it can actually heat the dough up to to achieve the spongy yet crusty base such that one experiences a robust, tear-resistant chew which I generally prefer. Pizza East is antithesis, but in a good way. The puffed-up dough (measuring ten inches in diameter, roughly) was crispy, crackling and dry, stoney rather than juicy, with the semolina grains jumping off the base as I worked my way into the pizza. It was satisfying in the same way that crisps are satisfying. The tomato paste was a little on the thin side though, and mozzarella was only laid on half the pizza, though it tasted good enough.
I avoided the heavier toppings particularly the £12 with veal meatballs since we wanted to be light-footed for the photography exercise to follow, but based on this one visit, I'd return.
I'm hardly the pizza expert, for that, you need to tap the collective wisdom of Tom and Jen at TomEatsJenCooks as well as Daniel at Young and Foodish. Though for what it is worth, Garson enjoyed the crunchy semolina base, and I found it to be generally pleasing as well. However, I don't think Pizza East is an intense pizza shrine, it's good, but somehow I can already picture it becoming the new Belgo ten years from today, once it has lost the chic factor. Nevertheless, the foodie republic seem to approve of PE, there are cheaper pizzas in town, but the prices are very competitive in any case. For the money, you can't go wrong. As with all hype-laden restaurants, don't expect the roof to be brought down, especially when it's only baked dough. Do fold your slice before you eat.
The Gist of It
Pizza East Official Site
Pizza, £10 per person.
Tea Building 56 Shoreditch High Street E1 6JJ
Tel: 0207 729 1888
Tube: Liverpool Street Station
Did you enjoy reading this? You can subscribe to the Newsletter. Alternatively, you can subscribe to the RSS feed.