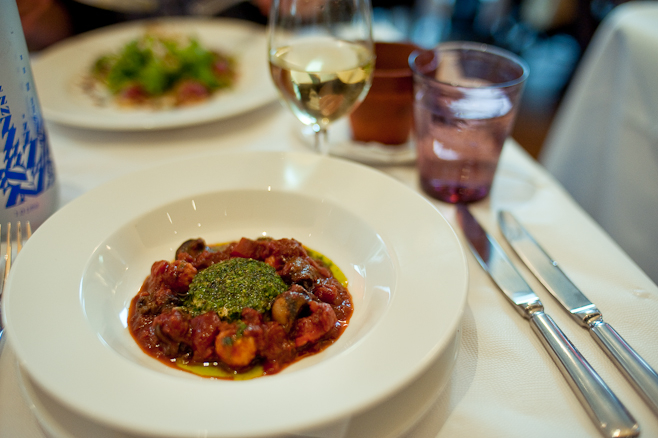 The last time Bruno Loubet was cooking professionally in London, I was apparently on scene to try his much praise innovative yet traditionally grounded French cooking. On that occasion, he was a guest chef for Pierre Koffman's superbly successful Selfridges pop-up, which in 2009, had critics and bloggers swooning more about the gravity of the occasion rather than for the quality of the cooking. On that night, Bruno Loubet's signature dish on the Koffman menu was his take on the millefeuille, puff pastry elegantly layered with rich chocolate sauce and pear, a masterful lesson in French pudding. Naturally, we were spellbound with the output of a Loubet-led kitchen cooking Koffman recipes. I wondered then about the story behind Bruno Loubet, since his wasn't a name I instantly recognised.
After reading about half a dozen reviews or so, chef worship had taken over my impression of Bruno Loubet – his name no longer one of just another chef, but a legend, a hero who had built up a loyal fan base in the previous decade. Bruno's heroics takes place much before my gastronomic awakening, once a big name on the London scene though he has spent the last eight years cooking down under instead. I did some digging around in an attempt to discover his previous conquests. The Bordeaux born chef had started his apprenticeship at the age of 14 and moved to London in 1982 where he was head chef for Gastronome One in Chelsea. He would soon be lured away by Raymond Blanc to work with him initially, and then moving to head up Le Petit Blanc. Eventually Loubet would cook at the Four Seasons Restaurant at the Inn on the Park and earn his Michelin star at the age of 29. In 1992, Loubet would open Bistro Bruno in Soho to critical acclaim. After twenty years in the smoke, Loubet would swap his wellies for thongs (which I am assured means flip-flops down under) and bring his innovative and daring brand of progressive French cooking to the shores of Australia. He started in Brisbane with Bruno's Tables, then to Noosa with Berardo's and finally to Brisbane again at Baguette – a Bistrot and Bar. And now in 2010, he's come back to English soil. His CV predates my time and I get the impression that British critics seem to generally respect Loubet's knife. They have roundly lauded his return with an outpour of poetic pieces from pretty much every major critic I read, from Fay to Giles. Coren is still a major critic right?
Getting a sneak peek at the man himself was easy since the kitchen has a cut-out window. He looks just like the many photographs of him littered across the internet and I instantly recognised his rather stern expression. The expression of a very serious chef. I couldn't help but feel a little intimidated, he's quite a big lad as he towered over his cooks metaphorically and literally. Yes, I was staring, mesmerised but I didn't muster the courage to steal a photograph of Bruno, I blame the table arrangements. The bistro is beautiful. It has an open ended design, a long and winding, if narrow space. Tall ceilings and large windows let in heaps of light, as we lunched on a Friday afternoon; it illuminated the space with a vibrant sparkle of life. Unfortunately, tables were positioned far too close to one another, perhaps ten inches apart which meant minimal elbow room. I felt as though I was given a license to eavesdrop on neighbouring conversations. Tables were close enough that I easily picked up the conversation between a French chef and I assume his young apprentice, to my right. They were speaking about restaurants in general, and he told his padawan that Loubet was expecting him for lunch. To my left, I assumed the couple were two friends meeting after years apart, for lunch. I noted her ever so large diamond ring, which she wore on her left ring finger. I assumed she was married. Frivolous. Too close for comfort. The room is efficiently decorated, pristinely pressed table cloths, purple tumblers, it was much like dining inside a Habitat store with innominate lounge music playing in the background. We were initially given a crammed table by the window in the middle space of the dining room, but we switched to one a few rows down. Service moved at mercurial speed, waiters bombed down the narrow walkway between my back and the bar. While they manoeuvred around us skilfully avoiding the slightest of brushes, I found myself constantly tucking my elbows in fear of hot soup tipping over my shoulder. It was a bit like having dinner in the economy class cabin – Is chaos a part of the bistro experience, I wonder. When you eventually make your way to the restaurant, ask for a corner table at the far end of the room, by the window, instead of the middle part of the room which we sat in. I think it will make for a much smoother journey.
I ordered a glass of Riesling, Raddichio, papery, dry, watered down and tannic, not great (£7.85). In stark contrast the bread – whimsically served in a flower pot – was excellent. I detected sweet onion and sesame, warm, soft and moist. A sign of things to come perhaps.
The first of the starters – Beetroot ravioli, fried breadcrumbs and sage, rocket salad (£6.50)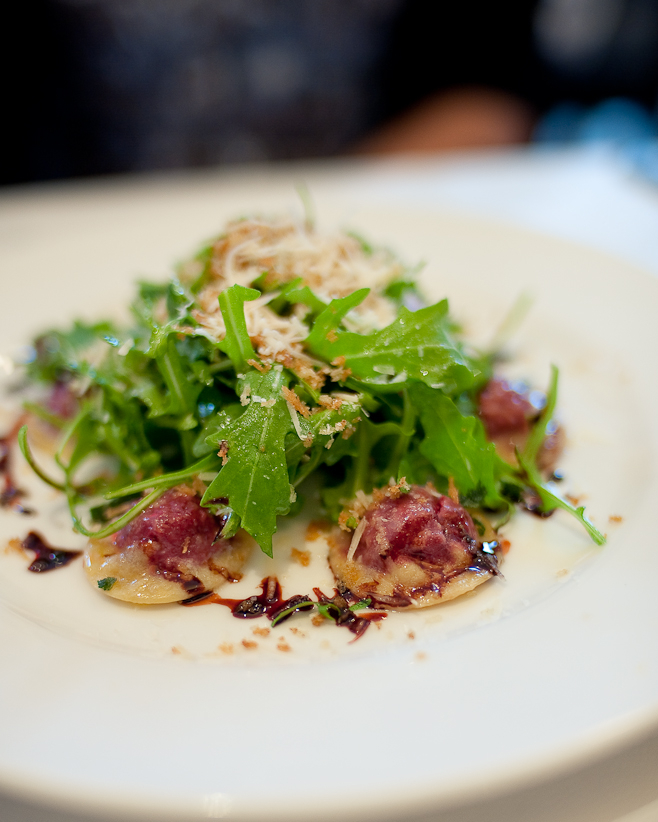 The salad looked radiant, with the colour of the beetroot just penetrating the skin of the pasta. I take a bite and the ravioli imparts sort of chocolatey aftertaste, refreshing. The subtle touches, such as the breadcrumbs gave this dish a touch of crunchy elegance. Vegan heaven, surely.
Next : Mauricette snails and meat balls, royale de champignon (£8.00)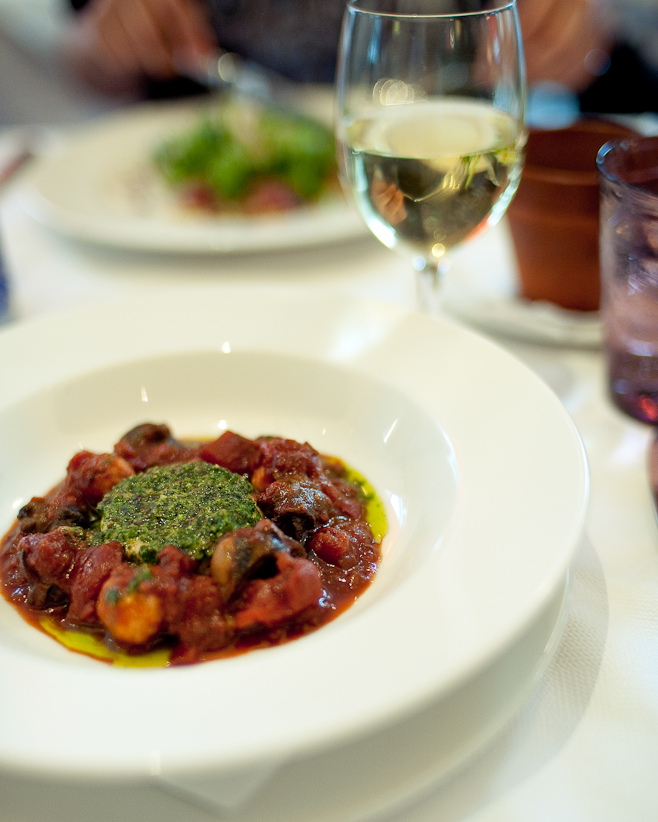 Much has already been written about this entrée, universal praise as far as I know, I've come specifically to give this dish a try, which as far as I'm concern, is the money shot. A richly aromatic tomato based sauce is beautifully arranged around mousse-like dollop in the middle. Topped with what looks like a green pesto to me. The sauce hides mushrooms and some of the most tender of veal meatballs I've yet had. The sauce so wonderfully balanced: onion sweetness, sharp tomato flavour and a dash of pepper – it was so expressive. However, the real star of the show was this mousse-like structure in the middle – I hazard a guess that it was the snails blended down, but I could not be sure. It was buttery, it was oily, it was a little fatty and it was puffy too, as if the chef had managed to beat the clouds into this dish. It somehow magically unravelled as it hit my tastebuds, and the savourness was just indescribably well-balanced. It was lighter than a parfait, maybe somewhere in between that and of cotton-candy. Whatever it was, this dish as a whole, was pure masterclass. One of the best things I've ever had the pleasure of eating. It would easily pass the Michelin test.
Oh yes yes yes. At this point in the meal, I was flabbergasted with the quality of the starters – exceptional thus far, my heart was racing to see what Bruno could generate for the highlights. Naturally, I ordered the priciest item on the menu, on recommendation from my waiter of course : Hare Royale, onion raviolo, pumpkin and dried mandarin purée (£18.00)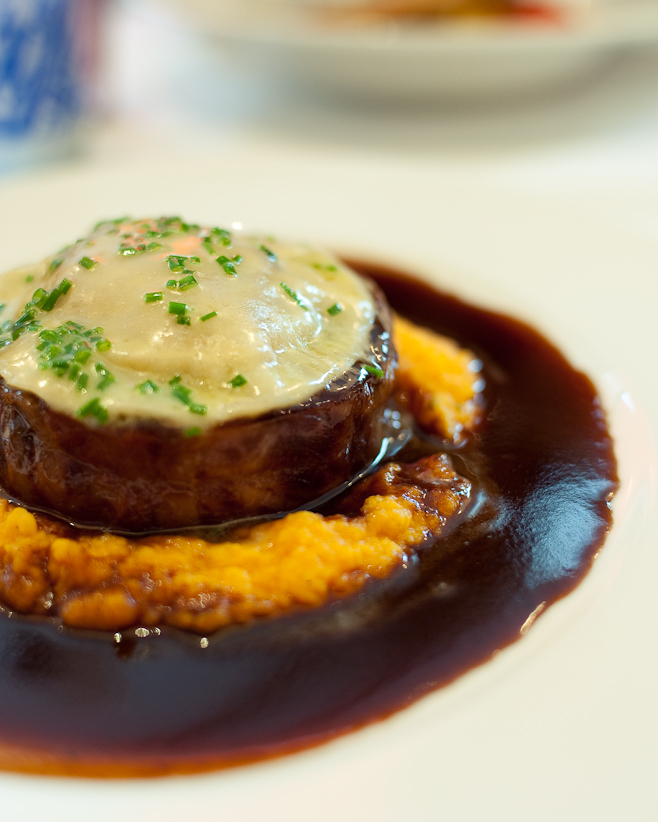 The hare was served sliced and seemingly from a roulade, it was as expected, immoderately gamey and I noted the impressive melt-away texture. Finished with an intensely rich, thick and dark sauce with an equally robust pumpkin puree. The single onion ravioli was largely background noise in comparison to the overriding livery tastes. It's a heavy dish, gamey but I was a little disappointed as this dish seemed to pale in comparison to the excellently fleet-footed starters. I struggled to finish it, as my attention waned with the chore of having to wolf down even more big bang game. I felt the dish was a little lethargic, good but so is Galvin Bistrot's pheasant and foie gras pithevier.
On the other side of the world, the better half negotiated the black bream fillet in bouillabaisse and rouille sauce. (£16.50)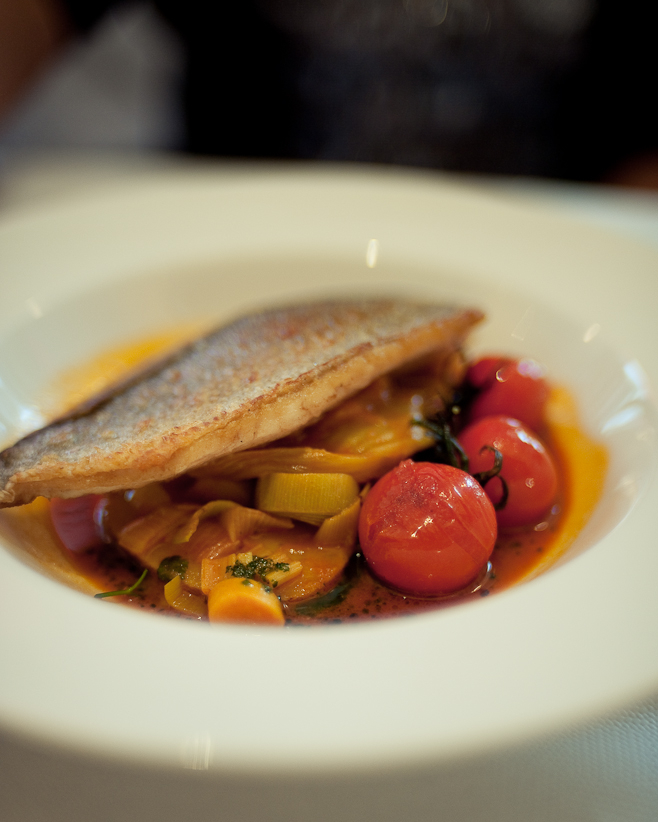 Or at least tried. A fennel based gravy and appealing cherry tomatoes. On inspection, this looked like a classic dish, fish fried to perfection, but about a third into the dish, we discovered that it was largely undercooked under the skin. Now, we've spent a long time debating this over lunch, and we came to an agreement that the fish was very close to being rare. It was a white fish afterall, and the flesh was still translucent imparting a slightly bitter taste. We were expecting it to be just ever so slightly under, if cooked all the way through. Unfortunately, we had to send it back. The maître d returned with news from Bruno that he had indeed meant for the fish to be served rare, and he seemed pretty defiant. Of course, we respected the chef's wishes, but my better half just wasn't expecting undercooked fish. Maybe the restaurant was still adjusting to its conception, it certainly would have helped if the staff had informed us before hand that the fish was meant to be served so rare. You would expect the same if it were tuna or salmon or even beef, right?
And so it meant a replacement: the onion and cider soup, upside-down Emmenthal soufflé (£6.50)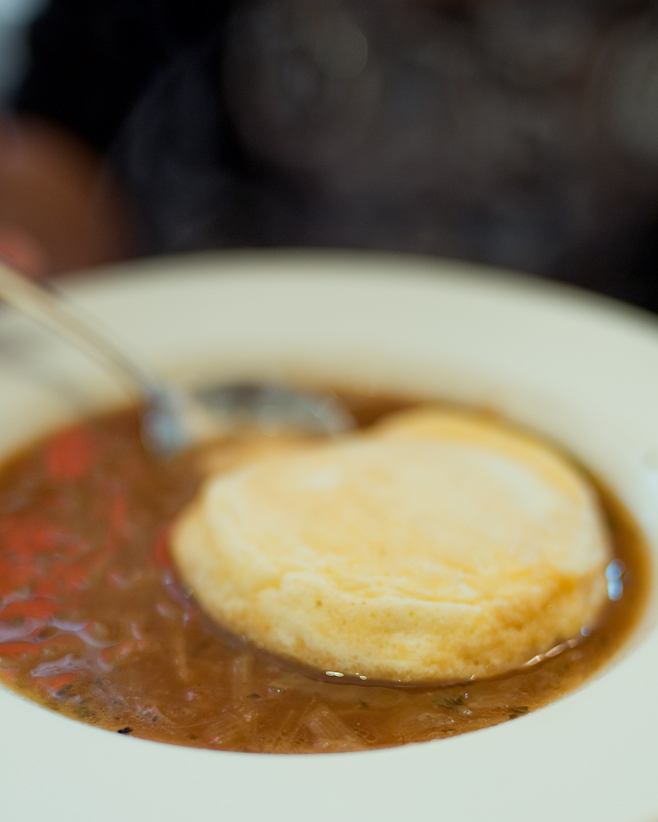 Oh gosh, too sweet, too watery and overall it was bland. The sweetness of the onion was exaggerated with the cider. The broth seemed a little tepid, lifeless even, nothing like the good old deep flavoured onion soups I was more accustomed to. On the other hand, the floating soufflé was a mark of excellence – eggy, refined, subtle, a reminder that I was sampling the cooking of a genius chef… a genius that was mostly missing for this part of the meal.
Pudding was Rice pudding pannacotta, marmalade (£5.00)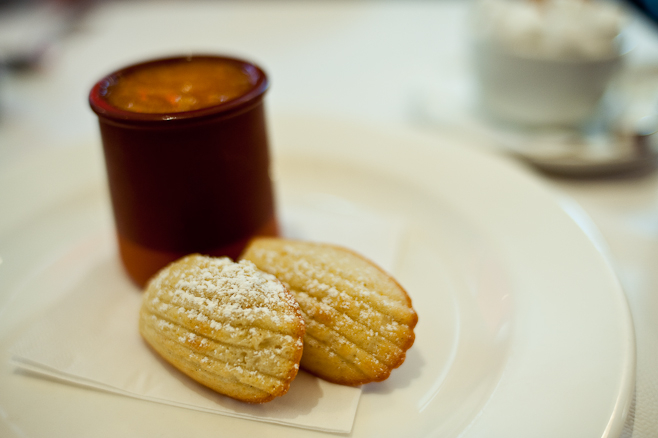 The meal ended on a very high note. The pannacotta was perfect. Rich eggyness with the odd crunch of rice grains – served cold, it was milky, sugary and beaming of luscious custard. Best of all was the jammy and zesty marmalade that topped it all off – like a sunkissed creamed pudding, marvellous balance. To finish, crusty moist madeleines… where's my coffee?
Our bill came to £66.15 plus a glass of wine and two coffees – they took the fish off the bill but charged us for the soup instead. Price-wise, Bistrot Bruno Loubet is simply unbeatable at under £35pp for the most expensive combinations on the ala carte menu (£8 + £18 + £7). I was less impressed with the cooking, and I think the restaurant is a victim of the hype that has built up around it. I felt that there were five star dishes, but equally there were also three star dishes on the same menu. For those of you wondering, we noted the inclusion of a choiceless set menu, albeit for two at £17.50/£22.50 for lunch and dinner respectively. It didn't really catch my eye, I vaguely remember broth and crepes on it. The cooking is technically superb at times, but the theatre was not sustained all the way through. It is a little hit and miss, I'm afraid. But the ones which hit the spot, they were definitely memorable. The snails and meatballs was a seriously good dish, folks, enough to warrant a revisit just so I can conjure new ways to be poetic about it again. I don't think Bistrot Bruno Loubet is a perfect restaurant, at least not yet and somehow I don't think it was ever meant to be. This is a low profile (well..) bistrot and for what it is, I think it succeeds, though in my mind, it is more like 3.75 stars, a seven out of ten, whichever scale you want to work with. It has all the ingredients for success: breathtaking dining space, efficient crew, star chef, inspired dishes, yet in a less-formal setting. I think if you go without expectation, you'll be rewarded with a much better experience than mine. Although, my other half didn't really see the fuss, at all. As for comparable French bistro-style food, well, I think Bjorn's Eastside Inn Bistro (which is just around the corner) is a better bet. More consistent, classical flavours, less game, more balanced umami. Prices are comparable. For me, not quite the all guns blazing return even though I do think there is genius in the cooking.
The Gist of It
Bistrot Bruno Loubet at the Zetter official site £35pp
St John's Square
86-88 Clerkenwell Road EC1M 5RJ
Tel : +44 (0)20 7324 4455
Tube : Farringdon
Bistrot Bruno Loubet reviews elsewhere Tom Eats Jen Cooks ; Giles Coren ; Fay Maschler ; Guy Dimond ; Andy Hayler.
Did you enjoy reading this post? Why not subscribe to my feed updates for free. Alternatively, You can subscribe via email.